One of the most versatile actors born to create history in cinema was born on the 30th of January 1974 in the UK. Bale was talented and dedicated since childhood, and he got his breakthrough role when he was only 13. At the age when kids enjoy playing video games, Bale was playing his roles in life, which made him a popular actor. With time Christian Bale got popular by performing different lead as well as supporting roles in different movies. He played different roles such as superhero, serial killer, and hero in the psychological thriller. By playing all these roles, he got the tag of being one of the best versatile actors.
Childhood
Christian Bale was born in Wales to English parents. His mother is a circus performer, and his father is an activist. Christian Bale started working in the film industry when he was just 13. His parents fully supported Christian Bale. Bale once remarked that "I am not Welsh – I am English. " Bale's performance in different movies was breathtaking, and that is what pushed him to be the best. He has two elder sisters and one half-sister from his father's first marriage.
Bale, at the age of 10, decided to become an actor, and with god's grace, he succeeded. Bale left school when he was just 16 years old. When Christian Bale's sister was cast in West End musicals, something struck Bale, and he decided to become an actor. The actor's parents got divorced when he was just 17. He shifted with one of her elder sisters and father at that time. Bale married Sibi in 2000 and was blessed with two children.
Career
In 1983, Bale made his acting debut in a cereal commercial; the following year, he made his West End theatrical debut in "The Nerd." Steven Spielberg noticed Bale's standout performance in the 1986 NBC mini-series Anastasia: The Mystery of Anna, which led to his well-documented part in Empire of the Sun (1987). He received a special award from the National Board of Review for Best Performance by a Juvenile Actor for the gamut of emotions he portrayed as the star of the wartime drama.
Bale appeared in Kenneth Branagh's 1989 rendition of Shakespeare's Henry V (1989) and starred as Jim Hawkins in a TV movie version of Treasure Island while, on a personal level, he was struggling to adjust to celebrity status and attention issues.
Bale acted and sang in several films throughout the 1990s, and with the emergence of the Internet at the end of the decade, he found himself as one of the most popular online superstars. At the same time, he maintained a private, tabloid-free mystique, with a few notable exceptions.
As he entered the 2000s, his magnanimity only grew, and the world was witness to some of the finest work in cinema, brought to us by Christian Bale in all his glory. In this article, we have tried to bring you a list of the best Christian Bale movies and why you should drop everything you're doing and binge on a Bale binge spree.
Filmography
Versatility is second nature to Christian Bale. This is a man that shapeshifts into each character he plays till we cease to remember that his characters aren't living, breathing people walking the earth. With numerous prestigious accolades to his globally recognized name, Bale's films cannot be classified into one, two, or even three genres. So when you do decide to go on that binge session, you'll have quite a variety of different types of movies. From Bruce Wayne to shy, naive teenagers, Christian Bale has done it all.
Without much ado, then, let's dive right in.
30. Knight of Cups
Director: Terrence Malick
Release: 4th of March, 2016
Box Office: $1.1 Million
IMDb Rating: 5.6/10
Rotten Tomatoes: 47%
Platforms to stream: Netflix
A cast that includes Bale, Cate Blanchett, Natalie Portman, Teresa Palmer, Antonio Banderas, Ben Kingsley, and Freida Pinto brings to life the very striking tale of Rick, a screenwriter stuck in the vicious Hollywood system. He has an intrinsic need to succeed and yet, is plagued by thoughts of how empty his life is. Knight of Cups has a cast that backs up its very promising storyline- and we thought it was just the right film to front our dive into the world of Bale's cinematic excellence.
29. A Midsummer Night's Dream
Director: Michael Hoffman
Release: 26th of April, 1999
Box Office: $16.1 Million
IMDb Rating: 6.4/10
Rotten Tomatoes: 67%
Platforms to stream: YouTube
Christian Bale plays Demetrius in this beloved Shakespearean tale- a story of forbidden love, betrayal, and fair folk. Midsummer Night's Dream is an exception to Hollywood's tendency toward melodramatic or mishandled Shakespeare dramas- and is quite crisp and well-paced in its execution. With good acting and cinematography to back up the already gripping plot, the film makes for a great watch with friends and family.
Midsummer Night's Dream is also great for a dive into Shakespearean stories without wanting to read the plays, as it maintains a basic fidelity in its retelling.
28. Velvet Goldmine
Director: Todd Haynes
Release: the 23rd of October, 1998
Box Office: $4.3 Million
IMDb Rating: 6.9/10
Rotten Tomatoes: 59%
Platforms to stream: Vudu, Prime Video
Brian Slade (Jonathan Rhys Myers), a glam rock star, plays a persona named Maxwell Demon on stage who predicts his demise. He fakes his death and is unmasked as a liar shortly after announcing his prediction. A decade later, in 1984, Arthur Stuart (Christian Bale), a reporter and former fan, follows down the former rocker to write a piece on his life, his rise and fall.
This film deserves a place among the roster of the best Christian Bale films, with its artsy cinematography, great music, an interesting take on fame, and its fickleness.
27. The Secret Agent
Director: Christopher Hampton
Release: 8th of November, 1996
Box Office: $106,606
IMDb Rating: 5.6/10
Rotten Tomatoes: 50%
Platforms to stream: YouTube
In London in the 1880s, pornographic bookshop Verloc (Bob Hoskins) is a double agent for the Russian government, transferring intel about a negligent anarchist network to Chief Inspector Heat (Jim Broadbent). An act of terrorism must occur for the anarchists to be apprehended. So Verloc decides to plant bombs, which brings down a shower of tragedy and disaster upon him, his wife Winnie (Patricia Arquette), and his brother-in-law Stevie (Christian Bale).
Although The Secret Agent does not live up to the promise of its plot, it is still an engaging watch with powerful acting in certain moments.
26. The Promise
Director: Terry George
Release: 21st of April, 2017
Box Office: $12.4 Million
IMDb Rating: 6/10
Rotten Tomatoes: 51%
Platforms to stream: Showtime, Fubo TV, Vudu
Christian Bale stars alongside Oscar Isaac in this film about squandered love and its complexities in times of war. While visually striking, The Promise's character work does injustice to its brilliant actors and even more so to the genocide it seeks to paint.
We would ask you to watch the film because of its many great qualities while keeping in mind that it is a work of art and not a very accurate historical representation.
25. Swing kids
Director: Thomas Carter
Release: 5th of March, 1993
Box Office: $5.6 Million
IMDb Rating: 6.8/10
Rotten Tomatoes: 56%
Platforms to stream: Prime Video, Vudu
Swing Kids is one of our favorite films on the list. It is a beautiful story about these young Nazi Germans who cannot resist the allure of America's outlawed swing music. However, as the Nazis tighten their grip on the country, these men will have to make difficult decisions to survive. This is a film that forces you to contemplate, devastate, and then rejuvenate you.
Watch this on a Friday at the existential quarry, and maybe this film will be able to give you some perspective on survival in a dark, dinghy world.
24. Reign of Fire
Director: Rob Bowman
Release: 12th of July, 2002
Box Office: $82.2 Million
IMDb Rating: 6.2/10
Rotten Tomatoes: 42%
Platforms to stream: YouTube, Google Play Movies
An action sci-fi that has Bale, Matthew McConaughey, and Gerard Butler at its helm. Need we say more? If we are to be more specific, this is a post-apocalyptic science fantasy that involves dragons, guns, and unlikely heroes. Sounds fun, doesn't it?
This is by no means the greatest Christian Bale movie, but an engrossing film nevertheless. Don't go in expecting the greatest visuals or the most rational writing, and you'll end up thoroughly entertained.
23. Laurel Canyon
Director: Lisa Cholodenko
Release: 7th of March, 2003
Box Office: $4.4 Million
IMDb Rating:6.4/10
Rotten Tomatoes: 69%
Platforms to stream: Episode, Google Play
A 2002 drama/musical, this is a film that begins with an interesting premise but dissolves within its ambitious making, which doesn't quite achieve what it sought to. However, Bale is brilliant, and Kate Beckinsale does a good job of bringing life to a badly written character.
Sam (Christian Bale) and his fiancée, Alex (Kate Beckinsale), relocate to Los Angeles for the summer to stay in his mother's (Frances McDormand) opulent home while she is away. Jane, a young record producer, has not yet departed because she is still working on a project with Ian, her British musician boyfriend (Alessandro Nivola). When Sam and Alex become entangled with other people, they feel the draw of Jane's fast-paced, extravagant lifestyle, and their relationship begins to crumble.
22. Out of the Furnace
Director: Scott Cooper
Release: the 6th of December, 2013
Box Office: $15.7 Million
IMDb Rating: 6.8/10
Rotten Tomatoes: 53%
Platforms to stream: Prime Video
This is a thriller about two brothers, Russell and Rodney, played by Christian Bale and Casey Affleck, respectively. Woody Harrelson, Zoe Saldana, and Willem Dafoe all play important characters and do mighty good jobs at it. Family, duty, and loyalty are all questioned and pondered as a steelworker's life dissolves into chaos.
We encourage you to watch this film for its gripping narrative and tight script!
21. Metroland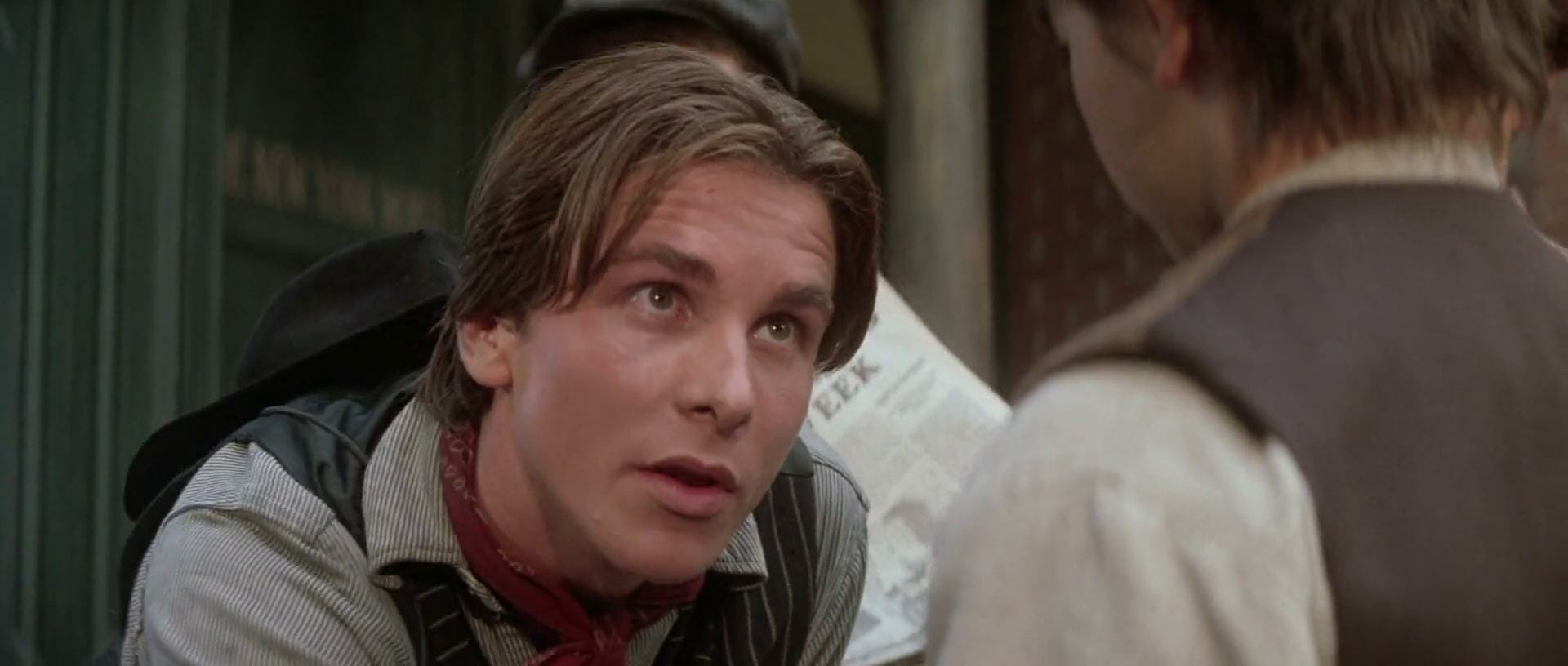 Director: Philip Saville
Release: 21st of August, 1998
Box Office: $299,463
IMDb Rating: 6.3/10
Rotten Tomatoes: 64%
Platforms to stream: Netflix USA
Metroland is a realistic, surprisingly mature film about a young 1970s couple (Bale and Emily Watson) dealing with the sacrifice of their dreams and artistic ambitions for a dull middle-class lifestyle. It's indelibly sincere about this dilemma — one we've all seen in a thousand movies — and impressively understated.
Bale here gives a restrained, almost peaceful performance as a man who feels as if his life has passed him by without his realizing it, emulating the experience without ever feeling self-important.
A simple yet striking watch.
20. Pocahontas- The New World
Director: Terrence Malick
Release: 13th of April, 2016
Box Office: $49.3 Million
IMDb Rating: 6.7/10
Rotten Tomatoes: 62%
Platforms to stream: Hotstar
The portrayal of the tragic Native American story that is Pocahontas has recently come under fire for undermining the torture and destruction of the Native American people and presenting a Hollywood-formulated version of John Smith and Pocahontas' relationship.
However, The New World is a beautiful watch if we ignore its historicity of it or even if we are to sit and examine the nature of Hollywood's white-man-savior complex. With an incredible soundtrack, a beautiful romance, and Christian Bale's masterful John Rolfe, the film is a pleasing watch for kids and adults alike.
19. All the Little Animals
Director: Jeremy Thomas
Release: the 9th of July, 1999
Box Office: $26,558
IMDb Rating: 6.8/10
Rotten Tomatoes: 68%
Platforms to stream: Vudu, Prime Video USA
A sensitive yet dramatic film, All the Little Animals follows the mentally handicapped Bobby Platt (played by Christian Bale) as he escapes his cruel and violent stepfather and meets an aged man. This intriguing character spends their time wandering through highways.
Despite what the title suggests, the movie is dark and shocking at times- an artistic and heart-wrenching tale of survival and friendship. You must watch this film and let us know what you think of it!
18. Vice
Director: Adam McKay
Release: the 25th of December, 2018
Box Office: $76.1 Million
IMDb Rating: 7.2/10
Rotten Tomatoes: 65% 
Platforms to stream: Hulu
Dick Cheney overcomes several obstacles throughout his life to become a powerful Washington bureaucrat. His position as George W. Bush's vice president permits him to transform the world. Vice, an Adam McKay direction, is an interesting film. With many awards to its name and a cast consisting of Steve Carrell, Amy Adams, and of course, Christian Bale, it is a gripping watch that will generate discussion and thought, maybe even argument.
It's a divisive film, with some hailing it as a brilliant watch and some dismissing it and calling it boring. Here at Gizmo Story, we encourage you to watch the movie and decide for yourself where it ranks on your list of Christian Bale movies.
17. Shaft
Director: John Singleton
Release: the 16th of June, 2000
Box Office: $107.2 Million
IMDb Rating: 6/10
Rotten Tomatoes: 67%
Platforms to stream: Netflix, YouTube, Google Play Movies
After a racially motivated murder, New York City police detective John Shaft embarks on a personal quest to see that the son of a real estate magnate is brought to justice.
This is a moving film that highlights the injustices inherent within the judicial system and the struggles of one man to do the right thing within that very system. The result is an amalgamation of Bale and Samuel L. Jackson's talent, with well-paced writing and masterful direction. Our verdict? An important watch.
16. Public Enemies
Director: Michael Munn
Release: 7th of August, 2009
Box Office: $2214.1 Million
IMDb Rating: 7/10
Rotten Tomatoes: 68%
Platforms to stream: YouTube
Bale is cast as Melvin Purvis, a federal agent tasked with apprehending John Dillinger (Johnny Depp). He has the difficult task of portraying a decidedly uncharismatic character who does not make much of an impression. But it pays off: Bale portrays a routine-following, good but boring lawful citizen who resolves to go above his authority to apprehend this bank thief. (At the time, Public Enemies appeared to be making a point about America's degradation of liberties in the aftermath of 9/11.)
Bale is a revelation as a nice guy on the verge of resorting to unlawful means to pursue his nemesis.
15. Ford vs. Ferrari
Director: James Mangold
Release: 30th of August, 2019
Box Office: $225.5 Million
IMDb Rating: 8.1/10
Rotten Tomatoes: 92%
Platforms to stream: Hotstar
Christian Bale appears here as Ken Miles, with Matt Damon and Caitriona Balfe playing important roles alongside him. To construct a groundbreaking vehicle for Ford Motor Co., American automotive designer Carroll Shelby and daring British race car driver Ken Miles face corporate meddling, the laws of physics, and their demons. They want to compete against Enzo Ferrari's race cars at the 1966 24 Hours of Le Mans in France.
This film is as fast as it is touching- as gripping as it is enthralling. A definite must-watch!
14. I'm Not There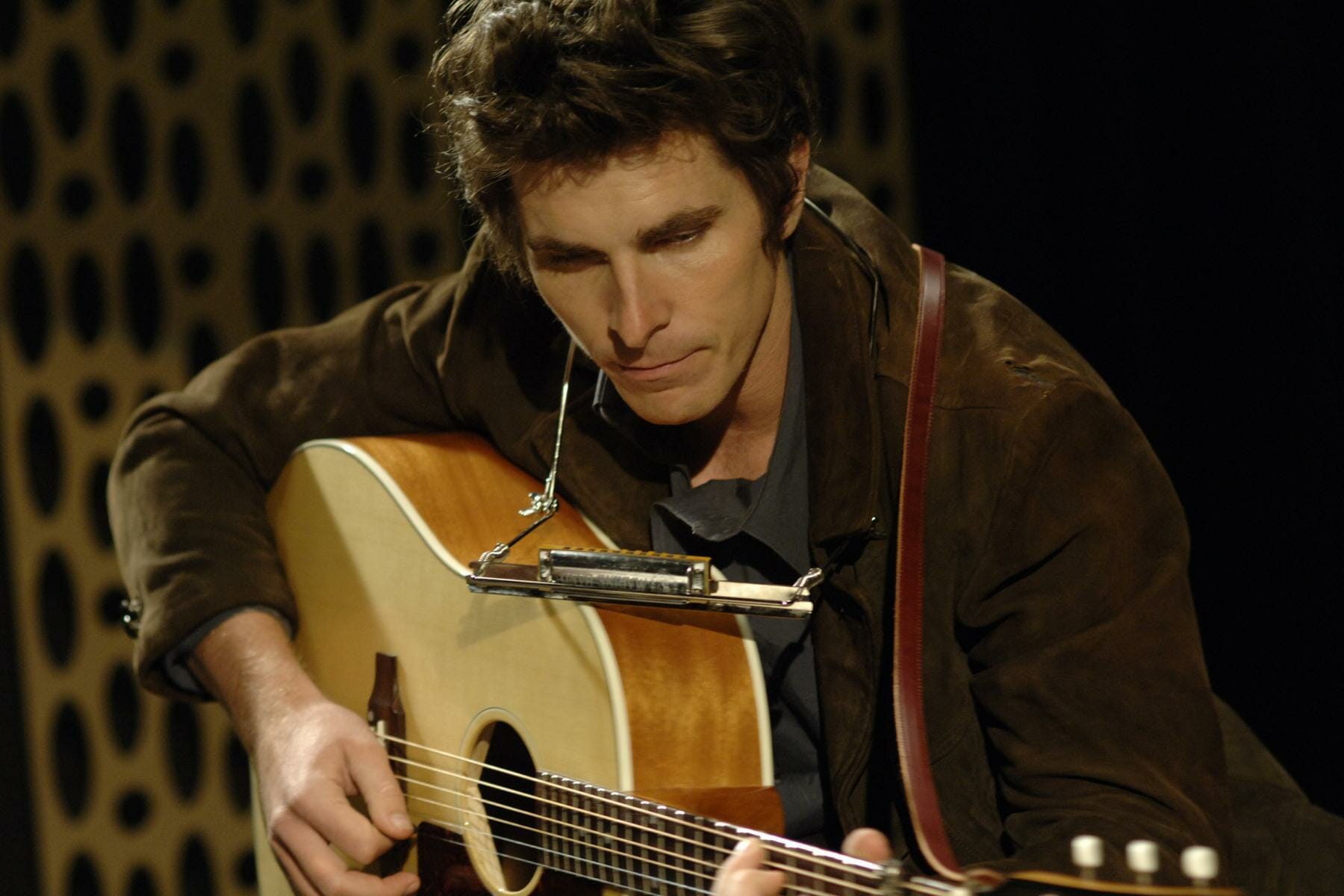 Director: Todd Haynes
Release: 21st of November, 2007
Box Office: $11.7 Million
IMDb Rating: 6.8/10
Rotten Tomatoes: 77%
Platforms to stream: Netflix
Christian Bale is a more simple image of Bob Dylan in Todd Haynes' kaleidoscope of Bob Dylan -s, which depicts the iconic American singer-songwriter in several times and personae. He's Jack Rollins, the folk singer Dylan who was penning protest songs while cultivating his "voice of a generation" reputation. The performer perfectly captures Dylan's mumbled, skinny awkwardness, then cleverly shifts to his born-again period.
The film, in its entirety, is one of the best biographical films Hollywood has produced about a musician. Its experimentation with casting pays off masterfully, and each Dylan is as convincing as the next.
13. Rescue Dawn
Director: Werner Herzog
Release: 4th of July, 2007
Box Office: $7.2 Million
IMDb Rating: 7.3/10
Rotten Tomatoes: 90%
Platforms to stream: Prime Video
Christian Bale's filmography is a testament to how much physical and mental transformation he is willing to go to bring a character to life. Rescue Dawn is no exception, and what we get is a harrowing drama about real-life pilot Dieter Dengler, who was kidnapped by the opposition during the Vietnam War and fought his way to freedom. With Bale at his finest in Danglers' directorial, this is a massively underrated treasure trove waiting to be discovered and loved by wider audiences.
The Vietnam War is captured beautifully, and the immense devastation caused by the sheer violence of Warcraft.
12. Empire of the Sun
Director: Steven Spielberg
Release: the 25th of December, 1987
Box Office: $66.7 Million
IMDb Rating: 7.7/10
Rotten Tomatoes: 75%
Platforms to stream: Prime Video USA
This is essential, a survival story- At the outbreak of World War II, a British boy is separated from his family. He finds himself eventually confined in a Japanese POW camp after facing many hurdles, such as a lack of food and no means of survival. The film is as devastating as it is poetic, and Bale's character, Jim, strikes a chord in all our hearts.
11. The Machinist
Director: Brad Anderson
Release: 17th of December, 2004
Box Office: $8.2 Million
IMDb Rating: 7.7/10
Rotten Tomatoes: 77%
Platforms to stream: Prime Video
Trevor, an insomniac lathe operator who hasn't slept in months, has been having strange events at work and home. An odd man follows him, but no one else seems to notice him. Is the premise not enough to make anyone want to watch this film?
Christian Bale is striking again in his portrayal of a troubled young man, and Brad Anderson is a competent director, if nothing else. Watch this film for a moody, dinghy look into the psyche of a young man.
10. Batman Begins
Director: Christopher Nolan
Release: 17th of June, 2005
Box Office: $373.7 Million
IMDb Rating: 8.3/10
Rotten Tomatoes: 84%
Platforms to stream: Prime Video
Christopher Nolan directed and co-wrote Batman Begins, a superhero picture that premiered in 2005. Christian Bale portrays Bruce Wayne / Batman in the film, which also stars Michael Caine, Liam Neeson, Katie Holmes, Gary Oldman, Cillian Murphy, Tom Wilkinson, Rutger Hauer, Ken Watanabe, and Morgan Freeman. The film is a reboot of the Batman film series, portraying the origin tale of Bruce Wayne from his parents' deaths through his transformation into Batman and his battle to prevent Ra's al Ghul and the Scarecrow from wreaking havoc on Gotham City. It is the first film in Nolan's Batman trilogy, and oh, what a film it is!
You must, must watch this. And then, you must let us know what you think!
9. The Prestige
Director: Christopher Nolan
Release: 20th of October, 2006
Box Office: $109.7 Million
IMDb Rating: 8.5/10
Rotten Tomatoes: 76%
Platforms to stream: Prime Video
After a tragic event, two friends and fellow magicians become bitter foes. As they devote themselves to this contest, they make sacrifices that gain them renown but come at a horrible price. The Prestige is one of those films you love to talk about, the kind that enthralls and excites you every time you speak of it, and Bale stars alongside Hugh Jackman, Michael Caine, and Scarlett Johansson. They play their parts rather well, and we have ourselves another wonderful film in this list of Bale's best movies.
8. The Fighter
Director: David O. Russell
Release: the 6th of December, 2010
Box Office: $129.2 Million
IMDb Rating: 7.8/10
Rotten Tomatoes: 91%
Platforms to stream: Prime Video, Netflix
Boxing is a family affair for Micky Ward (Mark Wahlberg). His manager is his tough-as-nails mother. Dicky (Christian Bale), his half-brother and once-promising boxer, is his untrustworthy trainer. Micky is losing despite his efforts, and when the latest fight nearly kills him, he takes his girlfriend's advice and leaves the family. Then Micky becomes a world title candidate, giving him — and his family — a chance at atonement.
The Fighter is a captivating tale about the human struggle to strive despite continuous failures. Do watch it if you can!
7. Little Women
Director: Gillian Armstrong
Release: 21st of December, 1994
Box Office: $95 Million
IMDb Rating: 7.3/10
Rotten Tomatoes: 93%
Platforms to stream: Netflix
This version of Little Women is our critic's favorite telling of the classic- with Wynona Ryder, Trini Alvarado, Kirsten Dunst, Clair Danes, and Susan Sarandon playing the main characters. Meg, Jo, Beth, and Amy, the four March sisters, and their mother struggle to live in a 19th century America amidst the Civil War after their father leaves to fight in the Union Army. So a beloved children's book is brought to life wonderfully, sensitively, and carefully.
Watch this film with your loved ones to feel a little bit closer to them- or by yourself to remind yourself that you are loved and relive those little moments of joy spent with those dear to you.
6. American Hustle
Director: David O. Russell
Release: 17th of January, 2014
Box Office: 251.2 Million
IMDb Rating: 7.3/10
Rotten Tomatoes: 92%
Platforms to stream: Prime Video
Another film that features Amy Adams and Christian Bale opposite one another, American Hustle, is a unique film in its depiction of the system and two con artists 'hustling' to survive in that structure. Irving and Sydney, a pair of con artists, are forced to work for Richie, an FBI agent who offers them amnesty. They are, however, employed in a sting operation that results in the conviction of major figures.
Bale has chosen intriguing films to work on, hasn't he?
5. The Dark Knight Rises
Director: Christopher Nolan
Release: 20th of July, 2012
Box Office: $1.081 Billion
IMDb Rating: 8.4/10
Rotten Tomatoes: 87%
Platforms to stream: Prime Video, YouTube
The Dark Knight Rises is the film that got everyone talking about how brilliant Christian Bale was in portraying the double life that Bruce Wayne and The Batman live. It had been there all along, but he was particularly striking in this Chris Nolan direction. It is the last film within the dark knight trilogy- Bruce Wayne's last time on-screen with Bale's face to play him, and the last leg of Christopher Nolan's Batman.
Christian Bale, Tom Hardy, Marion Cotillard, Morgan Freeman, Joseph Gordon Levitt, Michael Caine, and Anne Hathaway all appear in the film. Eight years after the events of The Dark Knight, the revolutionary Bane forces Bruce Wayne to reclaim his identity as Batman to save Gotham City from nuclear annihilation.
You're already excited, are you not?
4. The Big Short
Director: Adam McKay
Release: the 11th of December, 2015
Box Office: $133.4 Million
IMDb Rating: 7.8/10
Rotten Tomatoes: 89%
Platforms to stream: Netflix Prime Video
Steve Carrell, Ryan Gosling, Brad Pitt, and of course, our Bale come together to give us this piece of perfect cinema. This is one of the best works in Bale's career- one of the finest scripts in modern American filmography. Michael Burry, a Wall Street guru, notices that several subprime house loans were about to collapse in 2008. Burry bets against the housing market by investing more than $1 billion in credit default swaps on behalf of his investors. Banker Jared Vennett (Ryan Gosling), hedge-fund specialist Mark Baum (Steve Carell), and other selfish opportunists are drawn to his deeds. These men make a fortune by capitalizing on the imminent economic downfall in the United States.
Among all the Christian Bale movies ranked in this list, The Big Short is one of the most critically acclaimed. If you are about to dive into a roster of Bale's films, this has to be up there!
3. 3:10 to Yuma
Director: James Mangold
Release: 7th of September, 2007
Box Office: $71.2 Million
IMDb Rating: 7.7/10
Rotten Tomatoes: 89%
Platforms to stream: Netflix, Prime Video USA
Dan Evans, a Civil War veteran, and small-time rancher, chose to escort outlaw Ben Wade for a pittance of 200 dollars to reclaim his tarnished reputation and regain his barn from Glen Hollander. Russell Crowe stars as Ben Wade and Christian Bale plays Dan Stevens. Ben Foster takes the role of Charlie Prince, and Logan Lerman enacts William Evans.
It's a beautiful, beautiful film. Let's start with that. The music adds to the beauty, and the cinematography is impeccable. Russell Crowe and Bale bring their best, and that best, friends, is so much more than we could ask for.
2. American Psycho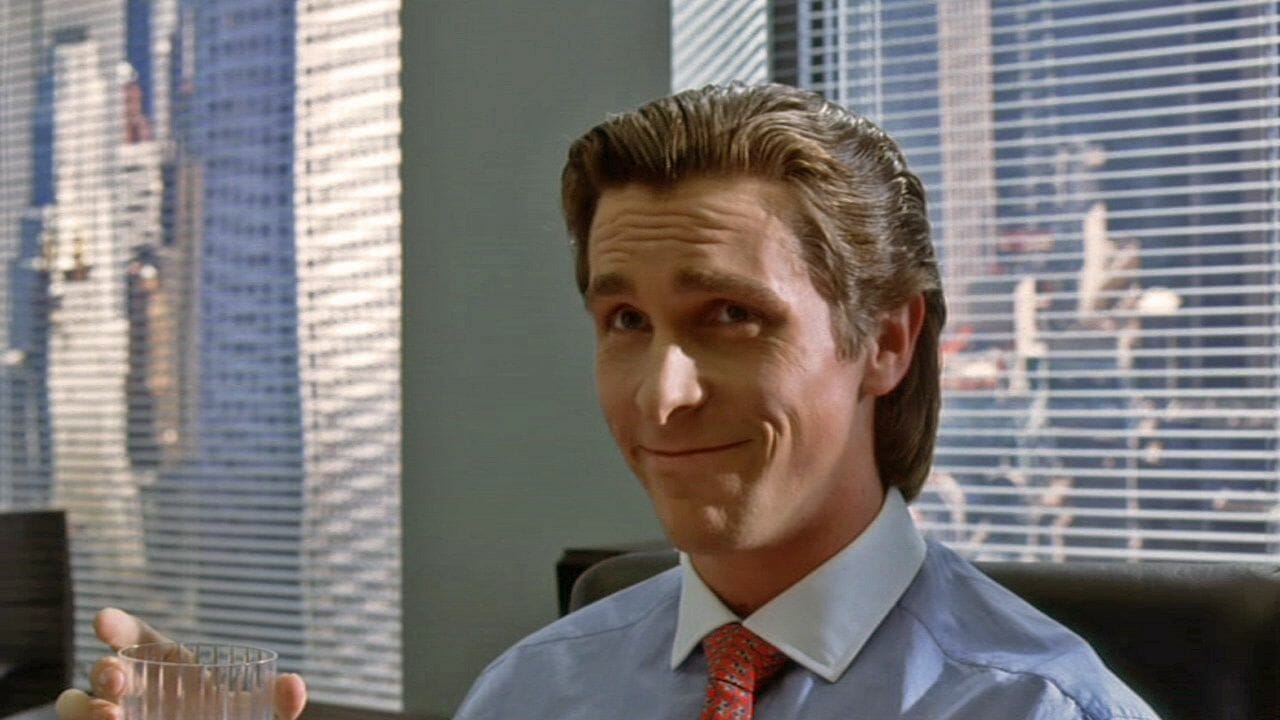 Director: Mary Harron
Release: 14th of April, 2000
Box Office: $34.3 Million
IMDb Rating: 7.6/10
Rotten Tomatoes: 69%
Platforms to stream: Netflix
This is one to spark arguments among friends- because you either love it or despise it. It is arguably the best-known work of Bale, barring the Dark Knight series. Patrick Bateman, a successful investment banker, hides his psychopathic side from his associates. His irrational dreams worsen, and he succumbs to an obsessive bloodlust.
This is a must-watch, a film every film buff must weigh in on, one that Christian Bale fans must rave about. What are you waiting for?
1. The Dark Knight
Director: Christopher Nolan
Release: 18th of July, 2008
Box Office: $1.005 Billion
IMDb Rating: 9.0/10
Rotten Tomatoes: 94%
Platforms to stream: Prime Video, YouTube
Does this film even need an introduction? The Dark Knight is a cinematic masterpiece with Bayle as the elusive and intimidating Bruce Wayne, Christopher Nolan in the director's chair, and Heath Ledger's devastating portrayal of the Joker.
Batman (Christian Bale) has been able to keep crime in Gotham City under control with the help of allies Lt. Jim Gordon (Gary Oldman) and DA Harvey Dent (Aaron Eckhart). When a vicious criminal who calls himself the Joker (Heath Ledger) drives the town into disarray, the man in the black cape finds himself blurring the lines between heroism and vigilantism.
Dark, grimy, and yet so incredibly beautiful, The Dark Knight is one of those films that stay with you for a lifetime and recur in memory and appreciation in too many conversations. It's a film you won't be able to stop talking about- so don't think about it much further; watch The Dark Knight now!
Let us know which of these would find their way into your list of Christian Bale's best films!