Let's talk about the greatest streaming giant and our favorite streaming platform where we can binge-watch any TV shows or movies without any interruption by exasperating commercials and pop-ups. The feature of providing the best comedies on Netflix with every single episode of the series in one go makes it stand out from the rest of the streaming platforms that release new episodes once a week.
Netflix has always been focused on providing a wide variety of quality content and original series, which improves the experience of the audience who cannot waste their precious time flipping through movies to find something interesting to watch.
But still, we are running out of old classics and funny movies that amused the people of every generation with their on-point comedic movements that make it up to the comedy genre (if you call them old-fashioned and quirky, then you have bad taste).
These comedy movies have an amazing storyline along with talented cast members. The number of old comedy films has decreased over the years because of the trending searches and the low popularity of these evergreens.
But we have been noticing a return of true classics on Netflix lately. So, here is the list of 48 old movies that you can stream anytime on Netflix.
48. A Futile and Stupid Gesture (2018)
Run Time: 1 hr 41 min
Director: David Wain
Cast: Will Forte, Domhnall Gleeson, Martin Mull, Emmy Rossum, Joel McHale, Thomas Lennon, Matt Walsh, Neil Casey, Matt Lucas, Natasha Lyonne, Ed Helms, Max Greenfield, Paul Scheer, and Jon Daly
A Futile and Stupid Gesture is a must-see for comedy nerds. Through the eyes of co-founder Doug Kenney (Will Forte), a hilarious free spirit who would go on to co-write Animal House and Caddyshack before meeting an untimely end, the Netflix original movie traces the beginnings of National Lampoon magazine.
47. The Ballad of Buster Scruggs (2018)
Run Time: 2 hr 12 min
Directors: Joel and Ethan Coen
Cast: Tim Blake Nelson, Tyne Daly, James Franco, Brendan Gleeson, Bill Heck, Grainger Hines, Zoe Kazan, Harry Melling, Liam Neeson, Jonjo O'Neill, Chelcie Ross, Saul Rubinek, Tom Waits, Clancy Brown, Jefferson Mays, Stephen Root, and Willie Watson
It's possible to categorize almost every Coen Brothers film as a comedy in some way, and even their few straight dramas are full of biting humor. The Ballad of Buster Scruggs, a six-part Western anthology that tells six diverse stories with a variety of tones but all touching upon the same theme: death, is a prime example of this.
46. The Unauthorized Bash Brothers Experience (2019)
Run Time: 30 min
Director: Akiva Schaffer and Mike Diva
Cast: Andy Samberg, Akiva Schaffer, Sterling K. Brown, and Maya Rudolph
I humbly recommend The Unauthorized Bash Brothers Experience if you're looking for a lot of laughs in a hurry. The special is presented as a rap album that baseball greats Jose Canseco and Mark McGwire produced in the 1980s, when they were known as the "Bash Brothers," and serves essentially as a short film to go along with a new Lonely Island album.
45. Sorry to Bother You (2018)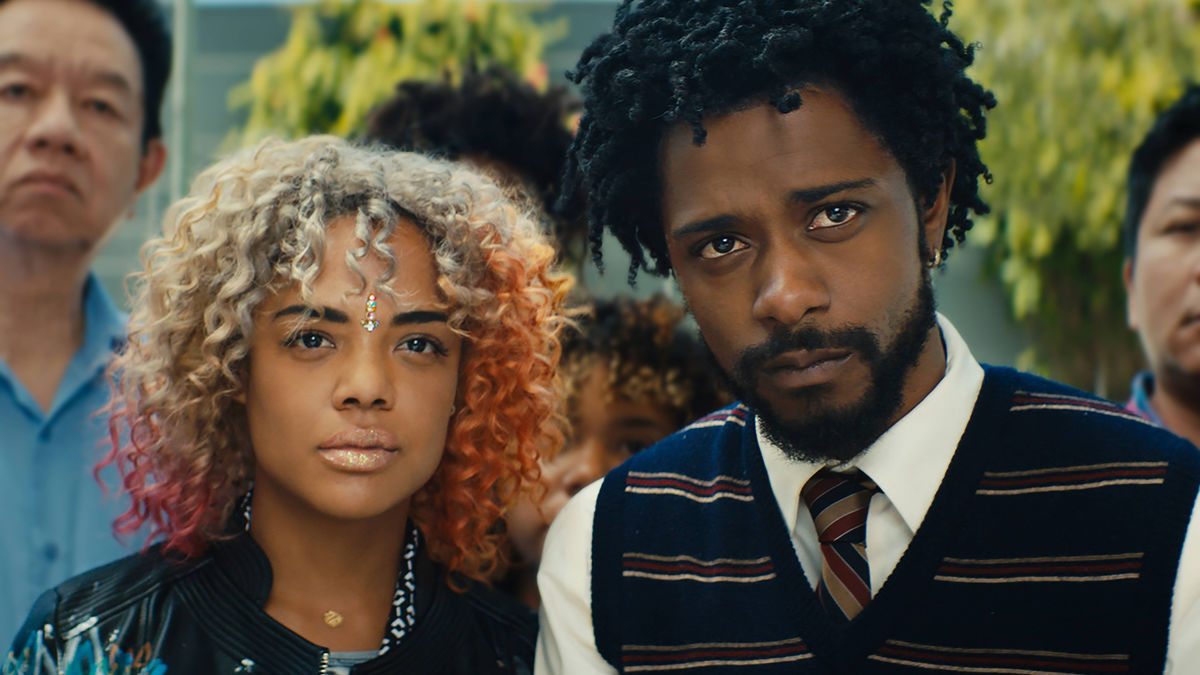 Run Time: 1 hr 52 min
Director: Boots Riley
Cast: Lakeith Stanfield, Tessa Thompson, Jermaine Fowler, Omari Hardwick, Terry Crews, Patton Oswalt, David Cross, Danny Glover, Steven Yuen, and Armie Hammer
It's best to go into Sorry to Bother You with as little knowledge as possible, but if you must know the quick summary, it centers on Cassius Green (Lakeith Stanfield), a young black man who finds he is an expert at telemarketing when he dons his "white voice," but as he starts to become more successful, he starts compromising his morals.
44. Set It Up (2018)
Run Time: 1 hr 45 min  
Director: Claire Scanlon
Cast: Zoey Deutch, Glen Powell, Lucy Liu, and Taye Diggs
You should definitely give Claire Scanlon's endearing Set It Up a look if you're looking for a charming romantic comedy but don't want to watch something from a previous decade for the umpteenth time.
The story revolves around two troubled assistants (Zoey Deutch and Glen Powell), who made the decision to set up their respective bosses (Lucy Liu and Taye Diggs), just to get some much-needed free time from their demanding jobs.
43. I Care a Lot (2020)
Run Time: 1 hr 58 min
Director: J Blakeson
Cast: Rosamund Pike, Peter Dinklage, Eiza González, Chris Messina, and Dianne Weist
I Care a Lot will probably be your favorite comedy if you like your dark comedies dark, and I mean pitch black. Rosamund Pike plays a shrewd, persistent, and unrepentant con artist in the Netflix original series who makes a living by gaining guardianship over elderly people and using their money as her own piggy bank.
42. Murder Mystery (2019)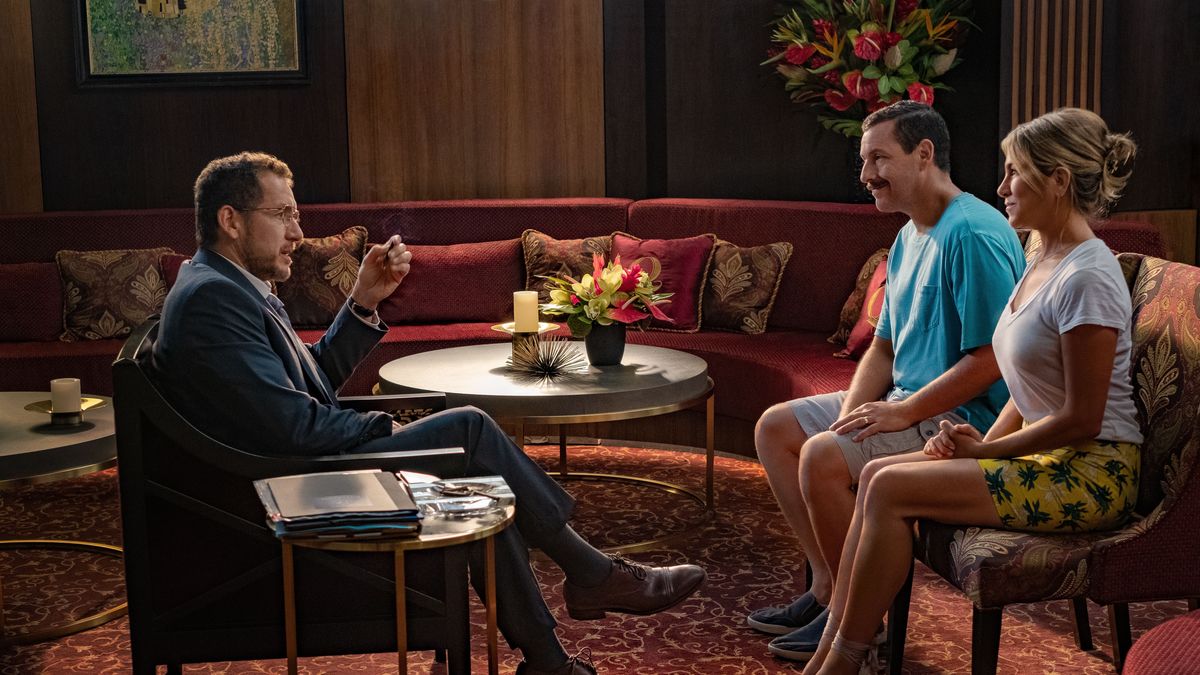 Run Time: 1 hr 37 min
Director: Kyle Newacheck
Cast: Adam Sandler, Jennifer Aniston, Luke Evans
Although Adam Sandler's history with Netflix original movies could be described as, uh, spotty, there is one genuinely incredibly endearing gem on the list in the form of Murder Mystery. After Just Go With It (which was also pretty good), Jennifer Aniston and the Sandman are reunited.
The movie centers on married NYPD officer Nick (Sandler) and hairdresser Audrey as they become more and more involved in a murder mystery on the yacht of a newly-met billionaire.
41. Paddington (2014)
Run Time: 1 hr 35 min |
Director: Paul King
Cast: Ben Whishaw, Hugh Bonneville, Sally Hawkins, Julie Waters, Nicole Kidman, Jim Broadbent, and Peter Capaldi
The 2014 film Paddington is a lovely introduction to the maramalade-loving bear, even though Paddington 2 frequently garners all the attention. Ben Whishaw's character Paddington travels to London from his native Darkest Peru in search of a new family.
40. The Addams Family (1991)
Run Time: 1 hr 39 min
Director: Barry Sonnenfeld
Cast: Anjelica Huston, Raul Julia, Christopher Lloyd, Christina Ricci, Jimmy Workman, Judith Malina, Carel Struycken, Christopher Hart, John Franklin
Visit The Addams Family right away if you need a scary movie to lift your spirits! Heck, snap twice while listening to the entrancing theme song! The Addams Family, a family-friendly work of entertainment based on the iconic macabre family first imagined by cartoonist Charles Addams, wears its Halloween-friendly aesthetics like so many fierce Anjelica Huston lewks (that is to say, perfectly).
39. Do Revenge (2022)
Run Time: 1 hr 58 min
Director: Jennifer Kaytin Robinson
Cast: Camila, Mendes, Maya Hawke, Austin Abrams, Sarah Michelle Gellar
Do Revengebrings brings the black teen comedy of 90s classics like Jawbreaker and Cruel Intentions to a Gen Z audience and is one of Netflix's more recent releases. Drea (Camila Mendes) vows to wreck havoc on her boyfriend's life after he posts intimate photos of her around their prestigious high school.
38. Moxie (2021)
Run Time: 1 hr 51 min
Director: Amy Poehler
Cast: Amy Poehler, Hadley Robinson, Lauren Tsai, Alycia Pascual-Pena
Amy Poehler (Inside Out) is the film's director and stars alongside Hadley Robinson, Lauren Tsai, and Alycia Pascual-Pena (Saved by the Bell) in Moxie, which is based on the Jennifer Mathieu novel of the same name. Robinson portrays Vivian, a shy adolescent who, motivated by tales of her mother's rebellious youth, organizes a secret protest against sexism at her school with the help of her friends.
37. You People (2023)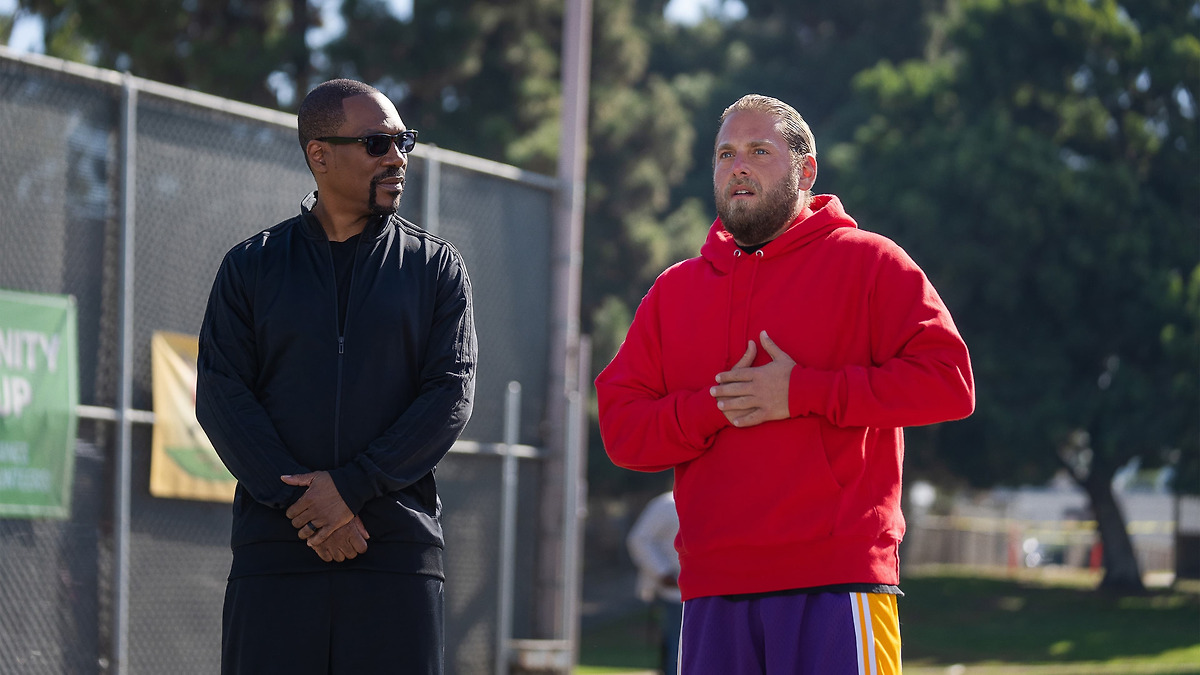 Run Time: 1 hr 57 min
Director: Kenya Barris
Cast: Jonah Hill, Lauren London, Eddie Murphy, Julia Louis-Dreyfus
Director Kenya Barris (Black-ish)'shilariousfamily comedy You People stars Jonah Hill and Eddie Murphy (Coming 2 America). You People, co-written by Barris and Hill, lightens up serious subjects like racial tension and generational conflict.
The unquestionably excellent cast, which includes Julia Louis-Dreyfus (Black Panther: Wakanda Forever), Nia Long, Lauren London, and David Duchovny, are the real stars of You People because they provide the humor rather than relying on the occasionally formulaic script.
36. Mascots
Year: 2016

Director: Christopher Guest

Stars: Jane Lynch, Parker Posey, Fred Willard, Christopher Guest, Ed Begley Jr., Jennifer Coolidge, Harry Shearer, Zach Woods

Rotten Tomatoes Score: 49%

Rating: NR

Runtime: 120 minutes
Christopher Guest mockumentaries may be the best example of "diminishing returns" on the planet, but it takes a long way to fall from the unparalleled heights of Waiting for Guffman and Best in Show.
To wit: His most recent movie, Mascots, is still packed with funny jokes and excellent acting. Ed Begley Jr., Parker Posey, Jane Lynch, Fred Willard, and a large portion of his stock company return for the Netflix exclusive. Although Eugene Levy and Catherine O'Hara are noticeably absent, the ensemble is still filled with skilled improvisers.
35. Always Be My Maybe
Year: 2019

Director: Nahnatchka Khan

Stars: Ali Wong, Randall Park, Keanu Reeves, Michelle Buteau, Vivian Bang, Karan Soni

Rotten Tomatoes Score: 89%

Rating: PG-13

Runtime: 102 minutes
Always Be My Maybe truly surpasses all rom-com expectations. A movie written by and starring Ali Wong and Randall Park was always going to be a home run. The two play childhood friends who lose touch after an impulsive teenage romance goes wrong in the script they co-wrote with Michael Golamco.
34. Scott Pilgrim vs. the World
Year: 2010

Director: Edgar Wright

Stars: Michael Cera, Mary Elizabeth Winstead, Brie Larson, Chris Evans, Alison Pill, Aubrey Plaza, Jason Schwartzman, Kieran Culkin

Rotten Tomatoes Score: 81%

Rating: PG-13

Runtime: 113 minutes
All of Edgar Wright's movies have, in some sense, been romantic comedies. Hot Fuzz just so happens to have two male leads as its romantic leads, while Shaun of the Dead just so happens to have zombies.
In this regard, Wright's attempt at a rom-com, Scott Pilgrim vs. The World, is perhaps his most blatant. In the world of relationships, dealing with your romantic partner's previous relationships is a situation that is all too common.
33. The Nice Guys
Year: 2016

Directors: Shane Black

Stars: Russell Crowe, Ryan Gosling, Angourie Rice, Margaret Qualley, Keith David

Rotten Tomatoes Score: 92%

Rating: R

Runtime: 116 minutes
With just the right amount of polishing, average films can transform into gems thanks to strong performances. Think of Alan Rickman in Robin Hood: Prince of Thieves or Jennifer Lawrence in Silver Linings Playbook.
Every step Shane Black's The Nice Guys takes in the direction of quality is supported by Russell Crowe and Ryan Gosling's talents. Black is just as quick with punchlines as he is with action scenes. The Nice Guys are a hoot. It is thrilling.
32. The 'Burbs
Year: 1989

Director: Joe Dante

Stars: Tom Hanks, Bruce Dern, Carrie Fisher, Rick Ducommun, Corey Feldman, Wendy Schaal, Brother Theodore, Courtney Gains, Gale Gordon, Dick Miller, Robert Picardo, Franklin Ajaye

Rotten Tomatoes Score: 53%

Rating: PG

Runtime: 103 minutes
Yes, it is true that Joe Dante's popularity in the horror genre started to wane after classics like Gremlins and The Howling, but The 'Burbs is still a movie that is largely forgotten today.
It appears to be a fairly typical comedy at first, but Tom Hanks soon begins to suspect that their new neighbors are responsible for the death and consumption of the elderly man who lives at the end of the street.
31. Dumb and Dumber
Year: 1994

Director: Peter and Bobby Farrelly

Stars: Jim Carrey, Jeff Daniels, Lauren Holly, Teri Garr, Karen Duffy, Mike Starr

Rotten Tomatoes Score: 68%

Rating: PG-13

Runtime: 106 minutes
There is a particular type of nihilism at work in the Farrelly Brothers' debut film, one that celebrates stupidity above all else. This isn't because the Farrellys prefer stupidity to intelligence, but rather because they don't seem to see any real consequences in the kind of ignorance that Lloyd (Jim Carrey, in one of his best roles ever) and Harry (Jeff Daniels) inhabit, making morality irrelevant for these characters.
30. Sleepless in Seattle
Year: 1993

Director: Nora Ephron

Stars: Meg Ryan, Tom Hanks, Rosie O'Donnell, Bill Pullman, Rob Reiner
Rotten Tomatoes Score: 74%

Rating: PG

Runtime: 105 minutes
Writer/director Nora Ephron's Sleepless in Seattle is essentially one big love letter to An Affair to Remember from 1957. Annie (Meg Ryan) watches Rita Wilson's moving summary of the film before writing Sam (Tom Hanks) and asking him to meet her on Valentine's Day at the top of the Empire State Building, as Cary Grant and Deborah Kerr attempt to do in their film.
29. Easy A
Year: 2010

Director: Will Gluck

Stars: Emma Stone, Penn Badgley, Amanda Bynes, Thomas Haden Church, Patricia Clarkson, Stanley Tucci, Malcolm McDowell, Lisa Kudrow

Rotten Tomatoes Score: 85%

Rating: PG-13

Runtime: 93 minutes
Numerous comedies have emphasized the singularly distinctive nature of high school. Most of them have vanished into late-night obscurity, but a few, including Mean Girls, Clueless, and Fast Times at Ridgemont High, have provided witty accounts of this almost legendary rite of adolescence.
28. Parenthood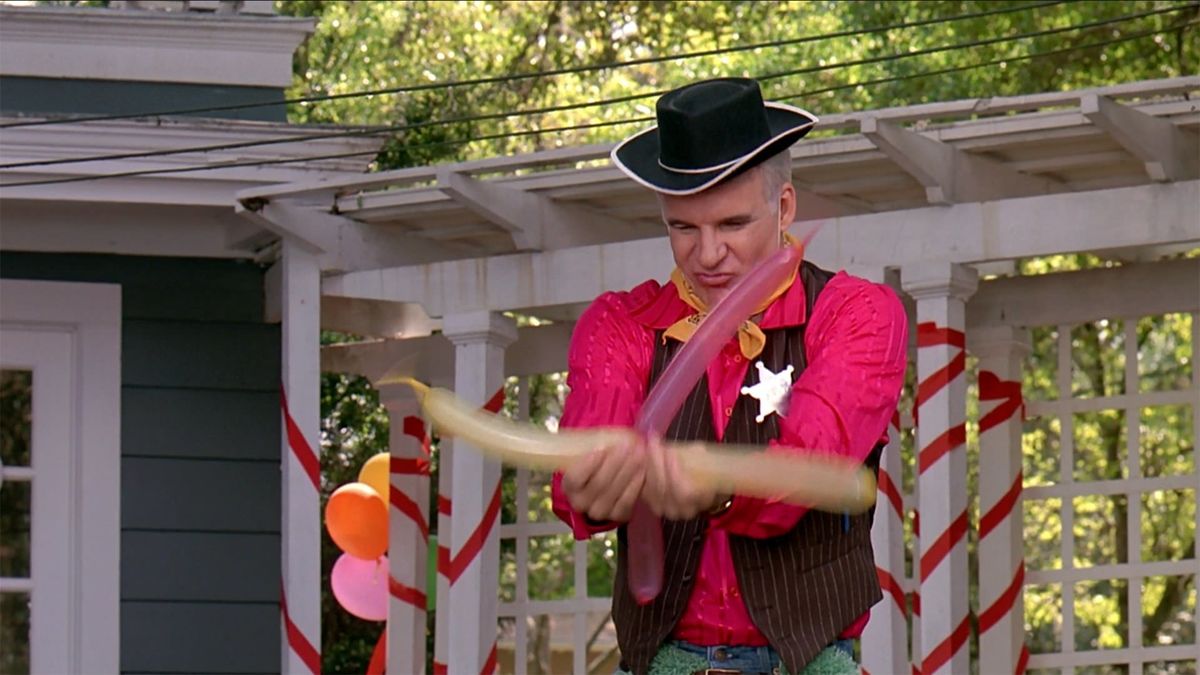 Year: 1989

Director: Ron Howard

Stars: Steve Martin, Mary Steenburgen, Dianne Wiest, Jason Robards, Rick Moranis, Tom Hulce, Martha Plimpton, Keanu Reeves, Harley Jane Kozak, Dennis Dugan, Joaquin Phoenix, Eileen Ryan

Rotten Tomatoes Score: 92%

Rating: PG-13

Runtime: 124 minutes
An ensemble cast of comic actor nirvana is featured in the family dramedy Parenthood, which is directed by Ron Howard (who couldn't be more at home in this role).
The story primarily centers on the worries of Father Gil Buckman (Steve Martin), whose sister Helen (the incomparable Dianne Wiest) is forced to arbitrate her disobedient teenage daughter (Martha Plimpton) and secret husband (Keanu Reeves, fresh off of Bill and Ted's Excellent Adventure, released earlier in the same year), as well as worrying over her puberty-struck son Gary (Joaquin Phoenix), whose reclusive behavior.
27. Fletch
Year: 1985

Director: Michael Ritchie

Stars: Chevy Chase, Dana Wheeler-Nicholson, Tim Matheson, Joe Don Baker, Richard Libertini, Geena Davis, M. Emmet Walsh, George Wendt

Rotten Tomatoes Score: 77%

Rating: PG
Runtime: 98 minutes
Chevy Chase had the opportunity to display his comedic range in Michael Ritchie's Fletch, a comedy that heavily references film noir. Investigative journalist Irwin "Fletch" Fletcher adopted several hilariously ridiculous personas from John Coctotostan ("Can I borrow your towel? My car just ran over a water buffalo.") to Harry S. Truman ("My parents were huge Harry S. Truman fans").
 26. National Lampoon's Animal House
Year: 1978

Director: John Landis

Stars: John Belushi, Tim Matheson, Karen Allen, Peter Riegert, John Vernon, Tom Hulce, Bruce McGill, Stephen Furst, Donald Sutherland, Kevin Bacon, Mark Metcalf, Verna Bloom

Rotten Tomatoes Score: 91%

Rating: R

Runtime: 109 minutes
the modern era. Many things that might have been acceptable 45 years ago, when Animal House was released, are categorically unacceptable now. Even when I first saw John Belushi's peeping tom act in the early 1990s, it struck me as being uncomfortable and out of date, let alone the use of statutory rape as a punchline.
The sexual politics in Animal House may be difficult for younger audiences to understand, but if you can get past them (which probably weren't all that unrealistic for a group of college boys in the 1960s, 1970s, 1980s, 1990s, or 2000s…), you'll find a comedy that otherwise lives up to its classic reputation and has had an almost incalculable influence on Hollywood comedies.
25. Monty Python's Life of Brian
Director: Terry Jones
Stars: Graham Chapman, John Cleese, Terry Gilliam, Eric Idle, Terry Jones, Michael Palin
IMDb Rating: 8.1/10
Monty Python's Life of Brian is a comedy film written by the Monty Python comedy group. The film features the story of Brian Cohen who is mistaken to be a Messiah. This film is wine at its perfect comedic timing, brilliant facial expressions, excellent camera work, and amazing acting abilities of the cast members.
24. Monty Python and the Holy Grail
Directors: Terry Gilliam, Terry Jones
Writer: Graham Chapman, John Cleese, Eric Idle, Terry Jones, Connie Booth
Stars: Graham Chapman, John Cleese, Eric Idle, Terry Jones, Connie Booth
IMDb Rating: 8.2/10
Inspired by the Arthurian legend, Monty Python and the Holy Grail is a British comedy film. It was performed by the popular Monty Python group.
The group members who were part of the performance of Monty Python and the Holy Grail include Graham Chapman, John Cleese, Eric Idle, Terry Jones, and Connie Booth. It was created during the break of the third and fourth series of the BBC television show, Monty Python's Flying Circus.
The group previously released a compilation of sketches from the first two television series, titled And Now for Something Completely Different. Holy Grail is a completely original story that is a hilarious parody of King Arthur's search for the Holy Grail.
23. The Mitchells vs. The Machines
Director: Mike Rianda
Writer: Mike Rianda, Jeff Rowe
Stars: Danny McBride, Abbi Jacobson, Maya Rudolph, Mike Rianda, Eric Andre, Olivia Colman, Fred Armisen, Beck Bennett
IMDb Rating: 7.7/10
The Mitchells vs. The Machines is a popular comedy movie created by Sony Pictures Animation. The story revolves around an unusual family who unexpectedly becomes the last hope of humanity when they witness the robot apocalypse. It is an incredibly funny film that managed to be a tear-jerker.
This movie not only makes you laugh but also presents a thought-provoking message in front of the audience. This film is bound to give you a new perspective of life as an adult making it one of the best comedies on Netflix right now.
22. Pineapple Express
Year: 2008Director: David Gordon Green

Stars: Seth Rogen, James Franco, Gary Cole, Rosie Perez, Danny McBride, Craig Robinson, Kevin Corrigan
Rotten Tomatoes Score: 68%
Rating: R
Runtime: 112 minutes
The comedy that Judd Apatow's team was known for in the 2000s has been successfully grafted onto a different genre in Pineapple Express. The end result is a shaggy, low-budget crime thriller in the style of the '70s that stars James Franco and Seth Rogen in an absurd stoner comedy.
21. Glass Onion: A Knives Out Mystery
Year: 2022
Director: Rian Johnson
Stars: Daniel Craig, Janelle Monae, Ed Norton, Kate Hudson, Kathryn Hahn, Dave Bautista, Leslie Odom Jr., Jessica Henwick, Madelyn Cline
Rotten Tomatoes Score: 93%
Rating: PG-13
Runtime: 140 minutes
The Glass Onion serves as a metaphor for both the complexity of the mystery and the grandeur of Rian Johnson's newest thriller, Knives Out. The titular emblem, which is perched atop a stunning Greek villa (on a billionaire's private island, no less), is made up of VFX and a real structure that is an impressive 20 meters high.
20. She's Gotta Have It
Director: Spike Lee
Writer: Spike Lee
Stars: Tracy Camila Johns, Spike Lee, John Canada Terrell, Tommy Redmond Hicks
IMDb Rating: 6.7/10
She's Gotta Have It is a black-and-white comedy film from 1986 where Spike Lee was cast as a writer, director, producer, and also as an actor in a supporting role. This is one of the best Lee movies. The movie was loved by critics, and it also boosted Spike Lee's career. The story revolves around a young woman named Nola Darling who is seeing three men at the same time.
She is determined to get what she wants, and she refuses to follow what society says. She is open about her thoughts, and she doesn't believe in hiding who she is. These are the qualities that make her stand out from the rest of the people.
If you want to know more about the movie, then there is a Netflix series adaptation which was released in 2017. The series addresses so many issues that didn't even exist back in 1986.
19. 21 Jump Street
Director: Phil Lord, Chris Miller
Writer: Michael Bacall, Jonah Hill
Stars: Jonah Hill, Channing Tatum, Brie Larson, Dave Franco, Ice Cube
IMDb Rating: 7.2/10
21 Jump Street is a 2012 action-comedy movie adaptation of the 1988 television series of the same name. The story revolves around two policemen Schmidt and Jenko, who are assigned to go undercover as high school students to investigate the drug case and its suppliers.
As they are forced to live like teenagers all over again, they slowly slip back into their adolescent selves again risking their case.
The film has an approval rating of 85% on Rotten Tomatoes. 21 Jump Street is one of those comedy movies that you can never get over. You can watch a million times, but you will still laugh harder every single time. This movie never gets old.
18. Hunt for the Wilderpeople
Director: Taika Waititi
Writer: Barry Crump (Wild Pork and Watercress)
Stars: Sam Neill, Julian Dennison, Rima Te Wiata, Rachel House, Oscar Kightley, Tioreore Ngatai-Melbourne, Rhys Darby
IMDb Rating: 7.8/10
Hunt For The Wilderpeople is one of the most exciting movies where Taika Waititi is cast as a screenplay. The movie revolves around a rebellious kid and his foster uncle when they both go missing in wild New Zealand. It is a feel-good movie, and you will certainly adore every minute of it. You can watch this with your whole family on a lazy Sunday afternoon and it is sure to exceed all of your expectations.
I say just go ahead right into the movie without watching any trailers or reviews and we guarantee you that it will be an amazing journey!
17. Bad Trip
Director: Kitao Sakurai
Writer: Eric André, Kitao Sakurai, Andrew Barchilon
Stars: Eric Andre, Tiffany Haddish, Lil Rel Howery, Michaela Conlin
IMDb Rating: 6.5/10
This hidden-camera comedy film revolves around Chris Carey and his best friend Bud Malone who go on a road trip so that Chris can confess his feelings to his high school crush while being chased by Bud's criminal sister because they stole her car.
This movie will make you laugh until your stomach hurts, but it is also heart-touching at the same time. This comedy movie will surprisingly restore your faith in humanity.
16. Dolemite Is My Name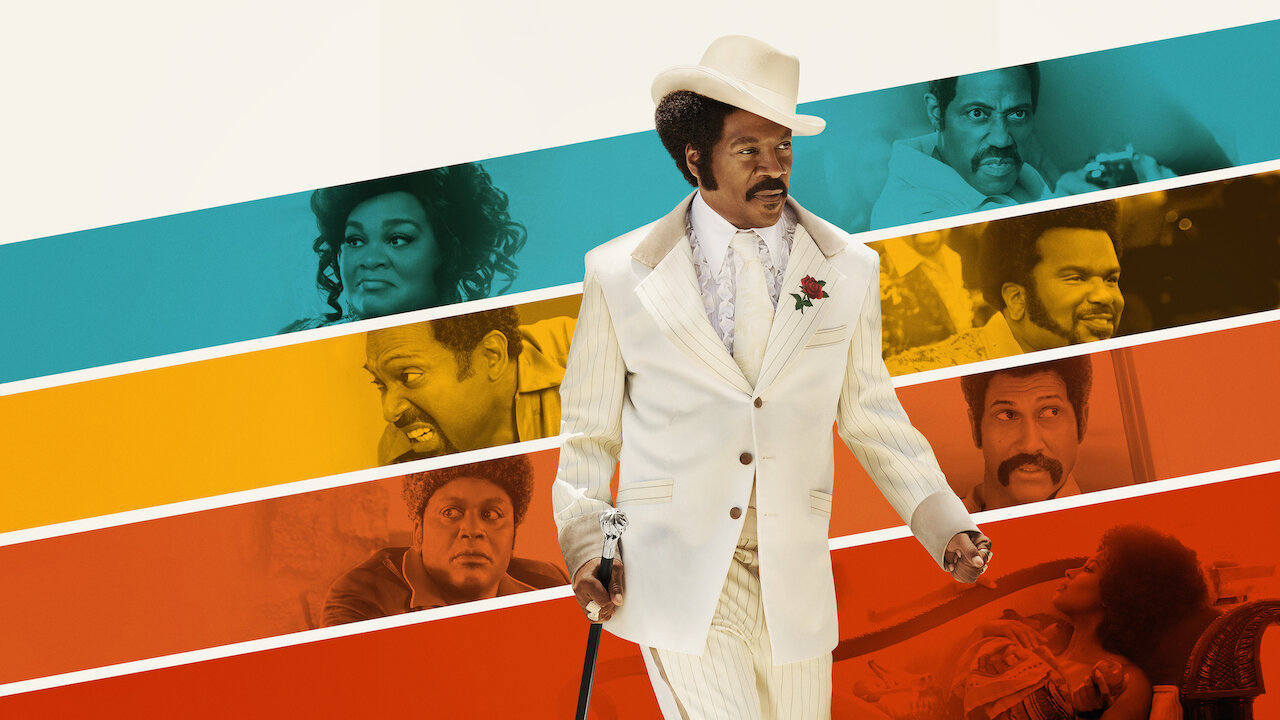 Director: Craig Brewer
Writer: Scott Alexander, Larry Karaszewski
Stars: Eddie Murphy, Keegan-Michael Key, Mike Epps, Craig Robinson, Tituss Burgess, Da'Vine Joy Randolph, Kodi Smit-Mcphee, Snoop Dogg, Ron Cephas Jones, Barry Shabaka Henley, Tip "TI" Harris, Luenell, Tasha Smith, Wesley Snipes
IMDb Rating: 7.3/10
Dolemite Is My Name being a popular biographical comedy film from 2019. The story revolves around the filmmaker Rudy Ray Moore, which is played by Eddie Murphy. When Hollywood kicks him out, he goes on to release his blaxploitation film, known as Dolemite.
This is the most inspirational movie you will ever see. The audience got attracted to the movie not just because of the legendary Dolemite but also because it has a beautiful story to tell. And of course, we got to witness the outstanding performance of Eddie Murphy once again on the big screen.
15. Hail, Caesar!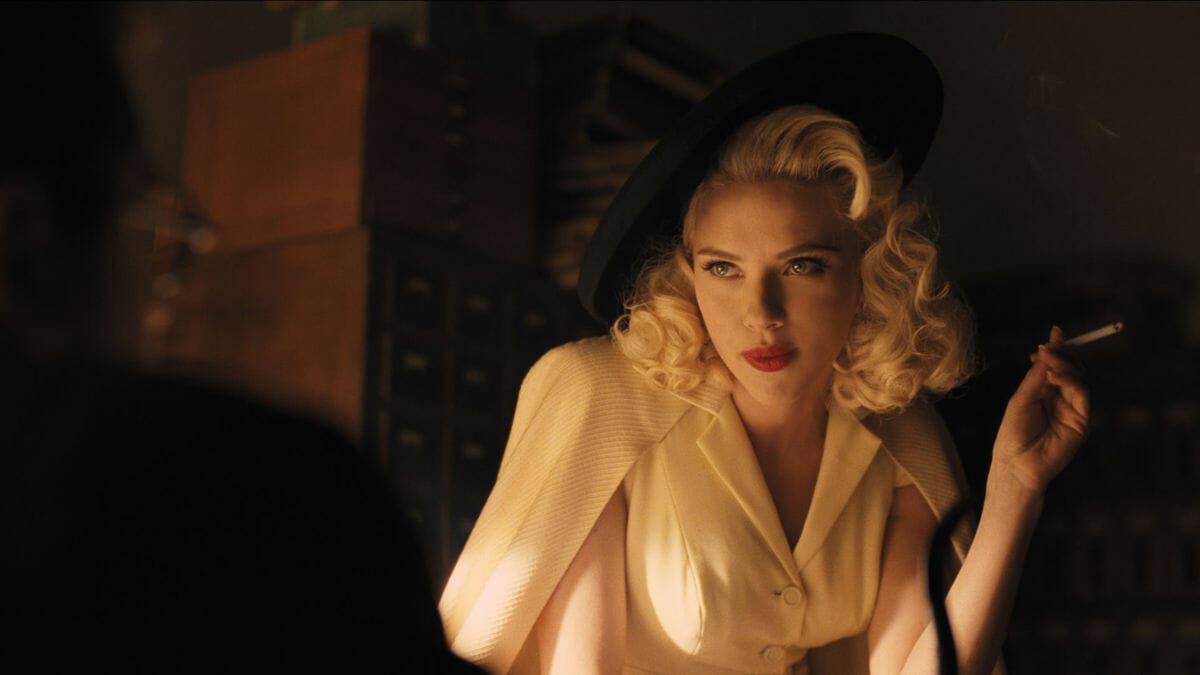 Directors: Ethan Coen, Joel Coen
Writer: Ethan Coen, Joel Coen
Stars: George Clooney, Tilda Swinton, Josh Brolin, Ralph Fiennes, Jonah Hill, Alden Ehrenreich, Christopher Lambert, Channing Tatum, Scarlett Johansson
IMDb Rating: 6.3/10
Hail, Caesar! is a comedy movie written, directed, and produced by the Coen brothers, that is Joel and Ethan Coen. This fictional story is based on the real-life studio fixer, Eddie Mannix, working in the Hollywood film industry in the 1950s.
His job is to fix any problem that comes up in the production process. This is one of the most creative and funny films that came out of Coens as they are genius filmmakers. Hail, Caesar! seeks to present an unexpected storyline and you are sure to love this movie from start to finish.
14. Mindhorn
Director: Sean Foley
Writer: Julian Barratt, Simon Farnaby
Stars: Julian Barratt, Essie Davis, Richard McCabe, Alex Wyndham, Steve Coogan
IMDb Rating: 6.3/10
Mindhorn is a British comedy film that revolves around Richard Thorncroft, a television actor whose character of Detective Bruce Mindhorn gets him into trouble as some of the criminals believe that he is a detective with a cybernetic eye (which functions as an optical lie detector).
The chaotic scenes in the movie will be going to make you laugh out loud. The film has an approval rating of 92% on Rotten Tomatoes. Mindhorn is a pure comic genius.
13. The Lovebirds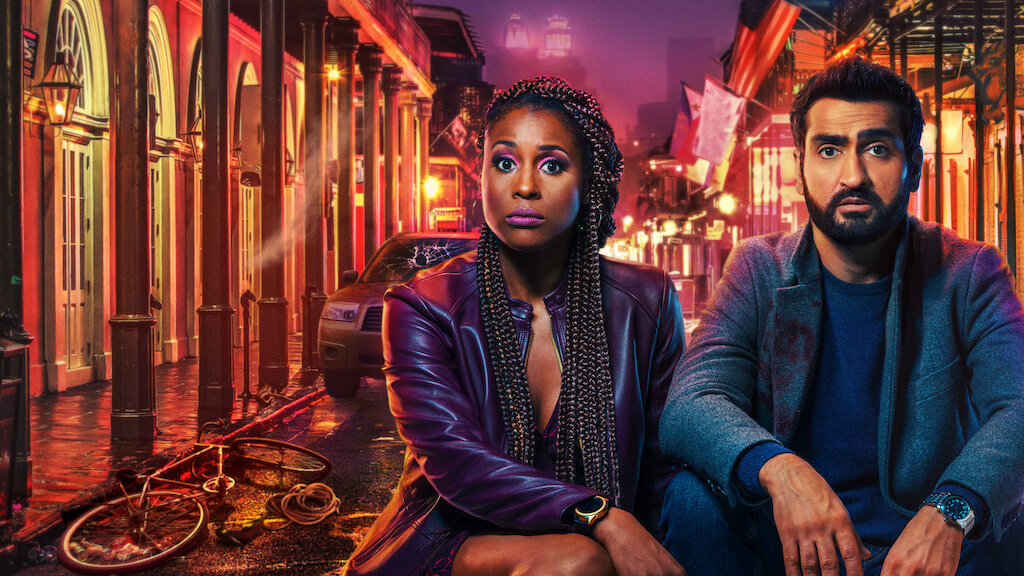 Director: Michael Showalter
Writer: Aaron Abrams, Brendan Gall, Martin Gero
Stars: Issa Rae, Kumail Nanjiani, Paul Sparks, Anna Camp, Kyle Bornheimer
IMDb Rating: 6/10
The Lovebirds is an American comedy movie which is produced by Paramount Pictures. The story revolves around a couple that experiences an unexpected defining moment in their relationship when someone unintentionally drags them into a murder mystery.
Catch this highly intriguing journey of Jibran and Leilani Brooks in proving themselves innocent. It is a highly recommended movie because they both have amazing chemistry, and they make up for an adorable couple.
12. To All the Boys I've Loved Before
Director: Susan Johnson
Writer: Jenny Han (To All the Boys I've Loved Before novel)
Stars: Lana Condor, Noah Centineo, Janel Parrish
IMDb Rating: 7.1
To All the Boys I've Loved Before is a popular teen movie in the To All the Boys franchise. The movie revolves around a timid teenager named Lara Jean Song-Covey who secretly writes letters to the boys she has crushes on as she has no courage to tell people how she feels about them.
The story takes an interesting turn when those letters are received by the intended people. This is the sweetest teenager movie. (And can we talk about Noah Centineo because we have been crushing on him since he showed up on our screen). The title song "I like me better" is a perfect romantic song and it seriously adds a lot of charm to the story.
11. Little Evil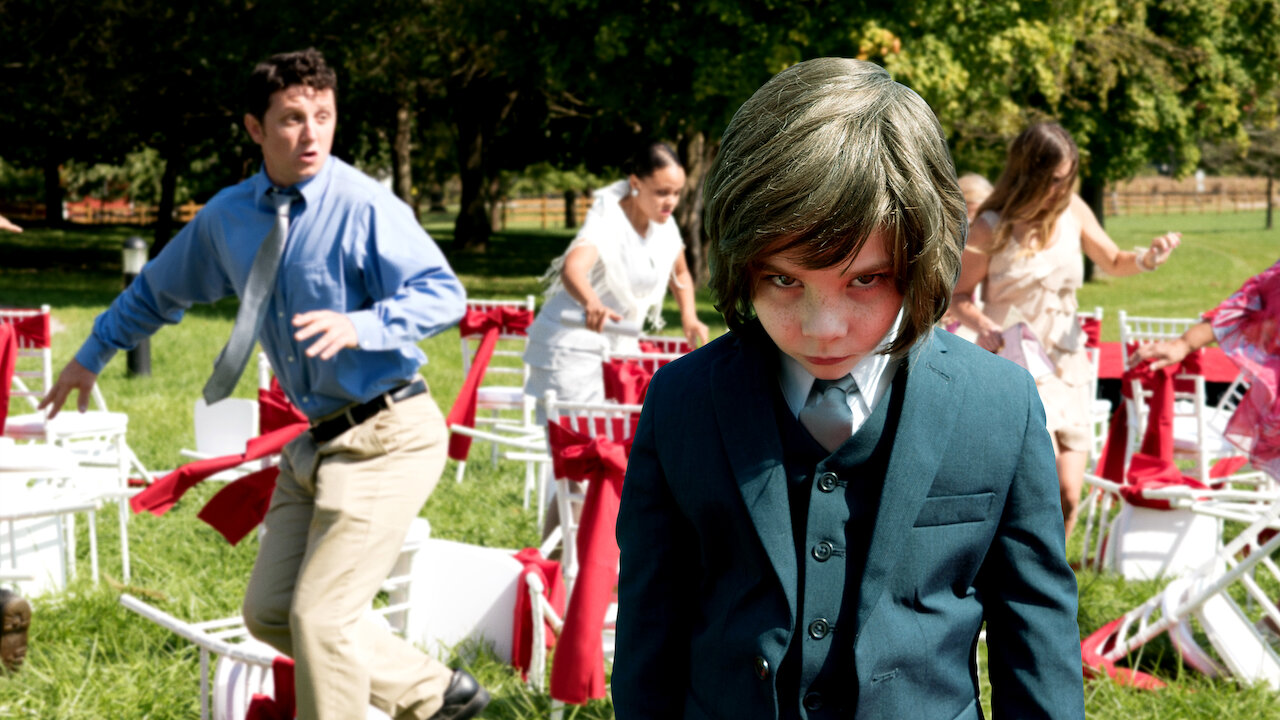 Director: Eli Craig
Stars: Adam Scott, Evangeline Lilly, Bridget Everett, Clancy Brown, Sally Field, Owen Atlas
IMDb Rating: 7.1/10
Little Evil is a supernatural horror comedy film that revolves around Gary who just got married to a perfect woman, Samantha and they live happily ever after. Well, everything is not rosy as it sounds. Gary has a problem bonding with Samantha's six-year-old son whose quirky habits prove that he is an antichrist.
The audience laughed their hearts out at the comedy scene where the mother said "so creative" by getting impressed by his son's satanic writing on the ceiling. This scary movie is a perfect combination of horror and comedy. On Rotten Tomatoes, the film received an approval rating of 92%.
10. Wine Country
Director: Amy Poehler
Writer: Emily Spivey, Amy Poehler
Stars: Rachel Dratch, Ana Gasteyer, Amy Poehler, Maya Rudolph, Paula Pell, Emily Spivey, Tina Fey, Jason Schwartzman, Cherry Jones
IMDb Rating: 5.4/10
Wine Country is the first movie by Amy Poehler in which she worked as a director, producer, and also actor. The story revolves around a group of four best friends who decide to go on a relaxing trip to Napa Valley for one of their friend's birthday celebrations.
And when the girls are involved, you are bound to witness some spice and drama. This is one of the most challenging and uplifting movies you will ever see. The film received an approval rating of 66% on Rotten Tomatoes.
9. The Incredible Jessica James
Director: Jim Strouse
Writer: James C. Strouse
Stars: Jessica Williams, LaKeith Stanfield, Noël Wells, Taliyah Whitaker
IMDb Rating: 6.5/10
The Incredible Jessica James is one of the best classics in the romantic comedy genre. This Netflix original movie revolves around a fiercely independent woman, Jessica James who works in a children's theatre workshop. This film is filled with hilarious humor as she deals with her messed-up love life. This film deserves to be on your summer watch list.
Jessica Williams is a supremely talented actress and she completely nailed the character with her terrific performance. Jessica Williams fans were exhilarated when this movie was first released. Fans are even anxiously hoping for the sequel.
8. Between Two Ferns: The Movie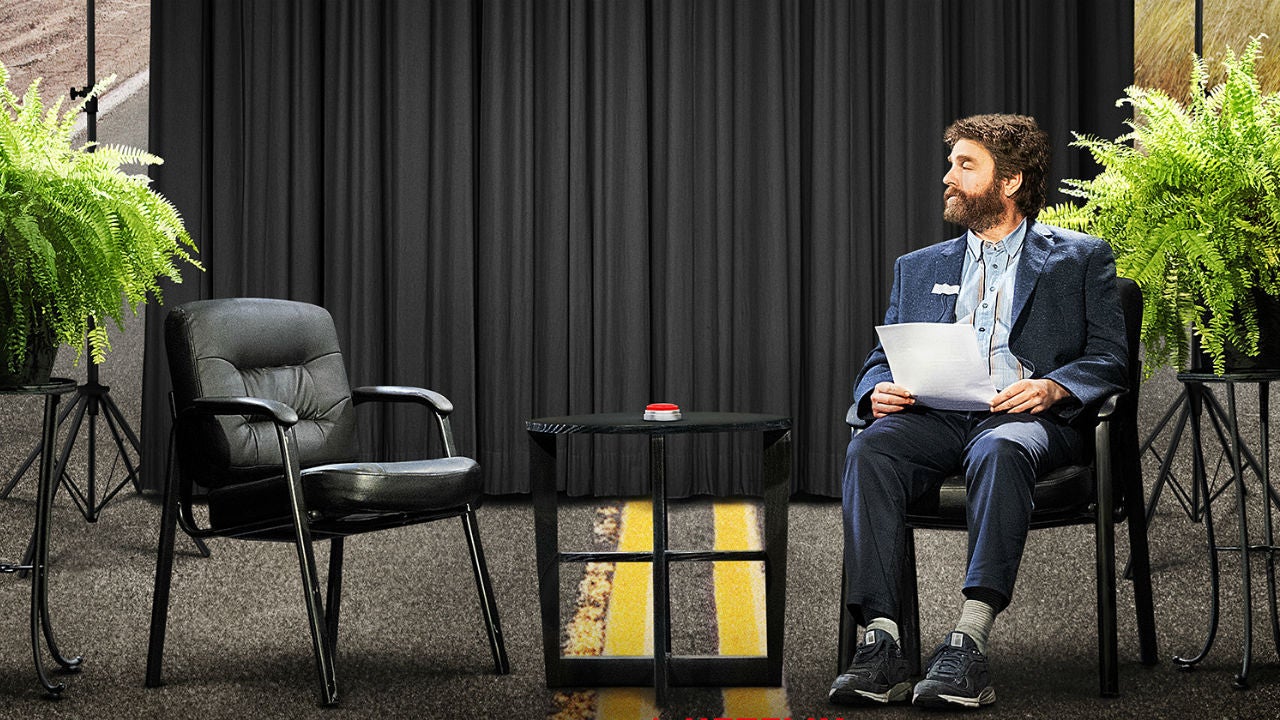 Director: Scott Aukerman
Writer: Zach Galifianakis; Scott Aukerman
Stars: Zach Galifianakis, Lauren Lapkus, Ryan Gaul, Matthew McConaughey
IMDb Rating: 6.1/10
Between Two Ferns: The Movie is a comedy film from 2019 that was directed by Netflix director Scott Aukerman. The film revolves around Zach Galifianakis and his crew member on a journey to complete the interviews of popular celebrities. This movie is hilarious in every possible way and a must-watch for all the comedy lovers out there.
7. Vampires vs. the Bronx
Director: Osmany Rodriguez
Writer: Oz Rodriguez
Stars: Jaden Michael, Gregory Diaz IV, Sarah Gadon, Shea Whigham, Method Man, Chris Redd
IMDb Rating: 5.7/10
Vampires vs. the Bronx is a comedy horror film that revolves around a group of teenagers stepping up for their neighborhood when a group of vampires attacks them.
6. Lady Bird
Director: Greta Gerwig
Writer: Greta Gerwig
Stars: Saoirse Ronan, Laurie Metcalf, Tracy Letts, Lucas Hedges, Beanie Feldstein, Timothee Chalamet
IMDb Rating: 7.4/10
Lady Bird is a coming-of-age comedy-drama film from 2017. This is the first film of Greta Gerwig where she started her career as a director. This teen movie revolves around a fearless seventeen-year-old teenager who has to face trials of love life and family while consistently being on the quest for self-discovery.
If you are a teenager, then this will easily be the most relatable movie you will ever watch. This movie has brilliantly portrayed the fears and concerns of a teenager while justifying the comedy genre. This is a funny heart-touching movie. Lady Bird is truly one of the best comedies on Netflix right now. The film has an approval rating of 99% on Rotten Tomatoes.
5. Stripes
Director: Ivan Reitman
Writer: Len Blum, Dan Goldberg, Harold Ramis
Stars: Bill Murray, Harold Ramis, Warren Oates, P.J. Soles, Sean Young, John Candy, John Larroquette, Judge Reinhold
IMDb Rating: 6.8/10
Stripes are one of the best military comedy movies from the 1980s. The director, Ivan Reitman creatively portrayed the serious topic while being consistently funny. The movie has the most amazing cast members including Bill Murray, Harold Ramis, John Candy, John Larroquette, John Diehl, Conrad Dunn, Judge Reinhold, Joe Flaherty, Dave Thomas, Timothy Busfield, and Bill Paxton.
The story revolves around a sloppy taxi driver named John Winger. When he lost his job and girlfriend because of his negligence, he decides to apply for United States Army with his friend Russel Ziskey. The movie received a score of 88% on Rotten Tomatoes and the fans appreciated it all over the world.
4. The Artist
Director: Michel Hazanavicius
Writer: Michel Hazanavicius
Stars: Jean Dujardin, Bérénice Bejo, John Goodman
IMDb Rating: 7.9/10
It is a black-and-white silent comedy-drama film that revolves around the relationship between a rising young actress and an older silent film star in an era where silent films were slowly getting replaced by the talkies.
The Artist is once in a lifetime movie that you will carry in your heart for life once you watch the movie. The visual beauty of this movie is captivating. This heartfelt movie was released in the 1920s and, surprisingly, this silent film won the Academy Award just ten years ago.
3. Eurovision Song Contest: The Story of Fire Saga
Director: David Dobkins
Writer: Will Ferrell, Andrew Steele
Stars: Will Ferrell, Rachel McAdams, Dan Stevens, Pierce Brosnan
IMDb Rating: 6.5/10
Eurovision Song Contest: The Story of Fire Saga is a romantic musical fantasy funny movie that revolves around two singers from Iceland, Lars Erick's song and Sigrit Ericksdóttir who get the golden opportunity to represent their country at an international level through Eurovision Song Contest. This is a must-watch movie for all the music lovers out there.
2. Our Idiot Brother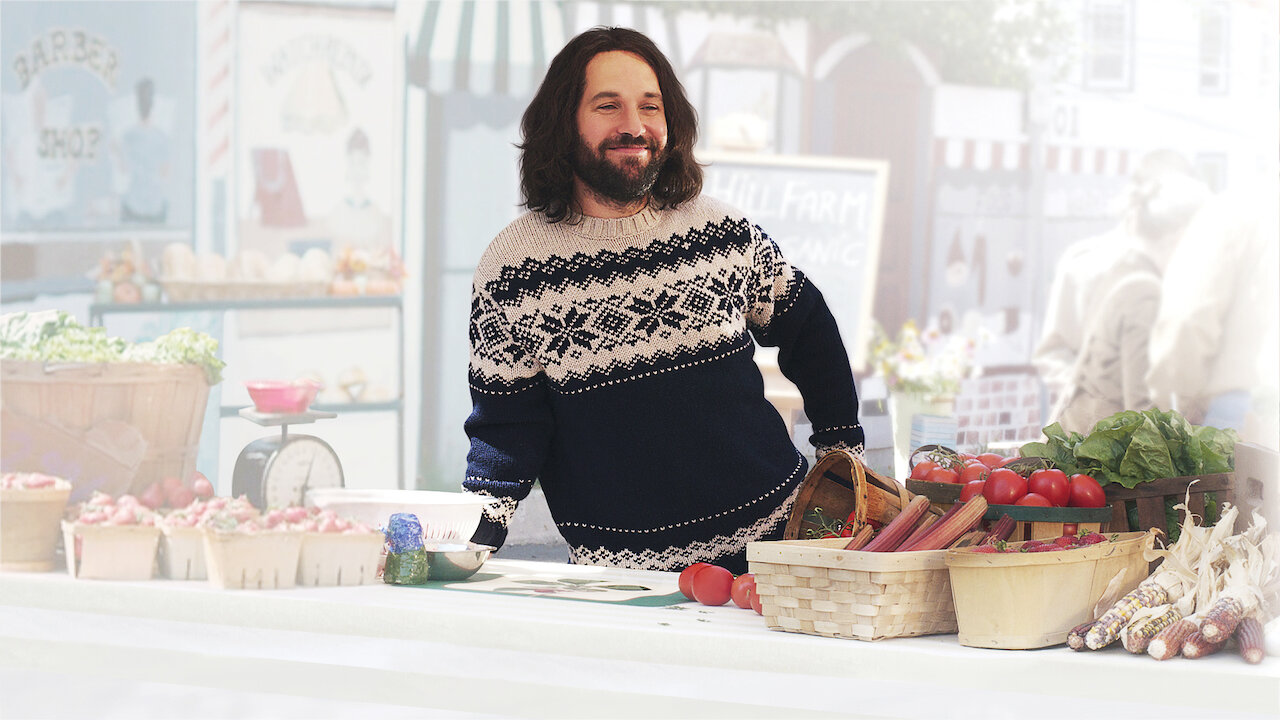 Director: Jesse Peretz
Writer: Evgenia Peretz, David Schisgall, Jesse Peretz, Kaysi Rickard
Stars: Paul Rudd, Elizabeth Banks, Zooey Deschanel, Emily Mortimer, Kathryn Hahn, Steve Coogan, Rashida Jones, Adam Scott
IMDb Rating: 6.4/10
Our Idiot Brother is a comedy-drama film that revolves around a stupid yet idealist man who intrudes into the life of three sisters. The dynamic between the three sisters has been portrayed realistically. After watching this amazing movie, fans are hoping for a sequel.
This is not the most perfect movie ever made but you can still enjoy it. The impressive cast will provoke you to watch the film, especially when there is Paul Rudd, Elizabeth Banks, and Zooey Deschanel all at one. Paul Rudd stars in the title role of Nedrick "Ned" Rochlin.
1. Mars Attacks!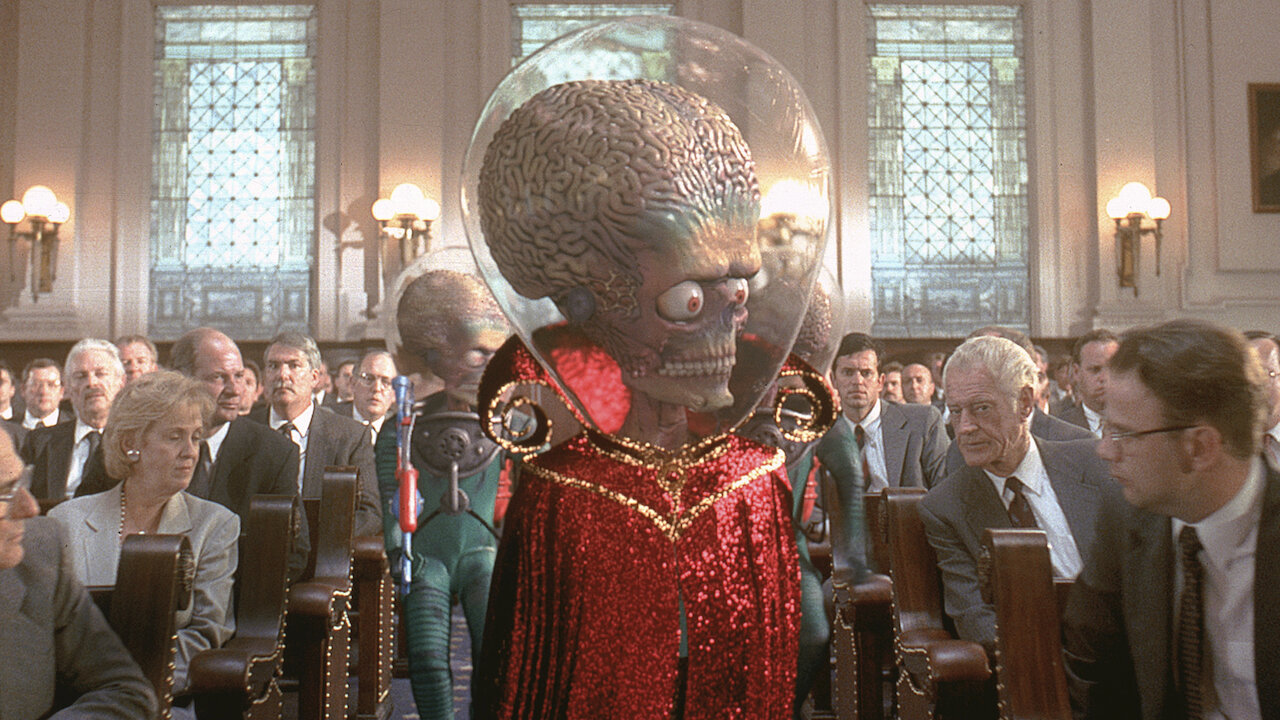 Director: Tim Burton
Writer: Jonathan Gems
Stars: Jack Nicholson, Glenn Close, Annette Bening, Pierce Brosnan, Danny DeVito, Martin Short, Sarah Jessica Parker, Michael J. Fox, Jim Brown, Rod Steiger, Natalie Portman, Lukas Haas
IMDb Rating: 6.4/10
Mars Attacks! is a science fiction comedy film which was directed by Tim Burton. The story takes place when the inhabitants of the planet Mars invade planet earth with unbelievable powers and a ruthless sense of humor. This is an underrated movie, and you can watch it with your whole family.
Conclusion:
Netflix has always been on the top of the game and the toughest competitor to the rest of the streaming platforms which are claiming to provide a reckless amount of quality content to make us regular watchers. Unfortunately, these OTT platforms can never outshine the popularity of Netflix.
However, amidst all the hype, the number of classics has been continuously decreasing on Netflix. Old movies like Lego movie, Sleepless in Seattle, My Man Godfrey, and Overboard are nowhere in the picture.