Damon Salvatore is dark, murky, and mysterious, he is the brother of Stefan Salvatore, and both are seen in Vampire Diaries. Damon Salvatore's and Stefan Salvatore's quotes are famous among the fans. But Damon Salvatore quotes shares his philosophical emotions on crooked morality as he comes up with perfect comical one-liners and on-point replies to other characters back and forth.
The series ended in 2107, but for some fans, it is still the best vampire show they have seen. It is set in Mystic Falls and has everything from a dramatic plot to attractive hot charming characters; the show has it all, which is why people love the show even after years.
Show writer's skills to pen memorable quotes for Damon Salvatore are hard to ignore. Here is some fun Damon Salvatore quotes from the TV show.
Who is Damon Salvatore?
Ian Somerhalder played the fictional character of Damon Salvatore in Vampire series. He also has a brother Stefan Salvatore portrayed by Paul Wesley. In the show, Stefan is affectionate, caring, and kind; on the other hand, Damon Salvatore is brooding, evil, and murky. One can be seen as light and the other as darkness.
Initially, Damon Salvatore is a murky and unfeeling vampire, but if you stick through all eight seasons, you will see a ray of empathy, light, and compassion that will develop as he has a change of heart. It changes for him when he befriends Alaric Salzman and Bonnie Bennett and later grabs the heart of his love.
At the show's start, he falls for Elena Gilbert, who looks exactly like the vampire he loves, Katherine Pierce. Elena Gilbert and Katherin Pierce were both played by Nina Dobrev.
Damon Salvatore Quotes
Show's Damon Salvatore is a character who has diverse viewers' reactions, and he is suitable for many and bad for others. Here are some of the heartwarming Damon Salvatore quotes.
"Life sucks either way, Jeremy. At least if you're a vampire, you don't have to feel bad about it if you don't want to." – Damon Salvatore, 'The Vampire Diaries.
'This quote was said in season 1, episode 22, "Founders Day." It was said when Jimmy said that vampires don't feel any pain; they can shut down their humanity at anytime.
He also asked Damon if life was easier this way. To this, Damon replied that life sucks both ways, but as a vampire, one doesn't have to feel bad about it; he also explained that he did it a long ago, and it has got more accessible for him.
Quotes of Damon 
"I've been in love. It's painful, pointless, and overrated." – Damon Salvatore, 'The Vampire Diaries.'
This quote was said in season 1, episode 6, "Lost Girls," and was initially written by L.J. Smith. In the show, we saw Vicki asking Damon why he is so cool and hot; doesn't he want to be in love? To her question, he replies that he has been in love, and it's overrated and pointless.
"It's not wrong to hustle hustlers. It's like killing murderers, a public service." – Damon Salvatore, 'The Vampire Diaries.'
L.J. Smith originally wrote this quote.
"The only person I can count on is me." – Damon Salvatore, 'The Vampire Diaries.'
This quote was said in season 1, episode 13, "Children of the Damned." It is straightforward here; we know how Damon is with his attitude, so he is referring that he can only trust himself for this job; Given the past, all the ideas were accurate but were poorly executed,
"You spent the last century and a half being the poster child for Prozac. Now you want me to believe this new you has nothing to do with human blood." – Damon Salvatore, 'The Vampire Diaries.'
This quote was said in season 1, episode 19, "Miss Mystic Falls." He refers that, for the major part, the counter has spent the major time as a poster boy for Prozac, and now it is had to believe that he has no interest in human blood.
Related: 20 TV Shows with Supernatural Romance like Vampire Diaries
More quotes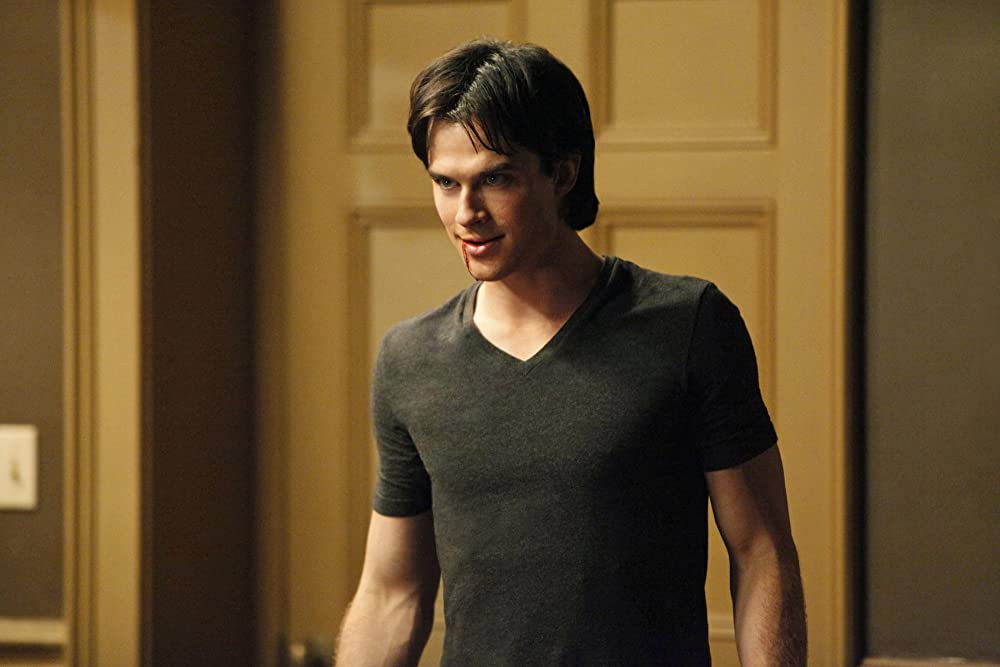 "Frankly, my dear, I don't give a damn about anyone else." – Damon Salvatore, 'The Vampire Diaries.'
Damon said this in reply to Elena when she said that she could not go back there because they thought that she was dead; Damon was surprised that she remembered that, and to her, he said I don't care about anyone else; he also mentioned that he did ask Stefan from the start to share her, but he was selfish according to Damon brothers should share everything.
"The best way to not get your heart broken is to pretend that you don't have one." – Damon Salvatore, 'The Vampire Diaries.'
This is one of the most precise Damon Salvatore quotes of the season. He says that the best method not to get hurt or broken is to pretend that you are heartless; if you do not have a heart, it cannot be broken.
Damon Salvatore Love Quotes
In the series, Damon started as an antagonist and was anything but romantic. He just wanted chaos and did not care about anyone else. But as the story progressed, we witnessed changes in him and Elena Gilbert; his love interest realized that everything that Damon did was for love.
After Damon falls for Elena, he reveals who he is in reality. Fans believed that he didn't deserve deliverance in the show, but he is loved more than any other character in the series, and there is no shortage of romantic quotes; here are some love quotes from the series.
"Dear Diary, a chipmunk asked me my name today. I told him it was Joe. That lie will haunt me, forever." – Damon Salvatore, 'The Vampire Diaries.'
Top Quotes
Personally, this was one of the top quotes from the whole TV Show, and it was one of Damon's shadiest burns. Most of the characters are at the end of his quirky lines, but most insults are targeted at Stefan.
Damon loves magnification and does a remarkable job mimicking his brother's diary entries. Damon sarcasm is on another level if compared to Stefan, but if it comes to dramatics, he matches his brother well.
"Am I wearing my 'I blew up the council' t-shirt? Why does everybody keep asking me that?" – Damon Salvatore, 'The Vampire Diaries.'
Damon said this when Elena asked him if it was he who set off the explosion that killed the Town Council? He replied to her with this crazy one-liner.
"Yoo-hoo. Anybody home? Big bad vampire out here." – Damon Salvatore, 'The Vampire Diaries.'
This quote was said in season 1, episode 4, "Growing Pains." He said this to Elena when he was hurt due to a bite of a werewolf; he also said that she should've met him in 1864; she would've liked him more.
"Katherine: Bad day?
Damon: Bad century." – 'The Vampire Diaries.'
This quote is about a werewolf bite in season 2. Damon said that he heard she was on the run; Katherine asked her if he was jealous as she spent a day with Stefan? To this, he replies he is not jealous anymore, not of her, and Katherine, in reply, asks him not to be a hero; he will end up dead.
"Stefan: Can't touch her now.
Damon: Well, the vervain keeps me out of her head. Maybe that's not my target. Believe it or not, Stefan, some girls don't need my persuasion. Some girls just can't resist my good looks, my style, my charm…and my unflinching ability to listen to Taylor Swift." – 'The Vampire Diaries.'
This quote was said in season 1, episode 4. Damon said that he was having fun with Stefan and Elina so that he would stay a bit more; Stefan replied sarcastically that he could not touch her now.
So he said that Vevain keeps him out of her head, and some girls don't need his persuasion; they cannot resist her charm, looks, and his ability to listen to Taylor Swift.
Funny Damon Salvatore Quotes
Damon Salvatore is known for his sarcastic comments and biting nature. For some, he is the king of epithets and silly childish voices, bringing a funny aura to the dark moments of the show. His sense of humor is usually mocking the people he loves the most.
"There is no such thing as a bad idea. Just poorly executed awesome ideas." – Damon Salvatore, 'The Vampire Diaries.'
It sounds contrary, but Damon here has a valid point, every time, there is a perfect plan to solve their issues. The only drawback is their way of executing it. It is rare to have a bad idea, but it could be a hypothetical one. But if all the Damon plans go without any issues, all the problems will be minor.
Damon Salvatore More Quotes
"No matter how much I missed you or how much pain I was in, I never would have erased everything we ever had. Even if I were drowning in grief, I'd rather hang on to every moment that I ever held you, or every laugh I ever heard, every shred of happiness that we ever had. I would rather spend every moment in agony than erase the memory of you." – Damon Salvatore, 'The Vampire Diaries.'
When Alaric died, it was difficult for everyone, but majorly it was breaking for Damon. Fans like their chemistry, as Alaric was the first person to accept Damon as he is.
Related: Amazing Shows Like Vampire Diaries
Secret of Damon
To stay in his exterior room, he has not gotten friendly with other characters and also doesn't involve them in his doings. He likes talking to his best friend alone in the company of alcohol; it allows him to pour his heart out. This quote tells us that he is suffering a lot, more than he can show.
"I have a secret, a big one. But I've never spoken aloud. It would not change anything! It would do me no good, or I could adopt a puppy. I cannot be what other people want me to be…As they would have me… that's who I am…you are my existential crisis. Should I kill you or not?
What are Damon Salvatore's famous lines?
Each member of the show's cast has their one-liners, but Damon makes the most perfect one-liners, making him the most notable character from the show.
Whether or fans believe that he should get a happy ending, the show has dedicated a good amount of screen time to fleshing him out.
Damon's complex characters give way to many internal conflicts, and he is the central plot of the whole show. Whether they are tragic, sassy, or heartfelt, there are some Damon Salvatore quotes that are above the rest.
"Whenever You Go Too Far, I Will Be There To Pull You Back. Every Second, Every Day, till You Don't Need Me."
Damon Salvatore's famous lines
The series was supposedly a love triangle. But Nina Dobrev's Elena Gilbert departure from the show made the two boys center of the show. Irrespective of their fights over silly matters, their love and devotion for each other are evident.
Viewers often wonder if Stefan and Damon are each other first priority or not, given how focused they are on their relationship with Elena. Quotes like this affirm the bond that they share.
"Dear Diary, A Chipmunk Asked Me My Name Today. I Told Him It Was Joe. That Lie Will Haunt Me Forever."
This was among his best quotes from the whole series, but it was also one of his shadiest burns. All of the characters are at the end of his one-liners insults, but his brother Stefan is his favorite target.
Quotes Damon
Damon likes to magnify and does an exceptional job at mimicking his brother's diary entries. Damon's mockery is outrageous compared to anything that Stefan writes. But if it's about the dramatics, he matched his brother well.
"In The End, When You Lose Somebody, Every Candle, Every Prayer Is Not Going To Make Up For The Fact. That The Only Thing You Have Left Is A Hole In Your Life Where That Somebody You Cared About Used To Be."
Losing Alaric was difficult for everyone but most difficult for Damon. It is evident why the fans root for their romance, as Alaric was the first individual to accept Damon as he was.
"I'm Not Human, And I Miss It. I Miss It More Than Anything In The World. That Is My Secret. But There's Only So Much Hurt A Man Can Take.
"Hello, Brother."
It is the most simple quote among others, but it is the most emotional quote from the show. When Damon sees Stefan in the pilot, the meeting is filled with harshness and malice. 
The final quote, "Hello, brother," is filled with love and comfort, and Stefan also welcomes Damon with open arms. This was one of the best Damon Salvatore quotes from the show.
What were Damon Salvatore's last words?
Ian Somerhalder portrayed Damon Salvatore's character; ironically, Damon's first and last words were the same. Well, the words were "Hello, brother," and I can bet that every core fan remembers this.
What was Damon's first words?
His last word was also his first words, "Hello, brother." His heart was filled with cruel intentions and malice the first time he said this. But when she said this last time, he was full of emotions, love, and care for his younger sibling Stefan.