Longmire was a television series that debuted in 2012 and portrayed the life of Walt Longmire, a devoted sheriff in a tiny town in remote Wyoming. He is reputed to patrol the area with a level head and a dry sense of humor, but he is secretly suffering from the loss of his wife recently. Longmire slowly starts to put his lifestyle back together after being prodded by his daughter as well as his deputies, beginning with reelection.
This crime drama, which finished in 2017, was incredibly well-liked and had a lot of ratings and great reviews. Browse no more if you liked the drama series Longmire and want to watch more shows like Longmire. You may binge-watch the TV series I've listed below that are comparable to Longmire.
20. Banshee
Creator: David Schickler, Jonathan Tropper
Cast: Antony Starr, Ivana Milicevic, Ulrich Thomsen, Frankie Faison
IMDb Rating: 8.4
Rotten Tomatoes: 90%
Streaming Platform: Prime Videos and Hulu
Similar to "Longmire," but with a wide geographical variation, Banshee reflects a neo-Western aesthetic. In the film "Banshee," which is filmed in Pennsylvania Amish Country, Antony Starr plays an ex-con who pretends to be Lucas Hood, his town's new sheriff, in order to avoid being discovered by Rabbit, a notorious crime boss.
Some viewers praised "Banshee," while others criticized it for its graphic violence and explicit sex scenes. In other words, while it is a little wilder than "Longmire," it nonetheless employs the same harsh, procedural technique in a distinctive location. "Banshee" is a bit inconsistent, including Eastern European gangs, New York street thugs, and Amish crime bosses, but unless you're down with its distinctive style of craziness, you'll have a fantastic time.
19. Lancer
Creator: Samuel A. Peeples
Cast: James Stacy, Wayne Maunder, Andrew Duggan, Elizabeth Baur
IMDb Rating: 7.2
Rotten Tomatoes: NA
Streaming Platform: Hulu
With this next series, we'll transport you both to the period in which the program is set and the period in which it was really recorded. Lancer, a television series that aired from 1968 through 1970, provides you with a sense of authenticity that is unmatched, particularly when it comes here to the Western genre.
Murdoch Lancer and his sons' battle to keep their ranch standing is the subject of the television show. This drama features horses, cowboys, guns, and a beautiful environment. Still, even without those elements, each individual is given just the right level of attention and background information to make you feel sorry for them genuinely. If you're open to trying some older shows, this one is rather fascinating!
18. Laramie
Creator: Earl Bellamy
Cast: Robert Fuller, John Smith, Spring Byington, Dennis Holmes
IMDb Rating: 7.7
Rotten Tomatoes: NA
Streaming Platform: Prime Videos and Hulu
Next up comes another concert that transports you backward in history. Since Lancer was used to smoothing the trip heading up to this event, you could be certain that Laramie will transport you yet further back through time.
The black-and-white television program Laramie debuted in 1959 and ran for four seasons, with the final episode airing in 1963. Laramie is centered in remote Wyoming, just like the show Longmire, then you'll get to witness a comparable setting, but one that was established a very long time ago. The narrative of two siblings, Andy & Slim Sherman, who inherited a ranch following their father's death, is told in Laramie, a novel set in the 1870s.
17. Heartland
Creator: Murray Shostak
Cast: Amber Marshall, Shaun Johnston, Michelle Morgan, Chris Potter
IMDb Rating: 8.4
Rotten Tomatoes: NA
Streaming Platforms: Netflix, Prime Videos, and Hulu
This Canadian program has a plot that is pretty much identical to the show Longmire's, straight down to the likable protagonist. Heartland tells the tale of a family fighting to maintain their ranch during trying times. That wasn't all, though.
The plot thickens as little Amy discovers she has acquired her deceased mother's talent for tending to wounded horses and for establishing solid, encouraging ties among her family. This is a great story of just a family coming with each other to protect what truly means to them all despite their tragic background.
16. The Ranch
Creator: Jim Patterson, Don Reo
Cast: Ashton Kutcher, Sam Elliott, Grady Lee Richmond, Elisha Cuthbert
IMDb Rating: 7.4
Rotten Tomatoes: 60%
Streaming Platform: Netflix and Prime Videos
Netflix now has the American television show The Ranch.  On 1st Apr 2016, The Ranch debuted on Netflix. It lasted for four seasons, including 80 episodes, until being canceled on 24th Jan 2020.
The Bennetts are indeed a dysfunctional family that resides on that ranch, and the series depicts their ongoing arguments. Colt Bennett, an ex-high school quarterback, with Rooster Bennett, the elder brother, make up the Bennett family. The other people in the family are their mom Maggie plus dad, Beau.
15. Vegas
Creator: Nicholas Pileggi, Greg Walker
Cast: Dennis Quaid, Michael Chiklis, Carrie-Anne Moss, Taylor Handley
IMDb Rating: 7.3
Rotten Tomatoes: 67%
Streaming Platform: Prime Videos
Vegas, a program rooted in the 1960s but broadcast fairly late in 2012, brings you closer to more modern times.  The backdrop of the 1960s focuses on the period when Las Vegas was developing as the center of all gambling and pleasure, as well as on the numerous crooks attempting to expand their illegal enterprises.
The program centers on Ralph Lamb, a rancher-turned-police officer who works with his brother as well as his son, and other officers to try to investigate the murder of some kind of casino employee.
14. Yellowstone
Creator: John Linson, Taylor Sheridan
Cast: Kevin Costner, Luke Grimes, Kelly Reilly, Wes Bentley
IMDb Rating: 8.7
Rotten Tomatoes: 83%
Streaming Platform: Prime Videos and Peacock
On 20th Jun 2018, the Paramount Network debuted the first season of the American drama tv show Yellowstone, which has three seasons and 29 episodes. The story of a poor rancher household is told in the television show Yellowstone. John Dutton owns the biggest continuous ranch in the country. He works in a dubious atmosphere where powerful oil and timber firms bribe lawmakers, and land grabs win developers billions.
Dutton's property is continually at odds with its neighbors, including a growing city, an Indian reserve, and America's 1st nature reserve, due to shifting loyalties, mysterious crimes, open sores, and hard-earned esteem. As you observe, you'll learn what occurs and how he resolves each situation.
13. Godless
Creator: Scott Frank
Cast: Jack O'Connell, Michelle Dockery, Scoot McNairy, Merritt Wever
IMDb Rating: 8.3
Rotten Tomatoes: 83%
Streaming Platform: Netflix and Prime Videos
If you really want to binge-watching a single season of such a drama but are strapped for time, Netflix's "Godless" is a fantastic choice. Young outlaw Roy Goode runs away from his abusive advisor in the opening scene of "Godless," which actually occurs in 1884. He eventually discovers himself in La Belle, New Mexico, a community that is virtually exclusively governed and occupied by women. With the assistance of her maid of honor, a widow called Alice Fletcher manages a ranch alongside her mother-in-law and son.
As it came out, the bulk of the males of La Belle perished in a mining accident, placing the women in command. The series was a hit; the production staff received multiple Emmy nominations and was included on many year-end best-of lists.
12. Wynonna Earp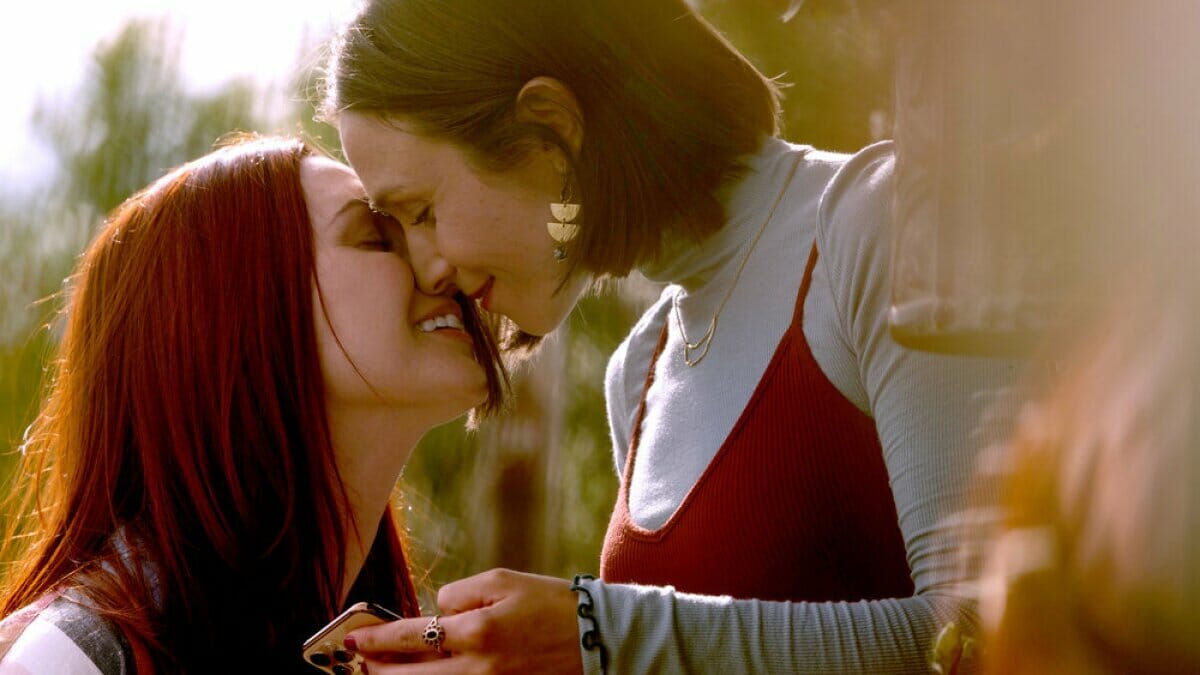 Creator: Emily Andras
Cast: Melanie Scrofano, Tim Rozon, Dominique Provost-Chalkley, Katherine Barrell
IMDb Rating: 7.3
Rotten Tomatoes: 92%
Streaming Platform: Netflix and Prime Videos
Could you do with some sci-fi/horror in conjunction with your traditional Western? If so, you will probably enjoy this movie which is based on a comic series. Inside SyFy's "Wynonna Earp," featuring Melanie, Scrofano portrays the famed lawman Wyatt Earp's great-great granddaughter.
The disadvantages of departing a legacy exist. The rebels her ancestor slaughtered torment her as revenants, the supernatural. She realizes she has acquired the ability to send the devils down to Hell once she reaches 27 and learns that her magical gun, "Peacemaker," is functional.
11. Luther
Creator: Neil Cross
Cast: Idris Elba, Dermot Crowley, Michael Smiley, Warren Brown
IMDb Rating: 8.4
Rotten Tomatoes: 88%
Streaming Platform: Prime Videos and Hulu
Could you criticize us for remaining inside England for such an introduction? Simply put, the lead character is excellent. John Luther, a police officer with the Serious Crime Unit, stars in the BBC One crime drama "Luther". Luther is frequently drawn into the murders he looks into, particularly the ones committed by serial murderer Alice Morgan. Enriching this dark crime thriller with electrifying tension, the duo spends the bulk of the show as both enemies and friends.
According to Luther's producer Neil Cross, he modeled Luther on such a blend of Sherlock Holmes plus Columbo, fusing the other's "inverted detective story" approach with Holmes' analytical rigor.
10. Broadchurch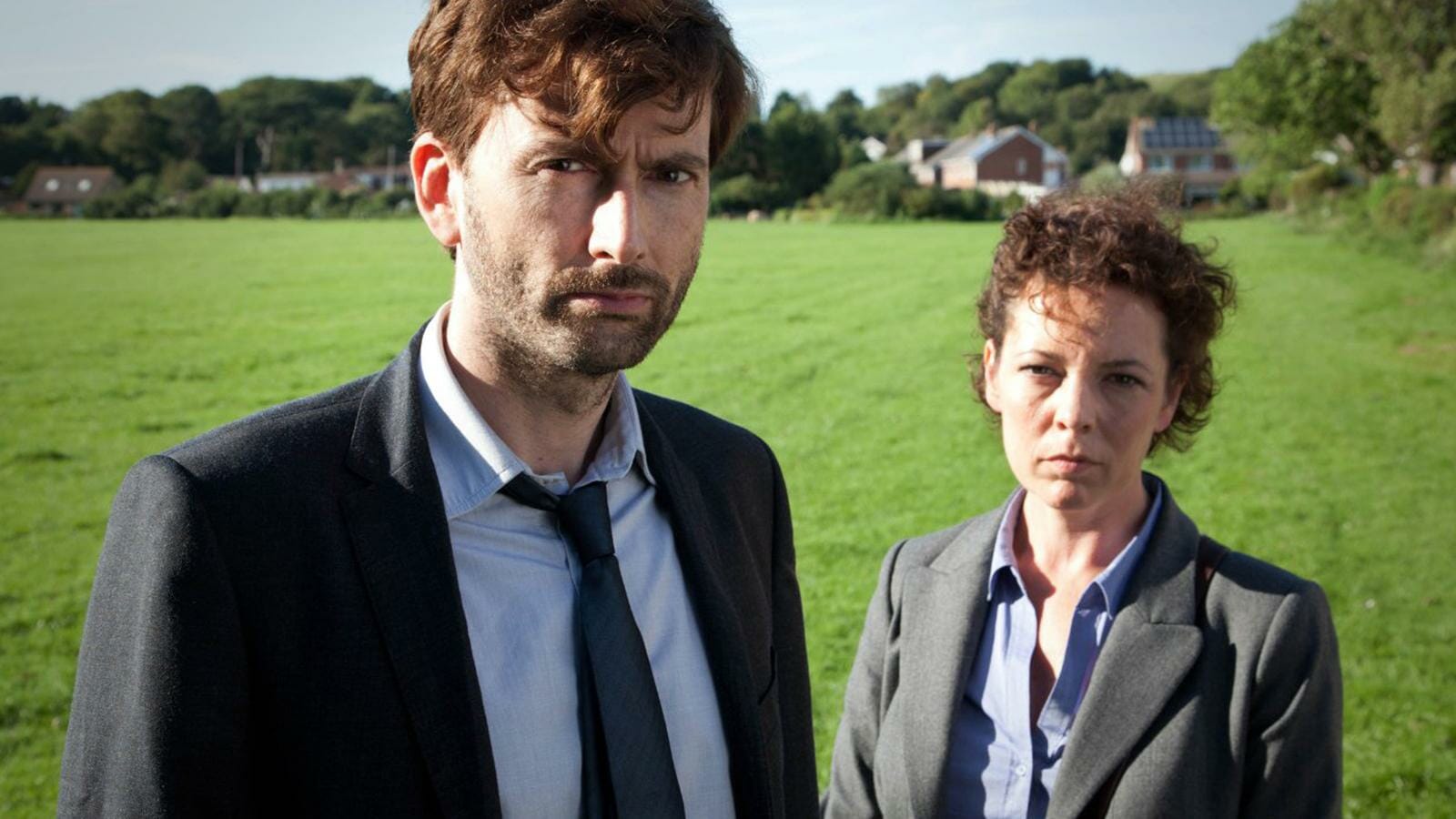 Creator: Chris Chibnall
Cast: David Tennant, Olivia Colman, Jodie Whittaker, Andrew Buchan
IMDb Rating: 8.4
Rotten Tomatoes: 92%
Streaming Platform: Prime Videos and Apple TV
Although "Broadchurch" on ITV lacks the show, "Longmire's" Western flare, its gripping portrayal of a tiny community in crisis will definitely draw you to observe. The drama is set in the fictional English community of Broadchurch, where investigators Alec Hardy with Ellie Miller are compelled to cooperate despite having very different temperaments. The show chronicles their efforts to crack the mystery as they look into the unsolved murder of a young local kid.
Folks from the surrounding region are rapidly dragged into the activity since Broadchurch is a tiny place. The series as a whole is wrapped up in a confusing labyrinth of secrecy because of the intricacy added in Seasons 2 & 3. The events that occur inside this show's universe are equally terrifying; the snow-capped mountains, the gloomy sky, and the choppy seas all seem to be protagonists in their own selves. Due to the sheer mystery component, "Broadchurch" should be just as captivating as the show"Longmire."
9. The Son
Creator: Brian McGreevy, Philipp Meyer, Lee Shipman
Cast: Pierce Brosnan, Jacob Lofland, Henry Garrett, Paola Nuñez
IMDb Rating: 7.4
Rotten Tomatoes: 52%
Streaming Platforms: Netflix, Prime Videos, and Hulu
The British star Pierce Brosnan, who plays the lead in "The Son" at AMC, visits the American West. Owing to "The Son's" propensity for meddling with the passage of time, events quickly turn difficult from that straightforward outset. In 1917, Brosnan played Eli McCullough, the famous "First Son of Texas," who is a key character. He secures his role in history as a rich oil billionaire by killing, intimidating, and deceiving his path to victory.
Eli (Jacob Lofland) wakes older to be a renowned warrior after learning the Comanche traditions as a young boy. When the program fast-forwards to 1988, Eli's grandchild Jeannie (Lois Smith) explores the family's background in that year. The program is still highly recommended even if AMC only broadcasts two distinct seasons of that too. Zahn McClarnon, Henry Garrett, Kathryn Prescott, as well as Paola Ne may all be seen on the program. Sydney Lucas,  Elizabeth Frances, and James Parks are also present, along with David Wilson Barnes.
8. Hap and Leonard
Creator: Nick Damici, Jim Mickle
Cast: James Purefoy, Michael Kenneth Williams, Tiffany Mack, Cranston Johnson
IMDb Rating: 7.6
Rotten Tomatoes: 94%
Streaming Platforms: Netflix, Prime Videos, and Vudu
In comparison to most of the other programs upon the list, which may be pretty dark and tragic, "Hap and Leonard" celebrates its comedy. Hap Collins, a blue-collar employee who has done time in jail, is portrayed by James Purefoy. In contrast, Leonard Pine, a Black homosexual Vietnam veteran, is portrayed by Michael Kenneth Williams. In this mystery crime drama, they play the lead. Hap and Leonard invent a scheme to generate wealth rapidly in east Texas, where its tale is set, in the 1980s. They rapidly recruit the assistance of townspeople, ex-wives, other crooks, and perhaps even law enforcement officers.
Joe R. Lansdale created the television program, which was adopted on his "Hap and Leonard" books. It mixes aspects of reality and silliness in equal proportion beyond any other program on our list. "Hap and Leonard" is a fantastic option if you enjoy the the show "Longmire" mentality but also want to grin occasionally.
7. Tin Star
Creator: Rowan Joffé
Cast: Tim Roth, Genevieve O'Reilly, Abigail Lawrie, Oliver Coopersmith
IMDb Rating: 7.2
Rotten Tomatoes: 60%
Streaming Platform: Prime Videos
This is when the list starts to become a little more global. A London investigator is given the job of becoming the chief of police of such a Canadian village inside the Rocky Mountains in this British crime drama on prime video "Tin Star." It is indeed "Old West" vs. "Old World," which isn't exactly a typical pairing but turned out to be entertaining.
James "Jim" Worth, played by Tim Roth, is an investigator who relocates his family across Canada in order to leave his troubled past behind. The amazing fact about this episode is that Jim transforms into his violent authentic self, Jack Devlin, whenever he starts drinking. It's a Dr. Jekyll-Mr. The hyde-like situation with British characters takes place inside this Canadian West. It's passionate, shockingly enjoyable, and a little strange all at once.
6. Justified
Creator: Graham Yost
Cast: Timothy Olyphant, Nick Searcy, Joelle Carter, Jacob Pitts
IMDb Rating: 8.6
Rotten Tomatoes: 97%
Streaming Platform: Prime Videos and Hulu
Timothy Olyphant starred in the historical drama "Justified," which is set 130 years down the line. He plays the role of Raylan Givens, a senior U.S. marshall. After killing a Miami gangster, Givens has been sent to Kentucky. Givens was nurtured in Kentucky, where he was born. He's not going to have a happy return home. The story frequently takes unexpected turns and becomes entangled in violence, deception, and mysteries. 6 seasons of "Justified" were shown, and the majority of those seasons were well-received. Walton Goggins' performance of Boyd Crowder, a white supremacist evangelist just at the core of the criminal world, received special acclaim.
Michael Rapaport, as well as Mary Steenburgen, complete the cast. Also present are Kaitlyn Dever & Margo Martindale. Such as the show "Longmire," and "Justified" is centered on Elmore Leonard's writings, notably "Fire in the Hole." Once "Justified" achieved a lot, Leonard was motivated to create "Raylan." The novel was published in 2012, only months preceding Leonard's unexpected passing in 2013.
5. Deadwood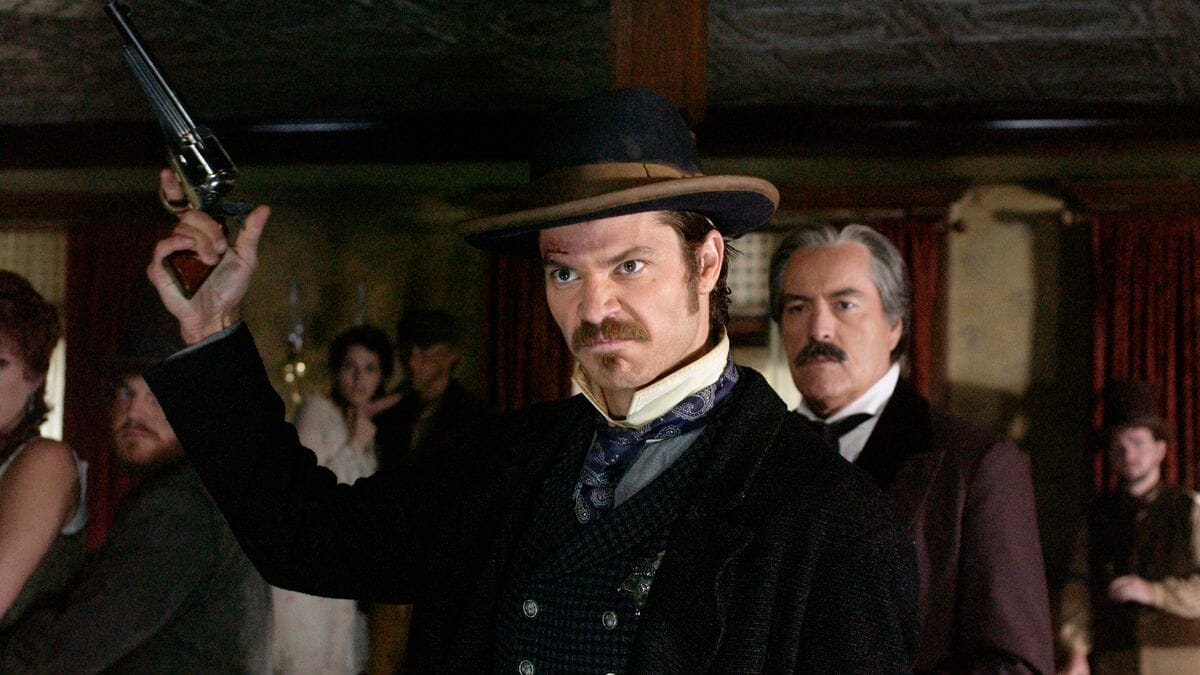 Creator: David Milch
Cast: Timothy Olyphant, Ian McShane, Molly Parker, Brad Dourif
IMDb Rating: 8.6
Rotten Tomatoes: 92%
Streaming Platform: Prime Videos and Hulu
This narrative describes how Deadwood, South Dakota, developed in the 1870s from just a camp to something like a town. In an effort to strike it rich, hundreds of individuals are escaping to Deadwood, South Dakota. Nevertheless, because of a lack of regulations enforcement, not everybody can tolerate the anarchy in the town.
The show "Deadwood" is renowned for its excellent acting and witty script. It has also developed a reputation for using an absurd quantity of profanity. According to one statistic, 2,980 f-bombs were uttered throughout the three seasons of the show, once every 1.56 secs. Enthusiasts of the show "Longmire" will like the Western procedural ambiance that "Deadwood" provides, as well as the enormous amount of profanity that it contains.
4. Bloodline
Creator: Glenn Kessler, Todd A. Kessler, Daniel Zelman
Cast: Kyle Chandler, Ben Mendelsohn, Linda Cardellini, Sissy Spacek
IMDb Rating: 7.9
Rotten Tomatoes: 62%
Streaming Platforms: Netflix, Prime Videos, and Hulu
When "Bloodline" begins, John Rayburn's narration lets you know that something horrible is going to happen. " It is tangible. We feel as though a cloud is watching over us. It will affect your tummy. You are unable to obtain any sleep, not even at nighttime. There is nothing you can really do to silence the voices in your brain that keep warning you that there is something terrible is about to happen."  As you could have predicted from the outset, the suspense of Bloodline is loaded with mystery, criminal activity, and uncomfortable reunions.
While his sister Meg (Linda Cardellini) practices law, John (Kyle Chandler), a regional detective, co-owns a port alongside his brother Kevin (Norbert Leo Butz). Additionally, there is Danny (Ben Mendelsohn), the family's misfit and recent arrival. The pressure he puts on the household patriarch would be enough to kill him. Bloodline actually takes place inside a tropical paradise, whereas the show "Longmire" is set mostly in American West. Come on in; swimming is completely safe in the azure ocean.
3. Sons of Anarchy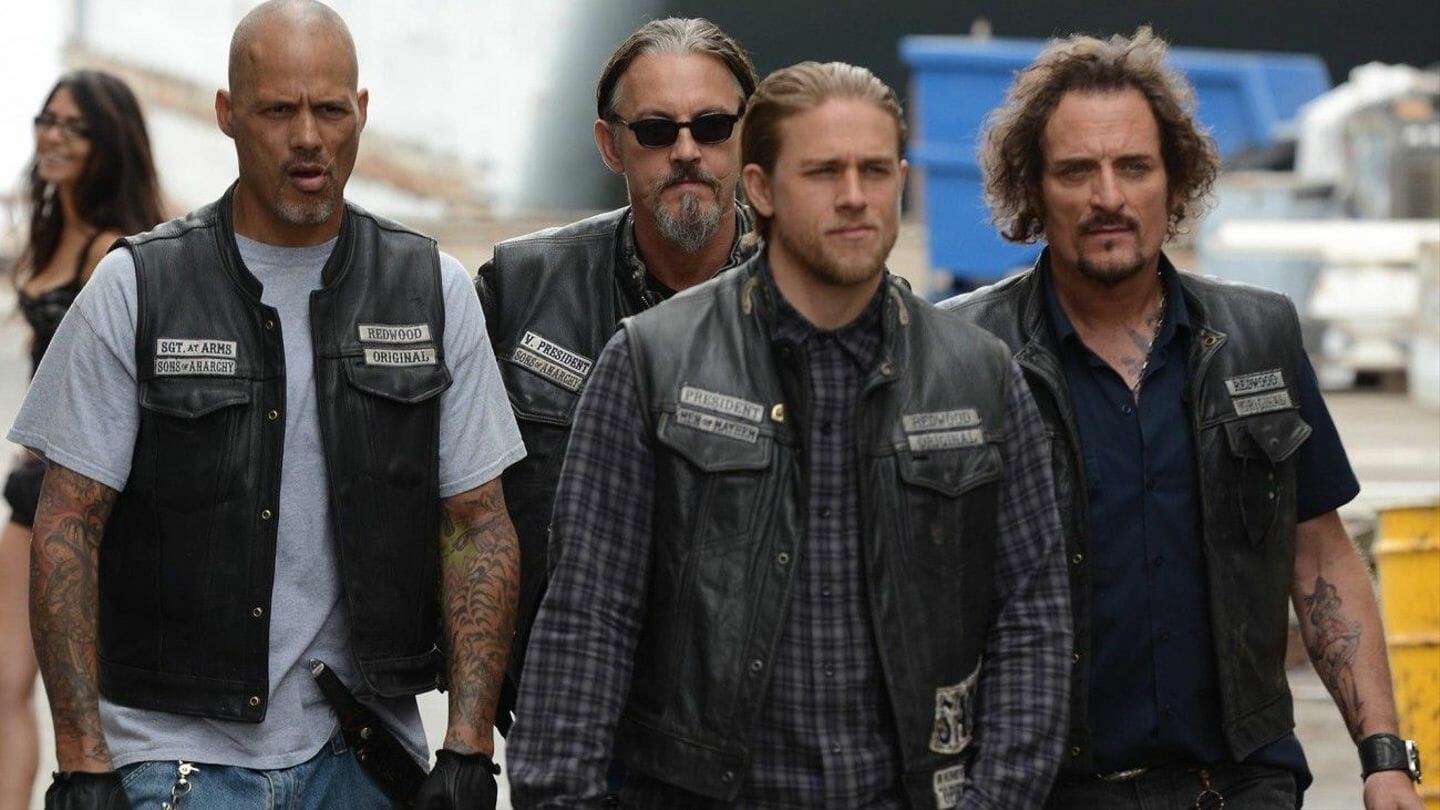 Creator: Kurt Sutter
Cast: Charlie Hunnam, Katey Sagal, Mark Boone Junior, Kim Coates
IMDb Rating: 8.6
Rotten Tomatoes: 87%
Streaming Platforms: Prime Videos, Disney+, and Hulu
The gap left in the show "Longmire" could've been filled by the FX action drama Sons of Anarchy. In the Central Valley in California outlaw motorcyclists serves as that the show's main characters. Inside the Redwood Original movie version of the well-liked television show Sons of Anarchy, Hunnam portrays Jackson "Jax" Teller, aka SAMCRO's Vice President (and, ultimately, President). He starts to question his membership in the group after studying his late father's diaries. He starts to wonder what his place inside the club is.
The series makes clear that SAMCRO has a lengthy history of engaging in illicit activity. The lengthy arm of the authority is viewed as the adversary in this program regardless of the fact that this shares many similarities with the show "Longmire," always attempting to close down SAMCRO and imprison its individuals. The program also examines corrupt officials as well as the world of outlaw motorcycle clubs in conjunction with discrimination and vigilante justice. "Sons of Anarchy" stars Katey Sagal, Drea de Matteo, Ron Perlman, as well as Jimmy Smits. The Hell's Angels biker club served as the inspiration for Kurt Sutter's SAMCRO, and throughout the course of the show's run, several of the gang's most well-known individuals have made appearances.
2. Hell on Wheels
Creator: Joe Gayton, Tony Gayton
Cast: Anson Mount, Colm Meaney, Robin McLeavy, Phil Burke
IMDb Rating: 8.3
Rotten Tomatoes: 73%
Streaming Platform: Prime Videos, Google Play, iTunes, and Vudu
In the narrative Hell on Wheels, which is set in the immediate aftermath of the American Civil War, Cullen Bohannon, an ex-confederate soldier, struggles to get past his recollections of the conflict and the carnage it caused. Bohannon's desire for vengeance was sparked by the recent recollections of his wife's demise at the hands of Union soldiers. Hell on Wheels might be thought of as a modern Western that relates the tale of his voyage to a chaotic town dubbed "Hell on Wheels" that only develops thanks to the building of the railroads.
After watching the show "Longmire," if you're in the mood for a classic Western, watch "Hell on Wheels." From 2011 through 2016, 5 seasons of this period drama were shown on AMC. Just after the Civil War, the television series takes place. Although Common portrays Elam Ferguson, a recently freed enslaved person who's become Cullen's aide and protector, Colm Meaney portrays Thomas "Doc" Durant, a genuine historical character who funded the very first railway line.
1. Bosch
Creator: Eric Ellis Overmyer
Cast: Titus Welliver, Jamie Hector, Amy Aquino, Lance Reddick
IMDb Rating: 8.5
Rotten Tomatoes: 97%
Streaming Platform: Prime Videos
The "crime of the week" incidents that Bosch must solve make up the plot of this procedural show like longmire. It also has extensive, season-long (or perhaps even series-long) plot arcs that include bigger themes. Connelly's older "Bosch" books—there are almost 20 of them—are explored for plot ideas as the seasons change.
Michael "Mickey" Haller, a criminal defense lawyer, enters the mix as a secondary face, opening up a variety of fresh narrative possibilities. Michael is Bosch's half-brother. Viewers didn't really have to mourn for very long, though, as the show swiftly gained a spinoff after its 7th as well as the final season in 2021. Viewers of "Longmire" will like how "Bosch" weaves together characters, discrete episodes, and overarching narratives.