As the word "drama" implies, but one that can strike the hearts of people and cause emotions and feelings to flow freely. Usually, you'll realize you're viewing an excellent drama show if emotions are running down your face or a sensation of despair, or a combination of that and other emotions is hammering deep within you. The best drama anime is what you think is the "best"!
"Drama Anime" definitely caters to this as well! Call this tearful splurge of emotions, rainy plays, onions slicers, or whatever else you want to call them. These shows will make you feel different emotions.
Drama anime protagonists contend with tangled love and relationship, societal inequalities, mental and physical medical concerns, loss, and other issues. Drama doesn't only put its actors in such situations; it also illustrates how they react and develop as a result. Anime fans have a good time exploring the best drama anime and don't miss watching anime.
25. Attack on Titan
Stars: Josh Grelle, Bryce Papenbrook, Yûki Kaji, Yui Ishikawa
Attack on Titan is a Japanese dark fantasy anime television series that debuted on April 7, 2013, adapted from the manga series of the same name by Hajime Isayama (Japanese: Hepburn: Shingeki no Kyojin, lit. "The Attacking Giant").
It has been broadcast on Aniplus Asia and NHK General TV in various Asia-Pacific nations. The series has been available for streaming on Crunchyroll, Funimation, Netflix, Amazon Prime Video, and Hulu in the United States and Canada. In the US, the Toonami programming block of Adult Swim has also featured Attack on Titan.
 24. One Piece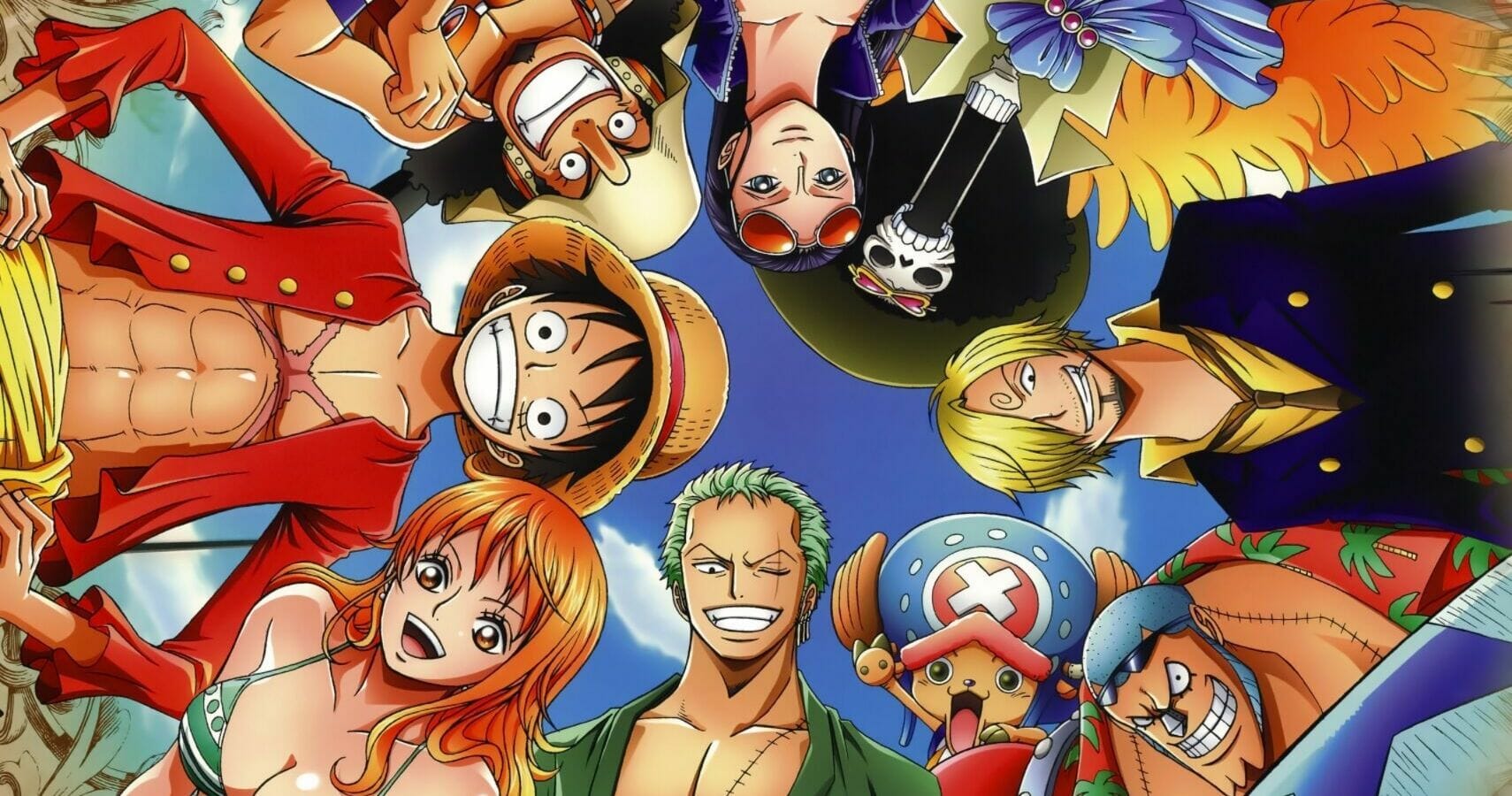 Stars: Mayumi Tanaka, Laurent Vernin, Tony Beck, Akemi Okamura
Eiichiro Oda is the author and illustrator of the Japanese manga series One Piece (stylized in all caps). Since July 1997, it has been serialized in Shueisha's shnen manga magazine Weekly Shnen Jump, and as of November 2022, its individual chapters have been collected into 104 tank-bon volumes.
The plot centers on the exploits of Monkey D. Luffy, a young man whose unintentional consumption of a Devil Fruit left him with a body made of rubber. In order to succeed Gol D. Roger as the new King of the Pirates, Luffy explores the Grand Line with his pirate band, the Straw Hat Pirates, in search of the ultimate treasure known as the "One Piece."
 23. Vinland Saga
Stars: Yûto Uemura, Naoya Uchida, Mike Haimoto, Zach Aguilar
The first major portion of the Vinland Saga takes place in England in 1013 AD, which the Danish King Sweyn Forkbeard has largely conquered. Prince Canute and Prince Harald are fighting over who will succeed King Sweyn as the monarch draws closer to passing away.
The Flateyjarbók, The Saga of the Greenlanders, and The Saga of Erik the Red are among the historical accounts of the time that the story draws inspiration from.
 22. Record of Ragnarok
Stars: Kellen Goff, Tomoyo Kurosawa, Miyuki Sawashiro, Yukihiro Nozuyama
The Gods' Council, which meets once every millennium to decide on humanity's fate, decides that the species should be exterminated because of its 7 million years of unredeemable history.
The gods agree to hold the Ragnarok tournament, where humanity will be spared if they can defeat the gods in seven out of thirteen matches, but the valkyrie Brunhilde suggests giving humanity one final chance to prove their worth.
21. Kill La Kill
Director: Hiroyuki Imaishi
Writer: Kazuki Nakashima
Cast: Ami Koshimizu, Erica Mendez, Christine Marie Cabanos
IMDb Rating: 7.9
Rotten Tomatoes Rating: 100%
Kill La Kill is one of the best anime series on Netflix. The story revolves around a fierce and stubborn young girl named RayukoMatoi, whose ultimate goal is to somehow avenger her deceased father, IsshinMatoi. She moves to a high school in Tokyo Bay to find the other half of the scissor blade and the person who used it to kill her father. She attends the high school Honnoji Academy.
There was a horrible student council that used to dominate and oppress other students and the staff. Everyone who steps inside the Academy fears the student council, and those who know about them try to keep their distance.
The student council members wear uniforms, which gives them supernatural abilities, and they call them Goku uniforms. It is not totally un-cliched, but the amazing combination of the bizarre adventure of every character totally makes it worth your while.
20. Neon Genesis Evangelion
Director: Hideaki Anno
Writer: Hideaki Anno
Cast: Hideaki Anno, Spike Spencer, Tiffany Grant,
IMDb Rating: 8.5
Rotten Tomatoes Rating: 100%
Neon Genesis Evangelion is a legendary anime in its own right and is available easily on Netflix. The series remained on air for one season between 1995 and 1996. The 26 episodes long sci-fi series takes place in a post-apocalyptic world. The "mecha anime" is set in Tokyo-3.
The other-worldly "Angels once again threaten the safety of the world." These are alien beings who have set their eyes to lead the world into another apocalypse. The only hope of preventing it is the "Evangelions." These are bio-machines that need to be piloted by men chosen by Nerv.
Shinji, son of the genius behind the sentinels, finds himself as one of the pilots. As the series progresses, viewers are gifted with brilliant animation and storytelling.
The series also tackles deep questions about the existence of God, morality, and death. It rediscovers the "mecha anime" genre in Japan. And creates precedence for others to follow and remains a legend in popular culture.
19. Code Geass: Lelouch of the Rebellion
Director: Gorō Taniguchi
Writer: Ichirō Ōkouchi
Cast: Johnny Yong Bosch, Yuri Lowenthal, Jun Fukuyama
IMDb Rating: 8.6
Rotten Tomatoes: 99%
Lelouch vi Britannia was an intoxicatingly talented political controller with mind-control powers who is on a mission of retribution against his family, which leads the world. Code Geass has a science-fiction battle, regulatory double-crossing, high schooler parody, and a future where colonialism and standing frameworks keep the general population underneath.
Like basically every progressive ever, Lelouch isn't especially honorable in his interest to oust the intensity of the family he is offended from. However, he is entrancing to watch.
Ever since Netflix decided to widen its reach into anime, it has not made a single poor choice. The list of classic and popular modern anime is a delight for fans of the genre. And the fun is far from finished, though.
As the streaming services have already lined up, new anime titles like Rilakumma's Theme Park Adventure and with much other show's rights reserved by the streaming giant now is a great time to become one of its members.
The media source also comes packed with multiple features like its autoplay settings and captions settings to enhance the viewing experience. And with ample time on our hands to kill, nobody is going to complain.
18. Chrono crusade
Director: Yū Kō
Writer(s): Atsuhiro Tomioka, Kiyoko Yoshimura
Cast: Tomoko Kawakami, Akira Ishida, Greg Ayres
IMDb Rating: 7.1/10
Rotten Tomatoes Rating: NA
Streaming platform: Funimation, Crunchyroll, Amazon prime video
The best drama anime includes this excellent anime, and The Roaring Twenties was a prosperous era. Jazz reigns supreme, the mob controls the street, and Devils make a mockery of everything. Finally, sister Rosette Christopher of the Congregation of Magdaline, an elite order tasked with destroying the evil, enters the picture.
They go on crazy gun-slinging exploits with her trusty buddy and employer, Chrono, a devil. Rosette's ultimate goal, however, is to locate her younger brother Joshua, who Lord Aion has abducted. Will Rosette be able to save her brother?
17. Chihayafuru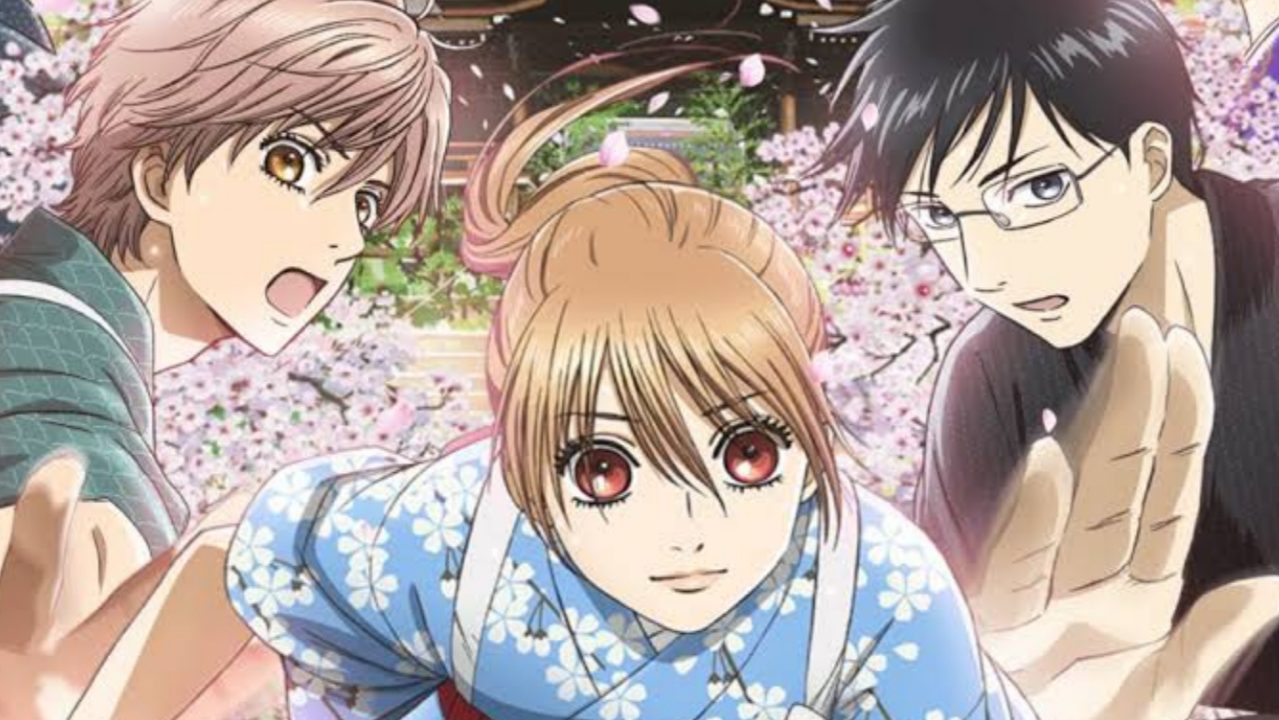 Director: Yuki Suetsugu
Writer(s): Yuki Suetsugu
Cast: Asami Seto, Mamoru Miyano, Tôru Nara
IMDb Rating: 8.1/10
Rotten Tomatoes Rating: NA
Streaming platform: Crunchyroll, Hide
Chihaya Ayase is a young woman who has dedicated her life to assisting her sibling in her modeling career. However, when she meets Arata Wataya, a gifted karuta player, all of those changes. Chihaya, he believes, has the potential to be the most outstanding player.
As Chihaya pursues her new aim of being Japan's top karuta player, she finds herself growing apart from her karuta-playing buddies. Chihaya, now in junior high, appears to be playing karuta in the hopes of reuniting with her old pals.
Chihayafuru adds depth to character development while omitting the needless filler that devalues a delicate program. Their character growth and the ties they've formed due to karuta are stunning.
16. School days
Director: Keitaro Motonaga
Writer(s): Makoto Uezu
Cast: Daisuke Hirakawa, Shiho Kawaragi, Tae Okajima
IMDb Rating: 5.9/10
Rotten Tomatoes Rating: NA
Streaming platform: Crunchyroll
Makoto Itou does have a thing on Kotonoha Katsura and commutes to work with him every day. As per popular folklore, he uses her picture as his cellphone wallpaper as a love charm. But, when his friend Sekai Saionji discovers, it appears that his luck has changed.
One of the personalities suffers significantly due to these activities, becoming sad and unstable. – From episode to episode, you get to observe and taste an unsuspecting persona getting poorly treated, with disastrous consequences. This one is a beautiful drama anime.
15. Nagi-Asu: A Lull in the Sea
Director: Toshiya Shinohara
Writer(s): Mari Okada
Cast: Natsuki Hanae, Mikako Komatsu, Bryce Papenbrook
IMDb Rating: 7.4/10
Rotten Tomatoes Rating: NA
Streaming platform: Netflix, Crunchyroll
Long ago, mankind lived in the water, yet some people yearned for land and eventually abandoned the sea. The two human types now coexist in modern times, albeit their mentality became as distinct as their lived areas.
When their seaside school closes, Sea Inhabitants Hikari Sakishima, Manaka Mukaido, and their pals have little choice but to attend a land-based school, but their lives take on a new twist as a result of a chance encounter.
The art style is fantastic, the tale is engaging, and the characters are intriguing to follow as they evolve and progress through the plot. In addition, the opening music is fantastic.
This show follows 4 kids who live in a community beneath the sea and must travel to the surface to attend school once their underwater school closes. There are several adventures to be had and relationships that evolve with time. One of the essential arguments is that people who lived underwater migrated to land over time, and once you've spent a certain length of time on land, you can't go back to live in the sea because you probably wouldn't be able to breathe there.
14. Say, "I love you."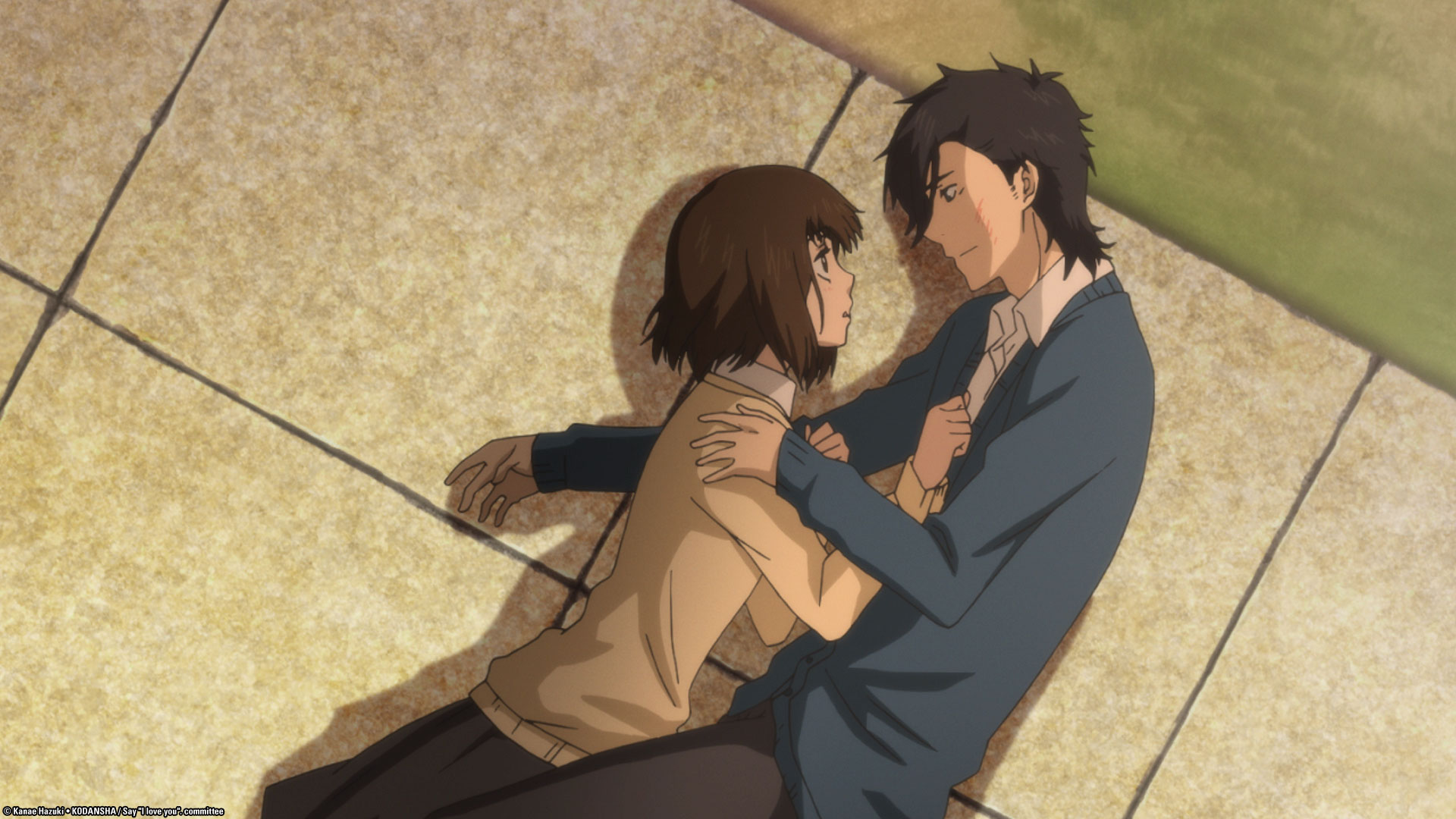 Director: Takuya Satô, Toshimasa Kuroyanagi, Risako Yoshida
Writer(s): Kanae Hazuki, Takuya Satô, Natsuko Takahashi
Cast: Ai Kayano, Takahiro Sakurai, Nobunaga Shimazaki
IMDb Rating: 7.3/10
Rotten Tomatoes Rating: NA
Streaming platform: Hulu, Crunchyroll, Netflix
Due to a significant childhood tragedy that left her feeling that people would abandon one another sooner or later, modest and humble Mei Tachibana had passed her high school days without making friends or finding a boyfriend. When she meets Yamato Kurosawa, a popular kid, he is taken with her because of their hesitant acquaintance and blooming relationship. Mei eventually begins to spread out and meet others.
I recommend watching this anime if you're searching for a lovely anime love story. Beginning with a simple premise and ending with a simple -expected conclusion. That's all there is to it. However, don't expect any out-of-the-ordinary climaxes.
It's a basic romance narrative about two high school students who are opposed.
13. Zankyou No terror
Director: Shinichirō Watanabe
Writer(s): Shōten Yano, Hiroshi Seko, Jun Kumagai, Kenta Ihara
Cast: Kaito Ishikawa, Sôma Saitô, Atsumi Tanezaki
IMDb Rating: 7.9/10
Rotten Tomatoes Rating: NA
Streaming platform: Hulu, Netflix, iTunes
A terrorist strike has ravaged Tokyo, and a weird internet video is a sole clue to the perpetrator's identity. While paranoia spreads, two unknown children organize "Sphinx," a shadowy organization intent on ending the world.
This is also a fantastic tale. This isn't shonen anime; it's grounded in reality and the present. It deals with terrorism, a subject rarely addressed in this media, and it's great to see it handled so correctly.
12. Charcoal Feather Federation
Director: Tomokazu Tokoro
Writer(s): Yoshitoshi Abe
Cast: Ryô Hirohashi, Junko Noda, Eri Miyajima
IMDb Rating: 8/10
Rotten Tomatoes Rating: NA
Streaming platform: Amazon Prime Video, Apple TV
A girl with no identity plummets from the sky and lands in a strange place where no one remembers their prior existence. However, angel-like beings with ash wings have built a community in this land and live in peace and harmony with the town's residents, assisting them.
Later, the girl is given a name—Rakka—and a set of wings and her halo. Rakka has become an ash wing as well. While the new location appears to be the paradise for Rakka, she soon realizes that not everything is as it seems. What prompted Rakka's transformation into ash wings, or what is the secrecy surrounding her new home?
11. Eden of the East
Director: Kenji Kamiyama
Writer(s): Kenji Kamiyama
Cast: Ryohei Kimura, Saori Hayami, Leah Clark
IMDb Rating: 7.6/10
Rotten Tomatoes Rating: NA
Streaming platform: Hulu, Netflix
On November 22, launched 2010, 10 missiles in Japan. This unique terror assault, afterward dubbed "Careless Monday," nevertheless leaves no visible victims and is quickly forgotten by practically everyone. After that, three months later.
Saki Morimi is a younger lady on a graduation vacation to the United States. But she falls into difficulty right in front of the White House in Washington, DC, and it is only the unexpected involvement from one of her compatriots that rescues her. However, this guy, who identifies himself as Akira Takizawa, is a complete enigma. He seemed to have forgotten who he was.
He's completely naked, but for the rifle, he's clutching in one arm and the cellphone he's carrying in the other. A phone having a digital cash balance of 8,200,000,000 yen.
10. Ef: A tale of memories
Director: Shin Aonuma
Writer(s): Katsuhiko Takayama
Cast: Natsumi Yanase, Monica Rial, Hiroko Taguchi
IMDb Rating: 7.5/10
Rotten Tomatoes Rating: NA
Streaming platform: Crunchyroll
Hiro Hirono's bike gets taken on Christmas Eve by a female fleeing a burglar who stole her pocketbook. He pursues her and discovers her unconscious with his motorcycle damaged. Miyako Miyamura, the girl, awakens quickly and starts to converse. They probably spend Xmas Eve together after trying to make sure she's OK.
Hiro later discovers that Miyako goes to the same school as him, and the two begin to spend more time together, with Miyako growing feelings for Hiro. Hiro's childhood friend Kei Shindou, who has had a thing on him for a long time, begins to grow envious, resulting in a love triangle. Renji Asou's story is also told in the series.
At an old train station, a fateful encounter with Chihiro Shindou, Kei Shindou's twin sister. Despite her shyness, they get along well and continue meeting at the exact location every day; however, Renji learns that Chihiro would be in a car crash years ago and has a disability: her memories last just 13 hours.
Renji, however, after finding that Chihiro's goal is to publish a novel, chooses to assist her in achieving her goal while simultaneously attempting to help her overcome the challenges provided by her condition.
9. From me to you
Director: Hiro Kaburaki
Writer(s): Tomoko Konparu
Cast: Mamiko Noto, Daisuke Namikawa, Yûko Sanpei
IMDb Rating: 7.8/10
Rotten Tomatoes Rating: NA
Streaming platform: Hulu, Netflix, Crunchyroll
Because of her likeness to the ghostly girl from The Ring, Sawako Kuronuma is misinterpreted. But one day, the kindest guy in the class, Kazehaya, befriends her, and everyone changes after that, including everyone's perception of Sawako, but she still has a long way to go. And the anime doesn't have a long way to go to be added in the best drama anime.
They've done an excellent job expressing emotions, and you can genuinely identify with the characters. The manga was even better than the anime.
8. Inuyasha
Director: Teruo Sato
Writer(s): Rumiko Takahash
Cast: Kappei Yamaguchi, Richard Ian Cox, Darren Pleavin
IMDb Rating: 7.9/10
Rotten Tomatoes Rating: NA
Streaming platform: Netflix, Hulu, HBO max
A teenage girl goes back in time to medieval Japan regularly to assist a young half-demon in recovering the pieces of a powerful jewel.
The story is fantastic, the character development is flawless, and the series is excellent. Any anime fan should watch this series at a minimum once in a lifetime; it's one of those timeless classics that has become a fixture in the industry. The voice acting is a little cheesy, but it was released when anime was becoming more popular in the west, and dubbing for anime was beginning to improve.
7. Waiting in the summer
Director: Tatsuyuki Nagai
Writer(s): Yōsuke Kuroda
Cast: Brittney Karbowski, Luci Christian,John Swasey
IMDb Rating: 7/10
Rotten Tomatoes Rating: NA
Streaming platform: Crunchyroll
Kaito Kirishima puts his new camera to the test when something falls from the sky, hurting him. He wakes up OK the following day, convinced it was all a dream during the day, but he has flashbacks to what happened and has a vague memory of someone holding his arm last night.
Though he can't remember who she is, a new girl attending his school turns out to be her, and in an odd twist, she finds up and living with him during the time being.
6. Myself; Yourself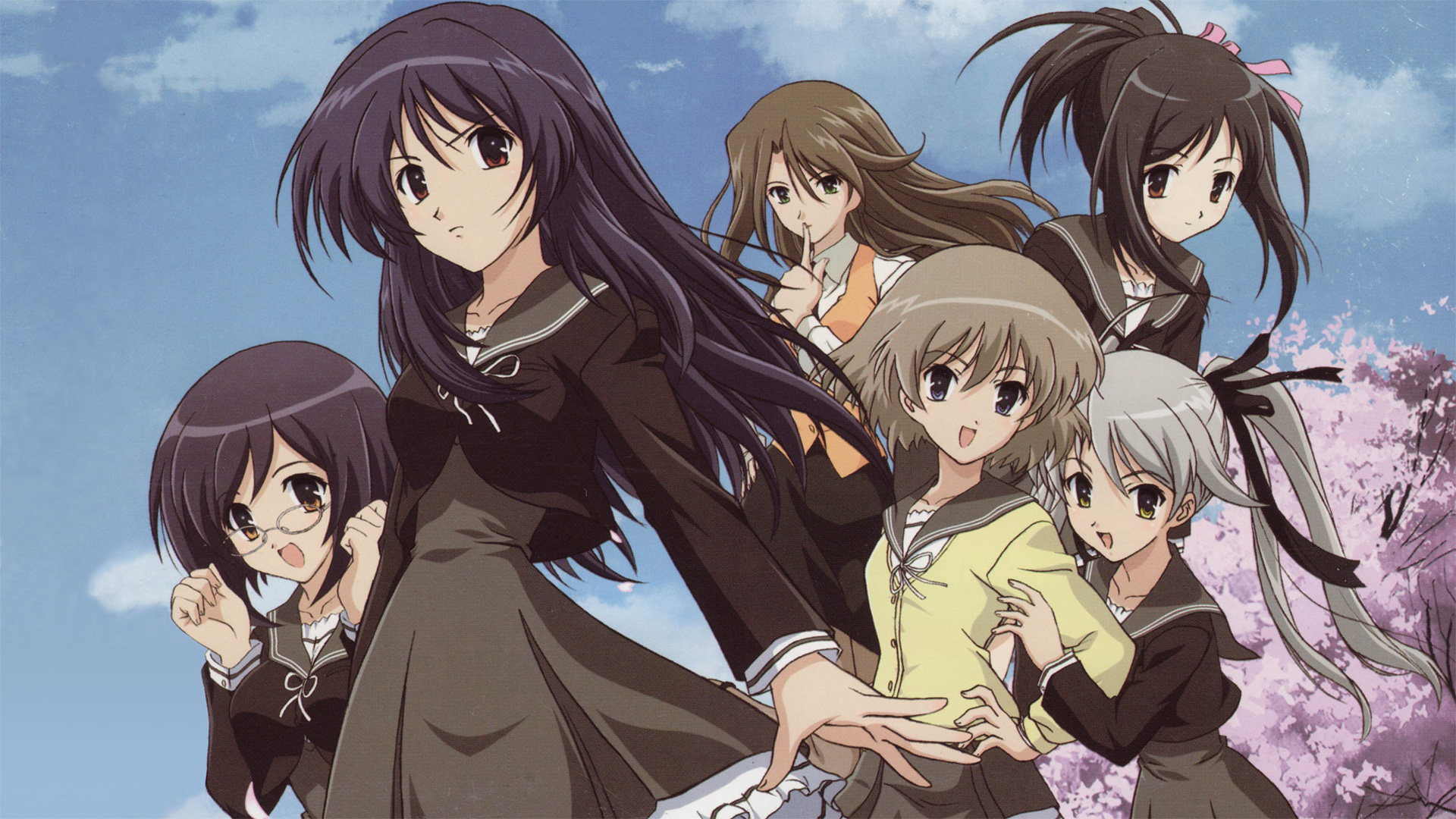 Director: Tetsuaki Matsuda
Writer(s): Gō Zappa
Cast: Shinnosuke Tachibana,Tomoko Kaneda,Ami Koshimizu
IMDb Rating: 6.5/10
Rotten Tomatoes Rating: NA
Streaming platform: Crunchyroll
Hidaka Sana relocated to Tokyo for her parents' business goals. He has returned to his homeland, Sakuranomori, 5 years later as a high school student.'
He is worried since the surroundings of his neighborhood have changed dramatically since he last saw his old acquaintance five years ago. His boyhood pal, Yatsushiro Nanaka, has changed the most. She used to have a charming smile and lovely eyes, but now she has become withdrawn and sad.
5. The Flowers of Evil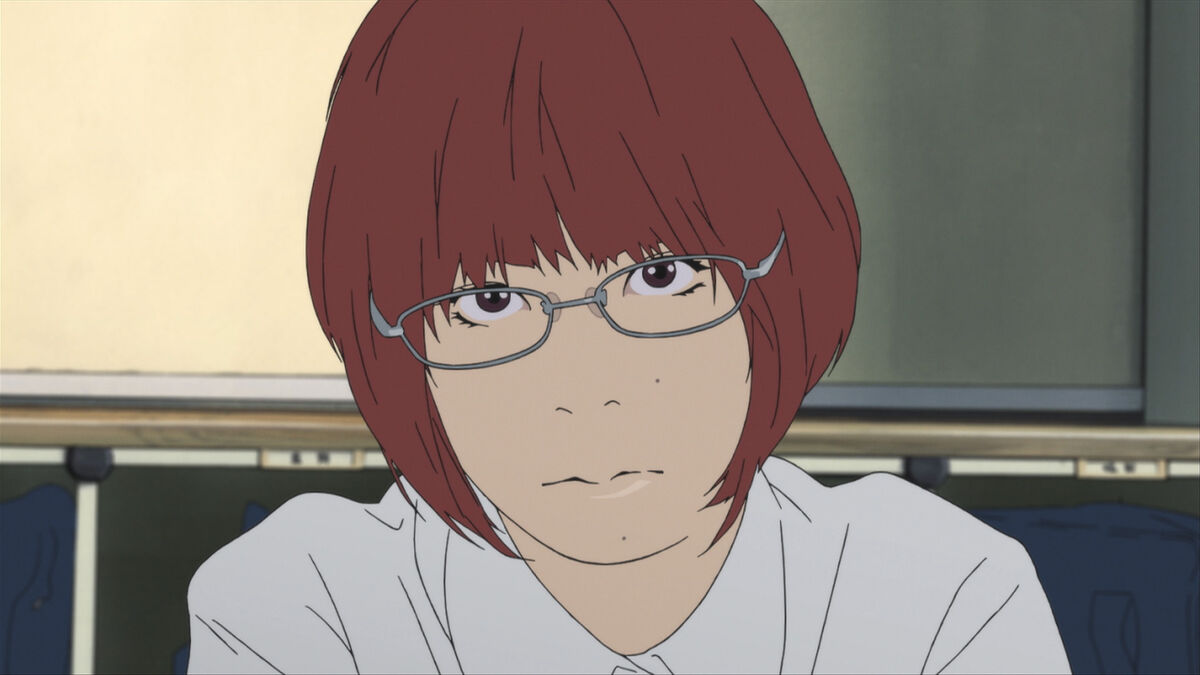 Director: Hiroshi Nagahama
Writer(s): Aki Itami
Cast: Yôko Hikasa,Mariya Ise,Patrick Mölleken
IMDb Rating: 7.6/10
Rotten Tomatoes Rating: NA
Streaming platform: Netflix,Crunchyroll,Hide
Takao admires Nanako, the class beauty, very afar. He discovers her exercise bag down one day after class whenever he is the only one in the classroom. Takao can't help himself from lifting it. He plans to extend it, but afterward, together, all women empathize with Nanako about the theft of her workout clothing by some pervert.
Further, their childhood friends with Sawa quietly informs him that she witnessed him taking the garments. If he does not deal with her doing whatever she requests, she will report Nanako, and their mysterious connection begins. The flowers of evil are one of the best drama anime.
4. My little Monster
Director: Shô Tsukikawa
Writer(s): Robico
Cast: Haruka Tomatsu, Tatsuhisa Suzuki, Atsumi Tanezaki
IMDb Rating: 7.3/10
Rotten Tomatoes Rating: NA
Streaming platform: Netflix, Crunchyroll, Amazon Prime Video
An anti-social and mysterious girl, Shizuku develops an odd friendship with Haru, a compassionate kid. They quickly find love and understand how to form and maintain human bonds. My Little Monster is an anime romance that you will adore. It is well worth watching/reading because the characters are so adorable with each other. The wedding chapter, in particular, will make you depressed.
Because there are a lot of jokes and love in this show, it deserves a second season. This show is so underappreciated that it deserves a second season because the character and designs are so good. This is a heartwarming series indeed!
3. The ABCs of Flower Blooming
Director: Masahiro Andō
Writer(s): Mari Okada
Cast: Kanae Itô, Jun'ichi Suwabe, Atsushi Ono
IMDb Rating: 7.7/10
Rotten Tomatoes Rating: NA
Streaming platform: Crunchyroll.
Ohana Matsumae is a vibrant and outgoing adolescent living in Tokyo alongside her freewheeling single mum. Suddenly, her mother flees debt collectors with her new partner, leaving the young girl to care for alone in remote Japan, where her chilly grandma runs a modest inn, as to her mother's "rely entirely on oneself" credo.
Ohana faces the primary task of continuing to work as a maid and trying to meet and make new friendships with interesting people at her school and inn, as she strives to adapt to the peaceful way of life of the rural areas.
2. Mononoke
Director: Kenji Nakamura
Writer(s): Chiaki J. Konaka, Ikuko Takahashi, Michiko Yokote, Manabu Ishikawa
Cast: Michael C. Pizzuto, Takahiro Sakurai, Kate Hawkins
IMDb Rating: 8.3/10
Rotten Tomatoes Rating: NA
Streaming platform: Netflix, Crunchyroll
Mononoke is about a mysterious itinerant individual identified as the "Medicine Seller." The story is divided into five storylines, each of which follows the medicine merchant as he attempts to uncover the truth surrounding the presence of numerous Mononoke, evil spirits who remain in the human realm.
He fights them using his paranormal understanding, but a Mononoke could only be defeated if he discovers its shape (Katachi), the reason behind its appearance (Makoto), and the cause for its strange behavior (Kotowari) and true nature.
Mononoke, a true hidden gem, has a notably unnerving yet settlement vibe. While still being handled visually, you are exposed to the logic and intricacy of human nature! It inspires you to think outside the box. Such a lovely and exquisite anime that uses symbolism to approach mature subjects.
Best drama anime will have an impressive list of qualities to get in, and this satisfies it all. This is not a young boy in the middle school and school's drama club storyline.
1 The rising of the shield hero
Director: Takao Abo
Writer(s): Aneko Yusagi
Cast: Kaito Ishikawa, Asami Seto, Billy Kameez
IMDb Rating: 8.1/10
Rotten Tomatoes Rating: NA
Streaming platform: Netflix, Crunchyroll
Legends tell of four unearthly heroes who protected the land from tragedy after the disaster, holding the blade, spear, bow, and shield. The realm of Melromarc calls these historical figures the destiny of the planet depending on the outcome; the call is accepted in Japanese History, and the unsuspecting heroes are transferred to this magical planet.
Because of his lack of offensive skill and apparent naivety, otaku Naofumi Iwatani is deemed the worst after being pushed into Melromarc and granted the moniker of "Shield Hero." He has only one willing companion whenever the heroes sever ties to begin their journeys: the gorgeous princess Myne Melromarc. She eventually deserts him, stealing all of his cash and accusing him of exploiting her.
Naofumi has been labeled a criminal and cast from our society. Hence, consequently, of his purported actions. Nevertheless, he starts alone, filled with rage and swearing revenge on those who mistreated him.
Conclusion
That's where the best drama anime genre, which isn't well defined, comes in! Emotional reactions and theatrical plot beats are prioritized in the anime on this list. We've got you beat, even if you're looking for something romantic, reflective, or historical. Other anime might also interest you! Few anime in the list are manga adaptions with the same name.
The goal is to explore fantastic dramatic anime with good character characterization, background, analogies, or personal growth.