Ecchi is a highly well-liked subgenre because it perfectly captures the bizarre or perverse side of the anime universe. Therefore many anime, even while many may not be entirely Ecchi, combine elements of Ecchi in the form of a secondary genre to appeal to a particular demographic.
Netflix has been on a similar trajectory and has recently begun to emphasize anime more. The streaming service also creates episodes with pictorial depictions of sexual content in addition to older anime series with little Ecchi.
Shows on Netflix include Monster Musume, devil man crybaby, highschool dxd, etc. Following that, the following is a list of the top Ecchi anime currently streaming on Netflix:
20 . The Seven Deadly Sins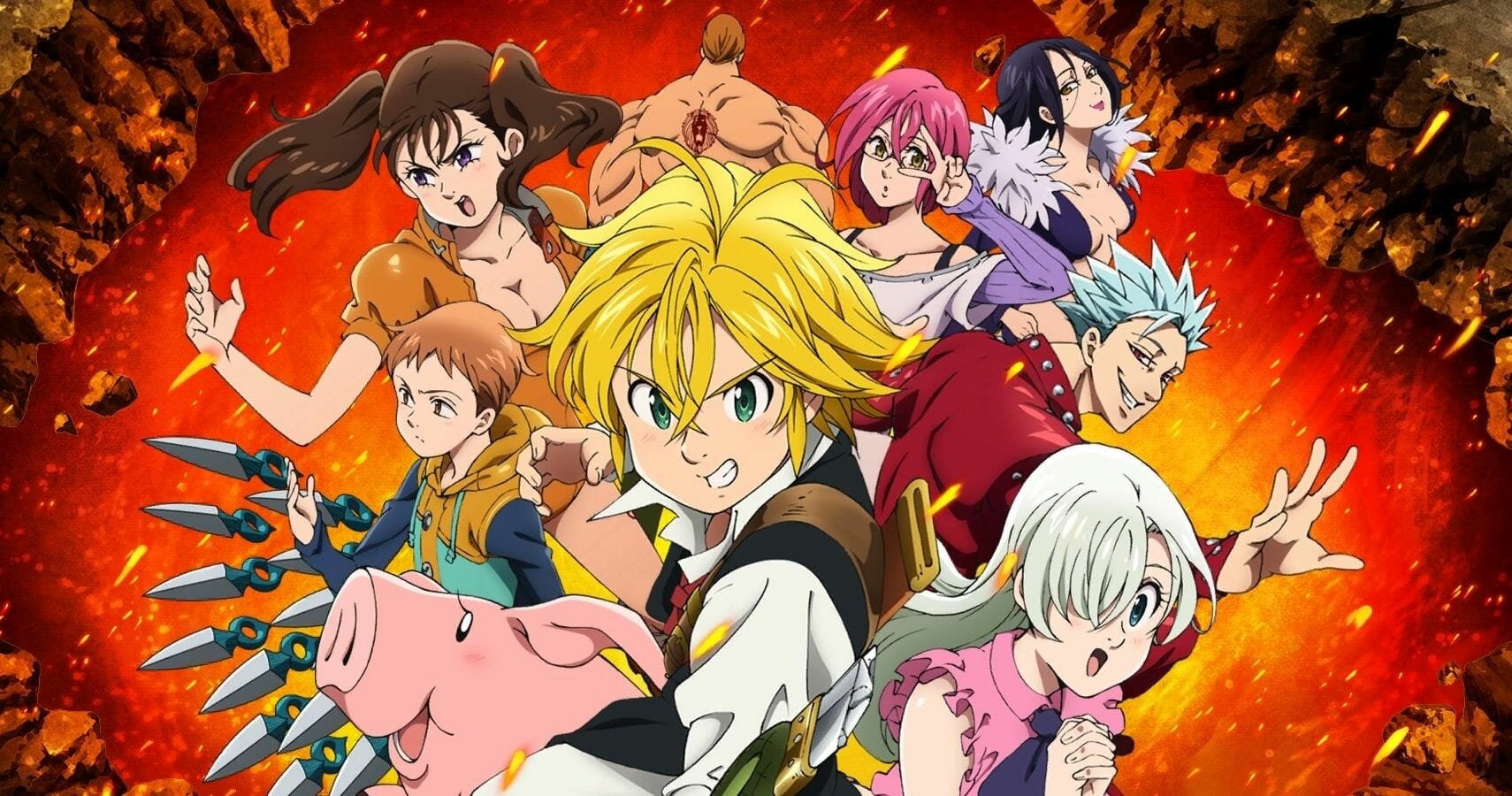 Director: Noriyuki Abe and Yasuhito Nishikata.

Writer: Nakaba Suzuki

Characters: Meliodas, Escanor, Demon King, Gowther, Zeldris.

IMDB: 7.1/10

Premiered: 2014
The anime "The Seven Deadly Sins" excels in striking a balance between humor and action. Even though its plot is pretty engaging, its characters and combat scenes carry most of the weight. One of the Best ecchi anime release dates was in 2014. The anime's combat scenes follow clichés
in that practically every one lasts for multiple episodes. But it's unexpected to see that these confrontations always have a purpose and aren't haphazardly inserted to make up for plot holes. The Seven Deadly Sins are a squad of the Lions Kingdom's disbanded knights.
They have dispersed around the country since they are now wanted for treason. But the third princess Elizabeth demands authority to preserve the realm, which is in danger from the Holy Knights.
Although anime has always been criticized for its excessive use of fanservice, many fans still like it for everything it offers. Some have even asserted that certain portions of it explicitly depict sexual harassment.
Even if the overall plot has some importance for all of this, many fans have found it disappointing. However, if you're explicitly seeking that in an anime, you shouldn't stop viewing the episode.
19. Neon Genesis Evangelion
Director: Hideaki Anno

Writer: Hideaki Anno

Characters: Asuka Langley, Rei Ayanami, Shinji Ikari, Misato Katsuragi, Kaworu Nagisa.

IMDB: 8.5/10

Premiered: 1995
The release date of the best ecchi anime is four Oct 1995. Netflix has recently brought back an original anime from the late 1990s called Neon Genesis Evangelion. Following this, the series went viral and is currently more well-known and praised than ever.
While it's still up for debate whether it merits the excessive hype, there's no denying it contains some of the most incredible action sequences ever. Even its opening and ending themes rank among anime history's most frequently performed songs.
But besides everything else, 'Neon Genesis Evangelion also features a lot of fanservice, given how old it is. The show's director hates the idea of otaku stereotypes, so the Ecchi in this one frequently comes out as frightening.
He included these over-the-top fan service situations to make fun of and kindly mock the people who adore Ecchi in an anime. This is one of the best shows on Netflix. All episodes are accessible on Netflix.
18. Sekirei
Director: Keizo Kusakawa

Writer: Takao Yoshioka

Characters: Minato Sahashi, Tsukiumi, Kazehana, Karasuba, Miya Asama.

IMDB: 7.3/10

Premiered: 2008
Popular ecchi anime Sekirei incorporates the supernatural premise, like many other shows in this genre. The show has both humorous and extravagant action and sex scenes. The main draw for all ecchi anime fans in this anime is its attractive and seductive female characters.
They have total figures and are well-endowed. Although it is typical in these kinds of anime, I thought "Sekirei" had a bit of a sexist attitude. Making women wear scanty, tight clothing—a common feature of ecchi anime—is one thing; treating them like things is quite another.
This was among the most irritating aspects of the anime. If you can get over this reality, it turns into a cute little anime that you can either binge or watch as a respite from your daily activities. 
Minato Sahashi struggles with his academics even though he is not an idiot. Despite his best efforts, he ultimately failed the college entrance examinations again.
He loses hope and believes Minato is a failure, as does everyone around him. But when a lovely extraterrestrial who resembles a human enters his life in the new world, everything in his life abruptly changes (literally). She goes by Musubi.
She is a Sekirei, a unique creature that kisses people to reveal their hidden abilities if they have a specific gene. Musubi brings out Minato's secret skills, but he and she are now competing against other teams that are similar to them. Minato is unaware that there is a lot more danger involved in this than he realizes.
17. Demon King Daimou
Director: Takashi Watanabe

Writer: Takao Yoshioka

Characters: Akuto Sai, Junko Hattori, Fujiko Eto, Korone, Kena Soga.

IMDB: 6.6/10

Premiered: 2010
Constant Magic Academy welcomes Akuto Sai as a student. With the ambition to alter the world, he meets Junko Hattori, a fellow dreamer. However, All his goals are dashed when it is predicted that he will succeed the current Demon King.
No matter how hard he tries, every action he does backfires since his tragedy strengthens the public's confidence that the prophecy will come to pass. Can Akuto accomplish his improbable aim with everyone turning against him save for a few girls, some of whom have feelings for him sexually?
16. Sankarea: Undying Love
Director: Shinichi Omata

Writer: Noboru Takagi

Characters: Chihiro Furuya, Rea Sanka, Mero Furuya, Jogoro Furuya, Ranko Saoji, Aria Sanka, Danichiro Sanka.

IMDB: 6.8/10

Premiered: 2012
The following anime is an oddball. One of the oldest plots was in "Sankarea." Chihiro Furuya, a boy fascinated with all things "zombie," is the primary character. He wants a zombie girlfriend because he is so enamored with them. Chihiro's cat Baabu passes away one day. This drives him to invent a potion for resurrection.
In the home of the girl who wants to die, Rea Sanka, he discovers one of the essential elements. Rea decides to take the potion after it is finished because she fears it will kill her.
However, the tincture works, and when Rea dies in an accident, she is raised from the dead and turns into a zombie. Even though Chihiro may think this position is excellent, he has a lot of difficulties.
15 Chivalry of the Failed Knight
Director: Kurono Shinguuji

Writer: Riku Misora

Characters: Stella Vermillion, Ikki Kurogane, Shizuku Kurogane, Ayase Ayatsuji, Nene Saikyo, Nagi Arisuin.

IMDB: 4.7/10

Premiered: 2015
The supernatural or fantasy motif is prevalent in most ecchi anime. That must be some fetish. 'Rakudai Kishi no Cavalry' also complies with this pattern. Ecchi animation has a magic and fantasy theme.
The characters and the plot are formulaic and stereotyped, but the execution is still far better than many other anime in this genre. The soundtrack is excellent, and the animation and visuals are passable. This anime has a total of 12 episodes, with each episode lasting roughly 23 minutes.
The anime, adapted from a light book, has gained some ecchi genre acclaim. It occurs in a universe where certain people are unique and possess unique talents.
They can shape formidable weapons by manipulating their spirits. People with this talent are known as "Blazers" and receive specialized training. Hagun Academy, a renowned institution, offers technical instruction.
The primary character of this anime series is Ikki Kurogane. He is a moron incapable of turning his soul into a weapon. At the academy, he is the sole pupil with an F-rank.
He eventually encounters Stella Vermillion in a naked state. Stella is the Vermillion Kingdom's princess. She also receives A grades at school. She challenges Ikki to a fight after becoming enraged with him.
14. Yuuna And The Haunted Hot Springs
Director: Tsuyoshi Nagasawa

Writer: Hideaki Koyasu

Characters: Yuuna Yunohana, Sagiri Ameno, Kogarashi Fuyuzora, Nonka Arahabaki, Yaya Fushiguro.

IMDB: 7/10

Premiered: 2018
The following supernatural anime is ecchi. You will like "Yuragi-sou no Yuuna-san" if your fantasies involve seductive supernatural or fantasy beings. This series consists of 12 episodes, each lasting roughly 23 minutes.
If you've become interested in the ecchi subgenre after seeing shows like "Shokugeki no Soma," I'd tell you to stay away from it because most anime isn't even close to being like it. The majority of what they offer is loads of fanservice and gorgeous women. Medium Fuyuzora Kogarashi has experienced ghostly encounters since he was a young child.
Even though he has been exorcised with merely a punch, he has been possessed numerous times. However, as he grew older, he became more immune to the spirits.
But because of his financial situation, he needs an inexpensive place to reside. He finds staying at the Yuragi manor to be relatively affordable. The fact that this manor is haunted is the critical factor in its low price.
However, Fuyuzora has no issue with it and begins residing in the house because he has lived with ghosts for most of his life. The other residents of the mansion are attractive and seductive women.
He runs into the house's resident spirit, the girl's ghost. The other estate residents disclose their supernatural origins after Fuyuzora promises to assist her in granting her unfulfilled wish.
13. Mayo Chiki 
Director: Keiichiro Kawaguchi

Writer: Reiko Yoshida

Characters: Kanade Suzutsuki, Subaru Konoe, Kinjiro Sakamachi, Masamune Usami, Nakuru Narumi, Kureha Sakamachi.

IMDB: 6.9/10

Premiered: 2011
Due to the gynophobia, or fear of women, his mother and sister possessed Kinjirou Sakamachi had acquired; he had grown up around wrestling. But one good thing came out of it—his body has become incredibly tough, enabling him to ignore road bumps.
However, his dread is so extreme that even a woman's touch can make him bleed from the nose. He eventually learns that Subaru Konoe, his headmaster's daughter's butler, is a woman. She guarantees to eliminate his phobia in return for discretion. There is streaming available for all of the episodes. 
12. Rosario To Vampire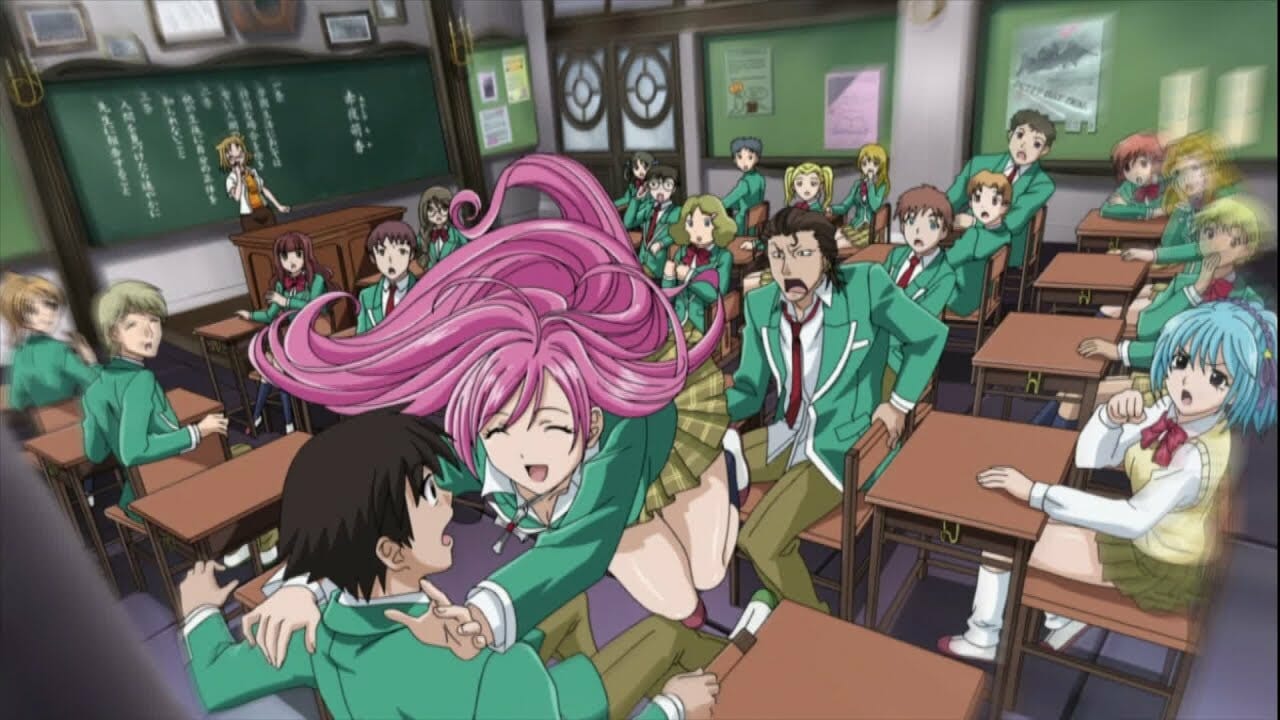 Director: Takayuki Inagaki

Writer: Hiroshi Yamaguchi

Characters: Tsukone Aono, Mizore Shirayuki, Issa Shuzen, Kurumu Kurono, Yukari Sendo.

IMDB: 6.8/10

Premiered: 2011
I don't mean to imply that 'Rosario to Vampire' has an innovative plot or cast of characters by having it on this list. It's just a cute little ecchi anime with 13 episodes that last around 25 minutes each.
Even though you might not enjoy this anime series if you're a regular anime viewer, you'll enjoy it if you want lots of fanservice and attractive female characters. Ecchi anime fans seem to like this series a lot. 
Youkai Academy is where the anime is set. It shows to be a typical boarding school where students live and learn from outsiders. However, this academy conceals a dark secret. It is a training ground for monsters studying and getting along with people.
The monsters dress as humans and show up to class. They attend gym classes, arithmetic classes, and all other crucial academic courses that a typical institution would offer. However, one regulation states that humans are not allowed to enroll in school and must be executed instantly if they are. 
Tsukune Aono is a terrible student who was rejected from every high school. In a last-ditch effort to enroll him in a school, his parents enroll him at Youkai Academy. He meets Moka Akashiya, a stunning student, there. Tsukune chooses to remain despite the risks associated with the institution to build and improve his connection with Moka. 
11. Scum's Wish
Director: Masaomi Ando

Writer: Makoto Uezu

Characters: Hanabi Yasuraoka, Akane Minagawa, Mugi Awaya, Sanae Ebato, Narumi Kanai, Noriko Kamomebata, Atsuya Kirishima.

IMDB: 6.8/10

Premiered: 2017
This anime has a somewhat melancholy plot that is a touch too mature. Hanabi Yasuraoka and Mugi Awaya appear to be the ideal pair for the outside world. Still, they are only together because they cannot be with someone they genuinely love.
While Mugi enjoys his former instructor, Akane Hanabi is in love with her teacher, Narumi, who was her neighbor. But to their surprise, Narumi and Akane start dating. Because of this, they get lonely and turn to one another instead of the people they want. 
10. Prison School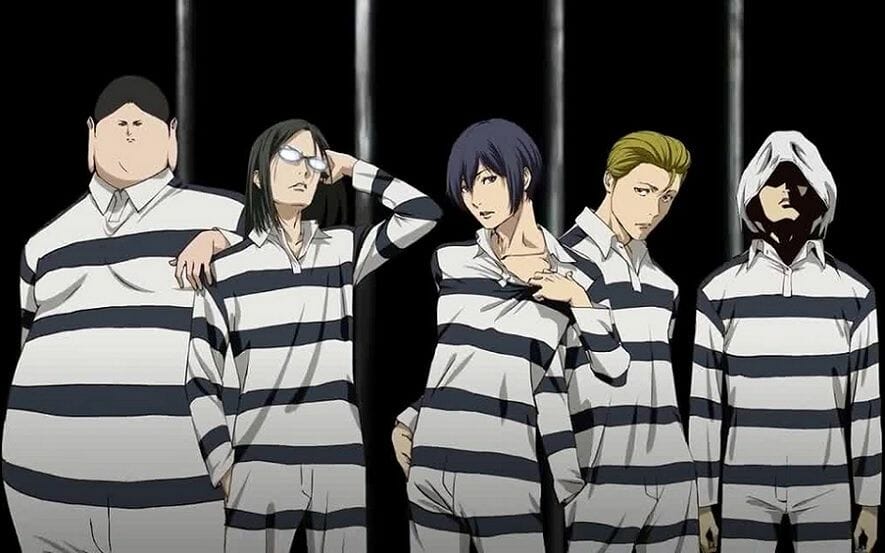 Director: Noboru Iguchi

Writer: Ayako Kitogawa and Noboru Iguchi

Characters: Meiko Shiraki, Mari Kurihara, Hana Midorikawa, Gakuto, Chiyo.

IMDB: 7.6/10

Premiered: 2015
Until recently, Hachimitsu Private Academy was a well-known female students school. However, it recently opened its doors to include boys. Only five high school students are chosen after the initial admission process. They find themselves challenging because practically all their female classmates ignore them.
They look for solitude in their peeping tom ways. However, they are discovered and imprisoned for a month in the school. Do they have a chance of surviving, or will they crumble? 
9. No Game, No Life
Director: Atsuko Ishizuka

Writer: Jukki Hanada

Characters: Stephanie Dola, Fiel Nirvalen, Jibril, Chlammy Zell, Ino Hatsuse.

IMDB: 8.1/10

Premiered: 2014
This fantasy anime is called "No Game No Life." It is meant to be cheerful, colorful, and rife with fan service. The movie's premise appealed to me (though it has been done before). The key idea is that making essential decisions requires playing games with high stakes.
This eliminates all violence, bloodshed, and conflict. Therefore, I advise you to skip this if you enjoy action anime. One of the top online gaming teams is Sora and Shiro. They are siblings who are not currently enrolled in school or employed. Their online gaming moniker, "Blank," has become somewhat famous.
They rarely venture outside and believe that life is just a boring game. They get a chess match invitation one day in the form of an email. This begins their explorations into a different world where games are used to settle disputes and solve problems. Tet, the God of Games, is the king of this realm, Disboard.
This system of resolving conflicts and dissension through high-stakes games does quite well for one specific reason.
The amount wagered by one party must be equivalent to the wage made by the other side. Now Sora and Shiro, a gaming power couple, have a purpose for playing games. To play against Tet, they must unify all the global races.
8. Seitokai Yakuindomo
Director: Hiromitsu Kanazawa

Writer: Makoto Nakamura

Characters: Shino Amakusa, Takatoshi Tsuda, Naruko Yokoshima, Suzu Hagimura, Aria Shichijo, Mutsumi Mitsuba.

IMDB: 7.1/10

Premiered: 2010
Originally an all-girls institution, OSai Academy recently changed its policies to allow for coed education. Being among the few boys in the school makes life hard for Takatoshi Tsuda.
He is the only male representative and is recruited to serve as vice president of the Student Council. As the story goes on, Takatoshi may be seen juggling his responsibilities as vice president with his schoolwork.
7. Food Wars: Shokugeki No Souma
Director:

Writer:

Characters: Erina Nakiri, Ikumi Mito, Soma Yukihira, Megumi Tadokoro, Satoshi Isshiki, Alice Nakiri.

IMDB: 8.2/10

Premiered: 2015
This food wars: Shokugeki ecchi anime series is among the best ecchi animes. The sous chef Souma Yukihira has been employed in their family restaurant under his father. He has a very inventive cooking approach and delights diners with his deft culinary inventions.
He hopes to take the first seat as the restaurant's executive chef someday. But his dream is dashed when his father shuts down the firm and enrolls Souma in the Tootsuki Culinary Academy.
He must now put in much effort because only 10% of pupils graduate. Will he be able to endure the infamous food conflicts at the academy?
6. Castlevania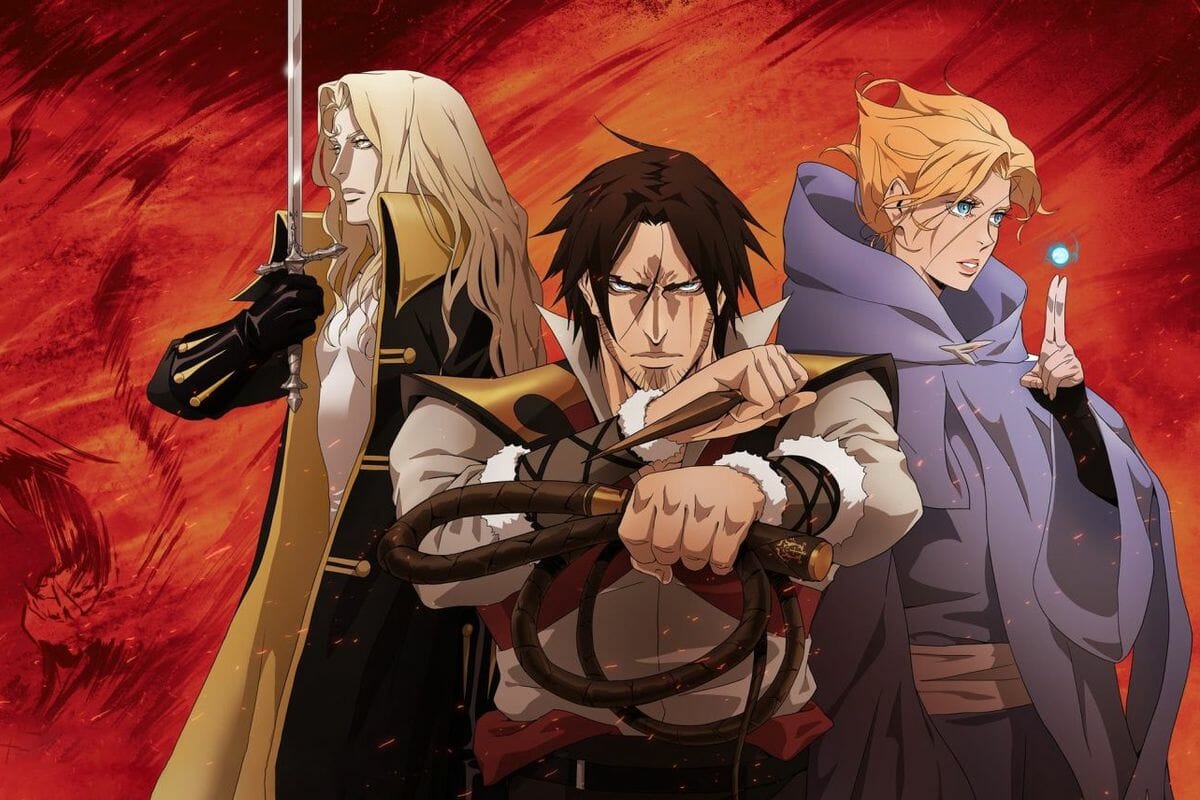 Director: Kevin Kolde

Writer: Warren Ellis, James Callis

Characters: Trevor Belmont, Sypha Belnades, Alucard, Carmilla, Dracula.

IMDB: 8.3/10

Premiered: 2017
A gothic horror video game by the same name created by Konami served as the basis for the dark fantasy anime Castlevania. The anime introduces viewers to a violent world of monsters, vampires, and religious extremists where interactions between the three have disastrous results.
The amusing amorous exchanges and hinted sex scenes between Sipha and Trevor provide viewers with lighthearted fun even though the series is often sad and loaded with sly symbolism.
The show also features a sexually suggestive nude sequence between Lenore and Hector in which the former seduces the latter as if their chemistry weren't hot enough already. Therefore, "Castlevania" offers ecchi fans more than enough opportunities to enjoy the series and is a gold mine for fans who appreciate shows with profound themes.
5. Japan Sinks
Director: Masaaki Yuasu

Writer: Sakyo Komatsu

Characters: Haruo Koga, Ayumu Muto, Mari Muto, Nami Miura, Kaito.

IMDB: 6.4/10

Premiered: 2020
The Mutou family's daily routine, like millions of other people living in Japan, is devastatingly disrupted when an earthquake strikes the whole archipelago.
An emotional struggle for own survival unfolds as the nation gradually sinks beneath the ocean. However, situations can quickly turn deadly because no law enforcement agencies are present.
Only those prepared to go to any extent for their survival—as natural and artificial disasters surround millions of desperate people—can live to see another day. Although the compelling tale of survival frequently centers on the psychological struggle of the inhabitants of Japan, the movie also touches on romantic themes.
It contains sex and nudity, which ecchi aficionados may find intriguing. Watch all episodes of the best ecchi anime on Netflix.
4. Kakegurui
Director: Tsutomu Hanabusa

Writer: Homura Kawamoto

Characters: Yumeko Jabami, Midari Ikishima, Mary Saotome.

IMDB: 7.2/10

Premiered: 2017
The Hyakkaou Private Academy is renowned for using unconventional strategies to prepare students for the real world. That is a significant factor in why it is so well-liked and why only the children of the most regal families can participate.
The academy is pretty much like any other school in the nation during the day, but at night, the dim hallways transform into seedy dens where the young people study the sophisticated art of gambling.
Yumeko Jabami, a fresh and stunning transfer student, prefers to play these games for the adrenaline rush they provide rather than the leveling up overall grades as most youngsters do. And it's only a matter of time before her irrational obsession with gambling even exposes the dark powers in charge of these games. 
As I said, fanservice is typically little more than a critical selling point for anime, but "Kakegurui" is slightly different.
It employs chronological fanservice moments to illustrate the protagonist's preoccupation with gambling. She feels so strongly about it that it practically makes her sexy. Most other anime have forced fan service moments, but the Ecchi in this one fits the tone just right.
3. Kill La Kill
Director: Hiroyuki Imaishi

Writer: Kazuki Nakashima

Characters: Ryuko Matoi, Satsuki Kiryuin, Nonon Jakuzure, Senketsu, Ira Gamagoori, Nui Harime.

IMDB: 7.9/10

Premiered: 2013
The ecchi genre anime "Kill la Kill" is enjoyable. There are two ways to view this program. You can like how it satirically attacks the traditional anime accouterments by viewing it as a parody. It is also available to view as a typical ecchi action anime with strong female leads and loads of humorous situations.
Regardless of your decision, you will enjoy watching Kill la Kill. The series steadily matures as it gets closer to its conclusion, even though, at first, it could seem a little clichéd and unclear.
The series' protagonist is Ryuuko Matoi. Her father invented things. One of his creations is a tool that resembles scissors. Ryuuko's only surviving information about his murder is the missing part of this weapon.
She sets out to identify her father's killer and exact revenge with the other half of the scissor blade. She visits Honnouji Academy as part of her research.
The head of the student government of this esteemed school is Satsuki Kiryuuin, who is ruthless and frigid. The Elite Four are four persons who work for her. Satsuki has given them God Clothes, which provide them with superhuman powers. Ryuuko tries to combat one of them but fails, retreating to her house.
There she discovers a rare God Cloth that clings to her when it comes into contact with her blood. She now has excellent superhuman skills as a result. 
Now that she has more strength, Ryuuko returns to the Honnouji Academy to take on Satsuki and her minions to find out who killed her father.
2 . Devilman Crybaby
Director: Masaaki Yuasa

Writer: Ichiro Okouchi

Characters: Akira Fudo, Ryo Asuka, Miki Kuroda, Psycho Jenny.

IMDB: 7.6/10

Premiered: 2018
When streaming platform Netflix began experimenting with anime of supernatural beings, it appeared as though it was restraining itself from delving into the highest reaches of the strangeness of the medium. But in 2018, it released the incredibly gory animation "Devilman Crybaby," demonstrating no room for restraint.
Heck, it is the first episode. The television series focuses on the exploits of a young boy who transforms into the insatiable mix of a human and a new devil known as the Devilman. Ryo and Akira display graphics of sex.
And although this gives him the ability to be far more potent than he ever was as an average human teen, he still has a childlike heart, earning him the nickname "Devilman Crybaby."
If Netflix had decided to tone down a show like "Devilman Crybaby," I would have understood. But they decided to attack it head-on. Even the anime's Ecchi grows more intense over time, just like its plot. Watch this best Ecchi anime on Netflix.
1.  High School DxD
Director: Tetsuya Yanagisawa

Writer: Ichiei Ishibumi

Characters: Akeno Himejima, Koneko Tojo, Rias Gremory.

IMDB: 7.6/10

Premiered: 2012
Issei Hyoudou is a typical pervert who aspires to run a harem in the future in high school dxd. He likes to snoop on women. One day, a girl asks him a question. Unfortunately, the female is a fallen angel who succeeds in her goal of killing Issei. Story of fallen angels, i.e., Highschool dxd over, correct?
Wait! The devil Rias Gremory then raises Issei from the dead and makes him her servant. Issei must learn to get into this new way of life and endure the cruel world of devils and angels.
Read More: The 25 Best Lolicon Anime Movies/Series Of All Time