Disney is usually known for its heroes, but they are not just made like that. For them to be a great hero, a great villain has to oppose them. Over the last few years, the variety of villains has increased; female Disney villains too.
There are many incredible male villains, but the company has done an excellent job making cruel and fearsome female Disney villains. There have been some great villains that have played a massive role in the film. Here we have made the list of the best 20 female Disney villains.
20. Queen Nerissa- Enchanted (2007)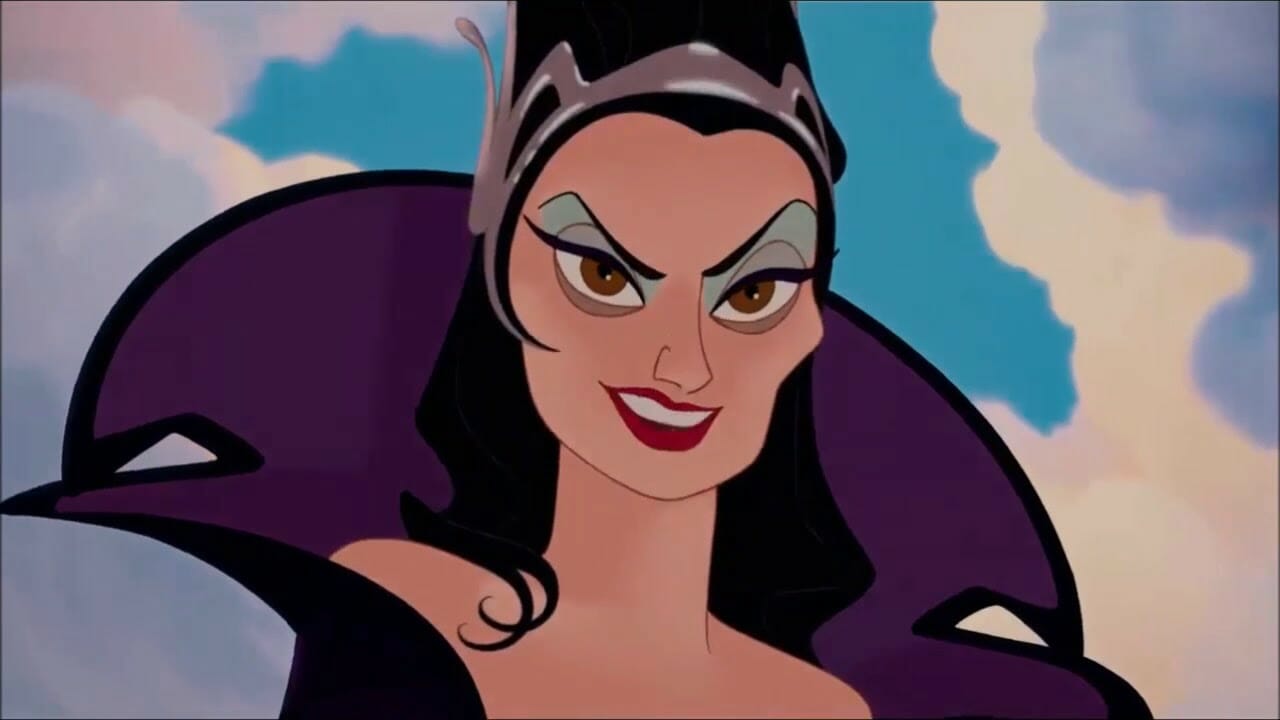 Director: Kevin Lima
Writer: Bill Kelly
Cast: Amy Adams, Patrick Dempsey, James Marsden, and others
IMDb Ratings: 7.1/10
Streaming Platform: Amazon Prime Video, iTunes, VUDU
Queen Narissa is like a combination of the best and worst traits of the Evil Queen. It can also be said that she is a hybrid of Maleficent and the Evil Queen. She hides and then poisons Giselle with an apple. She also can turn into a dragon. Narissa is among the most beautiful villains of Disney. By the poisoned apple, she tried to kill Giselle.
Narissa is cruel, selfish, manipulative, ruthless, and uses black magic. She is the main antagonist in Enchanted, a 2007 Disney film. She is Prince Edward's stepmother. Enchanted is a very underrated film, and the character of Queen Narissa is unknown to many. We hope that those who don't know about her now know.
19. Sharpay Evans- High School Musical (2006)
Director: Kenny Ortega
Writer: Peter Barsocchini
Cast: Vanessa Hudgens, Zac Efron, Ashley Tisdale, and others
IMDb Ratings: 5.5/10
Streaming Platform: Disney+
In High School Musical 1 and 2, we saw Sharphy Evans as one of the Disney villains. She is the main antagonist in Sharpy's Fabulous Adventure. She is the most powerful in the drama department, and Ryan is her right hand.
18.Madame Medusa- The Rescuers (1977)
Director: Wolfgang Reitherman, Art Stevens, John Lounsbery, and others
Writer: Margery Sharp
Cast: Eva Gabor, Bob Newhart, Bernard Fox, and others
IMDb Ratings: 6.9/10
Streaming Platform: Disney+
Most Disney villains are seen to have plans like taking over and ruling the world. Then comes Madame Medusa, who lives in the real world rather than this cartoony stuff. She is a greedy woman who runs her pawnshop in New York. Her obsession with diamonds leads her to search for Devil's Eye.
When she cannot reach its hiding place, she returns to New York and kidnaps Penny, an orphan. She brings her to New Orleans to get the diamond she wants. A violent kidnapper is scarier than the villains who want to conquer the world.
17. Madam Mim-The Sword in the Stone (1963)
Director: Wolfgang Reitherman, David Hand, Clyde Geronimi
Writer: T. H. White
Cast: Walt Disney, Karl Swenson, Martha Wentworth, and others
IMDb Ratings: 7.2/10
Streaming Platform: Disney+
Madam Mim is the opposite of Merlin, the most powerful wizard. She has excellent talents but is simultaneously very arrogant, backed up by her great personality. Madam Mim practices dark magic for the wrong things. The best talent she has is to shapeshift into a dragon. This shapeshifting reminds the audience of how she represents evil.
16. The Evil Queen- Snow White And The Seven Dwarfs (1937)
Director: David Hand, Wilfred Jackson, Larry Morey, and others
Writer: Jacob Grimm, Wilhelm Grimm
Cast: Adriana Caselotti, Lucille La Verne, Harry Stockwell, and others
IMDb Ratings: 7.6/10
Streaming Platform: Disney+
this film was released after World War II, and its characters are still remembered. The reason behind that may be the characters, plot, or the fact that it was the first full-length Disney movie. The Evil Queen holds the position of being the first Disney villain and is still the best villain. Her physical appearance, which consists of her purple gown and a black cloak, is iconic.
In the Disney canon, her scheme of poisoned apples is the most famous one. One of the most memorable lines in the history of cinema was also given by her. The seven dwarves eventually killed the Evil Queen.
15. Ursula-The Little Mermaid (1989)
Director: John Musker, Ron Clements
Writer: John Musker, Ron Clements, Howard Ashman, and others
Cast: Jodi Benson, Samuel E. Wright, Edie McClurg, and others
IMDb Ratings: 7.6/10
Streaming Platform: Disney+
Ursula is a very dark character and has a wicked sense of humor. She is a criminal Cecelia and promises the poor unfortunate souls to turn their dreams into reality. Her magical powers are mighty even without her Trident. She is a great villain and maybe one of the evilest Disney villains.
14.Cruella De Vile- 101 Dalmations (1961)
Director: Stephen Herek
Writer: Dodie Smith
Cast: Glenn Close, Jeff Daniels, Hugh Laurie, and others
IMDb Ratings: 5.7/10
Streaming Platform: Disney+
Cruella De Vil is among the worst Disney villains. She is a fashion-obsessed heiress who wants to take the skin of 99 Dalmatian puppies to make a fur coat for herself. Isn't that cruel? To satisfy her madness, she is seen committing various sins. In her criminal activities, Horace and Jasper help her.
Cruella de Vil is the best baddie shown by Disney, and no matter what the version is like, whether it is the adaptation made in 1996 or the one in which Emma Stone was seen, this character doesn't fail to grab the viewers' attention. What makes her so attractive can't be said so easily. Her character has been Disney's icon for over half a century.
13. Lady Tremaine- Cinderella (1950)
Director: Clyde Geronimi, Hamilton Luske, Wilfred Jackson
Writer: Clyde Geronimi, Bill Peet, Ted Sears, and others
Cast: Ilene Woods, Eleanor Audley, Verna Felton, and others
IMDb Ratings: 7.3/10
Streaming Platform: Amazon Prime Video, Apple TV
The film Cinderella has some greatest villains created by Disney ever. The evil stepsisters are the ones, and then their mother comes. She is worse than her daughters. Lady Tremaine is a grounded villain like Madame Medusa and doesn't have plot schemes like the ending of the world.
She psychologically torments Cinderella, her stepdaughter, just because she is prettier than her daughters. In 2015, a live-action remake was made in which Lady Tremaine's character was brought to life. She is one of the most realistic villains of Disney.
12. Mother Gothel-Tangled (2010)
Director: Byron Howard, Nathan Greno
Writer: Dan Fogelman
Cast: Zachary Levi, Mandy Moore, Ron Perlman, and others
IMDb Ratings: 7.8/10
Streaming Platform: Disney+
Mother Gothel locks Rapunzel so that she can harness the power of her magical hair. Rapunzel's hair has the healing properties Sundrop Flower has.
This allowed Mother Gothel to maintain her youthful appearance. She brainwashed this child into believing that the outer world was not good and then trapped her in a tower for 20 years. She uses the subtle trick on Rapunzel so that she remains an obedient daughter.
11. Bellwether- Zootopia (2016)
Director: Rich Moore, Byron Howard
Writer: Phil Johnston, Jared Bush
Cast: Ginnifer Goodwin, Jason Bateman, Rich Moore, and others
IMDb Ratings: 7.6/10
Streaming Platform: Disney+
Certain things make Bellwether different from the rest of Disney's villains. To begin with, she is a sheep and wears adorable outfits to her office. She also has a high-pitched voice (given by Jenny Slate). She is truly a disgusting villain and doesn't lack both motivation and actions to do something reckless.
Bell made a plot so that the predators of Zootopia could be perceived as dangerous. She did so to let prey species like her rule. Friendly creatures like Mr. Manchas were attacked and turned into violent creatures.
10. Zira-The Lion King II: Simba's Pride (1998)
Director: Darrell Rooney
Writer: Flip Kobler, Bob Schooley, Bill Motz, and others
Cast: Matthew Broderick, Ernie Sabella, Nathan Lane, and others
IMDb Ratings: 6.4/10
Streaming Platform: Disney+
The Scar was very mean, influencing other lions to be like him. The worst among them was Zira, who was Scar's most devoted follower. After Scar's death, his followers were banned and named The Outsiders. Just like Scar, Zira is also a cunning and heartless creature.
She does not love her children and instead uses them as puppets for her political advantage. When they get to know of her evil plans, then she's the one who starts showing their affection and care. She is a worthy successor of Scar and the most iconic villain of Disney.
9. Warden Louise Walker-Holes (2003)
Director: Andrew Davis
Writer: Louis Sachar
Cast: Shia LaBeouf, Sigourney Weaver, Khleo Thomas, and others
IMDb Ratings: 7/10
Streaming Platform: Disney+
This warden character is prevalent in fiction, and Warden Louise Walker sets the right example. In Camp Green Lake, a detention center for children, they are seen digging holes as their punishment. These kids are looking for a treasure that once belonged to an outflow of the Wild West.
This is just like Warden Louise Walker's character- friendly on the outside but harboring ulterior plans and motives inside her. She utilizes the efforts put in by the children, and to spend her time; she makes a rattlesnake to poison her employees.
8. The Red Queen-Alice in Wonderland (2010)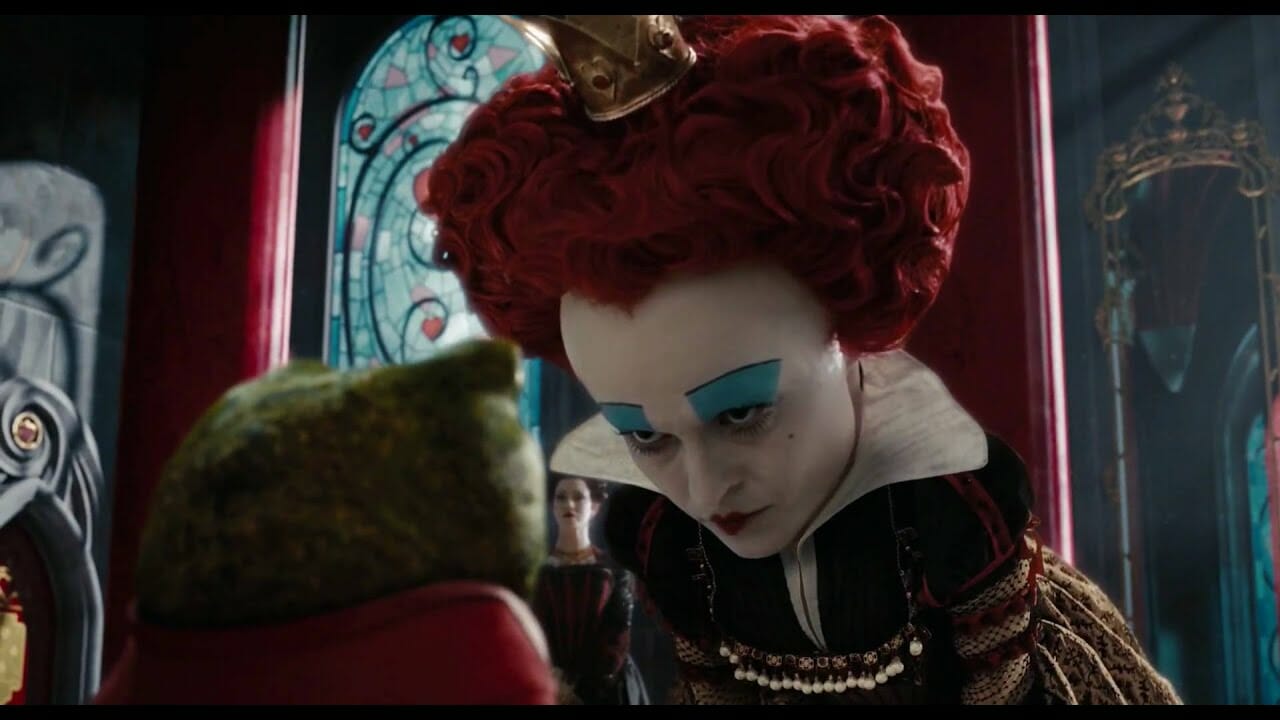 Director: Tim Burton, Johnny Depp, Mia Wasikowska, and others
Writer: Lewis Carroll, Linda Woolverton
Cast: Johnny Depp, Helena Bonham Carter, Mia Wasikowska, and others
IMDb Ratings: 7.2/10
Streaming Platform: Disney+
Alice in Wonderland was the movie that started the trend of live-action remakes, and it earned praise for the visuals. It grossed $1 million globally and was a highly successful film. The Red Queen, a fantastic villain, can be seen in this film. She combines Queen of Hearts, the Dutchess, and Red Queen from Lewis Carroll. Helena Bonham Carter plays the role of the Red Queen.
She is a dictatorial ruler who has a fondness for ordering executions. Anyone seen or caught disobeying the rules she has set called executed. This means no one is safe as she is unpredictable and dangerous. The Red Queen is the perfect Disney villain.
7. Kaa-The Jungle Book (2016)
Director: Jon Favreau
Writer: Justin Marks
Cast: Jon Favreau, Neel Sethi, Idris Elba, and others
IMDb Ratings: 5.5/10
Streaming Platform: Disney+
The Jungle Book was one of the finest remakes made by Disney. Scarlett Johansson gave her voice to the female snake. Mowgli runs away from Shere Khan and comes across her. Kaa is a terrifying creature. She is a 30-foot-long python who wants to eat Mowgli, and in an attempt to do the same, she hypnotizes him.
If Babloo hadn't intervened on time, Mowgli would have been served as snacks. This scene was also very unsettling in the original film that came in 1967.
6. Te Kā-Moana (2016)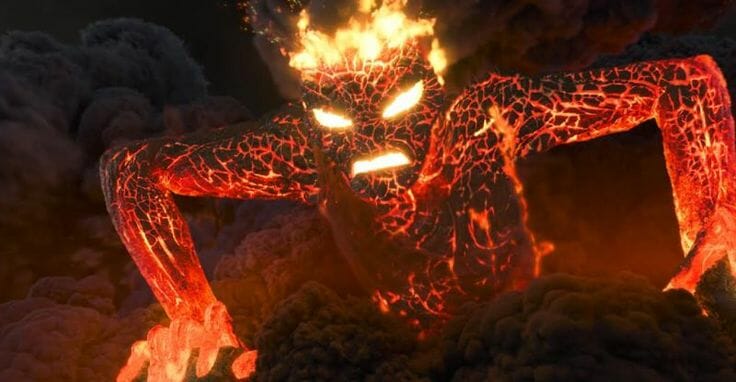 Director: Ron Clements, John Musker
Writer: Jared Bush
Cast: Auli'i Cravalho, Dwayne Johnson, Alan Tudyk, and others
IMDb Ratings: 7.6/10
Streaming Platform: Disney+
Not all Disney villains are just as intimidating as Te Kā is. She is made up of flames and lave and lives over Moana and Maui.
She movies like an animal and has a face just like a skull. It is enough to frighten adult viewers so that it might scare children. There is a tragic story behind this villain. Te Kā was once known as Te Fiti. She provided the gift of life, but Maui stole her heart.
5. The Sanderson Sisters- Hocus Pocus (1993)
Director: Bette Midler, Kathy Najimy, and others
Writer: Bette Midler, Kathy Najimy, and others
Cast: Bette Midler, Kathy Najimy, and others
IMDb Ratings: 6.9/10
Streaming Platform: Amazon Prime Video
This Halloween classic film is full of joy but also has some dark shades. It is mainly due to the Sanderson Sisters. This trio makes a potion that'll help them regain their youth. Getting that done will suck the life out of the children that live in Salem.
Young Emily Binx becomes the first victim of these sisters. The villagers could stop them before any other life could be compromised. These Sanderson Sisters are the wickedest of all the witches seen in Disney till now. Even after 300 years, they return to finish the business they left unfinished.
4. Jadis The White Witch- Chronicles of Narnia: The Lion, the Witch, and the Wardrobe (2005)
Director: Andrew Adamson
Writer: Andrew Adamson, C. S. Lewis, Georgie Henley, and others
Cast: William Moseley, Anna Popplewell, Skandar Keynes, Georgie Henley, Tilda Swinton, James McAvoy, Jim Broadbent, Liam Neeson
IMDb Ratings: 6.9/10
Streaming Platform: Disney+, Apple TV, Prime Video
The Chronicles of Narnia is based on the novel written by C.S. Lewis. It has the perfect adaptation of the White Witch. Tilda Swinton portrayed her role excellently. Jadis is equivalent to evil and is also the leader of Narnia. She used her powers and subjected the world to endless winters.
Winters symbolize Jadis's character- it is harsh, cruel, and uncaring. The White Witch pretends to be exemplary only when she needs something like she manipulated Edmund for her benefit.
3. Yzma- Emperor's New Groove (2000)
Director: Mark Dindal
Writer: David Reynolds
Cast: David Spade, Patrick Warburton, Eartha Kitt, and others
IMDb Ratings: 7.7/10
Streaming Platform: Disney+
Yzma is one of the most popular Disney villains. She shares many similarities with the villains of Disney of old times, like she wished to take the throne from Emperor Kuzco because she wanted revenge. He fired her from being one of his advisors.
To get her work done, she used magic. Yzma is different from others because she has been shown differently from the other Disney villains. She has a henchman Kronk who is somewhat dimwitted. She is also regarded as one of the funniest Disney villains, as she beats the likes of Queen Grimhilde and Cruella de Vile.
2. Mombi- Return to Oz (1985)
Director: Walter Murch
Writer: Walter Murch, Gill Dennis
Cast: Fairuza Balk, Jean Marsh, Nicol Williamson, and others
IMDb Ratings: 6.8/10
Streaming Platform: Disney Plus, VUDU, Prime Video
This dark fantasy film is an unofficial sequel to the original movie. Some things have been taken from Oz novels written by L. Frank Baum. Mombi combines Ozma of Oz and The Marvelous Land of Oz. She is one of the scariest Disney villains; she can change her appearance by changing human heads.
Dorothy was locked in a tower by her, and the motive behind that was that she could use him as her stock for future purposes. This film is often criticized for being too shady and dark.
1. Maleficent- Sleeping Beauty (1959)
Director: Wolfgang Reitherman, Eric Larson, Clyde Geronimi, Les Clark
Writer: Walt Disney, Brothers Grimm, Charles Perrault, and others
Cast: Walt Disney, Mary Costa, Eleanor Audley, and others
IMDb Ratings: 7.3/10
Streaming Platform: Disney+
Maleficent is one of the most iconic villains in Disney, as she is the definition of evil. Her name means the same, after all. This film, which came in 2014, provides an exciting twist to the story of Sleeping Beauty. The report, this time, is from the perspective of Maleficent.
The original film, however, remains the best one. Her physical appearance includes her yellow eyes and her purple and black outfit. She can also turn into a giant fire-breathing dragon with the help of her magical powers. Her horned headdress makes her look like a demon.
She is pure evil and is responsible for all the mishappenings in King Stefan's kingdom. She also cursed the queen that she'll die before the sun set on her 16th birthday. So, those who didn't know Maleficent will now see that she is nothing like the other villains. This type of villain can not appear anywhere except in a fairy tale.
Read More: The 60 Best Disney Movies of All Time (Must Watch)