Hironobu Sakaguchi invented the Final Fantasy anthology media series, which Square Enix developed and owned (formerly Square). The franchise's foundation is a series of fantasy and science fantasy role-playing video games. The first game in the series was released in 1987, and there have since been 15 main entries, with a 16th set to be released in 2020.
Since then, the series has expanded into other video gaming genres like tactical role-playing, action role-playing, massively multiplayer online role-playing, racing, third-person shooter, fighting, and rhythm, as well as CGI films, anime, manga, and novels.
The principal volumes of the Final Fantasy series usually are stand-alone anthology role-playing games with various locations, narratives, and main characters. However, the franchise is linked by several repeating aspects, including game mechanics and repeated character names.
Each story revolves around a group of heroes fighting a great evil but delves into the character's internal conflicts and relationships. Character names are typically derived from figures of world history, languages, pop culture, and mythologies.
Each game's mechanics include similar warfare systems and maps. Both critically and commercially successful, the Final Fantasy shows and game series is considered by many to be among the best video games ever made, with the series as a whole selling over 168 million software units worldwide, making it one of the most successful video game franchises of all time.
The series is noted for its visual innovation, which includes full-motion videos (FMVs), lifelike character models, and Nobuo Uematsu's music. It popularized numerous features now standard in role-playing games and the genre outside of Japan. Coupled with layered characters and gripping arcs, we find ourselves in a world of heightened imagination.
We've compiled a list of all our favorite Final Fantasy characters- and you have to let us know if you agree or disagree!
30. Zack Fair– FFVII
He was the previous owner of Cloud's famed Buster Sword and the energetic and restless protagonist of Crisis Core –Final Fantasy VII–.
After being mortally wounded while battling for what he believed in – he fulfills his dream of becoming a hero and passes it on with his final breath. Just the right amount of edge and heroism to make it to our Top 30 list of Final Fantasy characters!
29. Aerith Gainsborough– FFVII
Aerith is one of the most known female faces in gaming, thanks to her important position in one of history's most influential games. She is young, gorgeous, and elusive. Aerith may appear to be just another flower merchant. Still, she is the last of the Cetra, people with tremendous magical ability and the power to "speak to the planet," which makes Sephiroth choose her as a target.
This is a Final Fantasy character we have grown to love, and her death in one of the most tense gaming scenes of all time will surely make us feel some way.
28.Haurchefant Greyston– FFXIV
Lord Haurchefant Greystone is arguably the most well-known of the many amicable NPCs in the MMORPG Final Fantasy XIV. Haurchefant is a member of the Elezen race, with trademark silver hair and elf-like ears.
He enjoys meeting new adventures and welcomes them to Dragonhead. In the city-state of Ishgard, he is a member of the noble house of Fortemps. He can be spotted in the Coerthas Central Highlands, reigning over Camp Dragonhead.
27.Cindy Aurum – FFXV
Cindy is the daughter of Cid Sophia, the former Royal Mechanic and an old friend of King Regis. As a result, she understands everything there is to know about the Regalia and would gladly assist you in customizing your vehicle. Our heroes do not miss her incredible skill, vibrant attitude, and impressive looks; young Prompto falls head-over-heels for the mechanic.
One thing we can say for sure and this Final Fantasy XV character is that she sure spices things up.
26. Regis Lucis Caelum – FFXV
The 113th King of Lucis and father of Noctis have a lot of screen time in the Kingsglaive prequel film while scarcely appearing in the main FF15 game.
He is a wise and strong father figure to Noctis and everyone who works under him. He is genuinely concerned about his subjects and is willing to risk his life to preserve their future from the Niflheim Empire. We might be slightly biased about him, given that Sean Bean voiced his film version in the English dub, but we're all human.
25. Rikku – FFX
This Final Fantasy X character quickly became a favorite among fans. And she's incredibly cool, so we see why. Rikku is a lean and agile fighter, one of the few heroes physically capable of fighting underwater.
She is the last of Yuna's defenders to join, yet she becomes one of her closest. Even though Rikku isn't considered among the main characters, she has some of the most memorable moments in the entire series.
24. Lenna Charlotte Tycoon – FFV
Lenna is the glowing beacon of Final Fantasy V and the closest thing we get to a central female protagonist in FFV. Lenna Charlotte Tycoon is one of the Warriors of Light; she is gentle, compassionate, and slightly gullible.
While Bartz represents the Wind's independence, Lenna embodies the Water's selflessness and empathy. She also possesses the game's highest raw Magic stat. As a result, most people consider her to be the most powerful mage ever. Do you agree?
23. Rinoa Heartily – FFVIII
Rinoa, the protagonist of Final Fantasy VIII, is caring, warm, and welcoming. She is Squall's love interest and a prominent character in her right. Rinoa's principles drive her to join a rebellion fighting for Timber's independence from imperial authority, despite her father's command of the Galbadian military.
Her Blaster Edge is a force to be reckoned with in battle, and her loyal dog Angelo provides support inside and outside the fight. A fierce woman indeed!
22.Bartz Klauser – FFV
The talented Bartz, an orphan from Lix, is all about adventure and exploration, but he also knows when it's time to stand firm and fight for justice. Makings of a hero, eh?
Bartz's father's final wishes before he died were for him to become an adventurer and travel the world, and he did just that – until he met Lenna and was chosen by the Crystals to be a Warrior of Light. Even in tight situations with huge stakes, he's incredibly calm. Still, he doesn't take his obligation to the world lightly and grows significantly throughout his journey in Final Fantasy V.
21. Firion – FFII
Firion is Final Fantasy's main protagonist and the first character in the series to have a different name and backstory that ties into the plot. Due to the narrative format and standards of the time, we don't know much about him. But two things are certain: he's an armed conflict expert willing to risk his life fighting for freedom and peace.
20. Kefka Palazzo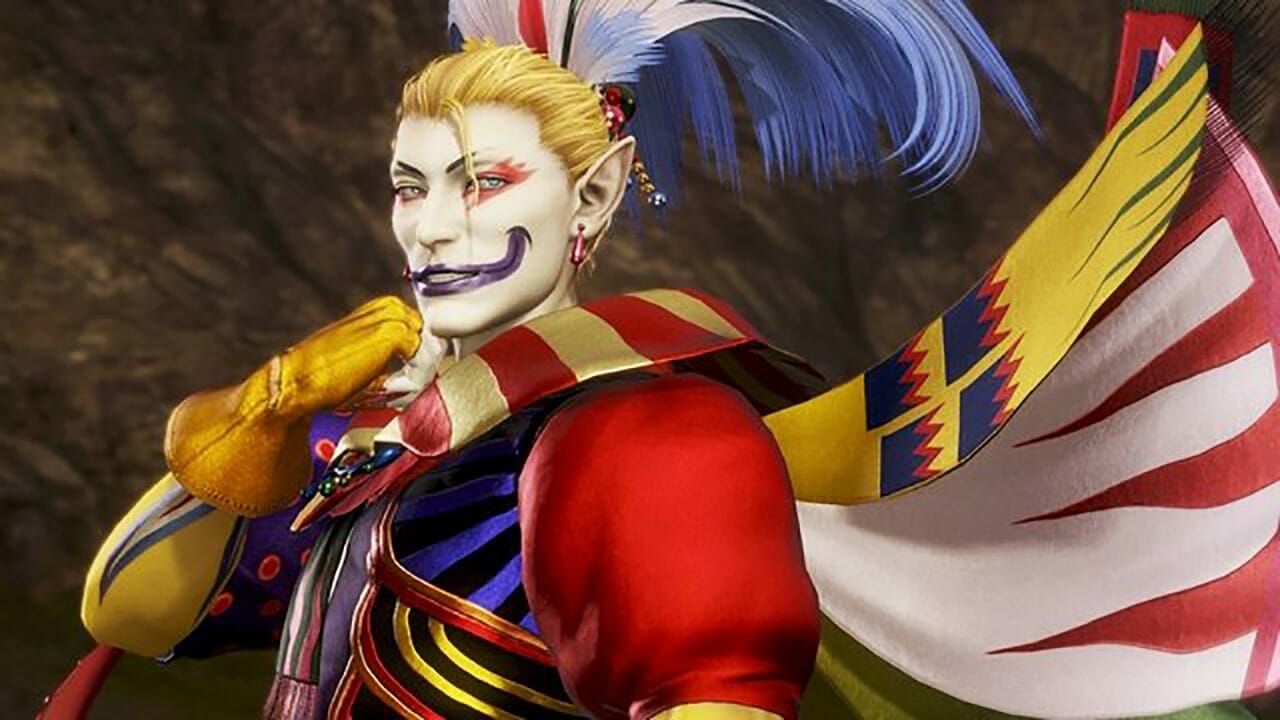 The villain, Kefka Palazzo, is much more fascinating than the main characters in Final Fantasy 5.
Kefka was the first person injected with Magitek, making him the first Magitek Knight in the Gestahlian Empire. Unfortunately, the procedure did not go as planned, and he lost his sanity and became a psychopath.
He eventually gains control of the Empire and becomes the God of Magic, triggering the Cataclysm, which kills most of the planet's people and throws the world into Chaos. His justification? It's as simple as it can be. He likes to see people in pain.
19.Vincent Valentine- FFVII
Vincent Valentine is yet another victim of magic testing, this time by Shinra, Final Fantasy VII's core antagonistic organization.
He was saved by being filled with Chaos-tainted Mako, which also converted him into a receptacle for Chaos. He believes this has transformed him into a monster, a sin against the world, and he seeks vengeance on those responsible.
Vincent is dark and brooding, with a fallen angel aesthetic and possibly the game's most badass design. Final Fantasy fans seem to have a whole spot in their hearts reserved especially for Vincent- no wonder he made it to the top 20!
18. Cecil Harvey – FFIV
Cecil Harvey, of Final Fantasy IV, a Dark Knight in direct service to the King of Baron as the Captain of the Red Wings, is one of the most intriguing characters in Final Fantasy's early history.
With time, he became consumed by his Dark Knight character, wearing black armor to symbolize the horrors and injustices he perpetrated in blind allegiance to his King.
Cecil is purified after a battle with one of the Four Elemental Archfiends. We love a good character development arc!
17. Locke Cole – FFVI
Locke Cole, an adventurer, and burglar who prefers the "Treasure Hunter" moniker, is one of the game's most gifted fighters.
Despite his pleasant demeanor, Locke is a dedicated Returner with only one objective: to overthrow the Gestahlian Empire.
His stealthy abilities are crucial for the Returners, who use him as a spy and saboteur. Just a shame we don't see more of him!
16.Solus zos Galvus – FFXIV
Final Fantasy XIV's Solus, the Founding Father of the Garlean Empire, is a chatty, scary, and mysterious character.
His outstanding leadership brought massive success to Garleans and ushered in a golden age. Regrettably, it was impossible to maintain without conflict and expansion, as with most empires.
He also appears in the Shadowbringers DLC as a significant adversary. Players discover his identity as Hades, the Architect of the Ascians, through the game.
15. Ramza Beoulve – FF Tactics
Final Fantasy Tactics is one of the series' lesser-known games, but it's also one of the most enjoyable.
And the protagonist, Ramza Beoulve, isn't given nearly enough credit as he deserves.
Ramza is proud of his ancestors and believes in upholding the Beoulve name by working for peace and justice.
Ramza discovers the true meaning of selfless battling for the good of others after abandoning his family and becoming a mercenary. According to us, he's one of the game's best characters ever.
14.Vivi Ornitier – FFIX
Vivi from Final Fantasy IX is usually the picture that springs to mind when someone thinks of a Black Mage in Final Fantasy. His body is shrouded in darkness save for his bright yellow eyes, and he wields staves that channel his magical abilities.
Vivi is shy and naïve, despite his ominous appearance. Thanks to his adventures with Zidane and the crew, he matures and gains self-confidence through time—a likable black mage from a fantastic PS1 game with a central reception in pop culture.
13.Cid Highwind – FFVII
Cid appears in every Final Fantasy game. He's even in the Kingdom Hearts franchise!
But none are as intriguing as Cid Highwind from Final Fantasy VII.
He's also among the few playable characters in the hero's party. Despite his dreams of sending a rocket into space and his general faith in science, Cid gets sympathetic to the planet's plight at one point and resolves that if no one else will, he will. Cid commands the Highwind, which he deploys to assist Avalanche in their fight against Shinra.
This young man sure is attractive!
12. Auron – FFX
Final Fantasy X is one of the franchise's most popular games. And, without a doubt, Auron is the game's most excellent character. Yuna's father, Summoner Braska, assigned him as his Guardian.
He does the same for Yuna during the game and keeps an eye on Tidus as a favor to his old friend Jecht. His background is fascinating, but it contains a lot of secrets, so if you haven't played the game yet, know that Auron is far more complex than he appears (and he already appears to be complicated!).
He's a breath of fresh air, all we'll say, and certainly one of the best final fantasy characters!
11.Terra Branford – FFVI
Terra Branford is the most prominent character in Final Fantasy VI.
This rugged and independent woman is first seen as a Magitek Elite for the Gestahlian Empire. She eventually joins the Returners to combat the Empire's oppression and, ultimately, Kefka. She adores Moogles. Who doesn't like them, after all? They're delightful!
Fans of the game love Terra and so do we- and even if we didn't, she'd be too cool for us to say it!
10. Freya Crescent – FFIX
Freya Crescent, a spear-wielding Dragon Knight who joins Zidane's company after meeting him in Lindblum a few days before the Festival of the Hunt, is another beloved character from Final Fantasy IX. She's a cheerful and humble Burmecian, a bipedal anthropomorphic rat species that lives in Burmecia and Cleyra.
While Freya has experienced the most tragedy and sadness throughout the game, she never loses hope for a better future and works relentlessly to achieve it. She is the most fitting of Final Fantasy characters to lead us into a top ten list.
9. Tifa Lockhart- FFVII
Tifa joins Avalanche to wreak revenge on Shinra after the mega-corporation destroys her hometown of Nibelheim.
She's a fierce combatant but also a gentle, compassionate spirit who treats her comrades with great care. Practically EVERY gamer has heard of her,  especially after that Final Fantasy VII Remake design!
There would probably be a riot among Final Fantasy VII fans if we didn't put Tifa on the list, but how could we not?
8.Noctis Lucis Caelum – FFXV
As King Regis' firstborn son and the 114th successor to the Lucian throne, Noctis has large shoes to fill at the start of Final Fantasy XV, and his issues only get worse as the game progresses. Despite this, with the help of his allies, this moody and distant prince survives, learning to harness the might of the Lucian Kings to safeguard the kingdom from Niflheim's claws.
His royal heritage allows him to channel the Crystals' power to create weapons out of thin air, which he uses to succeed in warfare. He's also a decent fisherman and undoubtedly one of the best final fantasy characters ever.
7. Tidus – FFX
Tidus is undoubtedly the most lifelike and believable of the various Final Fantasy characters.
At first, most people say that he's excessively whiny and childish… But that's to be expected from a young man whose entire life has been turned upside down. There are also concerns with the father. Ahem. In the flash of an eye, he transforms from rising star Blitzball celebrity to being lost in the mysterious realm of Spira – and yet he manages to keep his cool and matures due to his travels with Yuna and her Guardians.
A character like Tidas is a fantastic example of why the Final Fantasy series has been so popular!
6.Zidane Tribal – FFIX
Zidane Tribal, the gallant thief from Final Fantasy 9, was an excellent protagonist who shattered the sad protagonist cliche.
He's a Genome, a machine, but that doesn't stop him from living the life he wants. When he meets a lovely girl, he's laid-back, talkative, and flirty — a big cry from Cloud and Squall's gloomy personas. His Steal talent is handy in combat because it allows you to pickpocket foes in a conflict and steal powerful weapons and equipment. A mix of Ash Ketchum, Aladdin, and infinite coolness. What's not to love?
5.Squall Leonhart – FFVIII
According to his companions, Squall Leonheart, like Noctis and most other prominent characters in Final Fantasy, is a quiet and reserved SeeD mercenary.
He lives for his profession at first, but as the game progresses, he begins to rethink his way of life. He does not become the party's leader by choice but because of his exceptional leadership abilities. This similar ability earns him the position of Commander of Balamb Garden, one of SeeD's primary strongholds.
Unlike most characters, Squall's charm lies in his reserved, mysterious air, making him seem all the more compelling.
4. Sephiroth – FFVII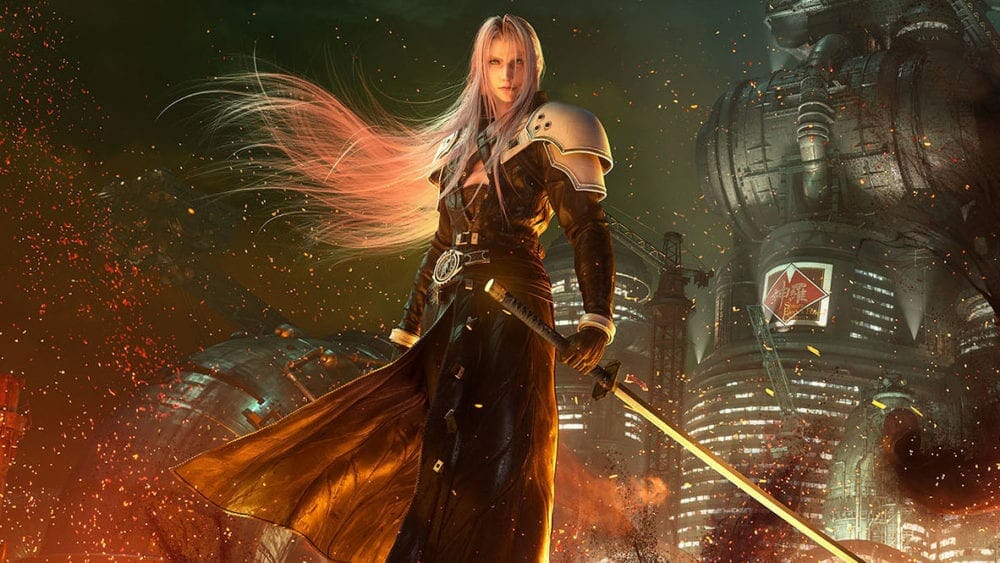 After their story is finished, Final Fantasy villains tend to drift away into oblivion.
On the other hand, the famous soldier Sephiroth could not have been further removed from his peers. He's almost as well-known as Cloud, his heroic counterpart. That is a serious assertion.
While we generally see him in Final Fantasy VII as an overpowered villain, the backstory supplied by Dirge of Cerberus and Crisis Core helps us understand this tragic figure much better. A fan-favorite figure and the generator for much discussion, Sephiroth is a character we could go on and on and on about. Should we?
3. Lightning (Claire Farron) – FFXIII
Lightning is a character that has earned her spot on this list via blood, sweat, and tears.
Her games aren't the best in the Final Fantasy franchise. Even critics must acknowledge that this pink-haired Gunblade wielder carried an entire trilogy on her back. She also has the best dress sense in any Final Fantasy game — not counting the main squad's K-Pop boyband!
She's glam, and she's cool, she's brave, and she's skilled. Claire carries her games on her back and looks intimidating doing it.
2. Yuna – FFX
Tidus could be the game's main protagonist. However, the story of Final Fantasy X revolves around Yuna and her quest to save the world.
She's a Summoner, like her father before her, tasked with appeasing the monster Sin and keeping Spira safe at all costs. It's a responsibility that weighs heavily on her shoulders. But she keeps going for the sake of the people she cares about. It's fun to watch her grow as a character between FFX and FFX-2, growing more daring and finally living for herself. Yuna is probably the character we find ourselves most attached to in the entire franchise, as we feel a personal stake in her journey.
Do you agree with her ranking on our list?
1. Cloud Strife – FFVII
Unsurprisingly, the protagonist of the most recognized Final Fantasy game is also the best – and possibly the most popular – character in the series.
Cloud is a problematic character to define. Especially since he spends most of the game pretending to be someone he isn't.
At the time, his identity crisis subject struck a chord with players. It's one of the reasons why Final Fantasy VII is considered one of the best games ever made. Cloud stands triumphantly with the Buster Sword slung across his back if RPG video games had to be reduced to a single image.
Cloud Strife is the best character to grace Final Fantasy's graphics, combining emotional depth, kickass fighting skills, charm, and memorability.