Want to treat yourself to a movie? So, here are best French movies on Netflix. Among the most effective and enjoyable methods to learn French via absorption is through watching films or animated film, as many students well know.
Some people even know how to watch French Movies with French subtitles to speed up their knowledge. But where can I find the videos themselves? That may be a pain!
You would not want to bother wasting your time viewing anything dull because you only have so much time. Think about starting to watch French films only to discover that there isn't even a single French word spoken!
I've created a list of the best French movies on Netflix.
To provide you the finest learning opportunity possible, I've taken into account both the quality and the added features of the French movies streaming on Netflix. All you need to do is relax and take it all in!
1. Oxygen (Oxygène)
Director: Alexandre Aja
Writer: Christie LeBlanc
Cast: Mélanie Laurent, Mathieu Amalric, Malik Zidi, Laura Boujenah
IMDb Ratings: 6.5
Rotten Tomatoes: 88%
Streaming Platforms: Netflix
One to consider is the gripping sci-fi/thriller film Oxygen. Liz, the lead character in this suspenseful film, awakens to find herself imprisoned within a pod like a cryogenic coffin. She has forgotten her memories and is unsure of her motivation for being in the pod. She has a restricted supply of oxygen, which only makes matters worse (hence the title).
Those who enjoy thrillers should see this film (and those who are learning the French language, of course). In this exciting and engrossing movie, you'll learn a lot of French vocabulary and medical terms linked to scientific issues.
2. Wedding Unplanned (Jour J)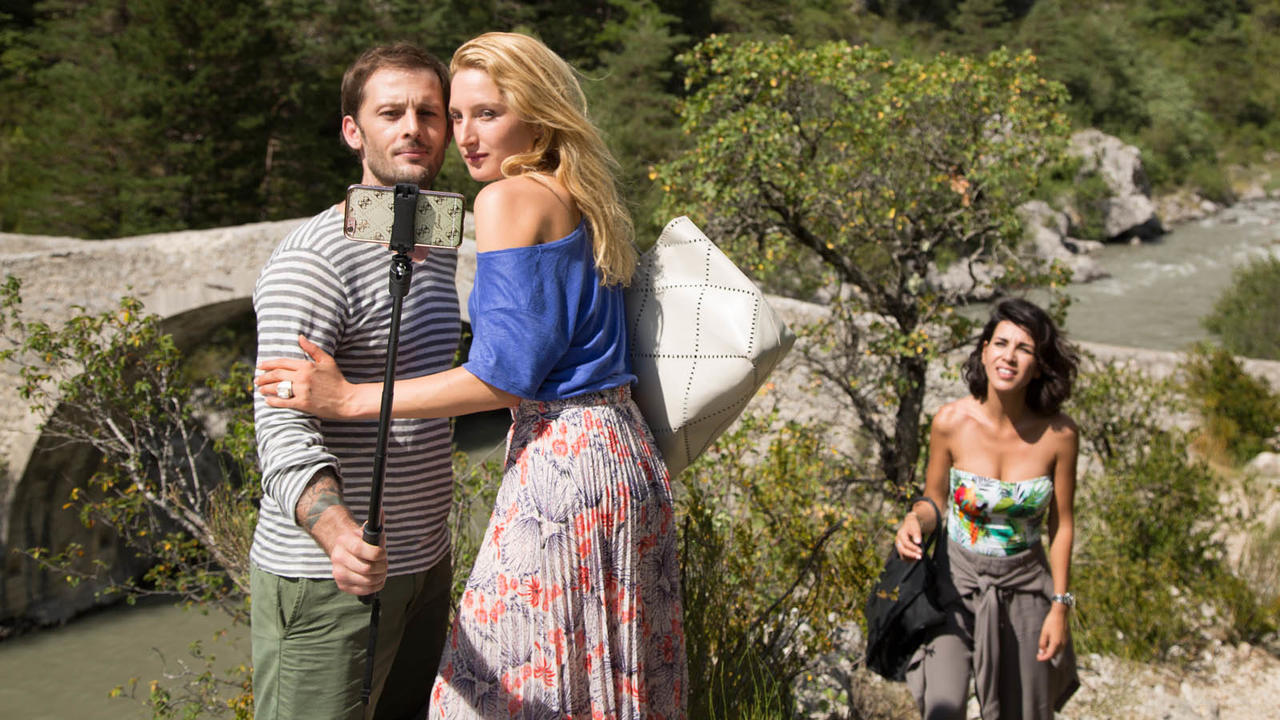 Director: Reem Kherici
Writer: Reem Kherici, Philippe Lacheau, Stéphane Kazandjian
Cast: Reem Kherici, Nicolas Duvauchelle, Julia Piaton, Sylvie Testud
IMDb Ratings: 6.1
Rotten Tomatoes: NA
Streaming Platforms: Netflix
A romantic comedy called Jour J or Wedding Unplanned depicts Mathias and Alexia as they prepare their wedding. The novel takes place in the South of France and has the well-known love triangle premise.
When Alexia finds a business card for a wedding planner inside her partner's pocket, she assumes that he is about to pop the question. She has no idea that he is having a fling with the organizer and simply goes together with the ruse to keep him undetected.
3. The Wolf's Call (Le Chant du loup)
Director: Antonin Baudry
Writer: Antonin Baudry
Cast: François Civil, Omar Sy, Mathieu Kassovitz, Reda Kateb
IMDb Ratings: 6.9
Rotten Tomatoes: 85%
Streaming Platforms: Netflix
Le Chant du loup has been one of the best recent films if you're in the need for an action drama war film.
The Sonar Officer of something like a submarine is the focus of the thrilling movie. He searches for a French ballistic missile submarine against by the clock, using his excellent hearing to avert the possibility of nuclear war.
4. The World is Yours (Le Monde est à toi)
Director: Romain Gavras
Writer: Karim Boukercha, Noé Debré, Romain Gavras
Cast: Karim Leklou, Isabelle Adjani, Vincent Cassel, Oulaya Amamra
IMDb Ratings: 6.3
Rotten Tomatoes: 95%
Streaming Platforms: Netflix
A small-time drug dealer trying to leave the trade and go to Morocco is the subject of a French crime-caper comic.
He accepts one more job and, among other stuff, becomes involved with the Illuminati (a hidden organisation at the centre of several actual and imaginary conspiracy theories).
He runs into trouble when he learns that his mother threw away his cash, forcing him to take on one more job.
The World is Yours, also known as Le Monde est à toi, is a wonderful French movie to start watching if you enjoy comedies about criminal sprees.
5. West Coast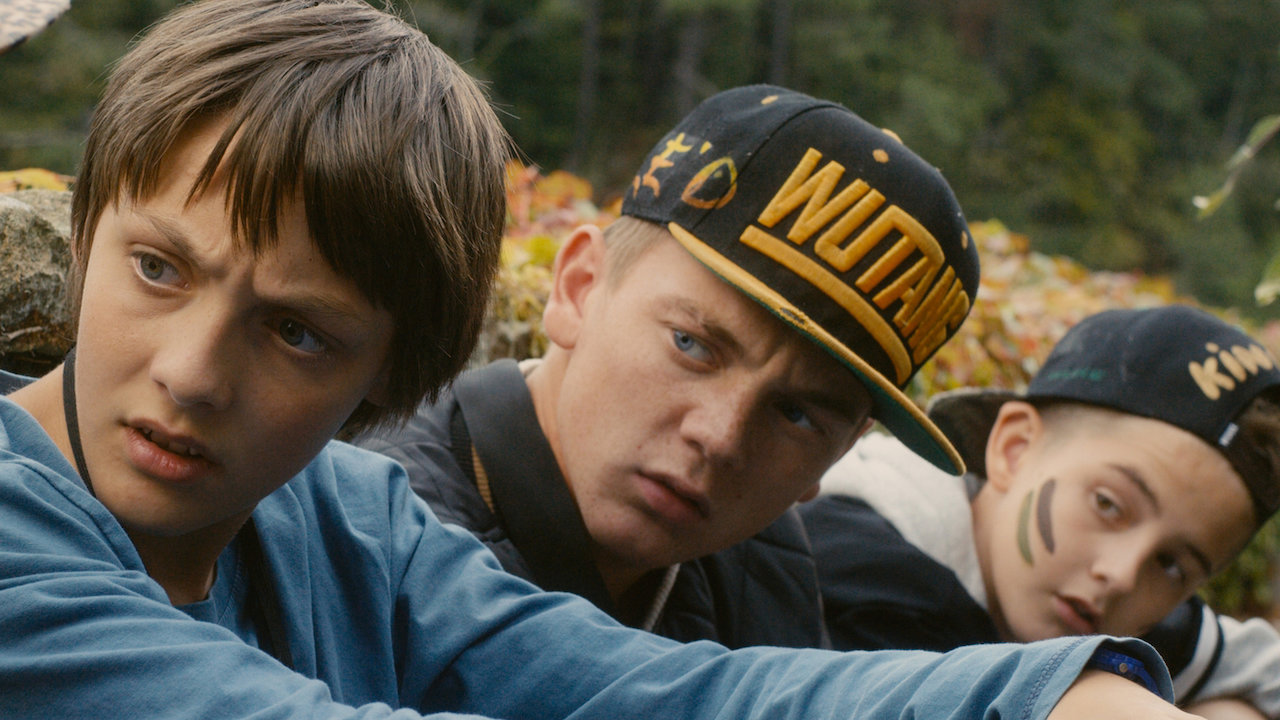 Director: Benjamin Weill
Writer: Camille Fontaine, Benjamin Weill
Cast: Devi Couzigou, Mathis Crusson, Victor Le Blond, Sullivan Loyez
IMDb Ratings: 5.7
Rotten Tomatoes: NA
Streaming Platforms: Netflix
A group of West Coast American rap culture-obsessed French teenagers—Delete, King Kong, Flé O, and Copkiller—set off on a quest to recover a perilous lost (originally stolen) object in this one-hour and 20-minute movie.
As is frequently the case, this voyage demonstrates the close relationship of four males as they explore their own personalities and work to win over the woman of their dreams.
While these four lads journey around western France in search of a way out from the complex web they have created for themselves, spectacular water gun battles break out and world wide web romances come to light.
6. In the Shadow of Iris
Director: Jalil Lespert
Writer: Andrew Bovell, Jérémie Guez, Jalil Lespert
Cast: Romain Duris, Charlotte Le Bon, Jalil Lespert, Camille Cottin
IMDb Ratings: 6.1
Rotten Tomatoes: NA
Streaming Platforms: Netflix
This film also has a perverted sexual fantasy, like many others on this list. A woman is abducted and used by a pair for their own BDSM desires. Before going to watch this, put your children to bed.
This movie is only appropriate for adults, therefore if you are under 18, I would encourage you to look up the movie's categories (or whatever is the legal age in your country).
7. Bad Seeds (Mauvaises herbes)
Director: Kheiron
Writer: Kheiron
Cast: Kheiron, Catherine Deneuve, André Dussollier, Louison Blivet
IMDb Ratings: 7.3
Rotten Tomatoes: NA
Streaming Platforms: Netflix
Wael and his foster mother Monique rob grocery store patrons out of their money.
Victor, the target of their attempted robbery, turns out to be Monique's longtime buddy. Wael & Monique assist at Victor's programme for at-risk adolescents in exchange for Victor agreeing not to file charges.
When Wael arrives at the centre, he starts guiding a group of six kids, and the plot revolves around the similarities between his past and that of the group. He could connect with them in a way that others can't because of their common experiences.
Even though it is straightforward, this movie delivers a potent message of future optimism in the face of hopelessness.
8. He Even Has Your Eyes (Il a déjà tes yeux)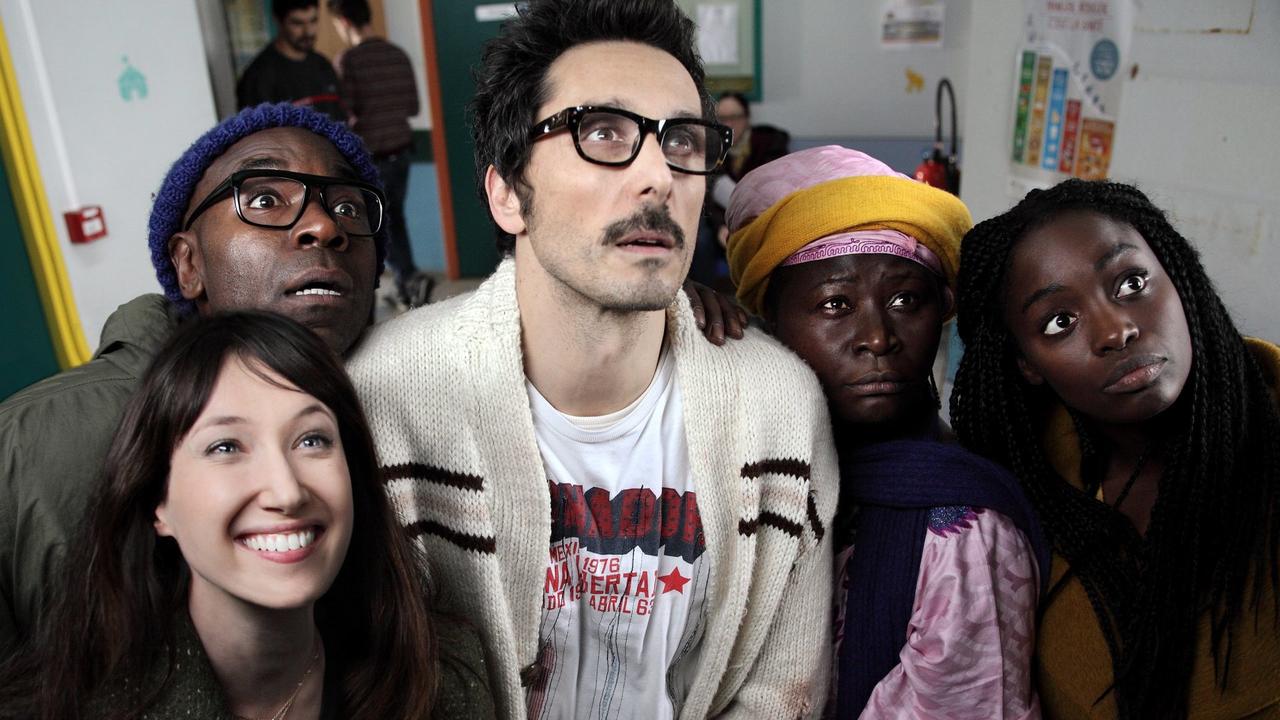 Director: Lucien Jean-Baptiste
Writer: Marie-Françoise Colombani, Sébastien Mounier, Lucien Jean-Baptiste
Cast: Lucien Jean-Baptiste, Aïssa Maïga, Zabou Breitman, Vincent Elbaz
IMDb Ratings: 6.2
Rotten Tomatoes: NA
Streaming Platforms: Netflix
Inside this French comedy, the traditional scenario of interracial adoption is reversed; this time, black parents take a white child.
A French-African couple Paul and Sali, who are unable to have kids, have already been waiting awhile to be able to adopt. They receive a phone call from the adoption center one day informing them that a kid has been located. Benjamin is the man they were looking for, and he is also white.
This movie tackles serious subjects like racism as well as adoption and transforms them into a fun, feel-good adventure, following similar paths blazed by "The African Doctor."
Paul and Sali's affection for their children finally triumphs over their challenges to get their families' support and the social worker's attempts to stop the adoption from happening.
9. Ravenous (Les affamés)
Director: Robin Aubert
Writer: Robin Aubert
Cast: Marc-André Grondin, Monia Chokri, Charlotte St-Martin, Micheline Lanctôt
IMDb Ratings: 5.8
Rotten Tomatoes: 88%
Streaming Platforms: Netflix
Consider this more subdued spin on the traditional zombie apocalypse scenario for a flavor of Quebecois in your movie calendar.
A disease that has transformed the residents of a tiny Quebecois town into zombies has wiped off the whole population. In order to make to retreat to the town for assistance, a handful of survivors strewn across the carnage join together under the leadership of a nerd named Bolin.
Although "Ravenous" veers further towards artistic sadness than your standard hack-and-slash undead thriller, the novel approach to the subject and the endearing personalities of the cast make this movie worthwhile.
10. Headwinds (Des vents contraires)
Director: Jalil Lespert
Writer: Olivier Adam, Marie-Pierre Huster, Marion Laine
Cast: Benoît Magimel, Isabelle Carré Antoine Duléry, Ramzy Bedia
IMDb Ratings: 6.4
Rotten Tomatoes: NA
Streaming Platforms: Netflix
Parenting is difficult, and raising a child alone is much more challenging. The difficulties of a lone parent are featured in this beautiful movie about familial problems.
While Sarah, Paul's wife, mysteriously disappears, his entire world is flipped upside down. He arrives with his two kids to his hometown on the French coast one year after she vanished.
This movie's central focus is family, so you'll constantly hear of kinship phrases and get a glimpse of French culture and lifestyle.
11. Lost Bullet (Balle perdue)
Director: Guillaume Pierret
Writer: Guillaume Pierret, Alban Lenoir, Kamel Guemra
Cast: Alban Lenoir, Nicolas Duvauchelle, Ramzy Bedia, Stéfi Celma
IMDb Ratings: 6.3
Rotten Tomatoes: 75%
Streaming Platforms: Netflix
Consider of "Lost Bullet" like "Mad Max," "Baby Driver," plus "The Fast and the Furious," but also in French and with a setting in the coastal city of Sète.
In this timeless part-thriller, part-action masterwork, ex-mechanic Lino (Alban Lenoir) seems to be on an ongoing commitment to prove his innocence of a murder allegation after being falsely accused.
The essential type of proof for establishing his identity is, as the title says, a single gunshot (but first he must find it).
It may not be what you think of when you think of French movie, but it has great driving, combat sequences, and actual stunts. But it'll undoubtedly satisfy your want for a good action movie and is expected to do so.
So, relax, buckle up, and take in the scenery. this film is a must watch.
12. The Most Assassinated Woman in the World (La femme la plus assassinée du monde)
Director: Franck Ribière
Writer: James Charkow, Vérane Frédiani, David Murdoch
Cast: Anna Mouglalis, Niels Schneider, Jean-Michel Balthazar, Julie Recoing
IMDb Ratings: 5.3
Rotten Tomatoes: 86%
Streaming Platforms: Netflix
A mystery-thriller called The Most Assassinated Woman in the World, also known as La Femme La Plus Assassin du Monde, is largely modelled on the life of French actress Paula Maxa. As a result, it provides audiences with a glimpse into the 1930s French theatre scene.
The movie takes place in the Grand Guignol Theatre through Paris, wherein Paula (played by Ana Mouglalis) performs and frequently performs death scenes.
Her stalker may be considerably more dangerous than initially believed because the serial murderer who is robbing people in the city when she is working here has some similarities to her line of work.
13. Brother (Mon frère)
Director: Julien Abraham
Writer: Nicolas Peufaillit, Hélène Tolède-Couronne, Jimmy Laporal-Trésor
Cast: MHD, Darren Muselet, Aïssa Maïga, Jalil Lespert
IMDb Ratings: 6.7
Rotten Tomatoes: NA
Streaming Platforms: Netflix
Renowned rapper MHD (Mohammed Sylla) celebrates his debut appearance in this aggressive and frequently combative Netflix thriller, continuing the pattern of new wave rappers who have transitioned into actor-directors.
Teddy (MHD) joins a new environment after being accused of murder at a juvenile prison facility where he must obey the guidelines of the group to avoid getting into trouble.
The movie is a great choice if you really want to add a natural feel to overall French fluency because it makes extensive use of slang, particularly that employed by youthful French speakers.
14. I Am Not An Easy Man (Je ne suis pas un homme facile)
Director: Eléonore Pourriat
Writer: Ariane Fert, Eléonore Pourriat
Cast: Vincent Elbaz, Marie-Sophie Ferdane, Pierre Benezit, Blanche Gardin
IMDb Ratings: 6.3
Rotten Tomatoes: 80%
Streaming Platforms: Netflix
In this fantasy rom-com, a chauvinist guy is dropped into a matriarchal society where women are in charge and males are subject to catcalls.
Reviewers and spectators believe that Je ne suis pas un homme facile handles the well-trodden terrain of someone getting knocked on the head and recovering to find oneself in a topsy-turvy universe with a novel perspective and a glitter that many other movies have been missing.
Damien (Vincent Elbaz), a blatant male chauvinist, is first introduced to us in "I Am Not An Easy Man." He basically goes through life without giving his sexist behaviours or conduct a second thought.
That is, unless he strikes his head, which triggers a type of French "Freaky Friday," drastically changing the situation.
As soon as Damien awakens, he has to figure out how to live in a matriarchal society. He is treated in the same sexist manner that he has always treated women.
This was the first French movie on Netflix, and it's an amazing addition to French satire, which frequently criticises systems of influence in politics and community.
The straightforward plot makes it a fantastic choice for medium learners to understand because it is also a pretty lighter comedy with lots of laughs plus digestible language.
15. I Lost My Body (J'ai perdu mon corps)
Director: Jérémy Clapin
Writer: Jérémy Clapin, Guillaume Laurant
Cast: Hakim Faris, Victoire Du Bois, Patrick d'Assumçao, Alfonso Arfi
IMDb Ratings: 7.5
Rotten Tomatoes: 97%
Streaming Platforms: Netflix
An animated movie with several awards is called I Lost My Body or J'ai Perdu Mon Corps. It is a somewhat gory notion that is based primarily on the Guillaume Laurant novel Happy Hand and portrays a severed hand on its quest to rejoin the body.
Flashbacks from the character's (Naoufel) past provide the bulk of the narrative.
While it was up for Best Animated Feature there at Academy Awards for 2019, this movie came in second to Toy Story 4 despite winning the Critics' Week Grand Prize at Cannes during 2019.
16. Nothing to Hide (Le Jeu)
Director: Fred Cavayé
Writer: Fred Cavayé, Filippo Bologna, Paolo Costella
Cast: Bérénice Bejo, Suzanne Clément, Stéphane De Groodt, Vincent Elbaz
IMDb Ratings: 6.8
Rotten Tomatoes: 83%
Streaming Platforms: Netflix
Technological critiques in movies are getting more and more prevalent, and this one about a disastrous dinner party wager puts a lighthearted twist on the subject.
A nice supper is shared by 3 couples and one single individual who have known each other for years. They agree to play a game over dinner in which they must share every message, phone, online chat, and picture they get.
But when the texts' content grows more explicit, what begins as a humorous game rapidly takes a serious turn.
When real-life problems and the phones of the dinner attendees are brought up, all the ups and downs are humorous and relevant. Unquestionably a wonderful insight into informal French conversation and a must watch for french film lover.
17. The African Doctor (Bienvenue à Marly-Gomont)
Director: Julien Rambald
Writer: Julien Rambald
Cast: Marc Zinga, Aïssa Maïga, Bayron Lebli, Médina Diarra
IMDb Ratings: 7
Rotten Tomatoes: NA
Streaming Platforms: Netflix
The African Doctor, also known as Bienvenue à Marly-Gomont, is a novel that is set in the French town of Marly-Gomont and was motivated by the dad of one of the author's (Kamini) characters, whose family was the only other black family around.
Seyolo Zantoko, the central character, just graduated from medical school & relocates his family to this little community. Another humorous French film that deals with a touchy subject by demonstrating kindness and compassion in a tiny town.
18. The Climb (L'Ascension)
Director: Ludovic Bernard
Writer: Ludovic Bernard
Cast: Ahmed Sylla, Alice Belaïdi, Kévin Razy, Nicolas Wanczycki
IMDb Ratings: 6.9
Rotten Tomatoes: NA
Streaming Platforms: Netflix
The film is based mainly on Nadir Dendoune, a French reporter, author, and climber who is Algerian-Australian.
Dendoune wanted to demonstrate the capabilities of French immigrants and promote the role of French-Algerians in community. Standing on the top of the world, in his opinion, was the ideal approach to confront ingrained prejudice.
The story of the movie centres on Samy, a Senegalese-Frenchman who attempts to please his romantic lead Nadia by climbing Mount Everest. Samy, such as Dendoune, may appear to be the underdog with no prior climbing expertise, but you'll discover yourself rooting for him anyway.
No matter how many times you enjoy the french drama again, you'll never get tired of the breathtaking Nepali scenery or the never-ending heartwarming situations.
19. Mercenary (Mercenaire)
Director: Sacha Wolff
Writer: Sacha Wolff
Cast: Toki Pilioko, Iliana Zabeth, Mikaele Tuugahala, Laurent Pakihivatau
IMDb Ratings: 6.3
Rotten Tomatoes: NA
Streaming Platforms: Netflix
In his magnificent feature film debut, "Mercenary," filmmaker Sacha Wolff tells the story of Soane (Toki Pilioko), a Wallisian native New Caledonia who flees his controlling dad to play rugby in a remote area of France.
The film's use of a large number of amateur actors is what stands out the most. This increases the presentations' overall reality and passion.
The eclectic cast and dichotomy between the stunning scenery and unspoiled coastlines of Northern New Caledonia and the little, traditional French village of Fumel provide for some amazing cinematography.
Additionally, it's a terrific movie to remind you of how widespread the French language is. The movie is useful for learning French, and it's also a wonderful exposure to several aspects of Polynesian culture.
20. Street Flow (Banlieusards)
Director: Kery James, Leïla Sy
Writer: Kery James
Cast: Kery James, Jammeh Diangana, Bakary Diombera, Chloé Jouannet
IMDb Ratings: 6.4
Rotten Tomatoes: NA
Streaming Platforms: Netflix
Here comes a grim tale that masterfully captures the truths of life inside the Paris projects.
Three brothers' trip is followed throughout the movie. More especially, Noumouke, the youngest brother, is developing his personality and choosing a course of action.
Will he emulate his brother Soulaymaan, a diligent and dedicated law student?
Or his gangster brother Demba, a drug dealer who leads a lavish lifestyle?
As it explores suburban life in Paris, particularly for immigrant families, the movie is in the tradition of French film classics like "La Haine" (Hate). It's also a sombre meditation on the decisions we should all end up making and the people we admire.
21. School Life (2019)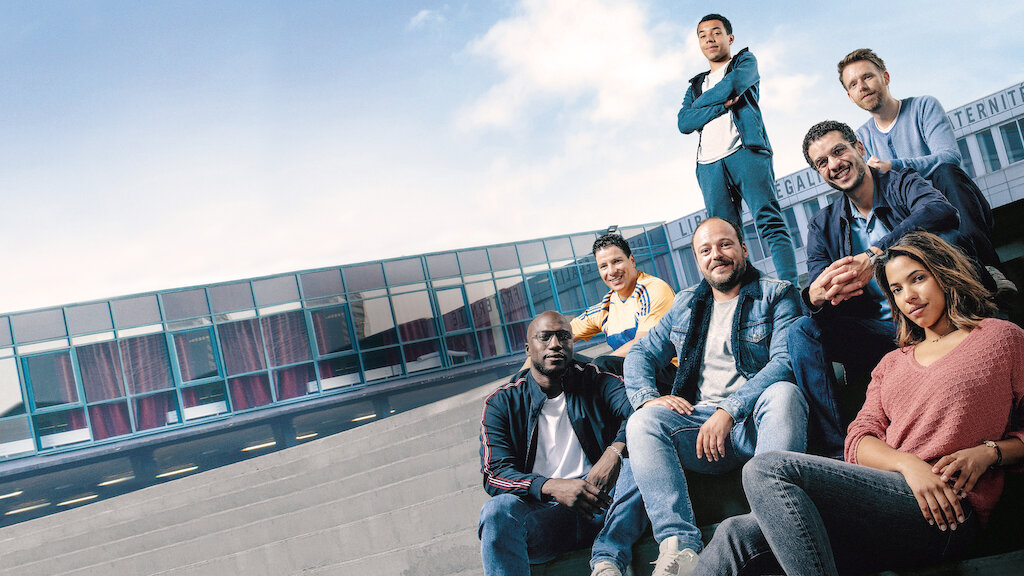 Director: Grand Corps Malade
Writer: Grand Corps Malade
Cast: Liam Pierron, Zita Hanrot, Moussa Mansaly, Alban Ivanov, Soufiane Guerrab, Antoine Reinartz, Hocine Mokando.
IMDb: 6.5/10
Rotten Tomatoes: 92%
Platforms: Netflix
Samia (Zita Hanrot), the innovative vice principal of a institute in the Paris suburb of Saint-Denis, is alerted by her colleagues that her teenagers are low motivation and disobey discipline. She distinctly looks at things from others. Even so, as she gets to know the students, particularly Yanis (Liam Pierron), who is sharp and smart but disaffected by a world that appears to have did turn its back on him and his family, she appears to be trying her best to motivate him to improve his academic results and pursue a career in film.
22. The Stronghold (2020)
Director: Cedric Jimenez
Writer: Cedric Jimenez
Cast: Gilles Lellouche, Karim Leklou, Franscois Civil, Adele Exarchopoulos, Kenza Fortas, Cyril Lecomte, Michael Abiteboul, Idir Azougli
IMDb: 6.9/10
Rotten Tomatoes: 50%
Platforms: Netflix
Greg Cerva, Antoine, and Yass, three Marseille cops, work day and night to capture drug peddlers. Greg intends to raid the supply chain in Marseille's northern neighborhoods (ghetto). However, the area is a well-defended stronghold operated by bosses willing to kill anybody to safeguard their turf. Those who are the law and the legislators, and no police or politicians are permitted in the area. Everything is left to chance, and Greg Cerva feels helpless. Greg wants a large police force to take over the ghetto, but his superior, Jérôme Bodin, has a line of authority to follow. However, an opportunity arises when ghetto kidnappers upload a video of someone being assaulted. The video garners media attention, and the bureaucracy wishes to make a splash.
23. Dheepan (2015)
Director: Jacques Audiard
Writer: Jacques Audiard
Cast: Antonythasan Jesuthasan, Kalieaswari Srinivasan, Claudine Vinasithamby, Vincent Rottiers, Marc Zinga, Faouzi Bensaidi, Bass Dhem, Franck Falise, Josephine De Meaux, Jean Baptiste.
IMDb: 7.2/10
Rotten Tomatoes: 88%
Platforms: Netflix
During the final days of the Sri Lankan Civil War, Sivadhasan is a Tamil Tiger soldier. His side loses the armed conflict, and he is forced to relocate to a refugee camp. He decides to relocate to France to start over. However, he needs a persuasive cover story to obtain political asylum. He is given the passport of a deceased man, Dheepan Natarajan, and is paired with strangers who pose as his family. They board a ship bound for Paris with his alleged wife, Yalini, and his alleged 9-year-old daughter, Illayaal. Sivadhasan's latent fight reemerges amid a climactic gunfight, and he human devastates an entire gang with only a handgun, a machete, and a screwdriver. Yalini is rescued from her boss's plasma apartment by him. They all surely make it to England, where they find true peace.
24. Paradise Beach (2018)
Director: Xavier Durringer
Writer: Xavier Durringer
Cast: Sami Bouajila, Melanie Doutey, Tewfik Jallab, Hugo Becker, Kool Shen, Hubert Kounde, Sonia Couling, Flore Bonaventura, Seth Gueko, Dosseh, Nessbeal.
IMDb: 4.6/10
Rotten Tomatoes: 72%
Platforms: Netflix
Xavier Durringer oriented and co-wrote the 2019 French crime thriller film Paradise Beach. In the film, a recently released thief travels to Thailand to fulfil his recently retired coconspirators and request his portion of the proceeds. On February 20, 2019, the movie opened in France. Following a bank robbery in Paris, five thieves flee Thailand to live a high life. An old partner helps to track them down fifteen years later to get his lengthy share.
Related: 26 Best Feel-Good Movies on Netflix in 2023 (Must Watch)
25. Lady J (2018)
Director: Emmanuel Mouret
Writer: Emmanuel Mouret
Cast: Cecile De France, Edouard Baer, Alice Isaaz, Natalia Dontcheva, Laure Calamy.
IMDB: 6.8/10
Rotten Tomatoes: 85%
Platforms: Netflix
Madame de La Pommeraye, a young and attractive widow who brags of never being in love, succumbs to the developments of the Marquis des Arcis, a very well libertine courting her diligently and obsessively. When the Marquis commences overlooking Madame de La Pommeraye after two years, she implies that their feelings for each other have faded. Rather than denying it, he genuinely agrees. She plots revenge after being deeply hit hard by his rejection. She begs him to forget her previous life, which had been brought on by misfortune, and to forgive her role in Madame de La Pommeraye's cruel trick. Her candour melts his heart, but rather they reconcile. Madame de La Pommeraye's friend is afraid to tell her that the two are now happily married.
Hope you enjoy the binging session.
Happy Binging.