Shudder is an American streaming service that only features horror films and shows of the horror genre. Founded in 2015, Shudder is a treat for horror fans, as it features some of the best horror movies in the world. The fact that AMC's streaming service only caters to the horror community is what makes it unique, here is the list of best horror movies on shudder.
Therefore, for all the horror fans reading this article, we've made a collection of the best movies on shudder that you can stream right now.
40. A Banquet (2021)
Run Time: 1 hr 37 min
Director: Ruth Paxton
Cast: Sienna Guillory, Jessica Alexander, Ruby Stokes
Fans of slow-burn horror will enjoy A Banquet. Holly (Sienna Guillory), a widowed mother taking care of her two daughters Betsey (Jessica Alexander) and Isabelle (Ruby Stokes), is the focus of the movie.
When Betsey claims that her body is no longer her own and is instead serving a higher power—one that compels her to stop eating—Holly finds herself put to the test.
39. Offseason (2021)
Run Time: 1 hr 23 min |
Director: Mickey Keating
Cast: Jocelin Donahue, Joe Swanberg, Richard Brake
Offseason, a spooky cinematic film by writer-director Mickey Keating, stars Joe Swanberg and Jocelin Donahue as a couple who are determined to leave the terrifying nightmare of the deserted island town they unintentionally entered.
38. What Josiah Saw (2021)
Run Time: 2 hrs
Director: Vincent Grashaw
Cast: Robert Patrick, Nick Stahl, Scott Haze, Kelli Garner
Robert Patrick (Peacemaker) and Nick Stahl (Fear The Walking Dead) star in the contemporary American Gothic horror movie What Josiah Saw. Vincent Grashaw is the director of Robert Alan Dilts' intriguing script, and the two work well together to bring an unsettling tale to life through Grashaw's use of suspense and shadows.
37. Flux Gourmet (2022)
Run Time: 1 hr 51 min
Director: Peter Strickland
Cast: Asa Butterfield, Gwendoline Christie, Fatma Mohamed
The acclaimed British writer/director Peter Strickland's film Flux Gourmet is genuinely bizarre and unique. Asa Butterfield from "Sex Education" and Gwendoline Christie from "The Sandman," among other distinctive performers assembled by Strickland, are almost completely eclipsed by the enormous sensory overload of "Flux Gourmet."
36. Revealer (2022)
Run Time: 1 hr 26 min
Director: Luke Boyce
Cast: Caito Aase, Shaina Schrooten, Bishop Stevens
In the campy, gory slasher film Revealer, Caito Aase and Shaina Schrooten play a stripper and a religious protester, respectively, who depend on one another to survive the end of the world.
Revealer plays with uncommon situations that take the plot into a supernatural realm through a deft pairing of opposites, especially when they are trapped in a peep show booth.
35. Who Invited Them (2022)
Run Time: 1 hr 21 min
Director: Duncan Birmingham
Cast: Ryan Hansen, Melissa Tang, Timothy Granaderos, Perry Mattfeld
It is a fascinatingly entertaining film written and directed by Duncan Birmingham (Maron), transforms an ordinary event into an intriguing situation. Who Invited Them follows a couple of housewarming guests who stick around after everyone else has left, making quick transitions from cringe to laughter to suspicion.
34. Blood Relatives (2022)
Run Time: 1 hr 28 min
Director: Noah Segan
Cast: Noah Segan, Victoria Moroles, Akasha Villalobos, Tracie Thoms
Blood Relatives is a funny horror movie that was written, directed, and starred Noah Segan. Francis, played by Segan, is a vampire who speaks Yiddish and enjoys his solitude until Jane, a tough 15-year-old teen girl, finds him and claims to be his daughter. The elderly sage needs Jane, played by Victoria Moroles (Plan B), more than anything.
33. The Apology (2022)
Run Time: 1 hr 31 min |
Director: Alison Locke
Cast: Anna Gunn, Linus Roache, Janeane Garofalo, Holland Bailey
Alison Locke, a relative newcomer, wrote and directed The Apology, a captivating and exciting film with an incredibly underappreciated cast. The Apology, which takes place on Christmas, stars Anna Gunn (Breaking Bad) as Darlene, a distraught mother whose daughter vanished 20 years earlier.
32. Burial (2022)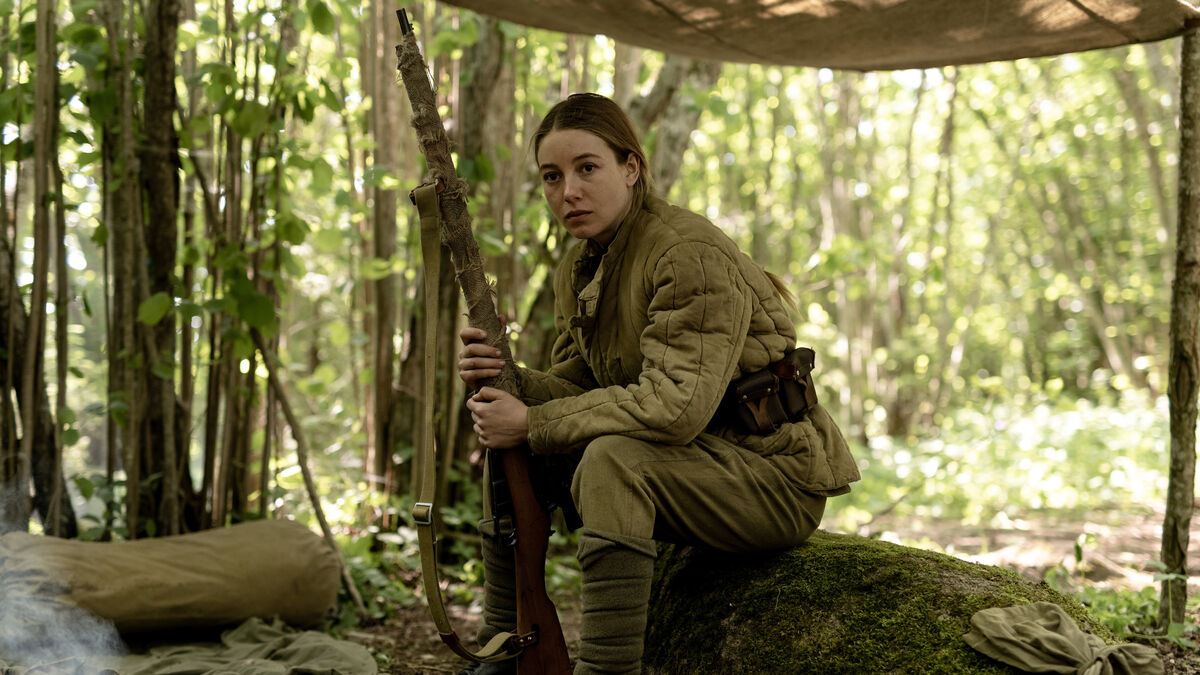 Run Time: 1 hr 35 min
Director: Ben Parker
Cast: Tom Felton, Harriet Walter, Charlotte Vega
Burial is an unintentionally funny, action-packed movie about a group of Russian soldiers at the end of World War II, written and directed by Ben Parker.
In Burial, starring Tom Felton (Harry Potter and the Deathly Hallows: Part 2) and Harriet Walter (Succession), a female intelligence officer (Charlotte Vega) is recruited to take the last stand in order to ensure that these tenacious soldiers deliver Hitler's remains to Stalin.
31. Watcher (2022)
Run Time: 1 hr 31 min
Director: Chloe Okuno
Cast: Maika Monroe, Karl Glusman, Burn Gorman
It is a horror film that goes beyond the typical suspenseful horror movie by following a young woman who believes her new neighbor is spying on her and her husband and may even be a serial killer.
Watcher, a suspenseful thriller starring Maika Monroe and Karl Glusman as Julia and Francis, trades unexpected turns for heart-pounding tension. Her ability to change in a scene from a quiet strength to a terrified fierceness makes Monroe's performance captivating.
30. Martyrs
Director: Pascal Laugier
Cast: Morjana Alaoui, Mylene Jampanol
IMDb Rating: 7/10
Rotten Tomatoes: 64%
Shudder added numerous films from the recent French horror resurgence, including Inside and High Tension, in March 2022, but Martyrs is one of the most infamous of that group.
The stomach-turning picture, directed by Pascal Laugier in 2008, created ripples around the world. Mylene Jampanoi and Morjana Alaoui play a woman and her friend who seek vengeance on those who mistreated her as a youngster. It is not for the weak of heart.
This Joe Lynch film's stars have gotten much more popular in the short time since it aired at South by Southwest in 2017, which should pique interest in this dark comedy–horror thriller. Steven Yeun (Burning) and Samara Weaving (Ready or Not) play two people in an office — he works there and she is a client — while an inhibition-destroying virus wreaks havoc. It's a cross between Office Space and Mad Max: Fury Road.
29. The Day of The Beast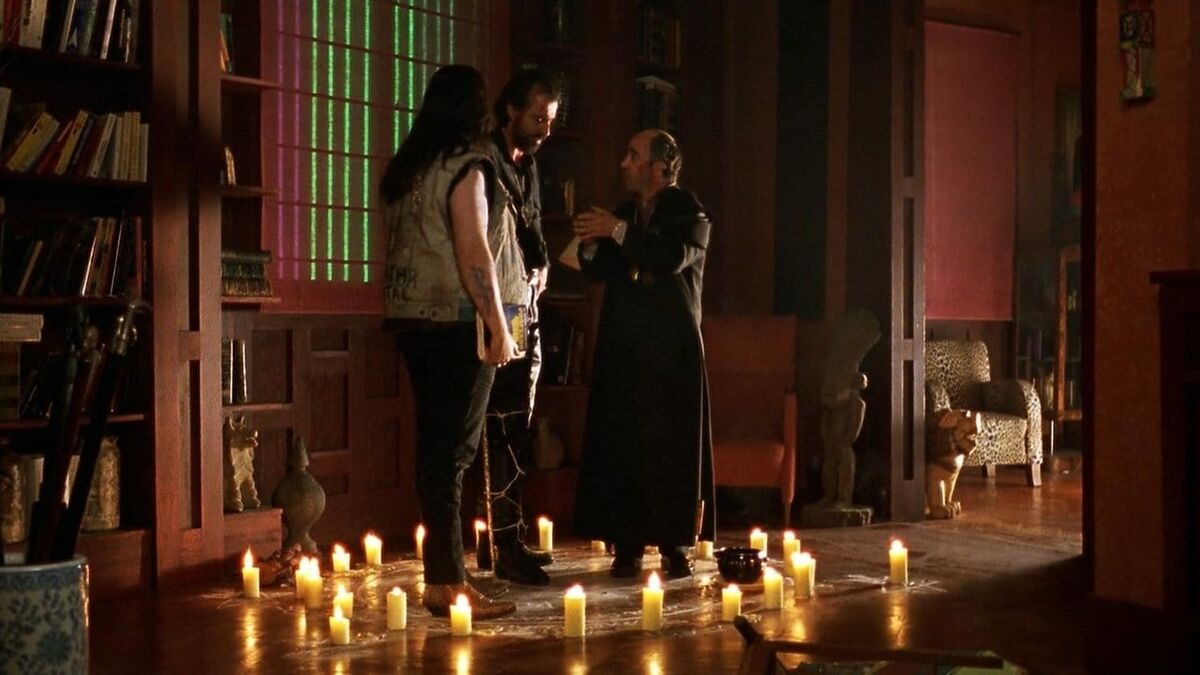 Director: Alex de La Iglesia
Cast: Santiago Seguera
IMDb Rating: 7.1/10
Rotten Tomatoes: 75%
Lex de la Iglesia is a prolific director, although American audiences may be unaware of this because the majority of his work is in Spanish. Because none of his films take safer roads, The Day of the Beast is a proper introduction to the craziness he unleashes. Take, for example, The Day of the Beast, a Christmas horror film about a metalhead, a Catholic priest sinning as much as he can, and an Italian occult superstar – a trio tasked with preventing the birth of the Antichrist.
Iglesia's morbid humor inspires these wild, off-the-wall, highly inventive tales that cross genres. The Day of the Beast is a combination of satanic horror and buddy comedy, among other things. A new Christmas tradition is in the works!
28. Dogs don't wear pants
Director: J.-P. Valkeapaa
Cast: Pekka Strang, Krista Kosonen, Ilona Huhta
IMDb Rating: 6.8/10
Rotten Tomatoes: 90%
After the death of his mother, he continues his sleepwalking life — confused, disoriented, and incapable of communication. A couple of nights after his daughter patronized a local tattoo shop, a young man stumbles upon a sex dungeon.
Under her bare heel Mona's boot Juha reveals herself as self-destruction. Sure, it takes him many pieces to find a new way to be whole, and he's lost them all. The film features an extraordinary performance from Pekka Strang and Kristin Koson. Rarely do films have teeth pulled in pain.
27. Nightmare Cinema
Director: Alejandro Brugués, Joe Dante, Ryhei Kitamura, David Slade,
Cast: Mickey Rourke, Adam Godley, Mick Garris
IMDb Rating: 5.5/10
Rotten Tomatoes: 76%
Five strangers meet at The Projectionist's haunting movie theatre (Mickey Rourke). Once inside, audience members are treated to a series of screenings that reveal their innermost fears and darkest secrets throughout five stories.
The Thing in the Woods (D: Alejandro Brugués), is a postmodern spoof of slasher films about a killer who is not what he appears to be. Eric Nelsen, Sarah Withers, Kevin Fonteyne, and Chris Warren star in the film.
Mirari (D: Joe Dante), a scarred lady, seeks plastic surgery at a scary facility. Richard Chamberlain, Zarah Mahler, Mark Grossman, and Belinda Balaski co-star.
Mashit (D: Ryhei Kitamura), is a group of Catholic schoolgirls who become possessed by a sex-crazed demon. Maurice Benard, Stephanie Cood, Calista Bess, and Mariela Garriga star in the film.
A woman waiting for a doctor's appointment in This Way to Egress (D: David Slade) encounters strange twists in reality. Elizabeth Reaser, Adam Godley, Ezra Buzzington, Bronwyn Merrill, and Patrick Wilson star in the film.
Dead (D: Mick Garris), an adolescent piano prodigy dies, is resurrected and is attacked by supernatural forces. Faly Rakotohavan, Annabeth Gish, Daryl C. Brown, Lexy Panterra, and Orson Chaplin star in the film.
26. The Columnist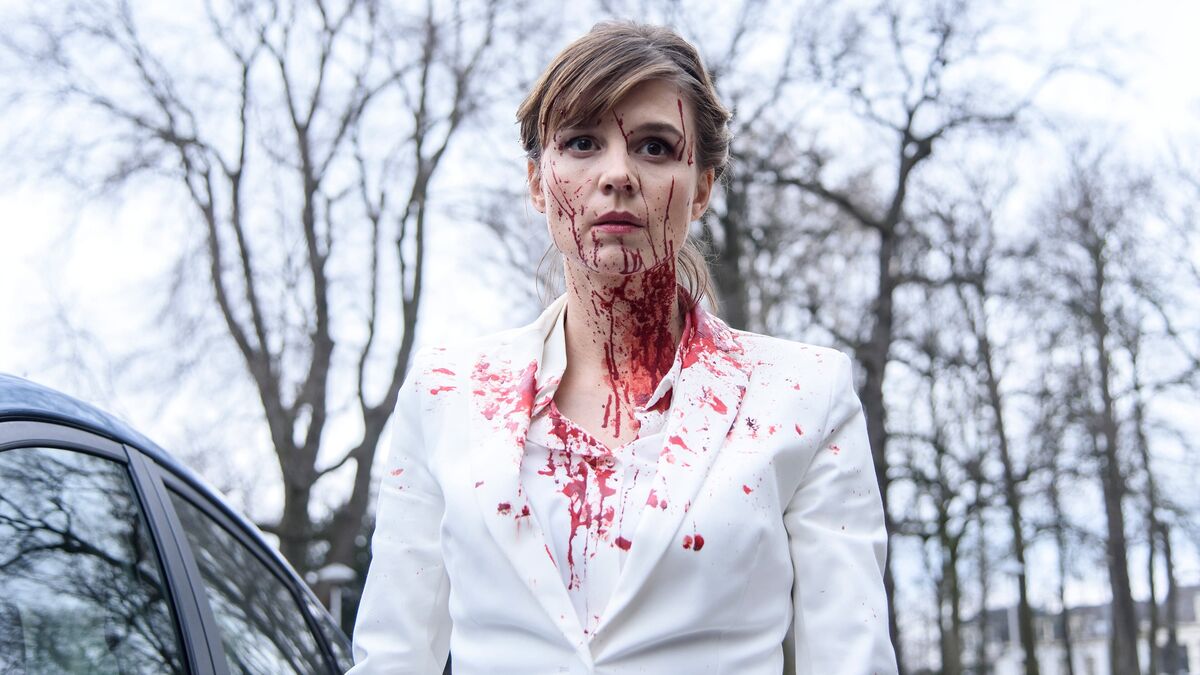 Director: Iwo Van Aart
Cast: Katja Herbers, Bram Van Der Kelen
IMDb Rating: 6.3/10
Rotten Tomatoes: 80%
If you read Shudder, you're probably aware that Evil is one of the best shows on television right now (get yourself to Paramount+ if you don't). Katja Herbers, the show's star, carries The Columnist, a nasty horror comedy about an author who receives death threats on social media and decides to deal with her problem with the kind of bloody horror finality that most trolls never expect. Everything's not flawless, but Herbers, who is completely brave, keeps it together
25. The Changeling
Director: Peter Medak
Cast: George C Scott, Trish Van Devere, Melvyn Douglas
IMDb Rating: 7.2/10
Rotten Tomatoes: 83%
Peter Medak's 1980 ghost story was advertised mostly for its shocks, but it's become a little tame in that regard; now it's more useful as an example of how terrific George C. Scott was every time he stepped in front of a camera.
Scott plays a father who moves to Seattle after the death of his wife and daughter and discovers his new home is haunted. It's fascinating to watch this film now and understand how much it graphically affected films like The Conjuring and Annabelle. It's a clear source of inspiration.
24. The Autopsy of Jane Doe
Director: André Øvredal
Cast: Olwen Kelley, Emile Hirsch, Brian Cox
IMDb Rating: 6.8/10
Rotten Tomatoes: 86%
While investigating a family murder, Sheriff Sheldon and his crew are perplexed by the finding of a stranger's body buried in the basement, which does not fit the crime scene. He delivers the lovely Jane Doe's body to coroner Tommy Tilden late at night and requests that the cause of death be delayed until the next morning so that he can respond to the press.
Austin Tilden, Tommy's son, and assistant are about to go to the movies with his fiancée Emma, but he decides to stay and aid his father with the autopsy. Throughout the stormy and sad night, they reveal strange and unsettling revelations about Jane Doe.
23. Bliss
Director: Joe Begos
Cast: Dora Madison, Tru Collins, Rhys Wakefield
IMDb Rating: 5.9/10
Rotten Tomatoes: 87%
Bliss is a great option if you want to trip absolute balls from the comfort of your own house. Writer/director Joe Begos' neon-drenched vampire freak-out comes with a (very thoughtful!) seizure warning, and for good reason: it's a 90-minute gory frenzy of punk rock and practical effects spanning Los Angeles' underbelly.
Dora Madison leads the charge as Dezzy, a self-destructive painter amid a creative slump who becomes obsessed with drugs and blood, both of which throw her into psychotic blackouts.
Madison is a marvel here, bringing everything she has into a fully dedicated, ultra-physical display. When I first saw Bliss, I characterized it as "as if Nicolas Cage from Vampire's Kiss and Nicolas Cage from Mandy had a baby + that baby was super addicted to cocaine." I still stand by it. This film whips an almost unfathomable amount of ass.
Related: The 30 Best Horror Movies on Amazon Prime Right Now
22. Texas Chainsaw massacre (1974)
Director: Tobe Hooper
Cast: Marilyn Burns, Gunnar Hansen, Teri Mcminn, William Vail
IMDb Rating: 7.5/10
Rotten Tomatoes: 89%
When talking about the best movies on a shudder, especially the best horror movies, Texas Chainsaw Massacre is a very enjoyable but also a must-watch Shudder film. The chainsaw attack was repeated several times and there were plenty of sequels and prequels too but the original remains one outstanding piece of horror film in the film history which cannot match the best of them.
A few young men on vacation in Texas are hit in their homes when their chainsaws explode. Leatherface and his family live a grotesque reflection of American Dreams through this haunting vision.
21. The invitation (2015)
Director: Karyn Kusama
Cast: Logan Marshall-Green, Michiel Huisman, Tammy Blanchard, Emayatzy Corinealdi
IMDb Rating: 6.6/10
Rotten Tomatoes: 89%
Jennifer Body Director Karyn Kusama returns with this gorgeous indie that was filmed on a shoestring budget. The Invitation is probably the best Shudder film of the tenth decade. See also: Watch this horror movie You're Next by Godzilla – Kong.
When a guy goes to dinner parties at his ex's house with his new girlfriend, he quickly suspects things are not going well. As he begins to meet his friends, it is difficult to avoid feeling like they were brought in for a frightfully evil reason.
20. Mandy
Director: Panos Cosmatos
Cast: Nicolas Cage, Andrea Riseborough
IMDb Rating: 6.5/10
Rotten Tomatoes: 90%
In this 2018 film, Panos Cosmatos offered Nicolas Cage one of the best performances of his career, and it already feels like a cult classic. Mandy is a one-hour slow burn about a man who goes through hell after a cult kidnaps and murders his wife (Andrea Riseborough).
Then, for the next hour, it's a crazy movie soaked in blood with a chainsaw fight. You won't be able to accurately express it in words, so you'll just have to see it.
19. Rare Exports: A Christmas Tale
Director: Jalmari Helander
Cast: Onni Tomilla, Jona Tommila
IMDb Rating: 6.6/10
Rotten Tomatoes: 90%
This Finnish film from 2010 has become a cult favorite for being a rare Christmas movie that may also be classified as a horror picture.
What if the origins of the Santa Claus narrative were far darker? That's the idea of the narrative of the Joulupukki, a person in Finnish folklore who led to the jolly fat guy. It's a very twisted and strange holiday classic, similar to The Santa Clause coupled with The Thing.
18. After Midnight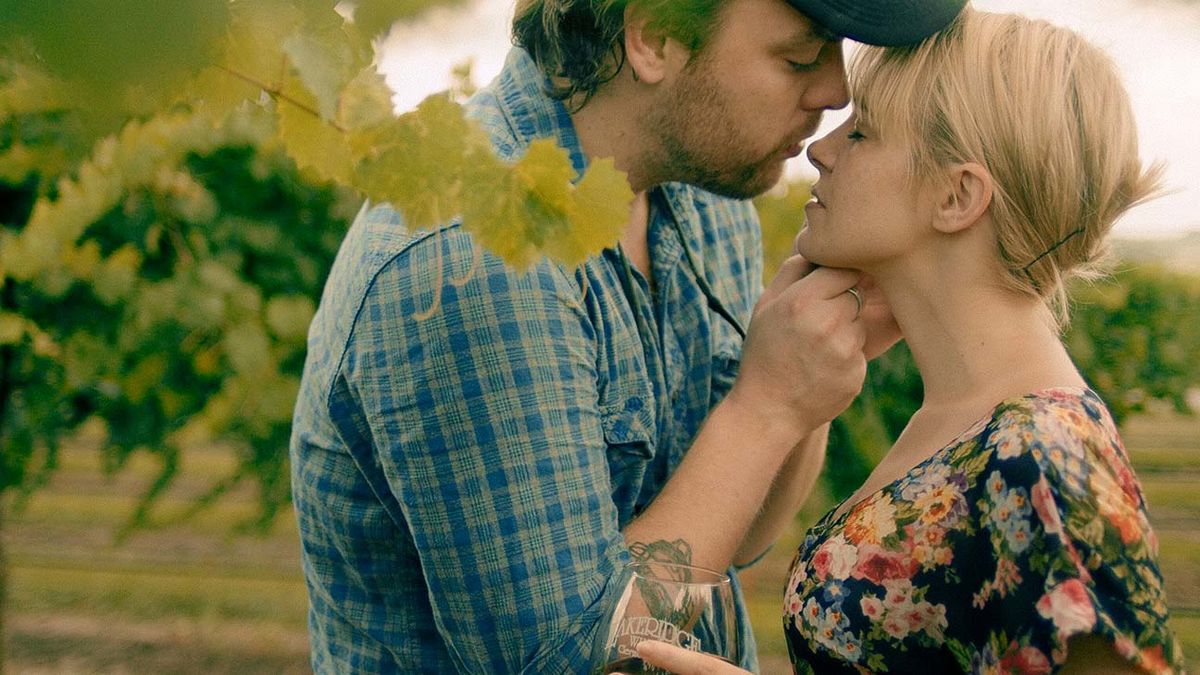 Director: Jeremy Gardner
Cast: Jeremy Gardner, Brea Grant, Justin Benson
IMDb Rating: 5.3/10
Rotten Tomatoes: 90%
Titled Something Else when it first appeared on the festival market, this genre hybrid is an incredibly smart piece of what might be called "elevated horror," blending traditional romantic drama elements with something far more terrifying.
The very talented Jeremy Gardner wrote, co-directed, and stars as Hank, whose girlfriend Abby (Brea Grant) just left him, right before something scary starts lurking around his house at night.
17. V/H/S 94
Director: Anthology film
Cast: Anne Hopkins, Gina Philps
IMDb Rating: 5.4/10
Rotten Tomatoes: 90%
This deep terror horror anthology is back to the party the way it did in 1994. The term party in this situation mainly refers to horrific experiments by mad scientists and urban legends living inside sewers.
V/HS 94 represents a return to the original series with five new grainy horrors written by franchise alumni Simon Barrett and Timo Tjahjanto together with fresh comer Jennifer Reader and Chloe Okuno. V/H 94 has the varying quality, and its highs have the most frightening moments of any horror flicks franchise. It's a must-watch horror movie for a horror fan.
Related: The 30 Best Horror Movies on Hulu Right Now
16. Satan's Slaves
Director: Joko Anwar
Cast: Tara Rosso, Bront Palarae
IMDb Rating: 6.6/10
Rotten Tomatoes: 91%
I'll never stop talking about Satan's Slaves, Joko Anwar's scare machine. The way we discuss James Wan's mastery of haunted house design might also apply to Anwar's artistic darkness. Given how many horror films I see each year, I don't get scared as readily as I used to, but Satan's Slaves is one of those rare occasions where I felt like a 7-year-old watching A Nightmare On Elm Street.
It's immersed with unsettling paranormal activity that feels more contemporary from an international standpoint, striking the proper balance between cultural importance and scary camera trickery. Indonesian horror has been on fire in recent years, with Satan's Slaves being one of the greatest examples.
15. Deep Red (1975)
Director: Dario Argento
Cast: Macha Meril, David Hemmings
IMDb Rating: 7.5/10
Rotten Tomatoes: 93%
Deep Red, one of Italy's most popular "Giallo", is a stylish and exciting thriller whose plot mixes Detective Noir and brutal horror genres. A pianist witnesses a murder and becomes obsessed with locating the serial killer if he can't be found. Deep red is a fantastic horror film and is essential from Shudder's library.
A psychic who can read minds picks up on a murderer's thoughts among the audience and soon becomes a victim. An English pianist becomes involved in the investigation, but many of his lines of inquiry are cut off by new deaths, and he begins to question how the murderer can monitor his movements so precisely.
14. Re-animator
Director: Stuart Gordon
Cast: Jeffrey Combs, Bruce Abbott
IMDb Rating: 7.2/10
Rotten Tomatoes: 94%
Many filmmakers have attempted to include H.P. Lovecraft into their work, either as an influence or as a straight adaptation, but Stuart Gordon's 1985 cult smash is widely considered to be the greatest.
Gordon is brave in adapting Lovecraft's Herbert West — Reanimator into a full picture, creating a film that has some of the most memorable twisted imagery and ideas of its day. This is a take on the traditional tale of medical science gone bad as a scientist begins reanimating dead bodies. It was originally X-rated for its general lunacy. It's never a good idea.
13. Train to Busan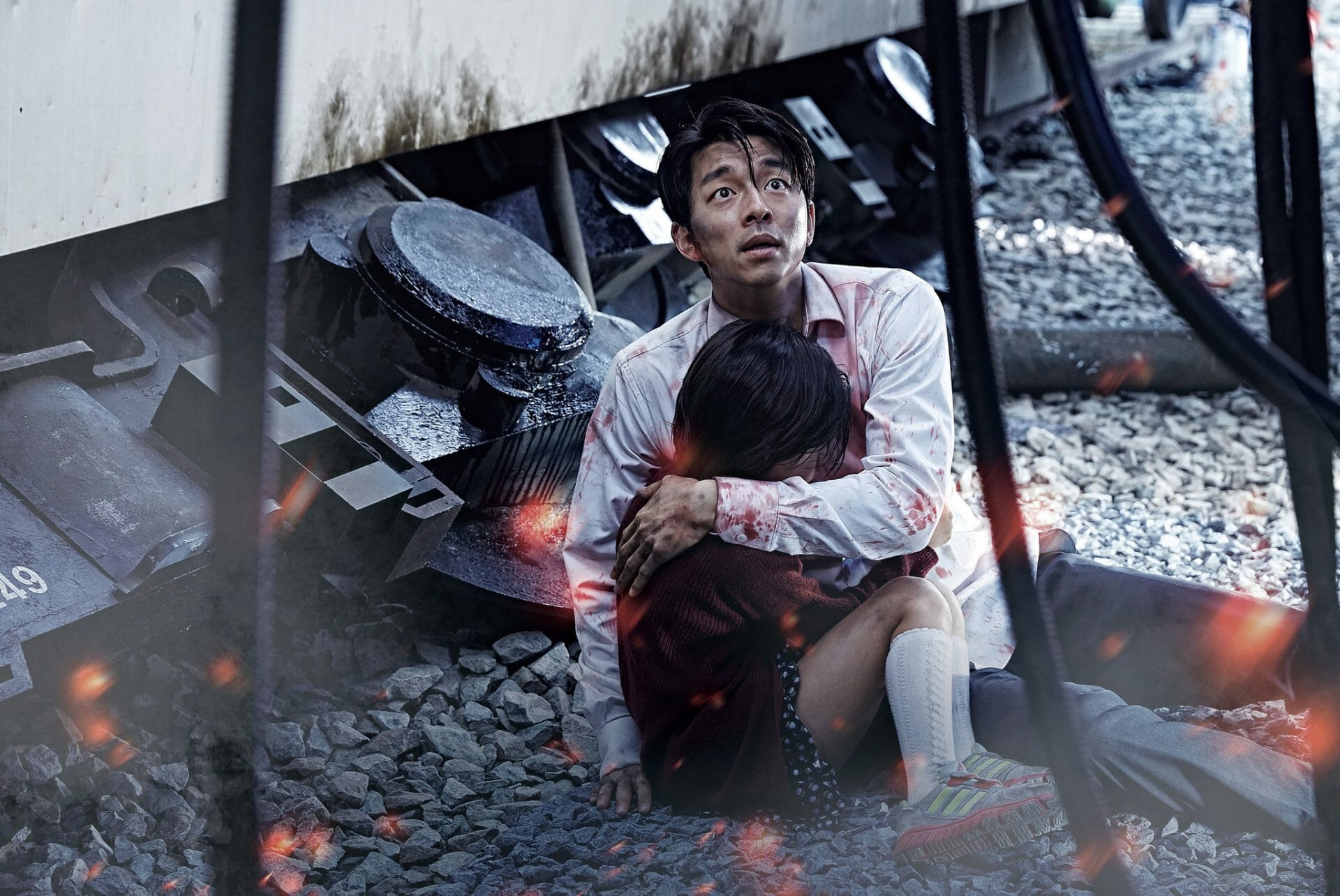 Director: Yeon Sang Ho
Cast: Gong Yoo, Don Lee
IMDb Rating: 7.6/10
Rotten Tomatoes: 94%
The living dead thrived on serialized television after the zombie genre got a significant boost in the early aughts, but they died out in theatres for a period. Train to Busan is a genuine return to form for the genre, an old-fashioned zombie flick with heart and soul, a simple but ingenious set-up, and some terrifying zombies.
The film follows a father and his young daughter on a horrific train ride through South Korea's zombie epidemic, locked inside increasingly contaminated compartments of the passenger train.
Characters you want to cheer for — and some you want to root against — Train to Busan a pure zombie movie is packed with zombie action that takes advantage of the close quarters, traversing through the cars of the train with several innovative set-pieces that highlight the physique of these deformed, fast-moving zombies.
After years of watching the living survive among the dead on the big screen, it's about time someone gave the undead their bite back, and Train to Busan is just the ticket.
12. Monstrum
Director: Huh Jong Ho
Cast: Kim Myung Hin
IMDb Rating: 6.1/10
Rotten Tomatoes: 95%
Who can resist a horror film in which a disease is the least of everyone's concerns? A disease is devastating Joseon, but stories of a monster are spreading, posing a new threat to King Jungjong's reign. When it comes to kings, though, nothing is ever as it appears.
While some criticized Monstrum for being predictable, this one is more about the journey than the destination. The action portions are enjoyable, as are the creature effects, and there may or may not be a monster dubbed "Sparkles."
11. Night of the Living Dead (1968)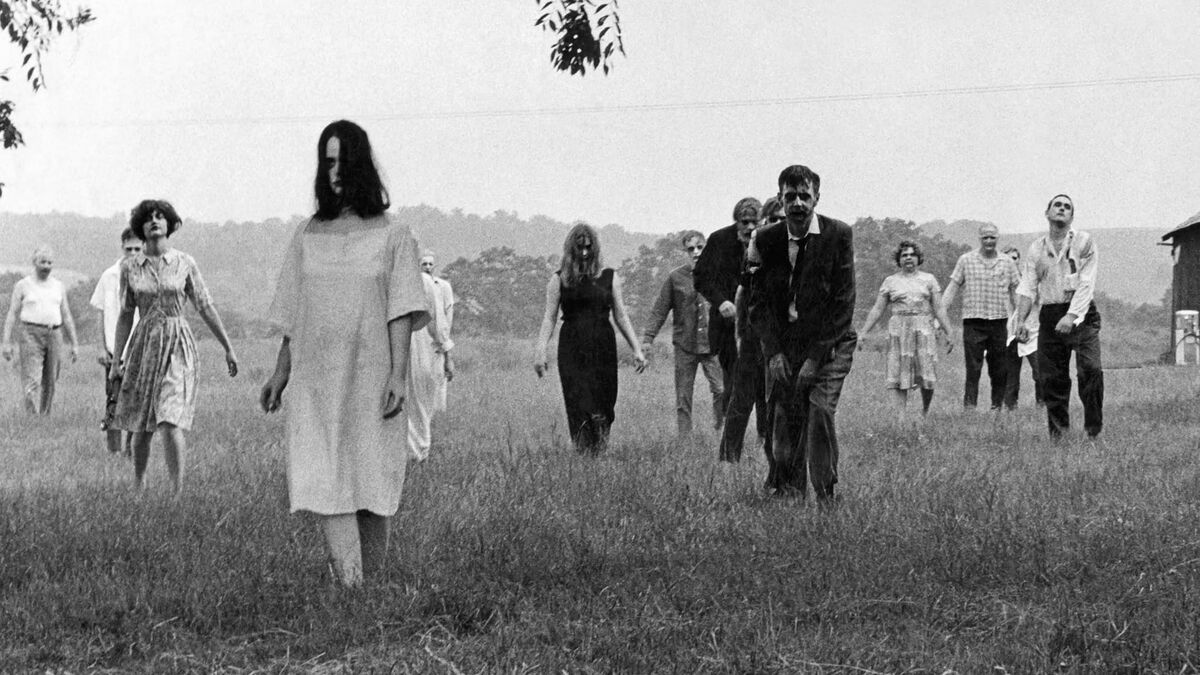 Director: George A. Romero
Cast: Judith O'Dea, Karl Hardman, Russell Streiner, Duane Jones
IMDb Rating: 7.8/10
Rotten Tomatoes: 96%
Zombies in their present form are impossible to find without "Nights of the Dead". Romero's Indie Horror classic is an enduring horror sub-genre that persists today. Watch Guillermo del Toros premiere movie, a horror masterpiece When the dead are coming back to life and trying to eat the living, the victims gather at the back of the house to reveal tension and dangers that could be causing their death.
Night of the Living Dead is a story about America's wars with Vietnam. It is a classic horror film and the best horror film from Shudder's archives.
10. It Follows
Director: David Robert Mitchell
Cast: Malika Monroe, Lili Sepe
IMDb Rating: 6.8/10
Rotten Tomatoes: 96%
When carefree adolescent Jay (Maika Monroe) sleeps with her new lover, Hugh (Jake Weary), for the first time, she discovers that she is the newest victim of a lethal curse carried from victim to victim by sexual intercourse. Jay discovers that death will come to her as either a friend or a stranger.
Jay's pals don't believe her seemingly paranoid rants until they, too, start seeing phantom assassins and join together to help her flee or protect herself.
9. The Amusement Park
Director: George A Romero
Cast: Lincoln Maazel, Marianne Koch
IMDb Rating: 6.4/10
Rotten Tomatoes: 96%
When the Lutheran Service Society of Western Pennsylvania engaged George A. Romero to produce a film about ageism, he shot this short film. The outcome surprised them so much that it was essentially shelved for a half-century before becoming available exclusively on Shudder.
It's a remarkable chapter in Romero's filmography, showcasing his extraordinary framing ability and unmistakable social consciousness.
Related: The 50 Best Horror Movies on Netflix to Watch Tonight
8. Housebound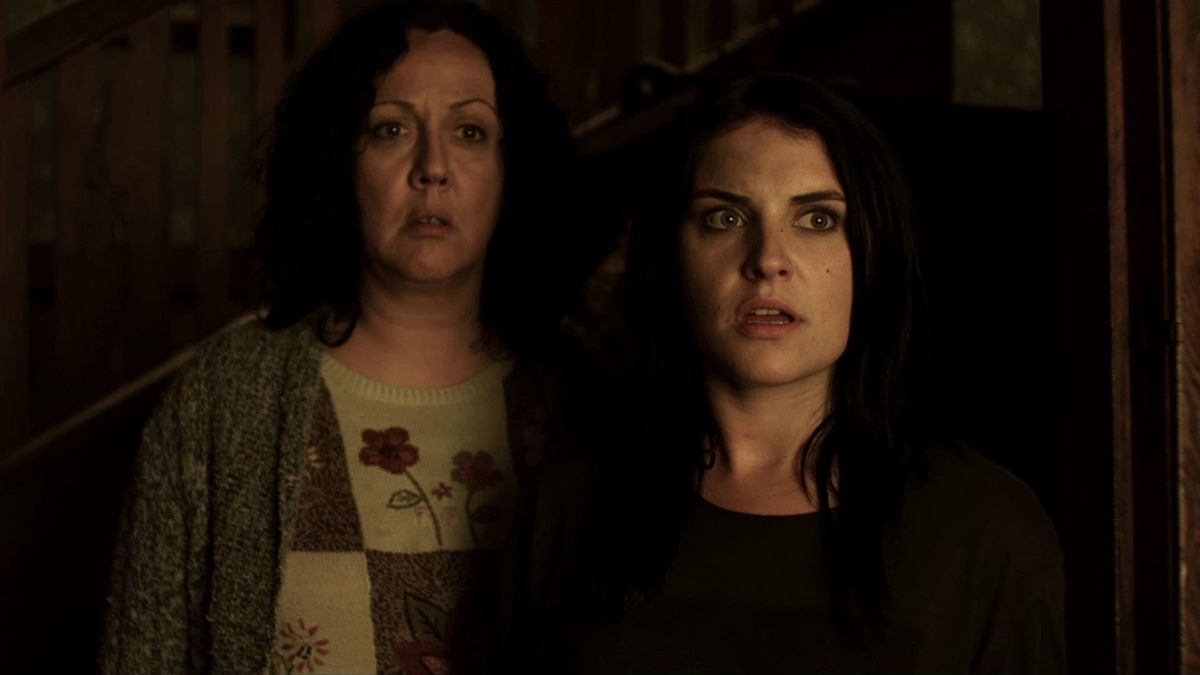 Director: Gerard Johnstone
Cast: Morgana O'Reilly, Glen-Paul Waru
IMDb Rating: 6.7/10
Rotten Tomatoes: 96%
Gerald Johnstone's SXSW smash is based on a brilliant premise: What if you were assigned house arrest in a haunted house? Kylie (Morgana O'Reilly) is the one who finds herself in this situation, and the house just happens to be her mother's. Dark family secrets combine with a tight structure to form an underappreciated modern ghost story.
This 2001 action picture is still banned in various countries throughout the world, despite being one of Takashi Miike's breakthrough films abroad.
Naturally, there is a lot of violence on Shudder, but Ichi is in its category of insane. It was the type of film that had to be custom ordered from online sites when it was launched, but it can now be streamed right to your phone while you're on the bus. Isn't technology amazing?
This 1980 Giallo, the middle part of what is commonly referred to as Dario Argento's Three Mothers Trilogy, is frequently overlooked while discussing the career of one of Italy's best directors.
It's not Suspiria, the first film in the trilogy, but there's so much flare and skill on exhibit here that you owe it to yourself to check it out, especially if you enjoy Argento's more popular works.
7. A Girl Walks Home Alone at Night
Director: Ana Lily Simpour
Cast: Ana Lily Simpour, Sheila Vand, Arash Marandi.
IMDb Rating: 6.9/10
Rotten Tomatoes: 96%
When you witness a new picture, you know you're in the hands of a risk-taking debut filmmaker. This was the situation when this black-and-white vampire western — yep, another one — debuted at Sundance. Ana Lily Amirpour has a particular style that combines her history and hobbies to create something adventurous and new. A Girl Walks Home alone at night is a great shudder watch.
6. Halloween (1978)
Director: John Carpenter
Cast: Jamie Lee Curtis, John Carpenter
IMDb Rating: 7.7/10
Rotten Tomatoes: 96%
John Carpenter's Halloween (1978), a cult classic is an exemplary slasher genre with iconic killer Michael Myers and resourceful Final Girl Laurie Strode. Years after killing his sister Michael escapes authorities. The Halloween of John Carpenter is an impressively trimmed-down nightmare of a Halloween night and holds up very nicely today. This is also an excellent movie at Shudder.
Six-year-old Michael Myers, possessed by an incomprehensible desire to kill, massacres his fifteen-year-old sister, Judith, on Halloween night, October 31, 1963.
Michael escapes from Smith's Grove Sanitarium, a mental health hospital and detention center for the criminally insane, on the fifteenth anniversary of the terrible murder, and returns to his hometown of Haddonfield, Illinois.
Soon, heartless Michael becomes obsessed with Laurie Strode, a blissfully unaware high school girl, and her friends, Annie and Lynda, while Myers' psychiatrist, Dr. Samuel Loomis, and skeptic Sheriff Leigh Brackett comb the area in search of the psychologically disturbed inmate. The shadows, on the other hand, are dense, and he is constantly one step ahead of them.
5. Z
Director: Brandon Christensen
Cast: Keegan Connor Tracy
IMDb Rating: 5.5 /10
Rotten Tomatoes: 97%
Imagination may be lethal. Brandon Christensen's eerie nightmare, simply titled Z, employs the well-worn theme of a child's killer imaginary companion. Although the plot is familiar, the graphics are enough to keep you haunted.
Keegan Connor Tracy, the lead actor, really immerses herself in her role — literally. According to her, Z "was such a massive emotional trip for me, and I had to sort of isolate myself a lot to be in that woman's mental and emotional place."
4. My heart can't beat unless you tell it to
Director: Jonathan Cuartas
Cast: Owen Campbell, Ingrid Scham
IMDb Rating: 6/10
Rotten Tomatoes: 98%
Jonathan Cuartas wrote and directed this 2021 vampire movie, which has been compared to the work of Claire Denis and Jim Jarmusch. It's the story of two persons (Patrick Fugit and Ingrid Sophie Schram) who look for victims to keep a third (Owen Campbell) alive. To survive, he must consume the blood of others. It's the best indie vampire picture in years, creepy and tense.
3. Scream, Queen! My Nightmare on Elm Street (2019)
Director: Roman Chimienti and Tyler Jenson
Cast: Mark Patton, Robert Englund, Jack Sholder, David Chaskin, Kim Myers
IMDb Rating: 7.2/10
Rotten Tomatoes: 100%
When "A Nightmare on Elm Street 2: Freddy's Revenge" was released, it was bombed by audiences who mocked its gay subtext and rejected it following the success of the film. Eventually, the audience reclaimed it and rediscovered it in indie circuits, but they ruined the star's career.
Watch the entire five Scream movies ranked in the Scream Queen category. My Nightmare in Elm Street is a documentary film that follows Mark Patton who was effectively dismissed from "Freddy Revenge" and was found guilty by a homoerotic artist who had intended it and buried it in the DNA of the film. Patton has requested an apology and acknowledgment that he did his part as ordered.
2. Host (2020)
Director: Rob Savage
Cast: Haley Bishop, Jemma Moore, Emma Louise Webb, Radina Drandova, Caroline Ward
IMDb Rating: 6.5/10
Rotten Tomatoes: 100%
Shudder's Host continues a very impressive piece of pandemic fiction. This film was released in the summer of 2020 in time for the pandemic and was framed cleverly as a group discussion at Zoom.
When a young woman tries to change her situation during lockdown she hires a psychic to organize virtual sessions for her friends.
They realize that they accidentally summoned a demon and then chaos ensues on the Zoom Call. When they are gone off-screen, all of them begin exhibiting strange and frightening phenomena. Director Rob Savage has incredibly used the zoom to amplify the scary effects for this excellent Shudder Exclusive.
1. Horror Noire: A History of Black Horror (2019)
Jordan Peele's 2017 feature film "Get Out" was a major change-making film telling an openly racist tale that paints an awful picture of whiteness and an omnipresent racial antipathy.
It is not the first instance of black horror. Horror Noir, made by Shudder, is an anthology film that traces Black horror in cinema. This volume traces black horrors and cements the influence of such genres as Ganja Hess Black Ulla Tales from the Hood, CandyMan & more.
Related: The 30 Best Horror Movies on HBO Max To Watch Tonight
Conclusion
While shudder hosts a giant library of movies, this list includes some horror movies on shudder and also the best movies on a shudder. Surely, if you want to impress your dinner party guests with horror movies to watch, you can refer to this list.