At least once in a lifetime, we all must have heard about the Looney Tunes cartoon. Hearing the name "Looney Tunes" itself takes us back to our childhood. Looney tunes characters from the cartoon always make me walk down the lane of my memories and school days. But can you believe that the Looney Tunes cartoon is even older than the Second World War? Yes, you read that right.
Looney Tunes and Merrie Melodies
Looney Tunes cartoon was created in the year 1930. The cartoon was accompanied by "Merrie Melodies." Owing to the great response to these cartoons, the series was in sync and introduced many animated characters that added to the beauty of the show.
Looney Tunes and Merrie Melodies cartoons have a number of directors, writers, and production houses. A major production house is Warner Bros, and apart from this, the show was also produced by Leon Schlesinger Productions.
Looney Tunes and Merrie Melodies were created during the golden age of animated cartoons in America. These shows received a welcome like never before, so the show had to keep going on. Due to this, the Looney Tunes series introduced numerous characters, and each of these characters added a unique charm to the cartoon.
Looney Tunes and Merrie Melodies – Timeline
1930 to 1933:
 At this time, Walt Disney came with their Mickey Mouse cartoon, and it was considered to be the best cartoon of the golden age. Warner Bros had to come up with an interesting cartoon to catch up with Walt Disney. This served as the beginning of the creation of Looney Tunes.
1933 to 1936:
New directors were bought into the show. They introduced new cartoon characters like Buddy, Porky Pig, and Beans the Cat. It is all to be noted that while the cartoon was in black and white, the audience still enjoyed it. The production of the series was taken care of by Leon Schlesinger.
1936 to 1944: 
This was when the Looney Tunes crew created more cartoon characters that were loved and adored by the fans. Also, the series shifted from black and white to colors during this period. The production was handed over to Warner Bros.
1944 to 1964:
This was the period during which the two series began to introduce many main characters. A few of the characters that were introduced are Yosemite Sam, Sylvester the Cat, Marvin the Martian, Wile E. Coyote, Road Runner, Granny, Speedy Gonzales, and the Tasmanian Devil.
1964 to 1969: 
The cartoon was handed over to different productions, and the show still kept running. Later, the crew planned on introducing the cartoon to a new audience.
1969 to 1999:
During this period, several feature films and short films were created using the Looney Tunes characters. Mostly, these films were centered on Bugs Bunny and Daffy Duck. Later, some of these characters also appeared in Disney movies. The episodes were also made available on Nickelodeon and Cartoon TV Network.
2000 to present: 
The team worked to gather the entire Looney Tunes and Merrie Melodies episodes and created a library of the episodes. These are now available to this generation's audience on platforms like HBO Max.
Related: Space Jam 2: How Looney Tunes Characters Transformed in New Movie?
Looney Tunes Characters
In this article, we will see about the Looney Tunes characters. Before looking into a brief description of the cartoon characters, we will have a sneak peek of the characters.
Bugs Bunny, Daffy Duck, Foghorn Leghorn, Sylvester the Cat, Porky Pig, Yosemite Sam, Tweety, Elmer Fudd, Tasmanian Devil, Pepe Le Pew, Granny, Marvin the Martian, Speedy Gonzales, Michigan J. Frog, Gossamer, Instant Martians, Road Runner, Barnyard Dawg, Petunia Pig, Beans, Bosko, Sylvester the cat Jr., Witch Hazel, Buddy, Hector the bulldog, Angus MacRory, Big Bad Wolf, Cecil Turtle, Melissa Duck, Goofy Gophers, K-9, Wile E. Coyote, Charles the Dog, Dr. Lorre, Beaky Buzzard, Marc Antony, Rocky, and Mugsy are some of the characters. We also have many more characters that are a part of Looney Tunes.
We will now have a brief description of some of the famous cartoon characters in the animation series.
Bugs Bunny
Bugs Bunny was one of the initial characters that were created by the team and were also the most famous cartoon character of Looney Tunes. In earlier days, the creation of a character was done by a group and directors and story writers in order to bring the best out of the character. This rabbit-like character was first featured in Porky's Hare Hunt in the year 1938.
After the initial appearance, the character design of Bugs Bunny was re-designed several times. Bugs Bunny was a free-moving and fun-loving personality. Its easy-moving and thuggish personality made bugs bunny the most famous Looney Tunes character. Bugs has appeared in 167 shorts, and this makes him the most frequent character of Looney Tunes.
Bugs Bunny was one of the earliest characters that were created and made its appearance in several cartoons. Owing to the prominence of the character of Bugs Bunny, several animated specials were created by television networks. A few of them are Bugs Bunny: Thanksgiving Diet, Bugs Bunny: Easter Special, and Bugs Bunny: Looney Christmas Tales. Bugs Bunny has also made his presence known in four movies.
Daffy Duck
Daffy Duck was one of the characters created for Looney Tunes and Merrie Melodies. It is merely a black duck and has appeared in 130 pairs of shorts. It is the third most frequently appeared character in the cartoon series. Chuck Jones is one of the notable directors for projecting the character of Daffy in a unique way.
Porky Pig
Porky Pig was the first character created by Warner Bros for the Looney Tunes cartoons. He first made his appearance in 1935. Ever since then, he has been one of the most famous cartoon characters loved by many. Porky Pig is famous for his line, "That's all folks," which appears in the closing of the cartoon.
It has appeared in 153 shorts and is the second most frequently used Looney Tunes character. Porky Pig has a stuttering voice which gives his character a unique touch. Porky was introduced as an antagonist in Porky's duck hunt. Since he was the first character created, his character remained sentimental to the directors and then continued to screen him across different ages. Chuck Jones paired up Porky Pig with Daffy Duck to show him in more shorts.
Tweety Bird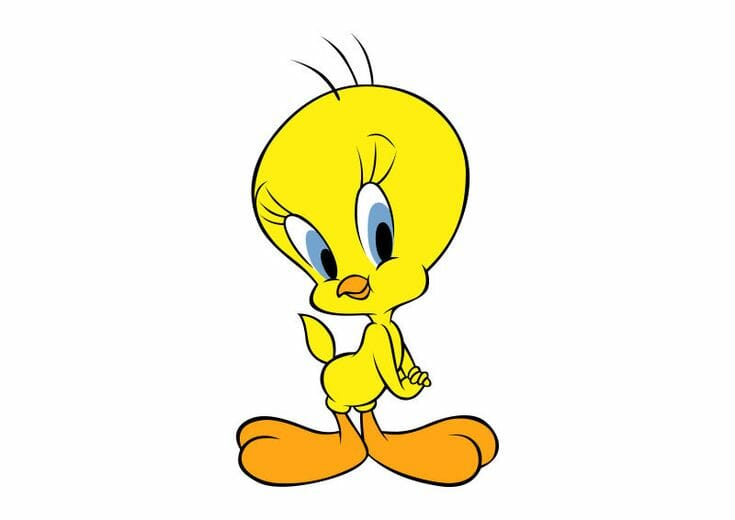 Tweety is a yellow bird with long eyelashes and was created by Warner Bros. Owing to its looks and personality; Tweety bird was always assumed to be a girl. On the contrary, Tweety is a male. There are also references in the cartoons which claim him to be a male character.
Tweety was initially created to be an aggressive bird that always creates trouble for Sylvester. Later when Friz got a chance to direct the cartoons, he downplayed the evilness of Tweety and made him look like the cutest little yellow bird.
Tweety made his first appearance in 1942 in a tale of two kitties. When the audience began to love Tweety, the crew created Sylvester and Tweety mysteries, for which Looney Tunes cartoons are the base. Tweety Mysteries starred Granny, the owner of the pets, and Sylvester and Tweety, who joined together for adventures to solve the mysteries of the world. The duo Tweety and Sylvester were one of the greatest hits in the animation industry.
Yosemite Sam
Yosemite Sam is one of the cartoon characters in Looney Tunes created by Warner bros. he was created to be one of the fierce antagonists of Bugs. He made his first appearance in 1945.
Yosemite Sam has a look that the Cowboys inspired. His angry face, unique walk, deep voice, and red hair appearance made him look like a perfect antagonist. He always hated bugs, and we can see the rivalry between Yosemite Sam and Bugs in various cartoons.
Tasmanian Devil
The Tasmanian Devil, also known as Taz, was one of the characters in the Looney Tunes cartoon. During the entire time span of the cartoon, Taz appeared only five times. However, late in the 1990s, his character gained popularity and was loved by many.
Taz had his first appearance in 1954 in Devil May Hare. Taz is portrayed as a ferocious, short-tempered carnivore with very little patience.
He gets agitated easily but is also sweet at times. Taz used to irritate Bugs, and Bugs eventually gets rid of him at the end of each cartoon. The calm side of Taz was loved by the audience as well.
Elmer Fudd
Elmer Fudd was one of the cartoon characters in Looney Tunes created by Warner Bros. Elmer's character was designed in such a way that he plays an opposite role to Bugs. Every time when he decides to hunt down the rabbit, he ends up creating agony for himself.
Elmer became famous for his unusual way of talking. He replaces R's with W's. His most famous line is, "Be vewy vewy quiet, I'm hunting wabbits."
Initially, he was supposed to be the antagonist of the show, but owing to his innocence, he was loved by many, and his plot against bugs always seemed to be funny to the audience. In the later episodes, Elmer also played the victim of the bunny, and this temporary role change was also well received by the audience due to the innocence of Elmer's character.
Speedy Gonzales
Speedy Gonzales is one of the fastest cartoon characters in Looney Tunes. He is a rat that is known for his fast-moving ability and his smartness. His appearance depicts Mexican culture. He always wears a yellow sombrero with a white shirt and trousers and a red scarf.
His first screen presence was in 1953. The director thought that his character would do great when paired up with the cat. Following this idea, speedy was paired up with the cat for some episodes where he uses his intelligence and smartly escapes from the cat. Speedy and Sylvester were also one of the most admired rivalry pairs in Looney Tunes.
Foghorn Leghorn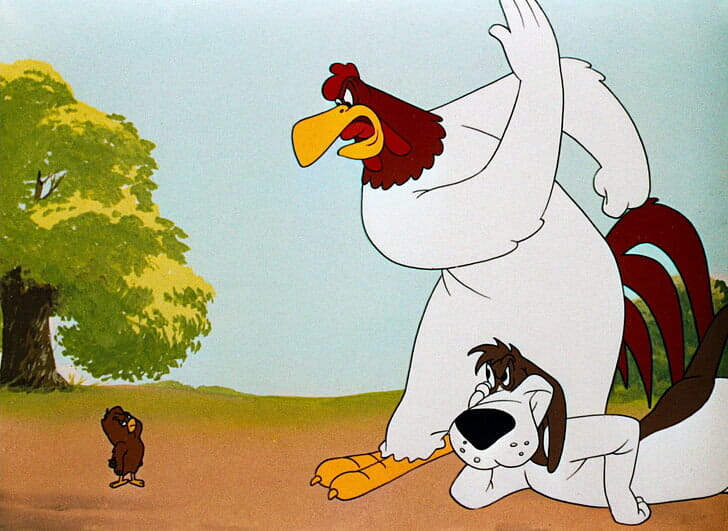 Foghorn Leghorn is a rooster that appears in Looney Tunes. His figure is designed to be a gigantic rooster with a deep voice. He is the tallest and the most gigantic among the other cartoon characters in Looney Tunes.
Foghorn Leghorn often views himself as a mentor and wants others to follow him. This can be evidently visible in some of the cartoons. Foghorn usually babysits Egghead Jr., along with a few other baby cartoon characters.
Foghorn had his first appearance in 1946. Apart from babysitting Egghead Jr., Foghorn also plays rivalry with the barnyard dawg. Unlike other rivalries in The Looney Tunes, Foghorn pranks and messes with Barnyard, and their combination seems to be unique from the other characters.
Granny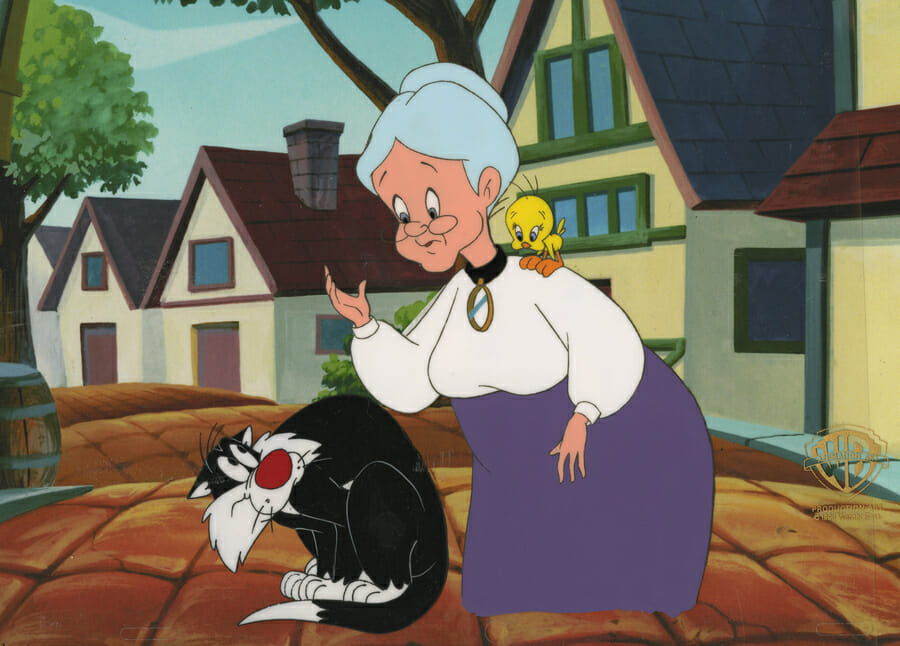 Emma Webster, popularly known as Granny, was another character created for Looney Tunes. She is the neighbor of Bugs and Daffy. She is also the owner of Tweety and Sylvester. Emma is very fond of the yellow bird and often seems to support him when the cat creates trouble.
Apart from being the owner of pets, Granny is also a wise and bold woman. This is how she is projected in the cartoons. Her first appearance was in 1937 in Little Red Walking Hood.
Marvin the Martian
Marvin is the extra-terrestrial character in the cartoon. He wears a green helmet and a skirt. His character was designed to have no mouth. He would express his feelings and talk about his emotions only through his movements.
Marvin hails from Mars and is often found with his pet K-9. His ultimate goal in the cartoon was to destroy the earth. In drilling down to find his reason to destroy the earth, it can be understood that Marvin wants to destroy the planet because it is hiding his view towards Venus.
Sylvester the Cat
Sylvester the Cat is one of the popular characters in Looney Tunes. He is the only person to have paired up the most number of characters. He is often found chasing the yellow bird Speedy and Hopper. Owing to this, Sylvester received a good number of screen time.
Sylvester is a cat who is often triggered by his rivalries and ends up hurting himself. Apart from this, he has also paired up with Porky. The duo goes on adventures in spooky places. His signature behavior is spraying while he talks.
He also has a son in the cartoon named Sylvester Jr. and which was created by Robert McKimson. He has also created Foghorn Leghorn, Egghead Jr, Taz, Hopper, Barnyard Dawg, and many more.
Wile E. Coyote
Wile E. Coyote is a character in Looney Tunes and can always be seen with Roadrunner. The series introduced Wile E. Coyote in the year 1949. Wile is often the rival of road runners and is always hungry for him. Wile is known for creating complex plans to trap road runners. He often fails to catch his prey. He has also played the opposite of Bugs in certain episodes.
Famous Looney Tunes Duo
From this article, we can see that the series paired up many characters for a smooth and entertaining storyline. Some of the favorite duos are Sylvester and the yellow bird, Sylvester and Speedy, Sylvester and Hopper, Bugs and Fudd, Bugs and Sam, Wile and Runner, Bugs and Taz, Marc Antony and Pussyfoot.
Conclusion
Initially, the show started to be a competition for Mickey Mouse. But no wonder it took over the whole animation industry. Each of the characters introduced had a separate storyline and was also made to fit into the concept of Looney Tunes.
The success of the show can be seen from the timeline itself. Though Looney Tunes happened only till 1969, later, we had TV networks and platforms that asked for the rights to the show. Even today, Looney Tunes can be found on HBO Max. Looney Tunes was truly a Golden cartoon during the golden age of the animation industry.