Nicolas Cage (Nicolas Kim Coppola) has been stuffing the movie screens with his multiple characters for about 40 years, with a staggering 106 IMDb starring roles to his title. A name that seems to be encountered primarily with utterly unaware contempt (similar to Canadian pop-rock band Nickelback). Even though he is primarily recognized for his weakest parts, Nicolas Cage movies have some shining moments in his acting career with both cheesy things and also glorious ones that will impress anybody eager to offer him a second shot.
Born and raised with his abilities to be the best actor, it does seem simpler for some to ignore his numerous mediocre films (which some suspect he consented to pay off his palace debts merely) and concentrate on the parts where Cage truly gave it his best at each every film genres.
If you've seen Cage at his finest, you'll pardon him for his poorest, particularly given how simple it is to ignore the elements that you know won't wow you.
Cage, seeking to establish his history after changing his last surname to Cage in the Cage-like way we all love so dearly. After growing up immersed in movies and theatre, Cage couldn't get enough of it and landed his first (and tiny) acting part in Fast Times at Ridgemont High in 1982, which paved the way for his ultimate career.
We adore Nicolas Cage & can't have enough of that man, so with this list of such finest of his films, we want to turn you into Cage lovers as well.
30. Vampire's Kiss (1988)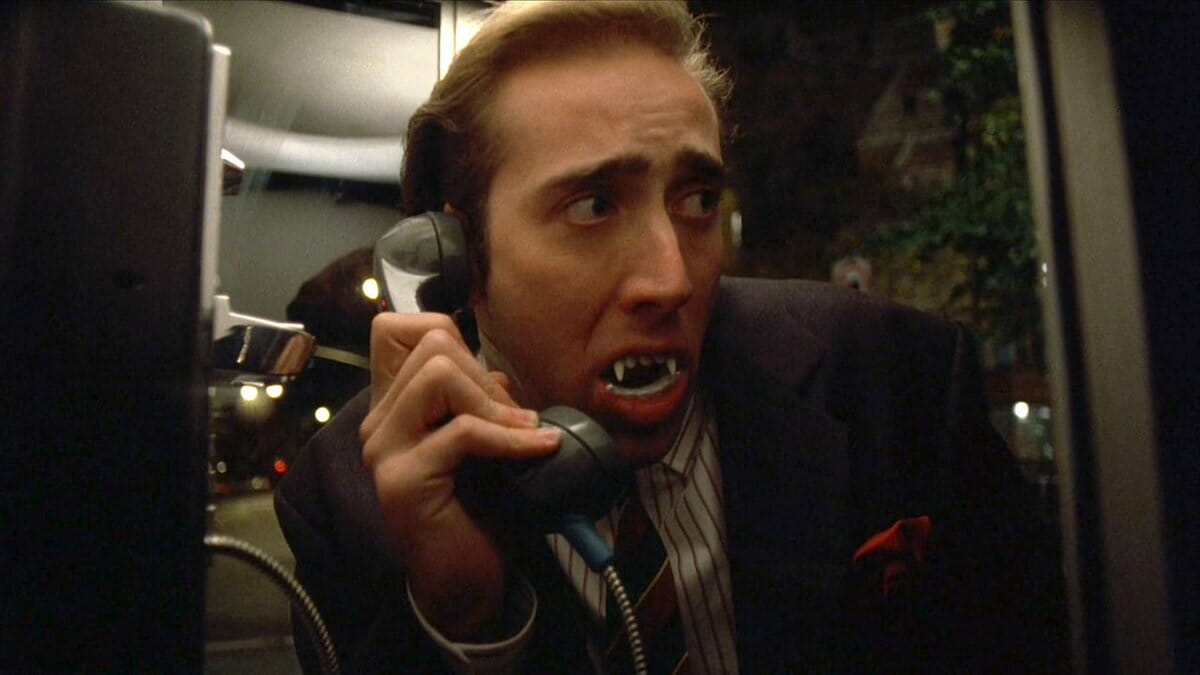 Director: Robert Bierman
Writer: Joseph Minion
Cast: Nicolas Cage, Maria Conchita Alonso, Jennifer Beals, Elizabeth Ashley
IMDb Rating: 6.0
Rotten Tomatoes Rating: 61%
Platforms Available: Prime Video, Vudu Movie & TV Store, Apple TV
As a damn difficult, hard-partying writing partner who feels his newest one-night stand (Jennifer Beals) has infected him, Nicolas Cage will never be more Nicolas Cage than just this black comedy. We learn that bourgeois Peter Loew has been psychologically unbalanced, and his belief in his new vampirism exacerbates the situation right down to his purchase of artificial teeth after failing to yield canines organically. Even though Cage plays typical scenery-chewing erraticism seems a little old at this time, there's a certain irreverent joy in seeing him go full insane (all of this before the star embarked on the late-2000s, haunted home and castle-buying frenzy).
29. Leaving Las Vegas(1995)
Director: Mike Figgis
Writer: Mike Figgis
Cast: Nicolas Cage, Elisabeth Shue, Julian Sands, Richard Lewis
IMDb Rating: 7.5
Rotten Tomatoes Rating: 91%
Platforms Available: Prime Video and Vudu
Leaving Las Vegas is a heartbreaking picture of addictive behavior, compassion, and affection, and it is without a question Nicolas Cage's most devastating portrayal. The storyline: Hollywood screenwriter Ben Sanderson (Cage) loses everything and travels to Las Vegas to guzzle himself to the grave. Notwithstanding its grim tone, Leaving Las Vegas is crucial viewing because it establishes Nicolas Cage as a character actor, demonstrating that he could shed his lighthearted neuroticism in previous parts and portray a serious man with serious concerns. What's more, the 1995 film was based on a low-budget novel, which helped Cage become an Oscar-winning performer with true street cred.
28. The Unbearable Weight of Massive Talent(2022)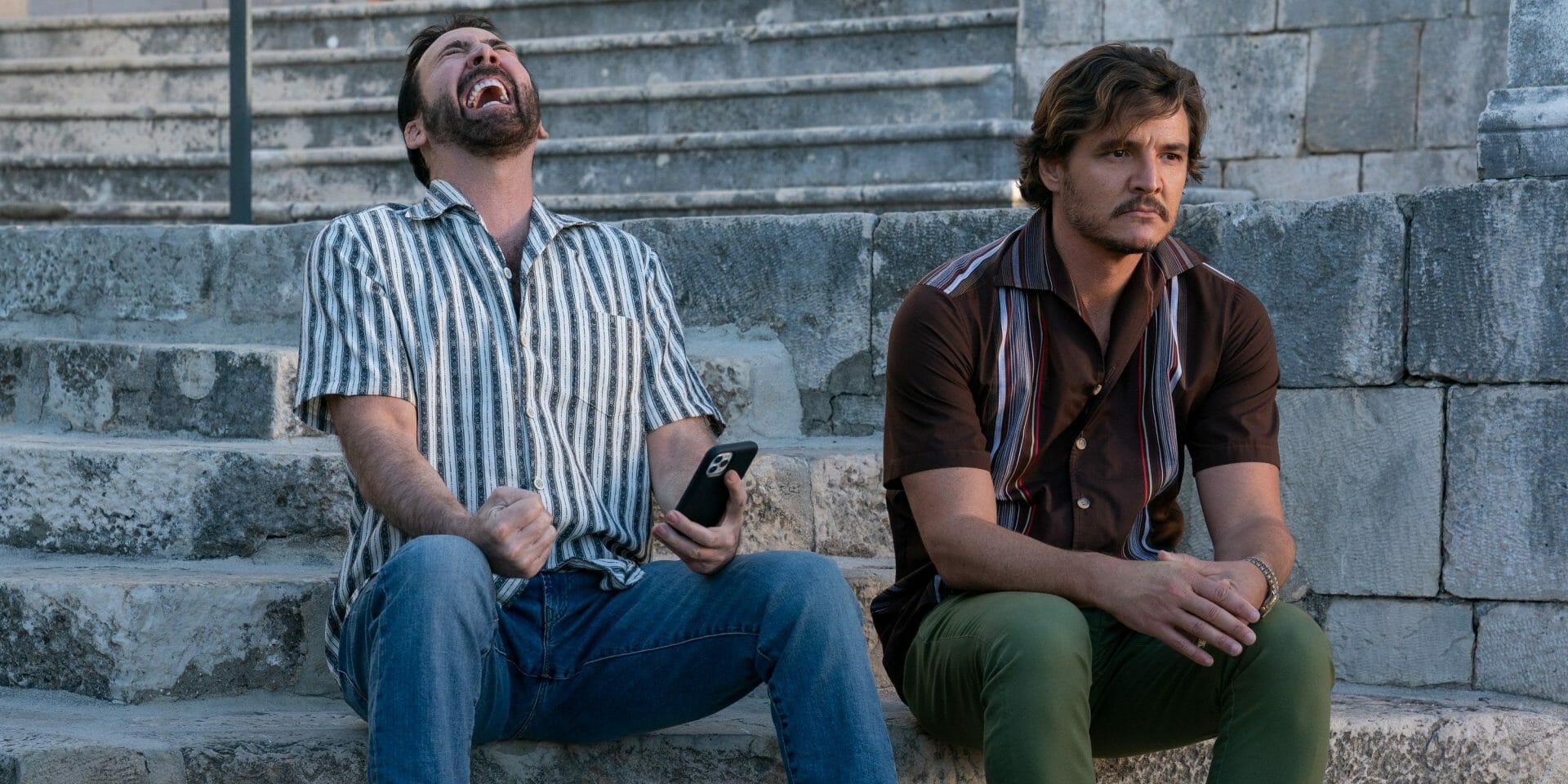 Director: Tom Gormican
Writer: Tom Gormican, Kevin Etten
Cast: Nicolas Cage, Demi Moore, Pedro Pascal, Tiffany Haddish
IMDb Rating: 8.7
Rotten Tomatoes Rating: 100%
Platforms Available: Muse TV.
In the action film The Unbearable Weight of Massive Talent, Nicolas Cage plays… Nick Cage. The Cage should embrace a $1 million proposal to visit the b'day of a deadly superfan while being creatively dissatisfied and risking financial disaster (Pedro Pascal).
Once Cage is hired by a CIA functionary (Tiffany Haddish) and compelled to endure up to his folklore, channeling his most legendary and adored on-screen position to save himself and his family members, projects take a massively unconventional approach. The highly influential award-winning actor must step into the role of an entire life: Nick Cage, with a professional life constructed for this very instant.
27. Ghost Rider(2007)
Director: Mark Steven Johnson
Writer: Mark Steven Johnson
Cast: Nicolas Cage, Peter Fonda, Raquel Alessi, Matt Long
IMDb Rating: 5.2
Rotten Tomatoes Rating: 26%
Platforms Available: Prime Video, Netflix, Vudu, Sony Picture Entertainment, Apple TV.
The action film Ghost Rider, modeled upon that Marvel Comics title character, describes the tale of a condemned bounty hunter that serves the devil Mephistopheles as well as the ethical argument he confronts when assigned to capture a thousand tainted souls.
Johnny Blaze (Nicolas Cage), a motorbike stuntman, gave his soul years ago to save the life of a beloved one. At night, he changes into a ferocious, vengeful servant of justice anywhere evil lurks. Johnny is tasked by Mephistopheles (Donal Logue) to slay Blackheart (Wes Bentley), a devil who seeks to topple Mephistopheles and build a hell more terrible than the one which presently exists, as he is the only one who can roam in both realms.
26. World Trade Center(2006)
Director: Oliver Stone
Writer: Andrea Berloff
Cast: Nicolas Cage, Michael Peña, Maria Bello, Maggie Gyllenhaal
IMDb Rating: 6.0
Rotten Tomatoes Rating: 66%
Platforms Available: Prime Video, Netflix, Just Watch, Apple TV.
Deputies John McLoughlin and Also will Jimeno of such Port Authority Police Department see a jet flying dangerously near while monitoring the region. When they return to the police precinct, they discover the terrorist attack on the World Trade Center & rush to assist in the rescue. They become stuck under the debris in the procedure, in which they must wait for hours until being saved by US Marines.
25. National Treasure (2004)
Director: Jon Turteltaub
Writer: Jim Kouf, Cormac Wibberley, Marianne Wibberley
Cast: Nicolas Cage, Diane Kruger, Justin Bartha, Sean Bean
IMDb Rating: 6.9
Rotten Tomatoes Rating: 76%
Platforms Available: Disney+ Hotstar, Prime Video, and Just Watch
This is the greatest film of all time. This masterwork, the ideal combination of action adventure, can not even be topped by God. No other performer could lift this film from excellent to an instant hit. This film has been gifted to us by the gods.
Cage stars as Ben Gates, an archaeologist and Indiana Jones-style treasure hunter tasked with preventing the theft of rare historic relics, and his performance sets the program apart from any previous treasure-hunting franchise. Cage ticked off the final box of film fame with just this Disney smash.
24. Raising Arizona (1987)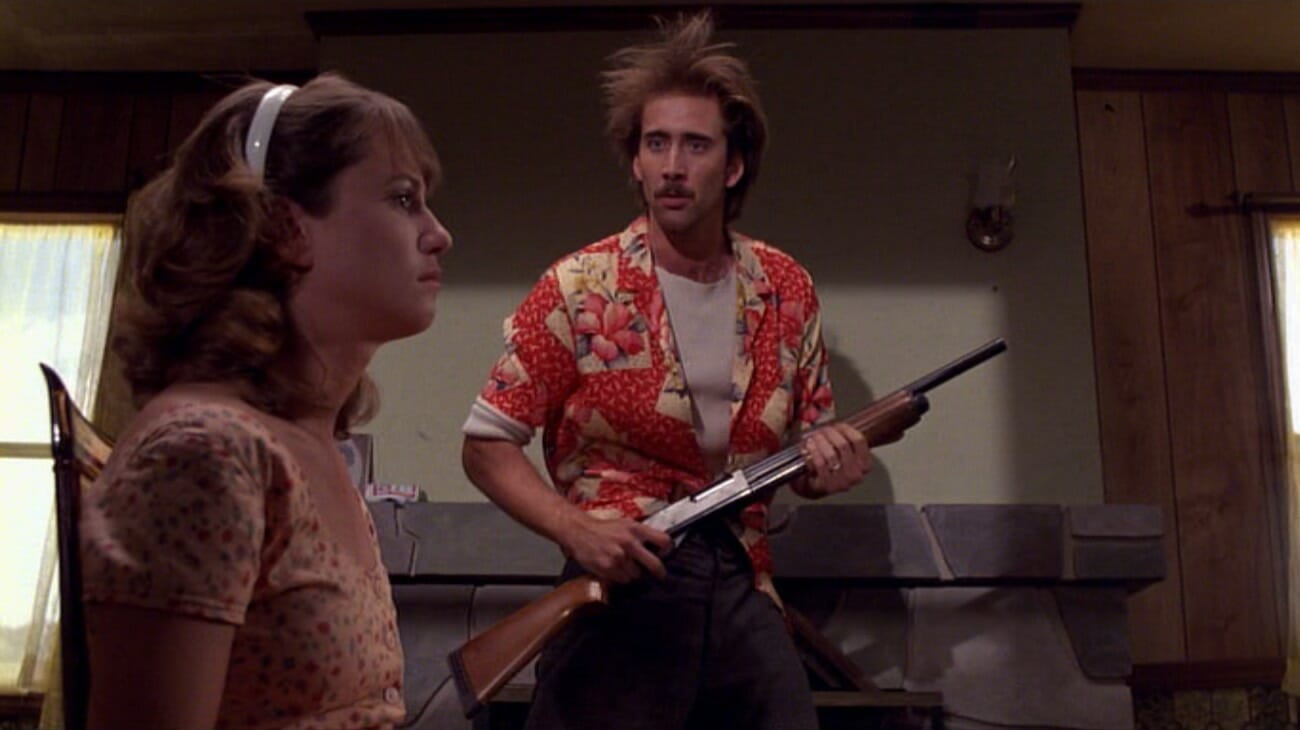 Director: Joel Coen
Writer: Ethan Coen, Joel Coen
Cast: Nicolas Cage, Holly Hunter, Trey Wilson, John Goodman
IMDb Rating: 7.3
Rotten Tomatoes Rating: 92%
Platforms Available: Spectrum TV, ROW8, Prime Video, VUDU
Oh, you'd want to chat about range? Nicolas Cage might be renowned for his action roles, but he contends alongside comedic legends in the 1980s goofball masterpiece Raising Arizona. Raising Arizona is a movie directed only by Cohen Brothers, over an ex-con as well as an ex-cop that steal a baby to nurture as their own. The film became a critical darling because of Cage and Holly Hunter's outstanding performances plus connection, the humorous writing, Cage's pointy hairstyles, and, most importantly, the moral at its core. The movie is just about as strange as Cage, which creates the best experience.
23. Red Rock West (1993)
Director: John Dahl
Writer: John Dahl, Rick Dahl
Cast: Nicolas Cage, Dennis Hopper, Lara Flynn Boyle, Craig Reay
IMDb Rating: 7.0
Rotten Tomatoes Rating: 97%
Platforms Available: Netflix, Prime Videos and VUDU
Retired Marine Michael Williams travels to Red Rock West, Wyoming, for just supposed employment. Still, pub owner Wayne misidentifies him as the experienced hitman he paid to murder his unfaithful wife, Suzanne. After informing Suzanne, Michael accepts the cash and attempts to depart but is thwarted by an incident. As the true murderer approaches and Wayne discovers the mistake, Michael's predicament becomes more difficult.
22. Valley Girl (1983)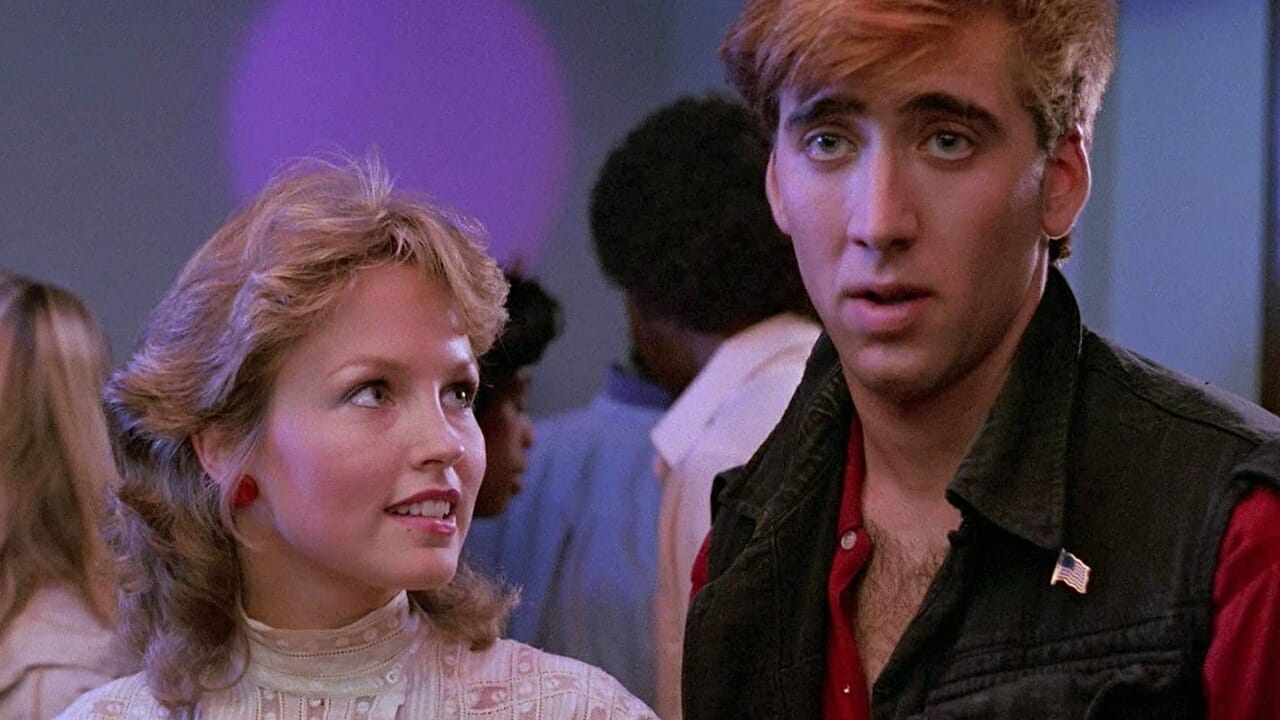 Director: Martha Coolidge
Writer: Wayne Crawford, Andrew Lane
Cast: Nicolas Cage, Deborah Foreman, Elizabeth Daily, Michael Bowen
IMDb Rating: 6.4
Rotten Tomatoes Rating: 83%
Platforms Available: Prime Video, Vudu Movie, and Netflix
Randy (Cage) is a damn difficult city lad who encounters Julie (Deborah Foreman), a girl from–you predicted it–the valleys, and they fall in love notwithstanding their disparate origins in this amusing Hollywoodized Romeo and Juliet narrative.
The paradigm conflict between Hollywood with posh Beverly Hills-like behavior is addressed with audacious music that brilliantly depicts the era, thanks to the pioneering new-wave artists included in the movie. Finally, this movie is an offshoot of such a regular Nicolas Cage movie, but it grabs our affection with his remarkably lovely approach.
21. 211 (2018)
Director: York Alec Shackleton
Writer: York Alec Shackleton, John Rebus
Cast: Nicolas Cage, Sophie Skelton, Michael Rainey Jr., Dwayne Cameron
IMDb Rating: 4.3
Rotten Tomatoes Rating: 4%
Platforms Available: Netflix, Prime Videos, and Hulu
Officer Mike Chandler and a teenage civilian companion are caught off guard and outmatched when they find themselves in the crossfire of a brazen bank robbery perpetrated by a courageous squad of fully skilled and strongly equipped guys.
20. Drive Angry (2011)
Director: Patrick Lussier
Writer: Patrick Lussier, Todd Farmer
Cast: Nicolas Cage, Amber Heard, William Fichtner, Billy Burke
IMDb Rating: 5.4
Rotten Tomatoes Rating: 48%
Platforms Available: Vudu Movie & TV Store, VUDU, Prime Video, or Apple TV
After escaping Hell, John Milton pursues Jonah King, the demonic cult leader who brutally murdered Milton's teenage daughter and abducted her baby daughter, who he wants to sacrifice in three days to gain evil powers. Milton rushes against time and stops King with the help of a waitress named Piper, who he saves from her abusive partner and is being pursued by the Devil's messenger, 'The Accountant.'
19. The Family Man (2000)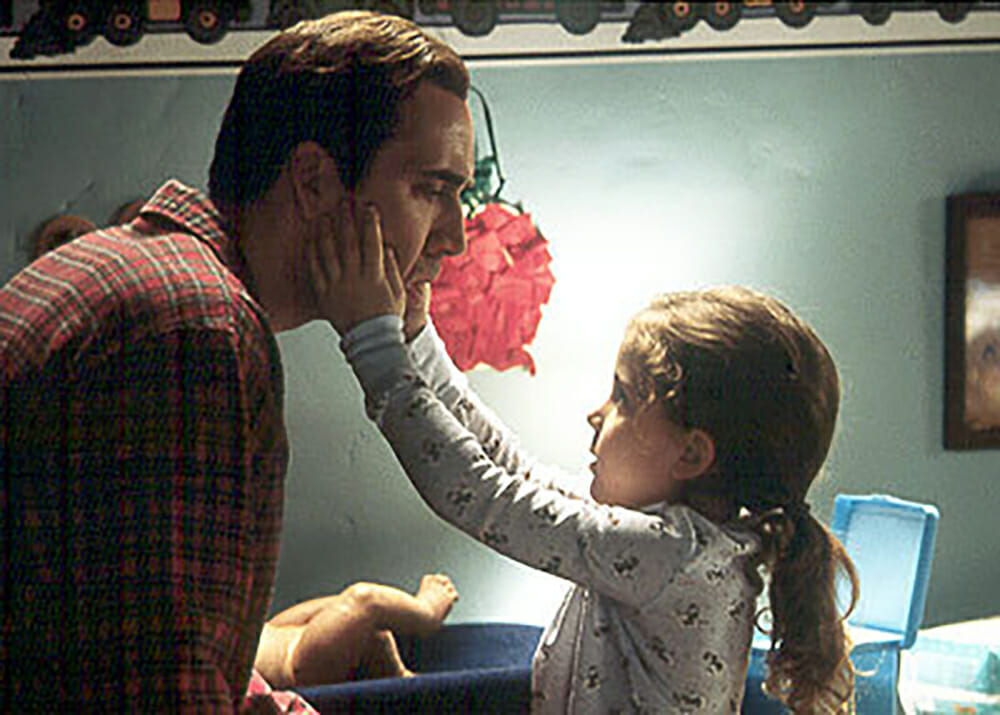 Director: Brett Ratner
Writer: David Diamond, David Weissman
Cast: Nicolas Cage, Téa Leoni, Don Cheadle, Jeremy Piven
IMDb Rating: 6.8
Rotten Tomatoes Rating: 53%
Platforms Available: Netflix, Prime Videos, and Vudu
We do not view The Family Man to figure out what's going on. We see it for 2 hours of Nicolas Cage flipping out, which we consider being time wisely invested.
A lot of folks are unaware of this film or regard it as corny. Watch yourself since Nicolas Cage is fantastic in this family-friendly romantic comedy. Are you looking for something cheesy and formulaic? Okay, that's possible. However, seeing Nicolas Cage plays a high-powered Wall Street stockbroker who miraculously awakens an ordinary Joe wedded to his collegiate love with a family as well as a minivan is pure entertainment. Cage excels at portraying befuddled, uneasy characters. After seeing this movie, we suggest watching a full hour of Nicolas Cage's Panic Out Compilations on YouTube.
18. Pig (2021)
Director: Michael Sarnoski
Writer: Michael Sarnoski
Cast: Nicolas Cage, Alex Wolff, Adam Arkin, Cassandra Violet
IMDb Rating: 7.0
Rotten Tomatoes Rating: 96%
Platforms Available: Hulu and Prime Videos
Nicolas Cage stars as Rob, a truffle hunter who dwells alone through the Oregon forests with his prized truffle pig. The two are very well known, and we get the impression from the teaser that Rob used to be such a well-known chef in Portland. We get a peek at his past until he became a truffle poacher in the forest, and it appears that he has lost several family members, similar to John Wick.
When somebody arrives at Rob's hut in the wilderness, assaults him, and flees with his pig, things start going for the worst. What happened to Rob's prized pig? That is the central question of the film.
17. The Rock (1996)
Director: Michael Bay
Writer: David Weisberg, Douglas Cook
Cast: Nicolas Cage, Sean Connery, Ed Harris, John Spencer
IMDb Rating: 7.4
Rotten Tomatoes Rating: 68%
Platforms Available: Prime Video, Spectrum TV, Vudu Movie & TV Store, VUDU
Inside this action-adventure Nicolas Cage movie The Rock, Nicolas Cage steals the show from co-stars Sean Connery & Ed Harris. Cage plays Stanley Goodspeed, an FBI scientist tasked with disarming stolen weapons (what a Cage name). To do just that, he'll have to get into Alcatraz Island, which Ed Harris has kidnapped. In a nutshell, it's amazing. A fantastic action film that is quite enjoyable. No disrespect to Connery and Harris, but Cage is the one who lifts everything.
16. 8MM (1999)
Director: Joel Schumacher
Writer: Andrew Kevin Walker
Cast: Nicolas Cage, Joaquin Phoenix, James Gandolfini, Peter Stormare
IMDb Rating: 6.5
Rotten Tomatoes Rating: 23%
Platforms Available:  Hulu, Apple iTunes, Vudu, Amazon Video, Microsoft Store
Tom Welles, a private detective, is recruited to investigate the veracity of an 8MM snuff video depicting a killing discovered in the vault of a tycoon's widower, Mrs. Christian. Welles' inquiry leads him to Hollywood, where only a porno shop clerk named Max California assists him in infiltrating Hollywood's dark subculture of illicit pornographic films, which might prove harmful to him.
15. Peggy Sue got married (1986)
Director: Francis Ford Coppola
Writer: Jerry Leichtling, Arlene Sarner
Cast: Kathleen Turner, Nicolas Cage, Barry Miller, Catherine Hicks
IMDb Rating: 6.4
Rotten Tomatoes Rating: 86% 
Platforms Available:  Hulu, Amazon Prime, and Vudu
Peggy Sue (Kathleen Turner) faints during her high school reunion and then awakens in 1960, supposedly deported back to one of the most transformational years of her existence after a devastating breakup with ex-high-school boyfriend Charlie (Nicolas Cage). Peggy Sue finally accepts that she must have traveled back in time after a sequence of brilliant happenings that lie halfway between dream fulfillment and sci-fi. She sees this aberration as the ideal opportunity to rebuild her life, but she quickly discovers that her vision, present—isn't always desirable.
Coppola outperforms the near-impenetrable Zemeckis film in capturing the bittersweet quality that makes memories so seductive. It makes no difference if she could have made a significant difference in her life or not; what counts is that she decides to do so.
14. Kiss Of Death (1995)
Director: Barbet Schroeder
Writer: Richard Price, Eleazar Lipsky
Cast: Michael Rapaport, Ving Rhames, Stanley Tucci, and Nicolas Cage
IMDb Rating: 5.7
Rotten Tomatoes Rating: 67%
Platforms Available: Hulu and Prime Videos
Jimmy Kilmartin (David Caruso) holds his head low and supports his spouse and kids following his release from jail till his cousin Ronnie (Michael Rapaport) lures him into a large-scale vehicle robbery that goes wrong. After many more years behind bars, Jimmy is offered a contract by a county prosecutor (Stanley Tucci) to go incognito and assist in catching homicidal criminal leader Little Junior Brown (Nicolas Cage). On the other hand, Little Junior isn't going down without a fight.
13. Adaptation (2002)
Director: Spike Jonze
Writer: Charlie Kaufman, Donald Kaufman
Cast: Nicolas Cage, Meryl Streep, Chris Cooper
IMDb Rating: 7.7
Rotten Tomatoes Rating: 90%
Platforms Available: Amazon Prime Videos and HBO Max
On a much more dramatic scale, Nicolas Cage starred in the 2002 drama-comedy Adaptation portraying nervous L.A. playwright Charlie Kaufman, a film that audiences either love or detest. A nervous, insecure middle-aged guy with a slew of strange ticks? This is Cage's karate studio. Spike Jonez (Being John Malkovich, Her, and, oddly enough, Jackass: The Movie) produced the picture, which also featured Meryl Streep. It was shortlisted for every award underneath the Sun, and Cage's performance and best reviews, regardless of how uncomfortable and clammy the role is, make it difficult to look away.
12. Bad Lieutenant: Port of Call New Orleans (2009)
Director: Werner Herzog
Writer: William M. Finkelstein
Cast: Nicolas Cage, Eva Mendes, Jennifer Coolidge, Val Kilmer
IMDb Rating: 6.6
Rotten Tomatoes Rating: 86%
Platforms Available: Apple TV, Vudu, Prime Video
Terence McDonagh, a New Orleans police commander, has a messy personal life. He's not just hooked to painkillers as a result of damage he sustained while rescuing a captive following Hurricane Katrina, even though he's a druggie and a gambling addict. He also has a lot of dealings with the underground. Once he examines the murder of 5 illegal immigrants, however, events start to shift.
11. Fire Birds (1990)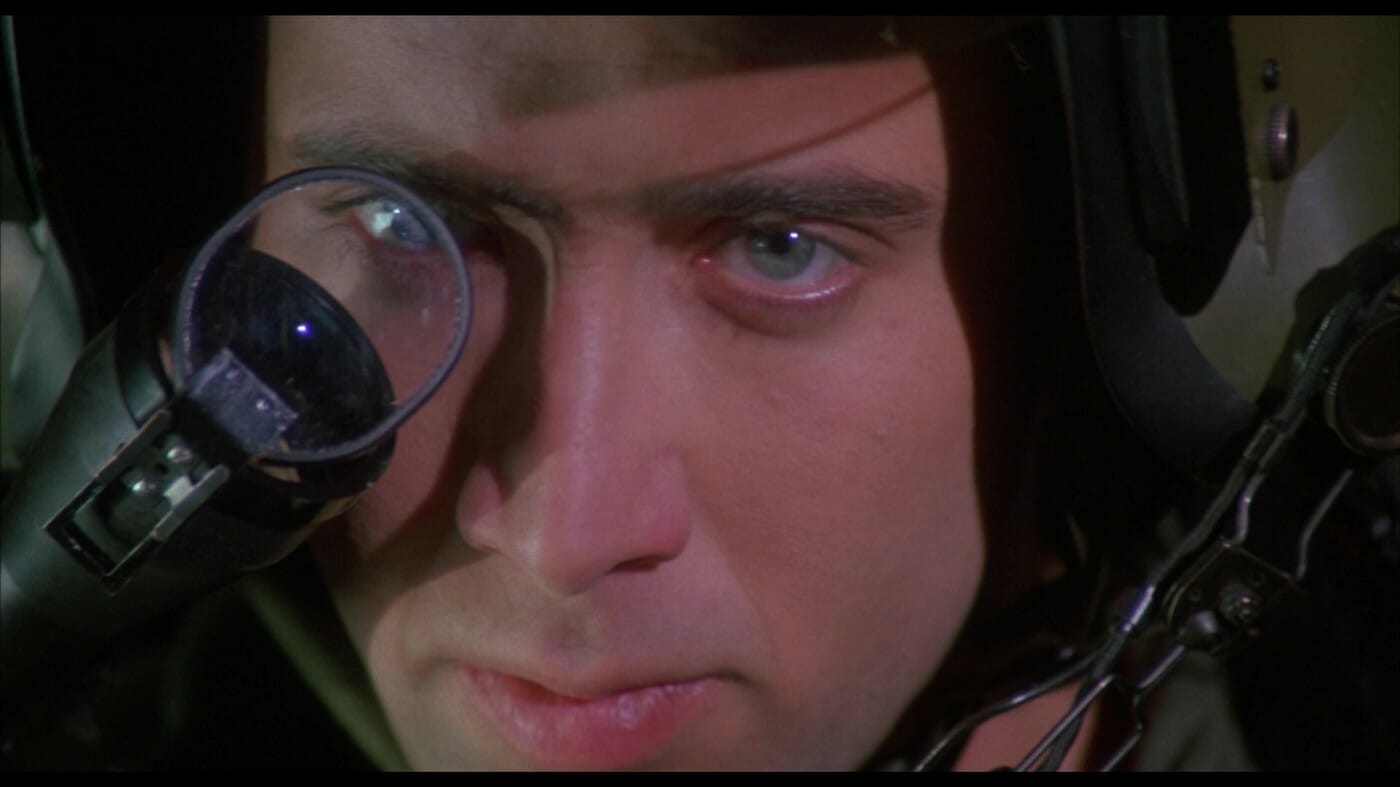 Director: David Green
Writer: Nick Thiel, Paul F. Edwards
Cast: Nicolas Cage, Tommy Lee Jones, Sean Young, Bryan Kestner
IMDb Rating: 4.7
Rotten Tomatoes Rating: 10%
Platforms Available: Vudu Movie & TV Store, Prime Video, Apple TV, VUDU
"Fire Birds" is a crude dogfight film starring Nicolas Cage with Sean Young that provides a prolonged advertisement for the United States Army's AH-64 Gunship chopper, commonly called the Apache. According to the film's press remarks, the goal was to create a film that would do for the Army that "Top Gun" achieved for the Navy.
In Apache attack helicopters, military soldiers (Nicolas Cage and Sean Young) and their task-force commander (Tommy Lee Jones) enter the drug war.
10. Captain Corelli's Mandolin (2001)
Director: John Madden
Writer: Shawn Slovo
Cast: Nicolas Cage, Penélope Cruz, John Hurt, Christian Bale
IMDb Rating: 5.9
Rotten Tomatoes Rating: 50%
Platforms Available: Apple TV, VUDU, Vudu Movie & TV Store, and Prime Video
Based on the Italian occupation of Greece through World War II, this epic story explores the eternal optimism of romance and the awful horror of war. When a soldier finds love with the town doctor's girl, he starts questioning his motives for battling. As the battle draws nearer, the two are compelled to choose between their country's devotion and their affection for each other.
9. Face/Off (1997)
Director: John Woo
Writer: Mike Werb, Michael Colleary
Cast: John Travolta, Nicolas Cage, Joan Allen, Gina Gershon
IMDb Rating: 7.3
Rotten Tomatoes Rating: 92%
Platforms Available: Hotstar and Prime Video
After apprehending his son's murderer, terrorist Castor Troy, FBI Special Agent Sean Archer hears about a conspiracy to harm all of Los Angeles and resolves to penetrate Troy's group by assuming Troy's identity through a costly facial reconstruction process. However, Troy awakens from his sleep and is forced to go through the same operation to adopt Archer's persona.
If you're perplexed when viewing Face/Off, you're not alone. In this action-thriller starring Nicolas Cage with John Travolta, a terrorist (Travolta) as well as an FBI agent (Cage) undertake an operation to change each of their features to seem like the others. That's the easiest way to say it, yet the film has a tangled narrative that is surprisingly compelling. Face/Off has also provided us with plenty of the most memorable Cage Rage expressions ever. You won't be disappointed if you Google it.
8. Con Air (1997)
Director: Simon West
Writer: Scott Rosenberg
Cast: Nicolas Cage, John Cusack, John Malkovich, Steve Buscemi
IMDb Rating: 6.9
Rotten Tomatoes Rating: 55%
Platforms Available: Prime Video and Tubi Tv
Nicolas Cage, who has streaming hair and also is sculpted, plays Cameron Poe, a retired Army Ranger who is granted parole and hopes to reconcile with his wife and family in the 1997 action film Con Air.
To reach home, Cameron Poe should board an aircraft full of Supermax inmates plotting a revolution against the authorities and attempting to flee to Mexico. Cage is surrounded by a brilliant ensemble that comprises John Malkovich, Dave Chappelle, as well as Steve Buscemi, all of whom serve to enhance rather than overwhelm Cage's portrayal. The movie and our favorite Nick Cage are both silly. Still, Nicolas Cage's acting is phenomenal— a quintessential 'popcorn' action flick in which he captures the exact combination of savage and savior.
7. Windtalkers (2002)
Director: John Woo
Writer: John Rice & Joe Battery
Cast: Nicolas Cage, Adam Beach, Peter Stormare, Noah Emmerich
IMDb Rating: 6.1
Rotten Tomatoes Rating: 33%
Platforms Available: Apple iTunes, Vudu, Amazon Video, Google Play Movies, YouTube
Joesph F. Enders, a US Marines corporal, is tasked to defend Navajo code speaker Private Ben Yahzee. However, if Yahzee is apprehended, he should execute him to guard the secret. They form a relationship as World War II continues. Enders no longer wants to murder him, but he is forced to choose between duty versus brotherhood due to the conflict.
6. Gone in Sixty Seconds (2000)
Director: Dominic Sena
Writer: Scott Rosenberg
Cast: Nicolas Cage, Angelina Jolie, Giovanni Ribisi, Delroy Lindo
IMDb Rating: 6.5
Rotten Tomatoes Rating: 78%
Platforms Available: Hostar and Prime Video
After a bungled vehicle heist, criminal boss Raymond Calitri decides to kill his brother, convicted auto thief Memphis Raines is dragged out of retirement. He's been given three days to steal 50 expensive automobiles and must reunite his fellow soldiers and carry off the ideal robbery while avoiding the cops as well as a rival gang.
5. City of Angels (1998)
Director: Brad Silberling
Writer: Dana Stevens
Cast: Nicolas Cage, Meg Ryan, Dennis Franz, Andre Braugher
IMDb Rating: 6.7
Rotten Tomatoes Rating: 58%
Platforms Available: Prime Video, Vudu Movie & TV Store, VUDU, and Apple TV
While waiting for a patient receiving heart surgery, Seth, an angel for whom the job it should be to escort departed souls to the hereafter, is confused when he gets drawn to Maggie Rice, a youthful cardiac surgeon. Once he encounters Nathaniel, who was originally an angel but chose to become a human to obtain human sensibilities, he puts up in his head.
4. Rumble Fish (1983)
Director: Francis Ford Coppola
Writer: S. E. Hinton, Francis Ford Coppola
Cast: Matt Dillon, Mickey Rourke, Vincent Spano, Diane Lane, Diana Scarwid, Nicolas Cage
IMDb Rating: 7.1
Rotten Tomatoes Rating: 74%
Platforms Available: Amazon Instant Video, iTunes, Google Play, and Vudu
Rusty James (Matt Dillon), dissatisfied and antsy, is preparing for war. He likes to hang out with his sweetheart, Patty (Diane Lane), and his correspondingly directionless mates Midget (Larry Fishburne), Smokey (Nicolas Cage), as well as B.J. Jackson(Christopher Penn) after being neglected by his mom and residing with his abusive alcoholic dad (Dennis Hopper). When Rusty's brother, the Motorcycle Boy (Mickey Rourke), arrives in town, he wants to receive appropriate guidance from somebody who most people regard as insane.
3. Bangkok Dangerous (2008)
Director: Oxide Pang Chun
Writer: Jason Richman
Cast: Nicolas Cage, Charlie Yeung, Shahkrit Yamnarm, Panward Hemmanee
IMDb Rating: 5.3
Rotten Tomatoes Rating: 26%
Platforms Available: Netflix, Prime Video, and Vudu
The tale follows a trained killer who comes to Bangkok to carry out a sequence of contract murders. It is a replica of the 1999 film. He employs a thief to perform errands for him there, to kill him after the assignment, as he normally does. Rather, he becomes the boy's teacher, breaking his rule by beginning a love relationship with a local girl.
2. Moonstruck (1987)
Director: Norman Jewison
Writer: John Patrick Shanley
Cast: Cher, Nicolas Cage, Vincent Gardenia, Olympia Dukakis, Danny Aiello
IMDb Rating: 7.1
Rotten Tomatoes Rating: 94%
Platforms Available: Just Watch, Prime Video, and Hulu
After portraying the romantic lead in Cher's 1987 romcom Moonstruck, Nicolas Cage, then 23 years old, was an instant idol. Anybody who doesn't like Cage after seeing him as the moody, working-class, wife-beater-shirt-wearing Ronny should go now.
His captivating smile and fierce intensity are reminiscent of other iconic Cage roles, such as Raising Arizona, which was published the same year. Due to his appearances in Rumble Fish & Fast Times at Ridgemont High, Cage was previously known as a Brat Pack bad guy, but Moonstruck transformed him into such a sex symbol. So, sure, it's kind of significant.
1. Wild at Heart (1990)
Director: David Lynch
Writer: David Lynch
Cast: Nicolas Cage, Laura Dern, Willem Dafoe, J.E. Freeman
IMDb Rating: 7.2
Rotten Tomatoes Rating: 81%
Platforms Available:  Apple Tv, Prime Video, Reel Good
Wild at Heart may not have garnered the same iconic status as David Lynch's previous cult favorites, such as Twin Peaks as well as Blue Velvet, but finally came all; it's Nick Cage inside a David Lynch film! One may argue that this performance prepared the path for our No. 1 selection and the finest Cage picture of all time. Cage portrays Sailor in Wild at Heart, a character who comes out from jail following murdering a person in self-defense.
He meets up with his sweetie, and ought we call 'peanut,' but then finds himself into further trouble, landing him in prison yet again — and, ipso facto, apart from his peanut. True Romance and Natural Born Killers are two films that come to mind. Cage is the ideal choice for Lynch's film.