This series is popular with viewers. It's difficult to say why; it's not very popular and doesn't offer anything unique. There's the typical hot-blooded Shounen hero, who is a little strange on the IQ scale but is a hidden genius at the game, and his dark-haired talented rival Kageyama, who initially clashes in everything but gradually realizes that they have things in common and work extremely well together to pulverize their enemies.
Oh, and they're the underdogs in true sports manga fashion. Does this sound familiar? Apart from the fact that it's about volleyball, which is significantly rare compared to all the baseball anime that are a dime a dozen, there isn't much to distinguish it from the rest of the sports manga.
Nonetheless, Haikyuu!! It is manga fans look forward to, have heart palpitations when there aren't any new chapters, and fangirl over cool scenes. There are episodes in the series with hilarious comedy and intense volleyball matches.
Haikyuu! characters have rivalries that last seasons, and the teams work together to win. Fans have a separate cheering group for it. Matches can last several episodes, but the episodes contain enough lighthearted humor and character development to keep the audience interested.
Anime: Haikyuu!
Director: Susumu Mitsunaka
Writer: Haruichi Furudate
Stars: Ayumu Murase, Kaito Ishikawa, Yu Hayashi
So, here we are with the 20 best episodes of Haikyuu!
1. Removing the "Solitary King"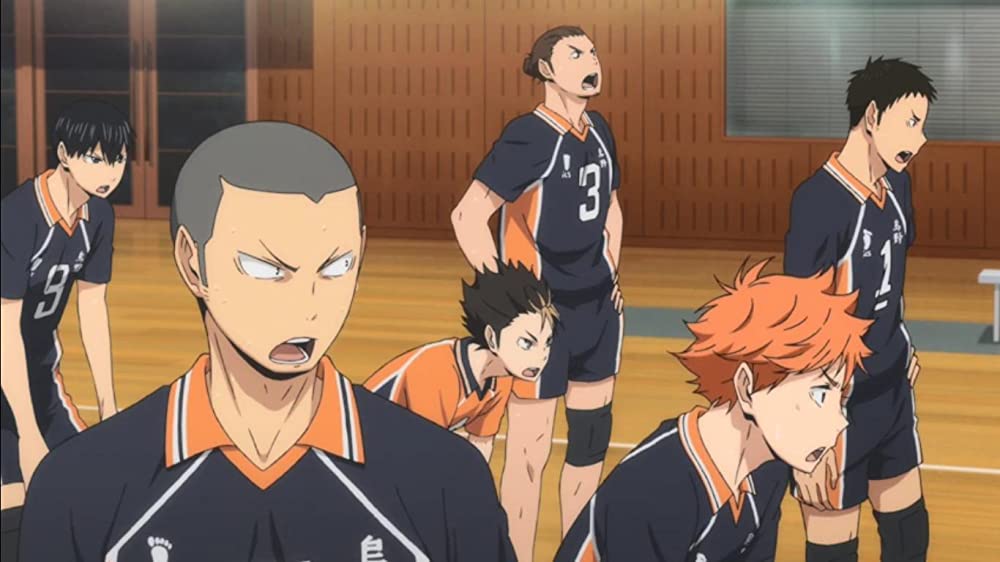 Episode: season 1, episode 24
Aired on: 13/9/2014
IMDB ratings: 9.3/10
Kageyama starts matching Toru point for point. At 25 points each, the teams are dead even. Long sets exhaust both teams, and Toru acknowledges that Kageyama has realized the value of teamwork and is no longer the lone king. Finally, the game's victory points are displayed.
The team rallies around Kageyama and assures him that they will have his back; Hinata and Kageyama standing up together after their fight, and the ending scene of the team crying together over a group meal, hoping to become stronger in the future, is all highlights of the victory in the best Haikyuu episode.
2. Wiping Out
Episode: season 2, episode 20
Aired on: 20/2/2016
IMDB ratings: 8.9/10
The Spring Tournament semi-finals. Karasuno's ace will have to face their bitter rivals at Aoba Johsai High School. They try to reach the finals after recovering from their previous defeat. A fight with the new Karasuno is about to begin.
3. The Losers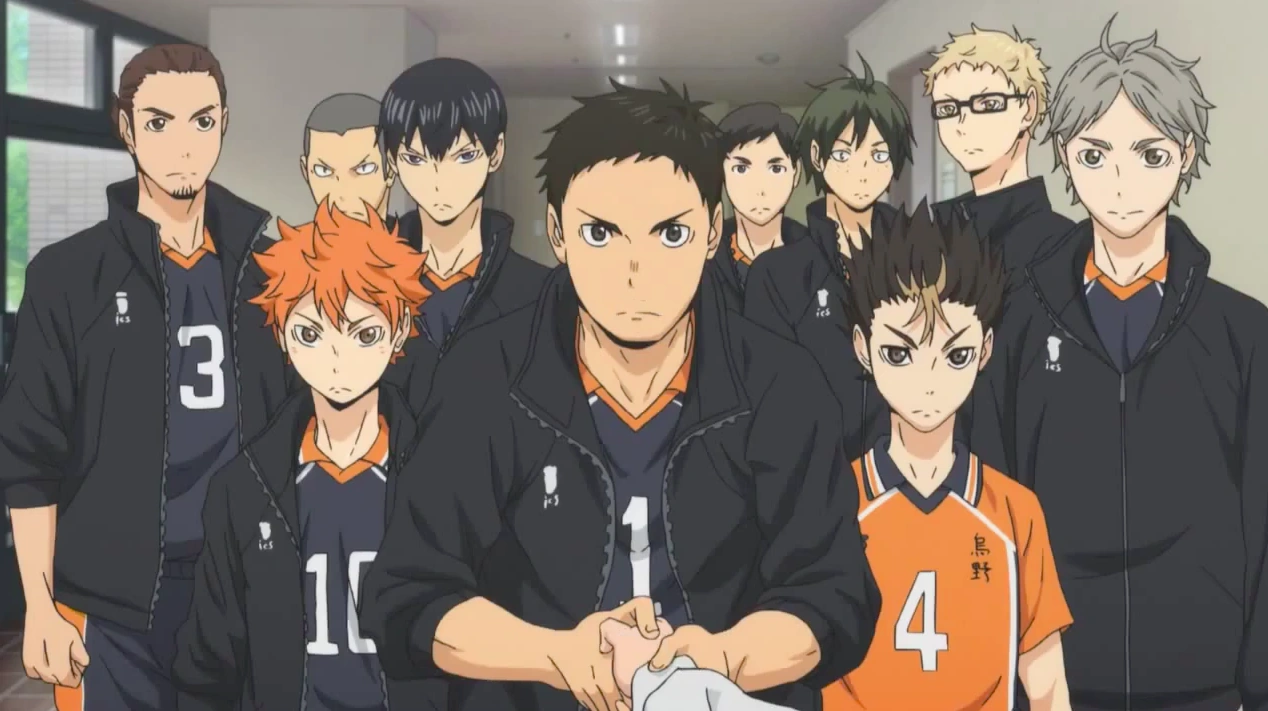 Episode: season 2, episode 18
Aired on: 6/2/2016
IMDB ratings: 8.5/10
Karasuno can't get back into a rhythm without Sawamura, and they're struggling to reach their full potential. Meanwhile, Hinata competes in the air with Wakunan's ace, which plays similarly to the Little Giant in date tech.
4. Individual vs. Numbers
Episode: season 3, episode 5
Aired on: 4/11/2016
IMDB ratings: 8.9/10
The score is 1-1 as the third set begins. Karasuno tries to maintain his aggressiveness after stopping Ushijima.
However, Shirabu, Shiratorizawa's setter, appears unfazed by the loss of the second set and shifts the momentum back to the undefeated champions.
5. Guess-Monster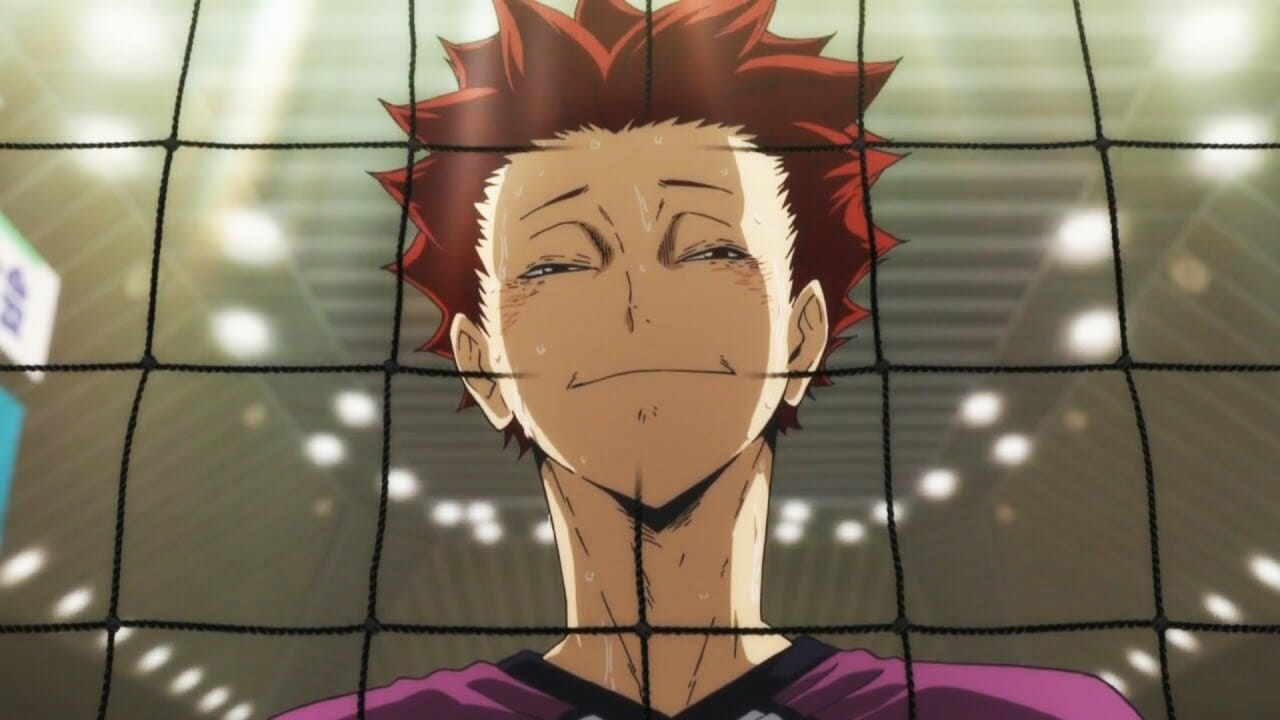 Episode: season 3, episode 3
Aired on: 21/10/2016
IMDB ratings: 9.1/10
Karasuno attempts to attack midway through the second match, but Shiratorizawa's middle blocker is a Guess Monster.
Nevertheless, he keeps blocking all of their attempts with quick intuition. Tsukki assesses the situation calmly as he blocks Karasuno's spikes one after the other.
6. Broken Heart
Episode: season 4, episode 16
Aired on: 16/10/2020
IMDB ratings: 9.4/10
Tanaka has been in love with Shimizu since her first year. Since then, he has worked tirelessly to improve his game (on and off the court). The first set is defined point by point until Tsukishima grants the advantage. Tanaka then considers not giving up, and he ends up with the set point in favor of Karasuno.
At Spring Nationals, the pressure of Inarizaki's blocks and targeting of Tanaka begins to get to him, and fans gain insight into his mind. What it's like for him to have to climb the mountain of pressure he puts on himself to be a better player and teammate.
Tanaka is rarely the focus of a best Haikyuu episode, but he has a devoted fan base, so when his love life was explored, fans seemed to enjoy learning how he would deal with the pressure of playing a tough team and how to handle his heart.
7. The Point That Changes the Momentum
Episode: season 1, episode 23
Aired on: 6/9/2014
IMDB ratings: 9.2/10
In set 3, Aoba Johsai starts to pull away, forcing Coach Ukai to make drastic decisions. Yamaguchi is substituted as an ace server, but the pressure is too much for him to handle. A service error occurs, but the error allows Karasuno to calm down and climb back within two.
8. Declaration of War
Episode: season 2, episode 25
Aired on: 26/3/2016
IMDB ratings: 9.0/10
After defeating their fated rivals, the Karasuno High School Volleyball Club advanced to the finals of the Miyazaki Prefecture Qualifiers of the Spring Tournament.
Shiratorizawa Academy, the prefecture's most powerful school, will be its opponent. Their struggle for the title of "absolute king" to obtain a single ticket to national beings!
9. The Former Coward's Fight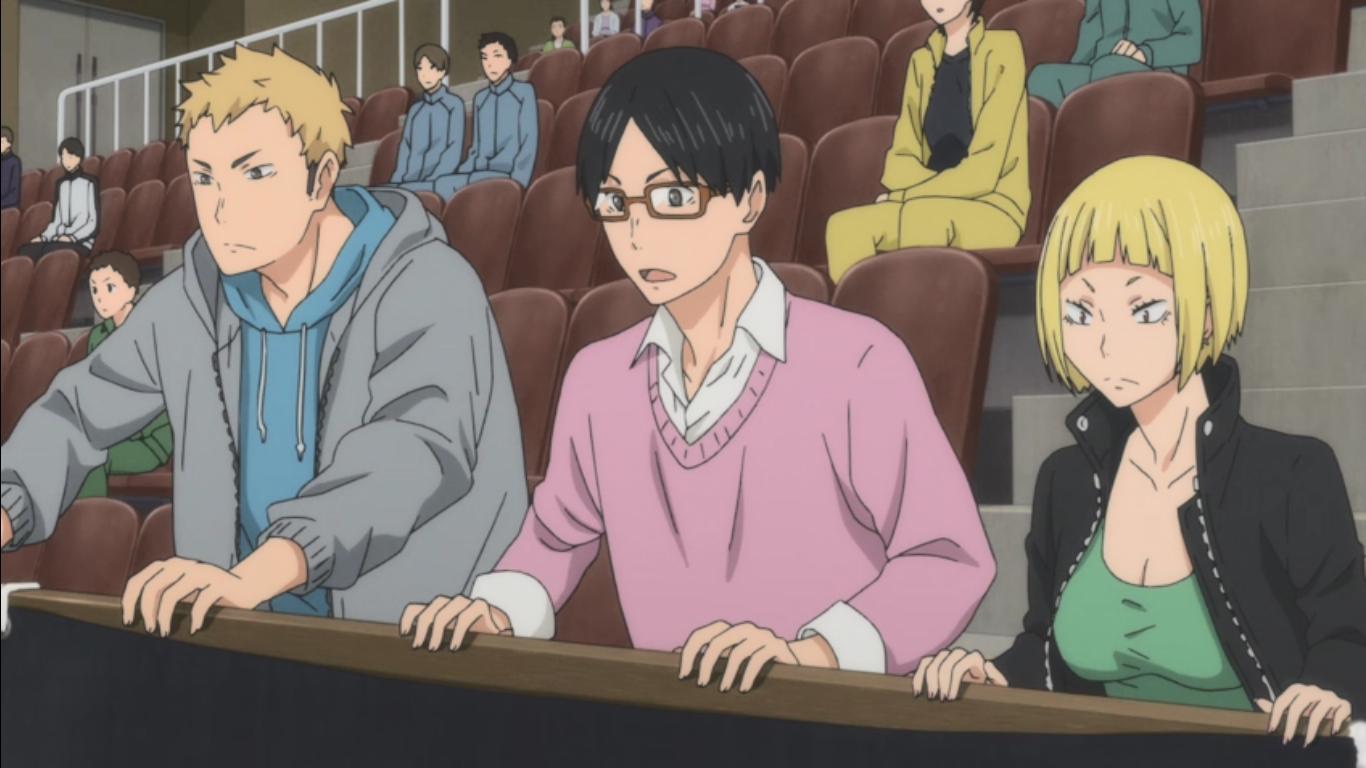 Episode: season 2, episode 22
Aired on: 5/3/2016
IMDB ratings: 9.2/10
Keishin sends Yamaguchi out as a pinch server as Seijoh takes over the game's flow. Yamaguchi fled the Wakunan match, but can he now turn things around in this one?
10. The Iron Wall
Episode: season 1, episode 17
Aired on: 26/7/2014
IMDB ratings: 9.2/10
In the second round, Dateko and Karasuno square off. Ditko's giant reveals his intention to attack Hinata, forcing Kageyama to reveal the super fast attack.
The lightning-fast attack appears to give Karasuno an advantage, allowing them to take an 18-16 lead. However, when the giant launches a lightning-fast attack on Hinata, Karasuno reveals their final ace.
Karasuno perfects their cover of Nekoma's "The Pipe" by giving a delayed set to Azumane, positioned behind Hinata. Everyone else believes Karasuno has exhausted all of their trump cards. Is Karasuno still holding a trick from the bench?
11. The Promised Land
Episode: season 4, episode 25
Aired on: 18/12/2020
IMDB ratings: 8.8/10
Karasuno has won the Spring Tournament and will advance to the third round. Emotions are running high among all teams as some are knocked out of the tournament, and others prepare for their next battle.
12. An Annoying Guy
Episode: season 3, episode 8
Aired on: 25/11/2016
IMDB ratings: 9.2/10
Tsukki injures his hand and must leave for medical attention, causing Karasuno's blocking to deteriorate. In his absence, Karasuno increases their attacks. Hinata's performance finally convinces Ushijima that he's worth playing against.
13. The Birth Of The Serene King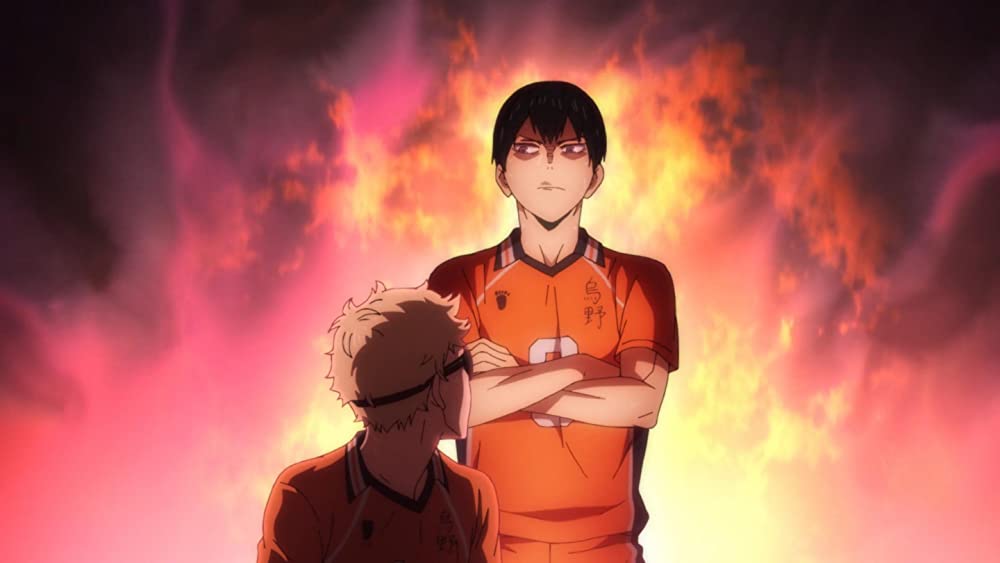 Episode: season 4, episode 23
Aired on: 4/12/2020
IMDB ratings: 9.2/10
The game is gradually coming to an end, with both teams' players blaming accumulated fatigue.
14. The Battle of Concepts
Episode: season 3, episode 10
Aired on: 9/12/2016
IMDB ratings: 9.8/10
The battle goes well beyond 15 as both teams' fifth set enters the twenties. Shiratorizawa displays individual strengths, while Karasuno continues to demonstrate team strength.
Karasuno and Shiratorizawa square off in a battle of volleyball philosophy to see who advances to Nationals. Karasuno finally finished their season-long sports match against Shiratorizawa.
The most memorable moment in this best Haikyuu episode is the heart-stopping moment at the end of the match before the whistle is blown, with both the audience and the characters waiting to find out who won.
This best Haikyuu episode concludes with a nice character moment, with the Karasuno players competing to see who can jump the highest, reigniting Kageyama and Hinata's series-long rivalry.
15. Pitons
Episode: season 4, episode 22
Aired on: 27/11/2020
IMDB ratings: 9.6/10
Inarizaki begins to take back the set with unexpected and powerful attacks, with each play chipping away at the Karasuno team's spirits. When everything seems hopeless, a miraculous play made by the last person they expected restores their faith.
Everyone is surprised when Karasuno takes the lead against Inarizaki. Inarizaki changes the game by making Atsumu's serves nearly impossible to receive. When Aran goes up for the spike, the ball slams into Hinata's arms for the first time as he properly receives the ball.
Not only did the underappreciated main character achieve a feat he'd been battling for three seasons, but Kageyama, who isn't known for bestowing praise, told Hinata, "Nice receive." Kageyama and Hinata are both fans of Haikyuu!!
As a result, this best Haikyuu episode was not only memorable for Karasuno but also for the development of the two main characters' relationship.
16. The Halo Around the Moon
Episode: season 3, episode 4
Aired on: 28/10/2016
IMDB ratings: 9.7/10
Karasuno returns at the end of the second set thanks to the blocking of Tsukki and Nishinoya. In the end, it's a heated battle that results in multiple deuces… Who will score the game-winning point? This best Haikyuu episode establishes Shiratorizawa's entire team, not just their captain, Ushijima, as formidable players.
As their intense final match continues, Karasuno develops rivalries with the Shiratorizawa players. Seeing Tsukishima and Hinata plotting a special move shows how far they've come. Hinata's goofiness and positivity annoy Tsukishima, which makes their teamwork even better.
17. The Absolute limit switch
Episode: season 2, episode 24
Aired on: 19/3/2016
IMDB ratings: 9.8/10
Neither team is willing to give the other team an advantage. They're both at their limit, but the match goes on. They move on to the final battle to see who will advance to the finals.
As this game determines who advances to the finals, Oikawa and Kageyama square off as the best setters for their spikers. Oikawa demonstrates that he will not back down, while Kageyama demonstrates that his instincts and talent have grown stronger.
Later, when Oikawa literally looks up at Kageyama after failing to save the ball, he remembers their past and why he's determined to be the best. This does not have the same effect on Kageyama, but they both motivate each other.
Both of these characters are relatable fan favorites because they are solely focused on their goal and understand that the world around them can actually push them further if they allow it. This best Haikyuu episode earned its surprise spot due to the intense impact the ex-teammates have on one another and how volleyball, which they enjoy, can help them overcome their reservations.
18. Monster's Ball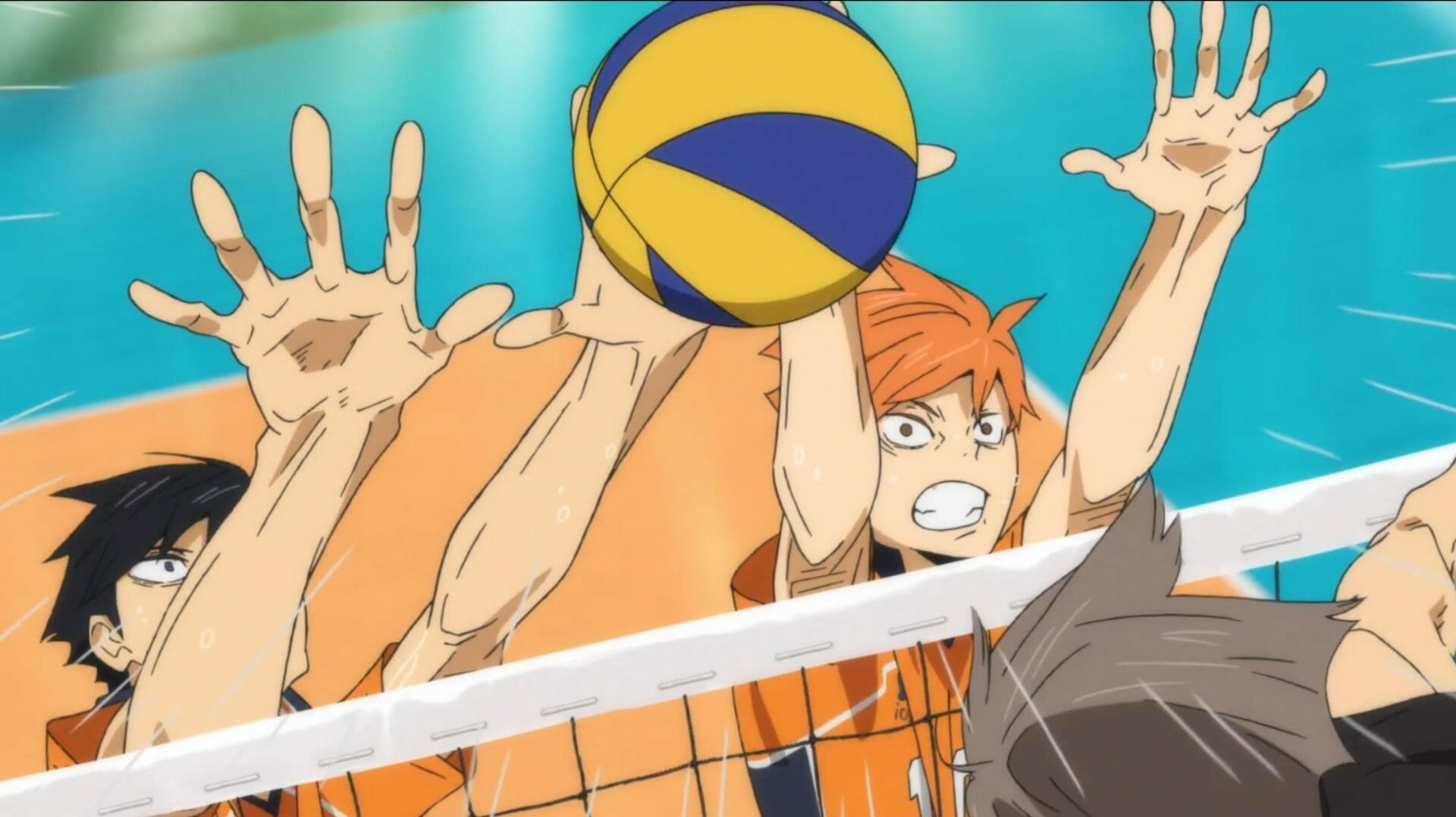 Episode: season 4, episode 24
Aired on: 11/12/2020
IMDB ratings: 9.7/10
The Chemical Change of Encounters
Monsters' Ball is the twenty-fourth episode (and the eleventh episode of the second course) of Haikyū!! To The Top, season four of the anime, is based on Haikyū!! by Haruichi Furudate. The episode premiered on December 11, 2020. The opening theme of this episode is Toppakō by SUPER BEAVER, and the ending theme is One Day by SPYAIR.
19. Episode: season 3, episode 6
Aired on: 11/11/2016
IMDB ratings: 9.1/10
Shiratorizawa easily wins their second set, putting Karasuno up against a brick wall. Hinata ups his defense in need of a boost, and the two teams battle it out.
The grueling match between Karasuno and Inarizaki concludes with revenge, with one team emerging victorious and moving on to the third round of the Spring Tournament. The intense battle against Inarizaki was one of the most exhausting, but Atsumu improved even as he tired because he enjoyed watching Hinata progress on the court.
Kageyama realized this and made a point of following Hinata, even when his spike appeared out of nowhere. Even when Kageyama was irritated by the spontaneity, they found a rhythm in themselves as Hinata and Kageyama, and Hinata's excitement outweighed Kageyama's anger.
Kita remarks that they are witnessing "monsters" on his team versus those on Karasuno, making it a fan-favorite episode. The Karasuno team was finally competing not only on a national level but also against teams that were more difficult than they had anticipated for the final point.
Throughout it all, fans have favorite episodes, and while some may rank similarly, it's their content that distinguishes them. The highest-ranking are more concerned with the team effort required to defeat the episode's antagonist, whereas lower-ranking in the top ten are more concerned with individual character development.
Don't forget to comment on your favorite episode.