Squidbillies is a late-night cartoon network tv show produced by Jim Fortier and Dave Willis for Cartoon Network's Adult Swim television program. The story is about the Cuyler family, a poor family of anthropomorphic hillbilly mud squids residing in the Blue Ridge Mountains of Georgia.
The plot centers around the escapades of a drunken dad (Early), who is frequently unpleasant to his family in a comical manner. Rusty, his adolescent son, is yearning for his praise; his grandmother and mother, called Granny in the program, are frequently the target of his rage; and Lil, Early's sister, is generally comatose in a sea of her waste.
The show features several notable personalities contributing to the network's iconic position. So here we have gathered some best characters from 'Squidbillies,' one of adult swim craziest and most troublesome shows.
20. Russell "Rusty" Cuyler
While his dad, Early, is the driving force behind Squidbillies, Russell is the one with whom we are expected to connect. His relatives constantly harrowed and mistreated him.
He's been favored, and his need to attach an emotional connection with virtually anybody makes him the conduit through which the best heinous Squidbillies characters carry out their violent and treachery plans.
He's the fun days' Southerner who expects the world to change while he builds himself a little house, and he's all the sadder for it.
In practically all he does, he wants his father's favor, going out of his effort to imitate and please him. He is morally superior to the rest of his household and will sometimes exhibit sympathy. Also has his father's traditional redneck hobbies and conduct.
He is not as naturally violent as his father, and he frequently fails in his efforts to imitate Early's outwardly biased and myopic worldview. Rusty starts dating and having a sexual connection with a human female named Tammi, which makes his father jealous, and he tries to split them up.
19. The Sheriff
Well, the Sheriff is Dougal County's Sheriff. He's the series's perpetual sad sack, chain-smoking away the hours while fantasizing about being a performer, fitness trainer, or another career.
He's also horribly slaughtered in many episodes, reappearing in the next, causing the spectator to believe that this is some Kenny-from-South Park scenario.
But it is not like the Sheriff is involved in a vast Dan Halen plot to produce a clone force of hybrid Sheriffs made from cornstalks. Every Sheriff, sad sack he has been, is a fresh being put into the series's grist mill.
18. Hellish Jay from Ellijay
Nothing scares Hellish Jay more than scary stories, which are the butter and bread of Southern culture.
He's a substantial orange creature with a bright ass that says he plans to go on holiday with you but then cancels the tickets. While Squidbillies is entirely ridiculous, Hellish Jay may be the pinnacle of that desire and should be praised.
17. David Allan Coe
David Allan Coe is the protagonist of a Squidbillies story that begins as a rags-to-riches story involving dancing. It starts getting to Georgia's persistent issue: drought and what we could do about it.
Notwithstanding Dan Halen's efforts to make a water park out of wolf urine and vomit, it's evident that water is required. David Allan Coe sings "Dam Jam," the tune of music for Squidbillies. It's a boisterous country song about a working person who blasts up public facilities to get free of a water consumption limit. "Set off the detonator!" Coo coos
16. Herschel Walker Cuyler 
Yes, that's the full name of this tiny squid. HWCTDIHDT is Rusty's junior, badass sibling, resulting in squidgy inbreeding.
First thought to be useless, this person gradually establishes himself as the "better" sibling by killing the Sheriff, consuming booze directly out of the container, and defining himself as the ultimate Gator Hater. Herschel's brief appearance concludes with him completing "the test," which entails tossing Early before a train and snatching his hat.
15. Ga Ga Peep Pap Cuyler
The heinous criminal Rusty's grandfather and Early's father is Ga Ga Peep Pap. In his program episode, he serves as the vehicle for two excellent plotlines: a "con has hidden money" storyline and an "Early has daddy problems" story.
Squidbillies constantly circle the drain of discovering different genres in a strange spoof of Lifetime movies and Southern cliches. Ga Peep Pap lets them bring everything with a beautiful sprinkle of Justified. He's also taught bees to assist him in escaping from imprisonment.
14. Satan
Other animated programs make sweeping statements on the essence of evil and the evolution of the creative usage of Satan (or the Robot Devil). For example, a crazy squid being with worms for limbs performs music about slamming your corpse through tiny openings in Squidbillies.
But, whereas a squid Jesus arrives on the series from time to time, it's never as entertaining as when a genuinely nasty, twisted monster Satan emerges to play guitar.
13. Some Bros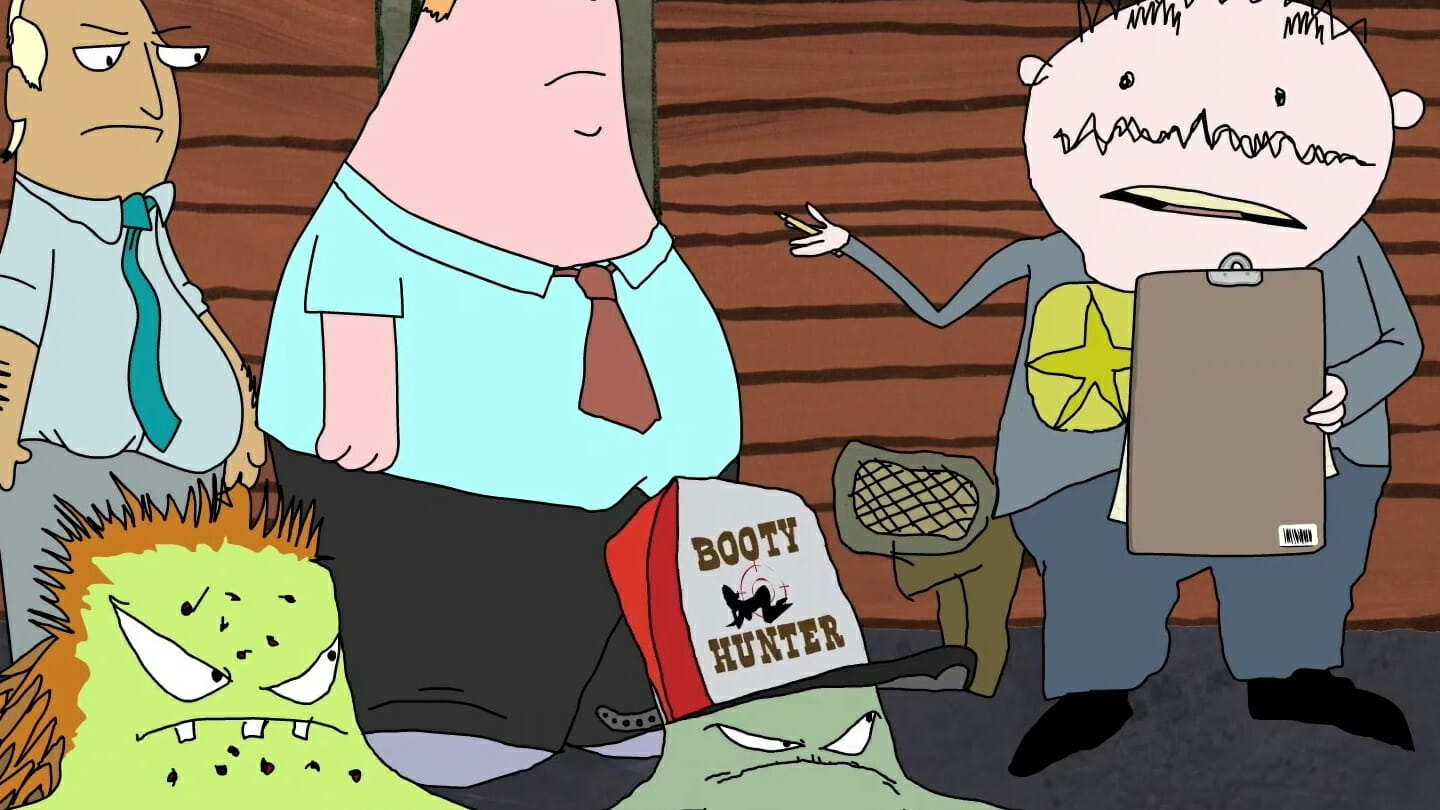 These people appear in only one episode of the program. Squidbillies goes the additional mile by considering the transplant "dude" who arrives in the South and idealizes Southern traditions sincerely.
These lads become addicted to "pine cone liquor," a nasty concoction made in a still by Early, and they serve as a conduit for the enormously famous drink GLUG.
The episode may be the most pessimistic in the franchise, and it's a harsh indictment of practically everyone living in the modern world. And it's all down to brothers.
12. Early Cuyler
Unknown Hinson's portrayal as Early Cuyler, alias Awesome Bill from Dawsonville, is essential to Squidbillies. Late is an insurgent with a golden heart or an asshole with a core that is also, curiously, an asshole.
He's a predator, a killer, a robber, and a national terrorist all rolled into one. In many episodes, he chooses a unique hat. None of this should persuade us like Early, and seeing so many scenes in succession should make you dislike him.
In contrast to the previous series with "bad" individuals, Early has no redeeming qualities. There isn't a loving soul in this place. Instead, there is a gap that becomes larger and larger. To fuel Early's storylines, the show's authors go into the depths and brutality.
11. Dan Halen
This hairy man-thing, apparently ageless and traditionally connected with the Black Plague, Nazis, medieval punishment, and more, is the source of all evil. One of the series' first episodes showcases his creation, which accomplishes what it said on the box, and Dan Halen has only grown nastier since then.
He's unlocked hell's gates, raised a clone force, and manipulated the lottery. He built a pool in the center of a lake and an above-ground pond. He has also hired David Allan Coe to brainwash Early Cuyler into terrorist activity.
Dan Halen is the pure, unadulterated vector of wickedness that comes naturally for a guy who symbolizes political and corporate forces in the South, no doubt how gigantic.
10. Ruby Jean "Granny" Cuyler 
Lil's mother and Early. A walker-wielding nasty old squid. She usually becomes confused and disoriented in the current moment, goes to sleep on the spur of the moment, and often neglects vital recollections and people's identities.
Granny is a massive nymphomaniac who has hit on everybody, irrespective of gender or breed. Her own family is included in this. She has many of the problems that an older person would have. Granny serves as Early's slave and chew toy.
Although too elderly and frail, she performs whatever he asks her. While she is the most pitiful of the Cuylers generally, she still has her bad moments, which becomes evident that her effect is a big reason why her child is the person he is.
9. Dr. Bug 
Dr. Bug, a giant squid who serves as a doctor at the medical center, is Granny Cuyler's abandoned son (the nature of his biological tie to her has been proven but never detailed). However, he takes great pains to conceal it and separate himself from the family.
Granny informs him, lying on her death bed in the hospital, that she "never intended to wash him into the toilet," so he was "always her favorite." Acknowledging this family connection, he volunteers to give his gallbladder to rescue Granny's health.
In the initial pilot screenplay, a character dubbed Bug (an abbreviation for Big Uncle Grandpa) appears.
8. Deputy Denny 
Of course, a small, deformed Sharif clone serves as the Sheriff's right hand. He was initiated as stupid as the real Sheriff, but later episodes indicate he's more capable and intelligent than him.
However, because of his diminutive height, he is seldom recognized and is sometimes treated with even less regard than Sheriff.
7. Melissa 
A news presenter questioned Dan Halen. When the encounter turned against Halen, she was slain and changed by a more cooperative clone.
Along with The Sheriff, she is among the few persons revealed to have been duplicated by Dan Halen. She has a similar character as Glenn's wife (albeit with brown hair).
6. The Mexicans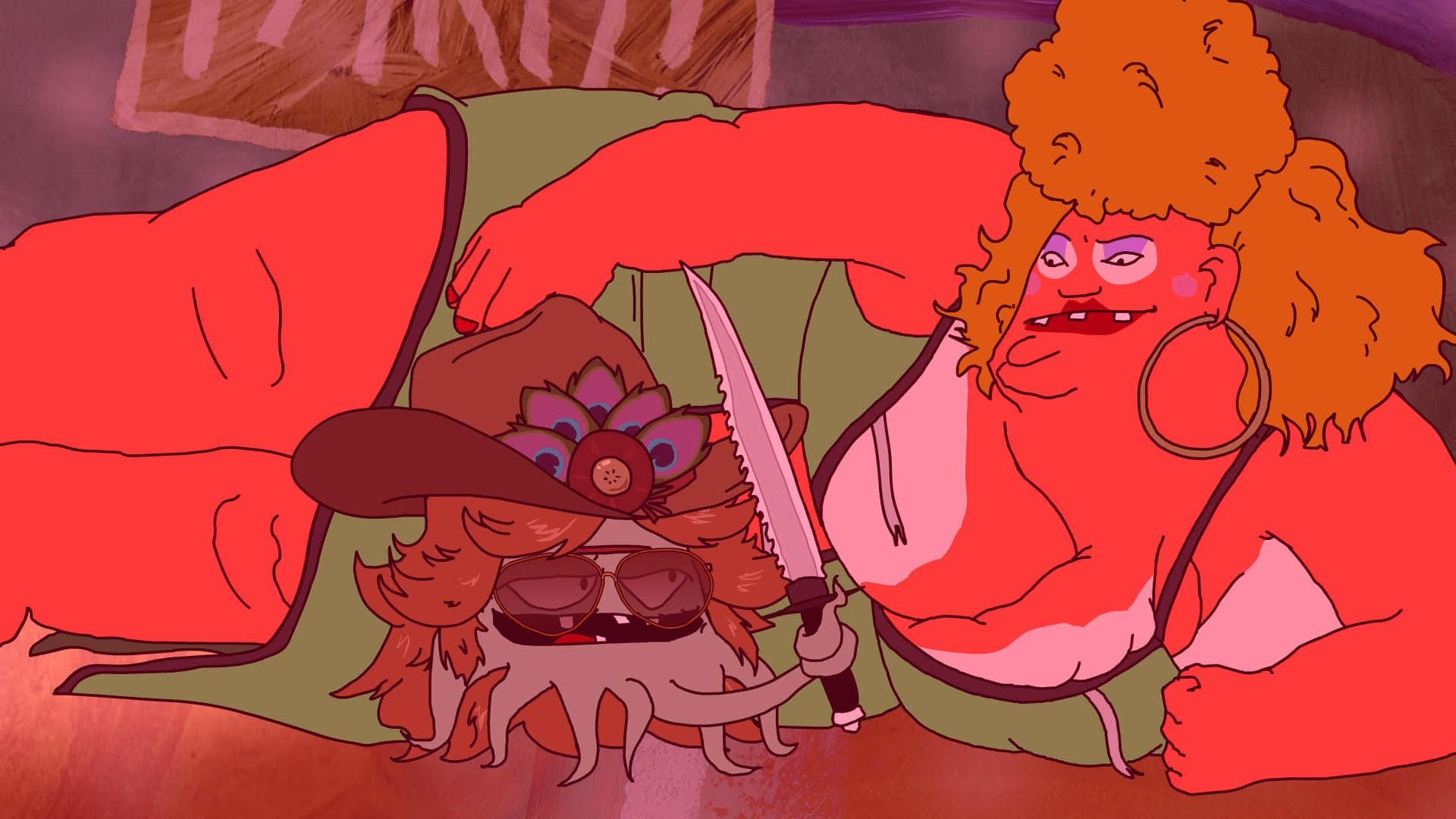 The Mexicans are a bunch of Spanish-speaking males from Mexico who feature in the entire episode as secondary best Squidbillies characters.
They rarely talk, but when they do, they do it in Spanish. They have the same features but differ in their facial hair. Mexicans demand jobs in specific episodes, while Mexicans have essential roles in others.
In the "Need for Weed" segment, for example, Si!" "Lil' has been seen hiring numerous of them (all naked) to operate in her marijuana-growing enterprise.
5. Lilith "Lil"
Granny's child and Early's sibling is Lil. Lil' is a worn-out and bitter squid with a rough voice frequently accented by a horrible smoker's cough. This best Squidbillies character operates a crystal meth and marijuana enterprise on and off and is a recognized consumer of her goods.
It is shown that smoking cigarettes have absorbed most of the liquid in her bloodstream, and she also has Hepatitis D. She is indeed a truck stop prostitute who does not use safety, which results in her having numerous kids, among them is Early development feelings for.
She is also filmed prostituting herself at a kid's birthday party and even offering her assistance to small carnival freak shows after the trucker funds run out. Finally, she becomes sober, transfers out of the Cuyler house, and obtains a job providing ink to the tattoo business with the aid of the Sheriff.
4. Tammi
Rusty's partner with whom he had a child is Tammi. Tammi is also discovered to be Krystal's child, bringing them together as half-siblings. Nevertheless, they maintain their sexual relations due to their tragic flaw and conviction that they are "cousins."
She also dislikes Early for his efforts to split them up, which led to his brutal attack on her, which landed him in prison until he was freed about the time she delivered to Rusty's allegedly illegitimate son. Tammi realized she needed to do what was essential to the children, so the two split up quickly. 
Tammi and Rusty later reconcile, albeit their connection is periodically strained, owing primarily to Early's interference. She also dislikes Early because of his attitude toward her, Rusty, and their baby, which is the root of most problems in her connection with Rusty.
She also seemed to dislike the Cuylers in general, except Rusty. While she adores her baby, it is revealed that she is prepared to have his squid features removed surgically so that he can live normally. When his tentacles regrow, she is compelled to follow him as he is.
3. Macho-Man Randy Cuyler
Tammi and Rusty's unrelated son Unlike his father, he looks to be a regular human infant, leading some to wonder whether he is indeed Rusty's offspring. When his diaper is withdrawn, he reveals that he has tentacles in addition to his other appendages, showing that he is a half-mud squid.
Rusty cares about his kid and strives to be a decent parent to him most time, but Early is antagonistic to his grandson and hates him in much the manner he does Rusty.
Tammi is fiercely proud of her kid and tries everything she can to push Rusty to stay with him and be a good father figure to him.
2. Boyd
The village comfort shop clerk, an older man with a beard. Early has stolen and killed him multiple times, with Boyd is fully aware of who he is the rest of the time but is too submissive to prevent him. Although being constantly stolen by Early, Boyd remains close to him.
In "Crystal, Light," he even advises that Early swipe all of his scratch-off tickets rather than just a few. He is portrayed in "Pile M for Murder" as a part of the Dougal County planning commission with Early and The Sheriff. In "Velvet Messiah," it is discovered that Boyd has a spouse whom he has yet to fulfill.
One of the series' constant jokes is his left hand getting shot off.
1. Glenn
Dan Halen Industries worker Early frequently assaults him at work or home. However, he is very loyal to his wife, whom Early continually chases and attempts to seduce. He gets together with his employer Dan Halen in "Pile M for Murder," even accepting and backing Halen's violent intentions.
His persona is developed significantly in a special episode. Glenn has a feud with Early. He's not well recognized around the company, he enjoys playing computer games and snubbing ten-year-olds, and he enjoys Television and eats ice cream. When his wife rejects him, he may tire even the most patient Sheriff.