People's taste has evolved dramatically, and in this contemporary age, alongside movies, series, and cartoons, Anime has also successfully attracted the audience's attention. Anime, in simple terms, is referred to animations, be it an animated film or series. This form initially comes from Japan, and previously it used to be for mere children, but now, anime series are also fabricated for adults. Superpower anime is one such category which will fascinate you!
Manga and Anime
Manga also comes into one's mind when one hears the word, Anime. So, manga is mainly depicted through sketches and printed on magazines, but Anime is animated. The word Anime means comics in the Japanese language, and the phrase manga refers to Japanese comics, and hence both are related to some extent.
In almost every case, the characters in this form of art have a hero who has super strength, unique powers or other superpowers and special abilities. Their unique capabilities make them different from others, and their fictional world seems to welcome everyone irrespective of sex or age.
Some Facts About Anime
Anyone with superhuman abilities or supernatural abilities is bound to have a lot of fans. Anime characters are also excellent to watch. Their enhanced depiction of eyes, heads, hair, body structure, expressions are always mesmerizing.
The psychic powers of the main character are different that cannot even be imagined by an average person, and so watching Anime does make one wish for some superpowers as well. Here is a list of the top 25 Superpower Anime.
25. Medaka Box
Misogi Kumogawa from Medaka Box has a remarkable power called All Fiction that enables him to ignore all the effects of reality. In essence, he becomes a god as a result of being able to change reality to suit his purposes.
Kumogawa has the power to undo both his own and other people's deaths. Kumogawa could potentially destroy the entire world if he isn't careful.
24. A Certain Magical Index
The strongest esper in Academy City is called Accelerator. He is the top-ranked Level 5, and he has the "Accelerator" talent as a bonus. It is clear that the name of this power comes from its user.
He is able to alter anything he touches' vector values thanks to this. Because using the power requires intelligence, Accelerator is able to do so flawlessly.
Accelerator can shield himself from any incoming harm using this power. Accelerator can even cause earthquakes, accelerate himself, and take over other people's minds by altering the vectors. Undoubtedly one of the strongest anime powers, Accelerator should not be disregarded.
23. Seven Deadly Sins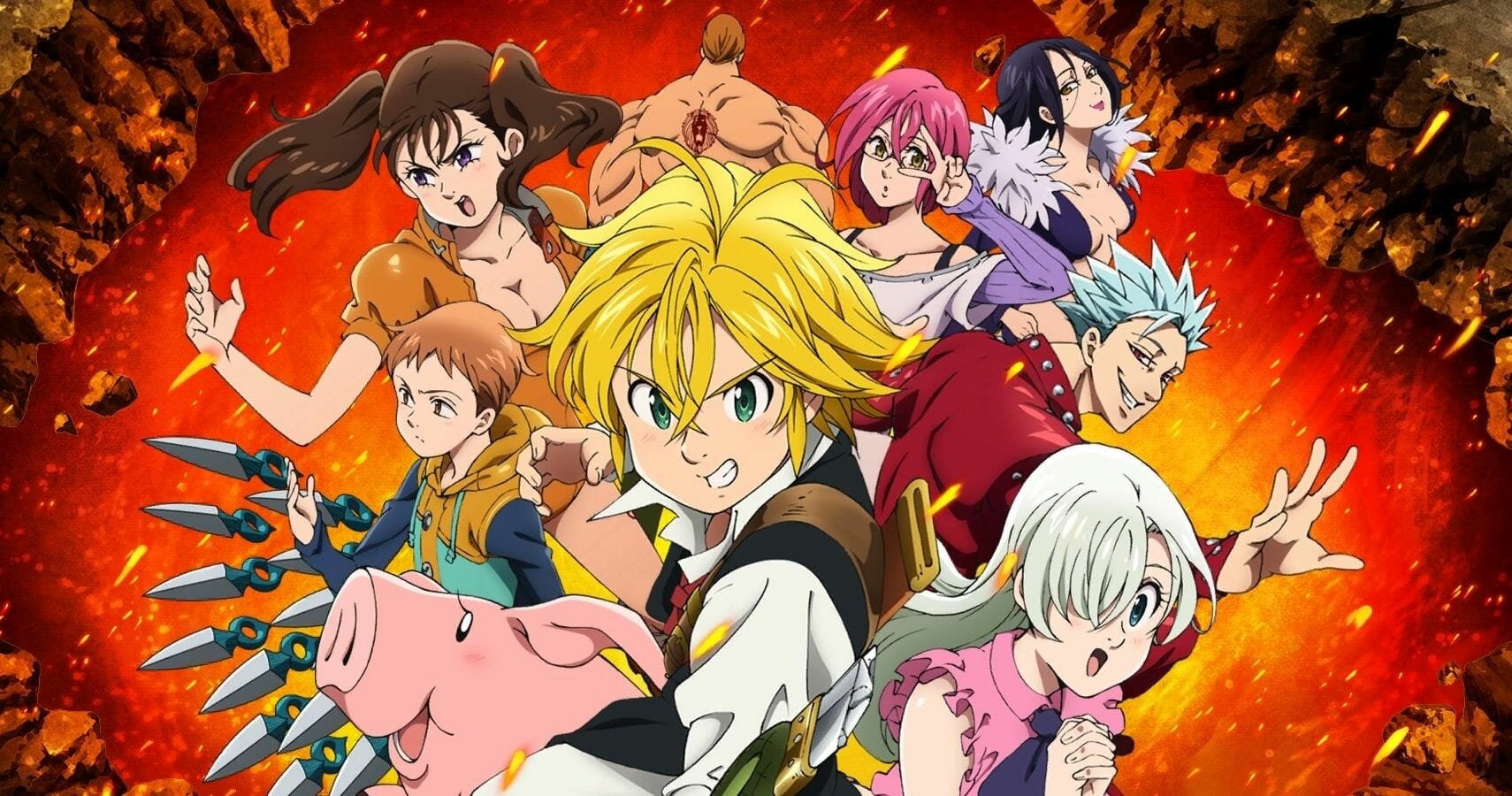 There are several influential characters in Seven Deadly Sins whose names are frequently brought up in discussions. Merlin, the Boar Sin of Gluttony, is one of them.
She is by far the most powerful mage in Britannia, and the main reasons for this are two potent powers.
First up, "Absolute Cancel," which enables Merlin to reverse the effects of any magic. The second power, "Infinity," enables her to stop the time of her spells and extend their duration for however long she chooses. Merlin is undoubtedly one of the series' most powerful characters, especially given the significance of magic in the Seven Deadly Sins series.
22. Code Geass
One of the most well-known powers in the anime community is The Geass. There are many different varieties of Geass, but Lelouch Lamperouge is the owner of the one that is mentioned on the list.
After receiving the Geass from C.C., Lelouch quickly identified its advantages and disadvantages.
He can command anyone thanks to Lelouch's Geass, but it only functions once. Lelouch must make direct contact with the target in order to activate the Geass, and because he can only direct them once, he must be certain that his instructions are understood. Lelouch is extremely intelligent, so this doesn't present a problem.
21. ​​​Death Note 
Bastard!! is a Netflix original web animation. One of the most well-known anime ever created, HeavDeath Note is credited with redefining the psychological horror anime subgenre. Death Note's titular supernatural notebook is a highly effective weapon. Shinigami use these notebooks to kill people and extend their own lives.
The user of the Death Note must be aware of the target's real name and face among other requirements in order to kill them. Yagami Light was able to kill L, his rival, and anyone else who dared to disagree with his view of justice with the notebook by his side.
20. Inazuma Eleven
Director: Katsuhito Akiyama
Writer: Tenya Yabuno
Cast: Junko Takeuchi as Endou Mamoru, Hiroyuki Yoshino as Kidou Yuuto, Hirofumi Nojima as Gouenji Shuuya, Jun Konno as Asuka Domon, Mamoru Miyano as Fubuki Shirou and more.
Release Date: 5th October 2008
IMDb Rating: 8/10
Where to Watch: Netflix, 4anime, Crunchyroll
There ought to be a hero, or you can say that hero association is a must in an Anime and Inazuma Eleven, the hero is Endou Mamoru. Endou is a joyful lad who is also assigned the post of goalkeeper at Raimon Jr High. He is not the only prominent one and makes an effort to be the best team.
He is accompanied by half a dozen of friends. Now is, mere words do not prove an excellent player. The team is asked to confirm it in a match against Teikoku Gakuen. Now the task is not at all easy. Teikoku Gakuen is a good team with excellent abilities and proven records and is the most popular team in Japan.
19. Sengoku Basara 
Director: Itsuro Kawasaki and Shin Itagaki.
Writer: Yasuyuki Muto
Cast: Sam Riegel, Liam O' Brien as Ieyasu, Michael Sinterniklaas, Patrick Seitz, Travis Willingham, Vic Mignogna, Kazuya Nakai as Date Masamune.
IMDb Rating:6.8/10
Where to Watch: Funimation
There have been two series of Sengoku Basara released within a year's gap. The series portrays the chaos that emerged during the Sengoku Period of Japan. Many soldiers fought for their motherland and lost their lives, but the Demon King of Owari seemed to be someone who could never bed killed or defeated.
However, Date Masamune and Sanada Yukimura, two warlords who hailed from different regions, sort of defeated this Demon King with the help of other warlords. Therefore, the 1st series focused upon Masamune and Yakimara and their war against Nobunaga, who eventually defeated.
The second series focuses upon Toyotomi Hideyoshi as the new leader and concludes with Ishida Mitsunari on the one hand and Masamune and Yukimura on the other hand.
18. Fire force
Director: Yuki Yase and Tatsuma Minamikawa
Writer: Atsushi Okubo
Cast: Kenjiro Tsuda as Joker, Gakuto Kajiwara as Shinra, Kazuya Nakai as Akitau Obi, Aoi Yuki as Tamaki Kotatsu, Eric Vale as Arthur Boyle and more.
IMDb Rating:7.7/10
Rotten Tomatoes Ratings: 83%
Where to Watch: Hulu
There are several great anime series, and Fire Force is one of the best Anime to date. It depicted how an unknown incident caused immense suffering for humans. Mankind failed to realize their hopes and dreams and could not have a peaceful and serene life.
Now, this condition or plague is known as Spontaneous Human Combustion, and it makes people change into mindless living animals known as Infernals. Infernals suffer immense pain, and such pains are beyond imagination. Therefore, it is better to die than to transform into an Infernal.
17. Demon Slayer
Director: Haruo Sotozaki
Writer: Koyoharu Gotogue
Cast: Zach Aguilar as Tanjiro Kamado, Hiro Shimono as Zenitsu, Yoshitsugu Matsuoka as Hashibira, Takahiro Sakurai as Giyu Tomioka, Ayumi Mano as Sumi Nakahara. 
IMDb Rating:8.7/10
Rotten Tomatoes Ratings: 88%
Where to Watch: Netflix, Funimation, Hulu, Crunchyroll.
The story of Demon Slayer is both exciting and saddening. The main focus here is on a young man named Tanjiro. Every hero possesses some super or special powers, but Tanjiro's ability is different. He seemed to care even towards his enemies, which sometimes hindered him from taking revenge or killing the evil forces.
This is one of the unique superpower anime which highlighted how Tanjiro and Nezuko got saved from the attack of the demons but lost all. Nezuko is also seemed to be changing into a monster slowly, and Tanjiro must find a way to save her.
16. Fairy tail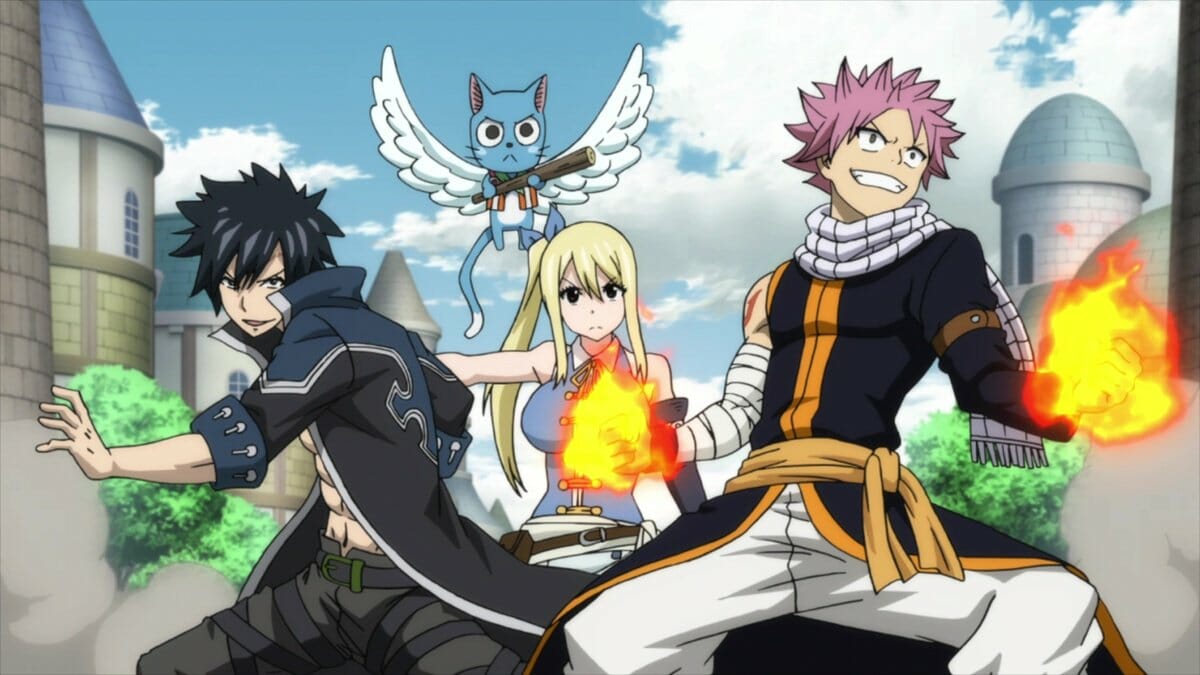 Director: Shinji Ishihira
Writer: Hiro Mashima
Cast: Aya Hirano as Lucy Heartfilia, Yuichi Nakamura as Gray, Miyuki Sawashiro as Ultear, Tetsuya Kakihara as Natsu Dragneel, Rie Kugimiya as Happy and more.
IMDb Rating: 7.9/10
Rotten Tomatoes Ratings: 65%
Where to Watch: Netflix, Hulu.
The story of Fairy Tail is all about a teenage girl named Lucy whose sole aim was to become one of the best wizards in the world. As a result, it became one of the favorite Anime of all time for the audience. There were several characters in this manga anime.
Lucy joins FAIRY TAIL, a well-known association, to fulfill this aim. She makes friends like Natsu, Gray, and Erza, who love her very much. This manga perfectly shows how actual bonds can help one overcome all sorts of obstacles.
15. One Punch Man
Director: Shingo Natsume for season 1 and Chikara Sakurai for season 2
Writer: ONE
Cast: Makoto Furukawa as Saitama, Max Mittelman as Saitama, Robbie Daymond as Mumen Rider, Kirk Thornton, Kaito Ishikawa as Genos, Zach Aguilar as Genos, Marc Diraison and more.
IMDb Rating: 8.8/10
Rotten Tomatoes Ratings: 84%
Where to Watch: Hulu, Netflix, Crunchyroll.
One-Punch Man is one of the best superpower anime. The story revolves around Saitama, famous for his brute force or raw power. So, what is his power? Saitama can defeat anyone with just one punch. It is a unique anime that falls under the genre of action-comedy.
The punched man eventually loses interest as he knows whoever the enemy is, he can defeat him with a single punch. One-Punch Man is a must-watch superpower anime.
14. Naruto Shippuden 
Director: Hayato Date
Writer: Masashi Kishimoto
Cast: Maile Flanagan, Troy Baker as Yamato, Yuri Lowenthal as Sasuke Uchiha, Kate Higgins as Sakuro Haruno, Dave Wittenberg as Kakashi Hatake, Junko Takeuchi as Naruto Uzumaki.
IMDb Rating:8.6/10
Rotten Tomatoes Ratings:80%
Where to Watch: Netflix, Hulu, Crunchyroll, Funimation and Amazon Prime.
Naruto Shippuden is one the most loved superpower anime to date. The story of the Anime is intriguing and straightforward. This series is preceded by Naruto and revolves around Naruto's young lad. He aspires to become the Hokage or leader. He goes through several critical situations, making the series more enjoyable with fresh episodes to watch.
Everyone loved the hero, but almost everyone and the Anime was overall heartwarming.
13. Fate/Stay Night
Director: Yuji Yamaguchi Writer: Takuya Sato
Cast: Junichi Suwabe Archer, Noriaki Sugiyama as Shirou Emiya, Kana Ueda as Rin Tohsaka, Ayako Kawasumi as Saber, Noriko Shitaya as Sakura Matau, Atsuko as Tanaka as Caster and more
IMDb Rating:7.3/10
Rotten Tomatoes Ratings: 81%
Where to Watch: Netflix, Hulu, Crunchyroll.
The story of Fate/Stay Night highlights the struggle of Shirou Emiya, a young teenager who participates in the Fifth Holy Grail War against his wish and fights with several Heroes and unique magical powers. Their sole aim is to get the Holy Grail, which possesses the power to grant the winner's wish.
. There are several characters in this Superpower Anime, and each one of them has a substantial impact on the overall plot and is thus labeled as a great anime ever created.
12. Mob Psycho 100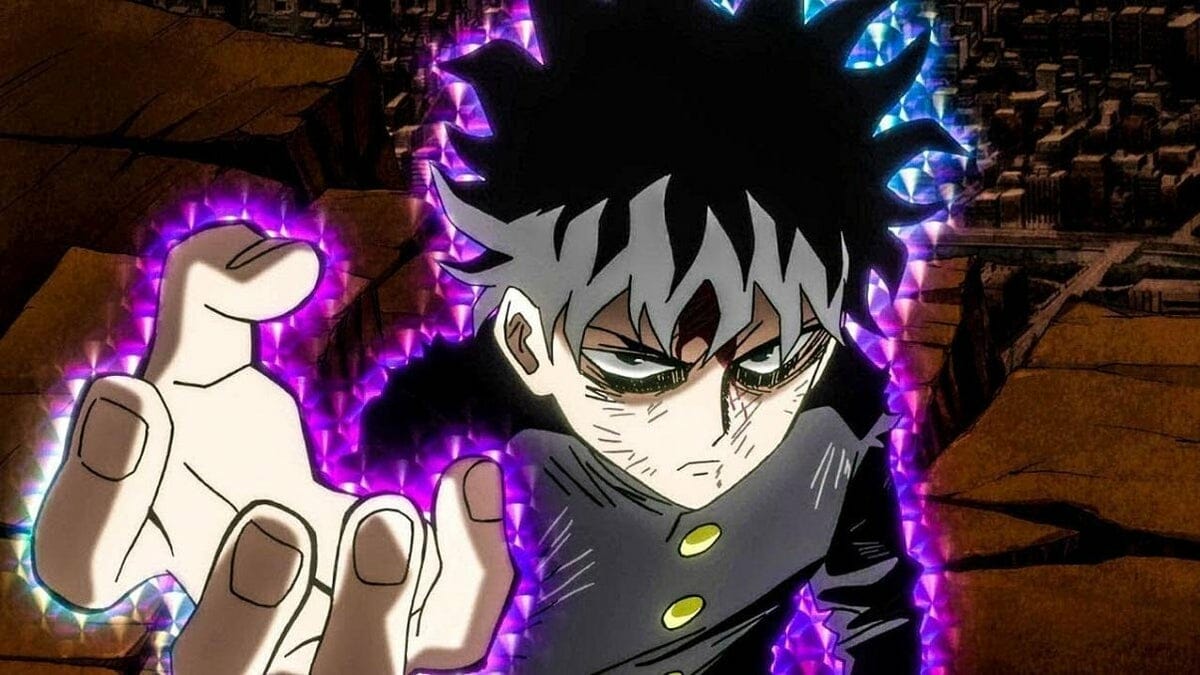 Director: Yuzuru Tachikawa
Writer: Reiko Yoshida Kei Kunii
Cast: Setsuo Ito as Shigeo Kageyama, Takahiro Sakurai as Reigen Arataka, Akio Otsuka as Dimple, Miyu Irino as Ritsu Kageyama, Kyle Hebert, Chris Niosi as Reigen Arataka and more.
IMDb Rating:8.6/10
Rotten Tomatoes Ratings: 84%
Where to Watch: Netflix
Mob Psycho 100 is a fantastic anime, and the story is fascinating to watch. The series is all about Kageyama Shigeo's protagonist, who is in 8th standard and possesses incredible psychic powers. But to live a peaceful life and avoid negative comments, he remains to himself and does not use his powers publicly that much.
He also has a mentor who possesses no such psychic power as him. Therefore, the main aim of Shigeo is to become friends with Tsubomi and realize what is waiting for him in the future.
11. The God of Highschool 
Director: Sunghoo Park
Writer: Kiyoko Yoshimura
Cast: Tatsumaru Tachibana as Jin Mori, Kentaro Kumagai as Han Dae-Wi, Sean Chiplock, Robbie Daymond as Jin Mori,ayaka Ohashi as Yu Mira, Daisuke Namikawa as Park Mu- Jin and more.
Release Date: 6th July 2020
IMDb Rating: 7.3/10
Where to Watch: Netflix
The God of Highschool is an exciting anime about a competition where the winner can claim anything he wants as a reward. But unfortunately, an unknown organization held this competition and declared such a piece of news. The main protagonist of this Superpower Anime is a teenager named Jin Mori.
The winner will also be given the title of The God of Highschool, and so every school of South Korea and its students are welcome to be a part of it. They will later reveal that Jin Mori is a God and not a mere human being which provides the plot a new dimension and arouses the audience's interest more.
10. Hunter X Hunter
Director: Kazuhiro Furuhashi
Writer: Yoshihiro Togashi
Cast: Megumi Han as Cluck, Mariya Ise as Killua Zoldyck, Matthew Mercer, Christina Vee, Erika Harlacher as Kurapika, Erica Mendez as Gon Freecss.
IMDb Rating: 9/10
Rotten Tomatoes Ratings: 87%
Where to Watch: Netflix
Hunter x Hunter is all about the determination and wish of Gon Freecss. He was very young when his father left him, and growing up now, he goes on a quest to find his father. Gon is provided constant support by his friends. He hails from Whale Island and wishes to become an excellent Hunter and, with time, even leaves the island to become one.
This superpower anime is one of the best examples of trust and friendship.
9. Record of Ragnarok
Director: Masao Okubo
Writer: Shinya Umemur
Cast: Kellen Goff as Heimdall, Miyuki Sawashiro as Brunhilde, Lura Post as Brunhilde, Chris Edgerly as Zeus, Reba Buhr as Aphrodite, Anairis Quinones as Goll and more.
IMDb Rating: 6.2/10
Rotten Tomatoes Ratings: 68%
Where to Watch: Netflix
The audience love combats between mere humans and Gods, and this is an excellent example of superpower anime. In this Anime, witness how mankind is decided to be eradicated by the Gods since they believe humans cannot ever better themselves and so must not be living anymore and go extinct.
The Anime shows the period,7 million years of human history. If humans want to thrive and survive, they must win 7 times in the competition. This Anime is an intriguing and thrilling one.
8. Fullmetal Alchemist: Brotherhood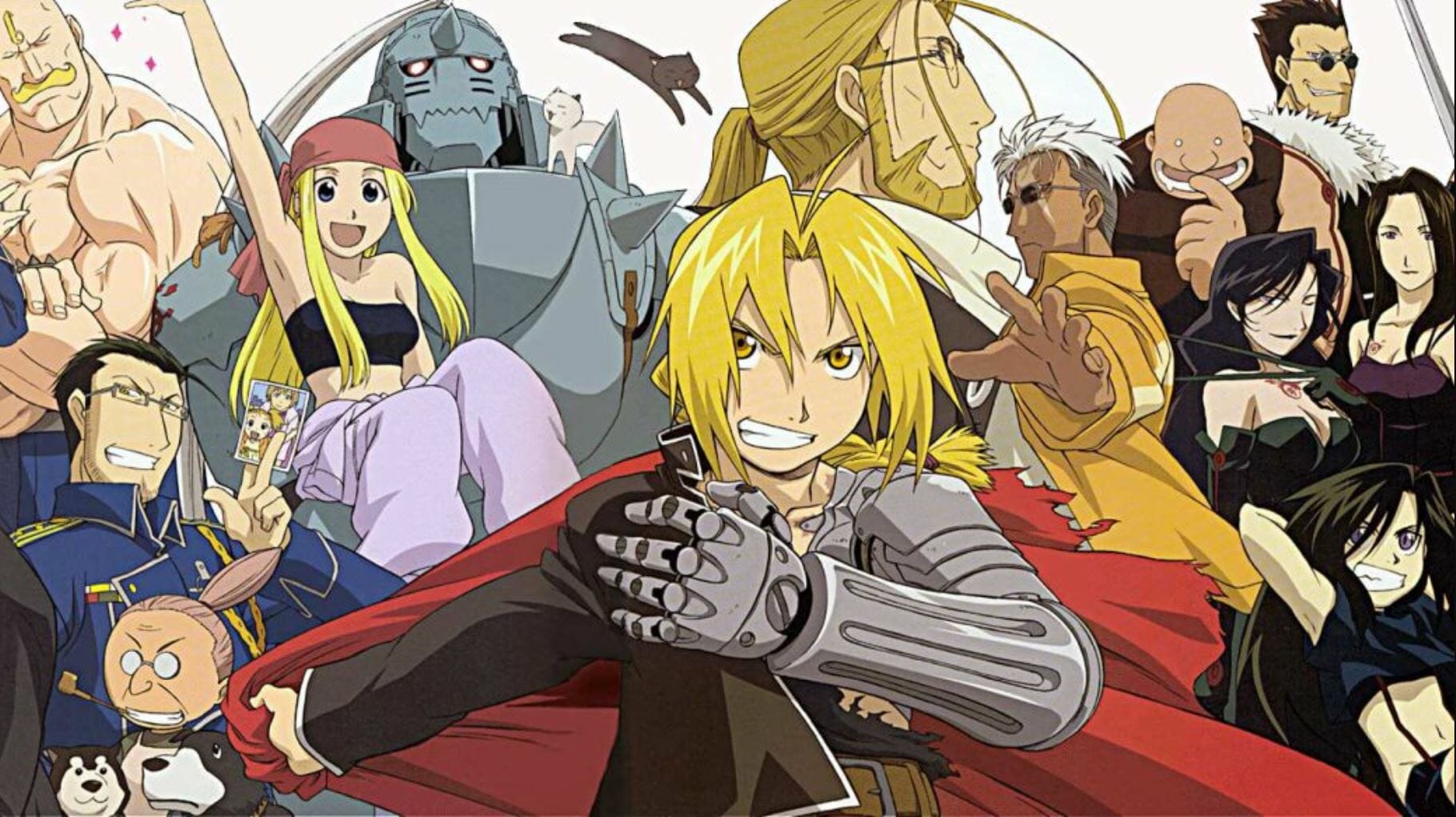 Director: Yasuhiro Irie
Writer: Hiroshi Onogi
Cast: Vic Mignogna as Edward Elric, Maxey Whitehead as Alphonse Elric, Travis Willingham as Roy Mustang, John Swasey as Hohenheim, Collen Clinkenbeard as Riza Hawkeye, J. Michael Tatum as Scar and many more.
IMDb Rating: 8.5/10
Rotten Tomatoes Ratings: 100%
Where to watch: Netflix, Hulu.
Fullmetal Alchemist is based upon the manga series with the same name fabricated by Hiromu Arakawa. It depicts the fictional world of the 20th century. The Anime highlights the lives of two brothers, Edward and Alphonse Elric. The story of this Anime is fascinating.
They were saddened by the death of their mother and is currently in the quest of a philosopher's stone so that they can preserve or restore their body. This superpower anime made headlines and is one of the most loved anime.
7. Black Clover 
Director: Tatsuya Yoshihara 
Writer: Yuki Tabata
Voice Cast: Dallas Reid as Asta, Jill Harris as Noelle Silva, Christopher Sabat as Yami Sukehiro, Micah Solusod as Yuno, Brandon Mclnnis as Finral and more.
IMDb Rating: 8.3/10
Rotten Tomatoes Ratings: 83%
Where to Watch: Hulu, Amazon Prime, Funimation, AnimeLab, Crunchyroll.
Black Clover covers the life of Asta, who is a young lad. He bears no super or magical powers, superpowers or abilities and is hurt by its realization since everyone other than him seems to possess some.
Asta feels disheartened but gets the help of several mages from the Black Bulls and decides to be the upcoming Wizard King and goes on a quest to find the magical grimoire.
6. One Piece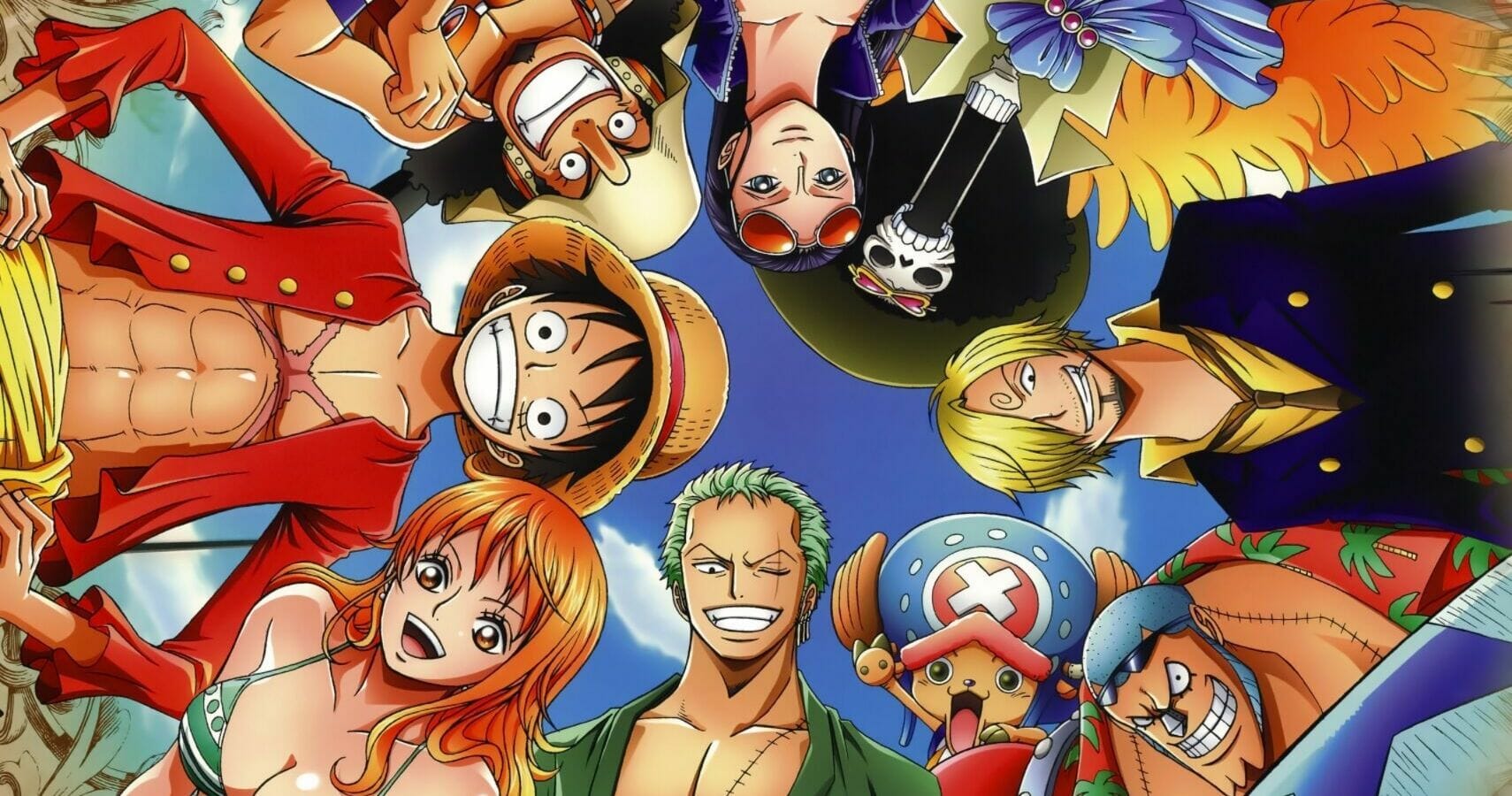 Director: Konosuke Uda, Junji Shimizu, Munehisa Sakai, Hiroaki Miyamoto, Toshinori Fukazawa, Tatsuya Nagamine, Kohei Kureta, Aya Komaki, and Satoshi Ito.
Writer: Eiichiro Oda
Voice Cast: Collen Clinkenbeard and Mayumi Tanka as Monkey D.Luffy, Kazuya Nakai as Roronoa, Akemi Okamura as Nami, Hiroaki Hirata as Vinsmoke Sanji, Yuriko Yamaguchi as Nico Robin, Mari Yaguchi as Yoko and many more.
IMDb Rating: 8.7/10
Rotten Tomatoes Ratings: 87%
Where to Watch: Netflix, Hulu, Amazon, Funimation, Crunchyroll.
One Piece is all about adventures mostly and one of the most popular superpower anime. The Anime depicts and highlights the adventures of Monkey D. Luffy, who is fascinating to watch. He is a man but is made of rubber. D. Luffy respects and idolizes Red-Haired Shanks, and being inspired by him, sets off on a quest for the One Piece.
He goes on an adventure from the East Blue Sea and wants himself to be the leader of the Pirates or the Pirate King. The Anime is mesmerizing from the first to the last and is regarded as one of the most adventurous Anime ever produced.
5. Bleach
Director: Noriyuki Abe
Writer: Tite Kubo
Voice Cast: Masakazu Morita as Ichigo Kurosaki, Johnny Yong Bosch as Ichigo Kurosaki, Fumiko Orikasa as Rukia Kuchiki, Hiroki Yasumoto as Yasutora Sado, Kentaro Ito as Renji Abarai and many more.
IMDb Rating: 8.2/10
Rotten Tomatoes Ratings: 71%
Where to watch: Hulu
The story of Bleach revolves around Ichigo Kurosaki, a young boy who bears the unique ability to see ghosts. This superpower anime is a must-watch. He gains such power from Rukia Kuchiki and saves the world from Hollows.
4. Jujutsu Kaisen
Director: Sunghoo Park
Writer: Gege Akutami
Voice Cast: Kenjiro Tsuda, Yuichi Nakamura as Satoru Gojo, Junya Enoki as Yuji Itadori, Asami Seto as Nobara Kugisaki, Takahiro Sakurai and more.
IMDb Rating: 8.7/10
Rotten Tomatoes Ratings: 82%
Where to watch: Netflix, Crunchyroll
Jujutsu Kaisen has a story of one of a kind and is considered a great anime released recently. The report focuses on Yuji Itadori. He is a young lad who gets admitted to a school and later in the Occult Club, but to his shock, he knows that the club members are actually sorcerers and only think about their benefits.
He comes across Sukuna and becomes his host but later realizes that he does not need Sukuna more. So, he also gets to be a part of Tokyo Metropolitan Magic Technical College to make himself accessible. This superpower anime is a must watch for all anime lovers.
3. Attack On Titan
Director: Tetsuro Araki, Masaki Koizuka, Yuchiro Hayashi, and Jun Shishido.
Writer: Hajime Isayama
Voice Cast: Yuki Kaji as Eren Yeager, Yui Ishikawa as Mikasa, Marina Inoue as Armin Arlert, Hiroshi Kamiya as Levi, Kisho Taiyama as Jean Kirstein and many more.
IMDb Rating: 9/10
Rotten Tomatoes Ratings: 96%
Where to Watch: Netflix, Hulu, Funimation Now, Crunchyroll.
By viewing the rating, itself, one must have understood that Attack on Titan is one of the most unique superpower anime to date. The fantasy world automatically welcomes the audience and makes them a part of it. Furthermore, everyone must know that Titans are labeled as massive in form.
In this Anime, Titans are referred to as those extensive creatures aimed at eradicating humans from the land entirely. Those left to live on land protected by massive walls, more significant than the Titans, but the Titans once destroyed this wall, and very few humans were left alive. Ern was one of them, and after seeing the death of so many humans, even his mother, he decides to fight with the Titans and kill them all.
2. Jojo's Bizarre Adventure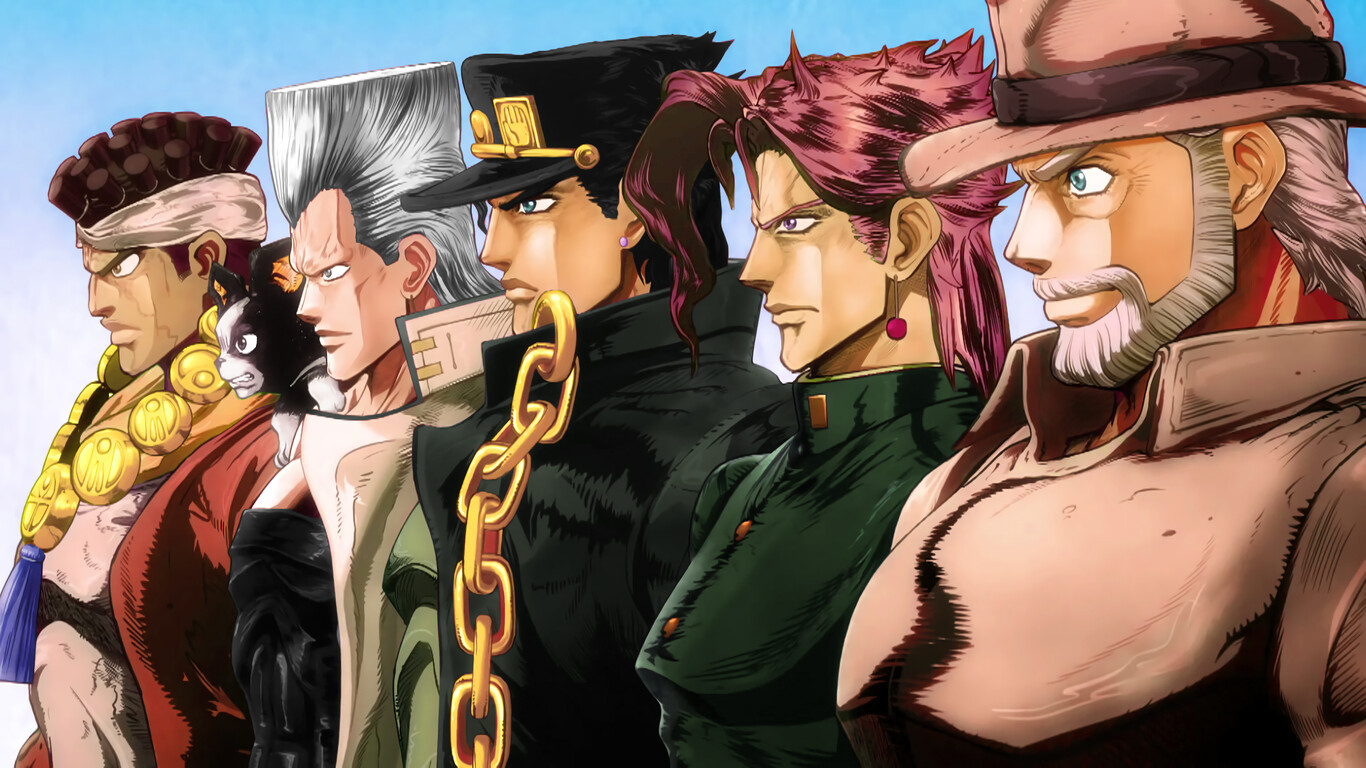 Director: Naokatsu Tsuda and Kenichi Suzuki
Writer: Hirohiko Araki
Cast: Matthew Mercer as Jotaro Kujo, Daisuke Ono as Jotaro Kujo(later), Unsho Ishizuka as Joseph Joestar, Toru Ohkawa as the narrator, Fuminori Komatsu as Jean-Pierre Polnareff, Richard Epcar as JOseph Joestar, Philip Reich as Giorno Giovanna, Kensho Ono as Giorno Giovanna, Yuichi nakamura as Bruno Bucciarati, Yuki Ono as JOsuke Higashikata, Kyle Hebert as Noriaki Kakyoin, Kellen Goff as Diavolo and many more.
IMDb Rating: 8.4/10
Rotten Tomatoes Ratings: 87%
Where to Watch: Netflix
Jojo's bizarre adventure is a unique superpower anime. It depicts the lives of the members of the Joester family and their adventures. There are several characters in the Anime, and each of them has a new and unique story of their own. Jojo's bizarre adventure starts with Jonathan Joester and shifts to other family members and their lives.
It has become not for its plot but because it is different from others. There are different protagonists and thus making the Anime a must-watch.
1. Gurren Lagann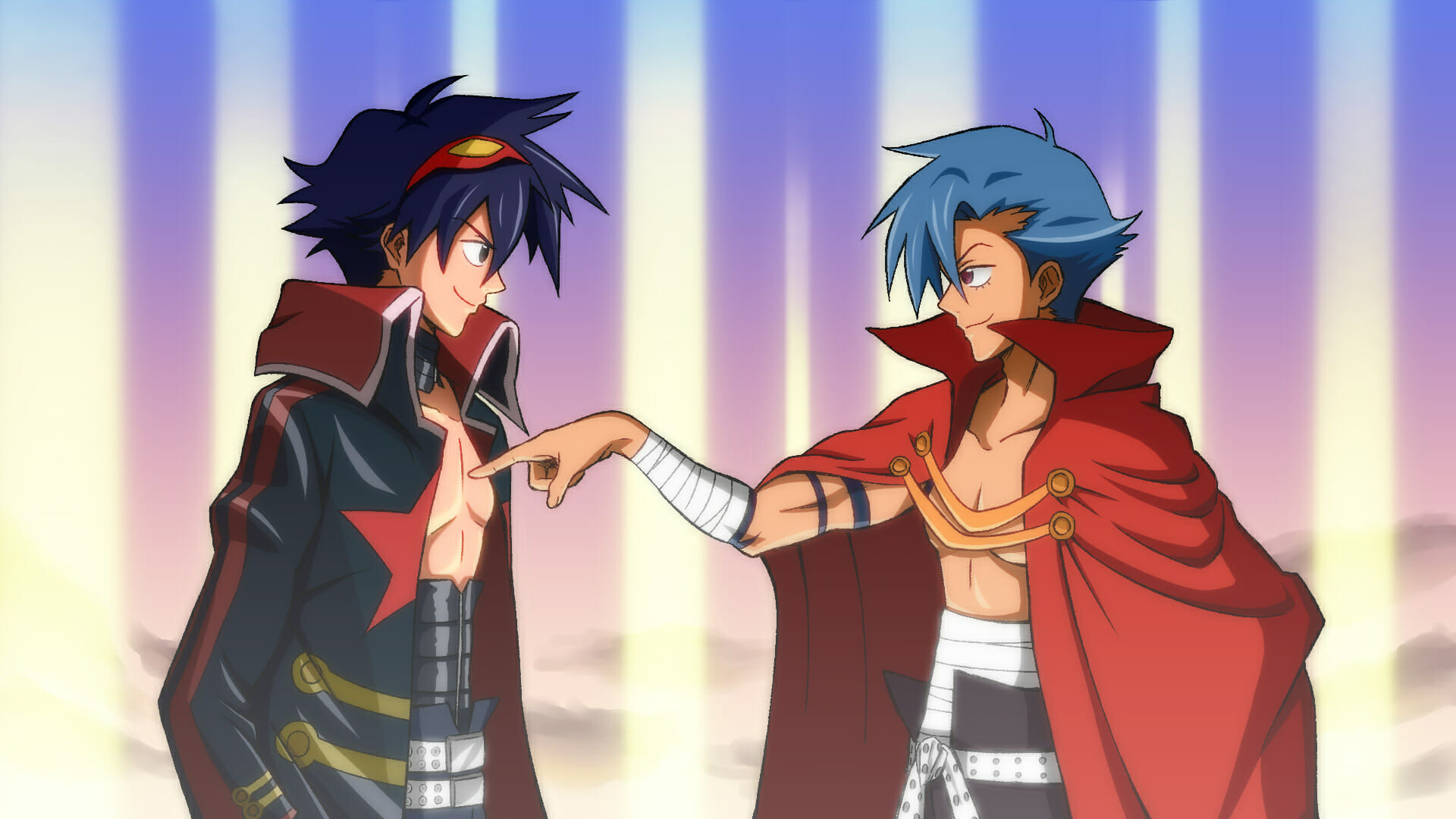 Director: Hiroyuki Imaishi
Writer: Kazuki Nakashima
Cast: Yuri Lowenthal as Simon, Sam Riegel as Viral, Johnny Yong Bosch as Rossiu, Karen Strassman as Kiyoh, Barbara goodson Kunba, Steve Blum as Leeron Littner, Stephanie Sheh as Kinon, Marina Inoue as Yoko Littner, Kyle Hebert as Kamina, Jamieson Price as Spiral King, Michelle Ruff as Yoko Littner, Katsuyuki Konishi as Kamina, Christopher Corey Smith as Kittan and many more.
IMDb Rating: 8.3/10
Rotten Tomatoes
Ratings: 100%
Where to Watch: Netflix
Gurren Lagann is the best superpower anime to watch. If you have not yet watched it, do start watching it now. The story revolves around a fictional world where the earth is governed by Lordgenome, who has made it compulsory for humans to live in underground villages.
Simon and Kamina are the two protagonists who want to go outside their villages and come to the surface.
Related: The 50 Best Anime Like Hunter x Hunter To Watch Right now
Other Superpower Anime
The list of superpower anime is a never-ending one. Other famous superpower anime series are:
Seven Deadly Sins
The Seven Deadly Sins portrays how a group of warriors is wrongly blamed and held guilty of mistakes that they never did commit. To prove themselves innocent, this group takes every measure. You will also witness the Holy Knights here.
The Seven deadly sins have aired 5 seasons and are one of the best Anime.
My Hero Academia
My Hero academia highlights the life of Izuku Midoriya, who bear no such superhuman social skills yet dreams of becoming the hero. He is guided by All Might and later, with his initiation, gets admitted to a high school to enhance his training for becoming a hero.
Dragon Ball
It depicts the life and adventures of Goku, who is in the quest for the seven dragon balls, which, when put together, can fulfill any wish. Goku, throughout his adventures, makes an ample number of friends and enemies.
Dragon Ball Z
Dragon Ball Z is a part of Dragon ball and revolves around Goku and the Z warriors, who aim to defeat any evil force that seems to be a threat to earth. It is an excellent series that shows how unity and trust can help people overcome evil forces.
A Certain Scientific Railgun
It is also a famous superpower anime centering around several characters, namely Mikoto Misaka, Kuroko Shirai, Kazari Uiharu, and Ruiko Saten before and during the A Certain Magical Index events.
Related: 40 Best Anime Like Demon Slayer and Where to Watch Them
Conclusion
There are several superpower anime series, and it is hard to keep track of which one is the best since it seems every Anime has a unique style of its own. Some anime draws myths of the old ages in it. Some depict fictional worlds and characters. In contrast, some show simple ordinary humans like anyone who gradually evolves as someone special after they realize their inner powers.
In this present era, each of us has a world of our own created in our minds. When one can relate it with an anime, an extreme feeling of happiness automatically cheers the mind and makes the person more involved in the fantasy world.
Thus, it is better to start watching your favorite comic or manga series and the heroes with special abilities who fight with the evil, now turned into an anime, as soon as one has the time to do so. Do not forget to follow us for more such lists or exciting news.