what if a seemingly innocent children's Game becomes a matter of life and death with deadly high stakes?
Netflix's record-breaking show 'Squid Game' is just that presented spectacularly.
Following the journey of financially challenged 456 candidates chosen as players after a strange invitation to compete in a game with varying levels of children's games vying to win a hefty amount of grand cash prize of US$ 38 MILLION, the South Korean survival drama has amassed unprecedented fame and revenue across the entire world.
The players, playing, realize that though the games are ones they played in childhood, there are deadly. While winning isn't easy and brings one closer to the prize, losing has a considerable cost, the cost of one's life.
Another psychological twist is the life of every player being cash-strapped with ₩100 million, death of any means an addition to the already tempting prize amounting to ₩45.6 billion. The cash-strapped players accept the Game as a reprice for their money troubles.
The show, written and directed by Hwang Dong-Hyuk, and released worldwide by Netflix on September 17, 2021, has surpassed Bridgerton to become Netflix's most-watched show ever.
Initially made in Korean, the show has been dubbed by Netflix in English for a worldwide audience. In the English dub version, The voice actors have done an incredible job helping the global audience watch a fantastic story. Let us have a look at the voice actors of the show.
10. Greg Chun voice acting Seong Gi-hun
Greg Chun is a well-known name among the voice actors. He has a long history of commendable work, including work in Judgement and collaboration with The Lonely Island. Greg Chun has voiced Seong Gi-hun in the Netflix series Squid Game.
Seong Gi-hun, played by Lee Jung-Jae, is a divorced father living with his elderly mother. A chauffeur by occupation and a gambling addict, he struggles with his debts.
To settle his many debts and trove, his ability to financially support his daughter, who plans to leave for the USA with her mother and stepfather, Seong Gi-hun, played by Lee Jung-Jae, plunges into the Game. Lee Jung-Jae also won A Golden Globe for this role.
9. Stephen Fu voice acting cho Sang-woo
Stephen Fu's voice is somewhat known among the consumers of the English dubbed anime. Known for being the voice actor behind Henry Legoland in black clover, his work in Attack on Titan as well as English dubbed  Korean dramas like Love Alarm, Stephen Fu was an apt choice for voice acting the character of Cho Sang-woo played by Park Hae-soo.
Cho Sang-woo, played by Park Hae-soo, is a former head of an investment team in a securities company who is wanted by the police for defrauding money of many on bad investments. Cho Sang-woo is a childhood friend of Seong Gi-hun. Park hae soo has even won accolades for his role.
8. Paul Nakauchi -The Voice Actor for Jang Deok-su
An American Actor, Paul Nakauchi is known for lending his voice to various video games like Diablo III and Call of Duty and for his voice acting as Hanzo Shimada in Overwatch (2016) and Shadowsman Carmen Sandiego.
Jang Deok-su, the character played on screen by Heo Sung-tae, is a gangster in money trouble. Being under mounting debts owing to gambling addiction, loans were taken ss and stolen from subordinates; Jang Deok-su, played by Heo Sung-tae, takes the plunge into the Game to relieve his burden.
7. Vivian Lu – The Voice Actor for Kang Sae-Byeok
Vivian Lu, known for her voice in the video game Genshin Impact and voice acting in Love Alarm and The Last of Us: Part II, lends her voice to the character of Kang Sae-Byeok in Netflix's Korean series Squid Game.
Kang Sae-Byeok, a character played by HoYeon Jung, is a North Korean defector and a pickpocket who sustains her brother while trying her best to find information about her mother in North Korea. To achieve this, Kang Sae- the book needs funds so she can participate in the Game.
6. Hideo Kimura – The Voice Actor for Oh Il-Nam
An actor and a voice artist, he has lent his voice to video games like Call of Duty and Cyberpunk 2077.
He voice acted the character of Oh Il Nam in the Netflix Korean survival drama Squid Game.
Oh, Il Nam, O Yeong-su played a seemingly harmless older man, is a study of shocks. How a fragile man with having Brain tumor manages to focus on twisted children's games is a question that begs the viewers to watch the show. Il Nam, and the last scene while talking to Gi-hun is a twister to every viewer.
5. Rama Vallury – The Voice Actor for Abdul Ali
Rama Vallury is a talented voice artist who can voice an extensive range of accents with reasonable accuracy. Having worked in Mira: The Royal Detective and Baby Shark's Big Show, he has proved his mettle.
Abdul Ali, played by Anup Tripathi in Squid Games, is a Pakistani factory worker in dire need of money to sustain his family. He has not been granted wages by his boss, whiforcing him to risk the Game. His journey in the Game was probably the hardest on him and the viewers. Being betrayed by Sang-woo, Abdul Ali gets killed in Game 4, even though he is kind-hearted.
4. Tom Choi – The Voice Actor for Frontman
Tom Choi, who is known for his voice in Mortal Kombat videos, voiced the mysterious masked man watching over the Game in the series Squid Game. He says the character played by Wi ha Joon.
The masked man, known to players by the name Front Man, is later revealed to be the missing brother, Hwang In-ho (voiced by Tom Choi), of the police officer, Hwang Jun-ho, who had sneaked in as a guard. We ha Joon play Hwang In-ho.
3. Donald Chang – The Voice Actor for Hwang Jun-ho
Donald Chang voice acted for the character of Hwang Jun-ho, a police officer who sneaks into the Game as a pink tracksuit-clad guard to find his missing brother, Hwang In-ho, played by Wi Ha Joon, as he suspects a link to his brother with the Game.
2 Stephanie Komure – The Voice Actor for Han mi Nyeo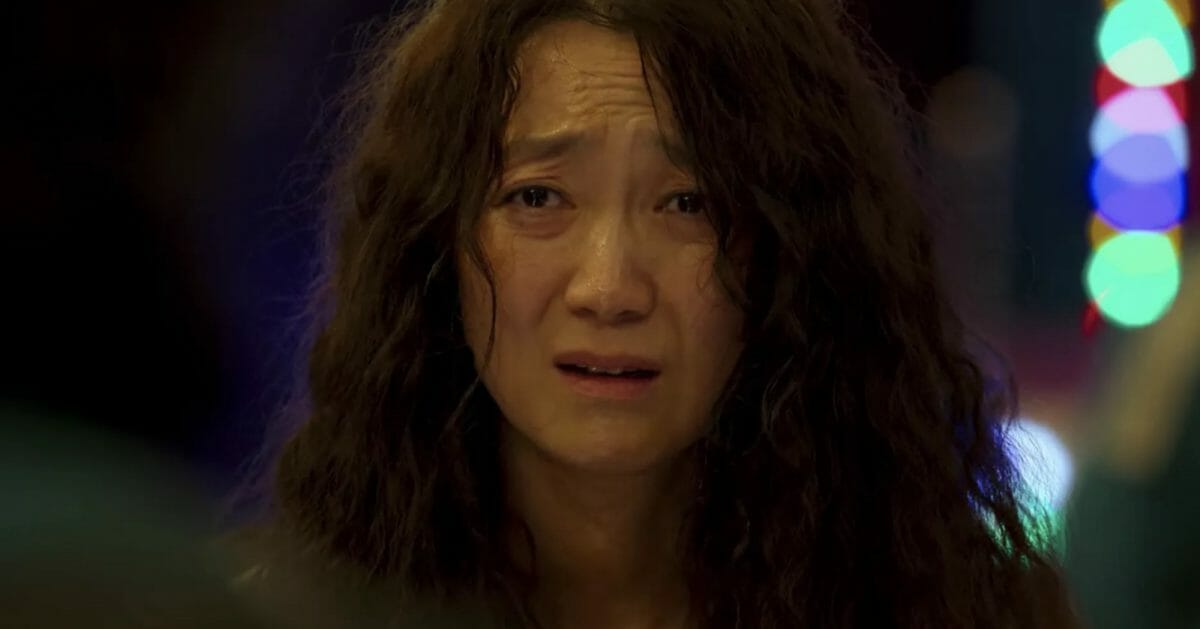 Stephanie Komure, an able voice actor, is known for her work in varied fields like animes, video games, and much more. She voices the character of Han mi Nyeo. A loud and manipulative woman played by Kim Joo-young in the series squid game on Netflix.
She sacrifices herself to kill Deok, who she holds a strong grudge against.
1 Yuuki Luna- The Voice Actor for Ji-yeong
Yuuki Luna, known not only for her voice artist skills but also for her roles in the movies like Wanda Vision and Black Widow, voice acted the part of Ji-Yeong, played by Lee Yoo- mi. A woman just out of prison after completing her sentence for murdering her abusive father in the series Squid Game. A good bet, Yuuki Luna proved her mettle with this project.
Ji-Yeong, played by Lee Yoo- mi, stole all the hearts and tears of the audience when she sacrificed her life for Sae-Byeok, who she felt had much more to live for.
Conclusion
Topping the charts in 94 countries and attracting 1.65 billion viewing hours and about 142 million Households watched Squid Game, spanning the globe. The tv series was a huge hit, and a lot of credit goes to the voice actors.
The English dub was a blessing to those who do not prefer subtitles. Interestingly, the squid game's original title was Round Six, which was the final round. However, it was changed to the one we know today.
It has even inspired a slew of Squid Game merchandise ranging from the signature green tracksuits of the players, the cookies, the frontman mask, etc.
Never to leave an opportunity go in vain. Netflix has joined the throw by announcing its reality show based on the Korean show Squid Game.
Netflix has also granted a green signal to season 2 of the Korean show, which is expected to air around late 2023 or early 2024.