Anime viewers have been intrigued by the wide range of hair colors shown throughout the years. While dazzling colors are appropriate for fiction or fantasy anime, black hair anime girl works best in naturally associated anime.
Owing to its simplicity of application on most character stereotypes, black hair has forever been famous in anime. However, in anime, black hair denotes the character's relaxed and serene attitude, making them more appealing. As a result, stunningly attractive anime girls with glossy black hair are frequently the most conspicuous.
But, no matter what's your preference with your dark hair anime girl, there's still enough to choose from. There are so many dark-haired girls in anime, and they're all so damn cute. And now, for all the most incredible black-haired anime character has to offer, here are my favorites.
35. Shana
Anime: Shakugan no Shana
IMDb Rating: 7.1
Streaming Platform: Hulu and Amazon Prime
Shana is the main character in the anime "Shakugan no shana".Because her hair color isn't everything, we see when she unveils her prime form that is a little difficult to categorize.
When she takes the persona of Hirai Yukari, she features black hair for the most part.Shana came out as cruel at first, focused entirely on her duty as a Flame Haze.
Although she shielded mankind from the Crimson Denizens, she was unconcerned with them and was solely concerned with maintaining the world's harmony, even if it meant sacrificing human lives.
34. Yomiko Readman
Anime: Read or Die
IMDb Rating: 7.5
Streaming Platform:  Crunchyroll.
Yomiko appears to be your ordinary black-haired anime girl wearing spectacles, the timid, bookish girl at first look. Yet, she is everything but… that got stranded in London's meandering modern streets.She is dressed modestly in a plain white shirt, a long dark skirt, and a trenchcoat.
Yomiko is also a special agent at SOD, is Special Operation Division. She is a paper master, a lady who has the power to bend the paper to her will.Despite her extensive skill set, she is terrified of violence. Or anything else that needs a lot of power.
She would, however, surely fulfill her obligations as "The Paper" and carry out her task with stunningly excellent efficiency when the time came.
33. Honjou Kaede / Maple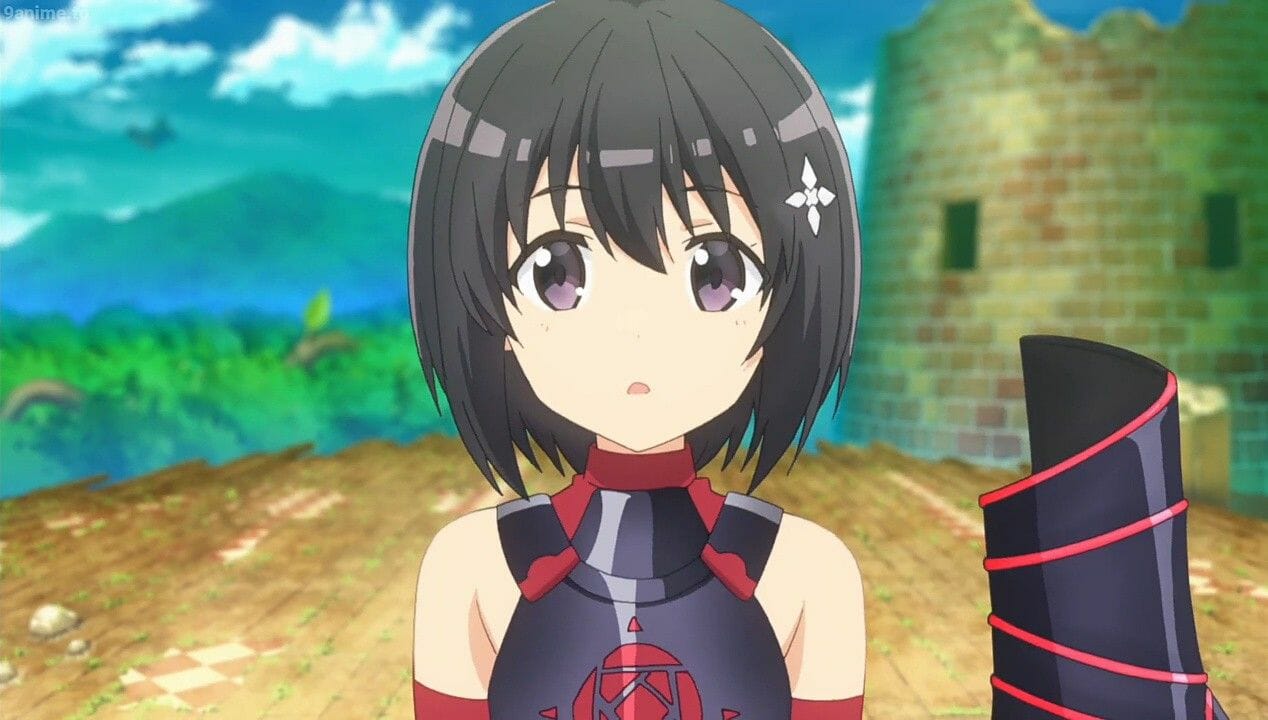 Anime: BoFuri (Itai no wa Iya nano de Bōgyoryoku ni Kyokufuri Shitai to Omoimasu)
IMDb Rating: 7.5
Streaming Platform: Hulu
Kaede has a fair complexion and short foolish, as well as lustrous black hair that reaches beneath her chin. The eyes are a cold grey.She typically wears clips as an ornament in the real world, which is carried over into the gaming world.
The ornament is organized into four rhombuses that face the cardinal directions and are joined by a gem component. The clip resembles a compass in shape.
32. Kuroyukihime
Anime: Accel World
IMDb Rating: 7.1
Streaming Platform: Hulu, Crunchyroll, and amazon prime.
Kuroyokihime, who purports to be "the most beautiful girl in school," is a beautiful young girl with a slim waist, big brown eyes, and lengthy black hair.Her hair is frequently styled like a butterfly's antenna, with two strands extending from the front of her brow.
31. Sakurajima Mai
Anime: Aobuta (Rascal Does Not Dream of a Dreaming Girl)
IMDb Rating: 8.1
Streaming Platform: Netflix.
Mai has a slim, exquisite body, midriff black hair with left-side bangs, and a rabbit bracelet in the back. For a Japanese girl, she's pretty tall.
30. Tousaka Rin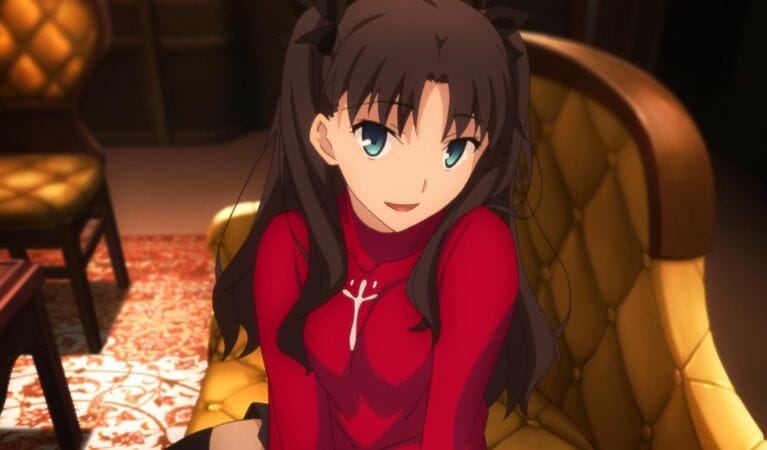 Anime: Fate series
IMDb Rating: 8
Streaming Platform: Crunchyroll and Hulu.
Rin is a young lady with turquoise bright blue eyes and flowy brown hair styled in a two-sided updo, with half of her hair wrapped into twin tails with black ribbons and the rest hanging loose.
29. Kamiya Kaoru
Anime:  Rurouni Kenshin
IMDb Rating: 7.5
Streaming Platform: Hulu, Amazon Prime, and Netflix.
Kaoru is a lovely and thin young woman of average height with a sleek, black hair ponytail (typically complemented with a bluish or purple shine) and huge blue eyes. She wears kenjutsu practice-inspired clothing to facilitate her.
28. Chitanda Eru
Anime: Hyouka
IMDb Rating: 7.8
Streaming Platform: Amazon prime and Crunchyroll.
Eru has semi-long black hair, and she occasionally wears in a rough high ponytail and bangs that are cut right down her forehead, covering her brows.
27. Hinata Hyuga
Anime: Naruto
IMDb Rating: 8.3
Streaming Platform: Netflix and Amazon Prime.
Hinata Hyuga is an anime girl with black hair in Naruto, directed by Masashi Kishimoto. Hinata is a potential heiress of the Hyuga clanHinata is a fair-complexioned slim girl whose most significant identifying characteristic as a Hyuga is the Byakugan, which gives her featureless white eyes.
26. Ruri Gokou
Anime: Kuroneko
IMDb Rating: 6.7
Streaming Platform: Netflix.
Ruri Gokou is the supporting cast of Kuroneko anime.Her style is mainly gothic lolita, and she wears a white lacy shirt with a dark cardigan over it at all times. She's also wearing a cross-shaped black skirt and dark Mary Janes with grey stockings. A garland with a bit of red rose on either side adorns her head.
25. Tomoko Kuroki 
Anime: Watashi ga Motenai no wa Dou Kangaetemo Omaera ga Warui!
IMDb Rating: 7.2
Streaming Platform: Gogoanime.
Tomoko Kuroki is the main character of Watashi ga Motenai no wa Dou Kangaetemo Omaera ga Warui! Anime.Tomoko has a light complexion, vast jade green eyes with dark purple shadows behind them, and lengthy untamed black hair that hangs down to her shoulders, frequently concealing her right eye.
24. Mei Misaki
Anime: Another
IMDb Rating: 7.6
Streaming Platform:  Netflix and Crunchyroll.
A weird and secluded third-year student at Yomiyama North Middle School. An eye patch is covering her left eye. The girl has an enigmatic aura and a penchant for painting alone.She is referred to as the one who "doesn't exist."Mei is a little girl, one of the shortest class, with a pale complexion and dark black hair.
23. Mayuri Shiina
Anime: Steins; Gate
IMDb Rating: 8.8
Streaming Platform: Netflix and Hulu
Mayuri Shiina has a lead role in Stein's gate anime.Mayuri is a little anime girl with black hair and grey eyes. Her hair is parted on both sides, forming fringes. Mayuri's brows have a noticeable thickness to them.Mayuri's clothing is basic and easy to wear, comprising a bluish one-piece dress and a matching cap. She also had tights on underneath her outfit.
22. Satsuki Kiryuin
Anime: Kill la Kill
IMDb Rating: 7.9
Streaming Platform: Netflix, Amazon Prime, and Hulu.
Satsuki Kiryuin is the best support character in the anime "Kill la kill".For the first half of the season, she is the primary character with an anti-villain goal, but she turns a sidekick in ep 17 when her mom Ragy Kiryin takes over as the main character for the rest of the series.Satsuki is a heightened, thin woman who shares her mother's features.
She has blue coloured hair with inward diamond-shaped bangs that dangle over her forehead, blue eyes, and thick brows. Her hair extends up to her thighs.
21. Mikasa Ackerman
Anime: Attack on Titan
IMDb Rating: 9
Streaming Platform: Netflix and Crunchyroll.
Mikasa is a heightened, physically fit, and muscular woman running down her shoulders, thighs, and abs. She has a half Asian impression, white skin and gray eyes, and an anime girl with long black hair that she chopped to halfway down. Her hair is shorter and trimmed up to the nape of the neck by the year 854, although with notably longer bangs.
Mikasa is a genius among the army recruits, with exceptional fighting and agility skills. She is continuously concerned about Eren's safety and life to safeguard him.
20. Homura
Anime:  Mahou Shoujo Madoka Magica
IMDb Rating: 8.3
Streaming Platform: Netflix.
Black-haired, Homura is a teenage anime girl having violet eyes. She nearly always has a soulless expression on her face in the contemporary timeframe.
She is a stunning, intriguing woman who excels in academics and athletics. Although she is harsh to others, this makes her extremely popular.She wears a white long-sleeved coat with a split in the middle towards the end of the arm and dark trim in her Magical Girl form.
19. Himeko Inaba
Anime: Kokoro Connect
IMDb Rating: 7.4
Streaming Platform: Crunchyroll.
Inaba is a lovely anime girl with brown eyes and black hair with one strand hanging in the center.She is frequently regarded as wearing somewhat mature or bare informal clothes.
Inaba has been regarded as having superb posture and a thin yet lengthy form, and piercing yet seductive eyes.She's calm and rational, but she's also awkward; thus, her inability to utilize indirect phrasings causes many people around her to be surprised by her forthright words.
18. Ryuko Matoi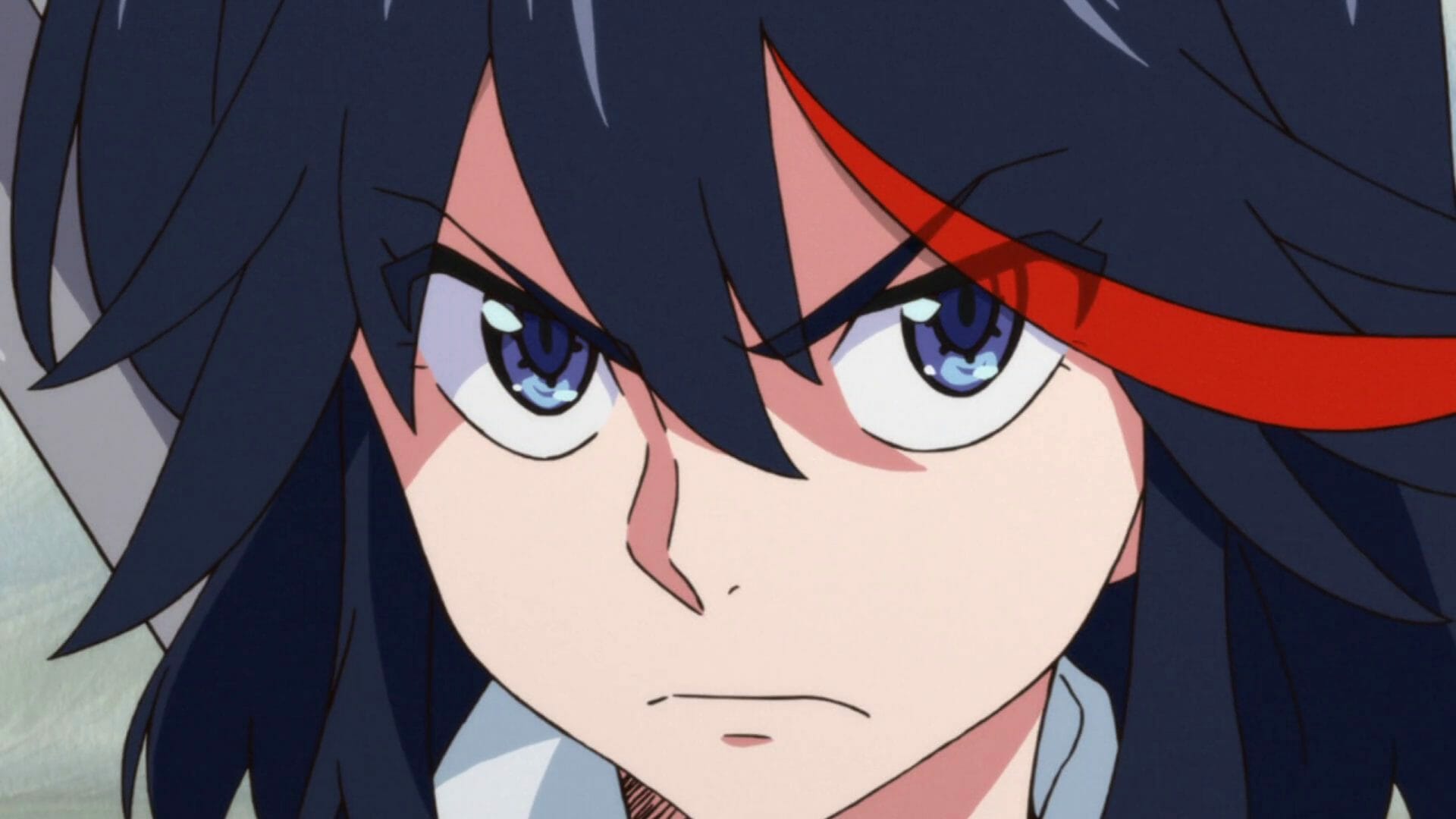 Anime: Kill la Kill
IMDb Rating: 7.9
Streaming Platform: Netflix, Amazon Prime, and Hulu.
Ryuko is a teenage anime girl with black hair and stands medium height. She also has a red highlight on her bangs, particularly on the left side. Her blue eyes feature 8 notches around the corners of their kite-shaped pupils.
Her first appearance was in a black skirt, white sneakers, and a black and white jacket with wrapped cuffs.She used to wear a red polo shirt a white skirt when she was younger. Senketsu, a living dark blue naval outfit, replaces her attire later.A multicolored scarf ties her sailor-style collar with red stripes, which also doubles as Senketsu's left "eye."
17. Kurumi Tokisaki
Anime: Date A Life
IMDb Rating: 7
Streaming Platform: Hulu and Netflix.
Shido Itsuka describes Kurumi as "a girl of outstanding beauty." She has an exquisite personality and is courteous. An anime female with ivory skin and black hair generally braided in long uneven twin tails.Her right eye is coloured red, and her left eye is golden in color, artificial clock face.
The placement of the clock arms symbolizes her remaining "time," and they are hidden under her bangs until she changes to her Spirit form.
16. Nana Osaki
Anime: Nana
IMDb Rating: 8.4
Streaming Platform: Netflix and Amazon Prime.
An anime girl with black hair, Nana is a tough goth punk rocker with a generous heart. She is a faithful friend too.Her grandmother raised Nana after being left by her mother. After being wrongfully convicted of adultery, Nana was removed from high school.
Nana "shimmers the pieces of her aspirations" and is passionate about becoming Blast's lead singer despite such setbacks. Ren Honjo (Nana's true sweetheart) is engaged, but she still has residual, unresolved feelings for Yasushi Takagi.
15. Yuuko Ichihara
Anime: xxxholics
IMDb Rating: 7.7
Streaming Platform: Hulu and Amazon Prime.
Yuko is a heightened, slim lady with pale white skin and black hair that falls just beyond her knees. She is a female character with black hair cut in sections, with the front fringe reaching up to her brows, a layer that reaches up to her jaw, a layer at her hips, and the last layer at her knees.She wears a rose in her hair and a lace choker and bracelet with her rose-patterned kimono.
Yuko will comb her hair in a friendly yet unique way when she has the chance, using an accent such as colorful pins or chopsticks.
14. Yukino Yukinoshita
Anime:  Oregairu (Yahari Ore no Seishun Love Comedy wa Machigatteiru)
IMDb Rating: 7.9
Streaming Platform: Crunchyroll.
Yukino is a lovely anime girl with piercing blue eyes and black hair knotted with two red ribbons at each shoulder.
Once she headed out with Hachiman Hikigaya and Komachi Hikigaya to purchase Yui Yuigahama a birthday surprise, she transformed her haircut into twin tails that looked perfect on her.
A black blazer with a white shirt underneath, a red ribbon tie, a plaid skirt, and gray stockings is how Yukino is seen in her school uniform.Even though she has a flat breast compared to most of the other girls, she is nonetheless seen to be extremely lovely.
13. Akame
Anime: Akame Ga Kill!
IMDb Rating: 7.8
Streaming Platform: Netflix and Crunchyroll.
Akame is an anime character that appears in the series Akame ga Kill! as the title suggests, the main character of the anime's final episode and the central character of the sequel anime Akame Ga Kill! Zero.
Akame is a beautiful young lady with lengthy black hair and bright red eyes. She's dressed in a black sleeveless tiny gown with a white collar and red tie and a red belt with a red side skirt cover.It's paired with black shoes and lengthy black stockings. She also wears red gauntlets and tight black gloves.
12. Enma Ai
Anime: Hell girl
IMDb Rating: 7.5
Streaming Platform: Crunchyroll and Amazon Prime.
Enma Ai is the main character of Hell girl anime. Ai is a young teenage girl with pale skin having long, straight black hair dressed in a hime cut that she wears unfastened.She has red eyes. (She had brown eyes before she was buried ), and light pink lips.Ai might be considered the anti-hero of the anime, given the complexion of the activities she is obliged to perform.
She also shows little evidence of being high-minded or pious, and she occasionally resists people who try to prevent her from doing her work for a great charity.
11. Tsuyuri Kanao
Anime: Demon slayer
IMDb Rating: 8.7
Streaming Platform: Netflix.
Kanao Tsuyuri is an anime girl who plays an essential role in Demon Slayer. Kanao is a teenage girl with enormous, deep purple eyes and thick eyebrows. Kanao usually wears a purple-ish variation of the regular Demon Slayer costume.
She is an unquestionably talented warrior in Demon Slayer, although her helplessness initially hindered her in selecting her path.She eventually resolves this with the aid of Tanjirou and then becomes a far more critical asset for her comrades.
10. Nico Robin
Anime: One Piece
IMDb Rating: 8.7
Streaming Platform: Netflix, Hotstar, and Jio cinema.
Nico Robin is a heightened, slim teen anime girl with black hair. Her nose is similarly long, narrow, and pointed. Robin's skin tone in the anime is somewhat darker tan than in manga-colored artworks, which is lighter.
Nico Robin is quite similar to her mother, with the difference in her hair and a somewhat dark complexion than her.Nico Robin was only 8 when they excelled at archeology. This shows how exciting a character she is!
9. Hino Rei
Anime: Sailor Moon
IMDb Rating: 7.8
Streaming Platform:  Hulu and Netflix.
Hino rie is an exciting character that represents a classic tsundere character. She has purple eyes and gorgeous black hair with a purple sheen. She wears a sailor-style collar uniform. She tended to express her love for the people she cared about in unusual ways, such as teasing Usagi, which sometimes wounded her feelings, especially early in the show, or kidding with Yuuichirou.
Rei's character is a reflection of her Sailor Mars abilities. She's a loose cannon who quickly erupts into furious wrath. From time to time, she is harsh with others.
8. Reizei Mako
Anime: Girls und Panzer
IMDb Rating: 7.5
Streaming Platform: Netflix and Amazon Prime.
She is a calm, melancholy anime character who falls asleep quickly and despises mornings. She's also vulnerable to certain situations. She is often late to school, yet she tops her class and can master nearly anything just by reading.
She is a calm, melancholy anime character who falls asleep quickly and despises mornings. She's also vulnerable to certain situations. She is often late to school, yet she tops her class and can master nearly anything just by reading.She is a scholar with a stellar academic record. However, she lacks credits due to her morning delay, so she seeks Sensha-do in return for credits.
7. Shiba Miyuki
Anime: Mahouka Koukou no Rettousei
IMDb Rating: 7.2
Streaming Platform: Netflix and Crunchyroll.
Miyuki is the anime character on our list whose charm and beauty serve as a powerful complement to her structured black hair.
Shiba Miyuki is a 1st-year student in a High School. She was born in March and is the sister to Shiba Tatsuya, which many people are unaware of. Shiba is a beauty, which means she belongs to the top class. She is the freshman representative and is well-known around the campus.
6. Sunohara Mei
Anime: Clannad
IMDb Rating: 7.9
Streaming Platform: Hulu, Crunchyroll, and Netflix.
Mei is a black hair anime girl starring in "Clannad."Talking about her appearance, she has black hair and angular blue eyes. Furthermore, she has an exquisite hairstyle, her black hair tied into a pigtail using thin yellow ribbons resulting in bangs that mainly covers her ear and blue eyes.
Mei's black hair is among the most striking resemblances to Sunohara's original appearance before he dyed his hair.
5. Yaoyorozu Momo
Anime: Boku no hero academia
IMDb Rating: 8.4
Streaming Platform: Netflix and Crunchyroll.
Momo Yaoyorozu is the protagonist of the My Hero Academia series. She was accepted in U.A. High School based on the official proposal and became the vice president there and is currently pursuing her dream of becoming a Pro Hero. She tends to misinterpret commonplace things in modernity since she is a prototypical rich character.
4. Akiyama Mio
Anime: K on
IMDb Rating: 7.8
Streaming Platform: Hulu and Amazon Prime.
K-ON is around five high school gals who meet through Light Music Club and become friends.Mio is a bashful young lady who attends a light music club in k on anime. She doesn't have a lot of extroverted characteristics.
Her long, flowing black hair, on the other hand, helps viewers recognize her among the other performers of Afternoon Tea.
Akiyama is often humiliated, but she has ample love for the one thing that qualifies her for membership in her band: a burning urge to provide additional support, aided by her bass guitar, of course.
3. Kuchiki Rukia
Anime: Bleach
IMDb Rating: 8.2
Streaming Platform: Hulu and Netflix.
Her black hair is styled so that it gives her an unusual appearance.If it weren't for how she dressed, her femininity was almost undetectable. Perhaps it's even more difficult when you consider the Shinigami's essential attire.Given that most female Shinigami appear to be ikemen, this androgynous pattern will continue throughout the series.
2. Kousaka Reina
Anime: Hibike! Euphonium
IMDb Rating: 7.8
Streaming Platform: Crunchyroll.
A freshman who went to the same junior high school where Kumiko used to go. She has been blowing the trumpet since she was a child, motivated by her pro father, and she continues to participate in the musical band group at Kitauji High School.She is calm and proud of her trumpet abilities, yet she still respects her seniors. She and Kumiko had a fallout after their junior high band won bronze in a concert band competition.
1. Yui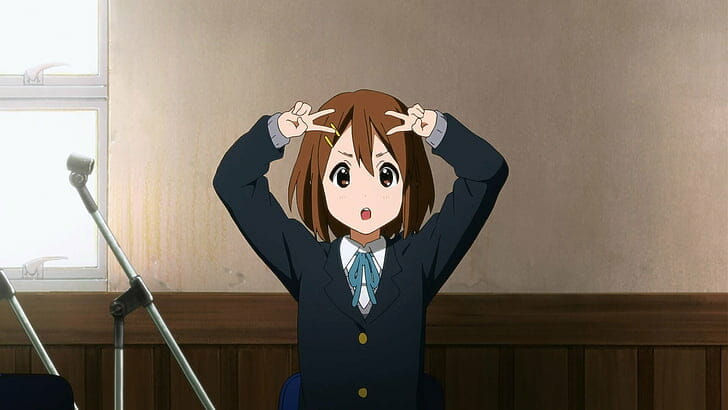 Anime: Sword art Online
IMDb Rating: 7.5
Streaming Platform:  Netflix, Hulu, and Crunchyroll.
A joyful little girl with shoulder-length black hair appears to be no more than ten years old. Kirito & Asuna discovered her in woodland on Aincrad's 22nd floor. She looks to have forgotten her memories after taking good care of her. She refers "Papa" and "Mama" to Kirito and Asuna since she has problems pronouncing their names due to her memory loss. So they decided to proceed to the Starting City in quest of her buddies.
Why does the main character in an anime have black hair?
While the other characters may have blond or yellow hair, the main character is designed to hold the audience, the common man.
Considering the central anime watcher in Japan is a female with black hair, the anime heroine is a girl with black hair to relate to him more firmly.