Anime shows are booming very fast; they are more favored to movies and fashionable-dressed anime characters
The show's color and pomp make them look so attractive; watching anime does not even have an age limit; it is open to all.
Many fashion bloggers would love to watch anime to find the trendiest outfits; they also take the time to find out the best-dressed anime characters and the worst-dressed characters too.
Tv anime has many characters and genres, like a fairy tale, punk rock boyfriends, and a manga group. This anime set shows various life storylines; both guy and girl anime wear clothes that attract an audience.
The clothing, attitude, and elegant clothing are all these factors that are given close attention in the manga series; some dresses might give a punk edge, sometimes an essential school uniform, especially if it is a girl's school uniform. And the man who wears a suit carries the audience in awe.
15. Alucard
Series name: Hellsing
Director: Umanosuke Lida, Yasunori Urata
Writer: Chiaki J. Konaka
Cast: Seras Victoria, Alucard, Sir Integra, Walter C. Dornez, Pip Bernadotte
IMDb Rating: 7.8/10
Platforms Available: Netflix
Alucard plays a badass with a perfect fashion sense, wearing high boots and a long flowy topcoat.
He looked like a Vampire Hunter D but looked much cooler; he wore round sunglasses and a black double-breasted suit, which looked dope. The whole look might give away a military vibe, but that is never out of fashion.
14. Izaya Orihara
Series name: DuRaRaRa
Director: Takahiro Omori
Writer: Noboru Takagi
Cast: Celty Sturluson, Izaya Orihara, Mikado Ryuugamine, Shizuo Haiwajima, Anri Sonohara, Shinra Kishitani, Masaomi Kida, Kururi Orihara
IMDb Rating: 7.8/10
Platforms Available: Netflix
Though the Bartender Shizuo dresses fresh in the series, Izaya edges him out because of that park! That gives a beautiful blend of contrast to his black ensemble, making him look just like the hooligan he is.
We can call him the parkour master based on how he carries himself.
13. Future Trunks
Series name: Dragon Ball Z
Director: Daisuke Nishio, Shigeyasu Yamauchi
Writer: Takao Koyama
Cast: Goku, Vegeta, Majin Buu, Gohan, Trunks, Frieza, Bulma, Cell, Chi-Chi, Broly, Android 18, Piccolo
IMDb Rating: 8.8/10
Platforms Available: Prime Video
Future Trunk would have made all of us as kids feel that he is pretty cool. Of course, he dressed with the middle part of the sword on the back of his leather jacket and his impractical pointy boots!
Then again, he showed off his fashion skills in Dragon Ball GT as Trunk, wearing pleated shorts, a scarf, and a khaki blazer!
12. Sanji
Series name: One-Piece
Director: Konosuke Uda, Junji Shimizu, Munehisa Sakai, Hiroaki Miyamoto, Toshinori Fukazawa, Tatsuya Nagamine, Kohei Kureta, Aya Komaki, Satoshi Ito
Writer: Junki Takegami, Hirohiko Kamisaka, Shoji Yonemura
Cast: Monkey D. Luffy, Nico Robin, Nami, Roronao Zoro, Vinsmoke Sanji, Tony Tony Chopper, Shanks, Usopp, Brook, Franky, Sabo, Portgas D. Ace
IMDb Rating: 8.8/10
Platforms Available: Netflix, Amazon Video
What is a more striking combination and a good wardrobe choice than a chef?
He combines his style contrast with a gold-buttoned double-breasted- suit and a striped shirt he wears underneath; well, call it HOT!
11. Aburame Shino
Series name: Naruto
Director: Hayato Date
Writer: Masashi Kishimoto
Cast: Naruto Uzumaki, Sasuke Uchiha, Itachi Uchiha, Madara Uchiha, Kakashi Hatake, Obito Uchiha, Aburame Shino
IMDb Rating: 8.4/10
Platforms Available: Netflix
Shino is considered the most relaxed ninja of Konohagakure; being an entry-level Genin, he was usually caught wearing a high-collar coat and, of course, his trademark ark circular shades.
However, after the time skips, he changes into a Chunin, by which a teenage Shino adapts the goth ninja vibe by dressing up with a hooded jacket but not letting go of his high collar.
10. Yasutora Sado
Series name: Bleach
Director: Noriyuki Abe
Writer: Masashi Sogo, Tsuyoshi Kida, Kento Shimoyama
Cast: Ichigo Kurosaki, Yoruichi Shihouin, Rangiku Matsumoto, Yasutora Sado
IMDb Rating: 8.2/10
Platforms Available: Netflix
Sado stole the spot for his burgundy motorcycle jacket, a man who carries himself confidently with cream-colored rock pants and patterned shirts.
Being a Mexican, he is given affirmative action on his side.
9. Go Mifune/Speed Racer
Series name: Mach Go Go!/Speed Racer
Director: Hiroshi Sasagawa, Peter Fernandez
Writer: Jinzo Toriumi, Peter Fernandez
Cast: Racer X, Speed Racer, Trixie, Chim-Chim, Kurio Mifune, Pops Racer, Mom Racer, Sparky, Inspector Rokugo
IMDb Rating: 6/10
Platforms Available: Prime Video
The ability of Speed Racer to maintain his white pants pristinely is a matter of awe. However, the ascot can be taken as a little too much!
He also deserves brownie points for the pop of red socks which he wears with his driving shoes. He is also seen wearing a sick cafe racer jacket in some scenes.
8. Lupin III
Series name: Lupin III
Director: Masaki Osumi, Hayao Miyazaki, Isao Takahata
Writer: Tadaaki Yamazaki, Atsushi Yamatoya, Kiyoshi Miyata, Toru Sawaki, Seiji Matsuoka
Cast: Arsene Lupin III, Inspector Koichi Zenigata, Fujiko Mine, Goemon Ishikawa XIII, Daisuke Jigen
IMDb Rating: 7.9/10
Platforms Available: Prime Video
Arsene Lupin III was an excellent thief. By how he dresses himself, it can be concluded that he is a cocky ladies' man.
Though he never dresses like a thief, he wears a Loden green paired with a bright red sport coat and a tie clip like a true gentleman would; look at the irony!
7. Bean Bandit
Series name: Riding Bean/Gunsmith Cats
Director: Takeshi Mori, Kazuya Murata
Writer: Kenichi Sonoda
Cast: Goldie Musou, Ken Takizawa, Bean Bandit, Minnie May Hopkins, Rally Vincent, Becky 'the Nose' Farrah, Bill Collins, George Black
IMDb Rating: 6.7/10
Platforms Available: Prime Video
In the Riding Bean days, Bean Bandit is seen as a team, with Rally Jackson wearing a sick motorcycle jacket and Rambo-esque headband.
However, when he was seen in Gunsmith Cats, Bean Bandit had a waistcoat and Chelsea boots, and his hair was slicked back.
6. Roger Smith
Series name: The Big O
Director: Kazuyoshi Katayama
Writer: Chiaki J. Konaka, Kazuyoshi Katayama
Cast: R. Dorothy Wayneright, Roger Smith, Dan Dastun, Big Ear, Alan Gabriel, Alex Rosewater, Norman Burg, Angel
IMDb Rating: 7.5/10
Platforms Available: Prime Video
Slicked-back hair and a double-breasted suit were his looks, as Roger Smith was supposed to look suave like Bruce Wayne.
However, something did set him apart from not copying the entire look, and that was his sleek leather gloves and his wristwatch that was multi-functional.
5. Nicolas D. Wolfwood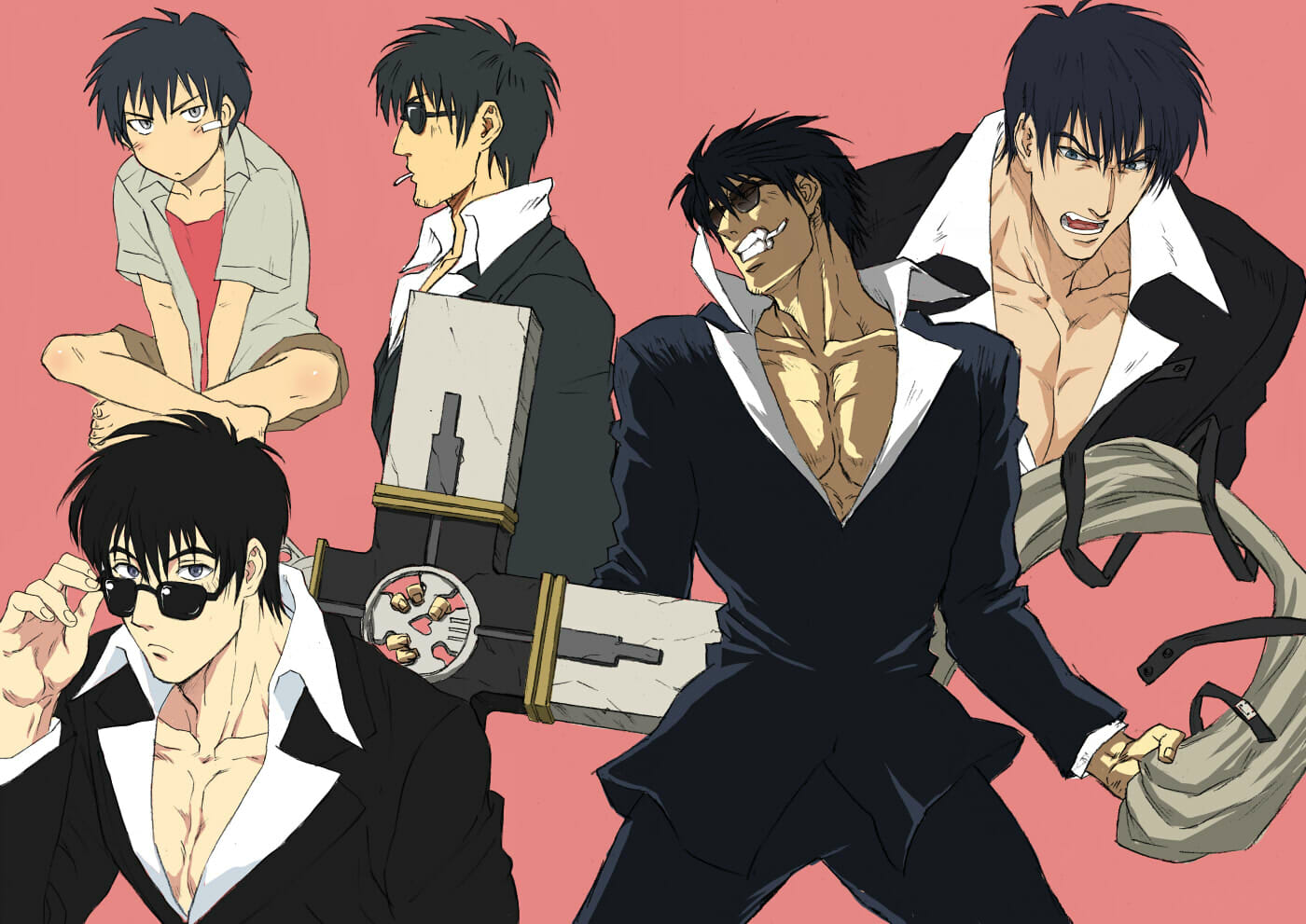 Series name: Trigun
Director: Satoshi Nishimura
Writer: Yosuke Kuroda
Cast: Vash the Stampede, Nicholas D. Wolfwood, Meryl Stryfe, Rem Saverem, Legato Bluesummers, Millions of Knives, Man, Young Knives
IMDb Rating: 8.3/10
Platforms Available: Netflix
An assassin who is highly spiritual and believes in the line that says, 'Speak softly and carry a big stick.'
He is always seen as a Punisher; Wolfwood is seen wearing his wayfarer shades and dark navy suit with brown oxford shoes; this look just went well with a suitable set case.
4. Spike Spiegel
Series name: Cowboy Bebop
Director: Shinichiro Watanabe
Writer: Keiko Nobumoto
Cast: Spike Spiegel, Faye Valentine, Edward Wong Hau Pepelu, Vicious, Jet Black, Laughing Bull, Jobim, Ed, Antonio, Bob, Judy, Carlos
IMDb Rating: 8.9/10
Platforms Available: Netflix
Spike Spiegel knows the benefit of a good uniform as a bounty hunter born on Mars.
He usually wears his blue leisure suit with the sleeves rolled up and paired with a faded yellow shirt and a slightly unkempt black tie. However, his only other accessories are a gun and a cybernetic eye.
3. Shotaro Kaneda/Jimmy Sparks
Series name: Tetsujin 28/Gigantor
Director: Tetsuo Imazawa
Writer: Fumihiko Shimo, Hideki Sonoda, Hiroshi Minamino, Isao Shizuya, Nobuaki Kishima, Ryoe Tsukimura, Satoru Nishizono, Toshimichi Okawa
Cast: Jimmy Sparks, Professor Shikishima, Dick Strong, Professor Kaneda, Inspector Blooper, Kenji Murasame, Dr. Furanken
IMDb Rating: 6.8/10
Platforms Available: Prime Video
Well, if we look at the fashion sense, more than one kid can be pointed out. However, he stands out.
He rocks a sport coat and shorts, and most of the time, he wears a dope tie in which he seems to look very stunning. In the olden series, he was often seen sporting a windowpane check coat.
2. Kaneda
Series name: Akira
Director: Katsuhiro Otomo
Writer: Katsuhiro Otomo, Izo Hashimoto
Cast: Tetsuo Shima, Shotaro Kaneda, Kaori, Kei, Kiyoko, Mitsuru Kuwata
IMDb Rating: 8/10
Platforms Available: Netflix
Kaneda had beaten both Kanye West and Eddie Murphy before they had rocked the red leather kits.
His sleek style has set a standard for badass anime heroes that might emerge in the future.
1. Daisuke Jigen
Series name: Lupin III
Director: Masaki Osumi, Hayao Miyazaki, Isao Takahata
Writer: Tadaaki Yamazaki, Atsushi Yamatoya, Kiyoshi Miyata, Toru Sawaki, Seiji Matsuoka
Cast: Arsene Lupin III, Inspector Koichi Zenigata, Fujiko Mine, Goemon Ishikawa XIII, Daisuke Jigen
IMDb Rating: 7.9/10
Platforms Available: Prime Video
Daisuke Jigen being Lupin's right-hand man has a style on point.
He has long hair, a floppy goatee, and a floppy hat, making him the street-style highlight.