You can stream horror, funny, dramatic, and frightening films anytime, but disaster films are rare. Greenland is 2-hour long disaster movie but not about war. The movie is all about a comet that is all set to end or destroy the Earth. It is both a destruction and survival film focusing on the family of John Garrity. It has been directed by Ric Roman Waugh and produced by Gerard Butler, Basil Iwanyk, Sebastien Raybaud, and Alan Siegel.
Such movies are always exciting to stream since you never know when the world of the protagonist can go upside down all of a sudden amid all the chaos. All lives are at stake, and these films about survival are like a warning about what can happen in the future at any time since disasters come without warning.
Disaster movies like Greenland can be based on events like mass killing, war, and tsunamis, and the audiences do not know whether there are going to be any survivors left in the end or not. Here is a list of epic disaster movies (like Greenland) that you must stream.
20. The Wave (Magnolia pictures in 2015)
Director: 

Roar Uthaug

Writer:

 John Kare Raake, Harald Rosenlow-Eeg

Cast: 

Kristoffer Jones as Kristian Eikjord, Ane Dahl Torp as Idun Karlsen, Jonas Hoff Oftebro as Sondre, Edith Haagenrud-Sande as Julia, Thomas Bo Larsen as Phillip Poulsen

IMDb:

 6.6/10

Rotten Tomatoes Ratings: 

83%
The Wave is one of the most famous disaster movies ever produced. It shows that the mountain pass Akneset situated in the Geiranger fjord in Norway is predicted to collapse and create disaster flicks that can cause a tsunami.
The story mainly focuses on a geologist Kristian who is desperate to save his two children and wife and warns them about the upcoming disaster, but will he achieve success in saving himself as well?
Stream this disaster movie and know what happened in the end.
19. San Andreas (Warner bros)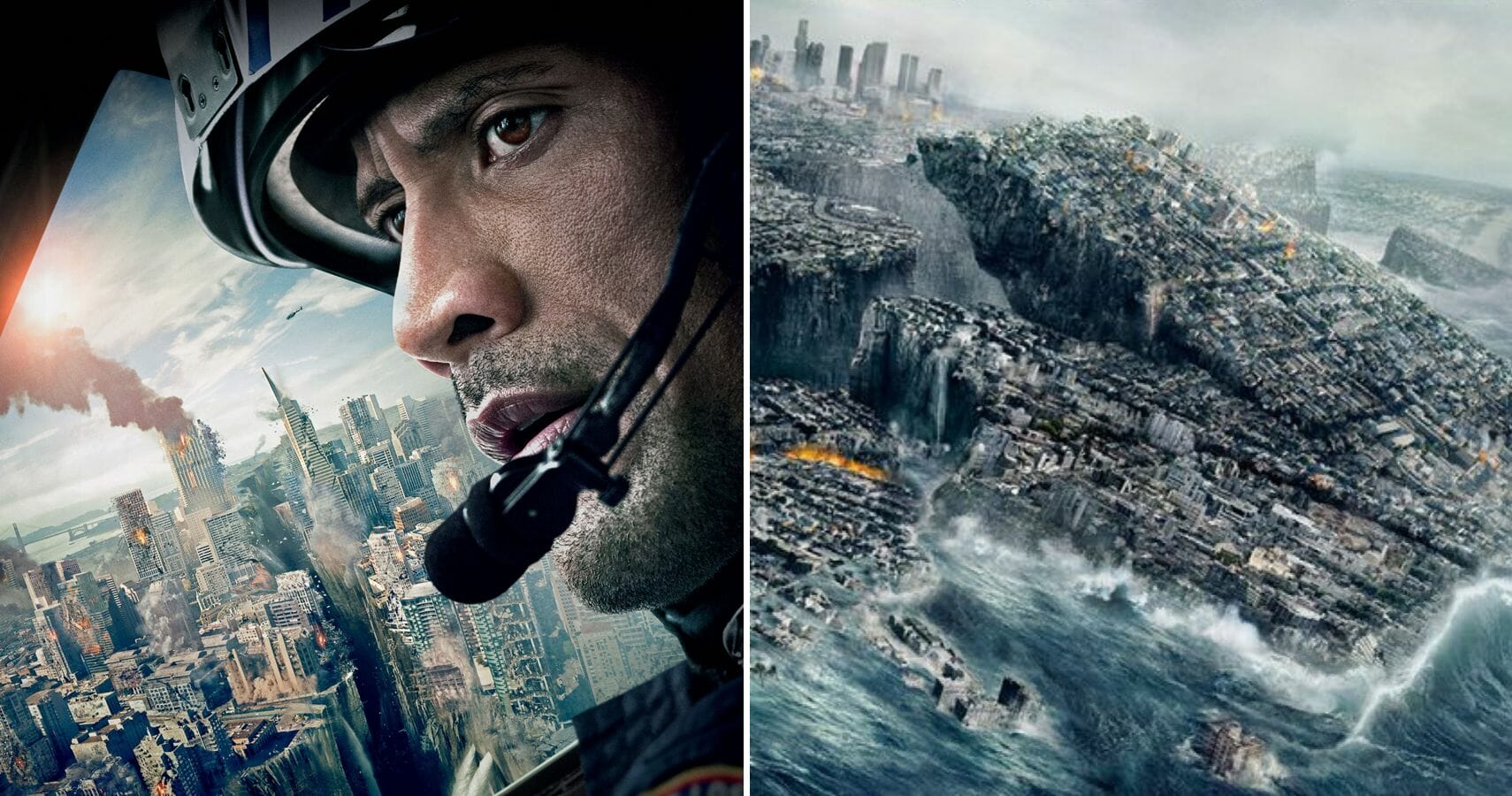 Director:

 Brad Peyton

Writer:

 Carlton Cuse

Cast:

 Dwayne Johnson as Raymond Ray Gaines, Carla Gugino as Emma Gaines, Alexander Daddario as Blake Gaines, Ioan Gruffudd as Daniel Riddick, Archie Panjabi as Serena Johnson, Paul Giamatti as Dr. Lawrence Hayes.

IMDb: 

6/10

Rotten Tomatoes Ratings:

 48%
San Andreas is about a massive earthquake that has created a record in recent years in the entire world. The San Andreas fault creates a massive earthquake of magnitude 9 and creates a massive crack on Earth.
The story mainly focuses on Dwayne Raymond Ray, father of Alexandra Daddario and husband of his estranged wife, Carla Gugino, who tries his best to save his loved ones. This disaster movie is bound to give you terror and thrills throughout its course of action.
18. Jurassic World: Fallen kingdom
Director:

 J. A. Bayona

Writer:

 Derek Connolly, Colin Trevorrow

Cast:

 Chris Patt as Owen Grady, Bryce Dallas Howard as Claire Dearing, Rafe Spall as Eli Mills, Justice Smith as Franklin Webb, Daniella Pineda as Zia Rodriguez, James Cromwell as Sir Benjamin Lockwood.

IMDb: 

6/10

Rotten Tomatoes Ratings: 

47%
Jurassic World has always been a famous disaster movie and never failed to have a massive box office collection or arouse terror among the people. The stories have a deep impact on the audiences. This film is a sequel to Jurassic World and is the second film in the Jurassic trilogy and the fifth one of the overall franchises and also a massive shift in scale.
Three years have gone after the destruction of the Jurassic World theme park, and now Owen Grady is seen to be returning to Isla Nublar island to save the rest of the dinosaurs but comes to know about a new breed that bears the potential to eradicate all humans or its entire race.
17. Deep Impact
Director: 

Mimi Leder

Writer:

 Bruce Joel Rubin, Michael Tolkin

Cast:

 Robert Duvall as Captain Spurgeon, Tea Leoni as Jenny Lerner, Elijah Wood as Leo Beiderman, Vanessa Redgrave as Robin Lerner, Maximilian Schell as Jason Lerner

IMDb: 

6.2/10

Rotten Tomatoes Ratings:

 45%
Deep Impact is quite an old film that was released in the year 1998 in summer. The story shows how a comet is about to hit planet Earth and can have an extinction-level event for the human race, but it seems that the U.S. government is not yet ready to pay any heed to such an impending disaster.
Captain Spurgeon and his crew are all ready to land on the comet and stop it from hitting our planet, but will they be successful, or millions of people on the planet must be ready to witness the disaster?
Stream Deep Impact soon and know were there any survivors left?
16. Independence Day
Directed by:

 Roland Emmerich

Writer:

 Dean Devlin, Roland Emmerich

Star Cast:

 Will Smith as Captain Steven Hiller, Bill Pullman as President Thomas J. Whitmore, Jeff Goldblum as David Levinson, Mary McDonnell as First Lady Marilyn Whitmore.

IMDb: 

7/10

Rotten Tomatoes Ratings: 

67%
This disaster film is a famous classic adventure film where on 2nd July, atmospheric chaos starts causing disasters. The military comes to know that enormous objects are going to collide with Earth soon, and they are nothing but alien spacecraft.
Will the military be able to save Earth from such aliens from outer space? This film has been able to thrill the audience to a massive scale and is fun to watch till the end.
15. Geostorm (Warner Bros)
Director: 

Dean Devlin

Writer: 

Dean Devlin, Paul Guyot

Star Cast:

 Gerard Butler as Jacob "Jake" Lawson, Jim Sturgess as Max Lawson, Abbie Cornish as Sarah Wilson, Ed Harris as Leonard Dekkom, Richards Schiff as Thomas Cross, and more.

IMDb:

 5.3/10

Rotten Tomatoes Ratings: 

17%
Geostorm is also one of the famous disaster movies where it shows how a series of natural disasters are on the verge of ending the world. The story is a mixture of thrill and suspense, and no one is sure what is going to happen next. To save the world, a group of leaders come forward and design an intricate network of satellites so that they can have control over natural calamities.
But, of course, things are not that easy. The system is itself reacting as a force against human beings and attacking Earth. Will the leaders be able to stop it? Watch this movie and know more.
14. The Mountain Between Us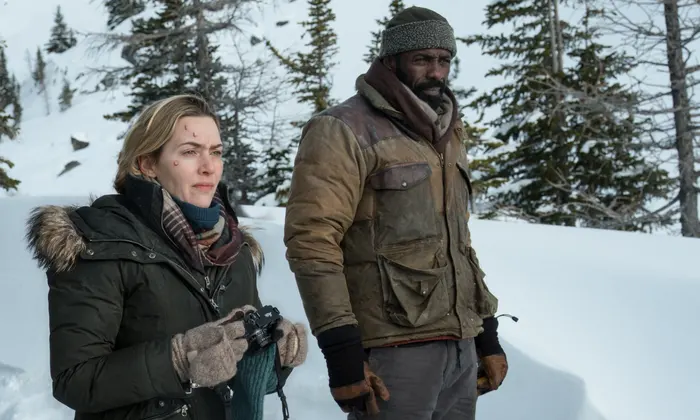 Director:

 Hany Abu-Assad

Writer:

 Chris Weitz, J.Mills Goodloe

Cast:

 Idris Elba as Dr. Bean Bass, Kate Winslet as Alex Martin, Dermot Mulroney as Mark Robertson, Beau Bridges as Walter, Raleigh, and Austin as Walter's dogs

IMDb: 

6.4/10

Rotten Tomatoes Ratings:

 39%
Two people find themselves on a mountain with no other humans to interact with after the plane crash. The area is all snow-covered, and the harsh climate is making it all more tragic to live in. They do understand that they need to find out habitats nearby and thus embark on a journey to get rid of the situation and work together firmly.
This epic disaster movie is all about character development, and the audience can get to know the inner strengths of these people in the course of the film. If you love disaster movies, this movie is a must-watch.
13. The Day After Tomorrow
Director:

 Roland Emmerich

Writer: 

Roland Emmerich, Jeffrey Nachmanoff

Cast:

 Dennis Quaid as Jack Hall, Jake Gyllenhaal as Samuel Sam Hall, Sela Ward as Dr. Lucy Hall, Emmy Rossum as Laura Chapman, Ian Holm as Terry Rapson, Arjay Nichols as J. D.

IMDb:

 6.4/10

Rotten Tomatoes Ratings:

 45%
The Day After Tomorrow is a famous disaster movie that tells the story of Jack Hall, who is repeatedly ignored by the UN authority regarding the upcoming natural disaster. Jack has been researching the environment for a long time, and now the changes have become a big concern for him. Soon a superstorm does happen that can take down the world as well.
He tries to save his son Sam but is stuck with Laura and others. Will he be able to reach his son and be safe?
12. The War of the Worlds
Director:

 Steven Spielberg

Writer:

 Josh Friedman, David Koepp

Cast:

 The characters are Tom Cruise as Ray Ferrier, Dakota Fanning as Rachel Ferrier, Justin Chatwin as Robbie Ferrier, Miranda Otto as Mary Ann Ferrier, Tim Robbins as Harlan Ogilvy, and Rick Gonzalez as Vincent.

IMDb:

 6.5/10

Rotten Tomatoes Ratings:

 75%
This film depicts how a sudden alien invasion has almost led to the eradication of the entire humanity from the world. The focus is on an American family who is trying their best to save themselves, and an ordinary man must now save his children at any cost.
This is a science fiction film based on the classic story by H. G. Wells, so do not forget to stream it.
11. 2012
Director:

 Roland Emmerich

Writer:

 Harald Kloser, Roland Emmerich

Star Cast:

 John Cusack as Jackson Curtis, Chiwetel Ejiofor as Adrian Helmsley, Amanda Peet as Kate Curtis, Oliver Platt as Carl Anheuser, Thandiwe Newton as Laura Wilson, Woody Harrelson as Charlie Frost

IMDb:

 5.8/10

Rotten Tomatoes Ratings:

 39%
The craze for this film among the audiences was huge, and in their minds, people did think that it was going to be true. The film was released in the year 2009 and depicts that everything has an expiry date, and so has Earth. High-class leaders are well aware that the Earth is going to end soon and is hence preparing to settle somewhere else and save themselves, who are just a handful of people but what about the rest of the people in the society?
Soon the disaster comes true, and people start trying their best to live longer.
10. The Road
Director:

 John Hillcoat

Writer:

 Joe Penhall

Cast:

 Viggo Mortensen as Man, Kodi Smith-McPhee as Boy, Charlize Theron as Woman, Robert Duvall as Ely, Guy Pearce as Veteran, Molly Parker as Motherly Woman, Garret Dillahunt as Gang Member

IMDb:

 7.2/10

Rotten Tomatoes Ratings:

 73%
In this film, it seems that the main half has already occurred, and what you will see is the aftermath. It shows that the disaster has already happened, and now, a man, the father, and his son are trying their best to cope with the situation and live in the post-apocalyptic world without any trace of civilization.
They try their best to be like before and are determined not to be like one of those savage humans; neither will they be enslaved people or worse.
9. Signs
Director:

 M. Night Shyamalan

Writer: 

M. Night Shyamalan

Cast:

 Mel Gibson as Father Graham Hess, Joaquin Phoenix as Merrill Hess, Rory Culkin as Morgan Hess, Abigail Breslin as Bo Hess, Cherry Jones as Caroline Paski, M. Night Shyamalan as Ray Reddy

IMDb:

 6.8/10

Rotten Tomatoes Ratings:

 74%
The main protagonist here is Graham Hess, who somehow knows that the world is going to end soon as soon as he gets the message via an intricate pattern of circles and lines that he witnesses in his crops. He starts going deeper, which changes the lives of his brother and children.
The film has been able to grab a huge number of fans and more than critics; people have praised it for perfectly unfolding the mystery.
8. The Finest Hours
Director:

 Craig Gillespie

Writer:

 Scott Silver, Paul Tamasy, Eric Johnson

Star Cast:

 Chris Pine as Bernard Bernie Webber, Casey Affleck as Ray Sybert, Ben Foster as Richard Livesey, Holliday Grainger as Miriam Pentinen Webber, Eric Bana as Daniel Cluff.

IMDb:

 6.7/10

Rotten Tomatoes Ratings:

 63%
The film shows how a dangerous calamity splits the SS Pendleton into two and tarps about 30 people within the tanker's sinking stern. The protagonist is Ray Sybert, who takes charge of saving himself and his mates. Daniel Cluff, the Chief Warrant Officer, also orders to rescue this group. Bernie Webber, along with three other men, takes a dangerous journey to save these men, but will they all be able to return safely? This is one of the famous disaster movies, so do not forget to watch it.
7. Into The Storm
Director:

 Steven Quale

Writer:

 John Swetnam

Cast:

 Richard Armitage as Gary Fuller, Sarah Wayne Callies as Allison Stone, Matt Walsh as Peter, Max Deacon as Donnie Fuller, Alycia Debnam-Carey as Kaitlyn Johnston, Nathan Kress as Trey Fuller, Arlen Escarpeta as Daryl Karley.

IMDb:

 5.8/10

Rotten Tomatoes Ratings:

 21%
Into the Storm is another famous disaster movie that can have a deep impact on almost everyone. In Silverton, there happens to be a series of tornados capable of destroying the whole country. Storm trackers get to know that within a short time, they are going to take a more severe form, so residents flee as far as possible to save themselves.
This movie is thrilling throughout its course of progress, so do stream it.
6. Silent Night
Director:

 Camille Griffin

Writer: 

Camille Griffin

Cast:

 Keira Knightley as Nell, Roman Griffin Davis as Art, Matthew Goode as Simon, Annabelle Wallis as Sandra, Lily-Rose Depp as Sophie, Kirby Howell-Baptiste as Alex, Sope Dirisu as James.

IMDb: 

5.7/10

Rotten Tomatoes Ratings: 

65%
The story revolves around a couple, especially a mother, Nell, who prepares everything to welcome their guests for dinner on Christmas. The guests are glad to come over, and the audience loves the merry environment and quality time spent, but this family with their close ones is unaware of the fact that the world outside the house is turning upside down.
An environmental apocalypse is taking place that can eradicate all humankind forever. It is a famous movie, so stream it as soon as possible.
5. Deepwater Horizon
Director:

 Peter Berg

Writer:

 Matthew Michael Carnahan, Matthew Sand

Cast:

 Mark Wahlberg as Mike Williams, Kurt Russell as Jimmy Harrell, John Malkovich as Donald Vidrine, Gina Rodriguez as Andrea Fleytas, and Dylan O'Brien as Caleb Holloway.

IMDb:

 7.1/10

Rotten Tomatoes Ratings:

 82%
The story revolves around the explosion of the Deepwater Horizon drilling rig in the Gulf of Mexico, killing several people. Mike Williams and his group find ways to get rid of such a crucial situation. They try out every measure to get themselves out of this situation. It is a thrilling film to watch, and no one is ever sure what can happen next.
4. Love and Monsters
Director:

 Michael Matthews

Writer:

 Brian Duffield, Matthew Robinson

Cast:

 Dylan O' Brien as Joel Dawson, Hero, and Dodge as Boy, Jessica Henwick as Aimee, Michael Rooker as Clyde Dutton, Dan Ewing as Cap, Ellen Hollman as Dana, Tre Hale as Rocko.

IMDb:

 6.9/10

Rotten Tomatoes Ratings:

 94%
It has been seven years since Joel Dawson has been living underground with other people, and now giant creatures are dominating the land. Joel gets to know that Aimee, his long-back girlfriend is 80 miles away, living in a coastal region, and he is determined to visit her. He is ready to take a perilous journey to go to her amid all the dangers that the creatures may pose. Will he be able to meet her?
3. A Quiet Place
Director:

 John Krasinski

Writer:

 Bryan Woods, Scott Beck, John Krasinski

Cast:

 Emily Blunt as Evelyn Abbott, John Krasinski as Lee Abbott, Millicent Simmonds as Regan Abbott, Noah Jupe as Marcus Abbott, cade Woodward as Beau Abbott

IMDb:

 7.5/10

Rotten Tomatoes Ratings:

 96%
This is a thrilling movie where the characters must keep quiet to be alive. Several mysterious creatures roam around the land and hunt by listening to the sound. Even breathing or whispering can bring about death, so there ought to be pin-drop silence. Evelyn and Lee are resolved to get rid of these creatures and save their children, but the task is not that easy.
2. Children of Men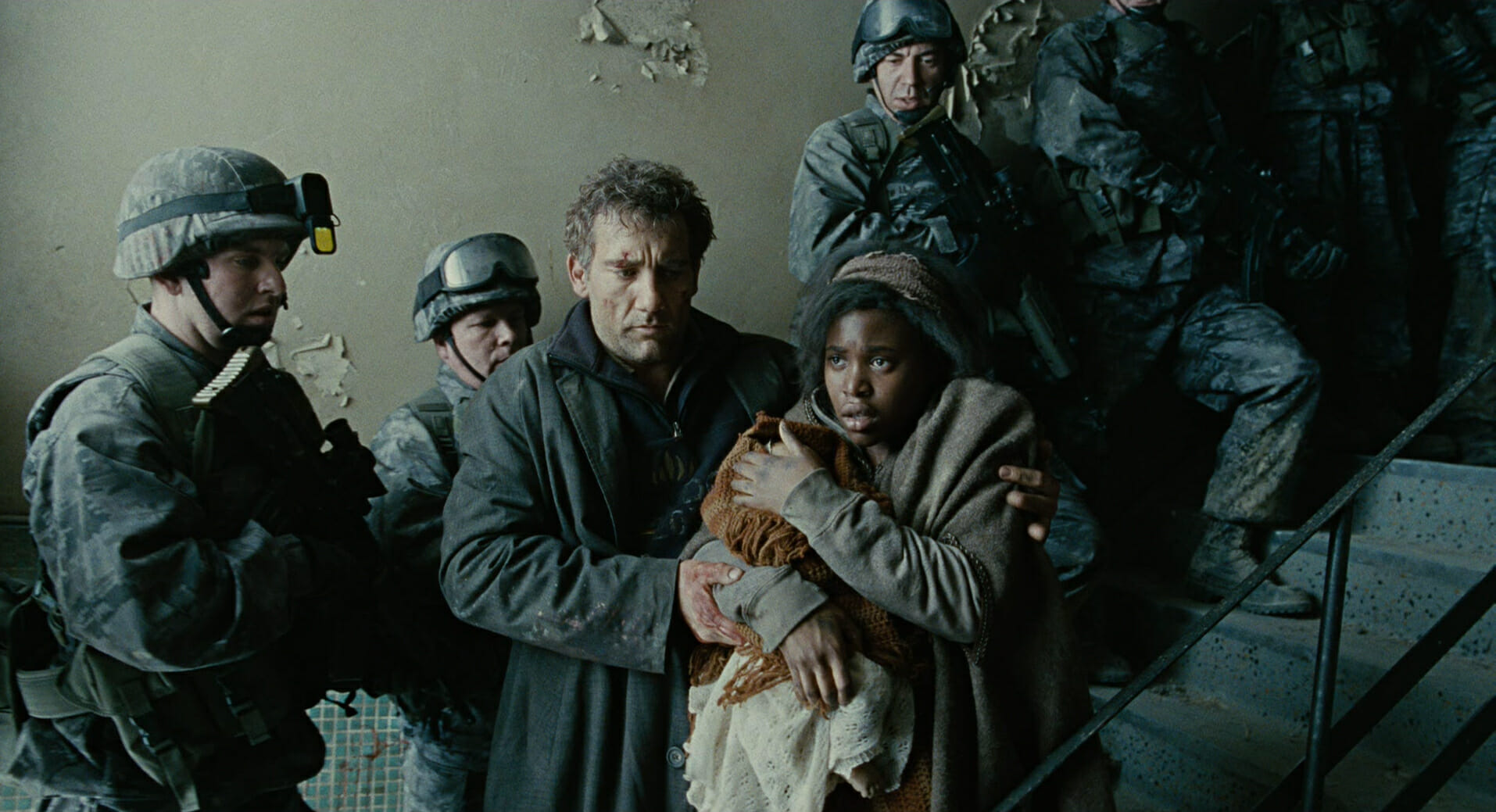 Director:

 Alfonso Cuaron

Writer: 

Alfonso Cuaron, Timothy J. Sexton, David Arata, Mark Fergus, Hawk Ostby

Cast: 

Clive Owen as Theo Faron, Julianne Moore as Julian Taylor, Clare-Hope Ashitey as Kee, Michael Caine as Jasper Palmer, Chiwetel Ejiofor as Luke, Charlie Hunnam as Patric.

IMDb:

 7.9/10

Rotten Tomatoes Ratings:

 92%
This film is about the struggle of men to save their species. Infertility threatens mankind, who are on the verge of becoming extinct, so Theo Faron, the last-born child, must chalk out some plan to save the Earth's population and must go against all the demons. He is the last ray of hope and thus must protect mankind at any cost.
1. The Tunnel
Director:

 Pal Oie

Writer:

 Kjersti Helen, Rasmussen

Cast:

 Thorbjorn Harr as Stein, Ylva Lyng Fuglerud as Elise, Lisa Carlehed as Ingrid, Ingvild Holthe Bygdnes as Andrea, Mikkel Bratt Silset as Ivar, Per Egil Aske as Christian, Jan Gunnar Roise as Gunnar.

IMDb:

 6/10

Rotten Tomatoes Ratings:

 67%
The Tunnel is a popular disaster movie that shows how a family and several people got stuck inside a tunnel after a truck exploded and caused the tunnel to be filled up with hazardous smoke. The outer world is unaware of the fact and engages in Christmas enjoyment, but Stein Berge is all set to rescue everyone, including his daughter. Will he and his team be able to do so? Stream the movie and know what happened.
The disaster genre of movies has always been exciting to watch; thus, the audience waits to witness more such films quite often. These films show how one's life can change without prior notice and become worse eventually. You will find many critics of disaster movies yet try to stream these films if you love the genre. So, this was our list of 20 movies like Greenland, hope you liked it!
For more such movies or characters' updates, do not forget to follow us.