The Pro Heroes of the My Hero Academia universe are in charge of protecting citizens, teaching the next generation, and ensuring that the villains do not harm anybody.
While all of the Pro Heroes possess unique ability sets and are effective in their own right, some stand out beyond the others. Many My Hero Academia pro heroes are well-liked and respected by the population they protect.
A pro hero's reputation and respect may increase even further if they have unique personalities, cool outfits, or fascinating things to say.
All pro heroes are respected, but some are renowned for their talents and reputations as professional heroes in the hero society. On top of that, some of them seem to be instructors.
There is now a Pro Hero rating system in My Hero Academia canon – a hero billboard chart. Still, as viewers see throughout the show, power does not necessarily equate to utility.
50. Hawks
The number-two pro character has demonstrated not only why he is considered so highly but also why he was picked to snoop on the League of Villains.
His ability to remain calm and collected in peril, as well as in a fight, has recently been on show with his fierce wings. I'm looking forward to the next season since it appears to be building up a massive conflict here between the protagonists and the Paranormal Liberation Front.
49. Snipe
Snipe is a Pro Hero and a teaching staff member at U.A. High School. He is in charge of the third-year students.
48. Ryukyu 
Ryuko Tatsuma, popularly known as Dragoon Hero: Ryukyu in the anime/manga show My Hero Academia, is an important character. She is the previous No.
9 Pro Hero and the current No. 10 Professional Hero. During the Shie Hassaikai Arc, she used Nejire Hado, Ochaco Uraraka, and Tsuyu Asui.
47. Lemillion
Mirio appears after season 3 as one of UA's "Big Three" and as a prospective mentor for class 1-A.
After that, he becomes an increasingly important component of the narrative, concluding in the most current episode of Season 4, dubbed hero name "Lemillion," after the character's hero nickname.
Everything there is about Mirio, including the origin of his quirk, demeanor, and past, explains why My Hero Academia is among the most popular animes on the market.
46. Kirishima – Crimson Riot
Eijiro Kirishima's red riot hero began as a shy and self-conscious young man. Kirishima became self-conscious about his looks and attitude due to his junior high peers being more extroverted and energetic than him.
His self-esteem suffered as a result of his inability to confront someone who was threatening his classmates. However, his moves while fighting villains and his offensive power in close-range combat are commendable.
45. Ninja Hero: Edgeshot
Edgeshot seems to be a My Hero Academia Universe pro-hero. Shinya Kamihara is their real name. He is ranked fifth in popular Pro Hero Rankings. He is the Lurkers' leader and is 34 years old.
His birthdate is February 22nd, according to the manga. Edgeshot is a ninja hero that portrays a classic Japanese shinobi. He is composed, composed, and concentrated. He is also intelligent and level-headed.
44. Minoru Mineta
I debated including him on the list, but he would present a persona we all know we despise. It's a pattern employed in many anime where there must be one "nice character" we eventually hate.
Unfortunately, we never get to appreciate his screen time because of his pervy & cowardly behavior. Although he has moments of bravery, he is primarily a sour grape.
43. Toru Hagakure
Hagakure, like many of her students, does not receive much attention during the episode, although she does have some amusing moments.
Unfortunately, her peculiarity is that she is invisible, thus, she is rarely seen, both literally and metaphorically.
42. Koji Koda
A lovely quiet type with a particular quirk which is regrettably a side character with nothing to say. That was his allure in the first series, but after people discovered he could communicate, the show never offered him anything more to say.
41. Nezu
We've only seen Nezu as the principal of the U.A. when it comes to school activities, but his actions in the final test demonstrated why he's in the situation.
He is an extremely committed educator who treats all his staff and pupils with respect… What is there not to like?
40. Best Jeanist
His metamorphosis of Katsuki gained him an instant fan, as the opposites of their mindsets provided for some hilarious exchanges.
To say the least, his death at All For One was heartbreaking since we still don't know if he was murdered that day or transported elsewhere to be studied. Yet, none can take the dread in his gaze away from me.
39. Neito Monoma
Monoma may be as obnoxious as Minoru at moments, but thankfully Kendo is just there to hold him in line and put him out when he begins his tirade.
His peculiarity is certainly worth noting, but they've already demonstrated that he has the potential to compete with some of the top kids soon.
38. Rikido Sato
Sato's "Sugar Rush" oddity grants him exceptional power and stamina as the Class 1-A chosen chef but at the penalty of being tired when his quirk burns all the sugar in his body.
The dormitory contest revealed much more of his character, as it did for many of the Class 1-A individuals. However, like others, he does not receive sufficient screen time to be considered an expert.
37. Tetsutetsu Tetsutetsu
Mr. two first ideas came on hard, " particularly in the context of Katsuki, but he truly showed out when he faced Eljiro and had their comparable eccentricities go head-to-head.
Although he lost that fight, his quick bond with Kirishima and his takedown of Mustard demonstrated the type of pro hero he will be.
36. Overhaul
Overhaul, as Eri's captor and war criminal, is revealed to be the fourth season's most heinous monster. His peculiarity was unique, providing an exciting combat between him, Izuku, and Mirio.
His defeat to Izuku was a fantastic fight. Still, Shigaraki removing his quirk by rotting his hands was retribution in its purest form after the horrors he performed against numerous individuals, most notably Eri.
35. All For One
All For One is disturbing for a myriad of purposes. First, he is the essence of evil, whether it's because his oddity enables him to acquire and impart oddities toward others, or because he appears to be eager to kill a life with no remorse.
With Shigaraki in line to follow him, I question if, in the end, he is prepared to relinquish his position as the top monster, or if he also has other scheme that not even his apprentice is aware of.
34. Dabi
Dabi's sleeping appearance is frightening, mixed with the decaying skin appearance he adorns.
Still, his propensity to burn anyone in his path at any time makes him the terrible adversary he is.
As the manga has revealed his identity, there's certain to be some history given in the coming, and boy is it fantastic. I absolutely can not wait to see it on the big screen.
33. Himiko Toga
Her upbeat nature, combined with her cruel impulses, makes her the ideal antagonist. Moreover, her "Transform" feature enables her to become anybody whose blood she has swallowed, adding to her evilness.
The new villain storyline has exposed more of these monstrous beasts' weak aspects, particularly Himiko's sympathetic aspect for Twice, which was pleasant to witness.
32. Kurogiri
I'm curious to see how Kurogiri's tale will change now that we know he's the experimental corpse of Eraser Head and Present Mic's best buddy.
His debut at U.A. demonstrated exactly how bad his "Warp Gate" peculiarity was by rapidly defeating pro hero Thirteen. Yet, I wonder whether he'll be released from prison because Tomura never considered him a fantastic friend for the League of Monsters.
31. Present Mic
Present Mic, as U.A.'s official commentator, makes every tournament watchable with his witty commentary at occasion. He is normally an oddball who wants to thrill everyone around him, but we catch a glimpse of his fury once he realized Kurogiri.
30. Stain
Present Mic, as U.A.'s official commentator, makes each tournament watchable with his witty commentary on occasions. He is normally an oddball who wants to thrill everyone around him, but we catch a glimpse of his fury once he realized Kurogiri.
29. Twice
Twice, like most of the program's antagonists, didn't have any background until lately.
His dedication to his colleagues, especially Himiko, demonstrated how close these criminals had become over time. The fact that he's not sure if he's the real guy or a clone he's developed was an interesting spin on his narrative.
28. Gran Torino
The ancient instructor who expects a lot from his students is nothing novel, but it's always nice to see another technique that works.
His act of pretending to be old when he first meets Midoriya was hilarious, but his prowess in battle piqued my interest.
27. Itsuka Kendo
Kendo has proven to be more than simply Class 1-B's older sister when she isn't knocking Monoma out.
Her struggle with Mustard showcased her fighting talents and demonstrated how much she cares about her fellow 1-B pupils.
26. Mezo Shoji
Shoji's "Dupli-arms" ability allows them to hear and see better than his classmates while providing him with additional support for fighting.
His imposing demeanor may mislead you, but he's nice and happy to work with everyone. He lacks the luster to rise closer to the top.
25. Mashirao Ojiro
Ojiro appears to value integrity and honor since he forfeits his place in the U.A. Sports Festival owing to Hitoshi's mind manipulation during one of the games. This demonstrates how far he can go to maintain his dignity, and I admire him for it.
24. Hanta Sero
Sero's pleasant demeanor explains why he usually smiles and talks with his peers. In addition, his "Tape" peculiarity allows for some unique battle scenes & Spider-Man-like leaping — but he's another victim of a lack of context onscreen.
23. Hitoshi Shinso
Shinso's tale was surprisingly motivating, considering he has a nasty appearance and his quirk "Brainwashing" isn't something you'd expect from a hero. Despite this, he is motivated to get to be a hero.
It's a terrific perspective on a child who might easily be a very deadly villain but instead chooses to utilize his peculiarity to assist others, and darn if that didn't win me over.
He made more visits later in the episode, which I hope means we'll see him take on some of the enemies the other kids have faced.
22. Nejire Hado
Nejire's inquisitive and outgoing attitude, combined with her "Wave Motion," allows her to communicate with pupils and villains. She hasn't faced as much difficulty as Mirio and Tamaki, but I want to see more of her narrative in the future.
21. Yugo Aoyama
Yugo had several fantastic moments onscreen and knows where his quirk ranks among some of the greatest pupils.
Fortunately, this doesn't stop him from trying to keep up with his classmates, resulting in some wonderful moments while Class 1-A is at war.
20. Mina Ashido
This acid-wielding youngster has the energy and dancing routines to brighten anyone's day. If she had a more interesting backstory, I believe she would be more popular than Momo, Tsu, or Ochaco.
19. Nighteye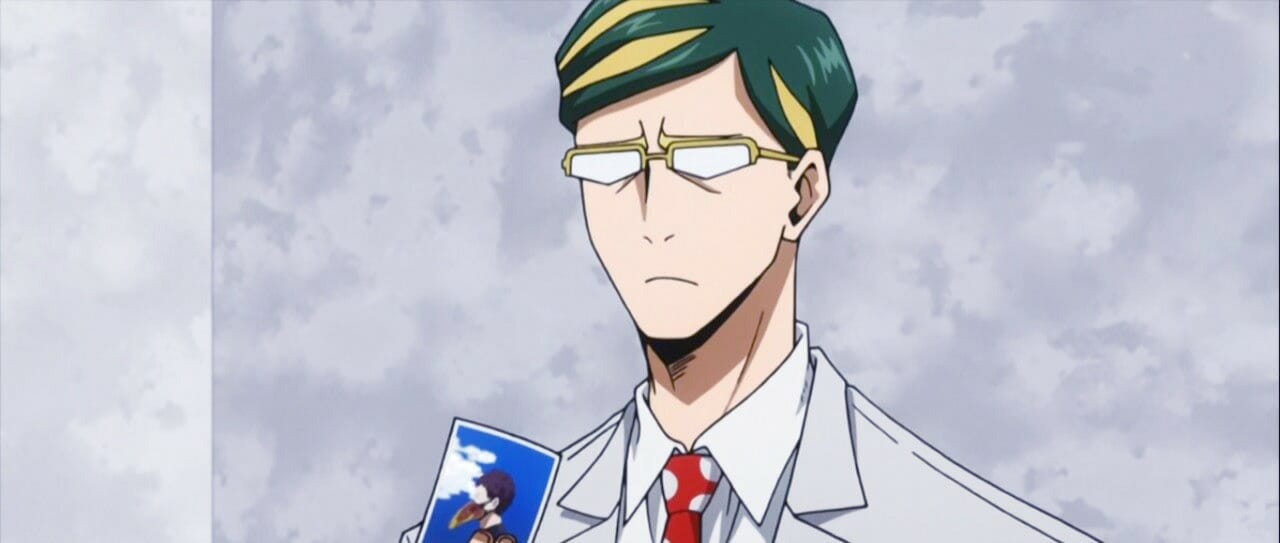 It was heartbreaking to witness the death of such a cool character, especially because we didn't get to spend so much time with him on the program.
Fortunately, we got in seeing his "Foresight" peculiarity on display, as well as why he and All Might had their falling out – he thought Mirio was a better fit for his One For All quirk.
Nobody crushed my heart more than seeing his student Mirio beg him to stay alive in the health centre. To put it lightly, his brief appearance on the show had an impression.
18. Tamaki Amajiki
Tamaki, a member of the U.A.'s "Big Three," has demonstrated why he deserves to be in that elite group, despite his social ineptitude.
His "Manifest" quirk, as well as his fight IQ, have demonstrated why he's a fantastic champion in the creation.
17. Kyoka Jiro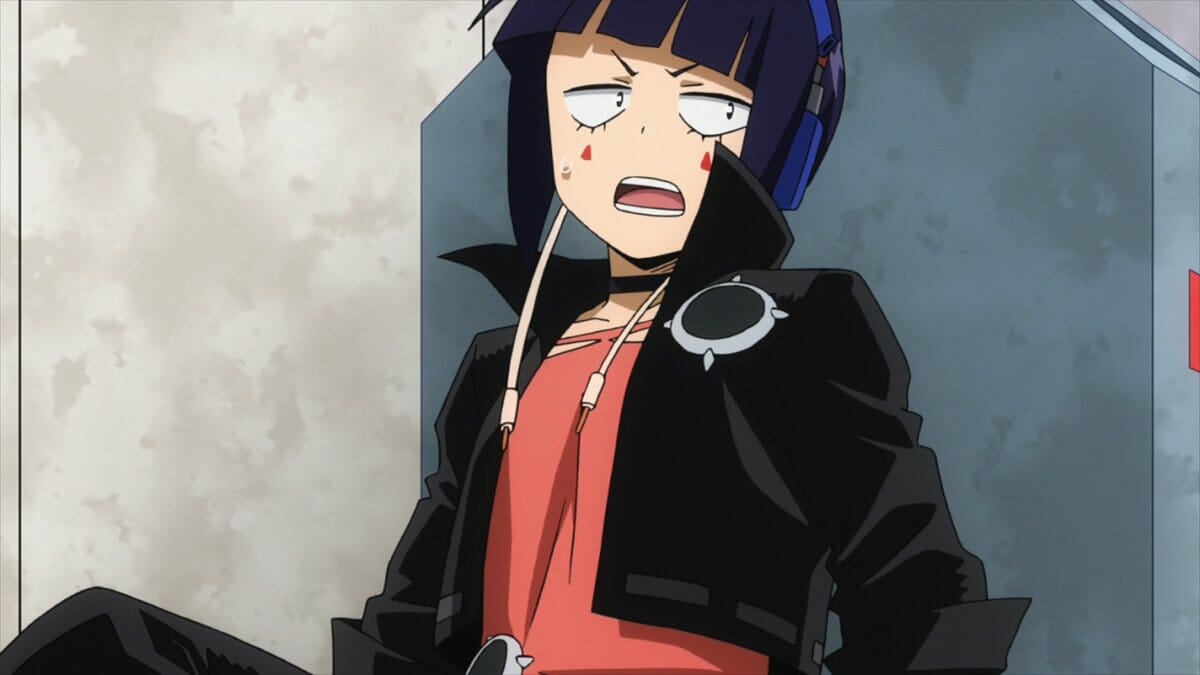 With her punk-rock outfit and Ear-phone jack, it was no wonder that Kyoka became a fantastic singer and guitarist.
Her capacity to not only hear but also paralyze enemies with her tremors is rather impressive. What I appreciate best about her is her interaction with Denki, as she is constantly criticizing him for whatever he says.
16. Denki Kaminari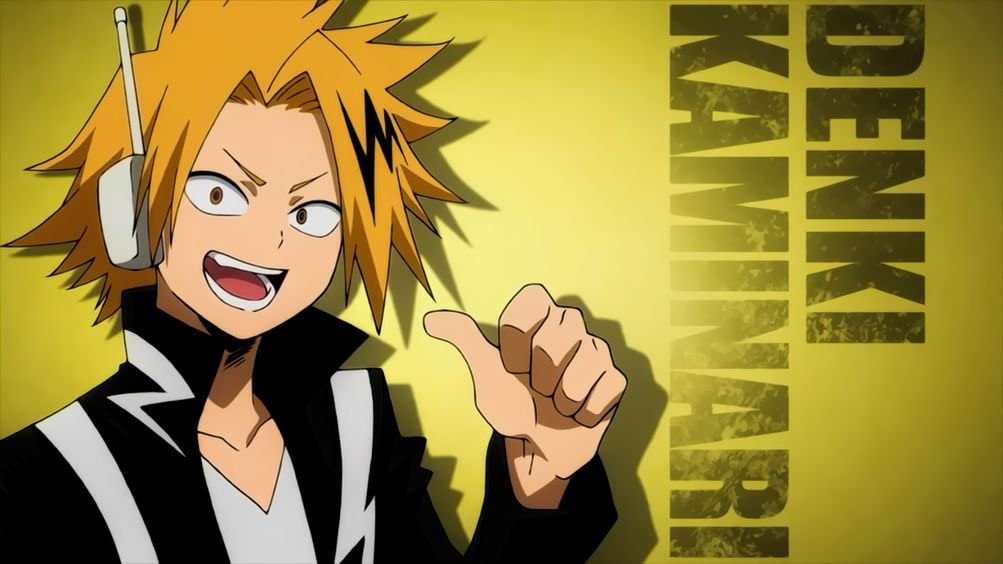 Denki, like Eljiro and Hanta, contributes a lot of laughter to the story.
He notably makes me chuckle when he employs his "Electrification" peculiarity, which literally reduces him to a troglodyte who enjoys tossing a nod of approval again and over with a blank smirk. That picture is stuck in my thoughts.
15. Fumikage Tokoyami
Fumikage has one of the greatest oddities in the class, with his "Dark Shadow" character resembling a Jekyll/Hyde duality based on how much power he has.
So he might be scary to his peers at first, but they eventually see his determination to constantly aid his friends and improve his talents in order to catch up to the other best students.
14. Momo Yaoyorozu
Her "Creation" quirk is one of my favorites because it not only emphasizes her brilliant mind but also demonstrates her fighting prowess in some of the devices she develops.
I've been enjoying her arc so far, especially since she was paired with Shoto and had to boost trust in her abilities to accomplish the mission against their teacher, Mr. Aizawa.
13 Tomura Shigaraki
Shigaraki was chosen as All For One's heir for a purpose: he possesses the greatest penchant for devastation. He has demonstrated in his most recent combat with Redestro exactly how much harm he can cause on a massive scale.
His terrible past explains why he's got to be the beast he is. As the recently appointed head of the Paranormal Liberation Army, the outlook appears dark since there will inevitably be victims.
12. Tsuyu Asui
You'd think that a girl with the nickname "Frog" would've been uncomfortable about herself or feel like an outsider, but Tsu is the contrary; she is absolutely positive about her talents and understands precisely what she contributes to the board.
She rescues Izuku and her friends on various occasions, and she has a straightforward nature that I admire.
11. Ochaco Uraraka
The progress we've seen with Ochaco has been amazing. She's transformed from a laid-back effervescent girl with little faith in her abilities to an ambitious hero.
It's wonderful that the program has held off on making her and Izuku a relationship. Rather than pursuing the boy, they transformed her love into fuel for her to be a greater hero. It's fantastic.
10. Tenya Iida
Tenya, the class captain, possesses all of the desirable characteristics, perhaps to a fault. He dislikes violating the rules and will be doing so if it meant he can observe his peers.
Tenya has a particularly special place because of his journey with Stain and the fact that he began taking his brother's hero moniker to carry the heritage.
9. Endeavor
With Enji Todoroki being the violent and demanding parent he was, I was intrigued as to how the program could ever rehabilitate him.
Fortunately for us, the entire Todoroki family storyline has been complex and full of tremendous tension between Endeavor and his kids. They made it a point to demonstrate that not everything is forgotten when it comes to Endeavors' past trauma, but there is room for atonement moving ahead.
His recent arc has demonstrated not only that he is prepared to go to any length to regain his family's confidence but also to represent himself as the number-one flame hero he is.
8. Eraser Head
Mr. Aizawa has demonstrated not just why he is the finest instructor at U.A. but also why he is such a kickass pro hero.
His "Erasure" quirk is an equalizer in any combat, but it is teaching passion to his children that distinguishes him as one of the finest. Eraser Head has a new adventure to pursue after finding that an old friend's corpse was converted into the antagonist Kurogiri in his newest arc.
7. Eri
What else can I say about this adorable little girl? She has by easily one of the finest, if not the most overpowering, eccentricities on the program, but it's her beautiful nature that shines through it that gives her one of my favorites.
To say the very least, the pain she underwent at the hands of Overhaul was horrible, but the picture of her beaming at Izuku as Mirio held her after Class 1-A's performance had me in tears.
I can't wait for her to gain control of her peculiarity since this girl is going to be a badass.
6. Eljiro Kirishima
Eljiro is one of my favorite Class 1-A kids because he not only delivers hilarity anytime he's onstage with Katsuki, but he also has this motivation and ambition to be great that gets you to root for him
. His fight with Fat Gum was the icing on the cake for a sequence of memorable events on the program. He's still developing, and I'm excited to see where he leads in Season 6.
5. All-Might
It's a pity we only have to see All-Might in his full glory for about two and a half weeks of the season as a true hero, but man, did he ever produce when he showed up.
I got chills watching him battle the Nomu and then face off against All For One. It's strange how the roles have flipped since he handed his quirk to Izuku and has now become quirk less, much like Izuku was before they met.
While we don't get as much action as we used to, his passion for his students and confidence in Izuku and Katsuki has been incredible to witness. If the series ever loses him in the array of pro heroes, it will be a terrible time.
4. Katsuki Bakugo
People are protesting because I don't rank Katsuki first, but let me explain why. I really can not bear Katsuki at first; his taunting and continuous tantrums made me yearn for the day when Izuku would ruin his life in combat, but the anime gradually filled out his tale.
We observed that as the conflicts progressed, he began to realize that he can not only rely on his companions for assistance but also utilize some of them as inspiration to be better, particularly Izuku. Although it's an excellent arc, I preferred others somewhat better.
3. Mirio Togata
It's bad we only got a few views of his oddity in work, but those were some of the series' greatest.
What surpasses a top pupil who battles and beats every one of Class 1-A in his underwear while smiling big? It was not only amusing, but it also demonstrated Mirio's strength and ability.
His battle with Overhaul, which resulted in him sacrificing his peculiarity, was dramatic, but dammit if it didn't make me like his personality even more. There's a purpose Nightie chose him to be All-replacement, Might's, and the program has given.
2. Shoto Todoroki
Shoto does have one of the better arcs in the show so far, for me, owing to his personal suffering as a result of his father.
We get to see his ascent not only as a warrior but rather as a son who is prepared to offer his father a second opportunity to make things right, which is amazing.
Not only has he had some incredible battle scenes, but his general psychological growth has been brilliantly described.
It's no surprise that he's one of the show's fans, but he's number duo for me among other heroes. The half-cold, half-hot, incredibly skilled attacks make Todoroki a hero and academic favorite.
1. Izuku Midoriya
He is the series' primary protagonist, a shy, unselfish, and quirk less young guy who aspires to be a superhero.
After seeking to save his boyhood buddy Bakugo from a villain, All Might choose Izuku to inherit his talents, becoming the ninth bearer of One For All, a transferrable Quirk that stores power and offers him great strength, agility, stamina, and durability.
Izuku eventually would become the first user to establish a telepathic link with the ghosts of previous One For All participants and acquire their Quirks.