Most Russian content has been taken down from the platform as of 2023. However, there are still few Russian TV shows available on the huge streaming service. Since the introduction of streaming services in the entertainment world, people are now not only just limited to movies and TV shows from Hollywood and their native countries but also have been shown interest in other country's languages such that you can now even watch the best Russian tv shows on Netflix in the comforts of your home.
Streaming giants like Netflix and Amazon Prime have been significant contributors to promoting Russian history and Russian culture for expanding the horizon of its popular TV-watching experience as viewers can now watch breathtaking TV shows from various other countries, one of them being Russian TV shows.
You can also find Russian films with English and Russian subtitles so that you can learn Russian from native Russian speakers.
Russian TV Shows on Netflix
These days finding the best Russian TV series is quite easy! Not only will these Russian shows give you a new perspective on Russian culture, but they also help you learn the Russian language by watching movies, thereby making an easy and exciting alternative for language learners.
26. The Nurse (2023)


Director: Kasper Barfoed

Cast: Fanny Louise Bernth · Pernille Kurzmann Larsen ; Josephine Park

IMDb Rating: 6.9/10
The Nurse: The True Story Behind One Of Scandinavia's Most Notorious Criminal Trials, a book by Kristian Corfixen, serves as the basis for the television series, which stars Fanny Louise Bernth as Pernille Kurzmann, a nurse who is starting her first job after graduating from nursing school.
25. Masha's Tales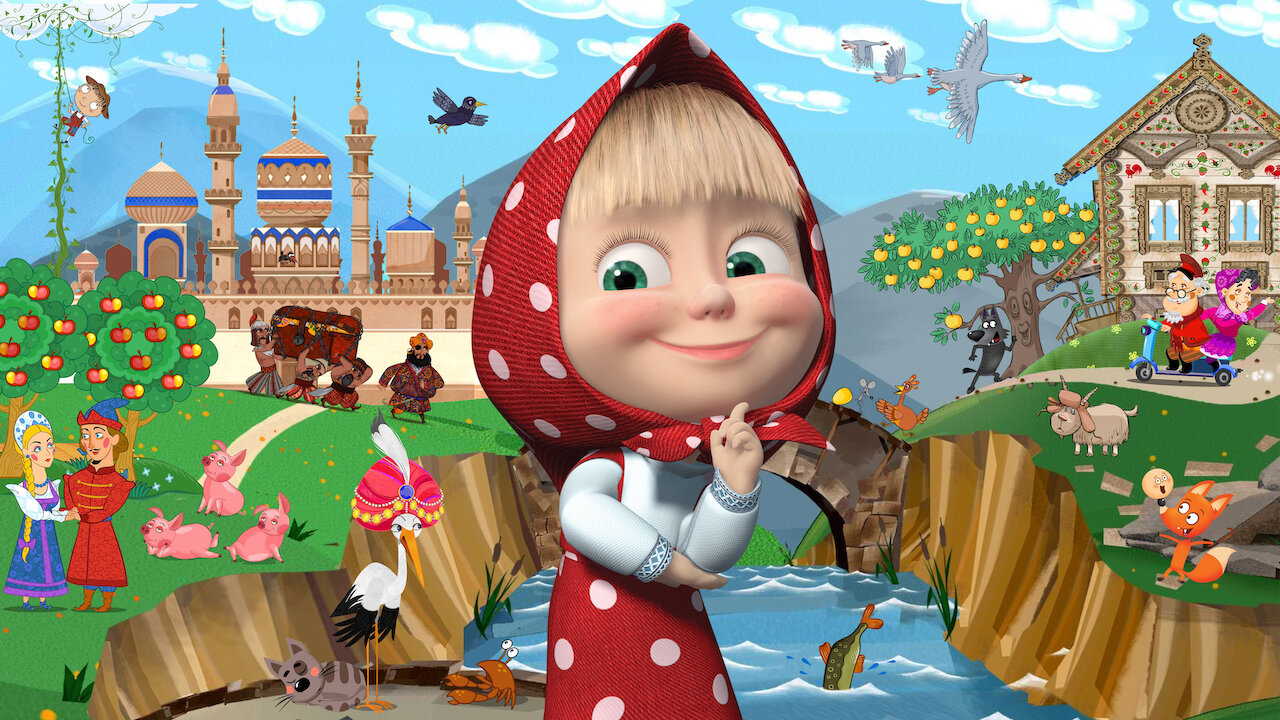 Director: Roly Gutiérrez
Cast: Boris Kutnevich, Alina Kukushkina, Kaitlyn McCormick
IMDb Rating: 5.2/10
This time, our second entry of the Masha-verse follows cute little Masha's adventurous stories and tales, which she tells from her perspective about her life. This is another classic Russian kid's program that is highly recommended for kids.
24. Masha's Spooky Stories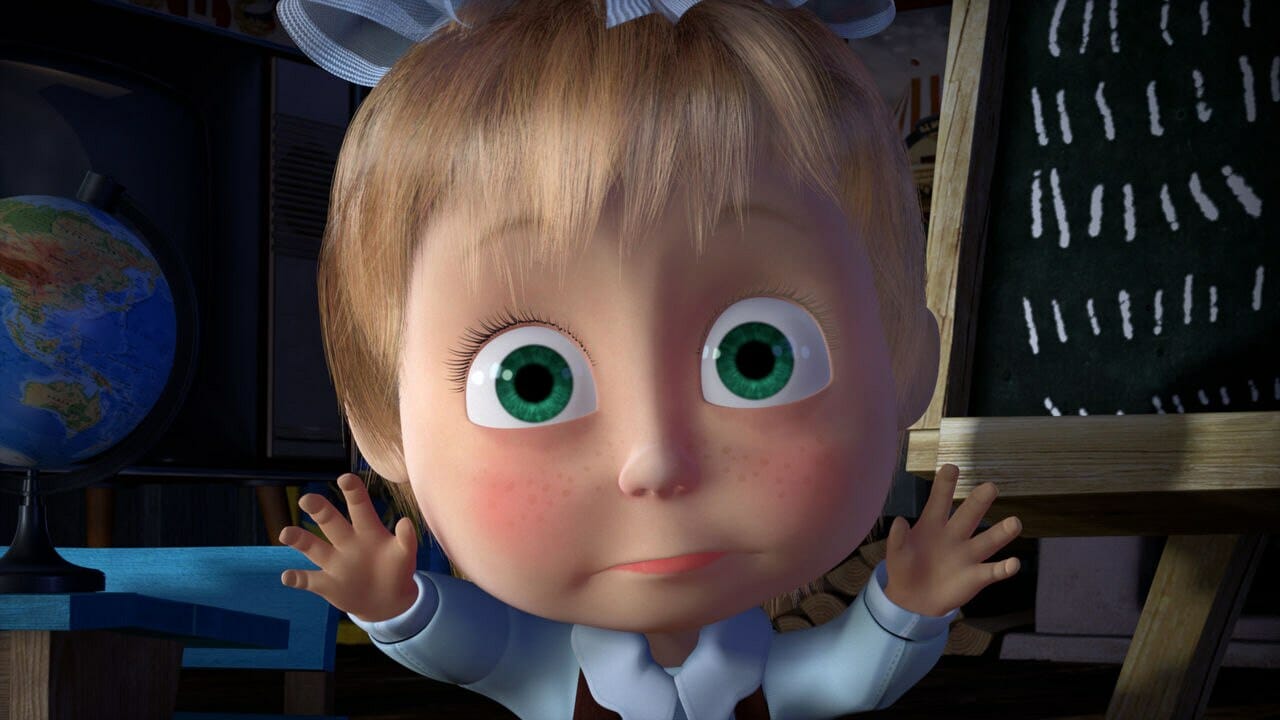 Director: Roly Gutiérrez
Cast: Boris Kutnevich, Alina Kukushkina, Kaitlyn McCormick
IMDb Rating: 5.2/10
Our third entry from the creators of Masha, this time it is Masha's Spooky Stories. This one follows Masha's fantastic storytelling abilities, where she tells spooky stories but with a twist that all these spooky stories have a rational explanation.
23. Locust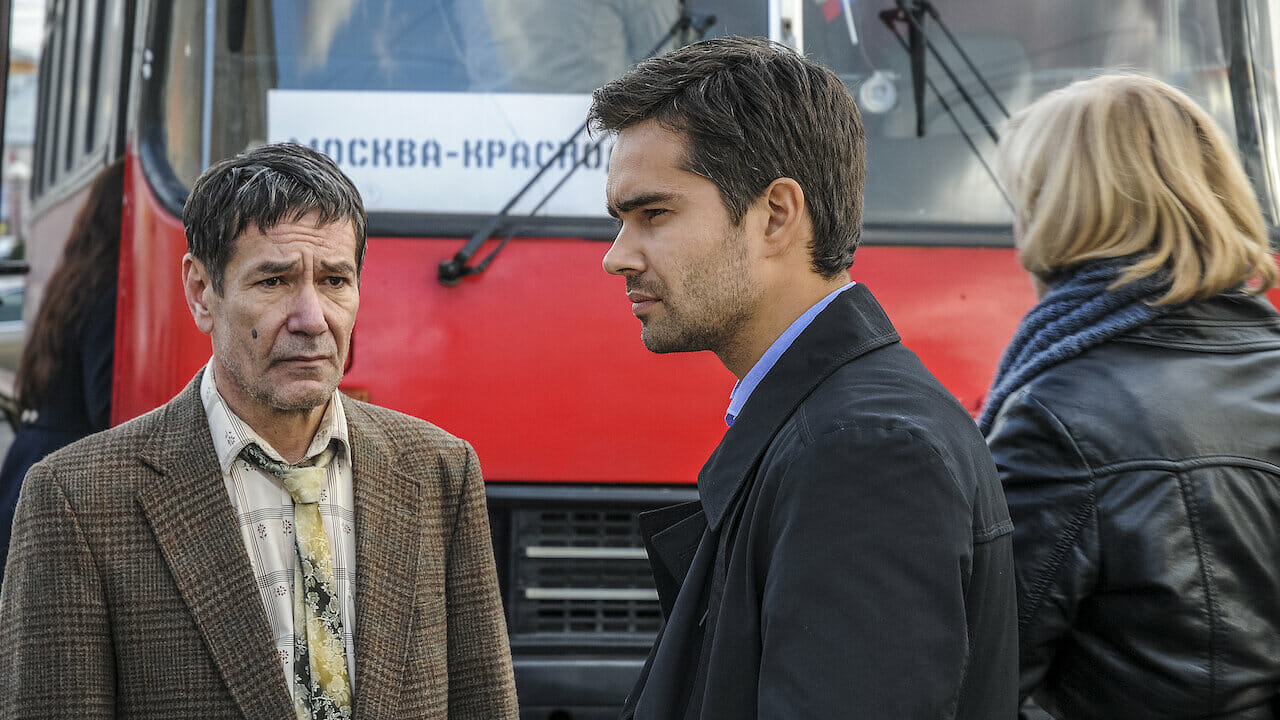 Director: Egor Baranov
Cast: Anastasiya Akatova, Paulina Andreeva, Evgeniya Dmitrieva
IMDb Rating: 5.7/10
One of Russia's path-breaking shows, Locust, is Russia's first-ever erotic thriller with the themes of adultery and sex-based storylines.
It follows the story of a small-town poet who passionately falls in love with a big-time wealthy heiress from Moscow. It forms one of the best Russian TV shows out there on Netflix.
In Russia, this is the first erotic thriller. The plot begins with a summer romance between a countryman and a large city young woman. After the event, the beauty goes to the city and accepts a marriage proposal from a wealthy admirer.
The provincial child returns, unwilling to let her go. When their excitement exceeds all of the cutoff marks, things become complicated. Soon after, modern Romeo and Juliet get perplexed about what is truly essential, consuming 'Locust': their excessive love leads them to commit heinous crimes.
22. In From the Cold
Director: Paco Cabezas
Cast: Margarita Levieva, Cillian O'Sullivan, Lydia Fleming
IMDb Rating: 6.2/10
The latest 2022 Netflix original series In From the Cold follows the story of a single mother and ex-Russian spy who struggles to keep herself safe after the CIA knows about her hidden secret. The show was made by Adam Glass and got aired on January 28 this year.
A single mother's life in rural New Jersey is turned upside down when the CIA arrests her and forces her to choose between confronting her long-buried past as an exceptionally trained, bio-engineered Russian agent and becoming an asset against Russia's underworld drug trade and shadow battle on US elections, or jeopardizing her family and the new life she has worked for.
21. Sparta
Director: Egor Baranov
Cast: Alyssa Lozovskaya, Alexander Petrov, Artyom Tkachenko
IMDb Rating: 6.6
A bizarre mystery thriller series about a crime investigator exploring the mysterious death of a school teacher. He finds out that there have been more deaths in the school and that the students like to participate in a strange virtual reality game. A fantastic series to watch.
20. Gogol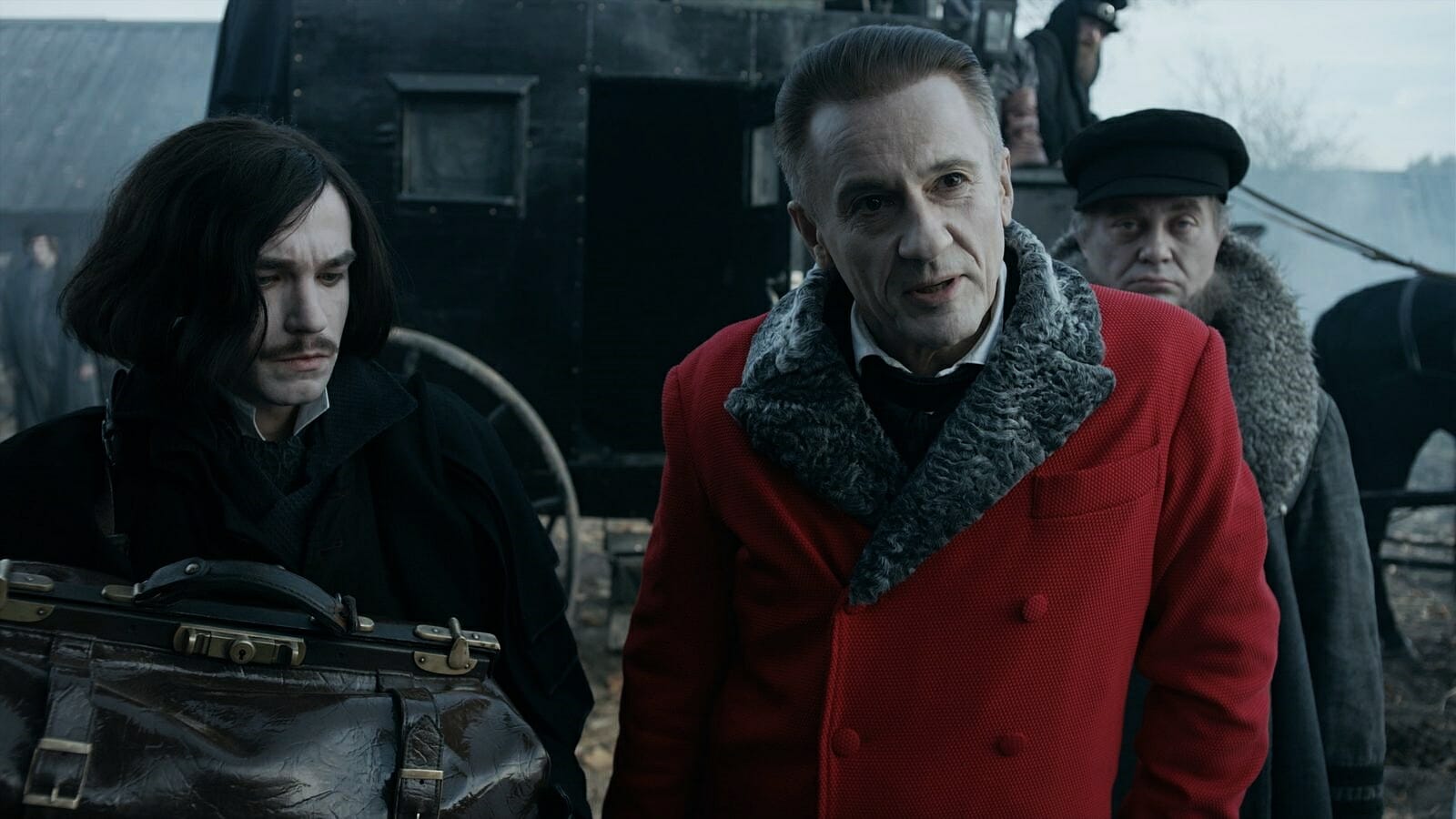 Director: Egor Baranov
Cast: Alexander Petrov, Evgeniy Stychkin, Taisiya Vilkova
IMDb Rating: 6.7/10
Extreme dream ghastliness series inspired by Ukrainian-Russian poet Nikolai Gogol, sometimes compared to Edgar Allan Poe. In this dark Gothic tale, Gogol, a regulatory representative, and aspiring essayist meets brilliant investigator Yakov Guro.
They unexpectedly discover Gogol has an unusual capacity for communicating with the hidden world and go off to a remote village to investigate a series of murders backed by the essayist's crimes involving dreams.
Gogol was born in Ukraine, and the series is based on his short story collection Evenings on a Farm Near Dikanka, which combines themes of work-life with wicked and supernatural elements from Ukrainian mythology.
In Russia, the series was first released as a three-film bundle. The shooting took place in St. Petersburg and Pskov, where the Dikanka town set was built.
It is the year 1829. Nikolay Gogol, a young Third Section representative, is in a panic: his own works look shallow and fair, so he continues to buy entire print runs in order to devour them all. He is having severe epileptic seizures and is fighting to stay at work.
Examiner Yakov Guro happens to witness one of these fits and realizes that Gogol's dreams hold clues that might help him settle genuine wrongdoings. Together, Gogol and Guro embark on an exceptionally strange and perplexing case that leads them to the little village of Dikanka, where everyone has a massive mystery to hide.
19. Ancestral Land
Director: Egor Baranov
Cast: Alexander Petrov, Evgeniy Stychkin, Taisiya Vilkova
IMDb Rating: 6.7/10
A famous true tale set in the Russian Urals centered on the Morozov family – two brothers and two sisters Aleksey, Stepan, Aliona, and Varvara.
As the family struggles to survive the butchery of World War II, they learn important lessons along the way, such as the value of true devotion and how to adapt to adversity.
An awe-inspiring family experience set in the Russian Urals before, during, and after WWII. The plot revolves around the Morozov family – Aleksey, Stepan, Aliona, and Varvara – two brothers and two sisters with a bizarre web of ties.
Amazingly, they all survive the butchery of World War II, but not without learning a few important lessons along the road, such as the necessity of real romance, which overcomes all obstacles and heals all wounds, and how to adapt to melancholy, eventually leading to long-desired pleasure.
18. Fartsa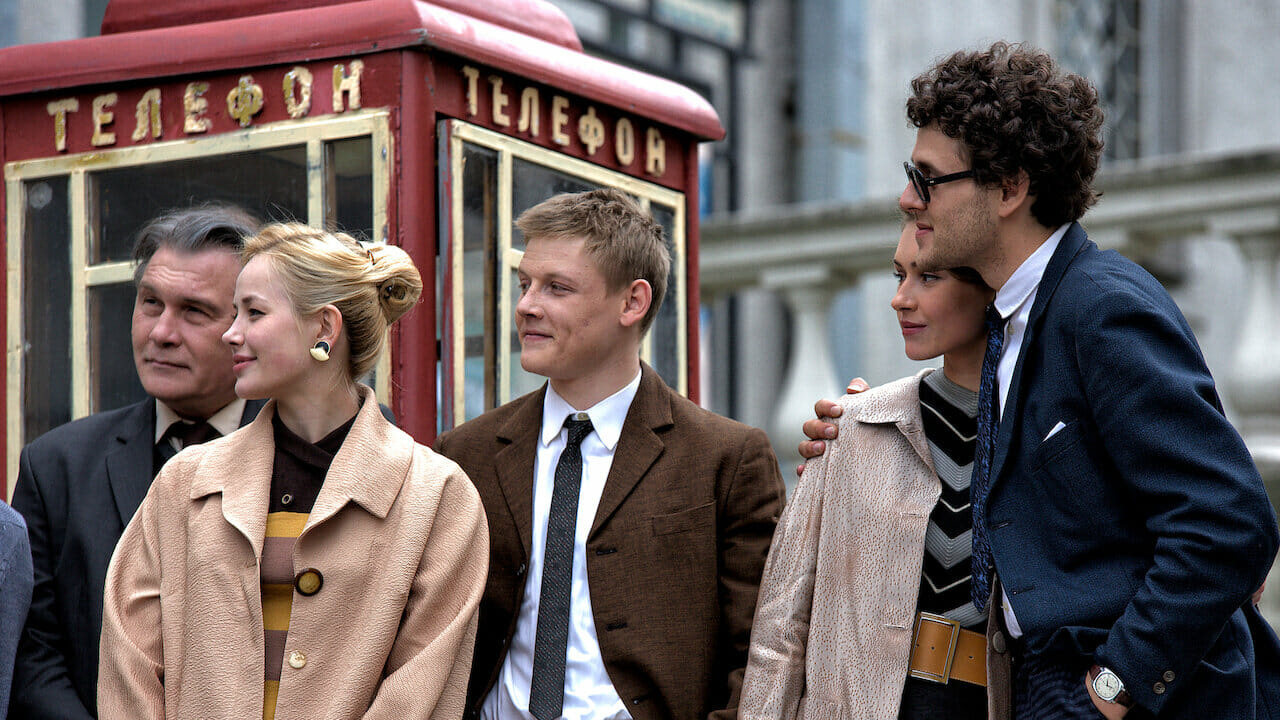 Director: Egor Baranov
Cast: Alexander Petrov, Aleksey Vesyolkin, Filipp Gorenshteyn
IMDb Rating: 6.7/10
It was almost like a mixture of The Wolf of Wallstreet and Entourage with a slice of Soviet-era Russian on top. Fartsa is a story about four wealthy friends who make money by exchanging and selling currency.
17. Booba
Director: Leonid Rakhmanin
Cast: Roman Karev, Elena Kareva, Artyom Kretov
IMDb Rating: 6.9/10
The story focuses on the life of Booba, who sees the world as a mystery, looks at everything with curiosity and wonder, and indulges in adventures every day. The show features Elena Kareva and Roman Karev and has seven seasons to stream on the platform.
Booba is adorable and curious, much like a five-year-old child. He explores the world without bitterness or wrath, only joy, and surprise. Despite the fact that he makes sounds to communicate his feelings, he does not speak.
Nobody knows where he came from, but he appears to have missed the last 100 years of human advancement and explores current areas with unlimited energy and passion.
His erratic movements, mixed with a strong desire to understand more about his environment, can produce humorous outcomes. This, however, does not satisfy Booba's curiosity, therefore his adventures will continue in the future series.
16. Kid-E-Cats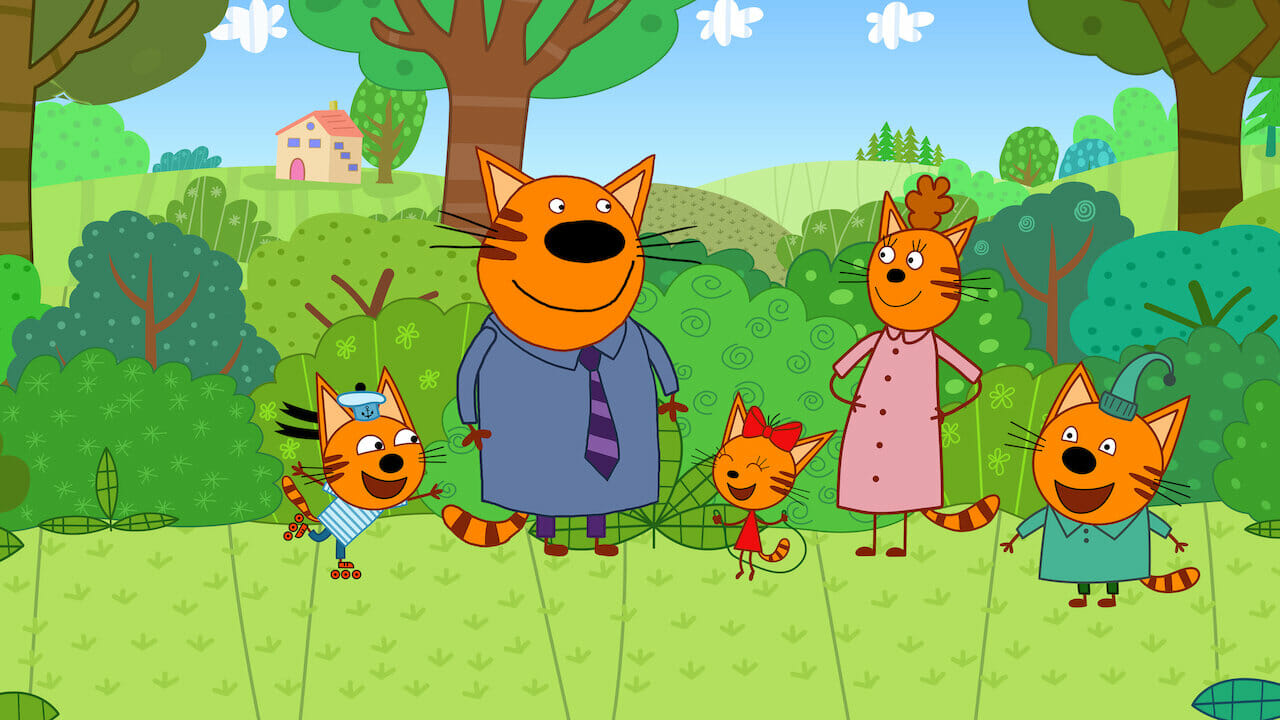 Director: Dmitriy Vysotskiy
Cast: Alyson Leigh Rosenfeld, Kate Bristol
IMDb Rating: 7.0/10
The show follows the story of Pudding, Cookie, and their little sister Candy. They investigate the things around them and like to eat sweets and play. They always end up on adventures, and by the care of their parents, the three kittens manage to solve every problem.
Each episode sees Pudding, Cookie, and Candy accompanied by their mother, father, grandpa, grandma, Aunt Cinnamon, Uncle Muffin, and little Bagel, making the world a safe and happy place for everyone.
They are also joined by their friends Bow, Mustard, Raisin, Cupcake, Dart, Smudge, Boris, and Chase, and along, they enjoy and learn about new things every day.
KID-E-CATS is the story of three kittens: Cookie, Pudding, and Candy, who are always ready to act fast and with boundless excitement and energy.
Their creativity defies any logical bounds, and these cats can come up with the most crazily entertaining problem-solving ideas. They learn to see before they jump, at least sometimes, via life's tiny lessons.
15. Trotsky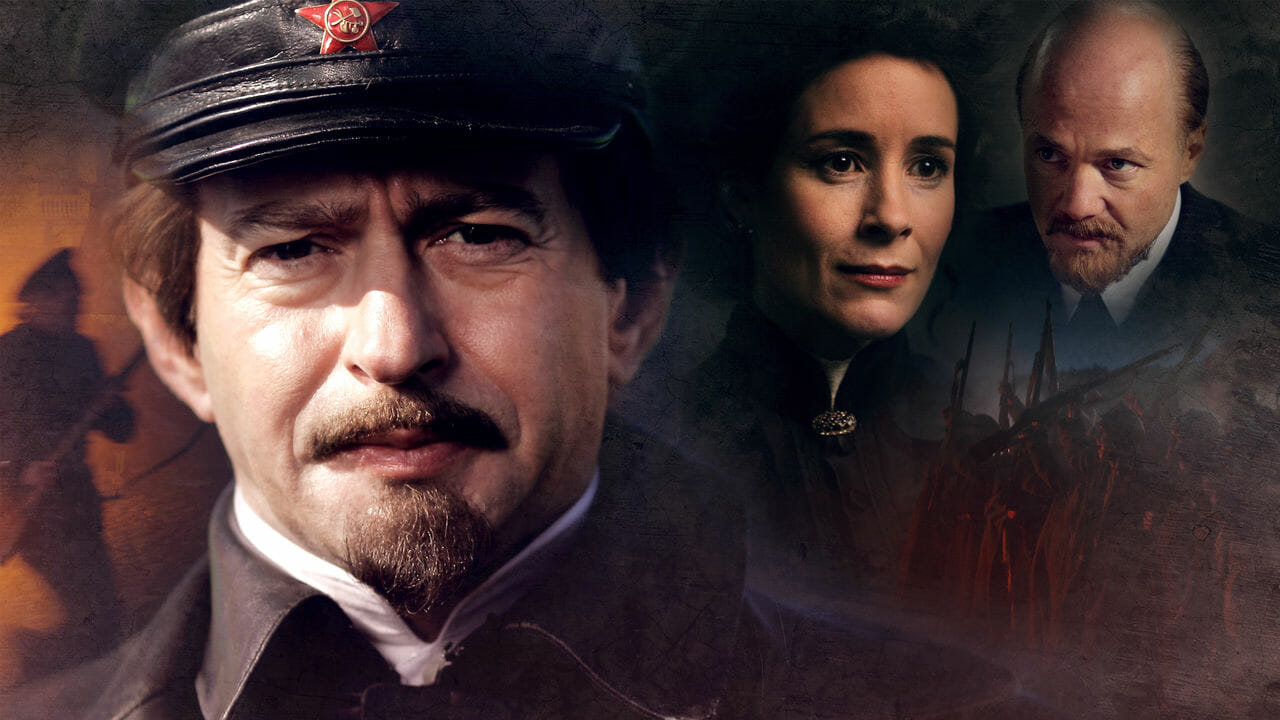 Director: Aleksandr Kott, Konstantin Statskiy
Cast: Konstantin Khabenskiy, Mikhail Porechenkov, Maksim Matveev
IMDb Rating: 7.1/10
This one is for all you history buffs who are interested in learning about Russia's glorious yet tainted history, along with the doctrines of communism. Trotsky follows the story of the divisive figure Leon Trotsky who escapes from the Soviet Union to Mexico to get as far as she can from his eternal enemy, Lenin.
In May 1940, on the outskirts of Mexico City, a group of Mexican Communists disguised as police officers storm the home of Leon Trotsky, the erstwhile leader of the Russian revolution.
Trotsky and his wife survive by an unbelievable coincidence. Having lost virtually all of his close friends and family during the eleven years of exile, Trotsky realizes that his eternal foe, Stalin, will follow him for the rest of his life.
He plans to leave a political testament, telling the story of how a man from an oppressed minority became a prophet of a new world and overthrew an empire in full and honestly.
14. To The Lake
Director: Pavel Kostomarov
Cast: Kirill Käro, Maryana Spivak, Natalya Zemtsova
IMDb Rating: 7.2/10
One of the most gripping and edge-of-the-seat sci-fi thrillers, To The Lake is almost like The Walking Dead set in Russia and covered in a white blanket of snow.
It is a story about a deadly virus that turns Moscow into a landfill of virus-infected humans, and the non-affected must struggle to survive.
A mysterious virus turns Moscow into a city of the dead. There is no electricity, money has lost all of its value, and those who have not yet been infected are struggling for food and fuel.
Sergei, the main character, lives outside of town with the woman he loves and her medically introverted child. It's still safe there. Regardless, he travels to Moscow to save his ex-wife and their child, despite the fact that she despises Sergei.
These individuals, who never thought they'd be living under the same roof again, must put the past behind them and go on a long, perilous trip north to discover an isolated hunting lodge on a barren island. The Outbreak is a family drama set in the middle of a global crisis.
13. Yoko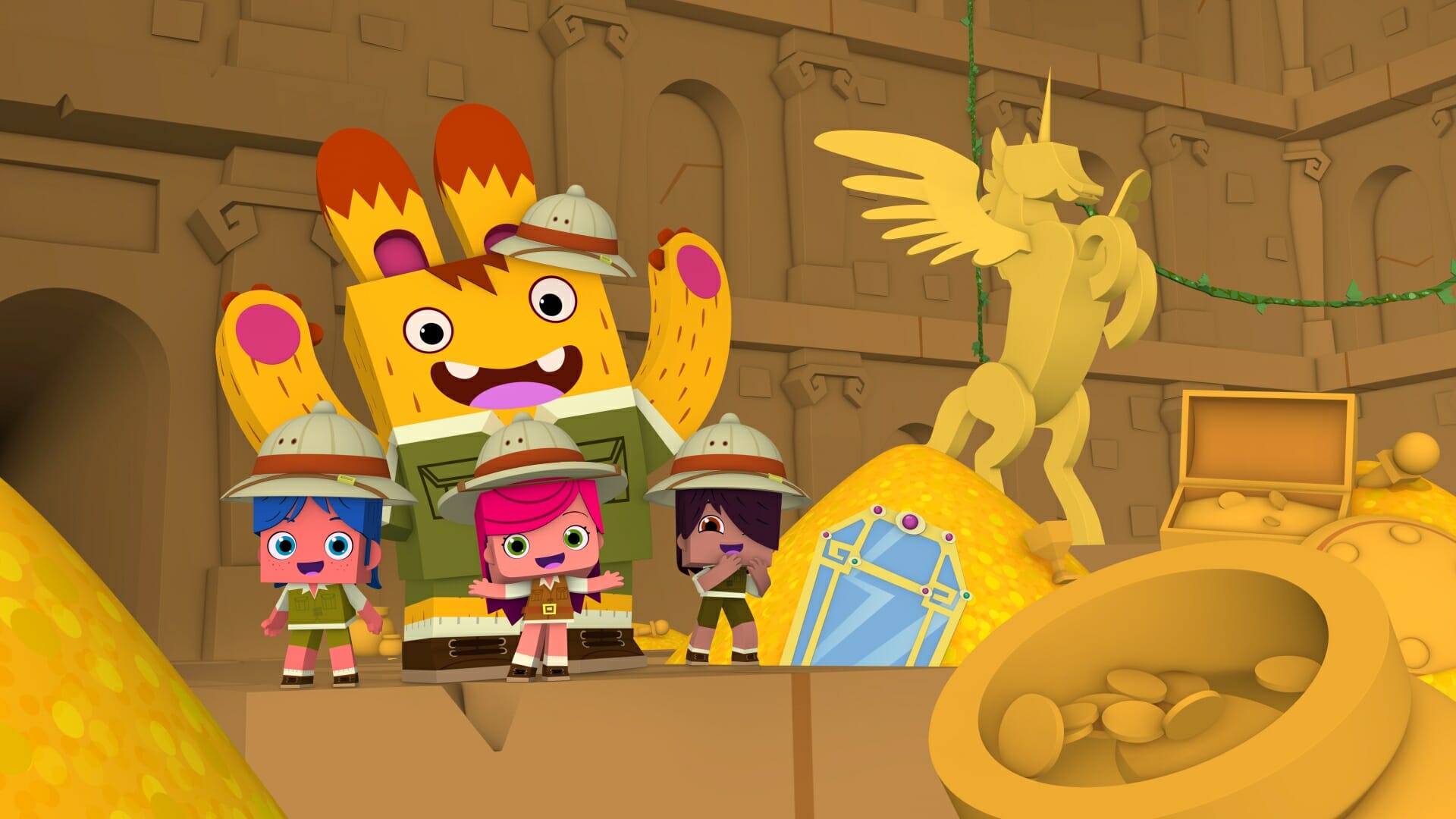 Director: Juanjo Elordi
Cast: Tyler Bunch, Sarah Natochenny, Alyson Leigh Rosenfeld
IMDb Rating: 7.2/10
The Russo-Spanish show encounters a friend named Yoko. The latter makes the fantasies and games into a reality, and they all end up exploring forests, seas, ancient cities, and outer space. The show's main aim is to educate children regarding the world around them.
Yoko is a preschool television series that focuses on outside play patterns and incorporates a social educational curriculum that combines friendship, nature, and creativity.
It recounts the exploits of three children, Mai, Oto, and Vik, who just like playing outside. The zeal and intensity with which they throw themselves headlong into their games pique the curiosity of Yoko, a supernatural creature who transforms ordinary children's games into spectacular experiences.
12. The Method
Director: Yuri Bykov, Alexander Voitinsky
Cast: Konstantin Khabenskiy, Paulina Andreeva, Kirill Polukhin
IMDb Rating: 7.3/10
If you're a fan of the gritty crime drama or case-solving genre, then this one is going to be an absolute treat for you. The Method follows the life of a loner police investigator specializing in hunting down the most terrible, scum of society type of criminals who escape the police department's fangs.
The main character (Rodion Meglin) is an amazing and mysterious individual who is also an exceptional inspector.
Rodion is used to working alone in order to keep his unconventional approach secret. Esenya Steklova, a recent graduate, is anxious to begin her internship with the illustrious investigator, but she has no idea what problems she would encounter while working with Rodion. They work together to investigate the most heinous crimes in Russian criminal history.
11. Better Than Us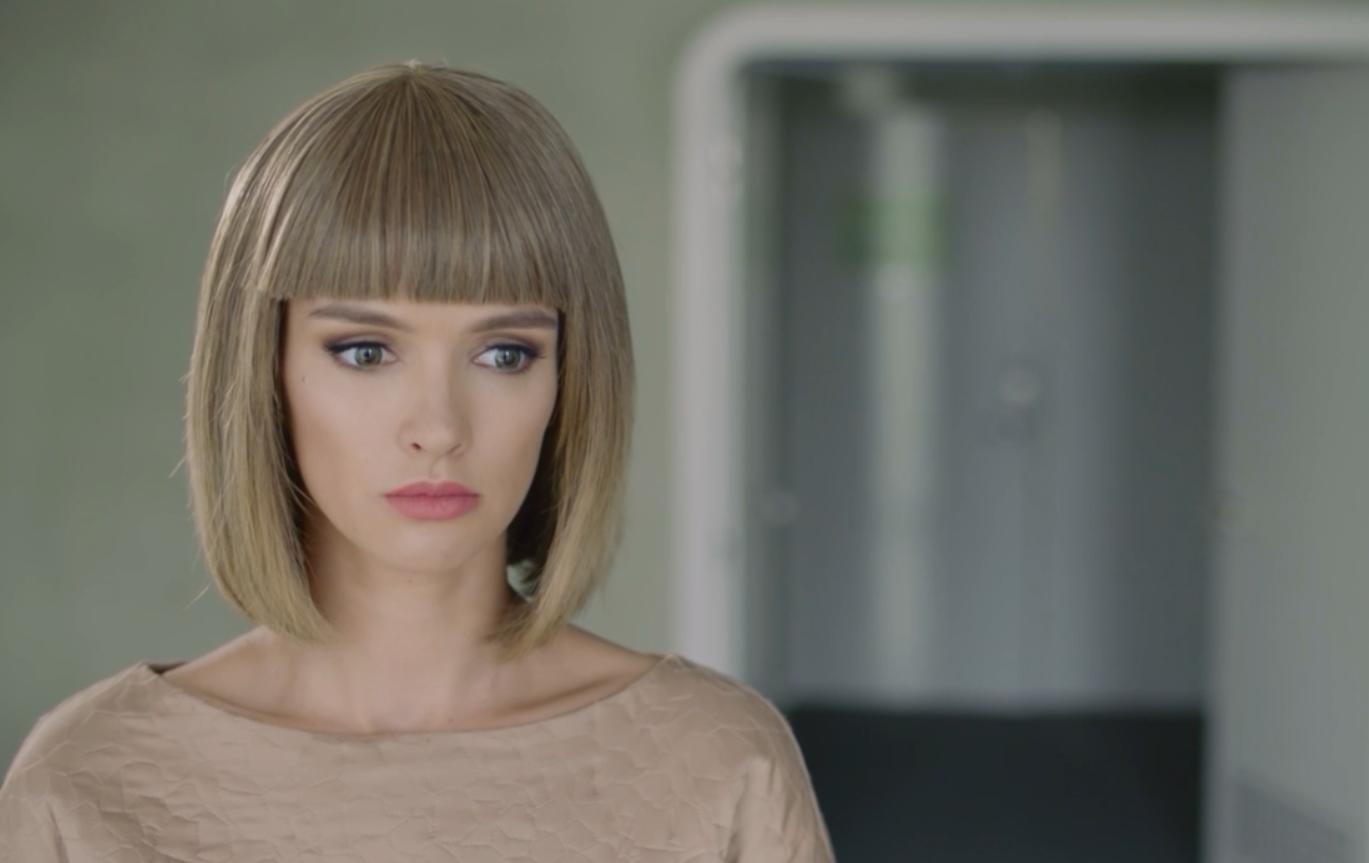 Director: Alexander Kessel
Cast: Paulina Andreeva, Kirill Käro, Aleksandr Ustyugov
IMDb Rating: 7.3/10
If Ex Machina won your hearts, so will Better Than us. Inspired by Ex Machina, Better Than Us is the story of a human-like android known as Arisa, who is on the run after murdering a guy who tried to sodomize her. This is a thrilling story of an on-the-run AI and how it plans to survive and evolve into becoming more like humans.
Robots are now an everyday part of human life in 2029, helping to raise children, serving as personal drivers, security guards, and lovers. For the most part, "Bots" are soulless machines that execute monotonous tasks, but they may also develop feelings. "The Liquidators," a group of rebels, reject life with the bots and are willing to spill human blood in their fight against the robots.
10. Be-Be-Bears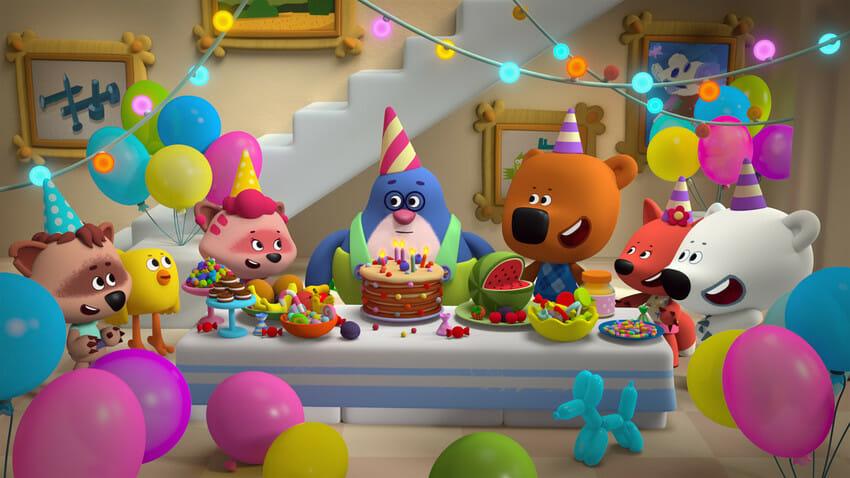 Director:
Cast: Polina Kutepova, Natalya Medvedeva, Darya Mazanova
IMDb Rating: 7.3/10
The show focuses on a white bear cub, a brown cub, and a fox with varied personalities. But despite this, the three friends spend time together, playing games, exploring the world, and learning new things every day.
09. Masha And The Bear
Director: Roly Gutiérrez
Cast: Boris Kutnevich, Alina Kukushkina, Kaitlyn McCormick
IMDb Rating: 7.5/10
Down the list, we have some animated TV series from Russia, among which Masha And The Bear is a must-watch. It is a funny story about a retired circus bear who settles down deep into the woods until he meets venturesome Masha.
08. Leo & Tig
Director: Nikolay Kozlov
Cast: Vladimir Antonik, Gabriel Bonilla, Daniil Eldarov
IMDb Rating: 7.5/10
Another classic animated TV series, Leo & Tig, falls last on our list. It is yet another classic story about two tiger cubs that grew up as best friends in a magical forest.
We follow them as they go on adventures and learn about ancient myths and legends. Leo and Tig are two young pals who live in the harsh surroundings of the Far East. They are continually delighted to explore something new in their environment, with all of its wonders, perils, and stories.
07. Krasnaya koroleva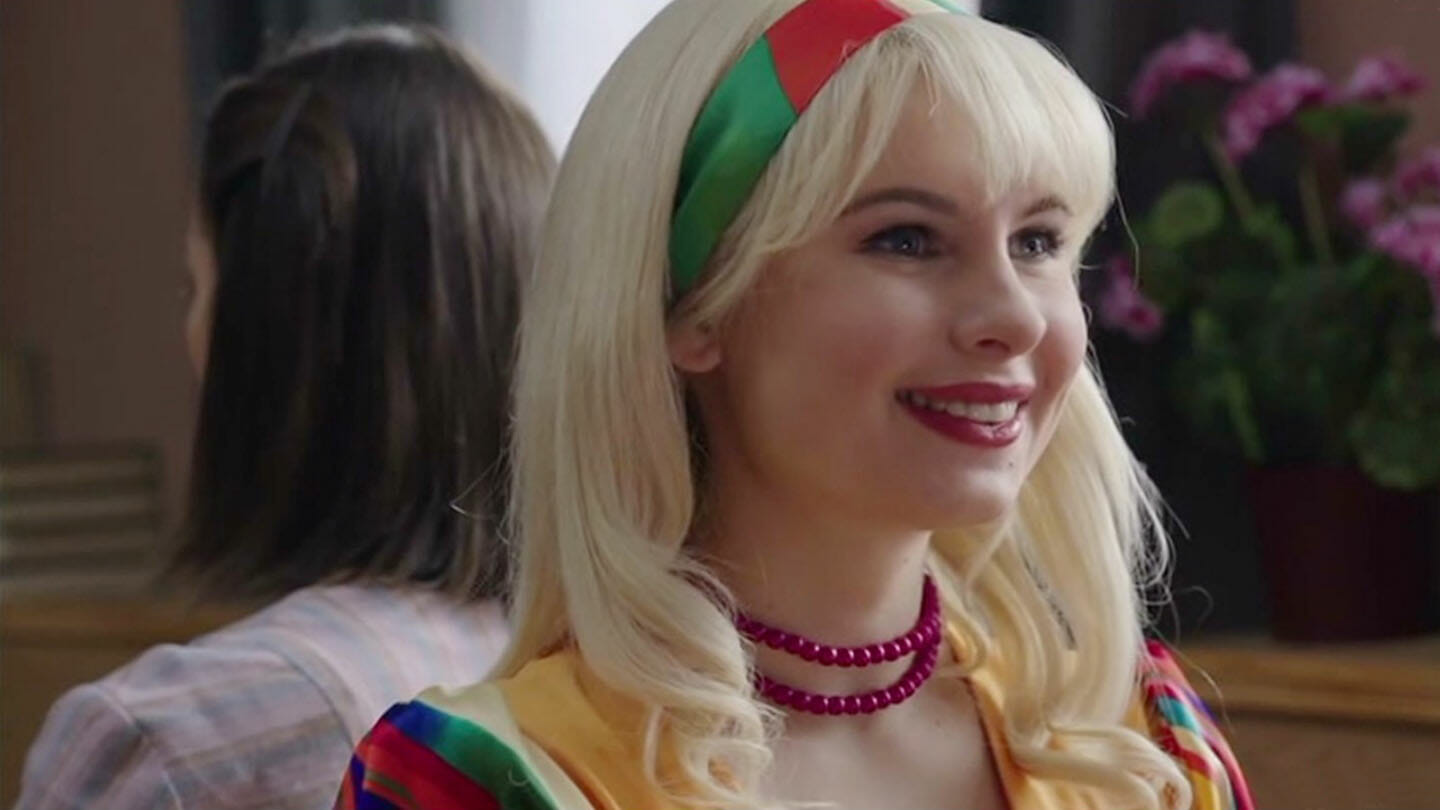 Director: Alyona Semyonova
Cast: Anna Sagaydachnaya, Bastien Ughetto, David Holt
IMDb Rating: 7.6/10
This wonderful Russian-Ukrainian musical set in the Cold War era is inspired in part by Regina Zbarskaya, the main Soviet supermodel.
Regina, a young woman, flees to Moscow to escape her horrific history. There, she encounters profound thinking as well as malice.
Fortitude and karma eventually propelled her to international prominence. The ascension of a young woman from undeniably modest beginnings to top Russian fashion model during the Cold War-era USSR.
06. Silver Spoon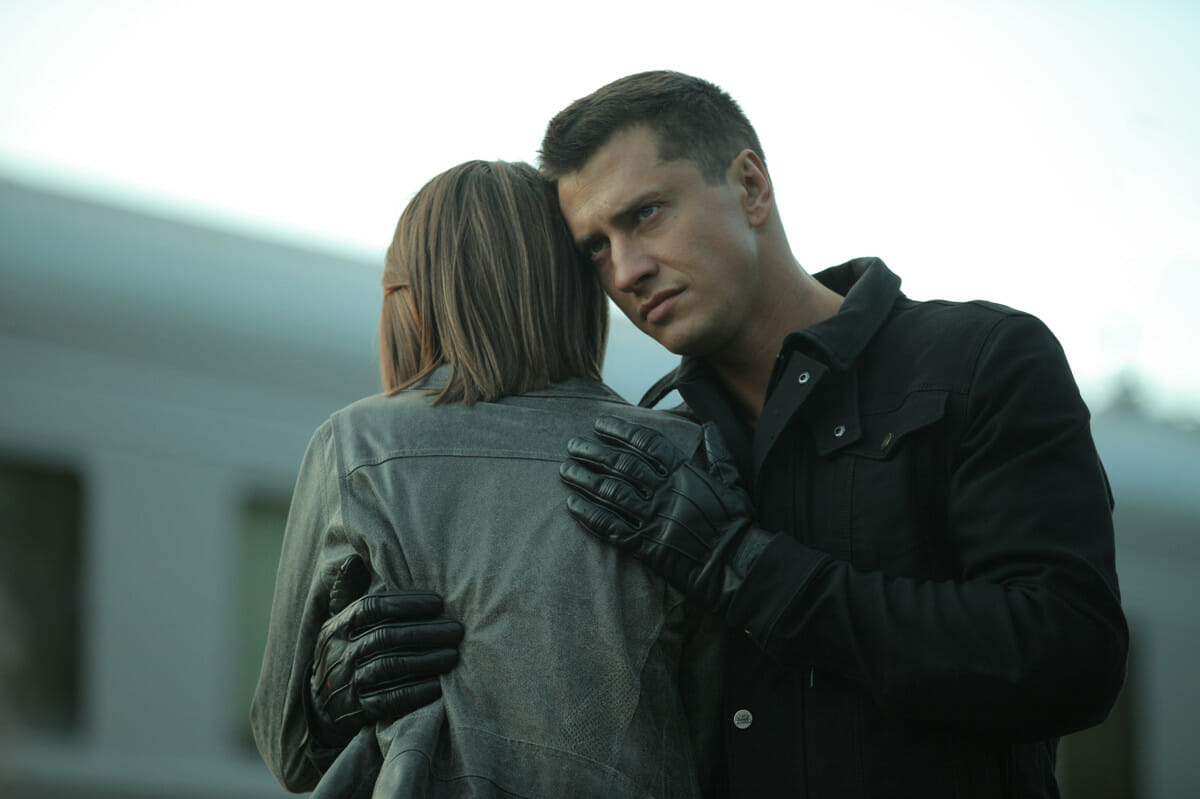 Director: Igor Tverdokhlebov
Cast: Pavel Priluchnyy, Lyubov Aksyonova, Karina Razumovskaya
IMDb Rating: 7.6/10
An amazing and unique story about the son of a Russian billionaire, Igor is a playboy type of character who gets in legal trouble when cops catch him for overspeeding his spot's car while under the influence of heavy drugs.
The mindless pleasure-seeking child of a wealthy and influential Russian was detained for drug-fueled street racing across Moscow's streets.
To avoid a lengthy term, his father makes things happen, and if everything else fails, he is assigned to work with the police for a year, receiving hands-on instruction – or he is disinherited. Clashes erupt from the start because the cops are disgruntled with the affluent kid who was thrown into their tight-stitched unit, he does not take his regular job seriously, and his Corvette is frequently destroyed.
To make matters worse, his senior officer is female. Eventually, he settles down, finds a police job gratifying, and begins to leisurely fake compatibility with the other policemen.
There is tension in the form of a love triangle between him, the female Captain, and another officer, as well as a subplot in which he attempts to discover the truth about his mother's apparent suicide.
05. The Road To Cavalry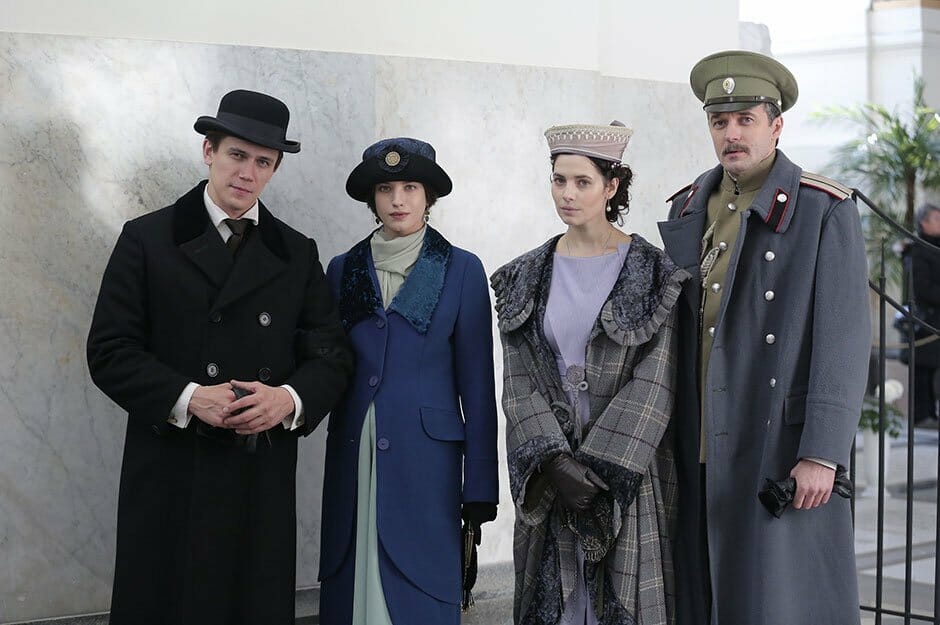 Director: Konstantin Khudyakov
Cast: Yulia Snigir, Anna Chipovskaya, Leonid Bichevin
IMDb Rating: 7.7/10
Yet another Russian Netflix show based on facts from history, The Road To Cavalry, is a different take on history, as it follows the life of two sisters from St. Petersburg during World War 1. The sisters struggle to keep everything on an even keel as a Russian saga is formed around them.
04. KikoRiki
Director: Anatoliy Prokhorov
Cast: Dan Green, Jason Griffith, Erica Schroeder
IMDb Rating: 7.7/10
KikoRiki is yet another colorful and playful animated series for kids. This one follows the story of round-figured living things that have to deal with their own lives' trials and tribulations. This was inspired by Winnie The Pooh.
03. Detective Anna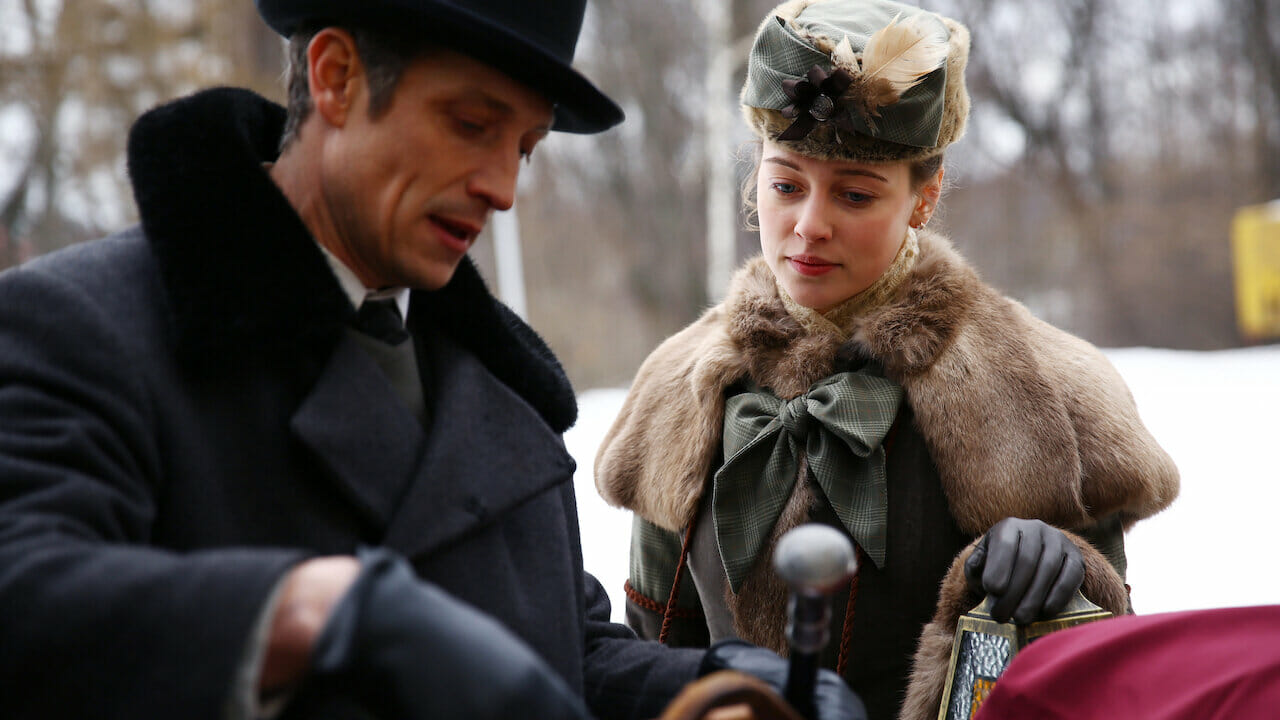 Director: Feliks Gerchikov
Cast: Aleksandra Nikiforova, Dmitriy Frid, Sergey Druzyak
IMDb Rating: 7.9/10
The series was shot in the State History Museum-Reserve Gorky Leninskiye in Moscow, where an entire film town was built complete with roads, stores, residences, and a police station.
Anna, a nineteen-year-old girl living in the village of Zatonsk at the end of the nineteenth century, discovers she has exceptional skills. In a true sense, the ghosts of the dead torture her, pleading for assistance.
Anna, aided by her dreams, learns how to investigate and deal with different perplexing offenses that have perplexed the authorities. Yakov Shtolman, a 37-year-old experienced investigator assigned to the police department, joins Anna and becomes her collaborator in pursuing criminals.
02. Ekaterina: The Rise of Catherine the Great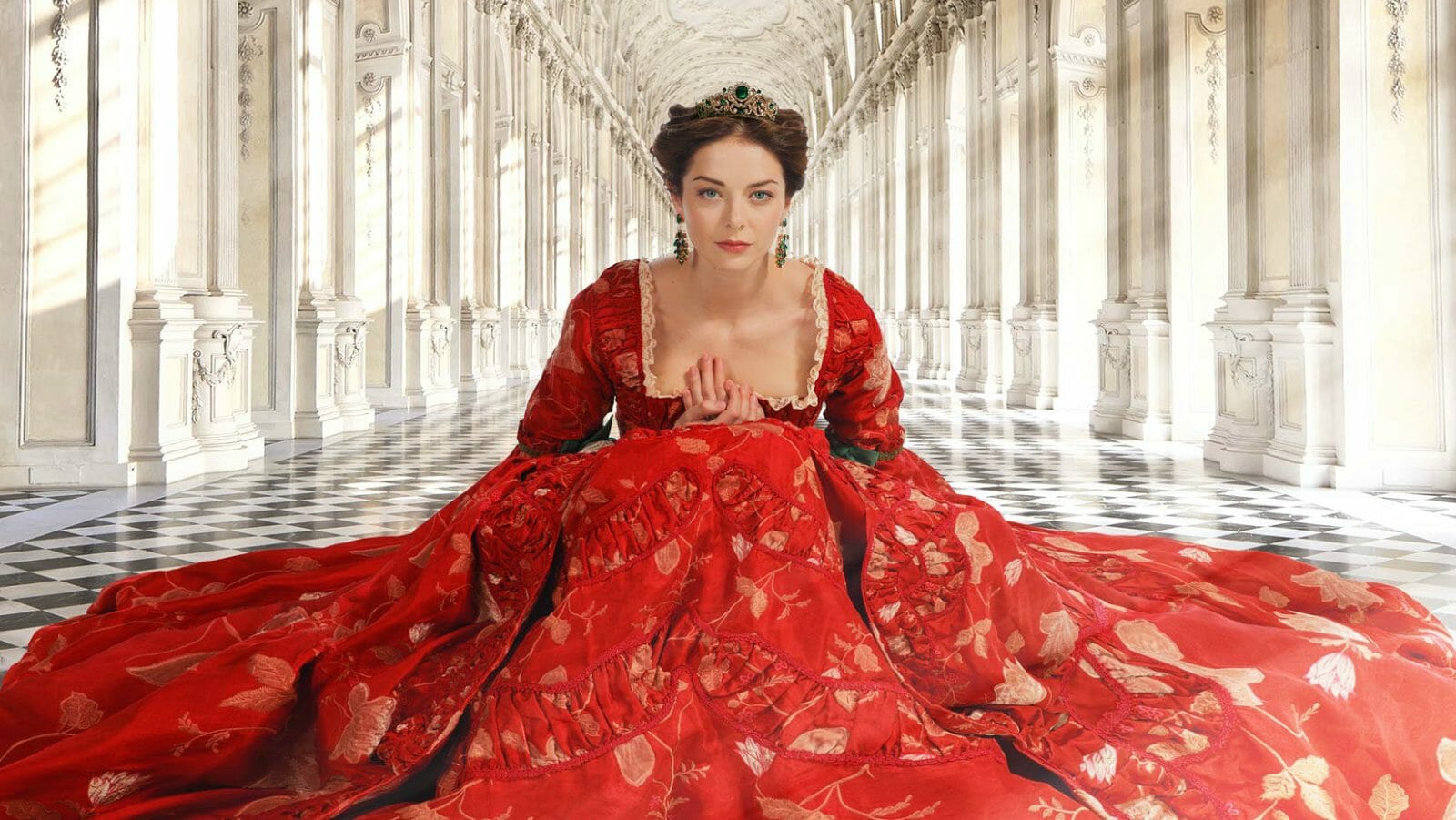 Director: Aleksandr Baranov
Cast: Marina Aleksandrova, Sergey Koltakov, Michael Gor
IMDb Rating: 8.0/10
A luxurious work that recounts the fascinating ascension of Catherine the Great, maybe the most well-known lady ever. Ekaterina begins her journey as a guiltless young German princess who traveled to Russia to marry Peter III. This magnificent pioneer transformed the Russian world when she ascended to a privileged position. Amazing settings and clothes.
The reign of Russian Empress Ekaterina II (Catherine the Great), a German-born princess who came to Russia as a lady of the hour for the young Peter III, chosen by his auntie Elisabeth, and who revolutionized the Russian realm when she came to power.
01. JingleKids
Director: Anton Vereshchagin
Cast: Sofya Lebedeva, Diomid Vinogradov, Eliza Martirosova
IMDb Rating: 8.3/10
Debuted in 2016, JingleKids won the hearts of the audiences with its kooky and silly stories. It is the story of a magical city where tiny humans exist alongside cute furry-talking creatures. The only motto that everyone follows is: not a day has to go by without an adventure.
Hello and welcome to Jingle City. It is a tranquil pixie land populated by tiny people known as Jingliks and adorable fuzzy animals known as Beasties. They are always drawn to all kinds of fantastic happenings, and they particularly like it. It's no surprise. Jingliks and Beasties follow a simple rule: no day is complete without an adventure.
Conclusion
We have all been watching Hollywood TV series . The same from our native countries, for a long time. It gets quite boring after a while when you keep n repeating the same thing. With the help of streaming services like Netflix, you can watch and experience different shows from different cultures.
So this article will get you a clearer picture of the best Russian TV shows that are available on Netflix.