Over the years, Lucifer got an immense crazy response from its audience. But this series, with six seasons, streaming on FOX and Netflix, ended last year. Lucifer Morningstar, a handsome and charismatic angel, was outcasted from heaven for rebelling against his father, God.
As the Devil king of hell, he is tired of punishing people for their sins. Giving up his throne, he moves to Los Angeles and runs his nightclub. Finding himself involved in a crime procedural element, he meets a female detective Chloe Decker.
Lucifer helps the police department solve a crime using his superpowers to manipulate people's minds. Chloe hires him as her consultant, and they start developing a romantic relationship.
For all those missing Lucifer and who are now grieving about the show's ending, they can look at the list below and quickly add these shows to their watchlist. The following series also have a tinge of supernatural drama mixed with dark humor and a police detective.
20. Constantine
Director: Daniel Cerone, David S. Goyer
Cast: Matt Ryan, Lucy Griffiths, Angélica Celaya, Charles Halford, Harold Perrineau
IMDb Rating: 7.5/10
Rotten Tomatoes: 72%
Platforms Available: Prime Videos
John Constantine, the protagonist, has a dark past and is the master of the occult. He is a supernatural hunter struggling with his past sins, protecting innocent people from the attacks of demons.
If you are searching for the similarity between Lucifer and Constantine, let me tell you that both characters met in "the crisis of infinite earth."
19. Preacher
Director: Sam Catlin, Seth Rogen, Evan Goldberg
Cast: Dominic Cooper, Joseph Gilgun, Ruth Negga, Lucy Griffiths, W. Earl Brown, Derek Wilson
IMDb Rating: 7.9/10
Rotten Tomatoes: 87%
Platforms Available: Prime Videos
More of a supernatural adventure series than fantasy, Preacher is an adaptation of the comic of the same name, produced by the DC's legends.
The plot follows a preacher, Jesse Custer, from West Texas. Jesse is possessed by a creature called Genesis. It provides him with some supernatural powers. Jesse, his killer ex-girlfriend Tulip, and a vampire friend Cassidy start a new journey.
Along the way to find God, they meet otherworldly beings like monsters, demons, characters from hell and heaven, etc.
18. Supernatural
Director: Eric Kripke
Cast: Jared Padalecki, Jensen Ackles, Katie Cassidy, Lauren Cohan, Misha Collins, Mark A. Sheppard
IMDb Rating: 8.5/10
Rotten Tomatoes: 93%
Platforms Available: Netflix
Fifteen Seasons of Supernatural is an American fantasy drama that follows the story of two brothers who go on a hunting spree for demons, villains, ghosts, and other supernatural beings. Sam and Dean, the hunter, are raised to kill the magical creatures in the world.
John Winchester raised his sons to be hunters after a demon killed his wife, Mary; after 22 years, when John goes missing, Sam and Dean start their journey to find him, eradicating all the evils in their way.
When they find their father, he reveals that he knows what demon killed Mary. Meanwhile, Sam starts seeing unusual visions of people dying before it happens. This was related to the monster that killed their mother.
17. American Gods
Director: Bryan Fuller, Michael Green
Cast: Ricky Whittle, Emily Browning, Crispin Glover, Bruce Langley, Yetide Badaki, Pablo Schreiber, Ian McShane
IMDb Rating: 7.7/10
Rotten Tomatoes: 77%
Platforms Available: Prime Videos
America Gods is a dark drama series with some devilish theme elements. One day before his release from prison, Shadow Moon is told that his wife died in a brutal car accident. While on his way to the funeral, he meets a mysterious man, Mr. Wednesday.
After much deliberation, Shadow Moon accepts the job that Wednesday offers. Shadow is a man with a dark past who wants a peaceful life. Hindering his thoughts, he enters a world of magic where an intense war occurs between the Old and New Gods.
16. The Good Place
Director: Michael Schur
Cast: Kristen Bell, William Jackson Harper, Jameela Jamil, D'Arcy Carden, Manny Jacinto, Ted Danson
IMDb Rating: 8.2/10
Rotten Tomatoes: 97%
Platforms Available: Netflix
The Good Place is an American drama series having four seasons that displays the afterlife of people who are dead. The plot centers around the life of people in a good place or a wrong place.
All humans are given some score based on the activities they have conducted in their past life. Based on the scores, the one with a high score is sent to a good place and the one with a low score to a Bad Place.
At the Good Place, humans live in eternal happiness, and all their wishes are fulfilled. In the wrong place, people are punished for their conduct. This story shows the struggle of Eleanor as she mistakenly finds herself in the Good Place.
There she meets her assigned soulmate, Chidi, who changes her from within and converts her into a good person. This series will give you new binge-worthy content you should not miss while waiting for another season of Lucifer.
15. Vampire Diaries
Director: Kevin Williamson, Julie Plec
Cast: Nina Dobrev, Paul Wesley, Ian Somerhalder, Steven R. McQueen, Sara Canning, Kat Graham, Candice King, Zach Roerig
IMDb Rating: 7.7/10
Rotten Tomatoes: 86%
Platforms Available: Netflix
The supernatural world of vampires started with vampire diaries. Vampire Diaries is a true blend of dark fantasy, horror themes, and paranormal romance shows. It is a story about two vampire brothers who gained a considerable fan base.
The story is about two brothers and Elina Gilbert of Mystic Falls. She falls in love with one of the vampire brothers, Steffan. Over time their relationship worsens, and Damon, Steffan's brother, falls in love with Elina.
Elina is the doppelganger of Damon's lost love Katherine. As the story continues, you will see a steamy love triangle among the three. Not to mention but Elina also becomes a vampire in the later part.
In vampire diaries, you will witness the existence of witches, werewolves, vampires, and many other worldly beings. The plot is undoubtedly going to keep you hooked throughout.
14. Forever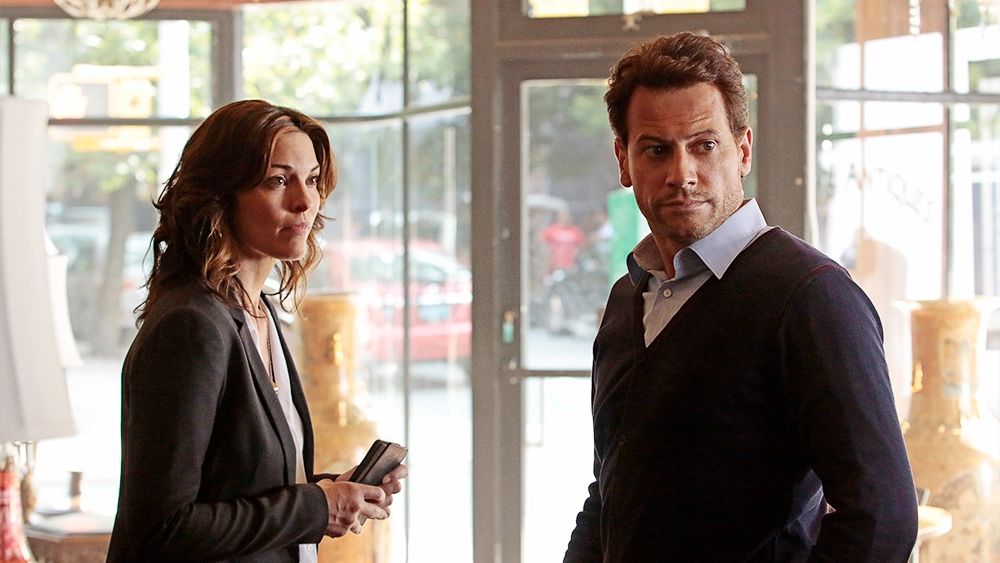 Director: Matt Miller
Cast: Ioan Gruffudd, Alana de la Garza, Joel David Moore, Donnie Keshawarz, Lorraine Toussaint, Judd Hirsch
IMDb Rating: 8.2/10
Rotten Tomatoes: 57%
Platforms Available: Vudu
Forever is a fantasy theme crime series that revolves around the main character's immortality. Dr. Henry Morgan, a medical examiner, has been alive for 200 years. He died 200 years ago when a shipowner, out of frustration, shot him and threw him into the sea.
Every time Henry dies, he finds himself alive in a nearby water body. He is now struggling to find out the reason for his immortality. Henry is currently working with Jo, a female detective, and helps her to solve crimes.
The only person who knows about Henry's immortality is Abe, a boy he and his deceased wife found as a newborn. Also, another immortal being, Adam, stalks Henry, claiming he has lived for 2000 years.
13. Crisis on Infinite Earth
Director: Jesse Warn, Laura Belsey, David McWhirter, Glen Winter, Gregory Smith
Cast: Melissa Benoist, Chyler Leigh, Katie McGrath, Jesse Rath, Nicole Maines, Azie Tesfai
IMDb Rating: 8.4/10
Rotten Tomatoes: NA
Platforms Available: Netflix
Crisis on infinite earth is a series based on a comic of the same name. The sixth Arroverse crossover features the episodes of Supergirl, Batwoman, The Flash, Arrow, and Legends of Tomorrow.
It is the continuation of the previous crossover and a five-part series. Another primary reason for streaming Crisis on infinite earth is that Lucifer Morningstar is present in the third part of the series.
World's greatest heroes: Supergirl, Flash, Arrow, White Canary, The Atom, and Superman, gather to save Earth-38 from destruction.
12. Lost girl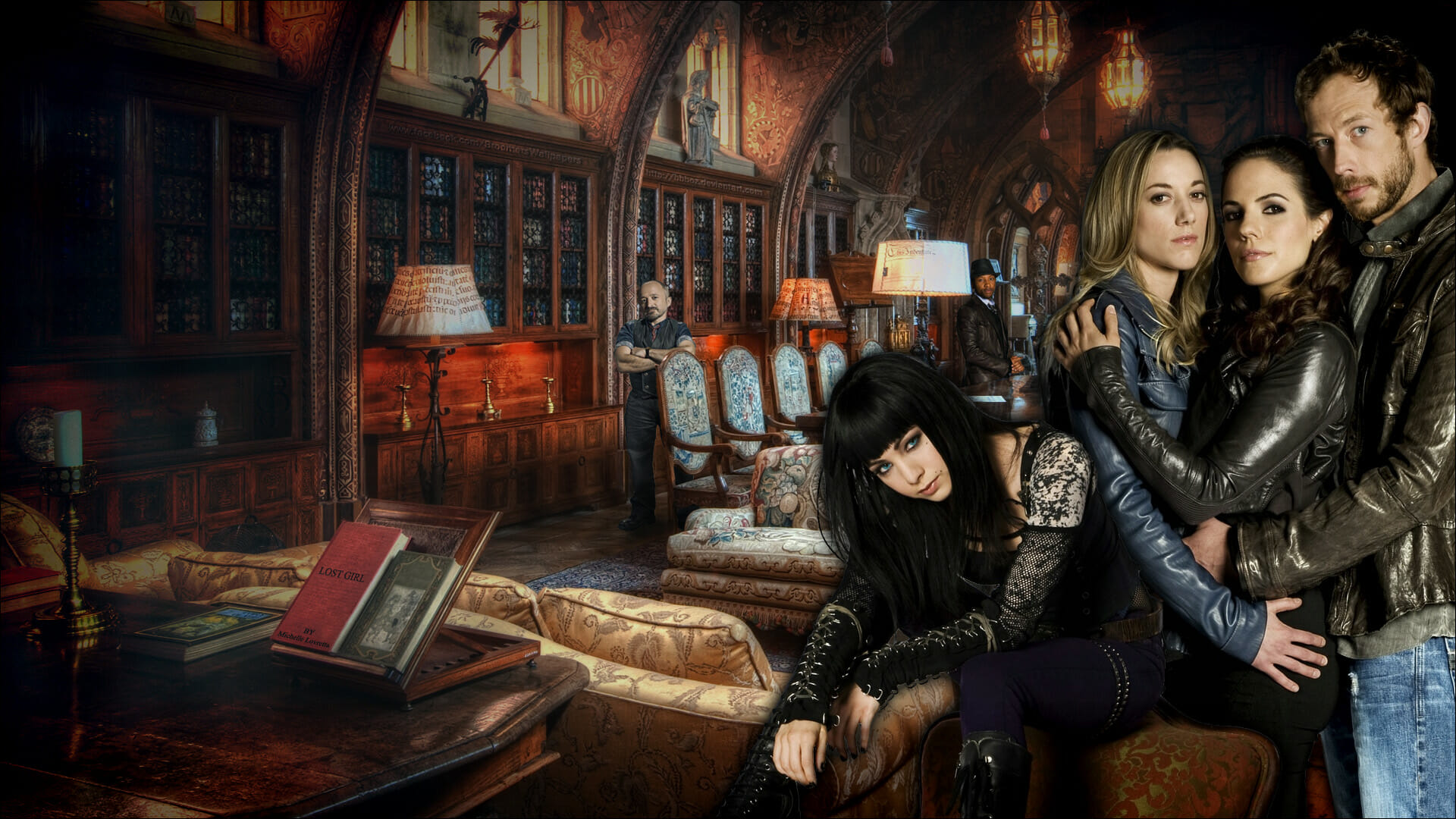 Director: Michelle Lovretta
Cast: Anna Silk, Kris Holden-Ried, Ksenia Solo, K. C. Collins, Zoie Palmer, Rick Howland
IMDb Rating: 7.6/10
Rotten Tomatoes: 71%
Platforms Available: Vudu
Lost Girl, a Canadian television drama with supernatural elements, premiered on Showcase on 12 September 2010. The plot of Lost Girl focuses on the life of beautiful bisexual Bo, a succubus.
Bo is a supernatural being who feeds on the energy of other human beings. Eventually, she learns to control her power and helps the one with the problem. She also discovers certain truths about her clan and challenges their way of living.
The show gained exceptional reviews from critics, and thus, it was renewed for another season. In the list of shows like Lucifer, Lost Girl was a must.
11. Limitless
Director: Craig Sweeny
Cast: Jake McDorman, Jennifer Carpenter, Hill Harper, Mary Elizabeth Mastrantonio
IMDb Rating: 7.7/10
Rotten Tomatoes: 58%
Platforms Available: Netflix
Based on the 2011 movie of the same name, Limitless is a dark fantasy, thriller, and sci-fi series that Lucifer fans should not miss. The plot follows the story of Brian Finch, who gains extraordinary power because of a mysterious drug.
The drugs make him the most intelligent person, and thus, he starts working with an FBI agent. The brain works with two other agents, Rebecca Harris, having a dark secret of her past, and Boyle, an ex-military officer.
10. Angel
Director: Joss Whedon, David Greenwalt
Cast: David Boreanaz, Charisma Carpenter, Glenn Quinn, Alexis Denisof, J. August Richards, Amy Acker
IMDb Rating: 7.9/10
Rotten Tomatoes: NA
Platforms Available: Hulu
Angel is an American supernatural drama consisting of five seasons and 110 episodes. The plot revolves around a cursed vampire on a mission to save the people of Los Angeles from the other supernatural beings who prey on them.
Angel is a vampire with a human soul that keeps him guilty of all the sins he committed. After realizing his relationship with Buffy, the vampire slayer is over; he moves to Los Angeles.
He works as a private detective there, along with other associates. They work to help the helpless attacked by the other demonic beings in the city.
9. iZombie
Director: Rob Thomas, Diane Ruggiero-Wright
Cast: Rose McIver, Malcolm Goodwin, Rahul Kohli, Robert Buckley, David Anders, Aly Michalka
IMDb Rating: 7.8/10
Rotten Tomatoes: 92%
Platforms Available: Netflix
Olivia Moore is a medical student who turns into a zombie at a boat party. Things take a sudden turn when a zombie scratches her at the party. She has to give up her career, family, and finance.
iZombie is about supernatural creatures, zombies, and a girl having a promising future who turns into one. To satisfy her appetite, Olivia trades her job for a job at the morgue; there, she eats the brain of dead victims.
She gets brief flashbacks from the person's brain she eats, helping the private detective to solve the crime. Over time, the number of zombies in the town increases, and the city discovers many new problems coming its way.
8. Cursed
Director: Frank Miller, Tom Wheeler
Cast: Katherine Langford, Devon Terrell, Gustaf Skarsgård, Daniel Sharman, Sebastian Armesto, Lily Newmark, Peter Mullan
IMDb Rating: 5.8/10
Rotten Tomatoes:
Platforms Available: Netflix
2020 release Cursed is one of the shows like Lucifer, based on the fantasy theme novel of the same name. A cult classic series inspired by King Arthur's work, this series stood canceled after one season.
Katherine Langford's star 'Cursed,' displays the fantasy world of ancient England. The story is about Nimue, a young woman whose fate is to become the influential Lady of the Lake. She meets Arthur and unexpectedly finds his love in him.
Arthur is on a journey to find Merlin and give him the ancient sword. A lot happens in this journey. Nimue becomes the symbol of courage and fights against all odds. For Lucifer fans, why not stream this and chill while you wait for another season of Lucifer?
7. The Umbrella Academy
Director: Steve Blackman
Cast: Elliot Page, Tom Hopper, David Castañeda, Emmy Raver-Lampman, Robert Sheehan, Aidan Gallagher, Mary J. Blige
IMDb Rating: 8/10
Rotten Tomatoes: 83%
Platforms Available: Netflix
Another supernatural show like Lucifer is The Umbrella Academy. Based on comic book resources of the same name, Umbrella Academy displays the superpower abilities of six children who grow up to save the world from the apocalypse.
A fantasy theme-based plot, starting with 43 women in the world giving birth simultaneously, on the same day, without any sign of pregnancy and labor. A billionaire Sir Reginald Hargreeves adopted seven children and formed a superhero team, calling them "the umbrella academy."
All of them have names but one. These children are prepared to save the world but are separated from one another because of some reason. After learning about their father's death, all seven children reunite to solve the mystery.
6. Pushing Daisies
Director: Bryan Fuller
Cast: Lee Pace, Anna Friel, Chi McBride, Field Cate, Ellen Greene, Swoosie Kurtz
IMDb Rating: 8.4/10
Rotten Tomatoes: 96%
Platforms Available: Amazon Prime Videos, Vudu, HBO Max
Pushing Daisies is a fantasy theme, supernatural romance series having exciting characters. The plot centers around Ned, a pie maker with the extraordinary power to touch the dead to life.
Emerson Cod, a private investigator, discovers the power of Ned. He offers Ned to work with him in bringing the dead victims back to life to complete the investigation, and then they both can split the reward.
Everything was fine until Ned came to know that Chuck was dead. He brings her back to life but cannot touch her. Chuck also joins Ned and Emerson, and all three start solving crimes. Overall the plot is full of twist and turn. Pushing Daisies is a classic crime drama that will not fail to entertain Lucifer fans.
5. Moonlight
Director: Ron Koslow, Trevor Munson
Cast: Alex O'Loughlin, Sophia Myles, Jason Dohring, Shannyn Sossamon
IMDb Rating: 7.6/10
Rotten Tomatoes: 22%
Platforms Available: Netflix
Moonlight, a paranormal romance series, combines dark fantasy and characters like Lucifer. The story is about Mick St. John, a private investigator who turned into a vampire around 50 years back.
Mick's wife, Caroline, turned him into a vampire on their wedding night. Mick lives in Los Angeles and uses his supernatural power to help mortal humans.
One night, he meets a beautiful woman Beth Turner, who he has to help. While developing a romantic relationship with Beth, he encounters another woman who looks similar to his ex-wife Caroline, who died years ago.
Unfortunately, the series could complete only one season as CBS officially canceled it. Although the average American viewer per episode was 7.57 million, the critics did not welcome this series.
4. Fringe
Director: J. J. Abrams, Alex Kurtzman, Roberto Orci
Cast: Anna Torv, Joshua Jackson, John Noble, Jasika Nicole, Lance Reddick, Blair Brown
IMDb Rating: 8.5/10
Rotten Tomatoes: 90%
Platforms Available: Amazon Prime vVideoFringe is an American Sci-fi Tv series initially premiered on FOX. It is a mix of supernatural elements and a fantasy world inspired by the Altered States and tv series like Lost, X-Files, and The Twilight Zone.
The plot explains the investigation of some unusual and strange crime activities by FBI Agent Olivia Dunham. Olivia takes the help of Dr. Waltcaer Bishop, a mad scientist, his jack-of-all-trades son Peter Bishop, and Astrid Farnsworth, a junior agent.
This fringe division investigates supernatural occurrences in fringe science. As they explore the case further, they learn that their past is connected to the parallel world. The series got a lukewarm and mixed response, but after one season gained massive popularity.
3. Good Omens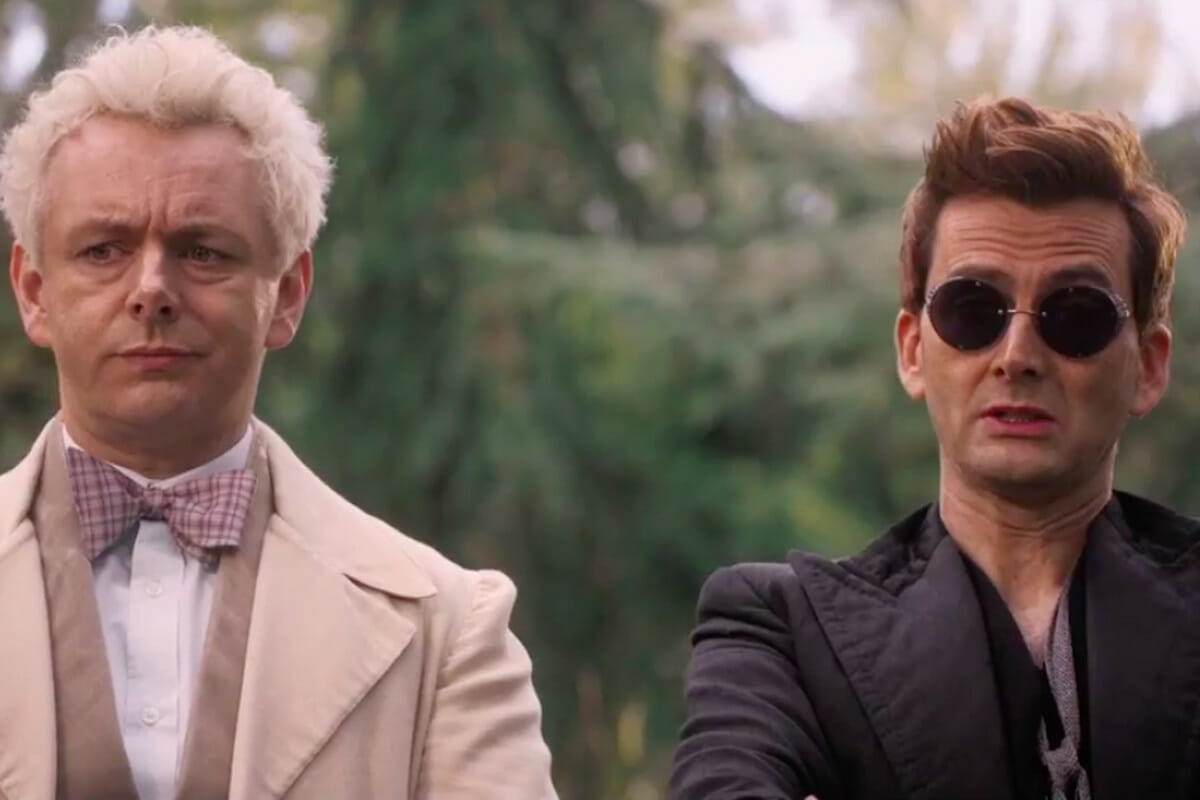 Director: Douglas Mackinnon
Writer: Neil Gaiman
Cast: Michael Sheen, David Tennant, Daniel Mays, Sian Brooke, Ned Dennehy, Ariyon Bakare, Nick Offerman
IMDb Rating: 8/10
Rotten Tomatoes: 84%
Platforms Available: Amazon Prime vVideoAnother must-watch we included in this list is Good Omens. For the people looking for tv series like Lucifer, try binging this. The plot is about supernatural beings trying to save Earth from Anti-Christ.
Aziraphale is an angel, and Crowley is a demon; over the years of living among human beings, they have developed a romantic relationship. The evil forces of hell deliver a baby antichrist to Crowley.
Realizing that the end is near, he asks Aziraphale for help. Together they decided to manipulate the baby's upbringing so that the baby remains unaware of good and evil. But their life turned upside down when they learned the baby was exchanged at the hospital. This supernatural series has the same thrill as Lucifer and will keep you on the edge of your seat.
2. What We Do in The Shadow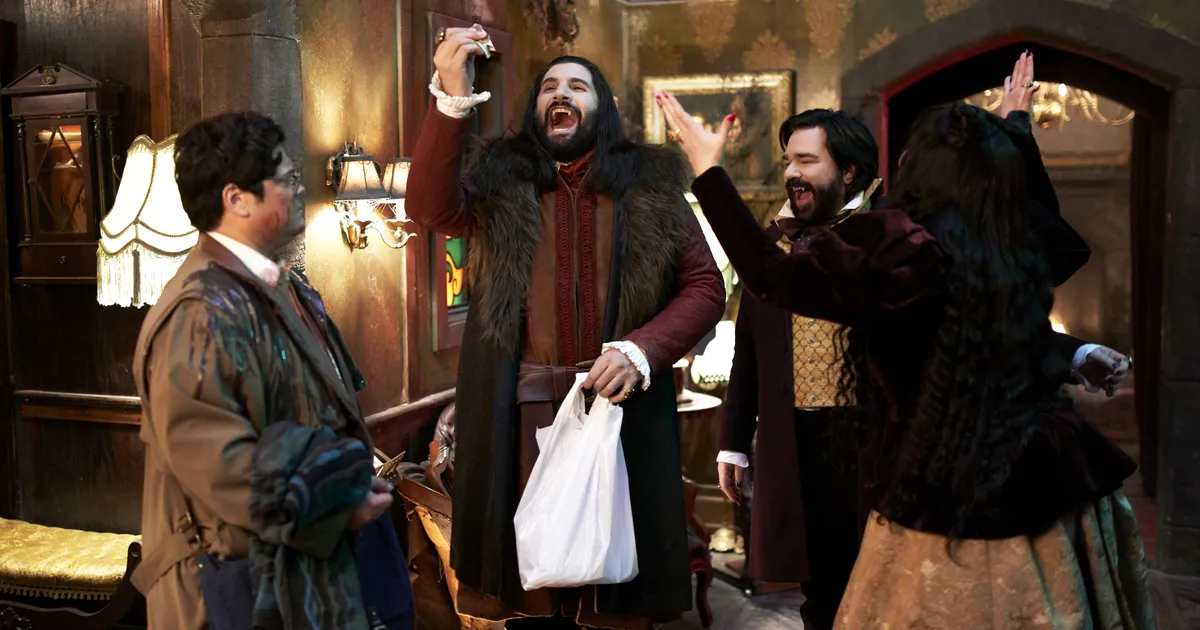 Director:

Jemaine Clement

Writer: Jemaine Clement, Taika Waititi
Cast: Kayvan Novak, Natasia Demetriou, Mark Proksch, Doug Jones, Matt Berry, Anthony Atamanuik
IMDb Rating: 8.6/10
Rotten Tomatoes: 97%
Platforms Available: Hulu
This series is an American mockumentary released in 2014, based on a movie of the same name. It is a supernatural drama that shows the daily life of events of three vampires. Viago, Deacon, and Vladislav are three traditional vampires and now flatmates.
These vampires struggle and adjust to the modern world as they crave human blood. There is another character Jackie who is a human and helps Deacon to remove all the bloodstains from their flat.
Also, Jackie is the one who lures humans into the flat so that these supernatural beings can feed on them. In the whole series, you will see human beings turning into vampires and the existence of werewolves.
1. Grimm
Director: Stephen Carpenter, Jim Kouf
Cast: David Giuntoli, Russell Hornsby, Bitsie Tulloch, Jacqueline Toboni, Silas Weir Mitchell, Sasha Roiz
IMDb Rating:
Rotten Tomatoes:
Platforms Available:
Grimm is an American crime procedural drama series that narrates the story of a homicide detective from Portland, Nick Burkhardt. Nick soon discovers that he is the descendant of the Grimms, having the ability to see the creatures of the supernatural world.
He starts seeing some strange visions of people turning into monsters. Later he becomes aware that as a Grimm, he has to maintain the balance between humanity and the mythological creatures.