Demon Slayer: Kimetsu no Yaiba is a Japanese adventure martial arts manga series that started on February 15, 2016. The show released its last episode on May 18, 2020. So naturally, the Demon Slayer fans were upset about it. Best Demon Slayer Waifus is right there waiting for you all.
The anime show has 23 volumes in total. It is directed by Haruo Sotozaki and produced by Akifumi Fujio, Masanori Miyake, Yuma Takahashi, Hikaru Kondo, and Takashi Takano.
Demon Slayer has become one of the world's favorite anime series. Koyoharu Gotouge writes it.
The writer has done a brilliant job portraying the show's female characters. Therefore, we present you the 20 Best Demon Slayer Waifus.
20. Ubuyashiki Amane
Age: 27
Affiliation: Demon Slayer Corps
Occupation: Priestess
Anime Debut: Episode 33
Japanese Voice Artist: Rina Sato
English Voice Artist: Suzie Yeung
Ubuyashiki Amane has beautiful lavender eyes and white hair. She is betrothed to Kagaya Ubuyashiki and has two children.
She has a very radiant personality. After her husband, she took her life too. While alive, she did everything for him and Demon Slayer Corps. She was also a very devoted mother.
19. Mukago
Age: Twelve
Affiliation: Kizuki
Anime Debut: Episode 26
Japanese Voice Artist: Kana Ueda
English Voice Artist: Kira Buckland
Mulago has white hair with gray with dark red sclera eyes. She is a member of Twelve Kizuki.
Mukago is a part human and a partial demon. Although she is said to be the most cowardly of her rank, she was a potential waifu as she was given a position higher than demon superior Kamanue.
18. Ruka Rengoku
Affiliation: Kimetsu Academy
Occupation: Calligraphy Teacher
Anime Debut: Episode 64
Japnese Voice Artist: Megumi Toyoguchi
English Voice Artist: Suzie Yeung
Ruka Rengoku had black hair and dark red eyes. She was married to Shinjuro Rengoku and had two sons.
She was an ordinary human and didn't possess any special abilities. Still, being a human, she had a compassionate personality.
She had a warm personality side to herself. Unfortunately, she, later on, got an incurable disease.
17. Hinatsuru
Age: 21
Affiliation: Demon Slayer Corps
Occupation: Demon Slayer Shinobi
Anime Debut: Episode 35
Japanese Voice Artist: Atsumi Tanezaki
English Voice Artist: Anairis Quinones
Hinatsuru is one of the demon slayers. She has black hair and violet eyes. He is married to Tengen Uzui. Hinatsuru has also been co-wife to Makio and Suma.
She has a cheerful and compassionate personality. She is an average human, yet she has trained very well.
Because of this, Hinatsuru can fight battles and make strategies like no one else; in addition, she has a loving relationship with her husband.
16. Kotoha Hasibira
Age: 18
Anime Debut: Episode 18
Japanese Voice Artist: Mamiko Noto
English Voice Artist: Jennie Kwan
Kotoha Hasibira is another Demon Slayer Waifus. She had black hair and green eyes.
She is an excellent waifu. Hasibira has no superhuman powers, but Kotoha has great singing talent. Hasibira is the mother of Aoi Kanzaki. She is a very compassionate person and a wonderful mother.
15. Makomo
Age: 12
Affiliation: Sakonji Urokoda
Occupation: Master
Anime Debut: Episode 3
Japanese Voice Artist: Ai Kakuma
English Voice Artist: Ryan Bartley
Makomo is one of the best Demon Slayer waifus. She had Blue-Green eyes and black hair. Makomo had a very stellar personality. She was kind and friendly to everyone.
Makomo possesses the ability to understand the water-breathing techniques that were applied in ten forms.
 14. Makio
Age: 20
Affiliation: Demon Slayer Corps
Occupation: Demon Slayer
Anime Debut: Episode 35
Japnese Voice Artist: Shizuka Ishigami
English Voice Artist: Erica Mendez
Makio is a perfect waifu. She is an uplifting and inspiring partner. She has light brown eyes with black hair and yellow bangs.
Makio is an ordinary human, but as a trained Kunoichi, Makio possesses some form of Shinobi skills.
Makio has a bold personality like her husband, Inosuke Hashibira. Out of her two co-wives, Makio is the most rude to Suma.
13. Suma
Age: 19
Affiliation: Demon Slayer Corps, Tokyo House
Occupation: Demon Slayer
Anime Debut: Episode 35
Japanese Voice Artist: Nao Toyama
English Voice Artist: Emi Lo
Suma is a waifu material. She has black hair and sapphire eyes. She is married to Tengen Uzui and has Hinatsuru and Makio as her co-wives.
Suma has extreme emotional outbursts when it comes to her co-wife Suma. They don't see eye to eye. She has a dramatic and enthusiastic personality. Suma is the most expressive waifu of all demon slayers.
Suma does not possess any superhero abilities, but she was raised as a Kunoichi and has shinobi skills.
12. Spider Demon (Mother)
Age: N/A
Affiliation: Spider Family
Occupation:
Anime Debut: Episode 15
Japanese Voice Artist: Ami Koshimizu
English Voice Artist: Allegra Clark
Spider Demon (Mother) had a charming first impression. he is one of the most exciting characters on the show. She was a member of the spider family.
Spider had a fake husband, sons, and daughter and black hair and light blue eyes to pale green eyes.
She had a cruel personality. She manipulated many demon slayers through threads and got them to murder each other.
Although she has changed her heart in her final moments because of Tanjiro's kindness, she also thanks him for giving her peace.
It was late revealed that he was the youngest demon slayer in her family. She could shapeshift. Although she was young and still learning to control, sometimes she would revert to her original form.
They were making Rui punish her. Her fighting styles were puppetry and spider manipulation.
11. Spider Demon (Daughter)
Age: N/A
Affiliation: Spider Family
Occupation:
Anime Debut: Episode 32
Japnese Voice Artist: Ryoko Shiraishi
English Voice Artist: Erica Lindbeck
Spider Demon (daughter) is one of the female characters. She is a member of the spider family. She has black hair and red eyes with black sclera.
Her character design is not complicated at all. She hated her family as they glared at her due to her weakness rather than helping her. She was also said to be a coward at times.
Spider believed that her family was a family of fools as they praised Rui and that Rui didn't have any attachments to her family.
Spider demon even went similarly endeavoring to utilize compassion and pity on Shinobu Kocho, realizing that she was a Demon Slayer, by arguing that she was constrained into her circumstance by Rui.
Upgraded with a drop of Muzan's blood from Rui, Daughter was a solid devil.
The demon was exclusively answerable for the best death toll on the mission to Mount Natagumo, having killed somewhere around eighty Demon Slayers through her cases.
She had a remarkable ability for regeneration. She was ready to endure being beheaded and cut into a few pieces, with just a short time to recuperate.
Regardless, Shinobu's high-level wisteria poison overpowered and crushed her recovery.
10. Aoi Kazanaki
Age: 16
Affiliation: Demon Slayer Corps
Occupation: Helper at Butterfly Estate
Anime Debut: Episode 23
Japanese Voice Artist: Yuri Ehara
English Voice Artist: Reba Buhr
Aoi Kaza is a cheerful person and a slayer waifus. She is outwardly charming and has a bright exterior.
She has black hair with deep blue eyes. Although she is a demon slayer, she works as a helper at the butterfly estate and does not fight demons.
Kaza has an authoritarian and stellar personality. Aoi is an ideal waifu. Aoi Kaza depicts precisely how she feels. Despite her severe nature, she is extremely caring and does her best to help the hunters.
9. Tamayo
Age: 19
Affiliation: Demon Slayer Corps
Occupation: Former Doctor
Anime Debut: Episode 8
Japanese Voice Artist: Laura Sakamoto
English Voice Artist: Mimi Maihane
Tamayo is one of the best slayer waifus. She is a great slayer and is one of the main characters. She has a very charming personality.
Chronologically, her age is more than 500. She has dark brown hair with dark purple to pale lavender eyes.
Tamayo became a favorite fan character as soon as she made her appearance.
She is a demon, but she is also a very skilled doctor. She also helped in developing the aid to defeat Muzan Kibutsuji. However, even though she is depicted as the best waifu and very kind, she is ruthless while confronting Muzan.
She always hated using humans for their blood. She used to buy it from donors. Later in her demon life, she tried to retain some human emotions.
Not much of Tamayo's abilities are shown, but it is obvious that she has insane medical knowledge. For example, she used to draw blood and do spells.
8. Kanae Kocho
Age: 17
Affiliation: Demon Slayer Corps
Occupation: Demon Slayer (Flower Hashira)
Anime Debut: Episode 2
Japanese Voice Artist: Ai Kayand
English Voice Artist: Bridget Hoffman
Kanae Kocho is a demon slayer waifus. The radiant personality Kanae Kocho depicts suggests that she is a more robust waifu material than any other slayer waifus.
Kanae has black eyes with pale purple hair. Kocho has a hot personality. Kanae Kocho always had wholesome moments with everyone, and she is always seen with a smile in her flashback.
During her experience as a Demon Slayer, Kanae was a Flower Breathing client that was sufficiently gifted to stand firm on the foothold of the Flower Hashira, a position just held for Demon Slayers.
They have killed one of the Twelve Kizuki or have effectively struggled and killed no less than 50 devils, suggesting her tremendous expertise and regularly conceived gifts.
Dissimilar to her more youthful sister, Shinobu, who misses the mark on solidarity to remove an evil spirit's head because of her little body, and is reimbursed by utilizing a particularly planned.
Nichirin Sword blended her toxins and made a sword style zeroing in on cutting and causing different injuries in her objectives to harm them lethally; Kanae used a common-looking sharp edge.
7. Susamaru
Affiliation: Muzan Kibutsuji
Occupation: Demon Slayer
Anime Debut: Episode 8
Japanese Voice Artist: Mikako Komatsu
English Voice Artist: Sarah Anne Williams
Susamaru is one of the monstrous demons. Formerly human, she is very notorious. She is an antagonist with hazel eyes and black or orange hair.
Susamaru is somewhat energetic yet exceptionally reckless and very juvenile while often grinning and consistently appreciating and acknowledging a demand.
Her pet expression is "What fun this is," she will rehash this continually, assuming she participated in sessions she considers entertaining.
Her youthfulness is an apparent difference from Yahaba's earnestness.
Susumaru had insane physical strength and the ability to alter her human flesh (later demon); she used to grow four hands with handballs. She uses Blood Demon Art to increase her power.
6. Shinobu Kocho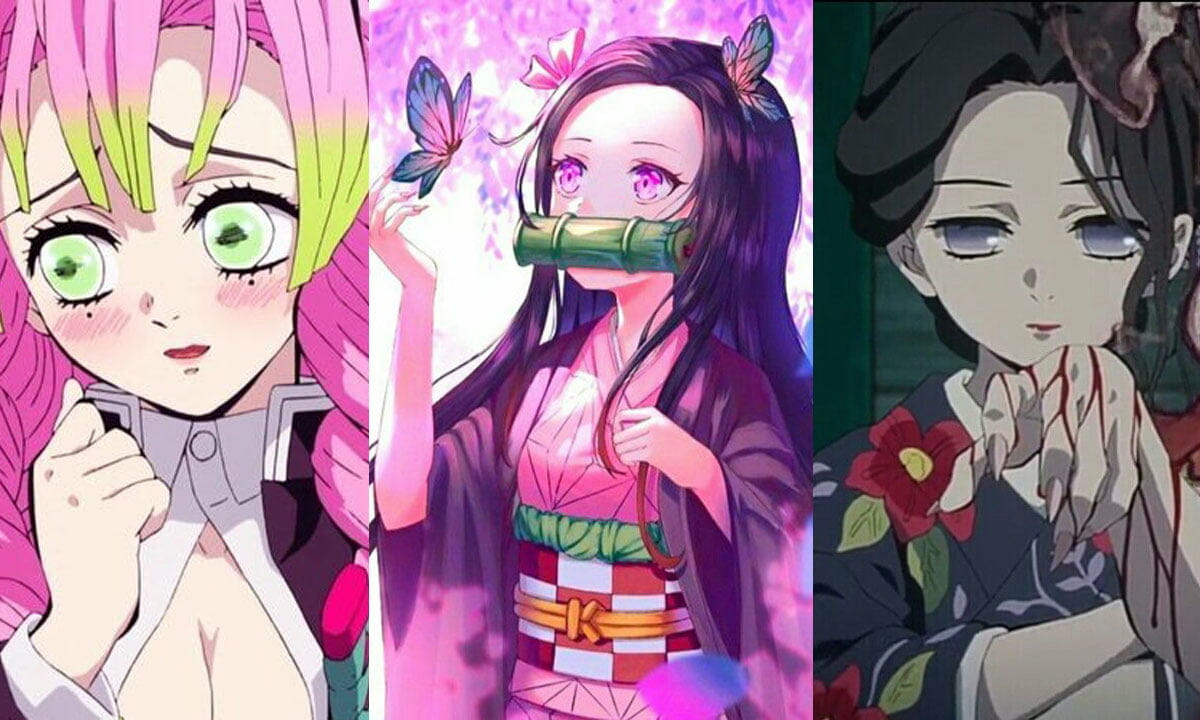 Age: 18
Affiliation: Demon Slayer Corps
Occupation: Demon Slayer (Insect Hashira)
Anime Debut: Episode 15
Japanese Voice Artist: Saori Hayami
English Voice Artist: Erika Harlacher
Shinobu Kocho is undoubtedly one of the strong demon slayer waifus. She has purple eyes and black to purple hair.
She is an insect hashira and is a very cheerful person. Although it was later revealed that she wears a mask, Shinobu holds a deep hatred for the demon's use of her loss of her family to them.
Despite not having the real solidarity to remove a demon's head, Shinobu utilizes her inventiveness, resourcefulness, and other capacities to more than compensate for it.
Rather than the customary strategy for beheading an evil presence with a Nichiren Sword to kill them, Shinobu selects to utilize a changed variant of a katana that goes about as a stinger to infuse deadly Wisteria poison harmful to devils.
Besides her insight, she is swift and light-footed, permitting her to overwhelm evil spirits rapidly.
Her actual strength was uncovered during her fight with the second most remarkable Upper-Rank evil spirit,
Doma, where she had the option to face the devil in any event, figured out how to overwhelm him marginally and got acclaim from Doma.
Read More: The 41 Best Demon Slayer Characters in 2023
5. Nakime Otokawa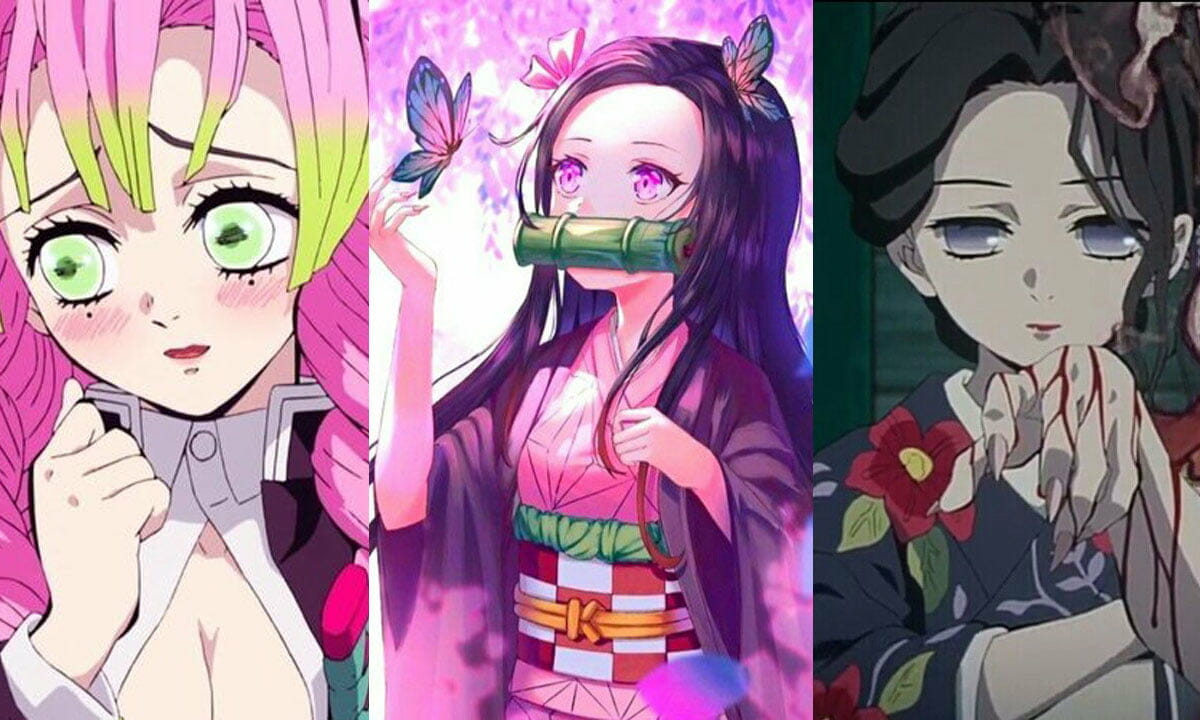 Age: 113+ (chronologically)
Affiliation: Twelve Kizubi
Occupation: Former Biwa Performer
Anime Debut: Episode 26
Japanese Voice Artist:
English Voice Artist:
Kanao Tsuyuri was a demon on the Upper-Rank Four. She had dark brown hair with pink eyes. She was a former human and had an unnamed husband.
Nakia was a strange yet cold biwa player who showed little inclination. She didn't talk except if fundamental, and when she did, she was consistently direct and dull, making her reactions as short as expected.
Regardless of not showing a lot of concerning battling capacity, as the holder of the fourth most elevated position in the Twelve Kizuki.
Name is a powerful evil presence. She was fit for utilizing her irregular Blood Demon Art to foil the endeavors of Obanai and Mitsuri at decapitating her and slowing down the two Hashira for the more significant part of the Infinity.
Castle Arc, with neither one nor the other talented warriors having the option to such an extent as scratch her.
Nakime's Blood Demon Art appears as an extra-layered space that houses a fort of monstrous scope.
As its proprietor, Nakime has outright domain over the space, having the option to control and modify it voluntarily by playing her biwa.
4. Kanao Tsuyuri
Age: 16
Affiliation: Demon Slayer Slayer
Occupation: Tsuguko
Anime Debut: Episode 4
Japanese Voice Artist: Reina Ueda
English Voice Artist: Briana Knickerbocker
Kanao Tsuyuri was a demon slayer waifus. She had black to pink hair with purple eyes. She was married to Tanjiro Kamado and had operated from the Butterfly mansion.
Tsuyuri had a very secretive and quiet personality at the start. She hated demons and used to cut off their heads without thinking.
Then, she taught herself the breathing technique. Later on, she started sharing her emotions more openly.
Kanao has enhanced strength, vision (equinoctial vermilion eye), speed, anreflexeses stamina, and endurance. Tsuyuri also has an indomitable will. Kanao mastered the flower breathing style just by observing Kanae Koch.
3. Nezuko
Age: 12
Affiliation: Demon Slayer Corps
Occupation: Demon
Anime Debut: Episode 1
Japanese Voice Artist: Akari Kito
English Voice Artist: Abby Trott
Nezuko is a demon covered by Muzan Kibutsuji. She is married to Zenitsu Agatsuma and Inosuke Hashibira. She has black hair like a human and black to orange hair like a demon. Her eye color also changed from pale pink to dark pink.
She is the best waifu. Nezuko's unique character as a human was that of a sort and caring young lady who considered others before herself, similar to her more established sibling, Tanjiro.
While Nezuko at first gets going like some other evil presence, savage and hungry for human tissue, in the wake of seeing her sibling's craving to safeguard her from being killed by a Demon Slayer regardless of her being a devil.
Since turning into a devil, Nezuko seems to have become shameless and doesn't appear to fear battling; she savagely watches her sibling and partners.
But, on the other hand, she has likewise fostered areas of strength whi, ch should be visible through her refusal to consume human tissue or blood, even in instances of outrageous injury or openness to human blood.
This should be visible when she denies Sanemi Shinazugawa after he endeavors to draw her into gnawing him with his Marechi blood.
Tamayo uncovered her missing recollections and immature character because she was not wholly conscious, as she focused on fostering her protection from the sun and recovering her awareness.
Although she is not a twelve Kizuki member, she is a powerful demon, proof of which could be seen when she overpowered Temple Demon and Swamp Demon. In addition, she has abnormal demon physiology.
2. Daki
Age: 13
Affiliation: Twelve Kizuki
Occupation: Oiran
Anime Debut: Episode 34
Japanese Voice Artist: Miyuki Sawashiro
English Voice Artist: Erica Lindbeck.
Daki is a favorite fan character. She has sliver to lime-green hair in her original form—and lime-green eyes. Daki is a former human and an upper-rank member of Twelve Kizuki.
She can be suggested as one of the best demon slayer waifus because of her vibrant personality and immense abilities.
Daki is a demon in her true sense. She is prideful, sadistic, and evil. Daki showed a ruined and bratty disposition that verged on the sociopath-like person, badgering many of her kindred laborers to self-destruction simply because they irritated or countered her while showing no hints of culpability act divert the fault on her casualties for culpable her.
She uses thunderclap and flash techniques. She can manipulate her hair and can shapeshift, also.
Cancan shares her sense and mind with her brother. She also has the power of regeneration. She has immense speed, reflexes, and strength.
Daki's Blood Demon Art permits her to make blossom-designed bands from her tissue and to control them voluntarily.
1. Mitsuri Kanroji
Age: 19
Affiliation: Demon Slayer Corps
Occupation: Demon Slayer (Love Hashira)
Anime Debut: Episode 21
Japanese Voice Artist: Kana Hanazawa
English Voice Artist: Kira Buckland
Mitsuri Kanroji is the best demon slayer waif ranked. It is not even a question that she became the favorite waifus demon Slayer fan instantly.
She had black hair. Later on, she had pink to green hair with light green eyes. She has five unnamed siblings. She is the most beloved one has hired.
Mitsuri is an exceptionally profound, enthusiastic, and jolly person who continually praises individuals in her mind, probably a contributing element to her epithet "Love Hashira."
Although she is somewhat modest and is handily bothered, Mitsuri is consistently kind to other people, most remarkably towards Obanai, to whom she seems to impart significant areas of strength.
Despite her delicate and appealing disposition, Mitsuri will go for the kill quickly and without hesitation despite evil presences, instead communicating such opinions angrily.
She exhibits a lot of devotion to the Demon Slayers' goal. Despite being put down and out by Muzan at the beginning phase of their fight, she was sufficiently resolved to return and battle.
Mitsuri has a powerful creation, making her muscles denser than a standard human's multiple times.
While her appendages are flimsy, they have outstanding strength and perseverance to keep up with her body's construction after a point-clear sound assault from Zohakuten.
To keep up with the creation of her body, Mitsuri eats as many as three sumo grapplers.
Kanroji has a Demon Slayer mark, enhanced flexibility, speed and reflexes, strength, stamina, and endurance.
Kanroji is a master swordswoman. She uses lobe breathing and flame breathing styles.
Frequently Asked Questions
Ques 1. Who is the most popular waifu in Demon Slayer?
Ans 1. Mitsuri Kanroji.
Ques 2. Who is the best girl in Demon Slayer?
Ans 2. Nezuko.
Ques 3. Who is the hottest Hashira?
Ans 3. Mitsuri Kanroji.