One of the most popular shows on Nickelodeon is SpongeBob SquarePants. It is an animated television show full of surreal comedy and fun. The series has a total of 12 seasons with numerous episodes. The story is about SpongeBob with his friends- Patrick, Squidward, and so many more, dealing with adventures in Bikini Bottom, a fictional underwater city. This show is also one of the longest animated series running on television.
The inspiration for this show is from an unpublished educational book from 1989 by Stephen Hillenburg. This book is called The Intertidal Zone and is about underwater life. After the cancellation of Rocko's modern life in 1997, Hillenburg started creating the SpongeBob SquarePants project.
The original name of SpongeBob SquarePants was Spongeboy Ahoy!, with the character's name as SpongeBoy rather than SpongeBob. Because of the trademark of previous names, the name was changed and is now globally popular.
This article is for all SpongeBob fans who are looking to chill and relax with a good dose of laughter and fun. We bring you the 40 greatest episodes, and you can choose your favorite SpongeBob episode from the list.
SpongeBob SquarePants Episodes
Here is a list of the best episodes in the entire series of this animated show. Go through each one of their summaries and choose the ones you find most interesting. The best part will be to watch all of them.
Creator: Stephen Hillenburg
Developers: TimHill, Derek Drymon, Nick Jennings
Director: Derek Drymon, Vincent Walker
Voice-over Cast: Tom Kenny, Rodger Bumpass, Mr. Lawrence, Carolyn Lawrence, Lori Alan, Bill Fagerbakke, Clancy Brown, Jill Talley, Mary Jo Catlett, Carlos Alazraqui, Sirena Irwin, Mark Fite, Brian Doyle Murray, Michael McKean, Dee Bradley Baker, Bob Joles, Thomas F. Wilson, John O' Hurley, Brad Abrell, Tim Conway, Sara Paxton, Paul Tibbitt, Frank Welker, Ernest Borgnine, Stephen Hillenburg, Marion Ross, Camryn Walling
Narrator: Tom Kenny
Streaming Platform: Nickelodeon
Number of Seasons: 13
Number of Episodes: 265
40 Best SpongeBob SquarePants Episodes
40. The Smoking Peanut
Season: 2
Episode: 12
IMDb Ratings: 6/10
This is season 2, episode 12 of the SpongeBob movies. The Bikini Bottom Zoo is hosting its Annual Free Day. Mr. Krabs uses this opportunity to grab everything he can. The giant oyster, Clamu, is going to perform tricks at the oyster stadium, so SpongeBob and Patrick go to watch his show. But once they reach there, they see Clamu sleeping. While Patrick is starting to leave the stadium, SpongeBob throws a peanut at the oyster, which makes her stir a little.
But rather than doing a show for everyone, Clamu starts destroying everything and seems agitated. She also starts crying. SpongeBob thinks that he is responsible for Clamu's crying. On the other hand, Patrick makes up his mind to find the person who has disturbed Clamu so much.
39. Graveyard Shift
Season: 2
Episode: 16
IMDb Ratings: 4/10
Krusty Krab is preparing to shut down when a customer enters to order something. Squidward tells the customer about the closing. Krust Krab realizes the benefits of keeping his place open late at night. He goes against the wishes of Squidward and stays open for 24 hours. SpongeBob likes the plan of doing the tasks he was not able to do in the morning.
But he is terrified of going out at night to throw trash. That is when Squidward decides to have some fun and starts telling him about the "hash-slinging slasher." This is the story of a Krusty Krab who chops his hand and replaces it with a rusty spatula.
38. The Algae's Always Greener
Season: 3
Episode: 1
IMDb Ratings: 8/10
Plankton is tired of eating holographic meatloaf and tries to steal the secret formula of the Krabby Patty. Now Plankton wants to change his life with Mr. Krabs. He uses the transmogrified to switch lives with him and wakes up in his office.
The nameplate on the desk reads Mr. Plankton, and he is extremely successful. He employs SpongeBob SquarePants as his employee and gives him Krabby patties for inspection in the alternate universe. Mr. Plankton is satisfied with his newfound success, but SpongeBob notices something wrong with him.
37. Squidward the Unfriendly Ghost
Season: 1
Episode: 11
IMDb Ratings: 5/10
SpongeBob and Patrick are annoying Squidward because of playing a loud game. Squidward feels like an artist after completing his wax sculpture. SpongeBob and Patrick start playing frisbee when Squidward goes to take a bath. The frisbee hits his wax sculpture and breaks it. The sculpture is so real that Patrick and SpongeBob mistake him for the real Squidward and assumes him dead because of the attack.
Squidward wears a white bathrobe and puts talcum on him when he comes out of the bathroom. Patrick and SpongeBob see Squidward and think his ghost has come to haunt them. On the other hand, the naughty Squidward plays along to have some fun. He does this to get himself entertained, pampered and served.
36. Chocolate With Nuts
Season: 3
Episode: 12
IMDb Ratings: 6/10
A lifestyle magazine with the lives of wealthy people called Fancy Living Digest is in SpongeBob's mail. He did not order the magazine when Squidward came to collect it. The magazine was put into the wrong mail. But Patrick and SpongeBob are intrigued by the content of the magazine. They are curious to know how people are so wealthy, and they ask Squidward.
On this, Squidward replies by saying that healthy people are entrepreneurs. Entrepreneurs are people who make and sell items to get rich. SpongeBob and Patrick also want to live this fancy lifestyle and become entrepreneurs. They have the idea of selling chocolate bars to become rich. But it is going to be difficult to run the business as no one is buying their chocolate bars.
35. Party Pooper Pants
Season: 3
Episode: 11
IMDb Ratings: 9/10
This is one of the best SpongeBob SquarePants episodes. It has two acts. The first act starts with the part at Patchy's house. But SpongeBob does not go to the house party. The reason that SpongeBob is unable to go to the party is that Patch's invitation is destroyed by water. The second act sees SpongeBob organizing an event for everyone. He is reading the newspaper to them.
34. Krusty Krab Training Video
Season: 3
Episode: 10
IMDb Ratings: 6/10
Every new Krusty Krab employee has to learn to make the delicacy of the Krabby Patty. The episode' Krusty Krab Training Video' shows the entire procedure that every new person entering the restaurant has to learn. The video is divided into three parts: From Humble Beginnings to The Krusty Krab Today, and also about the pieces of training of new employees.
33. Hall Monitor
Season: 1
Episode: 7
IMDb Ratings: 6/10
The time has come to select the right hall monitor at Mrs. Puff's boating school. SpongeBob is the only child who has never played the role of Hall monitor. Mrs. Puff tries to find another candidate for the role but ends up giving it to Spongebob.
He is the boating school hall monitor, and his day goes by giving a long speech. The hall monitor day for Spongbob comes to an end, but then he decides that he is going to act as the hall monitor for the entire city. Doing this will cause a lot of chaos and disaster.
32. Mermaid Man and Barnacle Boy
Season: 1
Episode: 6
IMDb Ratings: 6/10
This season 1 episode will feature different parts in separate seasons also. The episode is one of the best SpongeBob Squarepants episodes in the entire series. Mermaid Man and Barnacle Boy are famous superheroes.
Patrick and SpongeBob get to know that Mermaid Man and Barnacle Boy are living in the Shady Shoals nursing home. They decide to visit them to encourage the superheroes to come out of retirement and fight evil.
31. The Two Faces of Squidward
Season: 5
Episode: 19
IMDb Ratings: 3/10
SpongeBob takes Patrick to Krusty Krab on the 'Take Your Friend to the Workday.' Patrick helps Spongbob with cooking, and the duo starts singing. Squidward had a Krabby Patty. SpongeBob accidentally hits Squidward on his face while he is coming to tell them to stop singing.
SpongeBob takes him to the hospital and starts crying after seeing Purple Doctorfish. He wants to know if Squidward is going to be okay or not but instead gets to know that they will have to wait for two weeks.
30. Keep Bikini Bottom Beautiful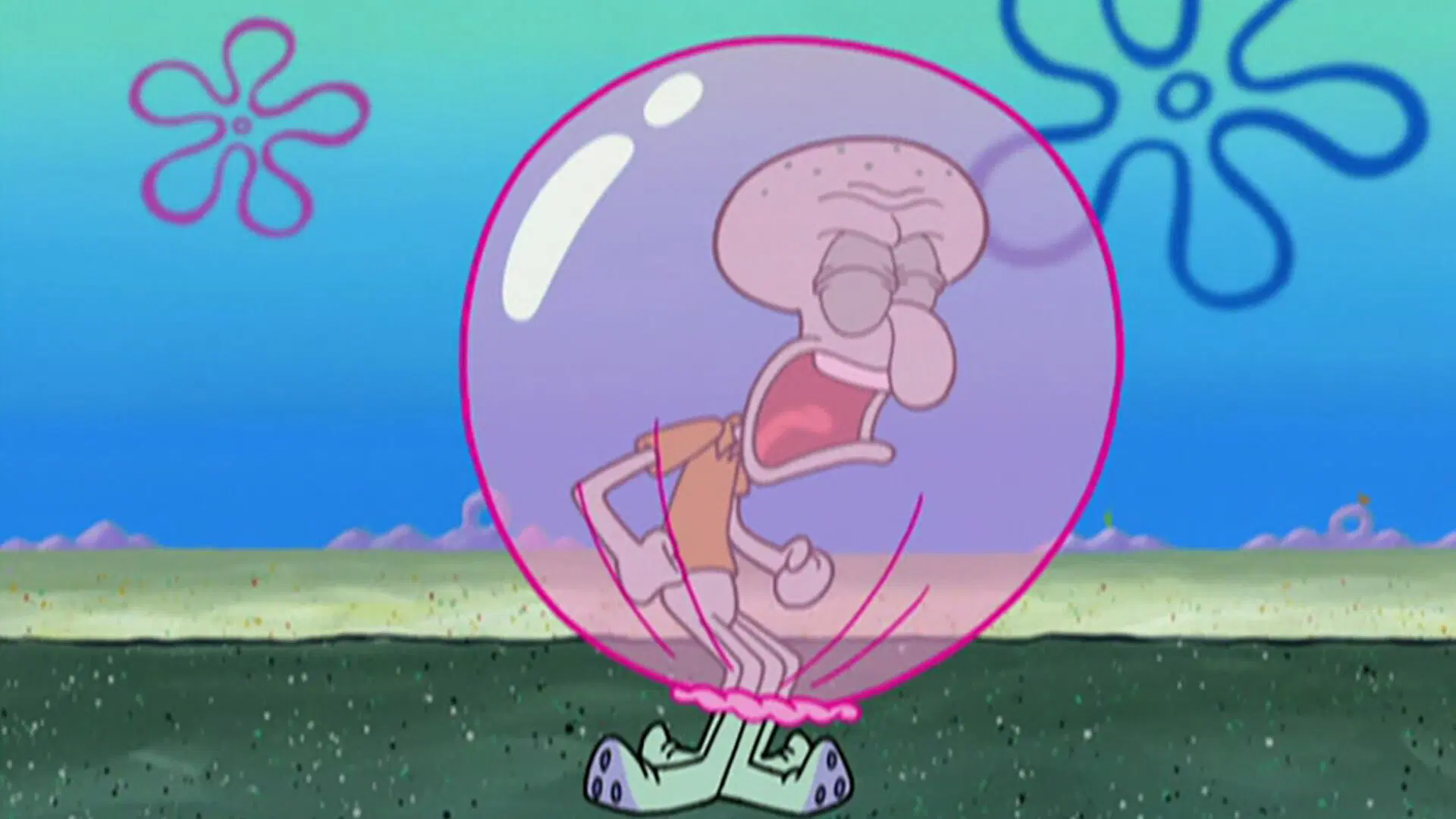 Season: 7
Episode: 5
IMDb Ratings: 3/10
Squidward leaves home and starts roaming around. Soon he steps on a piece of chewing gum and tries to get rid of it. Officer John thinks that Squidward threw the gum and asks him questions. Squidward receives a ticket and community service from the police officer.
Squidward is doing his community service when Squillium tells him about the reward he got for cleaning up Bikini Bottom in a week. A statue of Squilliam was made because of the task he did. Squidward also wanted this recognition and took up the challenge to clean Bikini Bottom in a week.
29. The Curse of Bikini Bottom
Season: 7
Episode: 7
IMDb Ratings: 6/10
SpongeBob and Patrick ask Squidward's lawnmower to play. The duo starts riding the mower after permission of Squidward. SpongeBob and Patrick reach the cemetery and are completely out of control.
They ruin the shirt that Flying Dutchman was wearing for his date. The mower also shaves off the beard of the Flying Dutchman and starts yelling at SpongeBob and Patrick. To punish the duo, Flying Dutchman turns them into ghosts.
28. The Main Drain
Season: 7
Episode: 15
IMDb Ratings: 6/10
SpongeBob is at Krusty Krab cleaning the grill with a part of his tongue. This is why the customer does not want to eat the Krabby Patty after seeing how SpongeBob cleans the grill. SpongeBob goes to cook when he comes across a puddle of water and slips.
SpongeBob realizes that the water is coming out of the sink. Patrick helps SpongeBob clean the entire mess, and to unclog the drain, SpongeBob tries to pull the drain plug. That is when Mr. Krabs stops them and tells them about the main drain story.
27. Krusty Dogs
Season: 7
Episode: 24
IMDb Ratings: 7/10
SpongeBob makes a big order of Krabby Patties and leaves the leftover meat in the shape of a sausage. SpongeBob gives a new name to a new dish, Krusty Dogs. Mr. Krabs starts selling Krusty Dogs for double the price of the patties.
To the disappointment of Spongebob, Mr. Krabs renames his restaurant as the Krusty Dogs. Mr. Krab also gets a hog dog machine in place of the grill. SpongeBob and Squidward come together to bring Krabby patties back.
26. Love That Squid
Season: 7
Episode: 25
IMDb Ratings: 5/10
Squidward cannot read the sign when Frankie orders food for Evelyn at the Krusty Krab. Evelyn sees that they are meant for each other because both of them cannot read. The love books that Squidward reads are disturbing to his head, and he throws them away. SpongeBob tries to cheer him up and return the book. But Squidward is single and unable to find a companion.
SpongeBob tries to make Squidward understand that he will find love in the future. Just because he is single right now does not mean he will never be able to find love in his life. In the middle of this conversation, a beautiful female customer entering Krusty Krab attracts the attention of Squidward.
25. Frozen Face-Off
Season: 8
Episode: 4
IMDb Ratings: 4/10
Perch Perkins and Johnny Elaine are hosting a sled race in Bikini Bottom. The prize for anyone winning the competition is one million dollars. Everyone at Bikini Bottom is preparing religiously for the race.
Plankton also takes part in the race but cheats by placing a robot instead of him. SpongeBob and Patrick are almost at the same point in the race. Plankton reaches the safety of the secret formula but is unable to open it.
24. A SquarePants Family Vacation
Season: 8
Episode: 7
IMDb Ratings: 1/10
SpongeBob SquarePants promises everyone special invitations to give them what they want for free. Mr. Krabs gets free money, Squidward gets his latte-sipping contest, and Sandy can have a science experiment.
Everyone accepts a special invitation and goes to Spongebob's house. But they are disappointed that SpongeBob has invited them to watch his vacation slides. Everyone starts watching the vacation slides of Spongebob.
23. Bubble Troubles
Season: 8
Episode: 14
IMDb Ratings: 5/10
SpongeBob and Patrick are bored with blowing bubbles, so they decide to change things a little. Patrick gets the idea of using hot sauce to make spice bubbles. He blows the spice bubbles into Spongebob's eyes which turn red.
Spongebob's return blows a spicy bubble into their eyes, Patrick. SpongeBob and Patrick continue blowing spicy bubbles. On the other hand, Squidward is clipping off his bonsai and suddenly cuts it the wrong way. Squidward throws the bonsai out of the window. The bonsai gets destroyed by a spicy bubble of SpongeBob.
22. Bubble Buddy Returns
Season: 8
Episode: 15
IMDb Ratings: 5/10
A letter is going to reach Spongebob's house inside a bubble. The bubble is causing mysterious things in the town. The letter inside the bubble reaches the kitchen of Spongebob's house. SpongeBob is with Gary eating a bowl of Kelp cereal.
On reading the letter, SpongeBob gets to know that it is from his friend from a long-time, Bubble Buddy. The letter is about a bubble buddy requesting SpongeBob to babysit his son, Shiny. Bubble Buddy also sends his son Shiny inside the bubble along with the letter. SpongeBob takes Shiny to Squidward's house, and Shiny ends up creating havoc there.
21. Squid Defense
Season: 9
Episode: 5
IMDb Ratings: 8/10
SpongeBob karate chops Squidward when he is working at the Krusty Krab. Spongebob tells Squidward about his plans to start karate with Sandy. On the same day, Squidward goes to buy some groceries, and the Creepy Creeper starts to approach him.
Squidward thinks the Creepy Creeper has come to snatch things from him and goes to SpongeBob's house for help. Squidward requests SpongeBob to teach him karate too, but because SpongeBob is not very good at art, he is unable to help Squidward. Spongebob and Squidward seek help from Sandy and request her to teach them karate.
20. Spongebob You're Fired
Season: 9
Episode: 11
IMDb Ratings: 9/10
Squidward is sleeping at his job while SpongeBob is cooking Krabby Patties at Krusty Krab. Mr. Krabs comes to SpongeBob only to tell him that he is fired. Mr. Krabs fires Spongebob to save money and leaves Spongebob sad. On hearing about SpongeBob, Squidward requests Mr. Krab to fire him too.
Mr. Krab says that he cannot fire Squidward because of his senior position and experiences. SpongeBob does not care about the money and wants to work at Krusty Krab for free. Mr. Krab says that he did get a similar idea, but doing so is an illegal activity that will lead to him losing his license.
19. The Incredible Shrinking Sponge
Season: 10
Episode: 8
IMDb Ratings: 9/10
A female fish complains about some problems with the Krabby Patty at Krusty Krab. The patty has a sea urchin in it, which freaks out Squidward. The urchin ends up on Squidward's nose after his failed attempts to smash it. SpongeBob helps Squidward with the sea urchin, which falls on the grill. Finally, SpongeBob finds a mousetrap and the urchin inside it.
18. Krabby Patty Creature Feature
Season: Season 11
Episode: 7
IMDb Ratings: 9/10
Two customers order Krabby Patties, and Mr. Krabs serves them to them. But soon, they get bored and want to try something else. This is when Mr. Krabs shows SpongeBob SquarePants his secret lab. Here Sandy is curating the recipe for a new kind of Patty.
The Krusty Krab starts selling these secret patties to their customers. But as soon as people eat these patties, they become Krabby Patty creatures.
17. Bubbletown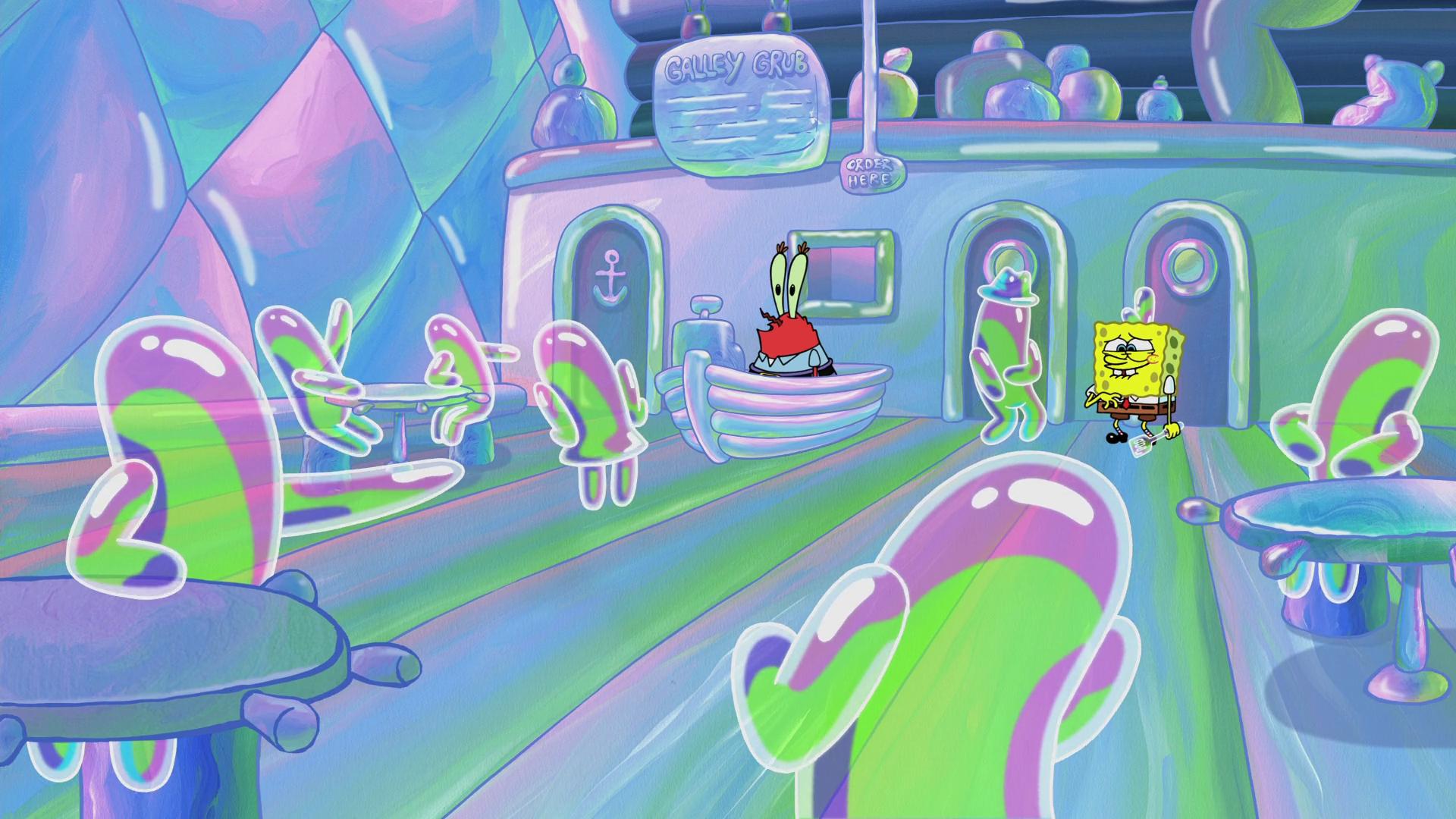 Season: 11
Episode: 25
IMDb Ratings: 6/10
SpongeBob goes to visit his long-time friend, Bubble Buddy. He goes to Bubble Town, where Bubble Buddy is showing him around. SpongeBob likes the vibe of the town. SpongeBob reinvents the motor scooter of Bubble Buddy into a modern-looking motorcycle. The people of bubble town are fascinated by the skills Spongebob has. SpongeBob has excellent bubble-blowing skills and transforms things into something new.
But this fame does not last long for SpongeBob, and he creates a disturbance in the town. This happens because of stepping on the bubble puppies of a woman and slipping away on bubble soap.
SpongeBob feels sorry for his actions but gets arrested by a bubble town police officer for the destruction of proper and causing terror. SpongeBob is taken to Bubbletown Prison. Mr. Krabs helps SpongeBob and bail him out, but after that, multiple events happen.
16. The Krusty Slammer
Season: 12
Episode: 3
IMDb Ratings: 6/10
Plankton is going to prison for trying to destroy Krusty Krab to disturb the image of Mr. Krabs. But on reaching the police station, the police officer realizes that it is full and there is no place for Plankton. He lets Plankton go away. Mr. Krab seems very unhappy with the decision and decides to turn the Krusty Krab into a prison. Mr. Krab takes Plankton to the new prison, where he tries to escape.
Plankton continuously fails to escape from the prison. Krusty Krab gets converted into a proper prison with cells to hold all prisoners. The police officer who left Plankton comes to Krusty Krab to leave more prisoners too. Mr. Krabs punishes Plankton further by trapping him in a bottle. This bottle is for the secret formula, which is now outside.
15. Squids on a Bus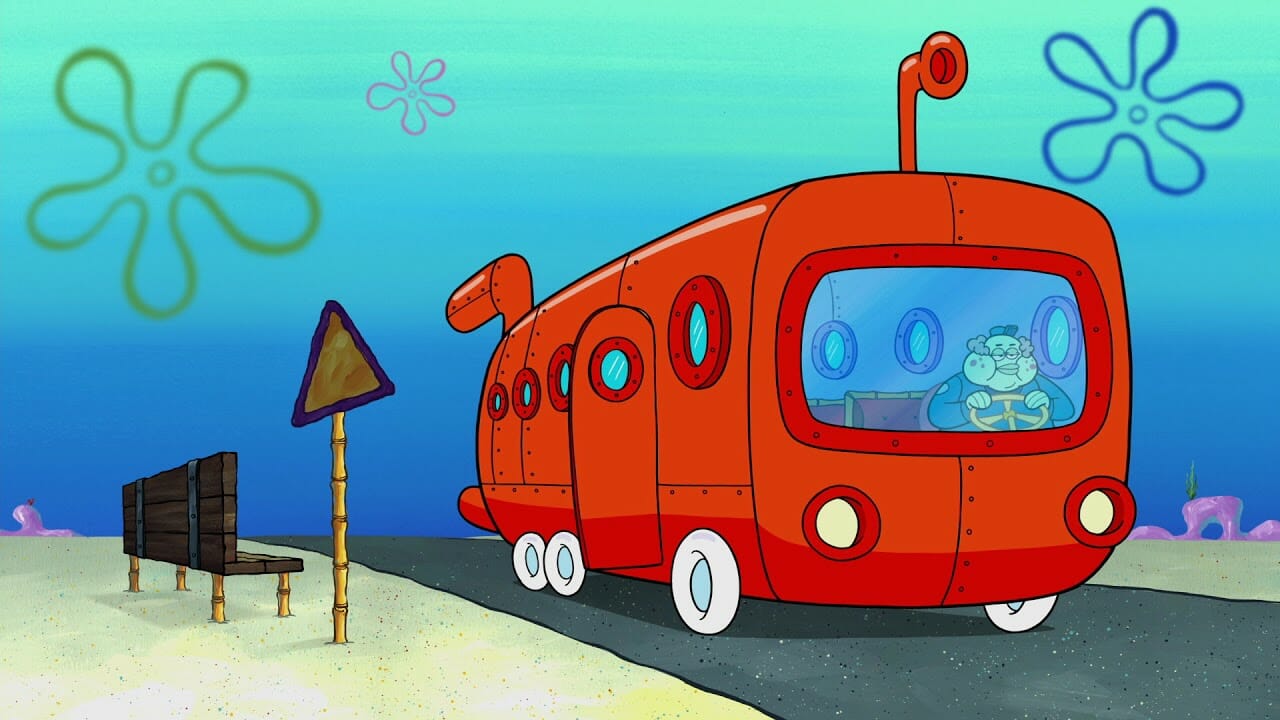 Season: 12
Episode: 7
IMDb Ratings: 2/10
Squidward is waiting to catch a bus and scolds the driver for coming late. Squidward irritates the bus driver by continuously passing some annoying comments. The bus reaches the Krusty Krab, and Squidward gets off.
But before getting off the bus, Squidward tells the driver that he can do the driver's job more efficiently. To this, the driver replies, saying he can do Squidward's job much better. Mr. Krabs is listening to their conversation and suggests they switch each other's jobs for a change.
So Squidward and the driver listen to Mr. Krab and interchange their jobs. Squidward starts driving the bus, but the passengers do not like him. But Squidward is enjoying his new job. On the other hand, the bus driver is not able to handle the pressures at the Krusty Krab and quits the job. Squidward finally gets back to Krusty Krab, and all customers are happy to see him back at his job.
14. Shell Games
Season: 12
Episode: 10
IMDb Ratings: 7/10
Tony, who is a sea turtle, is getting ready to go to Goo Lagoon to see other female turtles. Tony is lifting his weights, listening to music on his player, brushing his teeth, and eating breakfast, all along thinking about the female turtles. Then, Tony tries to come out of his shell and clean himself up. Squidward is also all set to celebrate because he thinks that Patrick is going away. Patrick breaks Tony's morning almond when Tony is getting ready.
13. SpongeBob's Bad Habit
Season: 12
Episode: 15
IMDb Ratings: 2/10
While preparing an order for a customer, SpongeBob listens to Squidward ranting about his job. Squidward is unhappy with his job, and nobody cares about it. While delivering the order, SpongeBob starts biting his nails. This disgusts everyone around. Squidward tells SpongeBob Squarepants that eating nails is a bad habit.
SpongeBob goes home and tries to stop biting his nails. He uses a different tactic to do so. SpongeBob does not let his hands near his mouth and even beautify his nails so that he does not bite them. SpongeBob also goes on a walk to feel fresh but is unable to avoid biting his nails. Later on, SpongeBob notices Mrs. Puff also biting her nails.
12. SpongeBob's Birthday Blowout
Season: 12
Episode: 13
IMDb Ratings: 9/10
This is one of the best SpongeBob Squarepants episodes and is divided into four parts. The episode starts in California, where the pirate, Patchy, is unable to start his boat. He has to deliver a gift to SpongeBob and has to go.
At Bikini Bottom, Gary is singing happy birthday to SpongeBob SquarePants, who has just woken up. Gary gives his gift to SpongeBob. Sandy, Mr. Krabs, Mrs, Puff, Patrick, Bubble Bass, and Plankton are planning a special birthday surprise for Spongbob's birthday.
11. Lockdown for Love
Season: 13
Episode: 2
IMDb Ratings: 8/10
This episode is the most latest episode of the show. It is the second episode of the thirteenth season. Plankton always values the secret formula more than his relationship with Karen. Finally, Karen has an outburst because of that. She wants them to spend a romantic night together without any interruptions and locks herself in the Chumbucket.
Plankton is still trying to get the secret formula while pretending to Karen that he is cooking a meal for her. Plankton has a plan to change Patrick into a replica of himself. Then place that replica with Karen so that the original Plankton can go to get the secret formula.
The entire series is blissful to watch, and the storyline is interesting. Each of the episodes on this list is super fun to watch, and you will have a good time. But it is also recommended that you watch the entire series. SpongeBob SquarePants is one binge-worthy animated show.
10. Rock Bottom
Season: 1
Episode: 17
IMDb Ratings: 9.2/10
SpongeBob and Patrick decide to go to an amusement park but get the wrong bus which takes them to a 90-degree cliff. They arrive at a city named Rock Bottom to find out strange animals living there.
A great episode where Patrick gets back on the bus but forgets SpongeBob. SpongeBob even misses the last bus and thus has to wait for one more day. There he finds an angelfish who tries his hand with a balloon. The balloon takes him up and back to Bikini Bottom.
Rock Bottom is one of the SpongeBob episodes which will make you go all crazy with laughter and fun.
9. Frankendoodle
Season: 2
Episode: 34
IMDb Ratings: 9.2/10
An artist is sketching by the sea when he suddenly drops his pencil in the water. Patrick and SpongeBob are playing when the pencil snaps inside the water. Spongebob picks it up and draws a jellyfish; it comes alive.
They soon realize that it's a magic pencil. SpongeBob creates his duplicate and calls him Doodlebob. Doodlebob steals the pencil, but soon SpongeBob erases him, but the hand is still left. At night Doodlebob again draws himself and creates havoc. The pencil is finally snapped into two.
8. The Camping Episode
Season: 3
Episode: 17
IMDb Ratings: 9/10
This is season 3, episode 17; while Squidward is expecting to have a quiet weekend, he finds that SpongeBob and Patrick are planning to camp in the backyard. Squidward also joins them. Squidward tries to demonstrate real camping but fails to do so because he cannot set up the automated tent.
They also roast marshmallows, and in this episode, SpongeBob sings the campfire song, but Squidward dislikes it. Squidward, on the other hand, starts playing on his clarinet. SpongeBob warns him that this will lure the sea bear. This camping episode is one of the best episodes of the SpongeBob SquarePants movie.
7. Welcome to Chum Bucket
Season: 2
Episode: 17
IMDb Ratings: 9.2/10
In a bet with Plankton, Mr. Krabs loses SpongeBob's fry cook contract, and SpongeBob is forced to work in the Chum Bucket. SpongeBob is so unhappy that he can't even make a single burger while he's there.
Plankton, who is upset, tries to console SpongeBob by giving him presents and attention. SpongeBob begins to act like a spoilt kid as a result. Plankton tries to kick him out of the chum bucket, but SpongeBob replies he's not in the mood. Mr. Krabs is forced to pay Plankton to take SpongeBob off his hands once more.
6. Band Geeks
Season: 2
Episode: 15
IMDb Ratings: 9.7/10
Squidward lies and claims he has a successful band when his High School competitor starts bragging about being a successful musician. Squidward and his band are offered the opportunity to fill in for his opponent at the famed Bubble Bowl.
Then, Squidward takes the opportunity, only to realize that he needs a band and must quickly form one. He gets SpongeBob, Patrick, Sandy, and others to join his band, but they look like a bunch of jerks in rehearsal, and Squidward is unable to stop them.
He realizes he'll be embarrassed at the Bubble Bowl eventually. SpongeBob and his friends, on the other hand, get it together at the last minute and perform admirably. In front of the camera, Squidward looks amazing.
5. Club Spongebob
Season: 3
Episode: 42
IMDb Ratings: 9.1/10
SpongeBob and Patrick build a small clubhouse on a tree, and when Squidward asks them if he can join the SpongeBob club, they refuse him. They say that he cannot fit into the space, and thus Squidward is pissed.
Later both of them invite Squidward to join the SpongeBob club, but he refuses. When they are trying to move out, they accidentally land in a kelp forest and are lost. Spongebob and Patric consult their magic conch to find the way, whereas Squidward is walking on his own.
At the end of this SpongeBob episode, Squidward joins their club to find a way out of the kelp forest.
4. Fry Cook Games
Season: 2
Episode: 19
IMDb Rating: 8.9/10
The fry cook games are starting, and Krabs has registered SpongeBob in all of the competitions. Patrick decides he wants to play after watching SpongeBob train. To enter, SpongeBob says that you must work at a fast-food restaurant.
Patrick immediately finds work with the Chum Bucket, and Plankton nominates him for the Olympics. Mr. Krabs and Plankton turn SpongeBob and Patrick into murdering robots, tearing their friendship apart.
They compete, and everything is tied until the final event when SpongeBob and Patrick understand that they can't allow competition to get in the way of their friendship. Mr. Krabs and Plankton wrestle for the title of champion. This can become one of your favorite episodes if you also believe in the power of friendship.
3. Nasty Patty
Season: 3
Episode: 4
IMDb Rating: 9.4/10
When the health inspector arrives, Mr. Krabs tries to bring the Krusty Krab up to code. Mr. Krabs and SpongeBob believe that a passing stranger is the health inspector and that they have killed him with a spoiled Krabby Patty. When the cops arrive, they attempt to hide the body. Finally, the real inspector arrives, and they're let off the jail.
2. Snowball Effect
Season: 3
Episode: 6
IMDb Rating: 9.1/10
SpongeBob and Patrick walk out in the snow to play in their snow forts when it snows in Bikini Bottom. Squidward complains because they make a racket. Squidward mocks them for having fun in the snow.
SpongeBob and Patrick throw a snowball at Squidward to prove how much fun the snow can be. Squidward becomes so involved in a snow war with SpongeBob and Patrick as a result of one thing leading to another. Squidward overdoes it and goes insane when playing in the snow.
Related: 37 Best SpongeBob Episodes You Should Definitely Watch Now
1. Survival of Idiots
Season: 2
Episode: 9
IMDb Rating: 8.8/10
In this episode, SpongeBob and Patrick are amazed by the snow they see inside the Treedome and want to play in it while Sandy is hibernating for the winter. Sandy advises them in a pre-recorded video not to disturb a hibernating creature when they try to break in.
SpongeBob and Patrick ignore the warning and go out to play in the snow. They wake up Sandy and then have to deal with the sleepwalking, sleeptalking horrible beast she's turned into. When they finally get her to sleep again, they discover that the door's lock has frozen shut, forcing them to spend the winter there. They pluck all of Sandy's hair to keep warm because it's freezing outside, and when she wakes up, it's revenge time.
Conclusion
Nickelodeon has been streaming SpongeBob episodes for more than 20 years now. All the episodes tell a new story and thus keep the audience engaged. It fascinates the young as wee as the adults alike.
The Tale of Great SpongeBob continues to be one of Nickelodeon's most viewed and popular shows. It is known for its characters and best song. There are many best episodes to watch, but some of the top SpongeBob episodes are mentioned in this article.