People nowadays love supernatural elements as well as supernatural beings, but you need a perfect plot to make them stick to a series as well. Many Japanese anime series, like Noragami, a supernatural series, offer abundant action scenes as well as urban fantasy. The anime series shows how a minor god groups up with an ordinary human girl to gain fame and have a shrine for himself.
Such series are based on Japanese mythology, Japanese culture, supernatural element, the spiritual world, a main character with supernatural abilities, and of course, there is the character development of the mostly male protagonists who also have immense physical strength in most cases. Most of them show how the heroes defeat evil spirits in a dark mode in a magical world or a real demon.
The theme can vary. In fact, many of them have romantic elements or romantic comedies as well. These are generally anime adaptations of some manga artists' stories. You can find many anime similar to this plot. The anime like Noragami are:
30. Bleach
Director: Noriyuki Abe
Writer: Masashi Sogo, Tsuyoshi Kida, Kento Shimoyama
Main Characters Cast: Masakazu Morita as Ichigo Kurosaki, Johnny Yong Bosch as Ichigo Kurosaki, Fumiko Orikasa as Rukia Kuchiki, Hiroki Yasumoto as Yasutora Sado, Kentaro Ito as Renji Abarai.
IMDb Ratings: 8.2/10
Rotten Tomatoes Ratings: 100%
The overall plot of the anime, Bleach is very much interesting; it tells the story of Ichigo Kurosaki, a teenage lad who gains the power of a soul reaper and has similarity with that of the Grim Reaper, Rukia Kuchiki, who is a Shinigami. His family also gets attacked by a Hollow, a spirit that devours human souls, and to save him, Rukia comes forward. The two become friends, but once get interrupted, and an evil spirit appears, injuring Shinigami.
He is different from other kids and possesses the ability to see ghosts or spirits who have died. The series was one of the Big Three of Shounen anime, along with Naruto and One Piece. It is a famous supernatural manga series that is a must-watch.
29. xxxHolic
Director: Tsutomu Mizushima
Writer: Nanase Ohkawa, Michiko Yokote
Cast: Anne Watanabe as Yuko Ichihara, Shota Sometani as Kimihiro Watanuki, Karen Miyazaki as Himawari Kunoki, Naota Tanenaka as Doctor, Masahiro Higashide as Shizuka domeki.
IMDb Ratings: 7.6/10
This famous anime revolves around Watanuki Kimihiro, who is a high school student but has the ability to see spirits. He is also plagued by them on a daily basis mostly. He is quite annoyed and disturbed for being able to watch them and thus goes into the wish-granting shop where a woman claims that she can fulfill any wish but in exchange for a price.
The overall plot of this series is great and full of engaging fights and canon episodes, so if you have not watched it, stream it as soon as you can.
28. Blood Lad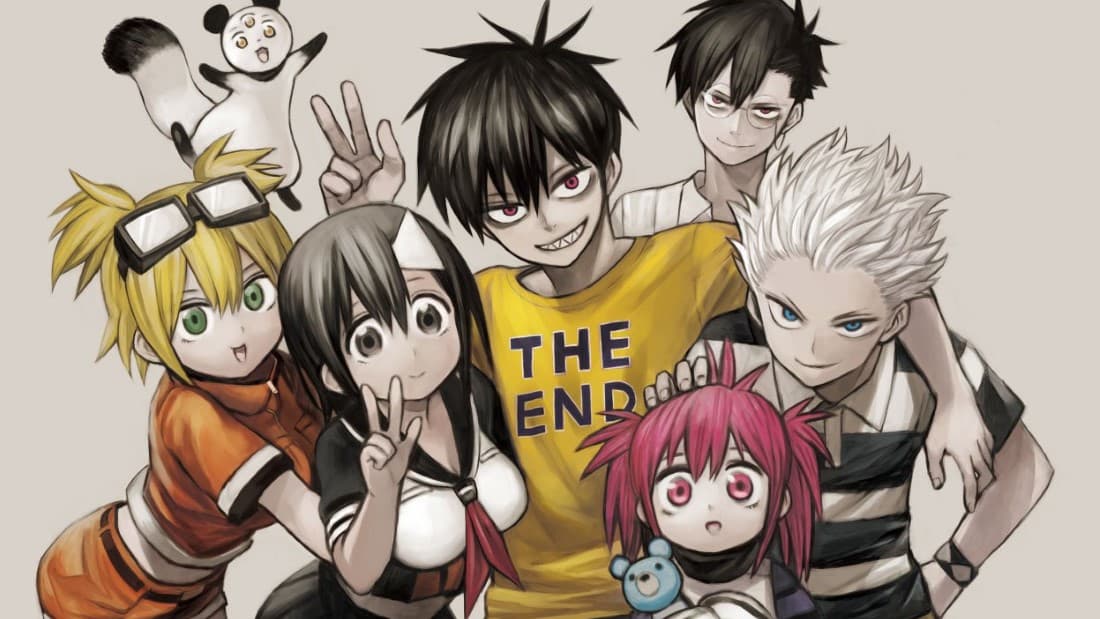 Director: Shigeyuki Miya
Writer: Takeshi Konuta
Cast: Bryce Papenbrook as Staz Charlie Blood, Xanthe Huynh as Fuyumi Yanagi, Kira Buckland as Hydrabell, Ben Diskin as Wolf, Kyle Hebert as Dek, Cristina Vee as Mamejirou, Max Mittelman as Mimic Yoshida.
IMDb Ratings: 7.1/10
This anime series narrates the story of Staz, the leader of vampires from Demon World gets to know that a Japanese high school girl has arrived in the demon world, and he goes to meet her. She even gets devoured by a carnivorous plant, and now Staz Charlie Blood lad is determined to resurrect her and bring her back. Bringing her back won't be that easy since, to do so, Staz has to visit the human world. Will he be able to do it? The series is full of adventure and supernatural themes. Stream the series and know more.
27. Bungo Stray Dogs
Director: Takuya Igarashi
Writer: Yoji Enokido
Cast: Kaiji Tang as Osamu Dazai, Mamoru Miyano as Osamu Dazai, Max Mittelman as Atsushi, Yuto Uemura as Atsushi, Patrick Seitz as Doppo Kunikida, Yoshimasa Hosoya as Doppo Kunikida.
IMDb Ratings: 7.8/10
The story revolves around Nakajima Atsushi, who once, standing beside a river, saves a man from committing suicide. The man is Dazai Osamu, who, along with his crew, are special detectives and have supernatural powers. They deal with cases that the police fail to resolve, and when they are on their task of tracking a tiger, Atsushi comes to aid them and has an instant connection with the tiger making a clear indication that he is also going to get along with Dazai and the crew.
26. The Devil Is A Part-Timer
Director: Daisuke Tsukushi
Writer: Masahiro Yokotani
Main Characters Cast: The English voice cast is Josh Grelle as Sadao Maou, Felecia Angelle as Emi Yusa, Anthony Bowling as Alciel, Tia Ballard as Chiho Sasaki, Aaron Dismuke as Hanzo Urushihara, Alex Moore as Suzuno Kamazuki.
IMDb Ratings: 7.7/10
This Japanese series is based on a light novel having the same name written by Satoshi Wagahara. The story revolves around the demon lord Satan, who is roaming around to destroy the world of Ente Isla but gets challenged by Hero Emilia and is forced to back. He, however, retreats and gets transported to Tokyo in Japan. He has no power there and starts working in a food corner.
25. Rin-Ne
Director: Seiki Sugawara, Hiroshi Ishiodori
Writer: Michiko Yokote
Cast: Kaito Ishikawa as Rinne Rokudo, Marina Inoue as Sakura Mamiya, Hitomi Nabatame as Rokumon, Satsuki Yukino as Tamako, Kappei Yamaguchi as Sabato Rokudo, Fumi Hirano as Mrs. Mamiya.
IMDb Ratings: 6.7/10
This anime, like Noragami, is also about the supernatural world, which depicts the story of a girl named Sakura Mamiya. She has gained the special ability to see ghosts after an incident she had during her childhood. She wants this ability to go away and enlists the help of a Death God and a human named Rinne Rokudo, his classmate who is way too supportive as well. He is the offspring of a human and Shinigami, and he helps the spirit to get a new life and be reincarnated.
24. Spirited Away
Director: Hayao Miyazaki
Writer: Hayao Miyazaki
Cast: Daveigh Chase as Chihiro Ogino, Jason Marsden as Haku, Suzanne Pleshette as Yubaba and Zeniba, David Ogden Stiers as Kamaji, Susan Egan as Lin, Paul Eiding as Chichiyaku, John Ratzenberger as Aniyaku.
IMDb Ratings: 8.6/10
Rotten Tomatoes Ratings: 97%
This is also an anime like Noragami depicting the life of a young kid of mere 10 years old named Chihiro and her parents. One day they come across an amusement park, and her parents get transformed into giant pigs. She is determined to make everything normal but does not know how. Later, she soon meets Haku, who explains that the park is full of supernatural creatures who have come to take a break from Earth. She must work here and try to free herself and her parents from this magical area.
23. Natsume's Book of Friends
Director: Takahiro Omori, Kotomi Deai
Writer: Kenichi Kanemaki, Sadayuki Murai
Cast: Takashi Natsume by Hiroshi Kamiya, Nyanko-sensei by Kazuhiko Inoue, Reiko Natsume by Sanae Kobayashi, Kaname Tanuma by Kazuma Horie, Touru Taki by Rina Sato
IMDb Ratings: 8.1/10
This anime is based on an acclaimed manga by Yuki Midorikawa that follows the adventures and life of Natsume, who, along with his not-so-renowned protector Madara, decides to set free the spirits who are trapped by his grandmother's contract who she had once defeated.
It is full of mystery, suspense, adventure, and action scenes, so do not miss watching Natsume's Book of Friends.
22. Mob Psycho 100
Director: Yuzuru Tachikawa, Takahiro Hasui
Writer: Hiroshi Seko
Cast: Setsuo Ito as Shigeo Kageyama, Takahiro Sakurai as Arataka Reigen, Akio Otsuka, Kyle McCarley as Shigo Kageyama, Chris Niosi as Reigen Arataka, Michael Sorich, Miyu Irino as Ritsu Kageyama.
IMDb Ratings: 8.6/10
Rotten Tomatoes Ratings: 85%
This anime revolves around Kageyama Shigeo, who is a kid studying in 8th class and has psychic abilities. He can easily bend a spoon and lift things with the help of his mind since he was a child, but he never reveals it in public to avoid trouble. He also gets a lot of criticism and negative comments for bearing such an ability. His only desire now is to be friends with Tsubomi. He also has a psychic mentor, who has no psychic power but helps Kageyama to find the purpose of his life.
21. Hoozuki's Coolheadedness
Director: Hiro Kaburaki, Kazuhiro Yoneda
Writer: Midri Goto
Cast: Hiroki Yasumoto as Hoozuki, Yumiko Kobayashi as Shiro, Takashi Nagasako as Enma,Koji Yusa as Hakutaku
IMDb Ratings: 7.2/10
Rotten Tomatoes Ratings: 50%
This anime is a dark comedy that highlights the actions of Hoozuki, who works for King Enma. He is very calm in utmost critical situations as well, and that is why he is able to make the Japanese hell function. He controls many demons and tackles all sorts of problems from other hells. King Yama is able to focus on other things because of him. He is the inventor of modern Japan's hell and is the most efficient bureaucrat in the underworld.
20. Blue Exorcist
Director: Tensai Okamura
Writer: Ryota Yamaguchi
Cast: Bryce Papenbrook as Rin Okumura, Jun Fukuyama as Yukio Okumura, Nobuhiko Okamoto as Rin Okumura, Johnny Yong Bosch as Yukio Okumura, Kazuya Nakai as Suguro Ryuji.
IMDb Ratings: 7.5/10
The story revolves around Rin Okumura, a famous exorcist who gets raised by Fujimoto. Unaware of the fact that Fujimoto is not his true father, Rin goes on to love him. However, one day he comes to know the truth, his real father is the demon lord Satan. On knowing that he is Satan's son. He pledges to defeat Satan and thus enrolls his name under the True Cross Academy. In True Cross Academy, the students are trained to be exorcists.
19. Beyond The Boundary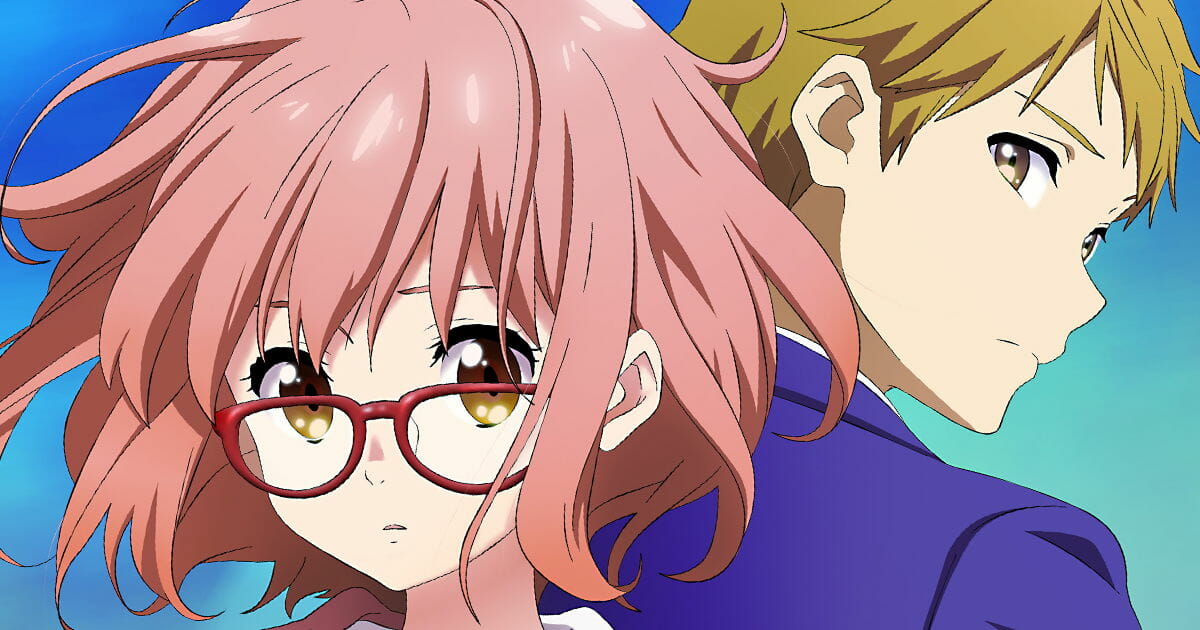 Director: Taichi Ishidate
Writer: Jukki Hanada
Cast: Clint Bickham as Akihito Kanbara, Kira Vincent-Davis as Mirai Kuriyama, Monica Rial as Mitsuki Nase, Adam Gibbs as Hiroomi Nase, Amelia Fischer as Shizuku Ninomiya, Luci Christian as Yayoi Kanbara.
IMDb Ratings: 7.3/10
The series is a romance light novel series which shows that one day, when Akihito Kanbara tries to save Mirai Kuriyama, thinking that she is committing suicide. Mirai, on the other hand, stabs Akihito with a sword made from her own blood, and it is then revealed that Akihito is a mix of humans and supernatural creatures. From then onwards, Akihito tries to help Mirai, the spirit world warrior who protects humans and is the last one surviving from her clan. It is a dark fantasy manga series with abundant romance and supernaturalism.
18. Kamisama Kiss
Director: Akitaro Daichi
Writer: Akitaro Daichi
Cast: The English voice cast is Tia Ballard as Nanami Momozono, J. Michael Tatum as Tomoe, Joel McDonald as Mikage, Sean O'Connor as Kurama, Micah Solusod as Mizuki, and Josh Grelle as Onikiri.
IMDb Ratings: 8.2/10
This anime is all about Momozono Nanami, who is a teenage girl. One day she comes across a good-looking man who is afraid of dogs, and when the two start talking and on knowing Nanami's problems, the man asks her to live in his house, which he had left long back. He also kisses her forehead to show gratitude. It is revealed that Nanami is let to live in a God's shrine, and the man is nothing but the God there. She now has to improve her academic field as well as perform the deity's duties.
17. Toilet-Bound Hanako-Kun
Director: Masaomi Ando
Writer: Yasuhiro Nakanishi
Cast: The English cast is Hanako by Justin Briner, Nene Yashiro by Tia Ballard, Tyson Rinehart as Kou Minamoto, Kyle Igneczi as Sosuke Mitsuba, The Misaki Stairs by Alexis Tipton
IMDb Ratings: 7.7/10
The anime series focuses on Nene Yashiro, who loves the occult and has been longing for a boyfriend for a long time. She calls the Seventh and most famous Wonder Hanako-san of the Toilet, who is a spirit girl who has the ability to grant any wish but in exchange for a price. Hanako is an urban legend who haunts school toilets and thus is the name. In fact, later, it gets revealed that Hanako is originally a boy, and he is one of the many spirits living there.
16. Soul Eater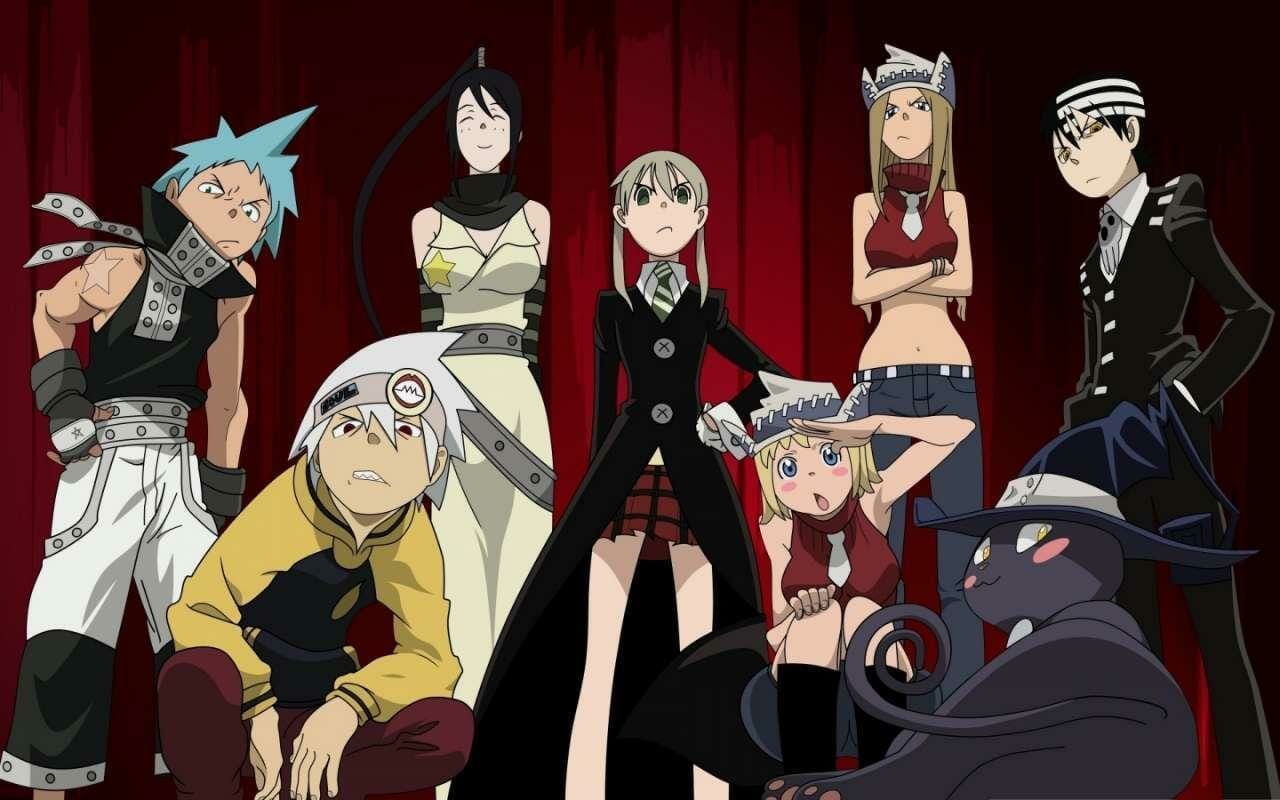 Director: Takuya Igarashi
Writer: Akatsuki Yamatoya
Cast: Laura Bailey as Maka Albarn, Chiaki Omigawa as maka Albarn,Micah Solusod as Soul Eater, Brittney Karbowski as Black Star, Koki Uchiyama as Soul Eater, Yumiko Kobayashi as Black Star.
IMDb Ratings: 7.8/10
Rotten Tomatoes Ratings: 100%
The series shows how six people in the Shinigami Technical School for weapon meisters have a great partnership with a weapon meister on one hand and a human weapon on the other. They try to reach the ranking of Death Scythe and must collect the souls of 99 evil humans and one witch. But the task is not at all easy. This mission is full of danger and troubles, and the group must try to overcome and accomplish it.
15. Code Geass
Director: Goro Taniguchi
Writer: Ichiro Okouchi
Cast: Jun Fukuyama as Lelouch Lamperouge, Takahiro Sakurai as Suzaku, Johnny Young as Lelouch Lamperouge, Yukana, Ami Koshimizu as Kallen, Yuri Lowenthal, Kate Higgins
IMDb Ratings: 8.7/10
Rotten Tomatoes Ratings: 100%
This anime is full of action that shows how Japan got reduced from a proud nation to an occupied country after Britain attacked it. Lelouch, an exiled Imperial Prince of the Britannia empire, was determined to give Japan its freedom. He comes across a mysterious girl in the course of time named C.C. who gives him the mystical power of Geass. He uses this power and directs a series of mecha battles against the ruler of the Britannian Empire.
14. Berserk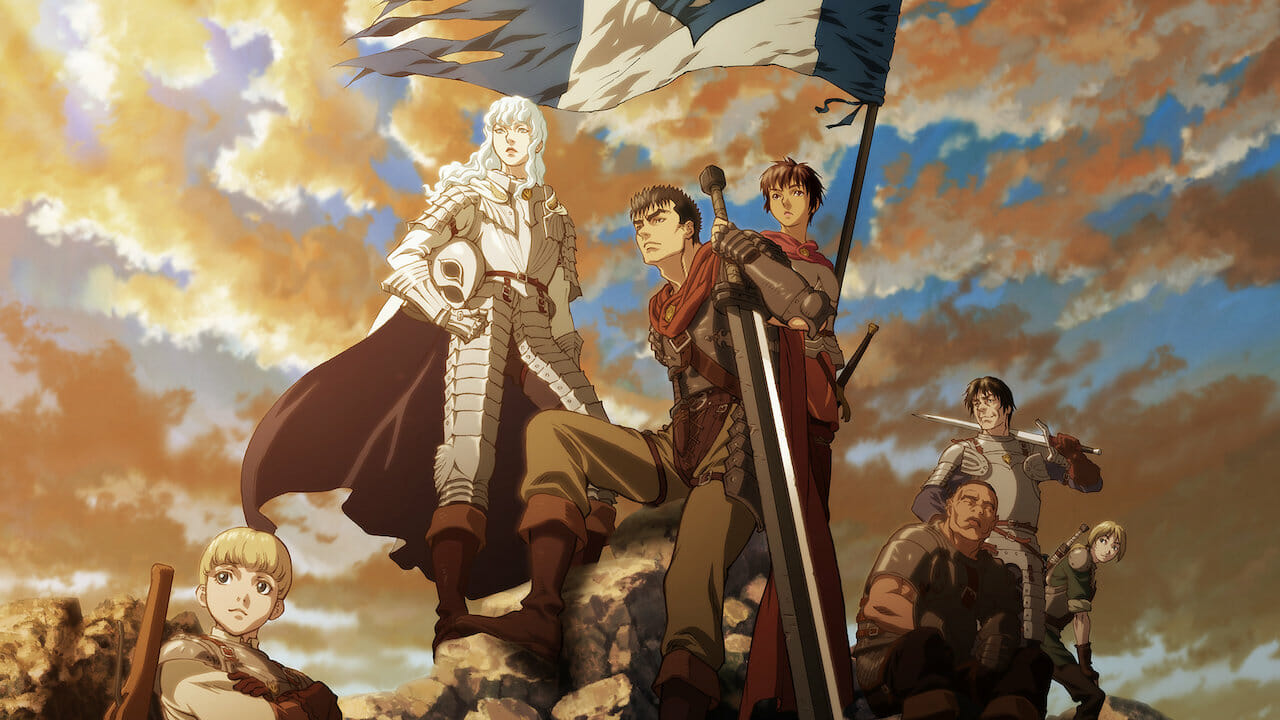 Director: Shin Itagaki
Writer: Makoto Fukami
Cast: Kaiji Tang as Guts, Steve Cannon as Griffith/Femto, Karen Strassman as Casca, Sarah Anne Williams as Puck, Erica Lindbeck as Farnese, Max Mittelman as Serpico, Erik Scott Kimerer as Isidro.
IMDb Ratings: 8.7/10
Rotten Tomatoes Ratings: 83%
This anime centers around Guts, a skilled swordsman who comes across Griffith and The Band of the Hawk after killing his guardian and joining it. The band fights for the King of Midland and, after being victorious in the 100-year war against a neighboring kingdom, they become the king's personal guard. However, things soon change. Will Guts be able to find solace here? Stream the anime and know what happened in the course of the plot.
13. InuYasha
Director: Masashi Ikeda, Yasunao Aoki
Writer: Katsuyuki Sumisawa
Cast: Kappei Yamaguchi as Inuyasha, Richard Ian Cox as Inuyasha, Darren Pleavin as Inuyasha, Satsuki Yukino as Kagome Higurashi, Moneca Stori as Kagome, Kumiko Watanabe, Jillian Michaels.
IMDb Ratings: 7.9/10
Rotten Tomatoes Ratings: 100%
This series depicts the story of a teenage girl named Kagome Higurashi, who time travels quite often to feudal Japan to aid a half-demon in recovering the shards of a jewel that has immense power. She is the reincarnation of Kikyo, a priestess who guarded the Shikon no Tama, the jewel. It has a series of adventures, drama in a supernatural world as well as action. If you have not watched it yet, stream it now.
12. Jujutsu Kaisen
Director: Sunghoo Park
Writer: Hiroshi Seko
Cast: Kenjiro Tsuda, Yuichi Nakamura as Satoru Gojo, Takahiro Sakurai, Junya Enoki Yuuji Itadori, Junichi Suwabe, Rie Kugimiya, satoshi Hino, Mikako Komatsu, Asami Seto as Nobara Kugisaki.
IMDb Ratings: 8.6/10
Rotten Tomatoes Ratings: 85%
This anime focuses on Yuji Itadori, who joins the Occult Club of his school just to have some fun. He is depicted as a sober and kind boy, but as he joins the club, he gets to know that this is not his type. People there manipulate the energy between beings and use them for their own purpose. He also gets to know about a cursed talisman-the finger of Sukuna, a demon. Yuji goes to protect his friends but ends up being Uakuna's host. He later gets to know that he, too, bears power, so he does not need any guidance. He joins Tokyo Metropolitan Magic Technical College to get rid of Sukuna forever.
11. Yahari Ore no Seishun
Director: Ai Yoshimura
Writer: Shotaro Suga
Cast: Hachiman Hikigaya by Takuya Eguchi, Yukino Yukinoshita by Saori Hayami, Yui Yuigahama by Nao Toyama, Saika Totsuka by Mikako Komatsu, Hayato Hayama by Takashi Kondo.
IMDb Ratings: 8/10
This anime focuses on a high school student who is antisocial and introverted named Hachiman Hikigaya. He has a distorted view of life and has no friends or girlfriends. However, things rapidly change for him when he joins the Volunteer Service Club on the advice of one of his teachers. The story from then onwards takes a new turn, and the audience sees how he has to work along with two other girls who have issues of their own.
10. Durarara
Director: Takahiro Omori
Writer: Noboru Takagi
Cast: Kari Wahlgren as Celty Sturluson, Bryce Papenbrook as Masaomi, Yuri Lowenthal as Shinra Kishitani, Johnny Yong as Izaya Orihara, Keith Silverstein as Tom Tanaka, Crispin Freeman as Shizuo Heiwajima.
IMDb Ratings: 7.91/0
This anime highlights the story of a dullahan who works as an underworld courier in Ikebukuro, which is an internet-based unknown gang named Dollars. It also shows how the chaos and struggles unfold around the dwellers in Ikebukuro. It is full of action, suspense, and urban fantasy throughout the plot of the series. There are about eleven main characters in this anime, so do not miss watching it.
9. Kill la Kill
Director: Hiroyuki Imaishi
Writer: Kazuki Nakashima
Cast: Erica Mendez as Ryuko Matoi, Carrie Keranen as Satsuki Kiryuin, Christine Marie Cabanos as Mako, sarah Anne Williams as Nonon Jakuzure, Steve Staley as Houka Inumuta, Ami Koshimizu as Ryuko Matoi.
IMDb Ratings: 7.9/10
Rotten Tomatoes Ratings: 100%
The anime revolves around the quest of a teenage schoolgirl named Ryuko Matoi to find the killer of her father. She, however, gets into struggles with Satsuki Kiryuin, who is the iron-willed student council president of Honouji Academy, and that is where the real struggle begins for her.
8. Blood Blockade Battlefront
Director: Rie Matsumoto
Writer: Kazunao Furuya
Cast: Josh Grelle as Femt, Phil Parsons as Klaus, Mike McFarland, Ian Sinclair as Zapp Renfro, Aaron Dismuke as Leonardo Watch, Megan Emerick as White, Lindsay Seidel, Tia Lynn Ballard Aligura.
IMDb Ratings: 7.2/10
As the name itself suggests, there is a lot of action and drama in this anime. It focuses on a young photographer named Leonardo Watch who acquires the All-Seeing Eyes of the Gods, but his sister has to lose his vision power in return. He shifts to Hellsalem city and joins a group named Libra to fight against several monsters and also terrorists and save the people.
7. Shaman King
Director: Seiji Mizushima
Writer: Katsuhiko Koide
Cast: Yoko Hikasa as Yoh Asakura, Tara Sands as Anna Kyoyama, Masahiko Tanaka as Ryuosuke Umemiya, Abby Trott, Romi Park as Tao Ren, Yuji Ueda as Horohoro, D. C. Douglas as Ryuosuke Umemiya.
IMDb Ratings: 7/10
The anime Shaman King depicts the experiences of a 13-year-old shaman and his teammate, a samurai warrior spirit, who travels across the world to fight evil spirits and to help misguided shamans and help them in their journey to become the next Shaman King.
6. Dororo
Director: Kazuhiro Furuhashi
Writer: Yasuko Kobayashi
Cast: Jason Douglas, Rio Suzuki as Dororo, Mugihito, Chaney Moore as Dororo, Adam Gibbs as Hyakkimaru, Hiroki Suzuki as Hyakkimaru, Ty Mahany, Mutsumi Sasaki as Biwamaru, James Belcher.
IMDb Ratings: 8.3/10
Rotten Tomatoes Ratings: 65%
The anime shows a man named Hyakkimaru saving a boy thief from a band of men whom he was going to rob. The child's name is Dororo. They start accompanying one another from then onwards, and together, they travel to several places in quest of the demons who possess Hyakkimaru's parts. Now this adventure is thrilling and exciting to watch as they witness several monsters and ghosts and proceed further by defeating them one by one.
5. Mushishi
Director: Hiroshi Nagahama
Writer: Hiroshi Nagahama
Cast: Yuto Nakano as Ginko, Travis Willingham as Ginko, Kojun Ito, Jennifer Seman as the narrator, Hiroshi Shimozaki, Mika Doi, Ryo Naito, Brina Palencia, Luci Christian, Kenny Green.
IMDb Ratings: 8.5/10
Rotten Tomatoes Ratings: 100%
The anime revolves around Ginko, a man who has been there to keep the people protected. There are abundant supernatural creatures roaming around to harm humans, and that is why he is there to save them. He travels a lot from one place to another and investigates a primeval life form, the mushi, who might be the reason for creating problems in the human world.
4. Death Note
Director: Tetsuro Araki
Writer: Toshiki Inoue
Cast: Mamoru Miyano as Light Yagami, Brad Swaile as Light Yagami, Vincent Tong as Touta, Ryo Naito as Touta, Trevor Devall as Shuichi, Brian Drummond as Ryuk, Naoya Uchida as Soichiro Yagami.
IMDb Ratings: 9/10
Rotten Tomatoes Ratings: 100%
This anime is highly interesting, and you will not be able to miss any episode of it. It shows how a boy gets a notebook by chance and discovers that writing someone's name on it will kill the person. He goes on to use it to eradicate all criminals and takes upon the task of cleansing the human world. However, a detective is assigned to know who is behind these killings, and the detective is known as L.
3. Mononoke
Director: Kenji Nakamura
Writer: Chiaki J. Konaka, Ikuko Takahashi, Michiko Yokote, Manabu Ishikawa
Cast: Rie Tanaka as Shino, Eiji Takemoto as Kiyoshi Moriya, Takahiro Sakurai as medicine seller, Aiko Hibi as Zashiki-warashi, Toshiko Fujita as Hisayo, Tomokau Seki, Houko Kuwashima as O-chou.
IMDb Ratings: 8.3/10
Rotten Tomatoes Ratings: 93%
This anime focuses on a character known as a medicine seller but has no name. It has 5 arcs, and each of them shows how this seller tries to solve the riddles behind the existence of the evil spirits that are still roaming in the human world. He indulges in eradicating them and shows his knowledge of supernatural elements. It is full of thrills and excitement, so do not miss watching it.
2. Kannagi
Director: Yutaka Yamamoto
Writer: Hideyuki Kurata
Cast: Nagi by Haruka Tomatsu, Jin Mikuriya by Hiro Shimono, Tsugumi Aoba by Miyuki Sawashiro, Zange by Kana Hanazawa, Hakua Suzushiro by Kana Hanazawa, Daitetsu Hibiki by Takanori Hoshino
IMDb Ratings: 6.9/10
Kannagi is a mesmerizing anime that revolves around Jin Mikuriya and his activities. He is an art student who one day starts carving a statue from the wood of the Kannagi tree. It was astonishing to see that the status has now life. A goddess has come within it and transformed into an ordinary human being named Nagi. The duo now works together to eradicate all the evils from the town.
1. Tokyo Ravens
Director: Takaomi Kanasaki
Writer: Hideyuki Kurata
Cast: Kaito Ishikawa as Harutora Tsuchimikado, Aki Toyosaki as Kon, Ryohei Kimura as Ato Touji, Ayane Sakura as Dairenji Suzuka, Hiroyuki Yoshino as Kagami Reiji, Shinya Takahashi as Kogure Zenjirou.
IMDb Ratings: 7.3/10
This anime is about Tsuchimikado Harutora, who belongs to the famous Onmyoji family but does not bear the ability to see spirit energy and lead a peaceful and happy life. He goes to the Onmyo branch school and has many friends there. One day, his friend Tsuchimikado Natsume appears, who is the heir to the head family, and now, things are bound to change for him as well as for the whole family. It is full of drama, so if you love dramas, stream this series.
These are some of the famous and most loved anime like Noragami that you must watch if you have not done it yet. For more such other anime lists, series, latest news, and updates, follow us.