Austin Powers is an American spy and action-comedy movie series first released in 1997. Directed by Jay Roach, the movie series includes International Man of Mystery, The Spy Who Shagged Me, and Austin Powers in Goldmember. The producer and the director of the films are Mike Myers. Myers also starred as the main antagonist of the film, Dr. Evil.
While Dr. Evil, commonly known as Douglas Powers, is the archenemy of the titular character Austin Powers. Virtucon Industries is his evil corporation where he plots ways to take over the world. Besides being a spy, Austin Powers is also one of the funniest characters from the 90s.
His arch-rival Dr. Evil is also a hilarious character and an equally great villain of dim wit. The Austin Powers film series showcases typical spy thriller tropes. This list comprises the twenty best Dr. Evil quotes in Austin Powers movies.
20. "Why Must Frickin' Idiots surround me?"
Dr. Evil said this iconic line in International Man of Mystery. Ironically, Dr. Evil was not exactly the most intelligent villain. Still, his team, filled with only genius people, sincerely followed him for unknown reasons. However, all of them seemed far more intelligent and logical than him.
It is hilarious when Dr. Evil doesn't hesitate to call out his crew, giving out insulting names like "frickin' idiots," even when they were all doing their best to help him and were quiet genius and not frickin' idiots.
19. "Kill the Little B***h, See If I Care"
Another quote from International Man of Mystery targeted Dr. Evil's poor son Scott. Dr. Evil was sometimes not serious enough about important things.
He was more bothered about being in charge and having everyone listen to him than he was about achieving anything. In this quote, Doctor Evil pretended that he didn't care if his son Scott was alive or dead.
But the truth is that Doctor Evil probably did care very much, but the words were too harsh for Scott. For similar reasons, Scott hated his father but also desperately wanted his love.
18. "Bag of Shh"
This quote by Dr. Evil in the International Man of Mystery is probably one of the funniest quotes of the movie. He said, "Just know that I have a bag full of 'Shh!' with your name on it."
Doctor Evil sometimes shushes the person before they even start talking. Maybe because he didn't care what the person had to say, he just wanted them to stop. This was mainly directed towards Scott. This is one of the most creative Evil quotes in the Austin Powers film series.
17. "No Chocolates"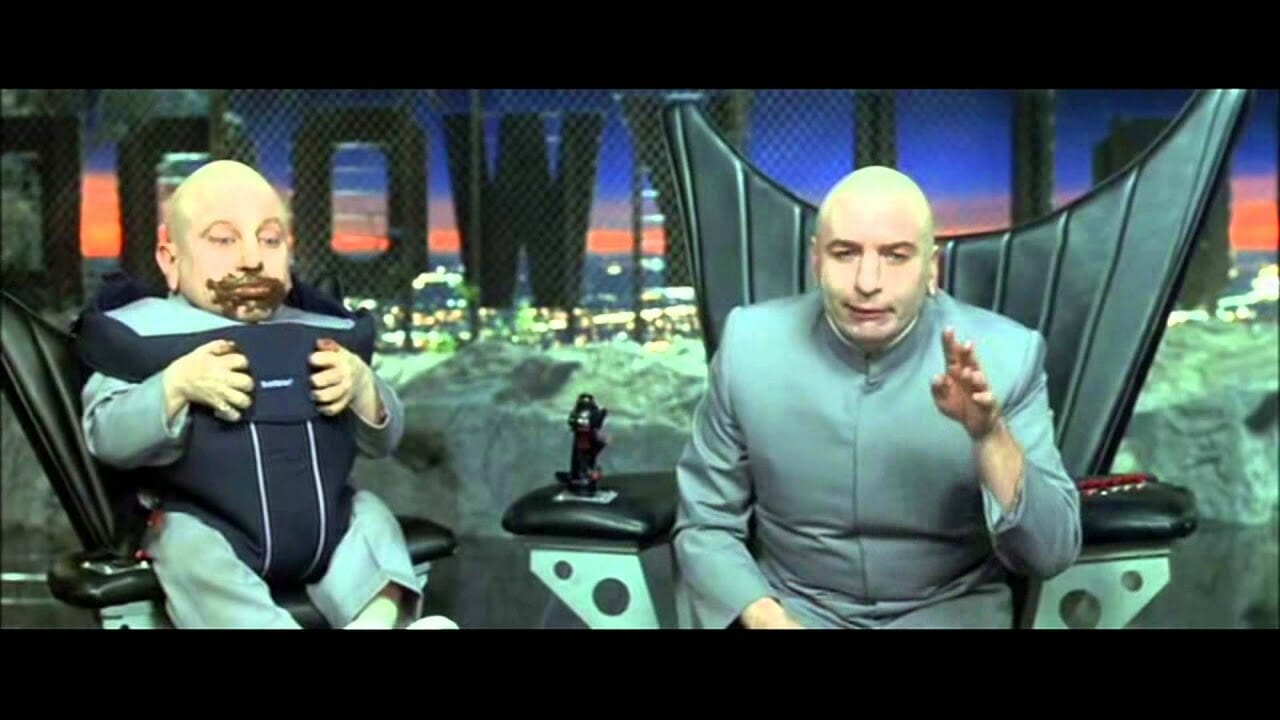 In Goldmember, Dr. Evil met Mini-Me, a grown man, but he treated him like a child, like a son he never had. Mini-me was sleeping when Dr. Evil assigned him to work.
Which is when he said, "Is he sleeping? Well, that's okay. I guess Mini-me won't get any. Chocolate!" Since he was a kid, he used the lure of chocolate to get him to wake up.
16. "Throw me a Frickin' Bone Here!"
When Dr. Evil says this phrase, he says he needs somebody's help. It was one of his favorite quotes, and he used it often.
He would say this whenever he was frustrated and unable to get his way. The original phrase is "Throw me a bone." However, like all the other Evil quotes, Dr. Evil added a little style to the words and asked for a frickin bone instead.
15. "Details of My Life"
Dr. Evil said in The Man of Mystery, "The details of my life are inconsequential. Very well, where do I begin?" and then continues to tell the most bizarre stories of his life.
He told the story of how his father was a womanizing spy from low-grade narcolepsy and that he learned to make outrageous claims and accuse chestnuts of being lazy. The kind of unease that only the genius possess and sung an insane lament.
He said that he used to make meat helmets when he was a kid. His upbringing certainly was peculiar and sad, indicated by the insane lament and meat helmets.
14. "Tractor Beam"
"Now, ladies and gentlemen, we finally have a working tractor beam, which we shall call…Preparation H." Dr. Evil doesn't realize that Preparation H is the name of a cream used to treat Hemorrhoids.
It is a popular name, yet he had no idea it belonged to something like a cream. It is funny that he could not join the dots between the two.
Dr. Evil only named it thus because they got a working tractor beam on the eighth attempt, corresponding to the letter H.
13. "Why Make Trillions When we Can Make Billions?"
Dr. Evil doesn't realize that trillions are greater than billions. After saying this quote, he expects applause and cheers from others. Instead, people only laugh and snicker at his suggestion.
He is also known for using the phrase "One Million dollars!" very often. He did get an upgrade from one million dollars, but now he had another unit of money to understand.
12. "His Number Two Man"
Dr. Evil is not very creative in giving titles and names. In International Man of Mystery, when he gets his right-hand man, he says, "Finally, we come to my number-two man. His name? Number Two."
Neither does he want to learn the real names of his employees, nor does he give proper titles, so he calls his number-two man, Number Two (Robert Wagner). Not to mention that he made this man a walking bathroom joke.
11. "Girls of Caliber"
When Dr. Evil saw some seductive Fembots with fatal bullet-firing nipples, he joked and said, "I like to see girls of that Caliber," but nobody laughed.
His sense of humor was broken; no one liked his jokes, which made the scene funny. This is one of the most hilarious and awkward evil quotes.
10. "It Got Weird, Didn't It?"
Dr. Evil was too busy taking over the world to worry about the little things, like a meaningful relationships. But he gave in to temptation when his lieutenant Frau Farbissina hit on him. Both of them promised that something 'wouldn't get weird.
After promising not to let their newfound sexual relationship ruin their working one, the two found it impossible to initiate a conversation.
This was when he asked this question, to which Frau quickly agreed. However, things did get weird the following day.
9. "Take on The World"
"Oh Hell, Let's Do What We Always Do – Hijack Some Nuclear Weapons And Hold The World Hostage, Yeah? Good."
After being frozen for 30 years, Dr. Evil awoke to a world with a criminal element far different than the one he remembered. He was extremely out of touch with the growth of technology.
After suggesting several evil schemes that ended up happening in real life, Dr. Evil gave up and threw this quote, falling back on the one plan all the evil villains have as a backup – hijacking some nuclear warfare.
8. "Hug It Out"
Dr. Evil's relationship with his son Scott was not very affectionate. But he did care about him. He tried several ways to get him to show his love, but he couldn't succeed.
He gave up and blurted out, "Well, Don't Look At Me Like I'm Frickin' Frankenstein! Give Your Father A Hug!" This is one of those Evil quotes that bring out his humane qualities.
7. The Animal Analogy
"Austin Powers… He's The Snake To My Mongoose. Or The Mongoose To My Snake. Either Way, It's Bad. I Don't Know Animals. But I Do Know This: This Time, It's Personal."
Dr. Evil wasn't the sharpest person. In this quote, he's trying to say that Powers is his archenemy who he wants to eat alive, like a snake and a mongoose. Except he can't remember if the snake eats the mongoose in the real world or vice versa.
Dr. Evil finally gives up on the analogy and says it's personal, moving on to more meaningful discussions.
6. Dr. Evil's Hidden Lair
"Ladies And Gentlemen, Welcome To My Submarine Lair. It's Long, Hard, And Full Of Seamen! [Silence] No? Nothing? Not Even A Titter?"
This was another one of Dr. Evil's failed jokes. He wanted to make his crew laugh, but they didn't make a sound after hearing this joke. This sexual innuendo of the underground lair did not change things for him. Half the jokes that Dr. Evil cracked ended up being not funny.
5. The Evil Medical School
Dr. Evil doesn't like to be addressed by 'mister.' He only wants to be called Doctor because apparently, he studied in an evil medical school. He said, "Doctor Evil! I didn't spend six years in evil medical school to be called 'Mister,' thank you very much." The credibility of this school is worth questioning.
4. Sharks With Laser Beams
Dr. Evil has a simple request, and he can't understand why this request is not being fulfilled. He says," You know, I have a straightforward proposition: to have sharks with frickin' laser beams attached to their heads!"
Except that sharks with laser beams attached are not a simple request. It is not logical, but he doesn't realize it and keeps whining like a baby.
3. Mr. Bigglesworth
Mike Myers' character Dr. Evil is very similar to Dr. Claw, the evil villain in the Inspector Gadget TV series and movies. Like Dr. Claw, Dr. Evil loves to sit in his favorite chair, stroking his pet cat.
Except Dr. Evil's cat is hairless. Mr. Bigglesworth was one of the funniest references to James Bond movies in Austin Powers.
Dr. Evil grimaces while petting Mr. Bigglesworth with his dark-rimmed glasses and does his signature pinky on the side of the mouth whenever he comes up with a downright evil plot.
He said, "When Dr. Evil gets angry, Mr. Bigglesworth gets upset. And when Mr. Bigglesworth gets upset, people die!"
2. "There's Nothing More Pathetic Than An Aging Hipster!"
After unfreezing, when Dr. Evil was on his first mission, the buck-toothed English spy Austin Powers managed to infiltrate Dr. Evil's underground lair and faced his nemesis one on one.
The two took a moment to remember the old times before Austin launched into a proud speech.
He did not understand a word, so Dr. Evil struck back by saying this insulting quote, leaving Austin Powers a little speechless.
1. "Best Evil Son"
The funny thing about Dr. Evil and his relationship with his son was that his son hated him and everything he believed in. A standard but rebellious and angry young boy, poor Scott was just yearning for his father to stop trying to take over the world and spend a little time with him.
The only time Dr. Evil was proud of Scott was when he did something dark, mean, or evil. That behavior is what made him proud. He said, "You're the best lousy son a bad dad could ever ask for.