Adult anime series is one of the best forms of anime, and it is hugely because of its use of sexual humor and explicit scenes. The scenes can be too romantic or too violent.
If you are one of the people who is looking for some good ecchi anime series, then check out this list. It wasn't easy to create the list containing only 20 strings, but it was made possible based on the show's popularity and female characters.
Brace yourselves; else you might lose yourself in the recommended suggestions; The list is as follows:
20. Golden Boy
Directed By Hiroyuki Kitakubo

Written By: Tatsuya Egawa

Voice Cast: Allison Keith, Tiffany Grant, Laura Chapman

Studio: A. P. P. P.

IMDB Rating: 8.0/ 10

Available on: Crunchyroll
The plot of Golden Boy revolves around Kintaro Oe, a University dropout who rides Japan on his bicycle, taking random part-time jobs and trying not to take women.
The show is hilarious, and the story is basic and easy to understand. Kintaro is one of the most relatable characters on this list as he travels around the city, chasing women and learning about life.
The best thing about the show is not the plot or the steamy moments but Kintaro's over-the-top expressions and laughs. The voice actors did a great job giving their voices to the characters, the animation quality was excellent, and even the dubbed version felt good. A great show and a must-watch.
19. High School DxD
Directed By: Tetsuya Yanagisawa

Written By: Takao Yoshioka

Voice Cast: Teri Rogers, Scott Freeman, Jamie Marchi

Studio: TNK

IMDB Rating: 7.6/ 10

Available on: Crunchyroll
High School DxD is a show that is certainly not for everyone, and this anime series has a mature theme where Issei Hyodo, a young boy who is an idiot and a pervert, gets resurrected as a demon, and he gains power from his breasts.
This show is not for everyone as it has a lot of erotic moments that will get you in trouble if you are watching around your parents.
The series started as a perverted show, but as it progressed, it became romantic, and the sexual humor of the show made it one of the best adult anime series.
18. Future Diary
Directed By: Naoto Hosoda

Written By: Katsuhiko Takayama

Voice Cast: Josh Grelle, Tomosa Murata, Leah Clark

Studio: Asread

IMDB Rating: 7.5/ 10

Available on: Netflix, Hulu, Crunchyroll
This show has extreme violence and a psychologically engaging premise where the viewers would get traumatized or depressed.
The story unfolds in a world where a God of Time hosts a contest for his successor; the game is like a battle royal where contestants must kill their opponents to survive and win. This is a highly fantastic series; from the first episode, it will make you watch it.
The characters are great, and it is excellent to see Yuno, a girl in love with Yuki who has all the affection in the world for him, and she is ready to kill all her enemies for his passion. The filler episodes of this show are amazing. This show does not feature any voluptuous girls like other shows on this list, but it is not for kids.
17. High School of The Dead
Directed By: Tetsuro Araki

Written By: Yosuke Kuroda

Voice Cast: Junichi Suwabe, Eri Kitamura, Miyuki Sawashiro

Studio: Madhouse

IMDB Rating: 7.2/ 10

Available on: Hulu
This anime series tells the story of high school kids getting overwhelmed at the commencement of a zombie apocalypse. The show is a ten solely based on the entertainment value, but it is not a thought-provoking series. It is simply about the zombie apocalypse and hormonal teens, but it was written very well.
The plot is simple and easy to understand. It is about high school kids and a nurse trying to survive. It is a great show and an excellent series for beginners to watch.
16. Scum's Wish
Directed By: Masaomi Ando

Written By: Makoto Uezu

Voice Cast: Dori Sakurada, Chika Anzai, Miyu Yoshimoto

Studio: Lerche

IMDB Rating: 7.2/ 10

Available on: Netflix
If you are a fan of unrequited love where you can meet and access them, but they never develop feelings for you, then Scum's Wish is the series you might like. It tells the story of Yasuraoka, and Kanai, who have known each since they were kids.
Both of them were close to each other and formed a great bond. However, Kanai's heart belongs to someone else. Yasuraoka tries his best to hide his feelings and makes a move on Mugi; things start as a joke but develop into a relationship.
This is a great show with one season featuring romance, which features a boy meeting a girl under bizarre circumstances; the show got sexual but not in a wrong manner. The exhibition displays two people using each other to feel what someone else is not likely to give them.
15. Air Gear
Directed By: Hajime Kamegaki

Written By: Chiaki J. Konaka

Voice Cast: Kenta Kamakari, Kenn, Masami Kikuchi

Studio: Toei Animation

IMDB Rating: 7.1/ 10

Available on: Hulu
Air Gear is one of the best adûlt anime series, and the show's first season was perfect; it would give you a good laugh; there were some action scenes and many laughs.
It would have been a great show, and everyone would have talked about it if it had a second season, but it was canceled after the first. However, the performance was excellent, and if you liked it, it would be great if you started following the manga series Air Gear.
Read More: 20 Best And Hottest Nude Anime-Only For Adults
14. Freezing Vibration
Directed By: Kouhei Hatano

Written By: Masanao Akahoshi

Voice Cast: Caitlin Glass, Mitsuhiro Ichiki, Jamie Marchi

Studio: A. G. C. T.

IMDB Rating: 6.9/ 10

Available on: Amazon Prime Video
Freezing Vibration is one of those adûlt anime series that is a continuation of Freezing; this is a twelve-episode anime series that is fun to watch. The animation is excellent, and the characters are well-written.
Overall, a good show if you are looking forward to watching something different. If you are reading manga series, check out this show's Japanese manga series; you will not be disappointed.
13. Campione!
Directed By: Keizo Kusakawa

Written By: Jukki Hanada

Voice Cast: John Swasey, Blake Shepard, Yoko Hikasa

Studio: Diomedea

IMDB Rating: 6.8/ 10

Available on: Crunchyroll
This 2012 anime series is about Godou Kusanagi, a young boy who defeats the God of War in mortal combat. As a result, he earned the position of a Campione or God Slayer, and he has to fight Gods whenever necessary and wherever he is challenged.
Because of his status and recognition, he gets a lot of unwanted female attention, and one of the girls is Erica Blandelli, a young girl who expresses her feelings to him. As a result, it creates a lot of weird and absurd scenarios where he is misunderstood.
Every adult fan of the Ecchi anime series deserves to watch this show. The story quickly takes a bold turn.
This show is binge-worthy, and the cringe humor of this show makes it a good watch. Despite not being a fan of such comedy, I enjoyed this show. The story is good, and the characters are fun to watch. The report can get confusing at times, but everything goes well with each other.
12. Trinity Seven
Directed By: Hiroshi Nishikiori

Written By: Hiroyuki Yoshino

Voice Cast: Yumi Hara, Ryoka Yuzuki, Rie Murakawa

Studio: Seven Arcs Pictures

IMDB Rating: 6.8/ 10

Available on: Crunchyroll
Trinity Seven takes place in a magical world where people have magical powers. Another great supernatural action series. This is a good show on its own, but if you add the harem and ecchi part, it is a great show because you won't be able to stop laughing, and the scenes are hilarious.
The protagonist is a pervert. A good story with great characters makes it a memorable watch.
11. Koihime Musou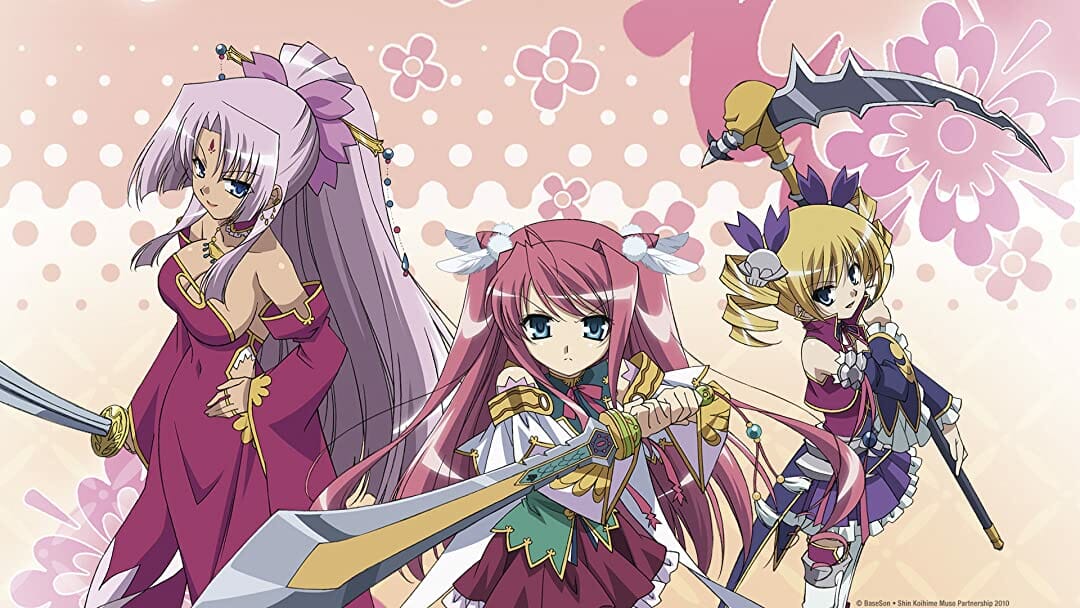 Directed By: Nobuaki Nakanishi

Written By: Go, Zappa,

Voice Cast: Nami Kurokawa, Maki Kobayashi, Hiroka Nishizawa

Studio: Doga Kobo

IMDB Rating: 6.7/ 10

Available on: Crunchyroll
Koihime Musou is one of the best anime series ads. This adult anime series is set in feudal China. There is a big cast, and many of the characters in this series, and many characters have either a voluptuous feeling flaunting their bodies or are warriors.
The first impression you will have of the series is that it is an adult animation series that requires a mature audience because the characters are semi-naked. Still, it is a good show, and every anime fan in the community would agree it is an entertaining watch.
10. Monster Musume: Everyday Life With Monster Girls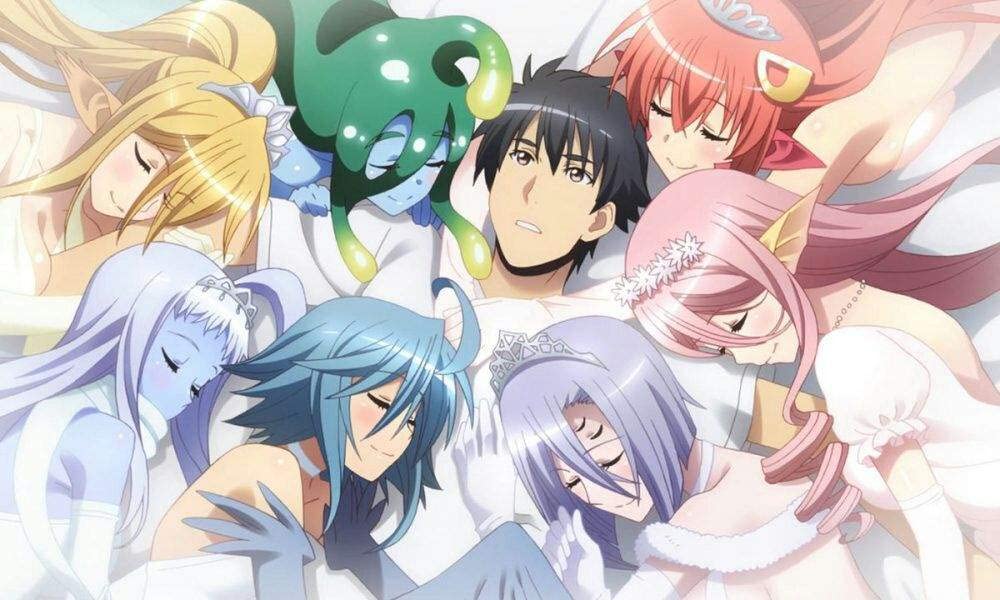 Directed By: Tatsuya Yoshihara

Written By: Kazuyuki Fudeyasu

Voice Cast: Natsuki Aikawa, Junji Majima, Mayuka Nomura

Studio: Lerche

IMDB Rating: 6.6/ 10

Available on: Vudu
Monster Musume is one of the best adult anime series, which has some of the most explicit sex scenes any anime series has ever created. Adult anime fans would agree that it has one of the most mature themes, and sometimes the bold and erotic moments make it too much to take in.
However, monster girls is an excellent show with only one season, but it is very creative. Sometimes, you would wonder if all the hot scenes are contained in one episode, but as you stream the next episode, each episode is equally crazy and erotic.
9. The Testament of Sister New Devil
Directed By: Hisashi Saito

Written By: Takao Yoshioka

Voice Cast: Yuichi Nakamura, Wendee Lee, Lauren Landa

Studio: Production MS

IMDB Rating: 6.6/ 10

Available on: Crunchyroll, Netflix
The plot revolves around Toujo Basara, the show's main character, and he suddenly has two beautiful step-sisters because his father adopted them. But neither Toujo nor his dad knows his sisters are Demon Lord and Succubus.
As the series progresses, we learn a secret about Toujo, who becomes the master of these devil sisters. This dark fantasy anime is a great watch where semi-naked wrestling matches are held. Full of erotic and steamy moments, this show is undoubtedly a great watch.
8. Tsugumomo
Directed By: Ryoichi Kuraya

Written By: Ryoichi Kuraya

Voice Cast: Noriko Shibasaki, Naomi Ohzora, Howard Wang

Studio: Zero-G

IMDB Rating: 6.5/ 10

Available on: Crunchyroll
Based on Yoshikazu Hamada's manga series, Tsugumomo is an underrated thrilling audit anime series. The anime Tsugumomo is unbelievably good. The anime fans praised this show; the animation is excellent, and the characters are well-written.
The Tsugumomo adaptation does not go overboard with the adult theme, but there can be a lot of hot scenes and some fully nude scenes, so make sure you don't watch it in public.
7. Cat Planet Cuties
Directed By: Yoichi Ueda

Written By: Katsuhiko Takayama

Voice Cast: Aaron Dismuke, Tia Lynn Ballard, Brittney Karbowski

Studio: AIC+

IMDB Rating: 6.4/ 10

Available on: Vudu
Cat Planet Cuties is not one of those adult anime series that find different ways to reveal female characters. Instead, the show has some adult themes and other pieces, such as action and comedy, and neither of the details overpowers the other.
The protagonist of the series is Kio, a compassionate young boy who meets Eris, an alien who has cat ears and she is charming.
Unfortunately, she is being hunted by a group that wants to treat her as a goddess. This short anime has only one season, and if you are looking forward to watching something that is not too revealing, this is a good choice.
6. Nande Koko ni Sensei ga!?
Directed By: Hiraku Kaneko

Written By: Yuki Takabayashi, Toshikatsu Tokoro, Yuko Goto

Voice Cast: Shizuka Ishigami,

Studio: Tear Studio

IMDB Rating: 6.3/ 10

Available on: Crunchyroll
Nande Koko ni Sensei ga!? Or Why are you here, teacher!? It is an adult comedy series where female teachers can not help but develop romantic interests in their male high school students. The show is centered on high school students, and if you are a fan of shows like High School DxD and The Testament of Sister n.
Devil, then you would surely enjoy the show. The show's central character is well-written, and the situations we see in the female teachers are hilarious and fun to watch.
5. Yosuga No Sora
Directed By: Takeo Takahashi

Written By: Naruhisa Arakawa

Voice Cast: Kayo Sakata, Hiro Shimono, Yuka Inokuchi

Studio: Feel

IMDB Rating: 6.2/ 10

Available on: Crunchyroll
Yosuga no Sora is one of the most disgraceful yet beautiful anime series. You will like it if you overcome the cringe-worthy sex scenes and nudity.
However, it has many differences where the protagonist has eyes on one girl, one of his childhood friends Yorihime Nao.
The show is a miniseries with twelve episodes, a good soundtrack, and atmosphere building; it has some emotional scenes where you would shed tears and be unable to stop. But, overall, you would enjoy it; great show.
4. Kiss x Sis
Directed By: Munenori Nawa

Written By: Katsumi Hasegawa

Voice Cast: Ken Takeuchi, Yuiko Tatsumi, Ayana Taketatsu

Studio: Feel

IMDB Rating: 6.1 /10

Available on: Crunchyroll
This ecchi anime is known for its use of sexual humor, and the primary source of its humor comes from sexual jokes that will make you like the characters even more. The show is well-written, the music and the plot are excellent, and it does not revolve around one topic.
The show will make you laugh and catch you off guard. Unfortunately, the show has only eleven episodes and will give you heartache once it ends.
3. Queen's Blade
Directed By: Kinji Yoshimoto

Written By: Kinji Yoshimoto

Voice Cast: Kanae Ito, Ayaka Saito, Lisa Ortiz

Studio: ARMS

IMDB Rating: 6.1/ 10

Available on: Amazon Prime Video
The plot of the series narrates about different women from all over the world who will participate in a contest and prepare for the Queens Blade tournament. In this tournament, the might and the skills of the female warriors will be tested.
If you are a regular watcher of ecchi anime series, you would not be blown away, but you will not hate it. The story primarily revolves around Reina, the daughter, and heiress of a Count.
But she feels that this life is not for her and goes on a voyage, where she learns to fight and meets a lot of sexy warriors. The most absurd thing about this show is that many things are revealed every time the warriors are shredded.
The fight scenes are not top-notch, and the animation quality is neither excellent. The only thing that makes this a great show is women losing their clothes in every fight.
2. Mother of The Goddess' Dormitory
Directed By: Shunsuke Nakashige

Written By: Masashi Suzuki

Voice Cast: Ayaka Nanase, Misuzu Yamada, Asaki Fukuyama

Studio: Asread

IMDB Rating: 6.0/ 10

Available on: HiDive
The story revolves around Nagumo Koushi, a young boy whose house was burnt down on his birthday, and his father abandoned him. He meets Minerva, a high school student who treats him well and takes him to her dormitory, where Nagumo starts his new ecchi life.
The Mother of the Goddess' Dormitory is one of the best anime series, and these ecchi fans know how interesting the show gets as it progresses.
This adult anime is full of steamy scenes, making it exciting to watch; moreover, it has some of the hottest girls that the anime community has witnessed—a must-watch adult anime show.
1. Kanokon
Directed By: Atsushi Otsuki

Written By: Masashi Suzuki

Voice Cast: Miyuu Takeuchi, Mamiko Noto, Ayako Kawasumi

Studio: Xebec

IMDB Rating: 5.8/ 10

Available on: Crunchyroll
Kanokon is a highly ecchi fan service sort of adult anime series, but because of this, it is a highly renowned anime series. You would laugh at this series, and even though the characters are kid-like, it is not for children.
You would see breasts, panties, and all the adult stuff, making it a strictly adult series. The writing of the show was different, and every episode of the show would make you laugh.