There is something special about alien movies that makes them so special. This genre of film has a special position, and whenever we get to know that a film consists of extraterrestrial creatures, it immediately becomes an entertaining watch.
We tend to be interested in alien life and want to know what is going on in a world beyond our own. Even though such movies are not based on reality, why do we get drawn to this trope? And why does Hollywood love the idea of aliens and rampant creatures visiting the Blue Planet and going on a killing spree.
The plot may not be too deep or real, but it is a great and entertaining watch that you can watch alone, with family, or with friends.
Therefore whenever you are feeling down or getting bored, you can watch these foreign creatures to have a great time. The following list contains some of the best alien movies, and it is selected on the basis of popularity and IMDB Rating:
30. Arrival (2016)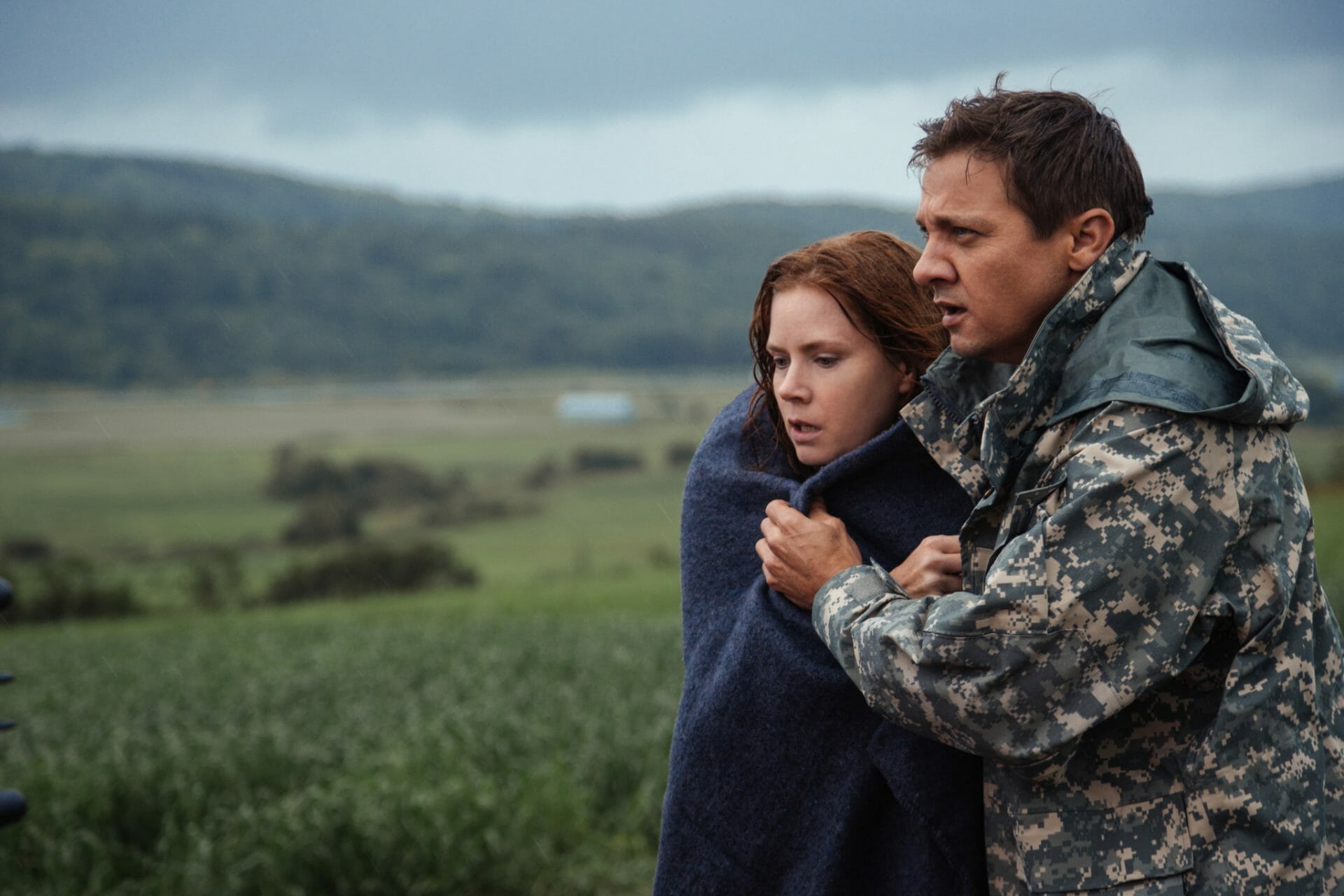 Directed By: Denis Villeneuve
Written By: Eric Heisserer, and Ted Chiang
Cast: Amy Adams, Jeremy Renner, Forest Whitaker, and Mark O Brien
IMDB Rating: 7.9/ 10
Streamed on: Netflix
This 2016 Oscar winner, directed by Denis Villeneuve, is a magnificent watch; the plot is about a Linguistics professor who an elite team has recruited to translate what the extraterrestrial life which has landed in 12 different locations is saying. They are on the verge of starting a war; the professor must find a way to translate what the alien race is saying and find a way to communicate with them.
Arrival by Paramount Pictures is an entertaining watch. It is well made, which can be thought-provoking, measured, and engaging, and it does not contain any unnecessary scenes or dialogue that ruin the plot.
The movie is also based on Ted Chiang's short story "Story Of Your Life." The visual effects of the film were astonishing, and one of the best sci-fi movies.
29. Close Encounters Of The Third Kind (1977)
Directed By: Steven Spielberg
Written By: Steven Spielberg, Hal Barwood, and Jerry Belson
Cast: Richard Dreyfuss, Teri Garr, and Melind Dillon
IMDB Rating: 7.6/ 10
Streamed on: Netflix
A cult classic and another Oscar winner on the list, it narrates the story of Roy Neary, an electric lineman who is living his life peacefully. Still, one day, something extraordinary happens that turns his life upside down. He encounters a UFO that takes him on a quest for answers.
This movie showcases Spielberg at his best. This movie is not like the crazy alien invasion movies that Hollywood normally creates, and it gives a very down-to-earth feel, and watching this movie would show the world from a different perspective.
28. Alien (1979)
Directed By: Ridley Scott
Written By: Dan O Bannon, and Ronald Shusett
Cast: Sigourney Weaver, Tom Skeritt, and John Hurt
IMDB Rating: 8.5/ 10
Streamed on: Hulu
This a classic prime example of how alien movies should actually be. This movie was definitely going to be a part of the list because every millennial and Gen Z has watched it, and this movie gave spine-chilling goosebumps because of how scary and cold certain alien kills are.
This science fiction movie by 20th Century Studios shows how a group of astronauts encounter a life form that seemed innocent at first. Still, it would act as a parasite that would grow into a deadly alien race called Xenomorph.
27. Aliens (1986)
Directed By: James Cameron
Written By: James Cameron, David Giler, and Walter Hill
Cast: Sigourney Weaver, Michael Biehn, and Carrie Henn
IMDB Rating: 8.4/ 10
Streamed on: Hulu
Ellen Ripley, who survived the alien encounter from the first movie, has been called back to assist a group of trained marines in fighting off the aliens in outer space. But when they visited the moon, which the alien occupied, they had alien encounters, and upon that moment, they realized they had a bit more than they could chew.
The marines do their best to stop the creatures; Ripley is trying to protect a little girl who is the sole survivor on the abandoned moon. The Aliens franchise is the creator of the best alien movies, and the visual effects and the plot were way better than the films that Hollywood presently creates.
The kills are brutal, and the sequels are equally amazing or even better than the previous films, and it just does not disappoint. Moreover, the music equally matches the theme of the film, which makes it even better. Alien Resurrection and Alien 3 are other sequels of the Alien franchise.
26. Prometheus (2012)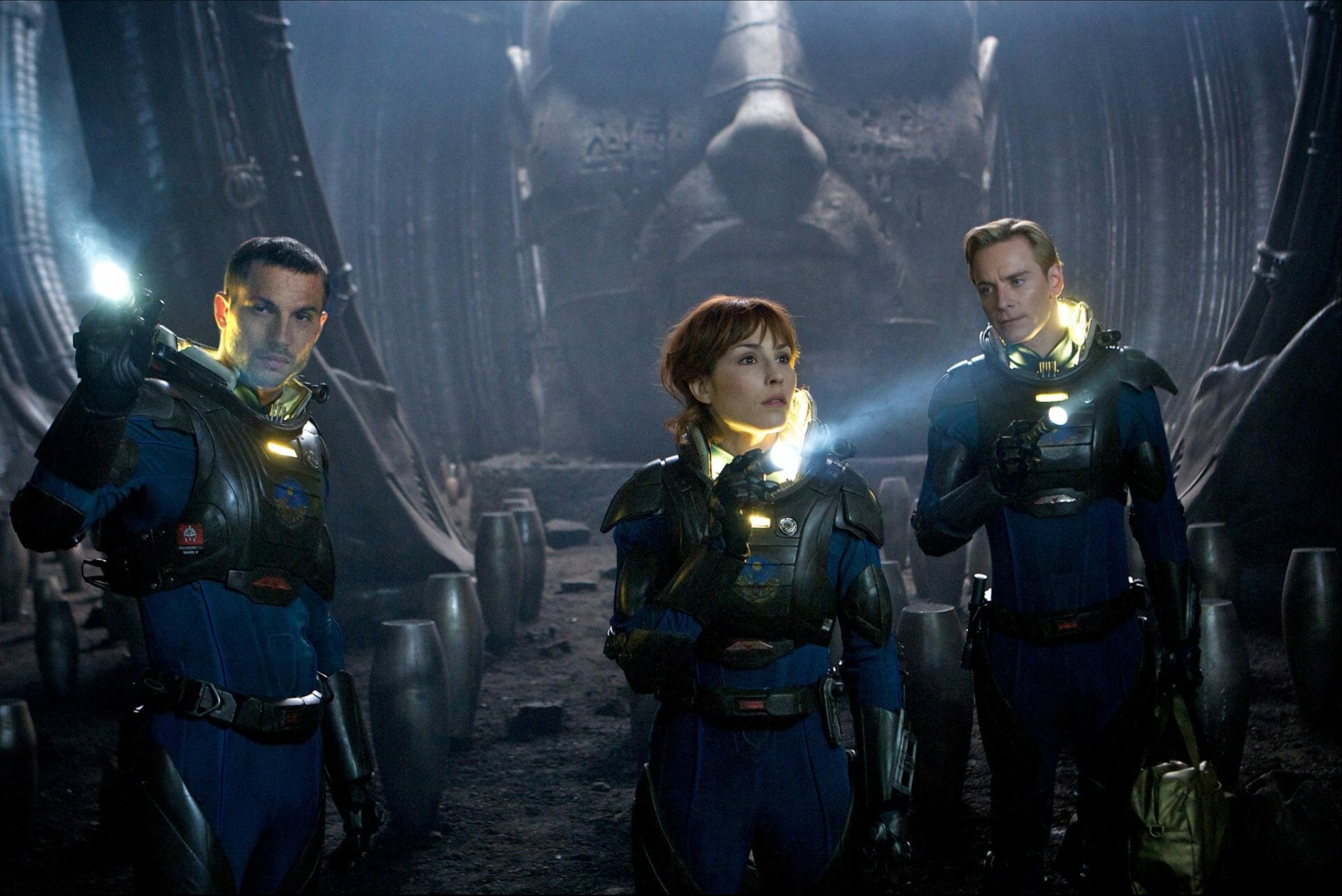 Directed By: Ridley Scott
Written By: Jon Spaihts, Damon Lindelof, and Dan O Bannon
Cast: Noomi Rapace, Charlize Theron, and Idris Elba
IMDB Rating: 7.0/ 10
Streamed on: Hulu
This movie is a prequel to Aliens, and Ridley Scott directs this masterpiece, and it tells everything about the blind aliens called Xenomorphs.
In spite of many people dislike Prometheus primarily because the characters are not very interesting; however, if you are looking for a good plot and classic alien films where there is a lot of death and alien creatures, then Prometheus is the one.
It has a Greek connection to the evolution of humankind and creation and is wonderfully written into a story; another great thing about the movie is that despite being a team of "genius" engineers, they do not know how to stop a bioweapon that they created. Overall, a great watch despite what anyone says.
25. Alien Vs. Predator (2004)
Directed By: Paul W. S. Anderson
Written By: Dan O Bannon, Ronald Shusett, and Jim Thomas
Cast: Sanaa Lathan, Lance Henriksen, and Raoul Bova
IMDB Rating: 5.6/ 10
Streamed on: Hulu
Everyone who has watched Predator and Alien has at least once debated about who is the stronger alien life, and we would come up with different characteristics and scenarios to make them sound stronger.
If you're one of those fans, then this is the movie for you; it shows an intense battle between a Predator and an alien on an island in Antarctica where a team of scientists is caught between the two alien races.
The action scenes and plot of the movie are fantastic, and it successfully merges the two franchises together; the CGI of the movie is not over the top, but it is definitely not bad, and it is one of the best alien invasion movies.
24. Slither (2006)
Directed By: James Gunn
Written By: James Gunn
Cast: Nathan Fillion, Elizabeth Banke, and Michael Rooker
IMDB Rating: 6.5/ 10
Streamed on: Amazon Prime Video
Another science fiction masterpiece with a different alien creature that is like a parasite that turns people into zombie-like creatures and all forms of mutant-like monsters.
The story is not original, and it will remind you of movies like "Invasion of the body snatchers" and "Night of the Living Dead" merged together, but it is not just merged together, as it has a great plot that made this film a great watch.
23. Edge of Tomorrow (2014)
Directed By: Doug Liman
Written By: Christopher Mc Quarrie, Jez Butterworth, and John Henry Butterworth
Cast: Tom Cruise, Emily Blunt, Bill Paxton, and Brendan Gleeson
IMDB Rating: 7.9/ 10
Streamed on: Netflix
Another alien invasion film that features our beloved actor Tom Cruise, the story of the film is about a soldier getting his hands on a foreign power where he gets to live the same day, again and again, every time he dies.
Edge of Tomorrow is a clever film and one of the few recent Hollywood films with an original plot, and this film delivered from the beginning to the end.
The most important feature that made this film stand out was the comical aspect of the film, and the movie Warner Bros makes this film more anticipating.
22. Event Horizon ( 1997)
Directed By: Paul W. S. Anderson
Written By: Philip Eisner
Cast: Sam Neill, Kathleen Quinlan, and Joely Richardson
IMDB Rating: 6.6/ 10
Streamed on: Hulu
This 1997 sci-fi classic is one of those science fiction movies that has been watched by every 90s kid and early 2000s kid, and if you have not watched it, you have missed a great watch as this classic film has a magnificent plot where a space ship was mysteriously disappeared. This spaceship now has some unwanted creatures that will give it a hard time, and it must investigate for any possible survivors.
21. E.T The Extra Terrestrial (1982)
Directed By: Steven Spielberg
Written By: Melissa Mathison
Cast: Henry Thomas, Drew Barrymore, and Peter Coyote
IMDB Rating: 7.9/ 10
Streamed on: Amazon Prime Video
The movie by Universal Pictures has won 4 Oscars, and it tells the story of a child who meets an alien who his alien friends have left, and they are looking for a way to help one of the alien ships return to Earth to take their comrade back.
This kind of film was our favorite, and this film is closely associated with our childhood when we used to imagine alien life and alien encounters, and this film perfectly portrays it.
E.T. The Extra-Terrestrial is the best film on the list solely because of the memories attached to it. And watching this film brings the same joy that we had when we watched it for the first time.
20. Under The Skin (2014)
Directed By: Jonathan Glazer
Written By: Walter Campbell, and Jonathan Glazer
Cast: Scarlett Johansson, D. Meade, and Andrew Gorman
IMDB Rating: 6.3/ 10
Streamed on: Hulu, Vudu, and Amazon Prime Video
The plot of the film is about a mysterious young girl who seduces men in the night hours in Scotland only to disappear and never be found again.
In the lead role, we see Scarlett Johansson; in this film, she did a fantastic job; unlike a regular alien movie that will captivate everyone, it tends to divide them, and this is a sci-fi flick featuring a humanoid alien who seeks self-discovery after a number of events.
People who like science fiction films and a gist of self-discovery would definitely enjoy it; however, if you are not a fan of introspection-like films, then it might be a bad watch for you.
19. Lilo And Stitch (2002)
Directed By: Dean De Blois, and Chris Sanders
Written By: Chris Sanders, and Dean De Blois
Cast: Daveigh Chase, Chris Sanders, Tia Carrere, and David Odgen Stiers
IMDB Rating: 7.3/ 10
Streamed on: Disney Plus
Another childhood favorite animated film tells the story of Lilo, a young girl without any parents who adopts Stitch, a criminal from a faraway galaxy. He is impersonating a dog, totally unaware of the secret identity of Stitch, and now he is hiding his alien presence so that he doesn't have to go back to his creator, who thinks of him as a menace.
This is a good animated film with fun and lovely characters. There were some alien threats who wanted to take back Stitch and tried hurting the residents.
18. Starship Troopers (1997)
Directed By: Paul Verhoeven
Written By: Edward Neumeier
Cast: Casper Van Dien, Denise Richards, Dina Meyer, and Jake Busey
IMDB Rating: 7.3/ 10
Streamed on: Netflix
A classic alien film where humanity is at war against giant alien bugs. The film has countless fans around the world, and the franchise of the film is the most renowned one on the list.
The franchise has it all, fantastic characters, a great plot, a perfect pace, amazing music, and most importantly, space odyssey. The film was nominated 16 times, and it won 3 times and won one prestigious Oscar award.
17. Independence Day ( 1996)
Directed By: Roland Emmerich
Written By: Dean Devlin, and Roland Emmerich
Cast: Will Smith, Bill Pullman, and Jeff Goldblum
IMDB Rating: 7.0/ 10
Streamed on: Hulu
A marvelous science fiction movie where aliens from outer space would come to Earth with the sole purpose of invading the planet and destroying its civilization. The humans are no match for the superior beings who advanced weaponry, and all they can do is survive.
Independence Day is an absolute blast of a film where visual effects are so fantastic that it makes the props look like actual aliens. Even having close encounters, you can see the amount of detail put into the effects that no one can point a finger at.
Moreover, the cast did a great job playing their role, especially Will Smith. Everything was great about this film, and it would remind the audience of the 1950s plot of alien invasion narratives, and pro tooling it into a third kind of a film by perfectly merging the two together.
The film has won 35 awards, one of them including an Oscar.
16. Guardians Of The Galaxy (2014)
Directed By: James Gunn
Written By: James Gunn, Nicole Perlman, and Dan Abnett
Cast: Chris Pratt, Vin Diesel, Bradley Cooper, Zoe Saldana, and Dave Bautista
IMDB Rating: 8.0/ 10
Streamed on: Disney Plus
The plot of the film is about a group of intergalactic bounty hunters who join forces to stop a merciless tyrant who plans to destroy the universe.
This is an absurd addition to the list because everyone here is an alien. Unlike the classic alien movies where the aliens are invading and destroying the planet and its civilization, it does the opposite, which is saving the galaxy from a threat. It is one of the funniest Marvel films with a distinct plot.
The characters of the film were greatly written, and a lot of thought was put into them; every character of the crew, that is, Star-Lord, Drax, Rocket Racoon, Groot, and Gamora, were different and perfectly complimented each other.
The music of the film was fantastic, and some of the scenes were absolutely a delight to watch, not to mention it has the cameo of our beloved Stan Lee.
15. Venom (2018)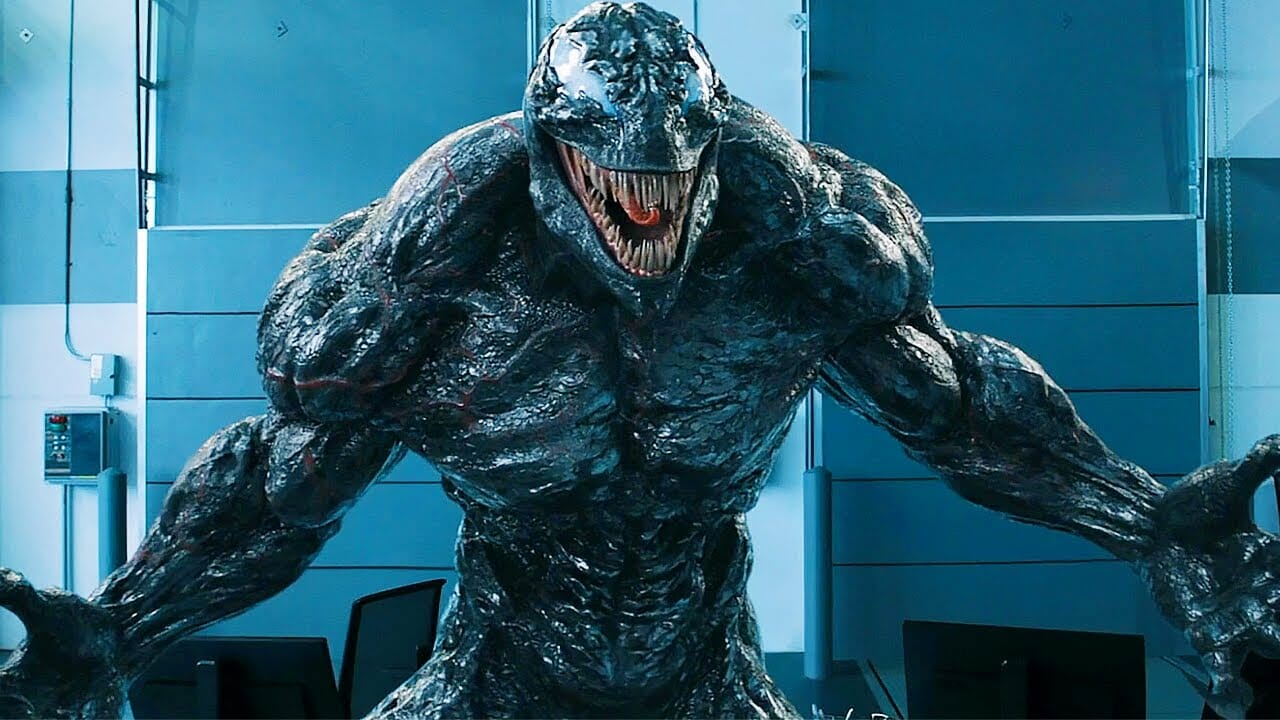 Directed By: Ruben Fleischer
Written By: Jeff Pinkner, Scott Rosenberg, and Kelly Marcel
Cast: Tom Hardy, Michelle Williams, Riz Ahmed, and Scott Haze
IMDB Rating: 6.6/ 10
Streamed on: Netflix
Eddie Brock's career faced a devastating roadblock after he did an interview with the CEO of Life Foundation, and it went horrendous. His life is in pieces, and he wants to take down the company that ruined his life.
However, he can't do so; six months later, he runs into Life Foundation again, and this time, he comes into contact with an alien symbiote who calls itself Venom; together, they merge into a superior being and become a vigilante/ anti-hero.
This is one of the best Marvel Cinematic Universe films that is my favorite as it contains one of the most loved anti-heroes, and it has plenty of action scenes as well as comedy scenes that ease the situation when the audience feels that the movie is getting too tense.
The villain was disappointing, but it was not too bad. The film is also the last chance to see Stan Lee in his last cameo.
14. Mars Attacks (1996)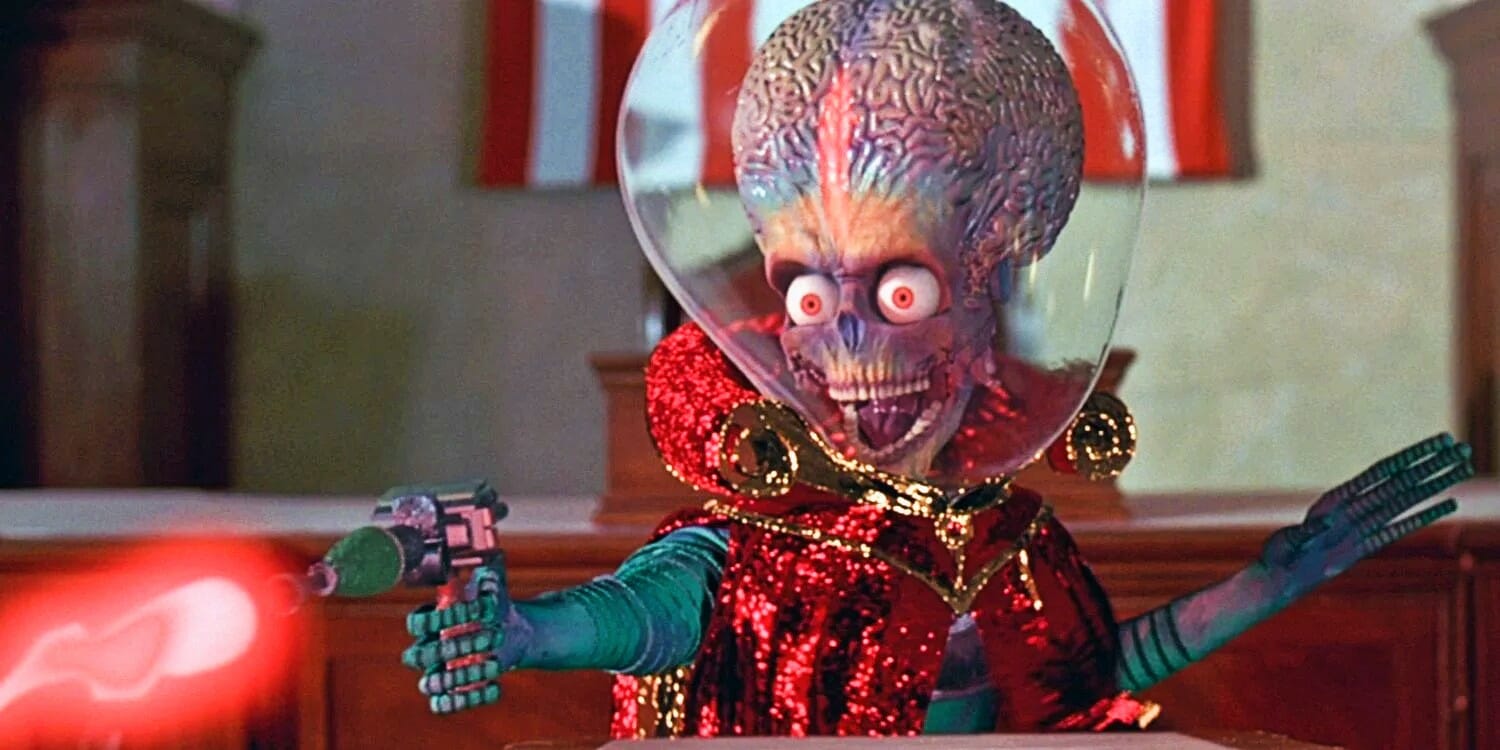 Directed By: Tim Burton
Written By: Len Brown, Woody Gelman, and Wally Wood
Cast: Jack Nocholson, Pierce Brosnan, and Annette Bening
IMDB Rating: 6.4/ 10
Streamed on: Vudu
A fantastic film with an element of humor; the plot of the movie is like a normal 90s alien invasion movie who have overpowered weapons and technology and a gnarly sense of humor.
The Martians initially come to meet the humans, and a meeting is arranged, but it doesn't go peacefully, and they are at war with them.
The movie is more like a parody than an alien invasion film, and Tim Burton uses this film to laugh at the people's politics, religion, and greed.
13. District 9 (2009)
Directed By: Neill Blomkamp
Written By: Neill Blomkamp, and Terri Tatchell
Cast: Sharlto Copley, Davide James, and Jason Cope
IMDB Rating: 7.9/ 10
Streamed on: Amazon Prime Video.
This 2009 film has a distinct plot where aliens initially live with the humans, but they are enraged because they are forced to stay in slum-like conditions. Now they want to take revenge, but they meet a human who understands them and is exposed to their biotechnology.
Abandoning the usual settings of a science fiction film, District 9 is a fantastic and an entertaining watch with an original plot.
12. The Vast Of Night (2019)
Directed By: Andrew Patterson
Written By: Andrew Patterson, and Craig W. Sanger
Cast: Sierra Mc Cormick, Jake Horowitz, Gail Cronauer, and Bruce Davis
IMDB Rating: 6.7/ 10
Streamed on: Amazon Prime Video
Showcasing Andrew Patterson's debut feature, the film takes place in the 1950s when two people found strange frequencies, they discovered it, and they realized it was not simply frequencies as it was being sent from otherworldly creatures.
A perfect film with great editing and plot, and if you enjoy watching movies like Twilight, then you will definitely enjoy it.
11. The Day The Earth Stood Still (2008)
Directed By: Scott Derrickson
Written By: David Scarpa
Cast: Keanu Reeves, Jennifer Connelly, Kathy Bates, and Jaden Smith
IMDB Rating: 5.5/ 10
Streamed on: Hulu
This is the remake of the 1951 film of the same name, and the plot is similar to that film where an alien visitor and his robot self can destroy the planet.
This film is a must-watch because it is something that will entertain you, and an epic science fiction film with a great cast and CGI. The plot was great, and the music was good. However, it could have been much better if removed some of the scenes and dialogues that were totally unnecessary.
10. Men in Black (1997)
Directed By: Barry Sonnenfeld
Written By: Ed Solomon
Cast: Will Smith, Tommy Lee Jones, Rip Torn, and Tony Shalhoub
IMDB Rating: 7.3/ 10
Streamed on: Amazon Prime Video, and Netflix
The plot of the film is about a secret society that keeps an eye on extra-terrestrial creatures, and the men here go by the name "K." This agency recruits a policeman. One day UFO land and a shape-shifting alien bug comes out of it to find an energy source; now, Agent J and Agent K must stop this bug before it can escape.
The film stands out in this genre because of its exceptional plot, humor, and character sketch, and the cast is amazing. Tommy Lee Jones' character is emotionless and wise, and Will Smith's character is full of energy and enthusiasm. This science fiction film is something that should not be missed.
9. Paul (2011)
Directed By: Greg Mottola
Written By: Simon Pegg, and Nick Frost
Cast: Simon Pegg, Nick Frost, Seth Rogen, and Mia Stallard
IMDB Rating: 6.9/ 10
Streamed on: Starz, Amazon Prime Video
This movie is about an alien named Paul who met two geeks outside Area 51. This is an interesting film because people had mixed reactions when the trailer was launched, and a major percentage of the people thought it would be an average or dull film.
However, it surpassed our expectations because it was fun to watch. Throughout the movies, there will be many references to other science fiction movies that will make you laugh. The CGI is great, and the textures of the film are equally amazing. Overall, it is a film that should be watched.
8. Invasion of the body snatchers (1978)
Directed By: Philip Kaufman
Written By: W. D. Ruchter
Cast: Donald Sutherland, Brooke Adams, Jeff Goldblum, and Leonard Nimoy
IMDB Rating: 7.4/ 10
Streamed on: Amazon Prime Video
Invasion of the Body Snatchers is a remake of a 1950s film of the same name where an invasion takes place in a small city, and these mysterious being attack them and replace them by replicating themselves as the residents
. People who have watched the original film would hesitate to watch the remake, but they should not worry because this has the same theme as the prior film and is creatively rendered.
Director Philip Kaufman did a great job with his direction and made this film scary, but it has a unique and fearless vision which is evident in Hollywood's films. Even though it is a remake, it is a great watch.
7. Alien: Covenant (2017)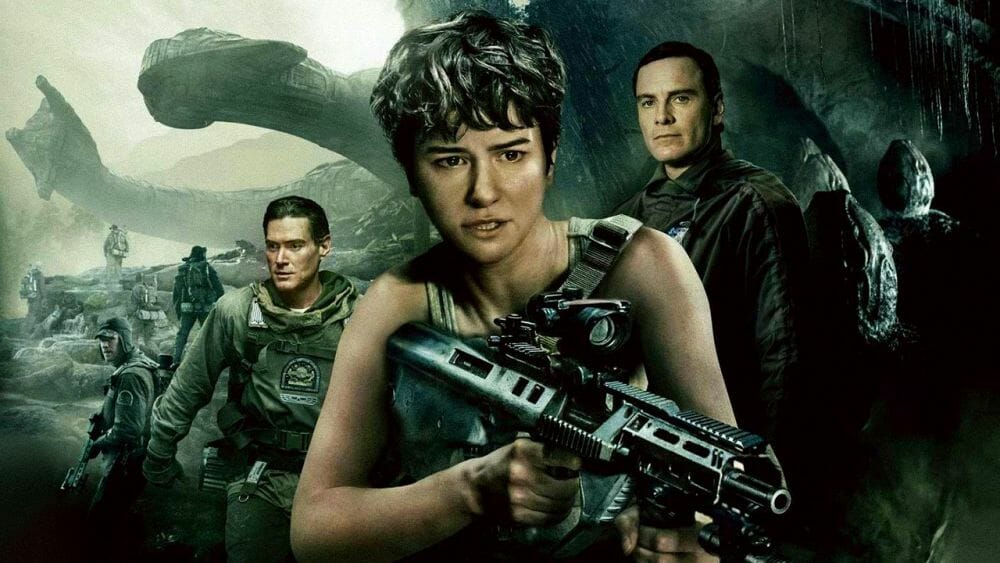 Directed By: Ridley Scott
Written By: Dan O Bannon, Ronald Shusett, and Jack Paglen
Cast: Billy Crudup, Danny Mc Bride, and Demian Bichir
IMDB Rating: 6.4/ 10
Streamed on: Disney Plus
The newest addition to the Alien prequel is the sequel to Prometheus. This is the sixth film of the Aliens franchise, and it is definitely not the final film, as it ended on a cliffhanger. The sequel is perfect and has top-notch special effects and landscapes.
Similar to the original franchise, it has spine-chilling kills and a horrifying Alien who is out for blood. The plot is not gripping like the original films but definitely grips you as it develops. The theme music is interesting and will remind you of the original franchise.
6. The World's End (2013)
Directed By: Edgar Wright
Written By: Simon Pegg, and Edgar Wright
Cast: Simon Pegg, Nick Frost, and Martin Freeman
IMDB Rating: 6.9/ 10
Streamed on: Amazon Prime Video, and Hulu
The World's End is a crackling science fiction film similar to The Invasion of The Body Snatchers.
The film is amazing and stars a fantastic and hard-working cast. Personally, for me, this film is more about finding closure and purpose. In spite of the fact the film has an incredibly slow pace, it has a good plot and amazing characters with a fitting end.
5. Annihilation (2018)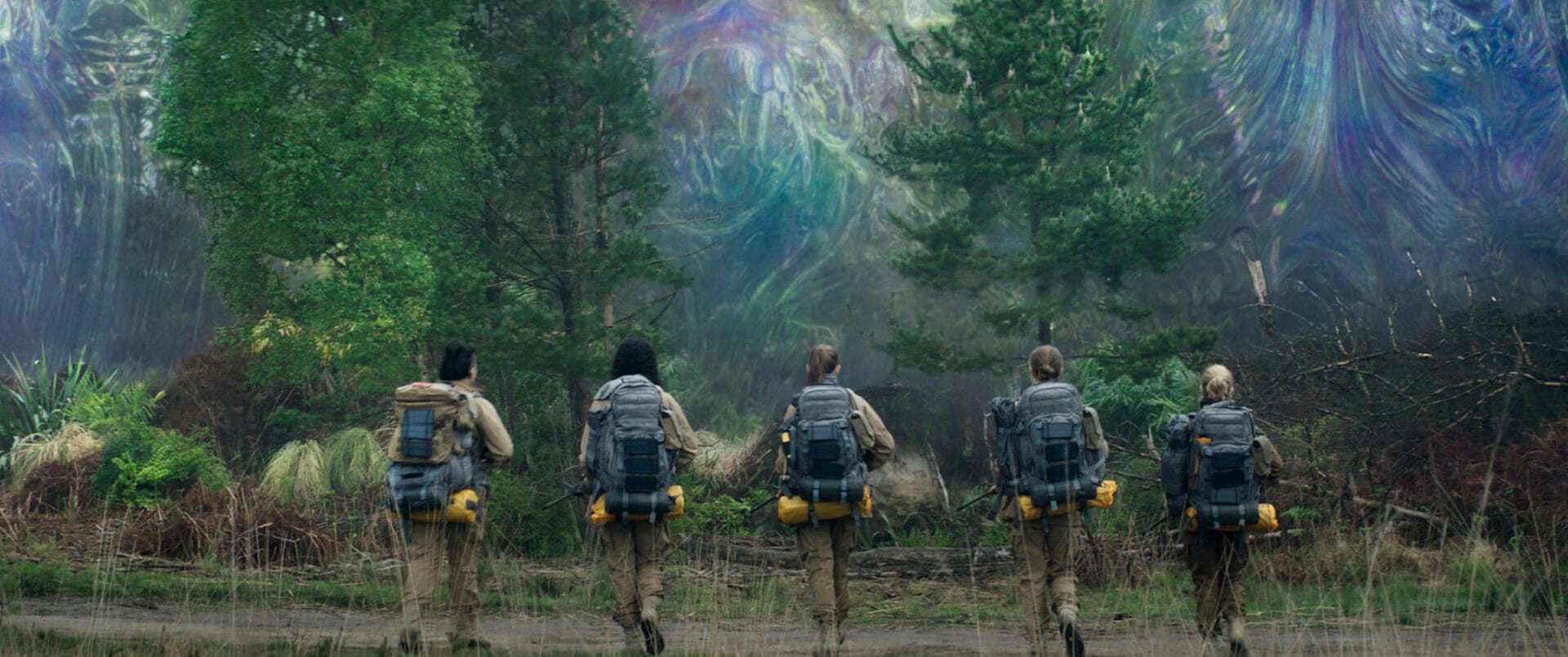 Directed By: Alex Garland
Written By: Alex Garland
Cast: Natalie Portman, Tessa Thompson, and Benedict Wong
IMDB Rating: 6.8/ 10
Streamed on: Amazon Prime Video, and Netflix
It tells the story of a biologist who volunteered for a dangerous mission where laws of nature do not apply. Annihilation is a film that will keep you entertained throughout the movie, as it has a strong plot and amazing characters. Despite the fact it does not have a deep plot, it is entertaining because it gives a creepy and psychological pressure that is not too much to take in.
4. Predator (1987)
Directed By: John Mc Tiernan
Written By: Jim Thomas, and John Thomas
Cast: Arnold Scharzenegger, Carl Weathers, Kevin Peter Hill, Elpidia Carrillo, and Bill Duke
IMDB Rating: 7.8/ 10
Streamed on: Hulu, Amazon Prime Video
A team of highly trained commandos led by Major Dutch is ordered to assist a CIA man after their helicopter crashed in a remote South American Jungle. Soon, the commandos find themselves being hunted by a mysterious creature.
Predator is the timeless classic that we enjoy watching even in 2022, as it showcases Arnold Schwarzenegger and a cast of badasses.
The story is engaging and suspenseful and has a lot of action scenes. This film will have a special place for many, and it has overcome the test of time and has become a classic of this genre.
3. The Rocky Horror Picture Show (1975)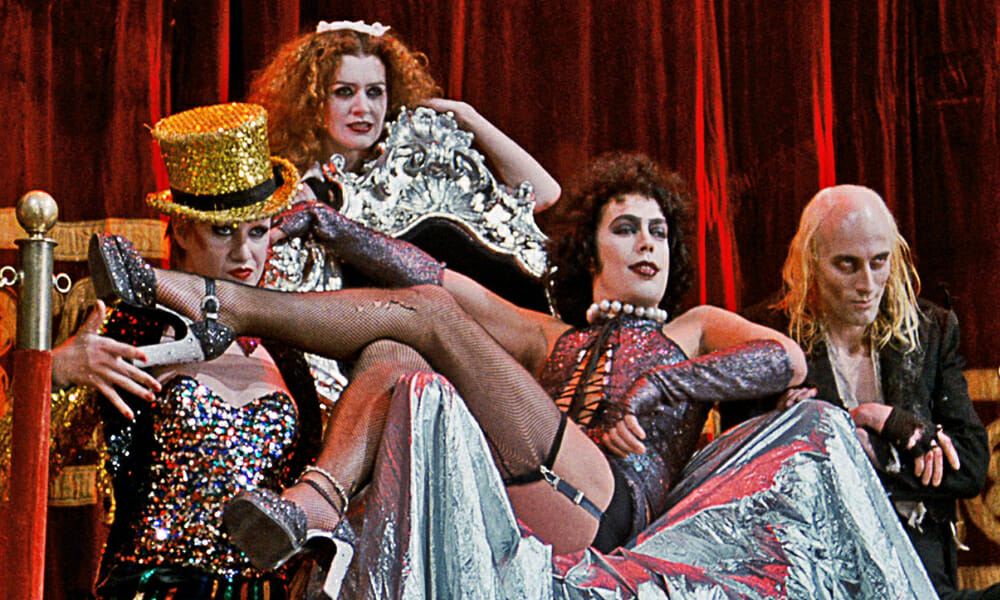 Directed By: Jim Sharman
Written By: Richard O Brien, and Jim Sharman
Cast: Tim Curry, Susan Sarandon, Barry Bostwick, Patricia Quinn
IMDB Rating: 7.4/ 10
Streamed on: Amazon Prime Video, Disney Plus
This movie is one of the best movies as it showcases a star-studded cast, and this musical horror film has catchy music and unforgettable satire on monster movies.
The scenes can sometimes feel extremely silly, but it is understandable for this film. Some people can say it is poorly made but are hugely mistaken.
2. Star Trek IV The Voyage Home (1986)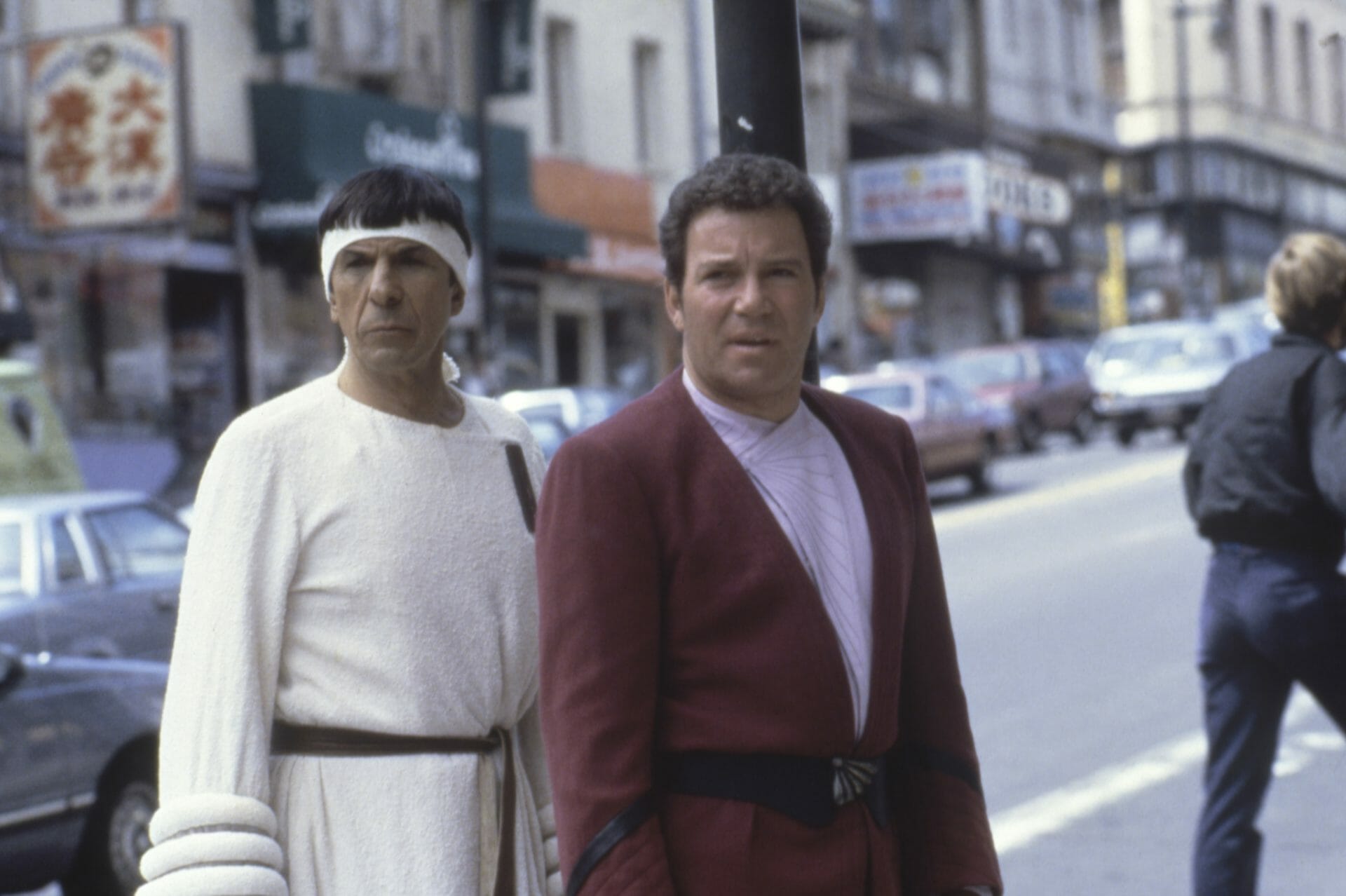 Directed By: Leonard Nimoy
Written By: Leonard Nimoy, Harve Benett, and Gene Roddenberry.
Cast: William Shatner, Leonard Nimoy, De Frost Kelley, James Doohan, and George Takei
IMDB Rating: 7.3/10
Streamed on: Apple TV, Amazon Prime Video.
The fourth installment of the Star Trek franchise. Voyage home paramount pictures have an original plot where Captain Kirk has to save the Earth from an alien probe, and the crew travels back in time to stop it.
This is the most unusual Star Trek movie because this installment perfectly handled the time travel scenes better than the other installments. Personally, I am not a big fan of this installment, but it definitely was a good watch.
1. War Of The Worlds (2005)
Directed By: Steven Spielberg
Written By: Josh Friedman, David Kopp, and H. G. Wells
Cast: Tom Cruise, Dakota Fanning, Tim Robbins, Miranda Otto
IMDB Rating: 6.5/ 10
Streamed on: Amazon Prime Video and Netflix.
Steven Spielberg's War of The Worlds had a lot going on, considering it was released back in 2005, War of the Worlds paramount pictures; the studio believed it was a good film and went on the same ship, and needless to say, it was one the best alien invasion films where Tom Cruise did great acting and needless to say it had actions and drama, as well as an equal amount of drama suspense and thrill in the first half of the movie.
This movie not only focuses on an alien race who wants to wipe out an entire planet, but it also focuses on a family that is falling apart. In conclusion, it is a great film, and I would personally recommend it.