Many fantasy anime comes out every year, but few of them have a huge fan base. In this case, people forget much anime. Sword Art Online has indeed made its mark in such a vast genre! It accumulated a lot of fans over the years. People often search for new seasons of SAO and wait for their release. However, the wait often turns out to be a long one!
But are you a fan who has already finished the entire anime and is now looking for new anime series to fill the gap in your heart? Fans searched far and wide on the vast internet and got our hands into some good stuff.
Keeping the fans of the Isekai genre in mind, there is a few anime like Sword Art Online. These anime might not be a copycat, but they are unique in their own ways and resemble SAO. But, before we get into that, we will go through the basics of our SAO quickly, so it is easier for you to understand if you haven't caught up on this anime till now!
Synopsis of Sword Art Online
The fantasy anime is based in the year 2022, when technology is on another level. An online video game named Sword Art Online or SAO has been launched. This virtual reality video game is set in another world where the players control the game with something known as "Nerve Gear."
Our protagonist, Kirito, is one of the characters in the anime who starts playing the game and a few thousand other characters. But this virtual world is nothing like the real world. Aincrad is another world that is filled with action, adventure, and monsters!
But, there is a catch- the characters have to defend themselves because if they die in virtual reality- they will meet their demise in the real world too! Kirito meets a lot of people in this world- both friends and foes. Another one of the main characters is Asuna Yuuki, who has an important role to play! The only way of returning home is to stay alive throughout the video game and reach the 100th floor without defeat!
Embark on this journey through the fantasy world, where the players find a way to save their lives and finish the game. This anime series is considered one of the best Isekai (a type of fantasy category where the main character is taken to a fantasy world) anime, which completely changed the genre's outlook.
Watch Order of Sword Art Online
Knowing the watch order of the anime series might be a little overwhelming for new viewers. For this very reason, there is a list of the order that contains the chronological order of the series.
25 Episodes (Sword Art Online)
24 Episodes (Sword Art Online II)
Movie (Sword Art Online: Ordinal Scale)
24 Episodes (Sword Art Online: Alicization)
12 Episodes (Sword Art Online: Alicization- War Of Underworld)
11 Episodes (Sword Art Online: Alicization- War Of Underworld II)
Movie (Sword Art Online: Progressive) (Not Yet Released)
Where to Watch Sword Art Online
SAO is available on Netflix, Crunchyroll, and Hulu as well, so if you are an anime fan who still hasn't watched this gem- please do now!
50 Anime Similar to Sword Art Online
People are always hyped up for action anime with a bit of fantasy and romance in it. In such a scenario, SAO plays a pretty good role in satisfying the hunger of such fans. But what do you do when you have finished your favorite anime series?
Here is a list of anime to feed your cravings. The anime listed here are some of the best anime in the action-fantasy genre, have the same setup in another world like SAO, and the main characters have some resemblance. Who knows, this list might even bring for viewers a weekend's binge? Let's get started!
1. Hunter X Hunter
Director: Hiroshi Kōjina
Writer: Atsushi Maekawa, Tsutomu Kamishiro.
Starring: Issei Futamata, Cristina Valenzuela, Megumi Han, Mariya Ise.
IMDb Rating: 9/10
The anime-like Sword Art Online, Hunter X Hunter, follows a young boy named Gon Freecss, who lives on Whale Island. He soon learns about the reality of his father from Hunter Kite that he is alive and not dead and is living as a top Hunter in search of unknown items, curiosa, hidden treasures, exotic living creatures, and many more.
Gon leaves the island and decides to become a professional Hunter. To do so, he has to pass the Hunter exam. He then meets similar other applicants named Kurapika, Leorio, and Killua. The story will see whether the boy will be able to clear the exam to become the best Hunter in the world and meet his father.
2. Attack on Titan
Director: Tetsurō Araki, Masashi Koizuka, Yūichirō Hayashi, Jun Shishido.
Writer: Yasuko Kobayashi, Hiroshi Seko, Shintarō Kawakubo.
Starring: Yûki Kaji, Marina Inoue, Yui Ishikawa.
IMDb Rating: 9/10
The story follows the journey of a young boy Eren Jaeger who is on the mission to seek revenge for killing his mother and destroying his hometown and also clean the earth from the humanoid Titans that have caused havoc on the planet and pushed it to the verge of extinction.
3. Demon Slayer
Director: Haruo Sotozaki
Writer: Ufotable
Starring: Natsuki Hanae, Hiro Shimono, Yoshitsugu Matsuoka, Akari Kitô, Zach Aguilar.
IMDb Rating: 8.7/10
The plot follows the story of a family who gets killed by the demons, and the only members surviving it are Tanjiro and his sister Nezuko. But the latter is slowly turning into a demon. So to save his sister, Tanjiro sets out to become a demon slayer so that he can take revenge for his family's murder and ultimately save his sister. Worth watching!
4. Samurai Champloo
Director: Shinichirō Watanabe
Writer: Shinji Obara
Starring: Kazuya Nakai, Ayako Kawasumi, Ginpei Sato, Steve Blum.
IMDb Rating: 8.5/10
The story follows a young and clumsy waitress named Fuu Kasumi who works in a small teahouse. But one day, when she accidentally spills a drink on a customer, a gang of samurai begins to harass her. So to give them the answer they deserve, she calls another samurai in the shop.
Mugen, the samurai, then defeats them with his techniques, but Jin seems to be unbeatable one of the opponents. They both continue to fight and consequently destroy the entire shop and kill the son of a local magistrate along. The two samurai are then accused of murder and are set to be executed.
But Fuu saves them in time by hiring the duo as her bodyguards. But she has no place to return to and wishes to find a samurai who smells of sunflowers. She tells Mugen and Jin to help her in her quest, who, despite disliking the idea, initially finally give in to it.
The trio then embarks on a journey to find the unknown samurai whose identity is mysterious, provided Fuu can keep Mugen and Jin from killing each other.
5. The King's Avatar
Director: Shi Yiyue
Writer: Qiao Bingqing
Starring: Yang Yang
IMDb Rating: 8.3/10
When the game launched a new version, he could not control himself anymore and started playing again under a new name. But his extraordinary skills caught everyone's attention, and everyone wanted to know who this exceptional player was. The anime proceeds with Xiu's journey in the game as he once again competed for the title.
Numerous challenges came across his way. Watch this mind-blowing anime to see how he overcomes every obstacle to become the winner once again! You can watch this anime on Netflix.
6. Bleach
Director: Noriyuki Abe
Writer(s): Masashi Sogo, Tsuyoshi Kida, Kento Shimoyama.
Starring: Johnny Yong Bosch, Stephanie Sheh, Michelle Ruff, Jamieson Price.
IMDb Rating: 8.2/10
Kurosaki Ichigo, a high school boy, can see ghosts, unlike children of his age since a very early age. But his life completely takes a different turn when he and his two sisters get attacked by an evil and tormented spirit named Hollow.
But the Death God Shinigami named Kuchiki Rukia helps Ichigo and his sisters. Her work is to send the good spirits known as Pluses to the afterlife Soul Society, purify the evil ones known as Hollows, and send them to Soul Society. But amidst the fight with Hollow, Rukia gets injured and must send her powers to Ichigo.
So now, with the newly given powers, follow the major responsibility- to maintain the perfect balance between the living world and the world of the dead. For this, he begins his training as Kurosaki Ichigo to be perfect to act upon the position as Shinigami.
7. The Rising Of The Shield Hero
Director: Season 1 (Takao Abo) and Season 2 (Masato Jinbo).
Writer: Keigo Koyonagi.
Starring: Naofumi Iwatani, Raphtalia.
IMDb Rating: 8.1/10
The Rising Of The Shield Hero is an anime similar to Sword Art Online. The Kingdom named Melromarc has called four players from modern-day Japan who are quite ordinary men. However, the Kingdom is suffering a lot, and Waves of Catastrophe have destroyed its lands. For this, the four men known as Cardinal Heros are summoned to save the land.
The anime proceeds similarly, and the heroes are trained first before being sent to battle. This is a legend of action, betrayal, fantasy, and adventure. Some might consider The Rising Of The Shield Hero the best anime on the list. But, the characters are a lot like our main anime. Such an anime with 25 episodes are perfect for a binge. You can watch this anime on Netflix.
8. Re: Zero, Starting Life in Another World
Director: Masaharu Watanabe
Writer: Masahiro Yokotani
Starring: Yûsuke Kobayashi, Rie Murakawa, Sean Chiplock, Rie Takahashi.
IMDb Rating: 8.1/10
Subaru Natsuki is a high school boy who one day gets transported to another world when he is on his way back from a local store. Unable to figure out who is actually behind his arrival into the new world, he gets attacked. But his life is saved by Emilia, a silver-haired half wolf girl with a fairy cat.
But when the two can find some solid clue as to who might have attacked Subaru, they both get attacked and get killed. Subaru awakes to find himself at the place he was initially summoned.
This makes him realize that he now owns the ability to return from death whenever he gets killed. Thus, he then has no way but to keep on dying to rewind the time and save the girl from the fate of death.
9. That Time I Got Reincarnated as a Slime
Director: Yasuhito Kikuchi
Writer: Kazuyuki Fudeyasu
Starring: Miho Okasaki, Brittney Karbowski, Megumi Toyoguchi, Mallorie Rodak.
IMDb Rating: 8.1/10
Mikami Satoru is a lonely mid-thirties man stuck in a mundane life with a worthless job. But soon, his life changes when he awakes in a fantasy life as a slime monster after dying at the hands of a robber. With trying to get to know about his new existence, he comes across various other monsters and thus begins the events that would change his new life forever.
10. Shin Sekai Yori (From the New World)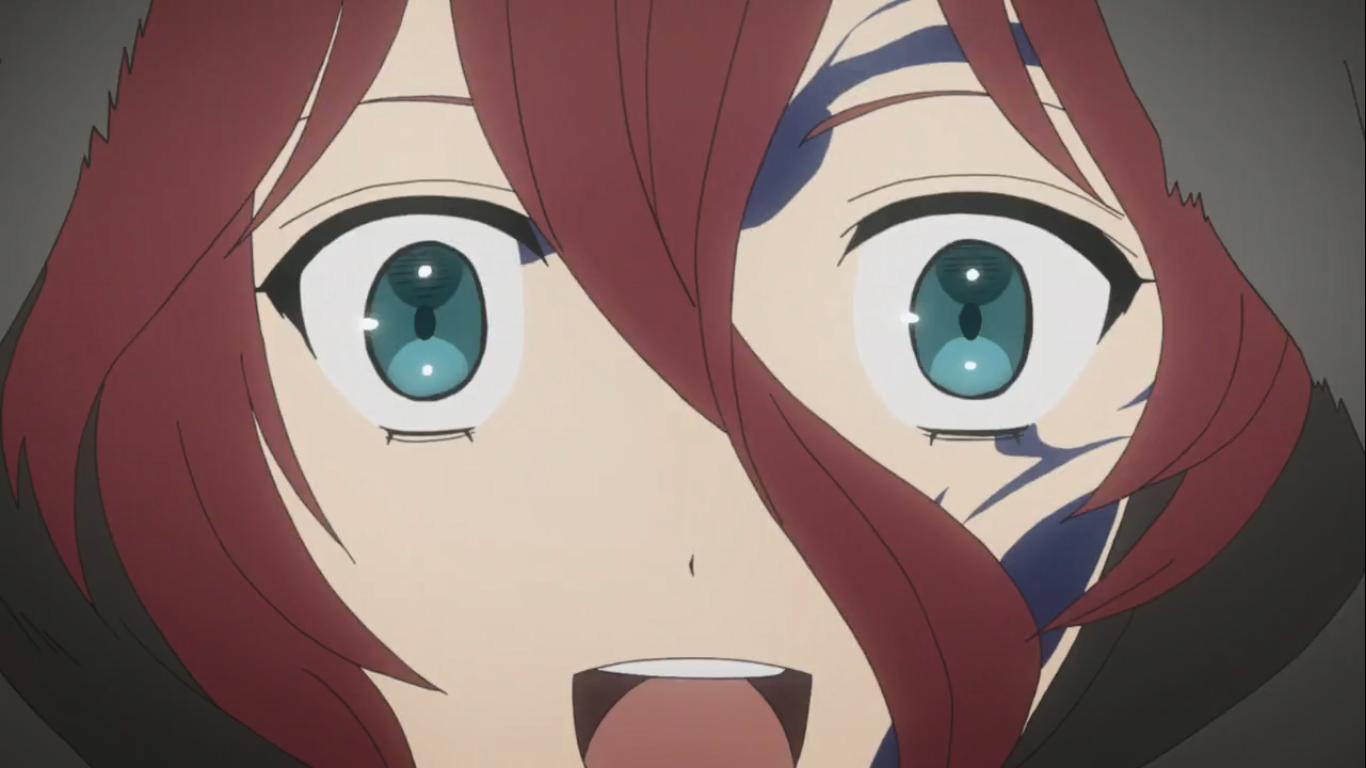 Director: Masashi Ishihama
Writer: Masashi Sogo
Starring: Emily Neves, David Wald, Greg Ayres, Monica Rial.
IMDb Rating: 8/10
The story is set in a post-apocalyptic era after many years from the present era where the sustaining humans have the technology of telekinesis. They thrive in a seemingly peaceful environment, but unusual things are bound to happen when a group of friends discovers hidden dark secrets from the past.
11. Konosuba: God's Blessing on This Wonderful World!
Director: Takaomi Kanasaki
Writer: Makoto Uezu
Starring: Jun Fukushima, Rie Takahashi, Sora Amamiya, Ai Kayano, Tetsu Inada.
IMDb Rating: 7.8/10
A high school boy named Kazuma Satou dies on a usual day back from school to home while performing a heroic act of his life. However, the gamer finds himself awakened in the afterlife, where Aqua is welcomed, a beautiful but rude girl who is supposed to be the goddess for guiding youth who died untimely.
He then is offered to either go to heaven or another world to fight the Demon King by Aqua. At this time, Kazuma decides to act like a gamer, and he choses to live in a real-life RPG. But he is asked to select one thing that he can take with him to the new world, so he chooses Aqua. Then begins his journey as he applies his virtual knowledge about gaming to real-world adventures.
12. Overlord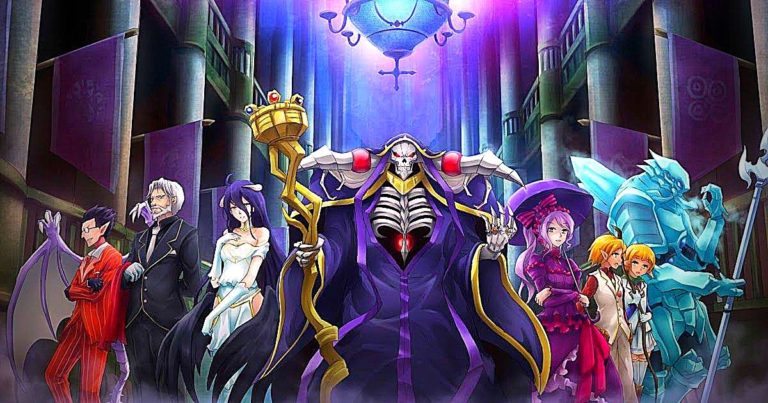 Director: Naoyuki Itō
Writer: Yukie Sugawara
Starring: Elizabeth Maxwell, Satoshi Hino, Chris Guerrero, Masayuki Katô.
IMDb Rating: 7.8/10
Yggdrasil, a popular virtual reality game, is in its final hour, and the powerful wizard and master of the dark guild Ainz Ooal Gown named Momonga wants to spend the last few hours in the ga,e as servers gein to shut down. But he realizes soon that despite the time of the game to shut down has long gone, his character is still conscious and that the non-player characters have also happened to develop their own personalities.
With stuck in an unusual situation, Momonga asks his loyal servants to help him take control of this new virtual world and help discover the plausible cause for the unusual situation and if there is anybody like him in the same situation.
13. No Game No Life
Director: Atsuko Ishizuka
Writer: Jukki Hanada
Starring: Yoshitsugu Matsuoka, Ai Kayano.
IMDb Rating: 7.8/10
The characters Sora and Shiru are two expert gamers who look at this world like some game. But the entire anime changes its pace when the main character receives an e-mail from an unknown sender. No amount of words will be able to describe how mind-boggling this anime is. You can watch this anime on Netflix.
They play a chess game with the unknown player and then get transported to another world where they meet Tet, the land god. No Game No Life deals with this world that runs on some basic fundamental rules and regulations. The main character is two gamer siblings who use their wit and will to survive and rule the new world.
Like Sword Art Online, No Game No Life is an anime all about mind games where the participants play to decide everything. It got a lot of votes from the fans to be the best anime of the decade.
14. Log Horizon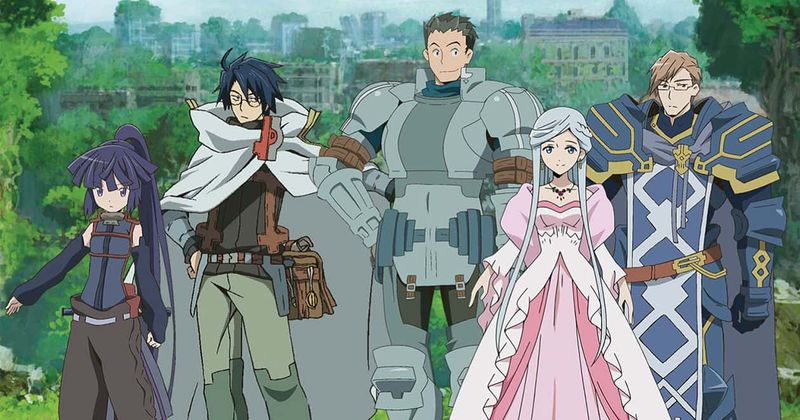 Director: Shinji Ishihira
Writer: Toshizo Nemoto
Starring: Mike Yager
IMDb Rating: 7.7/10
In this anime, the protagonist is Shiroe, a shy person in real life who is too good at games, just like Kirito. But, surviving in a new world from which you cannot log out can be tough competition. The anime series- Log Horizon shows gamers' lives in another world, battling and negotiating to live.
And the first anime in this list- Log Horizon, is often considered one of the genre's best anime. The main characters are similar in some respect with action, adventure, fantasy, and a hinge of politics. The entire anime series is based on video games like Sword Art Online.
One day, almost thirty thousand Japanese gamers are transported to another world out of nowhere. This is the world of MMORPG (Massively Multiplayer Online Role-Playing Game) named Elder Tale. But in this MMORPG, there is an additional issue- the characters cannot log out from the site!
Overall, Log Horizon will entertain you with lots of puzzles and calculations. The difference with SAO is that there are no cases of deaths in the game of this anime. It is a nice anime to binge-watch if you are done with SAO. Log Horizon is highly recommended, and it is a worthy alternative to Sword Art Online. You can watch this anime on Prime Video.
15. The Devil Is A Part Timer
Director: Naoto Hosoda
Writer: Masahiro Yokotani
Starring: Ryôta Ôsaka, Nao Tôyama, Yôko Hikasa, Yuki Ono.
IMDb Rating: 7.7/10
The story follows the hilarious incidents when Satan comes to present-day Japan but has no powers and magic to return to his kingdom. Thus, the fun journey ensues when he begins to work as a part-timer in a local food joint.
16. Teasing Master Takagi-San
Director: Hiroaki Akagi
Writer: Michiko Yokote
Starring: Rie Takahashi, Yûki Kaji, Konomi Kohara.
IMDb Rating: 7.7/10
Middle schooler Nishikata gets teased and made fun of by seatmate Takagi-San. His self prestige gets shattered, and he vows to get back at her. So he begins teasing Takagi-San day after day but gets ridiculed himself. Will Nishikata succeed in making Takagi-San blush once from embarrassment?
17. High School DxD
Director: Tetsuya Yanagisawa
Writer: Takao Yoshioka
Starring: Yûki Kaji, Yôko Hikasa, Shizuka Itô.
IMDb Rating: 7.6/10
Issei Hyodo gets killed on his very first date but gets resurrected by Rias Gremory as a demon only to be recruited into her high-class devils' club.
18. The Saga of Tanya the Evil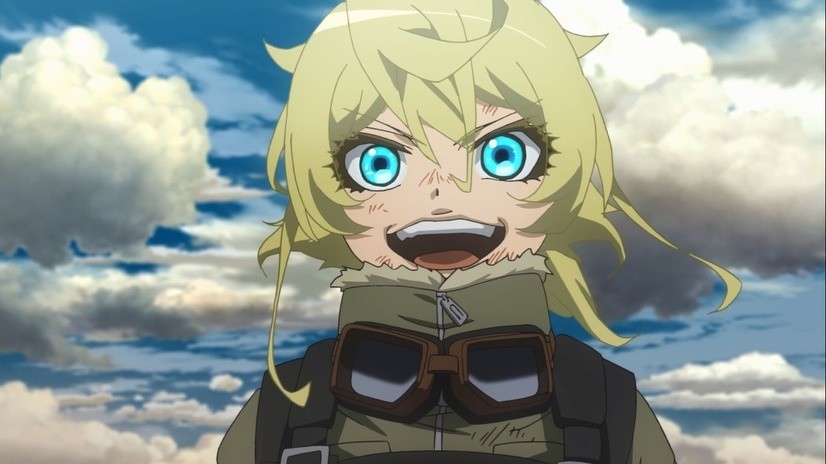 Director: Yutaka Uemura
Writer: Kenta Ihara
Starring: Monica Rial, Aoi Yûki, Amber Lee Connors, Drew Breedlove, Christopher Wehkamp.
IMDb Rating: 7.6/10
The premise follows a young soldier named Tanya Degurechaff, famous for cruelty and tough attitude and has earned her the nickname of Devil of the Rhine. But below her appearance is the soul of a man who opposed the self-proclaimed God, Being X, and got reincarnated as a girl solider in the period of warfare.
With her attitude, she ascends the ranks of her country's military, which is then pushed into a world war. But the time sees the biggest empire turn into the powerful nation a man could know.
19. Classroom of the Elite
Director: Seiji Kishi, Hiroyuki Hashimoto.
Writer: Aoi Akashiro
Starring: Justin Briner, Amber Lee Connors, Felecia Angelle.
IMDb Rating: 7.6/10
Kiyotaka joins an elite government-funded school Koudo Ikusei that bears state-of-the-art facilities and guarantees for a child's secure future. But when Kiyotaka joins the school, he learns that the school favors the elite of students and ridicules the inferior ones. His careless nature made him land into the D section. But when he meets Horikita Suzune and Kushida Kikyou, his situation begins to change.
20. Mirai Nikki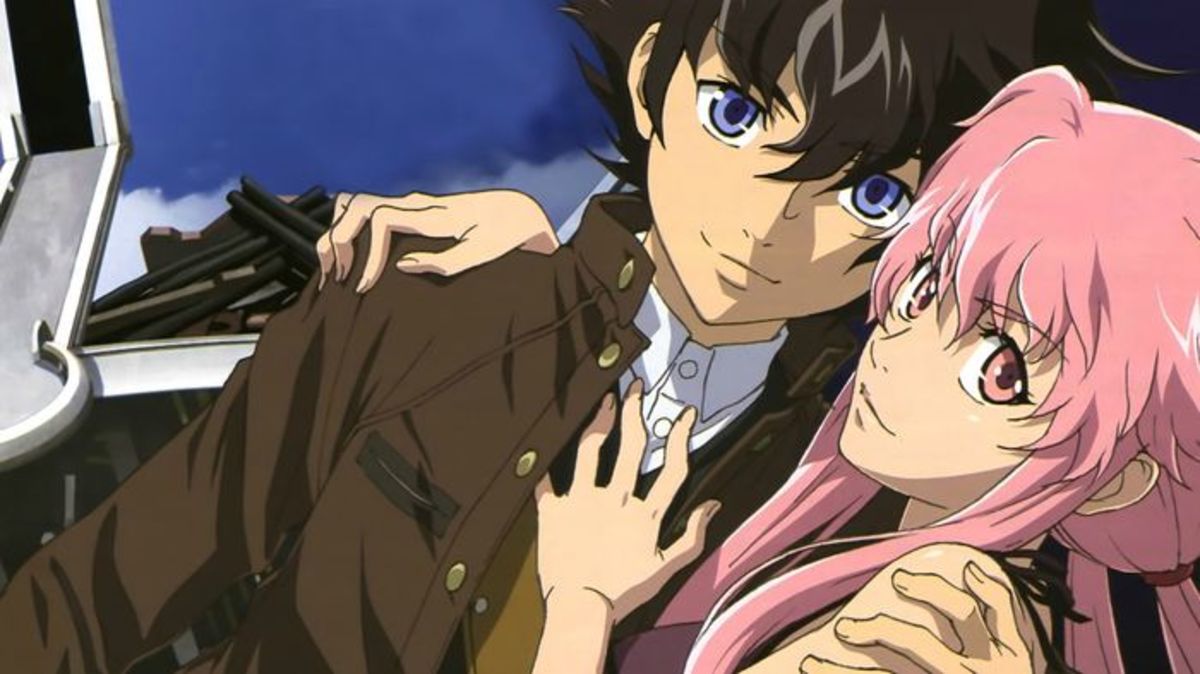 Director: Michiko Namiki and Shogo Miyaki.
Writer: Sayaka Kuwamura and Kaeko Hayafune.
Starring: Josh Grelle.
IMDb Rating: 7.6/10
Josh Grelle as Yukiteru Amano is an introvert high-school kid whose only recreation seems to be writing imaginary things in his diary. But he uses two characters in his writing: the God of Time and Space and that God's servant. But the anime completely changes its plot when suddenly one of these imaginary characters comes out before the boy.
In those writings, the person introduces himself as the Deity and hands over a diary. With this new ownership, he is pushed into a land of responsibilities as he now has to kill the 11 other owners of such identical diaries. The last living one shall be the new Deity! You can watch this anime on Netflix.
21. Grimgar Of Fantasy And Ash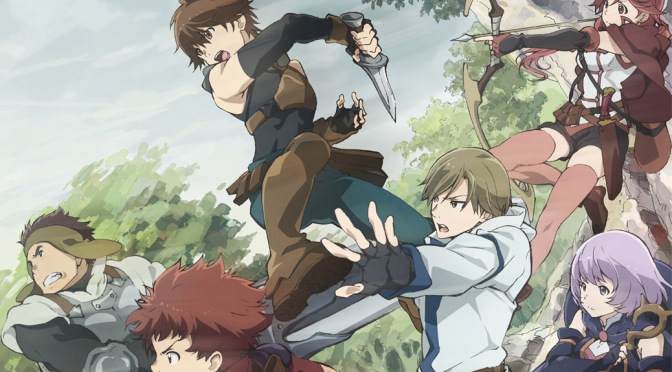 Director: Ryosuke Nakamura
Writer: Ryosuke Nakamura
Starring: Ricco Fajardo, Orion Pitts.
IMDb Rating: 7.5/10
In SAO, people tend to find flaws. Many of them state that Kirito might be a bit too powerful, while others have a problem with the harem element present in the anime. For these, SAO often ends up getting fewer votes. But Grimgar of Fantasy and Ash is free from all that. In this anime, there is a difference in the fighting mode too. It focuses on teamwork more!
Like SAO, the characters are sent away to a foreign land, and they have to fight back hard for their existence. They cannot even remember their names or the reasons for them being here. But the players know that they must fight to survive. So they form a group of mages, soldiers, hunters, and priests.
All of them serve in the army of that land to protect and kill whatever comes in the way of peace of that land. Will the players survive? Can all of them take up the new ways of this world? Watch 12 episodes of this anime where everyone teams up with each other and goes on a journey for their lives! In this anime, there is a difference in the fighting mode too. It focuses on teamwork more! Watch this anime on Crunchyroll.
22. DanMachi (Is It Wrong To Try To Pick Up Girls In a Dungeon?)
Director: season 1 (Yoshiki Yamakawa) and season 2 (Hideki Tachibana).
Writer: Hideki Shirane
Starring: Yoshitsugu Matsuoka, Inori Minase.
IMDb Rating: 7.4/10
'Is It Wrong To Try To Pick Up Girls In a Dungeon?' is a rather popular anime with the third season going on in 2020. The main setting of the anime happens in a city called Orario, which is rather bustling and interesting. Still, our protagonist Bell Cranel wants to earn the world's greatest adventurer title.
With this wish in mind, he steps out to defeat all the city's dangerous monsters lurking around in the dark catacombs and labyrinths. 'Is It Wrong To Try To Pick Up Girls In a Dungeon?' is an anime where Cranel resembles Kirito in nature. He puts friendship and the taste of adventure over everything else.
An anime of the Isekai genre- Danmachi, happens in a world where Gods and human beings live and work together. This anime series will take you through a journey filled with mistakes, comedy, action, and friendship, filling your heart with joy and making your weekend! Viewers can watch this anime on Crunchyroll.
23. The Hero is Overpowered but Overly Cautious
Director: Masayuki Sakoi
Writer: Kenta Ihara
Starring: Aki Toyosaki, Yuichiro Umehara, Anthony Bowling, Kengo Kawanishi.
IMDb Rating: 7.4/10
The story follows a hero named Seiya Ryuuguuin, who goddess Ristarte tells to help her save the world of Gaeabrande from destruction. But whatever the hero does, is in a very cautious manner. He prepares for his journey very cautiously.
Despite being overly powered, he trains himself for a long time before heading to the mission. When fighting the weakest of enemies, he uses his strongest skills and weapons and always keeps a lot of extra stuff just to be safe. But his, this annoying attitude might be the only resort to save the evil dominated Gaeabrande.
24. Recovery Of An MMO Junkie
Director: Kazuyoshi Yaginuma
Writer: Kazuyuki Fudeyasu
Starring: Tomoaki Maeno, Mamiko Noto, Takahiro Sakurai, Yûichi Nakamura.
IMDb Rating: 7.3/10
The story follows a thirty-year-old NEET woman named Moriko Morioka who, after leaving from reality, is searching for a fulfilling life. So eventually, she ends up in a net game, a.k.a netoge. In the new world, she began as a new character named Hayashi. To help her initially, another character named Lily helped to reach out to her.
Whereas in the real world, she happens to come across an elite company employee with blue eyes and blonde life.
25. Kaze no Stigma
Director: Jun'ichi Sakata
Writer: Mayori Sekijima
Starring: Cherami Leigh, Josh Grelle, Kyle Hebert.
IMDb Rating: 7.3/10
The story follows the life of Yagami Kazuma, who is part of the Kannagi family, the ones talented in using fire. But Kazuma had no talent in fire magic, so he was thrown out of the family. But soon returns to Japan as a skillful and powerful wind user.
26. Digimon Adventure
Director: Hiroyuki Kakudō
Writer: Satoru Nishizono
Starring: Masako Nozawa, Chika Sakamoto, Yûko Sanpei, Yumiko Kobayashi.
IMDb Rating: 7.2/10
The story follows seven children who attended the summer camp and expected something unusual. Instead, the snow falls amidst the hot weather! The kids then receive a strange device that transports them to a new world. They discover strange creatures called themselves Digimon, who inform the children that they landed in a Digital World.
The children then set on the journey with the Digimons and their devices to find a way for their home and who was behind their coming here. Many challenges will come their way in this unknown world.
27. Problem Children Are Coming from Another World, Aren't They?
Director: Yasutaka Yamamoto
Writer: Noboru Kimura
Starring: Josh Grelle, Nancy Novotny, Brittney Karbowski, Kalin Coates.
IMDb Rating: 7.2/10
After receiving mysterious letters from an unknown individual, three teens get transported to a new world named Little Garden. The inhabitants use the human gifts to compete in the games, tasks, duels and eventually bet the gifts that bought them to the world.
28. Accel World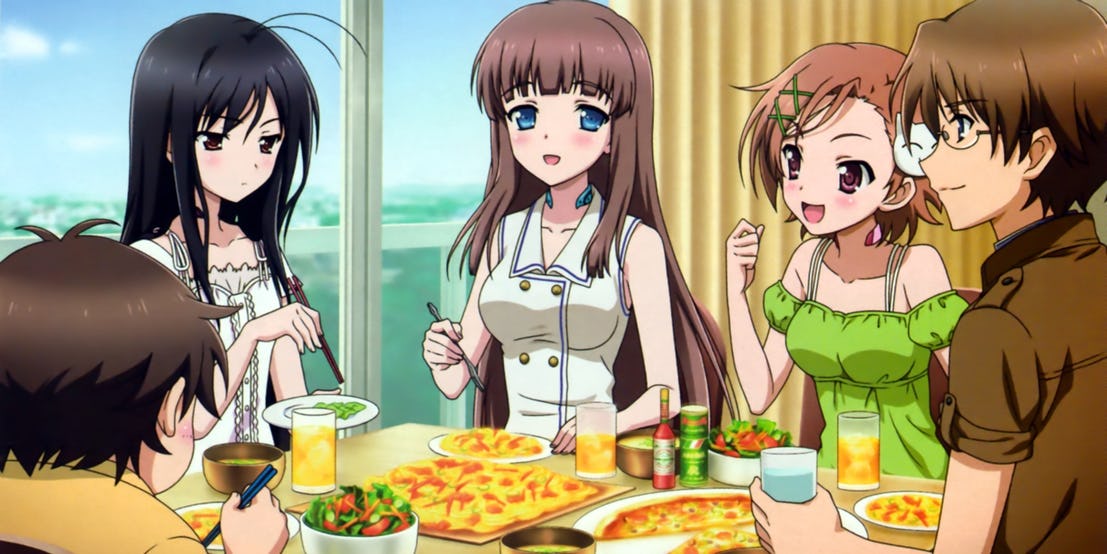 Director: Masakazu Obaraand
Writer: Hiroyuki Yoshino
Starring: Stephanie Sheh, Scott Kimerer.
IMDb Rating: 7.2/10
Like Sword Art Online, the anime Accel World takes place in a new video game world. Haruyuki Arita has been bullied for his weight all his life, but his life changes when he starts the game- 'Brain Burst.' It is a virtual reality fighting game with which you can trick the waves of your brain to stop time.
But the problem lies in the fact that you will never be able to access Brain Burst again if you end up losing the game. Nevertheless, anime fans find a lot of similarities between SAO and Accel World.
After this game, the main character finds a new will to go on with his life. Envision how the players fight for their lives with the cost of Burst Points. But the anime is not as simple as it sounds. The real game of Accel World begins after reaching the tenth level as new plots and twists get unleashed. It is one of the best anime of this decade and has our votes too! You can watch this anime on Prime Video.
29. Knights and Magic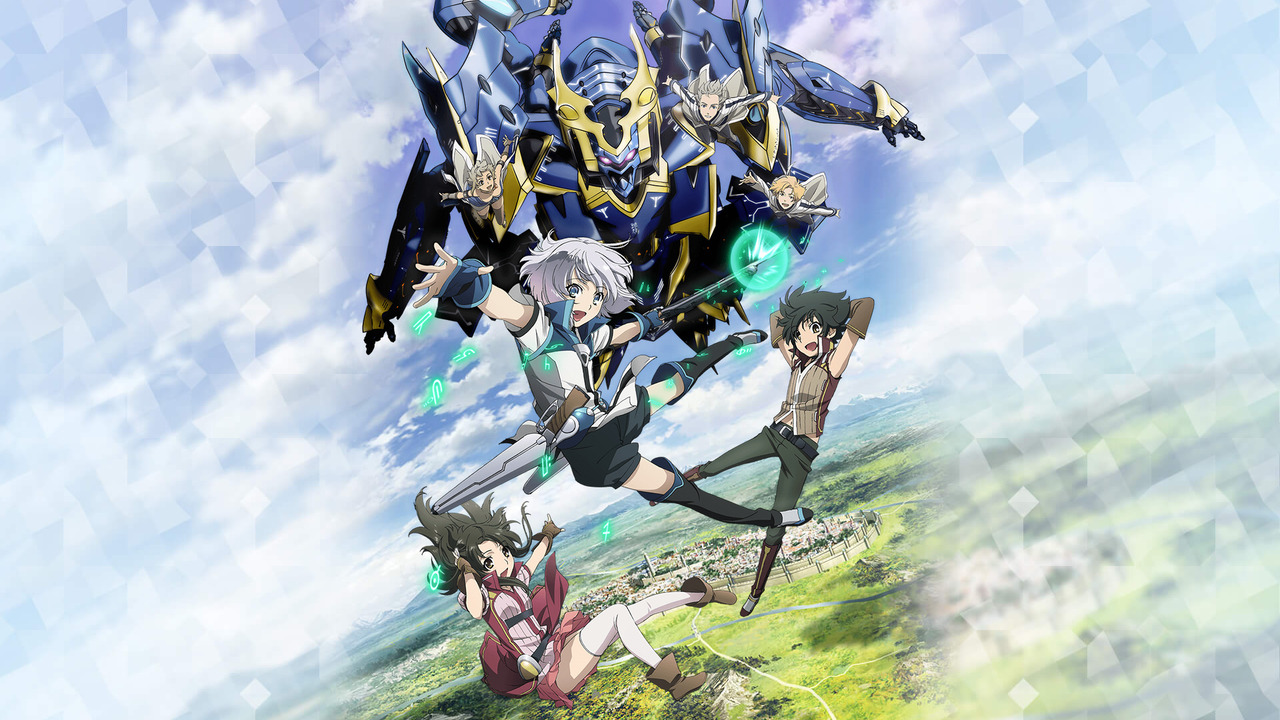 Director: Yusuke Yamamoto
Writer(s): Noboru Kimura, Michiko Yokote
Starring: Shinsuke Sugawara, Rie Takahashi, Ayaka Ohashi, Yasuaki Takumi, Sayaka Senbongi.
IMDb Rating: 7.2/10
Tsubasa Kurata is an otaku from Japan who, after dying in a car accident, gets reborn into the medieval Kingdom of Fremmevilla as Ernesti Echevarria. The place has large Silhouette Knights to fight against the demonic beasts.
His new life gives him some magical abilities, and he gets into the Royal Laihaila Academy, which would teach him how to pilot the Silhouette Knights so that the young people can save the kingdom from demons and even humans. He befriends twins Adeltrud and Archid Olter, and the trio then dreams of having their own Silhouette Knight one day.
30. Deadman Wonderland
Director: Kōichirō Hatsumi
Writer: Yasuyuki Mutō
Starring: Romi Park, Greg Ayres, Monica Rial, Kana Hanazawa, Aaron Dismuke.
IMDb Rating: 7.2/10
This is another anime like sword art online in which an entire class gets brutally murdered, and the sole survivor of the incident, Ganta, gets falsely accused of it. But in reality, the actual culprit embedded a red crystal in him while the entire massacre happened.
To serve for the crime he was accused of, Ganta is sent to a private jail that has a weird take on imprisonment. The masses were entertained by performing dangerous games in return for privileges. Every inmate of the prison has their own goal, but the main one is survival. This is the only chance that Ganta has to survive the game and prove his innocence too.
31. Earth Maiden Arjuna
Director: Shōji Kawamori
Writer: Hiroshi Ōnogi, Shōji Kawamori.
Starring: Mami Higashiyama, Maggie Blue O'Hara, Alaina Burnett.
IMDb Rating: 7.2/10
After facing a near-death experience, a chosen girl gets saved to save the Earth.
32. Guilty Crown
Director: Tetsurō Araki
Writer: Hiroyuki Yoshino
Starring: Shu Ouma, Inori Yuzuriha.
IMDb Rating: 7.1/10
Guilty Crown is one of those post-apocalyptic anime. The anime deals with Japan in the year 2039. The Apocalypse Virus has somewhat destroyed the earth almost ten years back. Now, what remains are some humans and constant fear. The globe is under military rule now.
All are scared about losing their lives at any moment. So everyone is searching for a way to survive. You can watch this anime on Netflix.
33. Shakugan no Shana
Director: Takashi Watanabe
Writer: Yasuko Kobayashi
Starring: Satoshi Hino, Tabitha St. Germain, Rie Kugimiya, Kristian Ayre.
IMDb Rating: 7.1/10
The premise of this anime, like Sword Art Online, focuses on a boy named Yuji who, one day while returning back home from school, notices that the time around him has stopped, and suddenly monsters have started to attack the people. But to his utter astonishment, he finds himself not to be frozen.
When one of the monsters spots him and gets towards him to kill Yuji, Shana saves him. The latter is a great equalizer who informs Yuji that he is a fading spirit.
34. Btooom!
Director: Kotono Watanabe
Writer: Yōsuke Kuroda
Starring: Brittney Karbowski, Tyler Galindo, Suzuko Mimori, Kanata Hongô.
IMDb Rating: 7.1/10
The story follows a man named Ryouta Sakamoto, who lives with his mother. He has no job, and the only success thus far for him is being a top player in the gaming world. The game is Btooom! But one day, his life completely changes when he reaches an island with a green crystal embedded in his hand without him remembering anything.
The truth is someone has created a game he likes, but it will be about his life and death. The game involves the players fighting each other to take their green crystals and return home. But instead, they are given a bunch of bombs known as BIM.
But soon into the game, he realizes that to sustain, he will have to fight the others and not follow non-violence. He then teams up with fellow Btooom! Named Himiko to escape the island together. But they will soon come closer to the reality behind this entire game of death.
35. How not to Summon a Demon Lord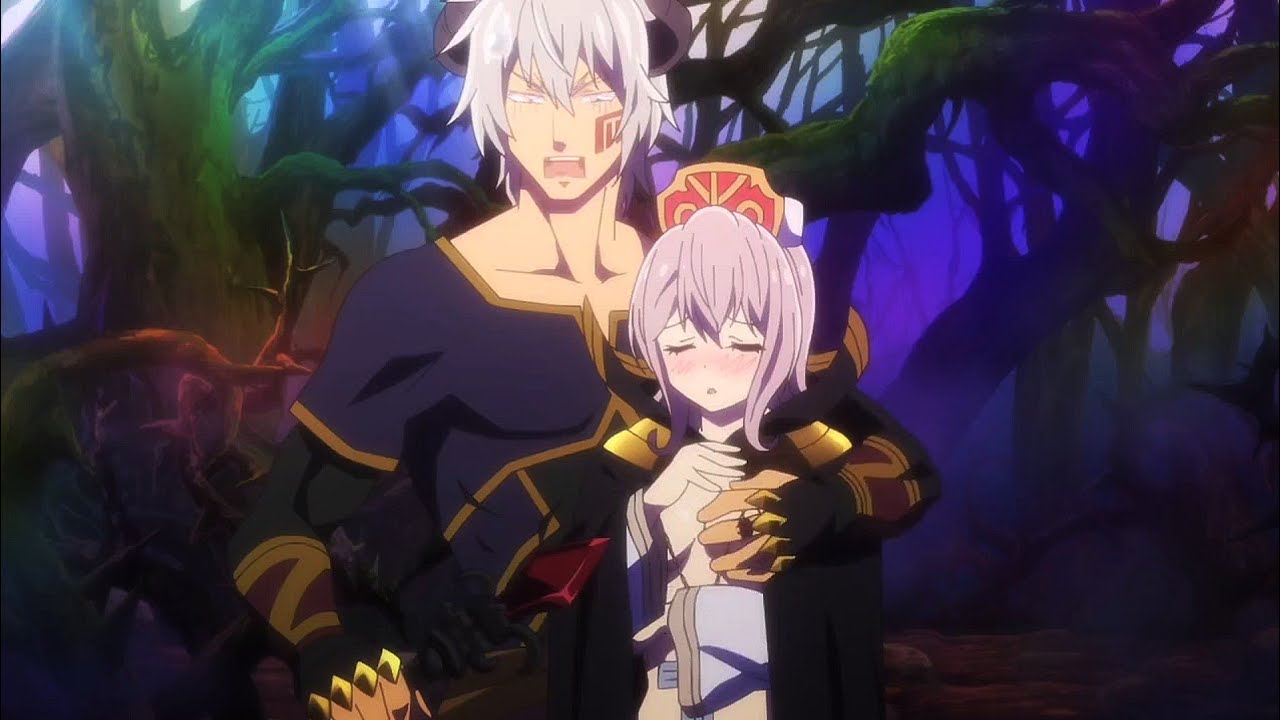 Director: Satoshi Kuwabara
Writer: Kazuyuki Fudeyasu
Starring: Yû Serizawa, Masaaki Mizunaka, Yû Serizawa, Jad Saxton, Eric Vale.
IMDb Rating: 7/10
The story centers around the world of a virtual reality game named Cross Reverie, where two maidens summon Diablo, the Demon Lord, to save themselves. But Diable, in reality, is Takuma Sakamoto, a high-class player with social problems.
But one day, a situation he never expected makes Sakamoto completely perplexed. He realizes that the two maidens named Rem and Shera have now become slaves of him magically. But instead, he decides to help the girls out change the persona associated with Diablo and thrive in the new world.
36. hack//SIGN
Director: Kōichi Mashimo
Writer: Kazunori Itō
Starring: Tsukasa
IMDb Rating: 6.9/10
Many people seem to think that the entire series of the SAO anime is based on .hack//SIGN. If you are a lover of the former anime, you are bound to fall for this too. The protagonist, Tsukasa of this anime, will remind you of Kirito. Tsukasa is a good-for-nothing 22-year-old guy who is unemployed and still lives with his mother. However, there is something he is quite good at Virtual reality games.
Things drastically change one day when he wakes up from his slumber, only to find that he is in the game world now. But the thing is, no matter how much he tries- he cannot get out. Sounds much like SAO? The anime shows the well-hidden secrets and facts of this new world that Tsukasa is in.
Another catch is that he does not remember who he was before waking up in this land. And he is now suspected to be a hacker and is being chased. In .hack//SIGN, Tsukasa must save his own life. So he wanders around the new place to find something that will help him in the game. He comes across a 'Guardian' object who is loyal to him and him only.
Moreover, some other players get to know about his situation, and they want to solve this issue. This .hack//SIGN anime is a nice way to spend the weekend binging. The anime is both unique and captivating and will remind you of SAO in more than one way.
37. Wise Man's Grandchild
Director: Masafumi Tamura
Writer: Tatsuya Takahashi
Starring: Yūsuke Kobayashi, Chiaki Kobayashi, Arisa Shida, Juri Nagatsuma, Gara Takashima.
IMDb Rating: 6.8/10
After facing a tragic accident, a young boy gets reborn in a magical world. He meets his adoptive guardian, who trains him to become a powerful fighter and magician. But the boy knows very little about anything else.
38. Unbreakable Machine-Doll
Director: Kinji Yoshimoto
Writer: Yūko Kakihara
Starring: Hiro Shimono, Kana Asumi, Hitomi Harada, Ai Kayano.
IMDb Rating: 6.8/10
The story is set during the early 20th century when scientists developed many technologies and created something out of sophisticated magic. Science and sorcery were combined to form Makinot that was then used in objects to bring life in them and make them gain any personality.
Initially, it was developed as a weapon in the military but now spread across the world. To become the best globally, Akabane Raishin has decided to attend the Royal Academy. He is accompanied by his lovely teenage girl puppet weapon named Yaya.
Raishin aims to top his class with the aid of Yaya. But despite his top-class determination and skills, he scores very fewer grades. Thus, Raishin will have to compete with his deadly classmates to shine out as a king.
39. Sword Art Online Alternative: Gun Gale Online
Director: Masayuki Sakoi
Writer: Yōsuke Kuroda
Starring: Tomori Kusunoki, Kazuyuki Okitsu, Yôko Hikasa, Ray Chase.
IMDb Rating: 6.8/10
The spin-off of Sword Art Online- Sword Art Online Alternative: Gun Gale Online focuses on the third game in the franchise named Gun Gale Online. The story follows a girl named Karen Kohiruimaki who had low self-esteem and always found herself out of place in the world. Moreover, it became hard for her to make friends with other girls of her age due to her physical appearance.
But one day, her life takes a turn when she is introduced to virtual reality and Gun Gale Online, where she can live the life she wants. She plays the cute chibi version in the online game. But it will be interesting to see how Karen will be able to make friends in this MMO.
40. Demon Lord, Retry!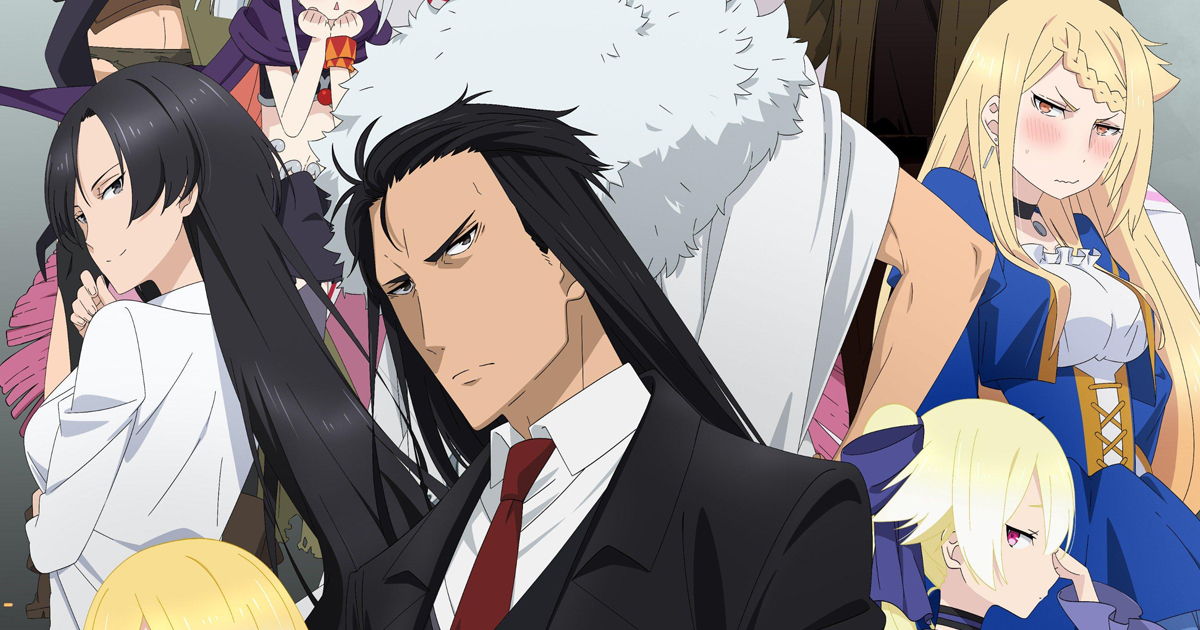 Director: Hiroshi Kimura
Writer: Ōka Tanisaki
Starring: Josh Grelle, Kristen McGuire, Natalie Hoover, Caitlin Glass, Katelyn Barr.
IMDb Rating: 6.8/10
One day, an adult working employee named Oono Akira finds himself logged into a character named Demon Lord and transported in a game that he manages. He meets a disabled girl in the online world, and they both begin to travel together.
But having such great powers makes the Demon Lord a target of many. So wherever they go, the countries and saints try to cause problems for them. This is a fantasy tale of a man who is a normal person from inside but a Demon Lord on the outside.
41. Magical Girl Raising Project
Director: Hiroyuki Hashimoto
Writer: Takao Yoshioka
Starring: Megan Shipman, Madeleine Morris, Sarah Wiedenheft, Bryn Apprill, Lindsay Seidel.
IMDb Rating: 6.8/10
The story follows the Magical Girl Raising Project, a magical game that suddenly turns some of its virtual players into actual magical girls. But in turn, the city of Nabuka ends up having 16 magical girls, out of which only eight are meant to survive. Thus, begins the cruel game of survival between the players.
42. Tower of Drauga: The Aegis of Uruk
Director: Koichi Chigira
Writer: Shoji Gatoh
Starring: Kenichiro Ohashi, Risa Hayamizu, Todd Haberkorn, Takahiro Sakurai.
IMDb Rating: 6.7/10
It is believed that after a few years, there is Summer of Anu when, due to the protection of sky god Anu, all the demons in the tower lose power. To suppress the powers of the demons, the people of Uruk begin to invade the tower. They enter the tower and set their target to reach high levels.
Since the army of Uruk is aware that this is the perfect time to suppress the monster Drauaga as it was the third Summer of Anu. But there is a city called Mesika that is formed inside the tower that plays host to the soldiers and adventurers who visit the tower after learning about the rumor of hidden treasure called Blue Crystal Rod in it.
The treasure is believed to be present at the top level of the tower, and to acquire it, different groups have their own plans, and it will be interesting to watch how they manage to reach it.
43. Death March To The Parallel World Rhapsody
Director: Shin Oonuma
Writer: Kento Shimoyama
Starring: Hiyori Kono, Justin Briner, Kiyono Yasuno, Margaret McDonald.
IMDb Rating: 6.6/10
The story follows an overstrained computer programmer named Ichirou Suzuki, who is in his thirties and barely gets a chance to rest. Eventually, one day he gets the opportunity to get some good sleep, but when he suddenly wakes, he finds himself transported into a fantasy RPG world online. It is interconnected together with the games that he was debugging in real life.
He soon realizes that his name has changed to Satou, a trial name he used while running beta tests on games as he was associated with the gaming technology. His appearance has also enhanced to a younger version of himself. But before Satou could take in the entire change in his reality, he gets attacked by many lizardmen.
To save himself, he casts a powerful spell in return and makes them wiped out completely. This enhances the level of Satou to 310 with added skills and benefits. Now he is an adventurer with no way into reality, so he begins exploring the new world online.
44. In Another World With My Smartphone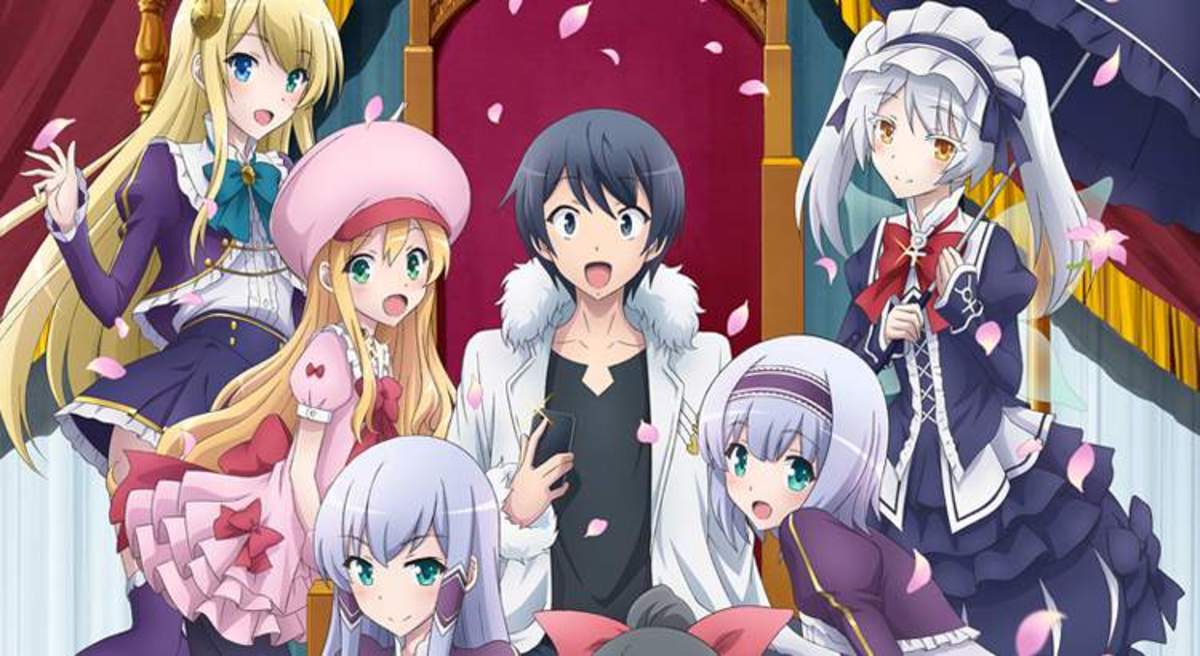 Director: Takeyuki Yanase
Writer: Natsuko Takahashi
Starring: Josh Grelle, Leah Clark.
IMDb Rating: 6.5/10
In this anime, Touya Mochizuki is just your everyday nerd in his real life, but his fate turns all-around when God makes a mistake one day! He strikes the boy with a lightning bolt and now wants to give him something token of apology. He asks Touya if he wants to live in a magical virtual world. You can watch this anime on Netflix.
Now our protagonist Mochizuki doesn't get the votes and the likes of the girls in the real world. He saw this opportunity as a good one and agreed. On transporting there, he was shocked as it was exactly what he had imagined. The world is magical, and the girls here like him! But there are also some dark secrets waiting to be unraveled in this world.
Like SAO, this show is also based on a fantasy world. Similar to Kirito, our character was sent there to discover the nitty-gritty of that place. Watch this anime if you want to have a hearty laugh and some entertainment on a Sunday afternoon!
45. I'm Standing on 1,000,000 Lives
Director: Kumiko Habara
Writer: Takao Yoshioka
Starring: Toyonaga Toshiyuki, Yûto Uemura, Azumi Waki.
IMDb Rating: 6.5/10
This is an isekai anime where, along with his classmates Hakozaki Kusue and Shindou Iu, Yotsuya Yuusuke gets transported to a new world with mythological creatures. They then meet the Game Master and get granted a limited-time quest. In order to help in their quest, Game Master makes Shindou and Hakozaki a magician and warriors, respectively, but Yotsuya gets randomly assigned as a farmer.
But the trio has no choice but to play several quests in phases to stay alive, and the real world gets saved from the demonic beasts they come across.
46. Kemono Michi
Director: Kazuya Miura
Writer: Touko Machida
Starring: Tyson Rinehart, Katsuyuki Konishi, Mie Sonozaki, Mallorie Rodak, Akira Sekine.
IMDb Rating: 6.5/10
Genzo Shibata, a wrestler who also likes pets a lot, gets sent to a new world of magic by a princess. She charges him to defeat the beasts that threaten her kingdom. But owing to his love for animals, he cannot harm them and instead hits the princess using a German Suplex.
After escaping the castle, he finds unable to leave the mysterious land. So he decides to start his career as a beast hunter and befriend creatures. He is accompanied by Shigure, a wolf girl, the vampire Carmilla Vanstein and dragon-girl Hanako and is on the quest to fulfill his dream to own a pet shop.
47. Ixion Saga DT
Director: Shinji Takamatsu
Writer: Akatsuki Yamatoya
Starring: Takuya Eguchi, Kazuya Nakai, Hiroshi Kamiya.
IMDb Rating: 6.5/10
Kon Hokaze, a young boy, one day receives a request from one of the female characters online while playing an MMORPG. Thinking that he has stuck a luck by finding a girlfriend online, he accepts the request but, to his utter disbelief, gets transported to virtual life in a world of Mira where he accidentally saves the princess Ecarlate by landing on her attacker.
Completely confused about how he reached the place and how to go back into the real world, Hozake goes along with the princess as her guard and finds himself stuck between strange power in the new place.
48. And You Thought There Were No Girls Online?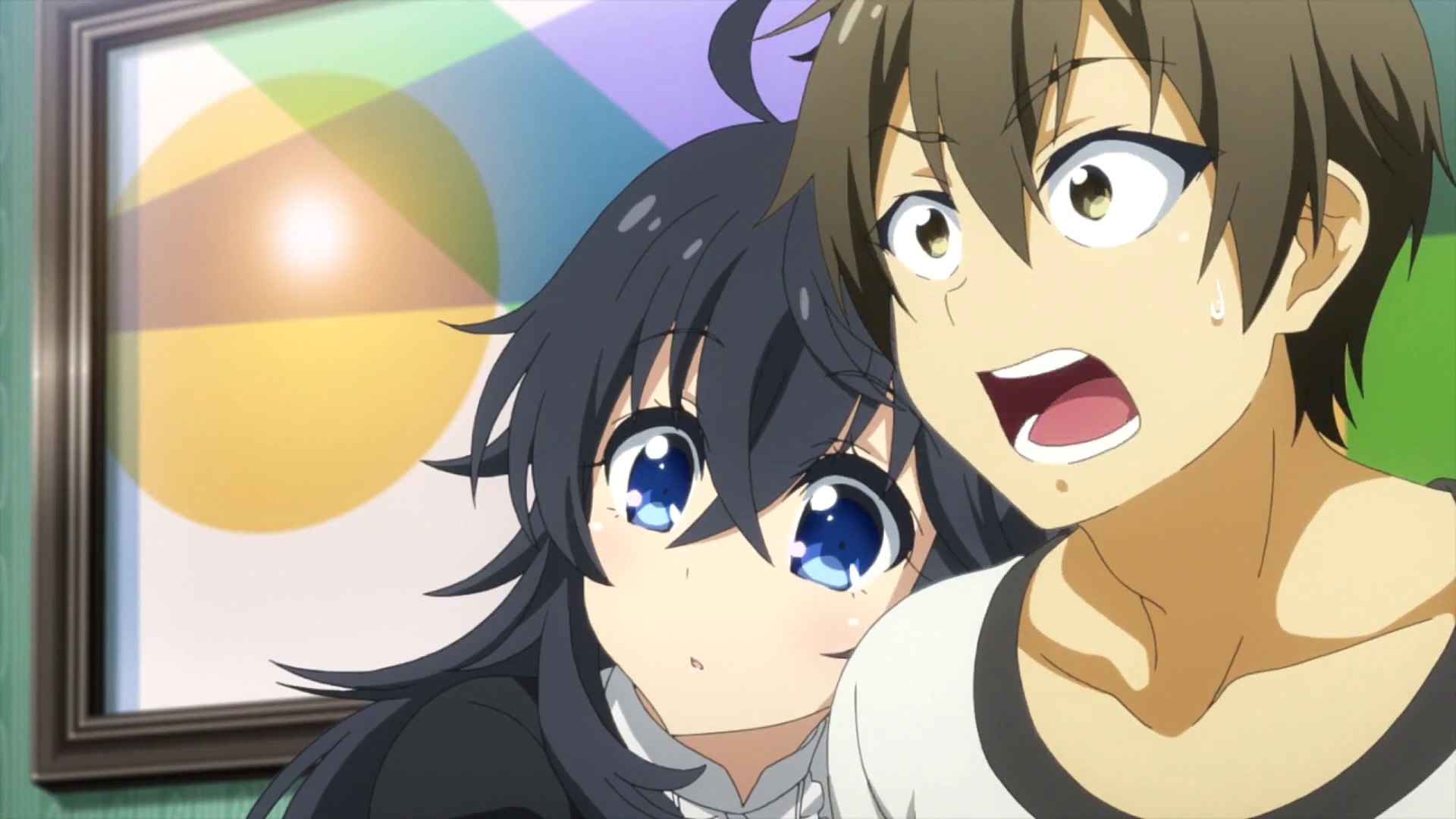 Director: Shinsuke Yanagi
Writer: Shibai Kineko, Gō Zappa, Tatsuya Takahashi.
Starring: Toshiyuki Toyonaga, Inori Minase, Rina Hidaka, Yoshino Nanjô.
IMDb Rating: 6.4/10
The premise of the anime follows Hideki Nishimura, who, under the name of Rusian, plays the game named Legendary Age and wears off online marriage when, after confessing to a girl, he learnt that in real life, it was a guy. After a couple of years, constant persistence from another game player named Ako, who is in the same guild as Hideki, he returns to the game and gets defeated by it.
He then agrees to an in-game marriage with her. However, when he finally meets the rest of the guild members, he gets shocked to learn that all of them are females that are in the same school as him.
49. Beatless
Director: Seiji Mizushima
Writer: Tatsuya Takahashi, Gō Zappa, Satoshi Hase.
Starring: Takuto Yoshinaga, Nao Tôyama, Saki Ono.
IMDb Rating: 5.7/10
Lascia is one of the hies equipped with ultra-advanced AI with a black coffin-shaped device far ahead for humans to comprehend. When a 17 years old Arato Endo meets the artificial Lacia, the question of such artificial beings' existence is highly complex to solve. But Arato has some other plans.
50. Comet Lucifer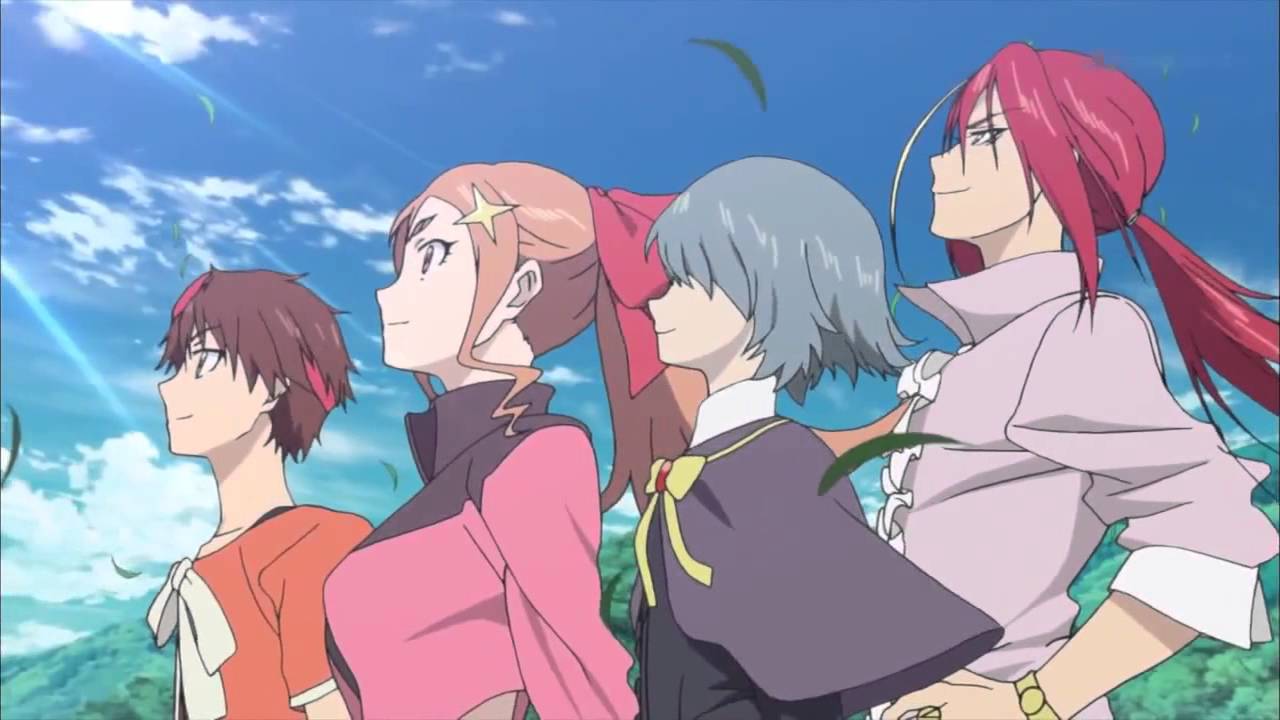 Director: Atsushi Nakayama, Yasuhito Kikuchi.
Writer: Yūichi Nomura
Starring: Ayaka Ohashi, Yûsuke Kobayashi, Rie Takahashi, Ayaka Suwa, Takuma Terashima.
IMDb Rating: 5.1/10
Sougo Amagi is a young orphan kid who lives in the mining town of Gift, which is known to bear the beautiful sought-after blue crystals named Giftium. His obsession with the crystals came from Amagi's mother, a researcher. But after his quarrel with a classmate, he gets into the mines below the earth, where he happens to meet a blue-haired red-eyed girl named Felia.
They then begin to bond well, and friendship blossoms between them. But Felia is being chased by a secret organization that wants to utilize her powers for their own benefit. Thus, Amagi and his friends must save the girl from the people who want her powers while also finding what abilities she possesses from the blue crystal.
These anime like Sword Art Online will take you through a journey filled with mistakes, comedy, action, and friendship, filling your heart with joy and making your weekend! Hope fans liked the list and found it helpful as a binge-watch material as they are worth watching. Until then, stay safe, stay connected!