A complete tale may come to life through great music, which can further the definition of a character. Not only can a superb soundtrack improve a mediocre anime just a bit, but it can also elevate an average anime series to greatness. In addition, a straightforward yet catchy background soundtrack may transport anime fans on an emotional rollercoaster.
The original score of an anime may be fantastic if it either pumps you up, genuinely affects you with its emotive melodies or makes you feel deeply and profoundly.  Excellent anime music has the power to transform the experience entirely and may cause or ruin an anime.
To preserve some of the finest anime Original soundtracks of all time, we decided to compile them. From time to time, these songs would find us, evoking recollections of all the moments we played them with. So, without further ado, the top anime ost is listed below:
20. My Little Monster (Tonari No Kaibutsu-kun)
My Little Monster isn't as well-known or praised as many other entrants. But it's one of my favorites, and I think its music can compete with the finest. When "Tetsukazu no Kanjou" starts playing, I'm instantly transported back to my first semester in college, when I was studying and watching anime after classes.
I'm not sure. I suppose the My Little Monster OST captures the sound of a slice-of-life, adolescent shoujo romance and school anime. As though a youthful, independent artist created it in their comfortable, bright bedroom.
This melody is so immensely upbeat, carefree, and immature that it never fails to make me grin. And I hope it may make your days more enjoyable as well.
19.

 K-On!
K-On!, a slice-of-life CGDCT Kyoto Animation series, showcased Naoko Yamada's brilliance. Although Yui and the others may be heard singing their adorable and rocking songs on the two beautiful mini-albums, the series' actual original music is more satisfying.
The purpose of the background music and the images in K-On! is to draw attention to the beauty in the commonplace amid dull yet significant moments, some of which even go on without communication. Sometimes people may express that they wish their life had music like in movies.
And if that were to be, I would be happy to have these paths nearby for those times when I want to do nothing but relax and possibly drink some tea.
18. Your Lie in April (Shigatsu Wa Kimi No Uso)
Yes, the opening theme "Hikaru Nara" by the Japanese pop group Goose House is among the most popular songs in recent years. Don't disregard the soundtrack, though. The OST is genuinely diversified, which is precisely as it should be. Some people may have anticipated that it would just include instrumental pieces, especially those that featured piano and violin.
Not all of Your Lie in April involved playing classical music. It had slice-of-life themes, drama, and the well-known emotions of adolescents trying to make sense of their experiences (especially love).
The OST encompasses the various elements that come together to create Your Lie in April, its adored program. You occasionally hear classical music, such as the well-known piano solo "Watashi no Uso" and "Yuujin A-Kun wa Watashi no Bansousha ni Ninmeishimasu."
17. Laid-Back Camp (Yuru Camp)
Like My Little Monster, Yuru Camp offers music that may instantly lighten the atmosphere. However, there is a distinction. Given that the five women MCs like camping, the OST warmly welcomes nature and the tranquil outdoors. Numerous songs feature various camping experiences:
The "Yuru Camp Theme" is while you're setting up camp or preparing meals by the campfire, while "Solo Camp" (as its name suggests) is when you're heading to the campground on a quiet Saturday morning.
Other songs are appropriate for moments of awe at the splendor of nature and at the act of scheduling time for the outdoors with your closest friends.
16.

Your Name

(Kimi No Na Wa)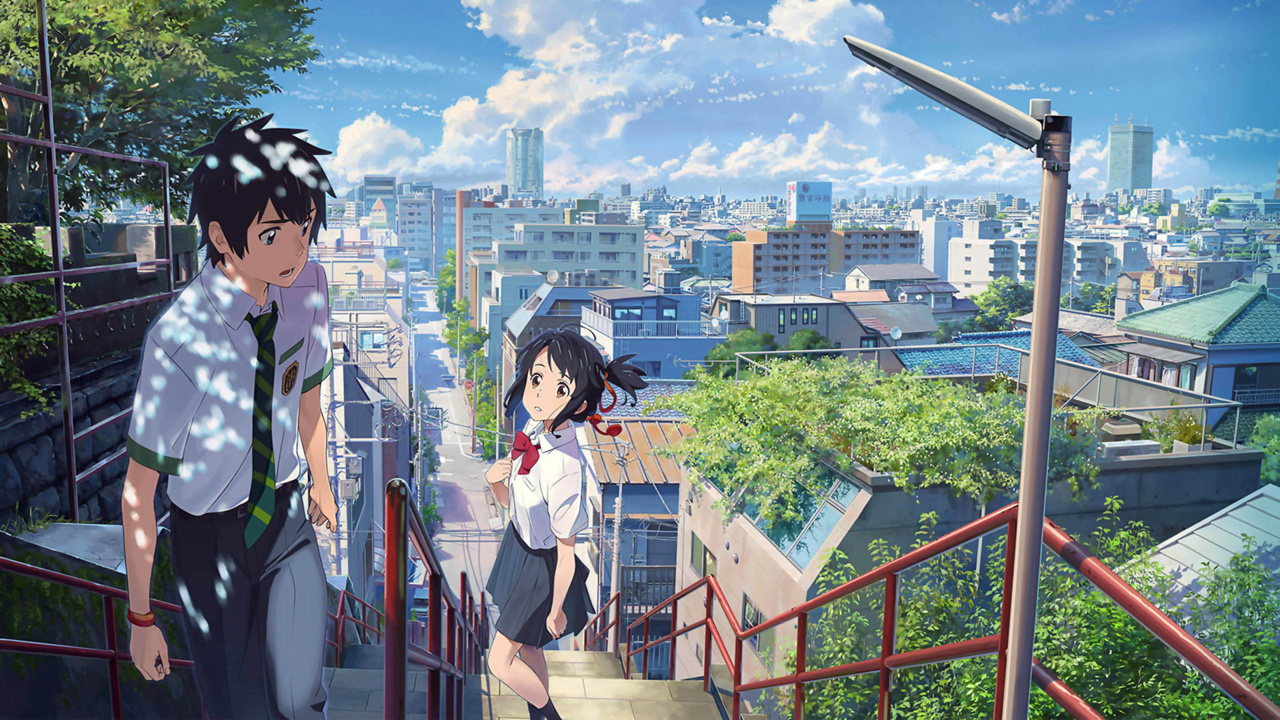 There aren't many anime movie soundtracks that I can think of that are as well-known as Your Name. And it is deserving of everyone's attention. Beautiful cityscapes and backdrops are easy for Makoto Shinkai to make on his own. Since The Place Promised in Our Early Days, fans have been aware of this. The director also has a good ear for music and uses song placement and choice to tug at the viewer's heartstrings at just the appropriate times.
The songs were crucial to the film's emotional effect, from when Mitsuha realized what was written on her palm until the last scene that validated the fans' suffering during 5 Centimeters Per Second.
15.

Land of the Lustrous (

Houseki No Kuni)
Yoshiaki is proficient in classical music, as you can see. And he understands how to organize the parts for maximum impact. I adore what he did with Love Live, Dimension W, and GATE.
This is one of his most excellent compositions, perfectly blending lush instrumentals replete with fanciful woodwind, strings, keys, chimes (or bells), and percussion with the unique universe of Houseki no Kuni.
The music is leisurely, constantly in control, and conscious of the emotions it should arouse and, at the right moments, to seem more intimate or all-encompassing.
14.

 Neon Genesis Evangelion
The anime series Neon Genesis Evangelion will always cause controversy. It is, nevertheless, without a doubt, among the most influential anime in history. You already know how magnificent, insane, and perpetually tense the anime's soundtrack can be if you've watched it.
Especially when the intensity of the action reaches its zenith, and the situation becomes ominous. All of it may be credited to Shiro Sagisu, a legend in the field who has been active since the 1970s.
Check out the symphonic music-filled End of Evangelion OST for a glimpse of his brilliant mind at work; he is the primary composer of practically all Evangelion soundtracks. Listen to the first NGE soundtrack, which includes the songs "Cruel Angel's Thesis," "Fly Me to the Moon," and "Komm, Susser Tod," if you need a break.
13. Cowboy Bebop (Bad Dog No Biscuits)
Most viewers expect this animation because it is considered Shinichiro Watanabe's most significant work. Secondly, as was already noted, Shinichiro always ensures that the music in his anime productions is flawless. With a hint of lo-fi surroundings, "Cowboy Bebop" is renowned for having some of the best anime OSTs. These soundtracks are mainly influenced by jazz and blues music.
The most OK song on this album is "bad dog no biscuits" by the jazz group Seatbelts Live. The song's lively, electric atmosphere will get you goosebumps since it perfectly complements the anime's "futuristic 1990s" aesthetic. Every time they hear this song, everyone who has seen the anime will be able to picture Hakim and Spike following Ein.
12. Fullmetal Alchemist: Brotherhood (The Intrepid)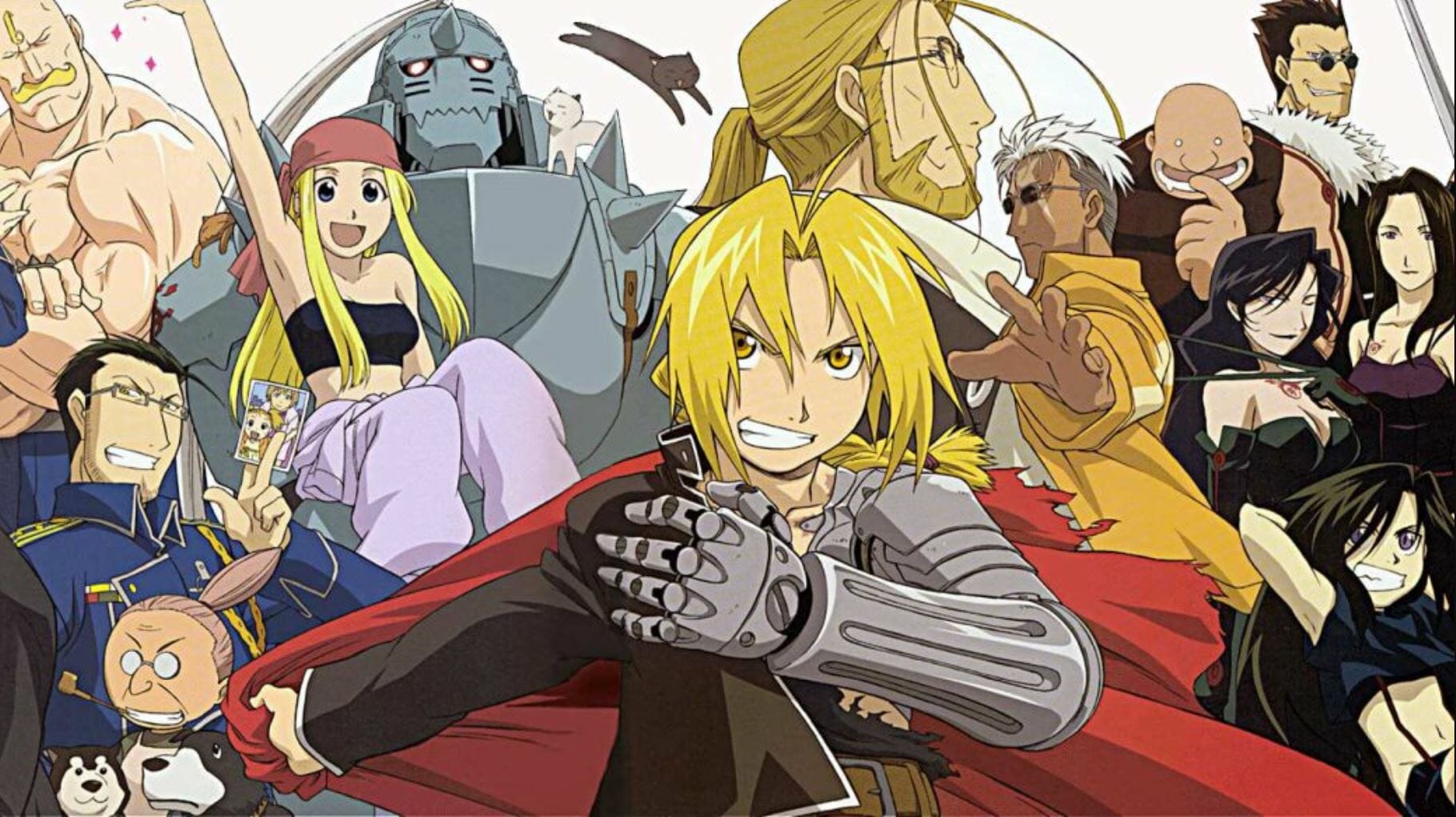 One of the finest anime ever produced is 'Fullmetal Alchemist: Brotherhood,' No show can ever have that status without having the most magnificent soundtracks. Akira Senju's performance of "The Intrepid," one of the anime's incredible OSTs, is by far the best since it sends your emotions on an emotional roller coaster.
Even if you haven't seen the anime at all, this soundtrack can make you laugh and cry at the same time. It profoundly affects those who have seen the show in its magnificent manner.
Alphonse's wise words, "Humankind cannot receive anything without first giving something in exchange," come to me every time I hear them. Something of comparable value must be lost to get it. That is the first similar exchange law of alchemy. We genuinely thought it to be the only truth in the world back then.
11. Naruto Shippuden (Despair)
The "Naruto" series is renowned for having some of the best soundtracks that are well-liked in the anime world. Its OSTs range from being heartbreaking to music that can pump your pulse and get you pumped up for some epic action sequences because it is a long-running, multi-genre anime.
It is difficult to pick only one of these OSTs, although for some reason, "Despair" captures the emotions of all true Narutards, who likely know the anime characters better than the people in their real-world surroundings.
When Hinata finally expresses her feelings to Naruto, nostalgic and a little depressing music begins to play. Even while that scenario is undeniably unforgettable, the music heightens the tension.
10. Samurai Champloo (Obokuri-Eeumi)
Since Shinichiro Watanabe's "Cowboy Bebop" has already been highlighted, the sibling series "Samurai Champloo" also has some distinctive, unforgettable soundtracks that go wonderfully with the anime's imaginative graphics and must also be included on this list. This game's soundtracks are heavily influenced by hip-hop music and feature classic lo-fi Japanese settings.
Most of "Samurai Champloo's" soundtracks were composed by Nujabes, credited with "defining the future of hip hop music." But "Obokuri Eeumi" by "Ikue Asazaki" is the series' most memorable song. This song is particularly noteworthy since it accompanies one of the most poignant anime episodes ever, in my opinion.
Moreover, it emerges that Shinichiro Watanabe had also stated in an interview that he expressly wanted this sequence to unfold as it did even before the anime was produced.
9. Your Lie In April (Uso to Honto)
Because it is heavily focused on music, "Your Lie In April" stands out as an anime that is superior to its original material. The piece, for obvious reasons, can be shown far more effectively through an auditory medium.
Original songs and classical music pieces, along with their graphics, have been flawlessly performed in the presentation. However, the song "Uso no Honto" by "Masaru Yokoyama" will have you sobbing uncontrollably out of these extraordinarily moving songs. I can't explain it, but this song makes me think of the "Arrival of the Birds" music from "The Theory of Everything."
8. Death Note (L's Theme)
All of Death Note's OSTs are as amazing as the entirety of the anime's plot. The anime's "Low of Solipsism" music, played during the infamous "I'll take a potato chip…and EAT IT!" moment, is perhaps the most potent soundtrack ever created.
However, "L's Theme" has to be the top song, in my opinion. A piano solo at the beginning shows L in complete control of things. Then, suddenly, a bass guitar comes in, indicating that Kira is beginning to take the lead as her theme is entirely composed of a guitar.
After then, mighty electric guitar blazes, showing that Kira is entirely in charge. The music soon picks up speed as the two start engaging in a fierce struggle. L passes away when the music abruptly comes to a stop. Indeed, "Death Note" is a work of art, and Hideki Taniuchi is a genius.
7. Attack On Titan (You See Big Girl/T: T)
One of this decade's most-watched anime programs is "Attack on Titan." Since its premiere, it has generally elicited various responses from anime watchers. However, one aspect we can't help but like is its Original Soundtrack.
The finest of these is "You See Big Girl/T: T" by "Hiroyuki Sawano," which brilliantly encapsulates the range of emotions depicted throughout the entire anime.
When this song is heard, the first image that comes to mind is Eren's horrified expression when he discovers that the two people he most trusted are also the ones who are to blame for all the devastation that has been done.
The song begins with a big operatic flourish before exploding into an aggressive second section that simultaneously depicts shock, amazement, and fear.
6. Wolf's Rain (Heaven's Not Enough)
The soundtracks for the gloomy, emo-styled anime "Wolf Rain" perfectly match the show's melancholy and sad atmosphere. In a post-apocalyptic future, the "nobles" have amassed enough wealth that they no longer need to do anything to maintain their position of dominance.
The average person, depicted as wolves, fights for survival every day in a society that is perishing due to authoritarian beliefs that are destroying it. As the affluent become more prosperous and the people get impoverished, the noble rot does nothing except prolong its longevity.
As the title implies, "Heaven's not Enough" by Steve Conte depicts the terrible lives of these lords who hide out in their heavenly mansions. Still, even that is not quite enough to satisfy their insatiable appetites.
5. Mushishi (Kotowari)
Toshio Masuda's "Kotowari," from the anime "Mushishi," has a lulling tone that will likely be enough to send you to sleep. This may seem highly comforting to those who haven't watched anime, but only those who have will understand how it corresponds with one of the anime's heartbreaking scenes.
The music indeed calms very much, but it also carries a dark undertone that, when coupled with the depressing setting in which it is performed, may even frighten. You gradually feel sinking when a loved one passes away while listening to this music.
4. Ghost In The Shell (Making of Cyborg)
One of the most recognizable anime themes ever created is "Making of Cyborg." The anime movie's opening sequence plays it and it is still regarded as one of the best openings to any film, animated or not. This particular scene from the original anime is sufficient to destroy the Scarlett Johansson live-action remake.
According to the anime's producer, the song was influenced by both the old Tibetan traditional music and Igor Stravinsky's "Le Nosce," although it may seem like traditional Japanese music. In addition, the song's lyrics are commonly based on a conlang that combines Tibetan and European dialects. This anime is a masterwork that pushes the envelope on storytelling in every way.
3. Clannad (Town, Flow of Time, People)
Even if you are unfamiliar with the anime "Clannad," the song "Town, Flow of Time, People" from the series manages to go under your skin and stir feelings in you. But for someone who has watched the anime, it simultaneously evokes feelings of nostalgia, joy, and sadness.
Have you ever experienced one of those days where all you could do was sit and contemplate the direction your life was taking? This particular song, though, is ideal for those kinds of days and has the power to compel you to explore your deepest feelings and ideas.
2. Kill la Kill (Satsuki Kiryuin Theme)
One of the most fearsome femmes, Fatales in anime history, is, without a doubt, Satsuki Kiryun from the film "Kill la Kill." She has the power to instill respect in those around her, and she consistently succeeds in doing so. Furthermore, she possesses all the necessary traits to be an effective leader, and her empathy motivates her to do multiple pivotal actions.
She wholly owns her sexuality and does not allow anybody to control her, even when she dresses in her exposing twisted Junketsu. There's no denying that no other piece of music could show her as the Alpha Female. Yet, this soundtrack's lively and energizing character wonderfully complements her personality.
1. Cowboy Bebop (Blue)
An anime with flair, characters, a compelling plot, and unquestionably one of the best anime soundtracks is "Cowboy Bebop." And for that reason, it only deserves two mentions on our list. There are unique soundtracks, including this song from "Cowboy Bebop," which is the ideal way to wrap the series.
You certainly feel sad that a fantastic series is ending while this music is playing in the background, but oddly, you also feel inspired. Perhaps the anime's abstract joyful conclusion is provided by the OST "Blue."