Christmas is here, and so is the holiday cheer. It's that time of year to start decorating our trees, hang our socks, and indulge in those gingerbread cookies. Let us all rejoice in the birth of Christ and enjoy this holiday to the fullest.
It just doesn't feel like Christmas without binging on some holiday movies. Hence, we have curated this list of the best Christmas movies on Netflix. So let's get cozy with our families, grab some eggnog and give Netflix a run for its money.
Here is our Ultimate List of the Best Movies on Netflix about the Holiday Season:
1. Jingle Jangle: A Christmas Journey (2020)
Director: David E. Talbert
Writer: David E. Talbert
Cast: Forest Whitaker, Madalen Mills, Keegan-Michael Key, Hugh Bonneville, Anika Noni Rose, Phylicia Rashad, Lisa Davina Phillip, Ricky Martin
IMDb Ratings: 6.5/10
Rotten Tomatoes Score: 90%
Streaming Platforms: Netflix
The plot of "Jingle Jangle: A Christmas Journey" revolves around Jeronicus Jangle, a peculiar toymaker. After being robbed and betrayed by his apprentice, Gustafson, Jangle's store, "Jangles and Things" suffers financially and he grows distant with his daughter, Jessica. Thirty years later, Jeronicus's granddaughter, Journey, decides to stay with him until Christmas. Together, they fix "Buddy," a toy designed by Jessica, and use Jangle's mechanism to bring it to life. Later in the plot, Buddy is stolen by his former apprentice, Gustafson. Jangle and Journey set out to retrieve Buddy by breaking in into Gustafson's factory.
2. Holidate (2020)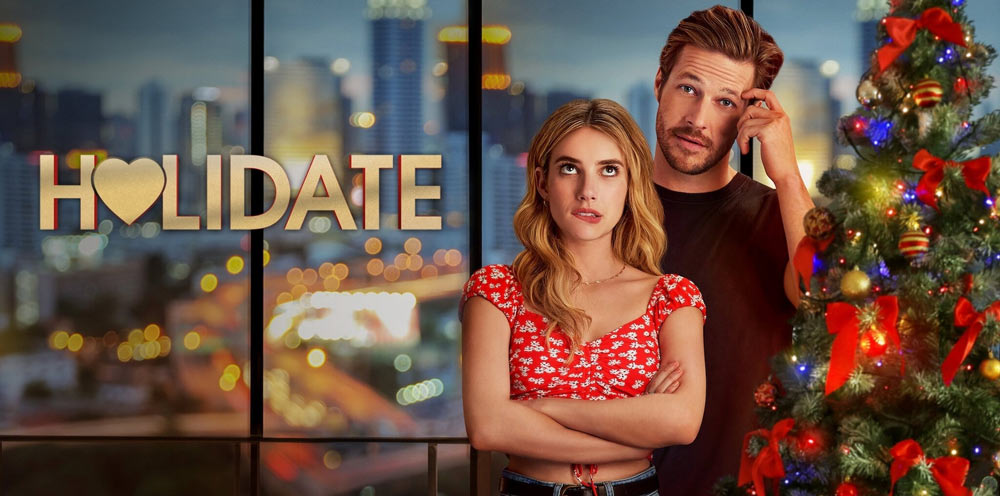 Director: John Whitesell
Writer: Tiffany Paulsen
Cast: Emma Roberts, Luke Bracey
IMDb Ratings: 6.1/10
Rotten Tomatoes Score: 44%
Streaming Platforms: Netflix
Two strangers Sloane and Jackson, are both fed up with being single during the holidays. They make a pact to fake a relationship and meet only during the holidays to avoid being nagged by their families. As time goes by, they realize that they enjoy each other's company. On the next Christmas, Sloane gathers some courage and rushes to confess her feelings to Jackson only to find out that Jackson feels the same way. Both of them kiss and the plot concludes.
3. Christmas on the Square (2020)
Director: Debbie Allen
Writer: Dolly Parton, Maria S. Schlatter
Cast: Dolly Parton, Jenifer Lewis, Josh Segarra, Jeanine Mason, Mary Lane Haskell, Treat Williams, Christine Baranski
IMDb Ratings: 5.2/10
Rotten Tomatoes Score: 64%
Streaming Platforms: Netflix, Amazon Prime Video, Hulu, Disney+, HBO
Dolly Parton's "Christmas on the Square" is set in a small town called Fullerville and follows the life of Regina Fuller. Regina had recently arrived in town after her father's death had turned her into a cold, emotionally damaged woman. She sends out eviction notices to everyone in the town and announces that she is selling it. The plot concludes when an Angel (Played by Dolly Parton) meets Regina to prevent her from making this mistake as the town celebrates. It's sure to be full of country music and make for an original Christmas watch.
4. Let It Snow (2019)
Director: Luke Snellen
Writer: Laura Solon, Victoria Strouse, Kay Cannon, John Green, Lauren Myracle, Maureen Johnson
Cast: Isabela Merced, Matthew Noszka, Liv Hewson, Odeya Rush, Kiernan Shipka, Mitchell Hope, Shameik Moore, Anna Akana, Jacob Batalon, Joan Cusack
IMDb Ratings: 5.8/10
Rotten Tomatoes Score: 81%
Streaming Platforms: Netflix, Microsoft Store
'Let it Snow' is a Christmas movie about a high school girl, Julie Reyes, who recently got accepted into Columbia University, accidentally runs into a pop-star named Stuart Bale as she attempts to return his phone. A snowstorm forces them to get off earlier. Julie and Stuart decide to have dinner at a local diner called "Waffle Town" which somehow ends up becoming a party spot. Stuart ends up falling in love with Julie and the plot concludes with both of them kissing as they decide to meet in New York next year.
5. The Knight Before Christmas (2019)
Director: Monika Mitchell
Writer: Cara J. Russell
Cast: Vanessa Hudgens, Josh Whitehouse, Emmanuelle Chriqui
IMDb Ratings: 5.5/10
Rotten Tomatoes Score: 70%
Streaming Platforms: Netflix
This heart-warming romantic-holiday film is about Brooke Winters, a young woman who has given up on love after a series of failed relationships. The plot begins with a sorceress time transporting a medieval knight, "Sir Cole" into the present. Brooke meets Cole and thinks that he is suffering from a mental illness and decides to help him out. Little did she know that he, in fact, was her knight in shining armor.
6. A Christmas Prince: The Royal Baby (2019)
Director: John Schultz
Writer: Nate Atkins
Cast: Rose McIver, Ben Lamb, Alice Krige, Honor Kneafsey, Sarah Douglas
IMDb Ratings: 5.3/10
Rotten Tomatoes Score: 33%
Streaming Platforms: Netflix
'A Christmas Prince: The Royal Baby' is the third sequel of the A Christmas Prince series, after 'A Christmas Prince: The Royal Wedding.' The story is set in Aldovia and begins with Queen Amber and King Richard expecting a baby. On the eve of Christmas, a 600-year-old sacred treaty between Aldovians and Pengalians is to be renewed. It is later found that the treaty has gone missing and the couple is worried that a curse might befall upon their firstborn. Everyone struggles to find the treaty as a snowstorm hits the palace.
7. The Christmas Chronicles (2018)
Director: Clay Kaytis
Writer: Matt Lieberman, David Guggenheim
Cast: Kurt Russell, Judah Lewis, Darby Camp, Lamorne Morris, Kimberly Williams-Paisley, Oliver Hudson
IMDb Ratings: 7.1/10
Rotten Tomatoes Score: 67%
Streaming Platforms: Netflix
This infamous Christmas movie, starring Kurt Russell, is set in the town of Lowell, Massachusetts. It follows the life of the Pierce family. Recently widowed Claire Pierce is trying to do what's best for her family and keep the Christmas spirit alive. Two siblings, Kate and Teddy try to trap Santa, and in the process make him lose his sleigh and his bag full of presents. Kate and Teddy help Santa save Christmas by retrieving his belongings and delivering all the presents on time.
8. The Princess Switch (2018)
Director: Mike Rohl
Writer: Robin Bernheim, Megan Metzger
Cast: Vanessa Hudgens, Sam Palladio, Nick Sagar
IMDb Ratings: 6/10
Rotten Tomatoes Score: 75%
Streaming Platforms: Netflix
'The Princess Switch' is a Rom-Com film about Stacy De-Novo, a pastry shop owner in Chicago, and her childhood friend Kevin. Stacy and Kevin enter an international baking competition in Belgravia. A week before Christmas, Stacy, Kevin, and his daughter, Olivia, leave Chicago to compete in the competition. On arrival, Stacy meets her look-alike Lady Margaret Delacourt, Price Edward's fiancé. The two of them decide to switch places as Margaret desperately wants some time away from all the attention. Despite the confusion caused by the switch, Stacy and Kevin win the competition as they realize that they're falling in love with Prince Edward and Lady Margaret respectively.
9. The Holiday Calendar (2018)
Director: Bradley Walsh
Writer: Amyn Kaderali
Cast: Kat Graham, Quincy Brown, Ethan Peck, Ron Cephas Jones
IMDb Ratings: 5.7/10
Rotten Tomatoes Score: 33%
Streaming Platforms: Netflix
"The Holiday Calendar" is a magical story of a struggling young photographer, Abby Reilly, who receives a magical "Advent Calendar" from her grandfather. On the first of December, she realizes that whatever she receives in the calendar is somehow also received in the real life. She decides to share this secret with her friend Josh, who believes her.
Later in December, she meets a guy named Ty Walker and goes on a date with him, which makes Josh jealous and makes him realize his feelings for Abby. On the day of Christmas, Abby finds a snowflake in her calendar. Josh calls her to a studio that he has bought and asks her if they can work in it together. They confess their love for each other as it starts snowing.
10. Angela's Christmas (2017)
Director: Damien O'Connor
Cast: Will Collins, Damien O'Connor
IMDb Ratings: 7/10
Rotten Tomatoes Score: 83%
Streaming Platforms: Netflix
A Netflix Original, 'Angela's Christmas' is a short animation film adapted from a children's book by Frank McCourt. Set in Limerick, Ireland, this film actually narrates an incident from the life of McCourt's mother, Angela, when she was around six years old. This heart-warming story shows us how one's family is important to have a warm and joyous Christmas.
11. Northpole (2014)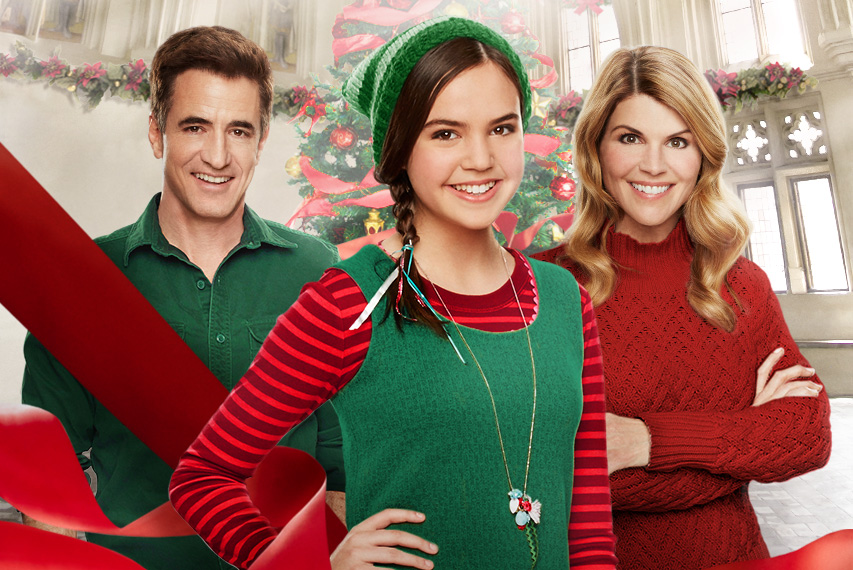 Director: Douglas Barr
Writer: Gregg Rossen, Brian Sawyer
Cast: Bailee Madison, Tiffani Thiessen, Josh Hopkins, Lori Loughlin, Dermot Mulroney
IMDb Ratings: 6.4/10
Rotten Tomatoes Score: 46%
Streaming Platforms: Netflix, VUDU, Prime Video, Apple TV
This American-Canadian Christmas movie is about the North pole, a city powered by happiness and home to Mr. Clause and Santa Claus. The North Pole is struggling due to a decline in celebrations due to people's busy schedules. Kevin Hastings, a young adolescent from Colorado might be Santa's only hope in saving the North Pole. With help from one of Santa's elves, Clementine, Kevin does everything in his power to bring back Christmas in Greenwood Park.
12. A Christmas Carol (2009)
Director: Robert Zemeckis
Writer: Robert Zemeckis
Cast: Jim Carrey, Gary Oldman, Colin Firth, Bob Hoskins, Robin Wright Penn, Cary Elwes
IMDb Ratings: 6.8/10
Rotten Tomatoes Score: 52%
Streaming Platforms: Netflix, Disney+, Prime Video, iTunes, VUDU, YouTube, Google Play
This Christmas special movie is actually based on the book, "A Christmas Carol" by Charles Dickens. This animated film is set on Christmas eve in the year 1843. Ebenezer Scrooge (played by Jim Carrey), a greedy businessman, is met by a ghost of his former partner, Jacob Marley, who warns him that he will be evaluated by three spirits who will decide what happens to him in his afterlife. After being visited by these spirits, Scrooge realizes his mistakes and decides to give up his greed and become a good person. The plot concludes with him celebrating Christmas with grace and kindness.
13. How the Grinch Stole Christmas (2000)
Director: Ron Howard
Writer: Dr. Seuss, Jeffrey Price, Peter S. Seaman
Cast: Jim Carrey, Jeffrey Tambor, Christine Baranski, Bill Irwin, Molly Shannon
IMDb Ratings: 6.2/10
Rotten Tomatoes Score: 49%
Streaming Platforms: Netflix, YouTube, Google Play, Fandango NOW, VUDU, Apple TV
'How the Grinch Stole Christmas' is a live-action Christmas movie, based on a children's tale written by Dr. Seuss. Whoville is a small town situated inside a snowflake. All its citizens are planning to celebrate Christmas while Grinch, who was rejected as one of the "Whos" of Whoville, is plotting to ruin Christmas for everyone. His friend tries her best to convince him not to do so but fails. Despite all his efforts, Grinch is unable to crush the Christmas spirit and finally realizes his mistake. He apologizes for his behavior and everything and everyone resumes their celebrations.
14. The Nightmare Before Christmas (1993)
Director: Henry Selick
Writer: Tim Burton, Michael McDowell, Caroline Thompson
Cast: Danny Elfman, Chris Sarandon, Catherine O'Hara, William Hickey, Glenn Shadix, Paul Reubens, Ken Page, Ed Ivory
IMDb Ratings: 8/10
Rotten Tomatoes Score: 95%
Streaming Platforms: Netflix, Disney+, Prime Video, iTunes, VUDU, YouTube, Google Play, Microsoft Store
One of the best Christmas films you've ever seen, this holiday movie follows the Halloween Town's "Pumpkin King," Jack Skellington, who is sick of the monotonous Halloween celebrations that happen every year and is craving for something different. One day, while wandering the woods, he discovers a portal that leads to another town representing other celebrations.
He decides to visit the Christmas Town and is flabbergasted by their celebrations. Skellington spends days studying Christmas and finally decides to take over Christmas and bring its joy to Halloween Town as well but fails to do so. The plot concludes with Santa Claus bringing snow to Halloween Town, which elates Jack and everyone departs happily.
15. White Christmas (1954)
Director: Michael Curtiz
Writer: Norman Krasna, Norman Panama, Melvin Frank
Cast: Bing Crosby, Danny Kaye, Rosemary Clooney, Vera-Ellen, Dean Jagger
IMDb Ratings: 7.6/10
Rotten Tomatoes Score: 77%
Streaming Platforms: Netflix, iTunes, VUDU, YouTube, Google Play, Microsoft Store
Another favorite Christmas flick, 'White Christmas' is an old yet widely renowned musical released in the year 1954. The story starts on Christmas eve, in the midst of World War II. Veterans Bob Wallace and Phil Davis were entertaining their division after learning that their Major has to be relieved of his command.
Post-war, Bob convinces Phil to join him in an act and later become full-time entertainers. Bob and Phil meet another duo, Betty and Judy, who are also performers and get romantically involved with them. After discovering, that their Major Waverly has now become a lodge owner, and is almost bankrupt, they do the best they can to help him.
Other Christmas Movies
Netflix is unquestionably everyone's go-to streaming service during the holidays. Here are some other trending holiday movies on Netflix right now.
The Christmas Chronicles 2 (2020)
A Christmas Wish (2011)
A Very Murray Christmas (2015)
Operation Christmas Drop (2020)
A Christmas Prince (2017)
A Christmas Prince: The Royal Wedding (2018)
Klaus (2019)
The Princess Switch: Switched Again (2020)
Holiday Rush (2019)
Holiday in The Wild (2019)
Although a lot of movies on Netflix didn't make it on our list, that doesn't mean they're any less entertaining. Frankly speaking, all the holiday movies are worth watching. Let us get into the spirit of celebration and experience the magic of Christmas.