Christmas is the time to be merry, jolly, and relax for a long, cold holiday season. "Christmas Movies" is a pretty famous genre as in this blissful season, most of the specials come out but sometimes, the choices in the comedy section are restricted and mainstream. Here's a list for you to dive in with your holiday spirit, under your warm blanket and hot chocolate, and let these movies tickle your funny bones.
1. Home Alone
Director: Chris Columbus
Writer: John Hughes
Cast: Macaulay Culkin, Catherine O'Hara, Daniel Stern, Joe Pesci
IMDb ratings: 7.6/10
Rotten Tomatoes: 66%
Streaming Platform: Disney+Hotstar
Home Alone is the kind of movie which will be enjoyed by anyone, from any age group during any season. This Christmas-themed comedy is about an eight-year-old boy who gets left behind by his family at home and how he sets booby traps for 2 burglars who try to break into his house. The young Kevin and his cute, comical energy shine brightly along with some fun scenes. The movie should be added to the "Christmas to-do" list along with other important chores.
2. Home Alone 2: Lost In New York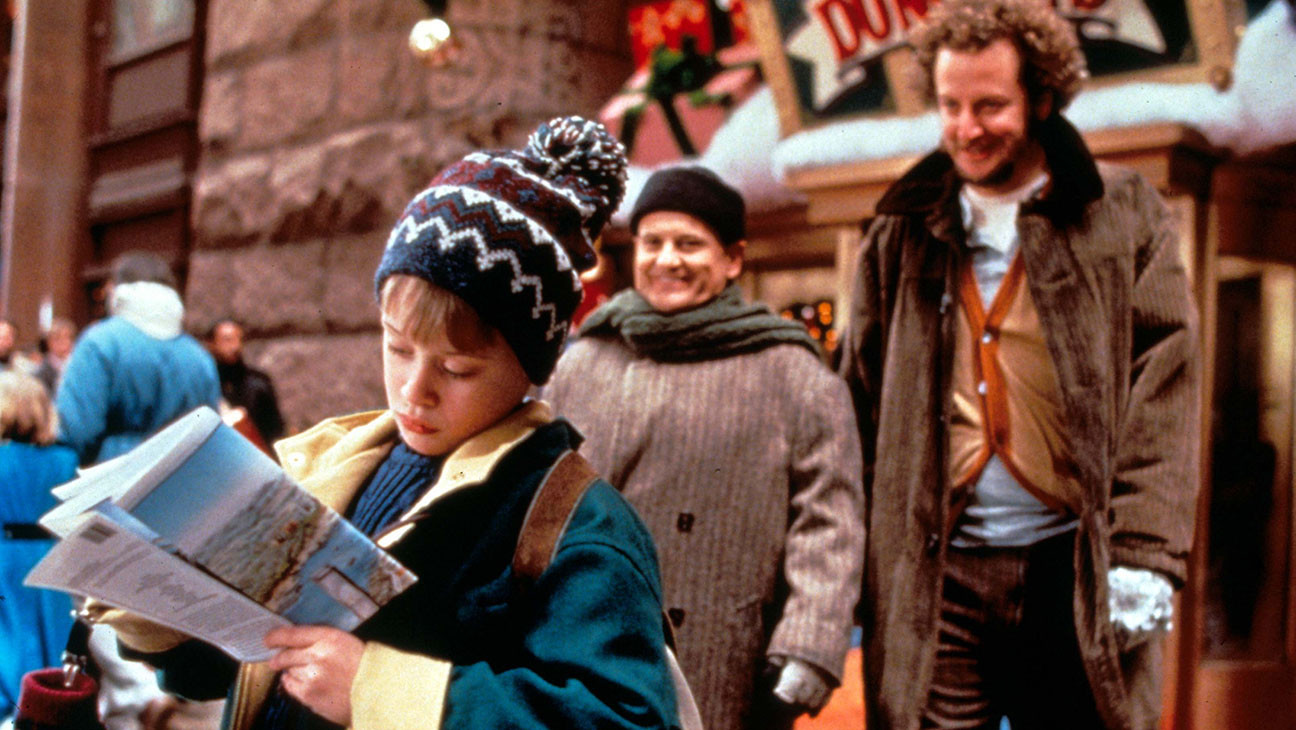 Director: Chris Columbus
Writer: John Hughes
Cast: Macaulay Culkin, Catherine O'Hara, Daniel Stern, Joe Pesci
IMDb ratings: 6.8/10
Rotten Tomatoes: 33%
Streaming Platform: Disney+Hotstar
After the first part which is an instant classic, this one has a different location, but the same funny story. Kevin is now troubling the two burglars through the streets and hotels of New York, while his family sets off for a vacation to somewhere else. This movie has some of the funniest bits and the ploys are a lot more brutal. Again, this movie inclines towards the gladdening side and makes you wish that Christmas could last forever.
3. Bad Moms Christmas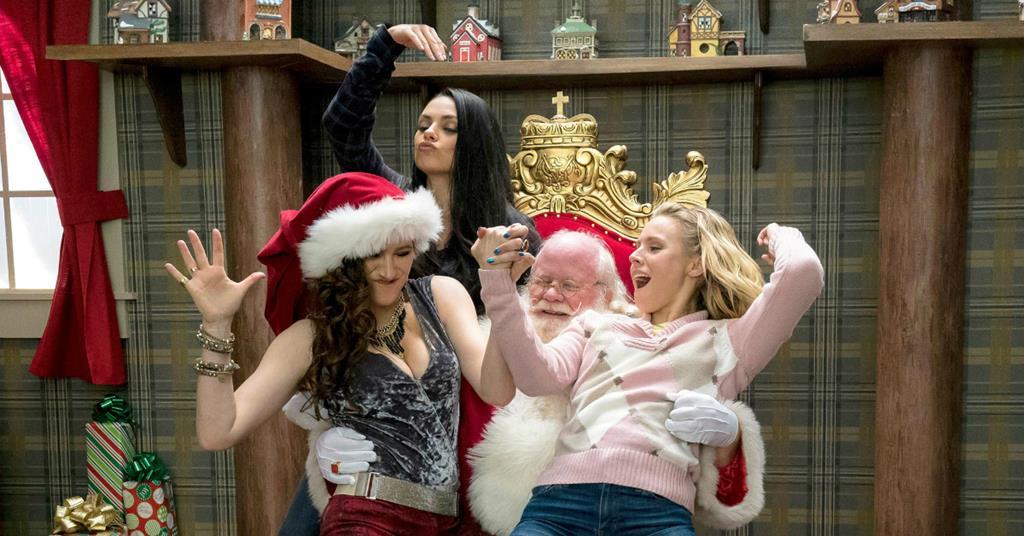 Director: Jon Lucas, Scott Moore
Writer: Jon Lucas, Scott Moore
Cast: Mila Kunis, Kathryn Hahn, Kristen Bell
IMDb ratings: 5.6/10
Rotten Tomatoes: 32%
Streaming Platform: Youtube
This movie is perfect for holiday cheer. 3 women have to deal with arranging Christmas presents for their own family and also manage their mothers who are home for the holiday. This sweet and silly comedy will make you laugh and you'll be overwhelmed with all that cheesiness and giddiness this movie gives. It has parts that are ridiculous with messed-up jokes, but that's all part of the charm.
4. National Lampoon's Christmas Vacation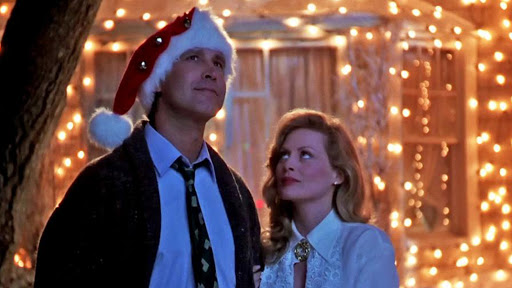 Director: Jeremiah S. Chechik
Writer: John Hughes
Cast: Chevy Chase, Beverly D'Angelo, Johnny Galecki
IMDb ratings: 7.6/10
Rotten Tomatoes: 68%
Streaming Platform: Online
Chase Chevvy as Clark Griswold and his disasters are like the marshmallows on your hot chocolate. It is certainly one of the funniest Christmas movies. It will make you giggle, cringe, squint, and laugh till you are out of breath. It's lovable, warm and a perfect movie to watch on Christmas eve.
5. How The Grinch Stole Christmas
Director: Ron Howard
Writers: Jeffrey Price and Peter S. Seaman
Cast: Jim Carrey, Taylor Momsen, Christine Baranski
IMDb ratings: 6.2/10
Rotten Tomatoes: 49%
Streaming Platform: Netflix
Dr. Suess's children's story about The Grinch not only stole Christmas but also, many hearts. This cinematic delight is about a Grinch who hates his townspeople and Christmas, until a little girl, Cindy Lou comes with her Christmas spirit and tries to make him love the festival. Along with being hilarious because of Grinch's constant sass and mood, it is heartening and you would fall in love with Carrey as The Grinch, for sure.
6. Jingle All The Way
Director: Brian Levant
Writer: Randy Kornfield
Cast: Arnold Schwarzenegger, Sinbad, Rita Wilson
IMDb ratings: 5.6/10
Rotten Tomatoes: 15%
Streaming Platform: Disney+Hotstar
The movie is about a father trying to fight all the other parents to get a 'Turbo Man' for his son on Christmas but has a lot of mini detours. If you think it's going to be emotional, then no, you're wrong. This comedy is all about car chases, action, and an army of Santa. This movie basically portrays all the parents, a night before Christmas, trying to buy that one toy for their kids, in the funniest manner.
7. A Very Harold & Kumar Christmas
Director: Todd Strauss-Schulson
Writers: Jon Hurwitz and Hayden Schlossberg
Cast: Kal Penn, John Cho, Neil Patrick Harris
IMDb ratings: 6.3/10
Rotten Tomatoes: 68%
Streaming Platform: Netflix
This Christmas miracle by Warner Bros. is one of the best installations of this series. Harold and Kumar are leading two different lives, but they come together once again to clean up the mess they made. It might not be the most accurate Christmas movie but it definitely has the vibe of that festival and is bound to make you jolly and silly because of their silly escapades.
8. A Christmas Story
Director: Bob Clark
Writers: Jean Shepherd, Bob Clark, Leigh Brown
Cast: Peter Billingsley, Zack Ward, Jean Shepherd
IMDb ratings: 7.9/10
Rotten Tomatoes: 89%
Streaming Platform: Online
This Christmas comedy is based on Shepherd's childhood incidents. The film is about little Ralphie and his best efforts to get his dream present. The movie is filled with foul language and witty one-liners or dialogues, to make this movie one of the best stories for Christmas.
9. Christmas With The Kranks
Director: Joe Roth
Writer: Chris Columbus
Cast: Tim Allen, Jamie Lee Curtis, Julie Gonzalo
IMDb ratings: 5.4/10
Rotten Tomatoes: 5%
Streaming Platform: Hulu
This movie is best for post-Christmas time. This funny motion picture will make you forget all the bad things in the world only for you to focus on the entertaining plot. After the Kranks decide not to go out for Christmas, their daughter informs them that she's coming for the season, which rushes them to set up a banging party for her. The acting is just the correct amount of 'too much' which goes well with the whole movie.
10. Office Christmas Party
Director: Josh Gordon, Will Speck
Writers: Jon Lucas, Dan Mazer, Justin Malen, Laura Solon
Cast: Jennifer Aniston, Olivia Munn, Jason Bateman, T.J. Miller, Kate McKinnon
IMDb ratings: 5.8/10
Rotten Tomatoes: 41%
Streaming Platform: AppleTV
This movie is mainly for adults with goofy one-liners and a lot of drinking. The acting by the cast, from an uptight HR to a boss who is trying to impress her client and a manager, are all fabulous and would definitely make you laugh by their antics. This movie screams chaotic energies by these irresponsible adults which makes it the right choice to watch post a big Christmas party.
11. A Christmas Carol
Director: Robert Zemeckis
Writer: Robert Zemeckis
Cast: Jim Carrey, Gary Oldman, Colin Firth
IMDb ratings: 6.8/10
Rotten Tomatoes: 52%
Streaming Platform: Disney+Hotstar
The story comes from Charles Dickens' book of the same name. Jim Carrey once again plays the role of an individual who hates Christmas, with a different name which is Ebenezer Scrooge. Three merry spirits enter the picture to change his stories. The idea is quite similar to The Grinch's story, but so is the jolliness in the movie. This cinematic masterpiece aces on every aspect, from style to score, to even teaching life lessons in the form of satire.
12. Bridget Jones's Diary
Director: Sharon Maguire
Writer: Helen Fielding, Richard Curtis, Andrew Davies
Cast: Renee Zellweger, Colin Firth, Hugh Grant
IMDb ratings: 6.7/10
Rotten Tomatoes: 80%
Streaming Platforms: Netflix
This sweet little rom-com is actually set during Christmas, which comes as a huge surprise for many. Christmas is the season of love and this movie has double of that; Bridget, a woman who used to write her desires in her diary had a major change in her lifestyle when she sees 2 men vying for her love. This movie is a cutesy work of art that will make you mushy and feel a lot of emotions, but most of all, it will bring a smile to your face.
13. The Night Before
Director: Jonathan Levine
Writers: Jonathan Levine, Evan Goldberg, Kyle Hunter, Ariel Shaffir
Cast: Seth Rogen, Joseph Gordon Levitt, Anthony Mackie
IMDb ratings: 6.4/10
Rotten Tomatoes: 68%
Streaming Platform: Online
This slapstick comedy about three friends, who want to make the most out of their last Christmas escapade is a must-watch. The cast does a wonderful job in being the riotous trio. Although it's not all about Christmas and the festivities, but the bold adventures of the movie along with an intelligent storyline, the movie has some big laughs.
14. Bad Santa
Director: Terry Zwigoff
Writers: John Requa, Glenn Ficarra
Cast: Billy Bob Thorton, Tony Cox, Brett Kelly, Lauren Graham
IMDb ratings: 7/10
Rotten Tomatoes: 79%
Streaming Platform: Online
Even though the title might seem against the main character of Christmas but it goes beyond what you are expecting. This comedic genius is about a mall Santa and his friend trying to rob the stores on Christmas eve but a young boy comes in their way. This cult classic might not have the most festive spirit but at least it's silly.
15. The Santa Clause
Director: John Pasquin
Writers: Leo Benvenuti, Steve Rudnick
Cast: Tim Allen, Eric Lloyd, Judge Reinhold
IMDb ratings: 6.5/10
Rotten Tomatoes: 72%
Streaming Platform: Youtube
Being Santa Clause is no easy job, it's an oath to keep for life and that's exactly what this hilarious flick shows us. After the old Santa founds his successor, a helpful guy, Scott. It becomes difficult for Scott to adopt the life in the North pole, elves, and keeping his new identity a secret from his wife. This is a popular movie this season because of the freshness in the genre.
16. Trading Places
Director: John Landis
Writers: Timothy Harris, Herschel Weingrod
Cast: Eddie Murphy, Jamie Lee Curtis, Dan Aykroyd, Ralph Bellamy
IMDb ratings: 7.5/10
Rotten Tomatoes: 88%
Streaming Platform: Online
One could use this movie as a guilty pleasure for every season. It is easily one of the funniest Christmas movies ever. Eddie Murphy manages to make the energy even higher and the plot is total debauchery. This 80s comedy is set in Philadelphia about two millionaire brothers, who exchange the fortune of an investor and a con man. The plot is smart, funny and a total hit.
17. Get Santa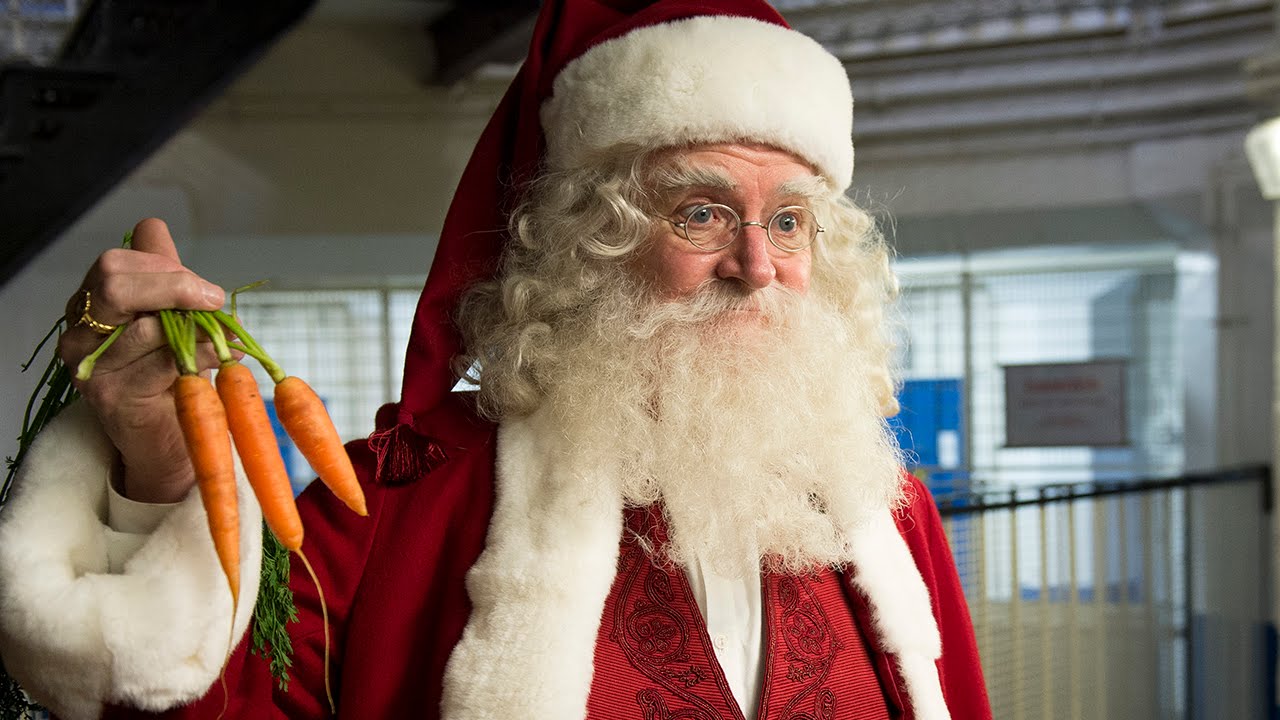 Director: Christopher Smith
Writer: Christopher Smith
Cast: Jim Broadbent, Rafe Spall, Warwick Davis
IMDb ratings: 6.3/10
Rotten Tomatoes: 79%
Streaming Platform: Online
The plot of the movie is about a father and a son trying to get Santa Claus home, and on the way, rediscovering the feeling of Christmas. The premise might be adorable and it also has some very pleasing moments too which are perfect to sit and watch with Children. The humor and the language are not totally appropriate but they bind the movie together. This is a family comedy which you can watch every Christmas and not get bored.
18. Elf
Director: Jon Favreau
Writer: David Berenbaum
Cast: Will Ferrell, James Caan, Zooey Deschanel
IMDb ratings: 7/10
Rotten Tomatoes: 64%
Streaming Platform: Netflix
"Buddy", the Elf is about a human raised among elves, who then goes on a hunt for his actual Father. Elves have never been given so much acknowledgment but this movie makes up for it and how. The plot has so much heart and so does the character, as he is the sweet big Elf. This funny Christmas movie will spread happiness and you wouldn't be looking for Santa at all.
19. Four Christmases
Director: Seth Gordon
Writer: Matt R. Allen, Caleb Wilson, Jon Lucas, Scott Moore
Cast: Vince Vaughn, Reese Witherspoon
IMDb ratings: 5.7/10
Rotten Tomatoes: 25%
Streaming Platform: Netflix
The couple, Kate and Brad wanted a nice getaway to a quiet island but suddenly they had to attend 4 Christmases with their divorced parents. The quirky chemistry between Reese and Vince is the shining star in the movie along with the chaotic energy radiating from every family. It doesn't have the normal saccharine flavor of a Christmas special but it is surely not dull.
20. A Madea Christmas
Director: Tyler Perry
Writer: Tyler Perry
Cast: Tyler Perry, Chad Michael Murray, Tika Sumpter
IMDb ratings: 4.9/10
Rotten Tomatoes: 20%
Streaming Platform: Online
This funny Christmas movie is loud humor, totally dim-witted and a sure shot hit. Perry dresses up as "Aunt Madea", who has too much wisdom in her which is all made up. Madea tries to convince Eileen's daughter to come home but they find out that she has eloped with a white boy, which causes mayhem. The movie has a muddled fun hidden in it, full of comedic instances and a lot of profanities. It also addresses a lot of issues regarding race and religion, in a satirical manner. This movie can be a good watch during the holidays with your family.
20 movies which can go on till the end of Christmas, probably even 'New Years'. Basically, you can jingle all the way. Make your holiday season about laughs, joy, and love with these funny Christmas movies which will transport you to beautiful places or make you feel included in a grand family of fun!