Nothing beats relaxing and watching Christmas anime when it's time to get into the holiday spirit. Christmas-themed anime can make anyone joyful and cheery or provide a festive setting as you open gifts. These animated movies will remain available to keep you feeling festive long after Christmas.
The good news is that several anime are best appreciated in front of warm blankets and twinkling Christmas lights. So get ready because we're discussing a list of anime you can watch over the Christmas season. Let's get started! Christmastime coziness and anime viewing can surely warm your soul!
20. Neo Yokio: Pink Christmas
Director

– Anthony Chun

Writer

– Ezra Koenig, Nick Weidenfeld

Cast

– Julian Barratt, Richard Ayoade

IMDb Rating

– N.A.

Where to Stream

– Amazon Video
Neo Yokio: Pink Christmas might win the top prize for the most ludicrous T.V. movie, as it fulfills all the requirements. This Netflix original epitomizes bold, with a demon Kaiju-style tree attack and a high-concept sci-fi Secret Santa.
Sure, some would criticize this choice as less "genuine" than the other options on the list. Still, everything by Neo Yokio counts since it features animation by Production I.G. and Studio Deen and has numerous "roots" in the history of anime.
19. Tenchi Muyo The Movie 2: Daughter of Darkness
Director

– Satoshi Kimura

Writer

– Marc Handler, Naoko Hasegawa

Cast

– Masami Kikuchi, Ai Orikasa, Yumi Takada

IMDb Rating

– 6.8

Where to Stream

– Amazon Video
Even though it isn't explicitly set at Christmas, this Tenchi Muyo film has a strong Christmas aesthetic.
The references to the happiest season are numerous, ranging from a Jurai holiday similar to ours in which trees are decorated with lovely lights, one of the critical antagonists employing holiday-themed toys as a weapon, to the anti-hero wearing pretty Santa-themed clothing.
The irony of this film is that it is one of the rare Christmas in July anime options because it is set during the summer. No of the time of year, it will put you in the festive spirit.
18. Little Women (1980)
Director

– Yûgo Serikawa

Writer

– Louisa May Alcott, Eiichi Imado

Cast

– Kazuko Sugiyama, Eiko Masuyama, Yôko Asagami

IMDb Rating

– 8

Where to Stream

– Amazon Video
Little Women is one of the best holiday classics there is. It never fails to bring on the holiday spirit.
Based on the well-known book by Mary Louise Alcott, this T.V. movie version examines the early years of the March sisters and includes many enduringly popular wintry scenes.
Although this is the least well-known of the anime adaptations of this story, it is an excellent example of classic shoujo nostalgia with plenty of sparkling-eyed drama that will make you feel festive as it follows the Christmas themes perfectly.
17. Millennium Actress
Director

– Satoshi Kon

Writer

– Sadayuki Murai, Satoshi Kon

Cast

– Miyoko Shôji, Shôzô Îzuka, Mami Koyama

IMDb Rating

– 7.8

Where to Stream

– Amazon Video
Millennium Actress by Satoshi Kon is a masterpiece, despite not being as holiday-appropriate as another choice from the same filmmaker on this list.
It may not have the cheeriest of narratives, and there may not be anything explicitly Christmas-related, but this lists the most crucial scene in the snow.
16. Laid-Back Camp: Movie
Director

– Yoshiaki Kyogoku

Writer

– Afro, Jin Tanaka

Cast

– Yumiri Hanamori, Nao Tôyama

IMDb Rating

– 8.4

Where to Stream

– Amazon Video
Finally, there is no better anime than Laid-Back Camp, a slice-of-life series if all you want is something to make you want to spend a chilly winter by the fireplace.
The program centers on the reclusive Rin Shima, a young woman who enjoys "solo camping" and seeing Japan alone.
We observe as Rin grudgingly meets new friends through her love of camping when her uncommon interest prompts a high school student, Nadeshiko, to find a club devoted to camping.
15. Arctic Dogs
Director

– Aaron Woodley

Writer

– Bob Barlen, Cal Brunker, Matthew Lyon

Cast

– Jeremy Renne, Heidi Klum

IMDb Rating

– 4.7

Where to Stream

– Amazon Video
Swifty, the fox, learns of Otto Von Walrus' cunning scheme to drill beneath the Arctic's surface and release sufficient gas to destroy the entire glacier.
Swifty and his buddies, a reclusive polar bear, a disorganized albatross, a cunning fox, and two neurotic otters, leap into action to thwart Otto's scheme and save the day. It has a lot of vibes of festive vibes.
14. Rise Of The Guardians
Director

– Peter Ramsey

Writer

– David Lindsay-Abaire, William Joyce

Cast

– Hugh Jackman, Alec Baldwin, Isla Fisher

IMDb Rating

– 7.8

Where to Stream

-Netflix
A gang of eternal guardians with excellent skills gets together to defend the children when Pitch, an evil spirit, returns to Earth to attack the kids and rule the world.
13. Sailor Moon S: The Movie
Director

– Hiroki Shibata

Writer

– Sukehiro Tomita, Naoko Takeuchi

Cast

– Kotono Mitsuishi, Aya Hisakawa, Michie Tomizawa

IMDb Rating

– 7.7

Where to Stream

-Amazon Prime
None of the anime films with Christmas themes reach the same fanciful absurdity as Sailor Moon S: The Movie. Along with the usual Sailor Senshi antics, there is a high-stakes romance drama involving Luna and a threat on the order of the Ice Age that could wipe out the Earth.
12. 5 Centimeters Per Second
Director

– Makoto Shinkai

Writer

– Makoto Shinkai

Cast

– Kenji Mizuhashi, Yoshimi Kondou, Satomi Hanamura

IMDb Rating

– 7.5

Where to Stream

-Amazon Prime
With this selection, we wanted to address the unfortunate aspect of anime we all enjoy watching around the holidays.
The narrative in 5 Centimeters Per Second centers on Tohno Takaki and Akari.
Two childhood buddies forced to part ways because of their parents' jobs are two. Distance between them eventually widens due to their failure to stay in constant communication throughout time, and the regret of "what could have been" consumes both of them until their passing.
Even though this anime film is undoubtedly depressing, we all adore it.
11. Love Hina Christmas Special: Silent Eve
Director

– Yoshiaki Iwasaki

Writer

– Shô Aikawa

Cast

– Ken Akamatsu, Yu Asakawa, Steve Blum

IMDb Rating

– 7

Where to Stream

-Amazon Prime
You might be shocked to discover how much you like this special holiday episode, even if you aren't a fan of Love Hina.
If you profess your love on this day, it will come true, according to a rumor that claims the first Christmas of the new millennium is a particularly significant time of year.
As you can expect, it causes quite a commotion and requires Keitaro to make some difficult choices during Christmas. Anyone can enjoy this lighthearted holiday story while decorating or wrapping gifts. It is indeed one of the best Christmas movies.
10. Smallfoot
Director

– Karey Kirkpatrick, Jason Reisig

Writer

– Karey Kirkpatrick

Cast

– Channing Tatum, James Corden, Zendaya

IMDb Rating

– 7

Where to Stream

-Amazon Prime
Friendly Yeti Migo, who asserts that humans evolved, could be expelled from his home. He starts a mission, nonetheless, to show himself and win the peasants' respect. Additionally, it has a few significant Christmas-themed episodes, which is another reason it made our list.
9. Chocotto Sister
Director

– Yasuhiro Kuroda

Writer

– Sakura Takeuchi

Cast

– Daisuke Hirakawa, Rie Kugimiya, Momoko Saito

IMDb Rating

– 7

Where to Stream

-NA
The heartwarming anime series Chocotto Sister has a solid connection between Christmas magic and the season of giving.
Visitors can see a small kid who begged Santa for an unexpected present after his mother miscarried during the holiday season. In addition to requesting Santa to provide his mother with a speedy recovery, he also wished for the sister he was never given.
Even when his desire is not instantly granted, Haruma Kawagoe quickly discovers that Santa enjoys taking his time. The Christmas episode is perfect, and you should watch it.
8. Your Lie in April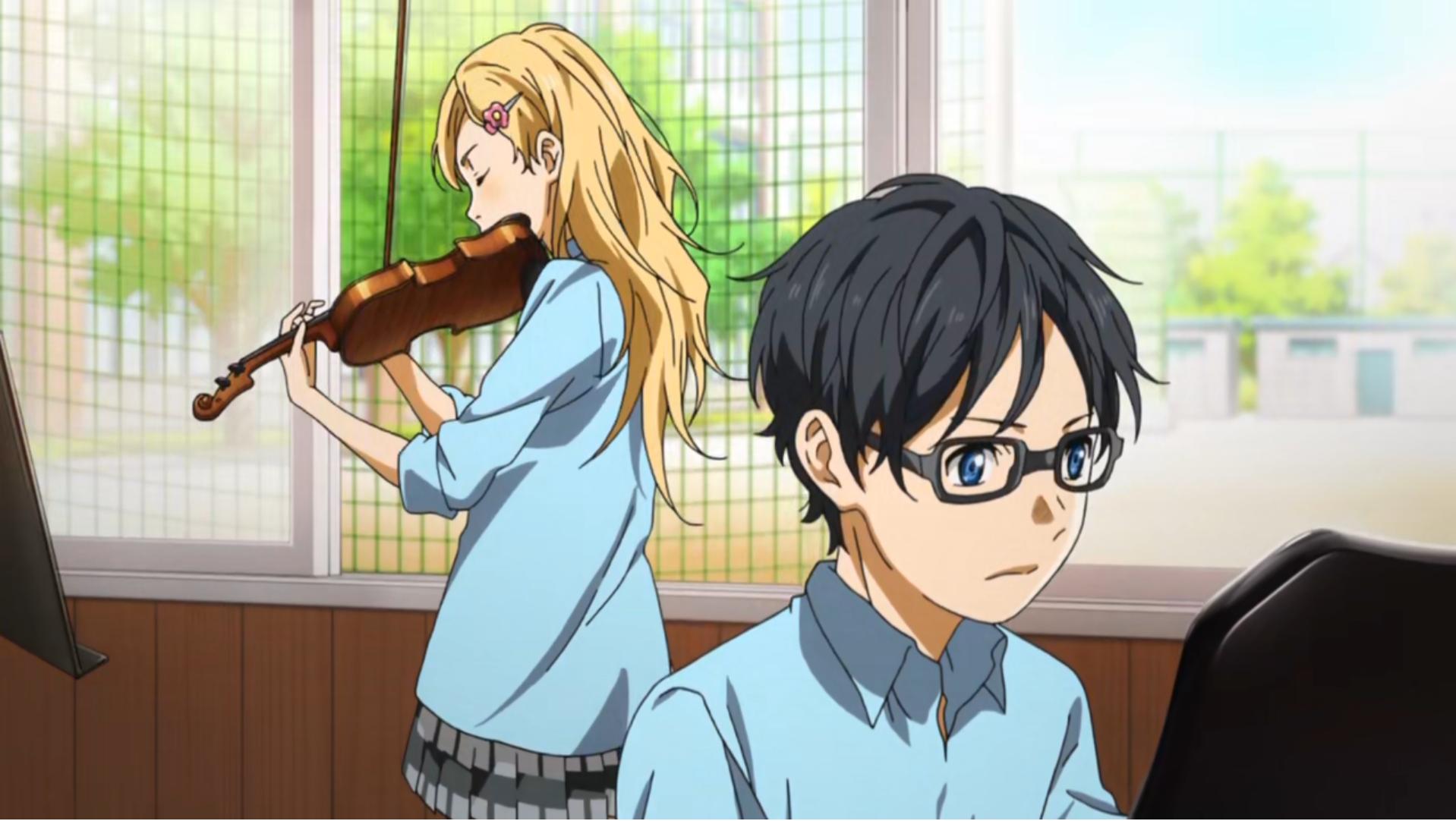 Director

– Kyōhei Ishiguro

Writer

– Takao Yoshioka

Cast

– Natsuki Hanae, Risa Taneda

IMDb Rating

– N.A.

Where to Stream

–
"Your Lie in April," a romantic drama adapted from the manga series of the same name by Naoshi Arakawa, is a tale of hardship and self-discovery. This one takes place in Japan.
Even seasoned artists appreciate the extraordinary pianist Kousei Arima for his talent. However, the young boy tries to deal with the terrible reality of his mother's sudden death, and as a result of the stress, he cannot hear the sound of his piano for the ensuing years.
Arima's life is spiraling out of control when he meets a young lady, Kaori Miyazono, a stunning violinist who encourages him to pick up the piano once more and competes with him.
Arima's experience aids in his recovery from despair, but Kaori is concealing a harsh reality that can send him back over the edge.
7. Whisper of The Heart
Director: 

Yoshifumi Kondō

Writer: 

Aoi Hiiragi

Cast: 

Yoshifumi Kondō, Issei Takahashi

IMDb Ratings: 

7.9

Where to Stream

– Amazon Video
Shizuku, a young girl who enjoys writing but is unsure if it's the direction she should go in life, is the main character in Whisper of the Heart.
Shizuku starts falling in love with Seiki after a few fateful encounters with him. She also learns what it means to choose her course in life and ultimately does so. Seiki motivates Shizuku to pursue her writing profession, just as Seiki does the same for his.
Few anime have the emotional impact that Whisper of the Heart does. There is no better way to start the new year with its depressing but inspirational message.
6. Wolf Children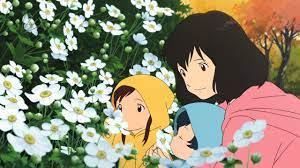 Director

– Mamoru Hosoda

Writer

– Mamoru Hosoda

Cast

– Aoi Miyazaki, Takao Osawa, Haru Kuroki

IMDb Rating

– 8.1
Being a classic from Ghibli, Wolf Children is ideal for this time of year.
Hana, a dedicated college student who falls in love with a man who says he is half-wolf, is the novel's main character. The two fall in love right away and even have a child together.
However, her husband dies, leaving her to raise her two wolf kids alone. Wolf Children gives a different perspective than some other anime on this list. Watch this as the story goes well, and the main character's development is perfect too.
5. The Disappearance of Haruhi Suzumiya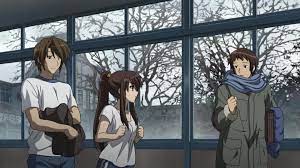 Director

– Tatsuya Ishihara, Yasuhiro Takemoto

Writer

– Nagaru Tanigawa, Fumihiko Shimo

Cast

– Aya Hirano, Tomokazu Sugita, Minori Chihara

IMDb Rating

– 8
The Disappearance of Haruhi Suzumiya is an anime that depicts the events of the fourth Haruhi novel and is another one you'll enjoy viewing at this time of year.
Suzumiya ends up disappearing while the SOS Brigade prepares a holiday party, and oddly enough, everyone's recollection of her begins to fade to the point where they just forget about her.
Nevertheless, it has mystery and enough Christmas-y vibes to keep watching. It is one of the best Christmas anime. It teaches us the true meaning of selflessness and kindness.
4. Kanon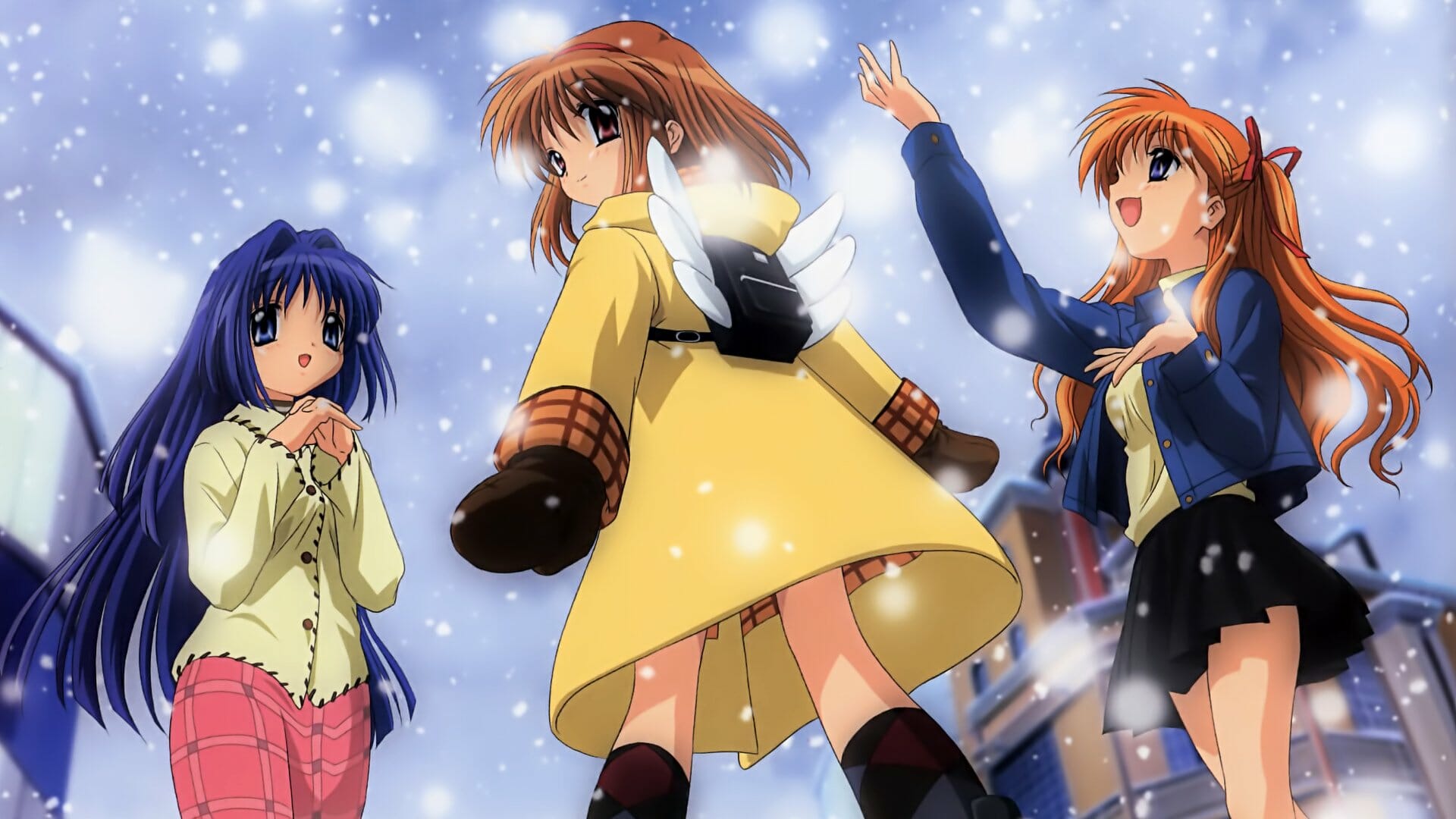 Director

– Tatsuya Ishihara

Writer

– Jun Maeda

Cast

– Chris Patton, Tomokazu Sugita, Mariko Kouda

IMDb Rating

– 8

Where to Stream

–
While Kanon is a fantastic anime to watch during the holidays, most anime fans will agree that this is one of the few times a remake is superior to the original. The 2002 original series is generally considered inferior to the 2006 edition.
The anime is set in a wintery town and centers on a young man who discovers he doesn't remember many of the happy times he used to have there.
Even though the anime is a harem, the depth of each character allows you to have a personal connection to each of these love interests rather than having the impression that the ladies are merely there to fill out the narrative.
3. Tokyo Godfathers
Director

– Satoshi Kon

Writer

– Keiko Nobumoto, Satoshi Kon

Cast

– Tôru Emori, Yoshiaki Umegaki, Aya Okamoto

IMDb Rating

– 7.8

Where to Stream

– Netflix
Imagining another animation with more holiday cheer than Tokyo Godfathers is challenging.
This endearing and amusing cartoon contains three homeless friends who, while rummaging through the trash on Christmas Eve, come across something unusual: an abandoned baby. They try to locate the child's mother and give the baby the meaningful name Kiyoko.
The story is heartwarming and ideal for the holiday season or whenever you're searching for a nice deed that leads to an extraordinary journey, especially for these three homeless people. It is one of the best Christmas anime.
2. Itsudatte, My Santa!
Director

– Noriyoshi Nakamura

Writer

– Ken Akamatsu

Cast

– Ian Sinclair, Brittney Karbowski, Brandon Potter

IMDb Rating

– 5.6

Where to Stream

– Amazon Video
The anime has a plot similar to most Christmas films, but it's delivered with all the eccentricity and feeling you'd expect from a great anime. Despite being born on Christmas Eve, the main character, Santa, despises the season.
That is until he encounters a young woman who appears anxious to cheer up this cranky Santa. You should watch this anime; no need to wait for the winter break now!
1. Winter Sonata
Director

– Daisuke Nakayama

Writer

– Hidetoshi Namura

Cast

– Yong-jun Bae, Choi Ji-woo

IMDb Rating

– 6.5

Where to Stream

– Amazon Video
Winter Sonata is a heartfelt anime romance based on the same-named Korean drama.
The main character of the love story is Yoo Jin, who has chosen to wed a close childhood friend after tragedy takes the guy she fell in love with from her. However, as fate would have it, it appears that her late love was more than a faded memory.
The anime's wintertime setting allows for some breathtaking sequences and perfectly encapsulates the desire for love that many people frequently experience throughout Christmas.
Read More: The 25 Best Christmas Movies on T.V. to Watch Now