Curly hair anime girl in an anime seems to be very attractive and cute. In modern times, viewers often get excited about a series or a movie just knowing who will appear in it and are always enthusiastic about unveiling their first appearance. 
Curly hair Girls in Japanese Anime 
Anime manga series and movies popularly have female characters with curly hair as much as they have straight hair girls. These anime characters attract a broad audience to watch Japanese animation. Although, at times, not just young age or loli girls look sweet, sometimes their hair, dressing style, and other factors do matter. 
Interestingly, girls with curly hair have a shade, length, and other varieties. Most commonly, in manga series, viewers will find wavy hair, curly blonde hair, blonde hair, curly hair, natural curls, dark hair, short hair, long hair, etc. 
Following is a simple compilation of the top 26 curly-haired girls, along with the name of the anime they appear in. 
You must have already watched some of these if you are already an anime fan. These 30 curly-haired girls are the end of the list, but everyone must know about their existence in various manga series. 
1. Sadi
Anime: One Piece 

IMDb Rating: 8.7/10 

Streaming Platforms: Crunchyroll, Netflix, Hulu 
Sadi is a prevalent villain character from One Piece's super hit anime series. Her character is that of a dominating one. Her appearance is bossy. 
She is tall, slim, and has these long, orange-colored unsettling hairs. Some part of which, just like bangs, falls on her face, simply covering her eyes. She appears to define how uniquely they can create a character dressed and brought to life. She rules by her own rules. 
2. Mami Tomoe 
Anime: Puella Magi Madoka Magica 

IMDb Rating: 8.3/10 

Streaming Platforms: Netflix, Hulu 
Mami Tomoe from puella resembles a perfect idea of a girl with curly hair through her combination of classy uniform, yellow eyes, and two big-sized curls falling out perfectly from each end. 
Tomoe from puella magi's appearance makes the viewer fond of her character and the series overall whenever her part comes. Her curls make her appearance more significant and livelier. In addition, her hairstyle matches well with her appearance as an experienced magical girl. 
3. Emma
Anime: The Promised Neverland 

IMDb Rating: 8.4/10 

Streaming Platform: Hulu (Free Trial) 
Emma is a cute little young-aged orphan girl. She is full of life and emotions, eager to learn, cares a lot, and is loaded with optimism. 
Her appearance involves: 
Her dressing style. 

Curly orange-colored short hair. 

Her charismatic and jolly nature is evident from the very start. 
She dares, she cares, and has the incredible potential to lead for the betterment of everyone around her. Also, her extroverted nature helps her interact well with most people and form good friendship bonds quickly. 
4. Biscuit Krueger 
Anime: Hunter x Hunter 

IMDb Rating: 9/10 

Streaming Platform: Netflix 
This anime girl comes with a popularly called and self-proclaimed nickname, 'Bisky.' Her two ends of large-sized blonde hair curled up in ponytails are fascinating. 
Though she is a supporting character in the anime series, her hairstyling and overall appearance call the audience to pay equal attention to her. She is intelligent, intelligent, and an excellent hunter. She has excellent teaching skills and goes on an exciting treasure-searching journey. 
5. Harime Nui 
Anime: Kill la kill 

IMDb Rating: 7.9/10 

Streaming Platform: Hulu (Free Trial) 
Nui is a cute curly haired anime girl who thrills the viewers with her grand appearance, which includes her giant-sized curly hair along with a pink ribbon and her inward personality of dealing with people smartly. 
She is seen dragging away anyone who tries to bring a fight with her. Though she has a defined supporting role as a civilian, she is more than you could ever imagine. 
Bond and mighty, young and full of energy. She knows the way out. She has a pretty long list of enemies, but her character is fresh and raw. 
6. Melty Q Melromarc 
Anime: The Rising of the Shield Hero 

IMDb Rating: 8.1/10 

Streaming Platform: Hulu (Free Trial)
Funimation Melty is one of the popular anime girls with blue eyes and blue curly hair. She is simply a delightful one. 
Her appearance occurs a bit later, as she is a supporting character. But that won't lower the significance that she deserves. It is exciting to watch her throughout the series. The way she behaves around her favorite person and claims herself the queen is an exciting set of events. 
7. Tsumugi Inuzuka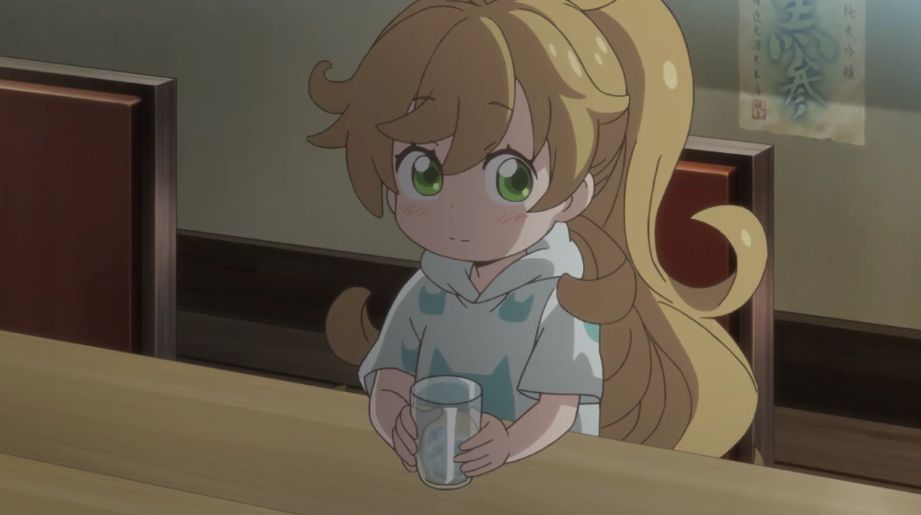 Anime: Sweetness and lightning 

IMDb Rating: 7.3/10 

Streaming Platform: Crunchyroll 
Sometimes, not all anime characters have a significant purpose of fulfillment during a series. Like Inuzuka with her fluffy and volumed curly hair and sweetness, some are nice girls and simply there to sugarcoat the storyline. 
Her presence is joyful and full of happy vibes, and her cuteness is simply delightful. Her presence adds another reason to binge-watch it. 
Other characteristics include being disciplined, humble, and enthusiastic. Also, she is superly fond of the magic girl, a show. 
8. Angela Carpenter
Anime: Carole and Tuesday 

IMDb Rating: 7.8/10 

Streaming Platform: Netflix 
Angela appears in the series with her perfect embodiment of curly dark hair. 
Though, she belongs to a wealthy family and happens to love singing. But she is overall a safe, sweet, and happening anime character of all the other characters. 
She has a dark past, so he might seem to act differently. But this is sure that she plays her part in the series without harming others. 
9. Launch 
Anime: Dragon Ball 

IMDb Rating: 8.5/10 

Streaming Platform: Hulu (Free Trial) 
The launch is a female character in the most popular series Dragon Ball. She has blue-colored curly hair. The audience will get a complete sense of her appearance slowly as her presence is not limited to one side alone.
The launch has multiple sides to her personality, and it is interesting to realize that the two sides revealed in the series are somewhat opposite to one another. 
One way is when she appears to be kind, helpful, and a nice girl. But, on the other hand, she is unkind, not helpful, and even the opposite of nice.
10. Sakura 
Anime: Don't Toy with Me Miss Nagatoro 

IMDb Rating: 7.3/10 

Streaming Platform: Netflix 
Sakura is another anime girl who appears in Don't toy with Miss Nagatoro. She has this short curly blonde hair and a sweet voice. 
Though it is known that her appearance is limited and even occurs the least number of times. But, due to her distinctive personality, the audience pays equal attention to her presence. She is a part of a group that isn't any good. But she has her character, which isolates her from other characters. 
11. Mai Valentine 
Anime: Yu-Gi-Oh! 

IMDb Rating: 7.3/10 

Streaming Platform: Hulu (Free Trial) 
Mai appears in the top-rated anime series as one of the major supporting female characters. She has an appealing appearance with long blonde curly hair and a sophisticated lifestyle. 
She is seen fighting various duels. Though her winning score is not that high, she enjoys her time on the battleground. But, as sweet as she appears, she is equally dangerous. 
12. Moeka Kiryu 
Anime: Steins, Gate 

IMDb Rating: 8.8/10 

Streaming Platform: Netflix 
Moeka is a popular anime character with a highly appealing profile, Finest shinning curly hair, always seen with her rectangular-shaped glasses and purple phone. But, as much as her dressing style and personality are quick to attract, her performance and role in the series are equally delightful. 
She is an easy character, making the audience crave more. She is intelligent and intelligent. 
13. Dairenji Suzuka 
Anime: Tokyo Ravens 

IMDb Rating: 7.4/10 

Streaming Platform: Hulu (Free Trial) 
Dairenji has an exclusive personality and lifestyle. She appears to have blue eyes, blonde curly hair with a drill head, and an elegantly dressing sense. 
You will fall for her cuteness, but it is not all that it is. She has a set of inward trials that will be disclosed eventually. She is the youngest in line but equally powerful and bold. Her presence brings a new kind of aura to the surroundings. 
14. Tatsumaki 
Anime: One Punch Man 

IMDb Rating: 8.7/10 

Streaming Platform: Netflix 
Tatsumaki appears to us with a very raw and unique personality. She has natural curly, green-colored hair and green-colored eyes. 
She is often seen as much younger than she is. Mistaken for her age, but clear-headed with personality. Sometimes, she might lose her head and temper, but that is because of the mess she is surrounded with. 
15. Kagari Izuriha 
Anime: Black Rock Shooter 

IMDb Rating: 6.4/10 

Streaming Platform: Crunchyroll

 
Kagari is doubtlessly our cute little anime girl. She appears with messy blonde curly hair. Though it was partially believed that she would be stuck in a wheelchair for the rest of her life, it soon brought down this illusionary idea. 
Ever since she started going to school, her overall appearance has advanced. Along with a school uniform, her hairstyle seemed fresh. For school, she tied up her hair with the help of pink ribbons, forming a side ponytail and cute tick-tack clips. 
16. Selnia Lori Flameheart 
Anime: Ladies Versus Butlers 

IMDb Rating: 6.7/10 

Streaming Platforms: Crunchyroll, 9anime 
Selina is a character who has cute curly hair that are pigtails shaped. She smoothly carries her drill-styled hair in a very sharp and transparent way. 
She comes from a wealthy family and has a straightforward attitude toward everything that crosses her life. 
17. Quetzalcoatl 
Anime: Miss Kabayashi's Dragon Maid 

IMDb Rating: 7.7/10 

Streaming Platforms: Crunchyroll, Funimation 
This anime girl has boosted her presence. Her smile, blonde curly hair, and big busts collectively bring the audience's attention to her. In addition, she is a kind-hearted girl, perfect for the babysitter role, and is caring by nature.
18. Ravel Phenex 
Anime: High School DxD 

IMDb Rating: 7.6/10 

Streaming Platform: Netflix 
In High school dxd, Ravel is one of our favorites simply because of her muscular appearance. One of the bright and bold female characters one could get the chance to meet. 
Her blonde curly hairs are another reason to love her and appreciate her presence in the series. Interestingly, she ties up her hair to form a cute ponytail. This doubles the cuteness that she already possesses. 
19. Ichigo Hoshimiya 
Anime: Aikatsu 

IMDb Rating: 7.7/10 

Streaming Platforms: DAISUKi's YouTube & Website 
Ichigo is a sparkling, unique anime female character and she has long blonde colored hair tied up neatly with red ribbons and a red hairband. She is a darling character, one of a kind. Her appearance is remarkable, and her hair is often tied up. It is fun to watch her as she impresses the audience entirely with her moves and overall presence. 
20. Elizabeth Midford 
Anime: Black Butler 

IMDb Rating: 7.7/10 

Streaming Platform: Hulu (Free Trial) 
Elizabeth Medford comes with a cute character, and she is the sweetest and most delightful. However, she does not just seem to keep her cuteness to herself. Instead, she wishes to share it and spread it amongst everyone who lives around her. 
In the series, she has a cute relationship going on. However, her young and merry life is distant from the darkness of reality. 
21. Brigitte (Rosie) Shark 
Anime: Valkyria Chronicles 

IMDb Rating: 7.3/10 

Streaming Platforms: Netflix, Apple iTunes 
This anime character is often called 'Rosie.' She isn't any loli because of her rather rough kind of personality. Rosie carries her brown curly hair that matches with her eye color. She carries it in a very proud manner.
Rosie has her likes and dislikes about things and people. However, she always appears in her uniform dress and walks around bravely. 
22. Marie 
Anime: Girls and Panzer 

IMDb Rating: 7.5/10 

Streaming Platforms: HiDive, Crunchyroll 
Marie is a short-height girl who often appears in her blue-colored uniform. She has long blonde colored hair and is a school-going girl. She carries sweet characteristics, and she is usually spotted eating cake. 
23. Airu Suzaki 
Anime: Digimon Fusion 

IMDb Rating: 6.5/10 

Streaming Platform: Crunchyroll 
Airu is a cute anime doll-like character. She has curly blonde pigtail hair, and her eyes are dark pink colored; she seems cute, bubbly nature and full of life. 
In the series, she shines through her overall presence and brings delight to every viewer who watches her jump around. 
24. Sarah Dupont 
Anime: Kaleido Star 

IMDb Rating: 7.9/10 

Streaming Platform: Hulu Free Trial 
Sarah is a well-established trainer anime girl who often appears in her trainer's clothes. She carries well her curly hair and has a kind heart. Rare to find a cute anime girl like her.
25. Saaya Yamabuki
Anime: BanG Dream! 

IMDb Rating: 6.9/10 

Streaming Platform: Crunchyroll 
Saaya comes in this well-known series with such thrilling high pigtail blonde curly hair. Her outfits are often different and of their kind. She is different from other characters, different in a sparkling way. Her role in the series is noteworthy and easy to remember, hard to forget. 
26. Chariot
Anime: Black Rock Shooter

IMDb Rating: 6.3/10 

Streaming Platforms: Hotstar, Hulu, Crunchyroll 
Chariot is a pale-skinned anime girl. She has curly hair, and she wears a big spiky crown and a black dress with claw-like gloves. And the unique thing about her is her choice of footwear. She wears black metallic thigh-length socks with black and yellow wheels with spikes. 
27. Suzuka Darienji
Anime: Tokyo Ravens
IMDb Rating: 7.3/10 
Streaming Platform: Crunchyroll
Among the Twelve Divine Generals, Suzuka Darienji is the youngest one. She is a genius girl and plays a significant role in the Tokyo Ravens anime. She has unique blond hair with swirls on both sides. Her outfit combination includes a cute black and purple lolita dress, black boots, white belt with silver heart buckle and black skirt. 
28. Leone
Anime: Akame ga Kill!
IMDb Rating: 7.8/10 
Streaming Platform: Crunchyroll
Possessing excellent information gathering and decision-making skills Leone is one of the older members of the Night Raid which is an assassination group. She is a young and attractive woman with short blonde hair. She usually wears an outfit that's quite revealing, including black tube top, pants, boots and a scarf. 
29. Michiru Kaiō/ Sailor Neptune
Anime: Sailor Moon
IMDb Rating: 7.7/10 
Streaming Platform: Crunchyroll
Michiru Kaio is a famous pianist along with being the incarceration of Sailor Neptune. Like all Sailor Guardians she has two forms. One is her civilian form which consists of a blend of excellent fashion and exquisite looks. In her Sailor form she wears a white leotard with sea green skirt. Her overall beautiful outfit is made even more attractive by her lustrous green wavy hair. 
30. Nejire Hado
Anime: My Hero Academia
IMDb Rating: 8.3/10 
Streaming Platform: Crunchyroll
Nejire Hado is a third-year student at the Hero Academy and is also one the three strongest students. Her distinctive look is linked with her Wave motion ability. She is a carefree and talkative girl. She has curvy, spring-like, beautiful long hair that is periwinkled. Her charming personality and big smile on her face makes a great fit as an ideal senior. 
Conclusion
Here, what we have talked about is lengthy yet with some short descriptive details of female characters with curly hair.
Some are relatively young at age, and some are grown-ups. Some wear ribbons very fashionably to tie their hair, and some keep their hair falling naturally. 
As anime fans, or even the ones who are new to it, you must know that Japan is full of such curly hair anime series, so you must dive deep and watch these curly hair anime girls performing at their best in the mentioned anime series.