One of the best sports anime is Haikyuu!! Haruichi Furudate follows Shoyo Hinata and his volleyball team at Karasuno High School to compete against rival local, regional, and national teams. Also, here is the list of the best Haikyuu anime teams ever made.
The infamous Battle of the Garbage Dump rival match between Nekoma High School and Karasuno; will take place in the upcoming season-related topics.
In Haikyuu!!, everyone has a chance to shine, and thanks to many endearing characters, it's simple to root for any squad, regardless of who the opponents are.
In their fast ascent from "flightless birds" to the orange court, Karasuno faces some of the most formidable opponents in Japan. However, the nation's top ace, outstanding setters, and unbreakable blocks all come together in Haikyuu!!
10. Mujinazaka High
Kuroo claims that Mujinazaka places a strong emphasis on exercise. They are a team that prioritizes offensive, similar to Karasuno.
One of the top three aces and the team captain, Kiry, Usui, the team's setter, and the "Twin Towers," Annan and Mami, are some of Mujinazaka's best players. He gave them excellent mental skills and maintained their composure, whether they won or lost.
9. Date Tech
Date Tech is also renowned for its defense, but this time it comes in the form of impenetrable blocks that have earned the team the moniker "Iron Wall." Their banner has the exact text, and was achieved because their team has the highest block rate in Miyagi.
All of Date Tech's players are very tall, including their captain and star player Futakuchi, their enormous first-year best setter Koganegawa, and their top middle blocker and most terrifying player Aone. He and his teammates use bunch read blocking, a formation that positions multiple blockers before the spiker after determining who it will be.
8. Aoba Johsai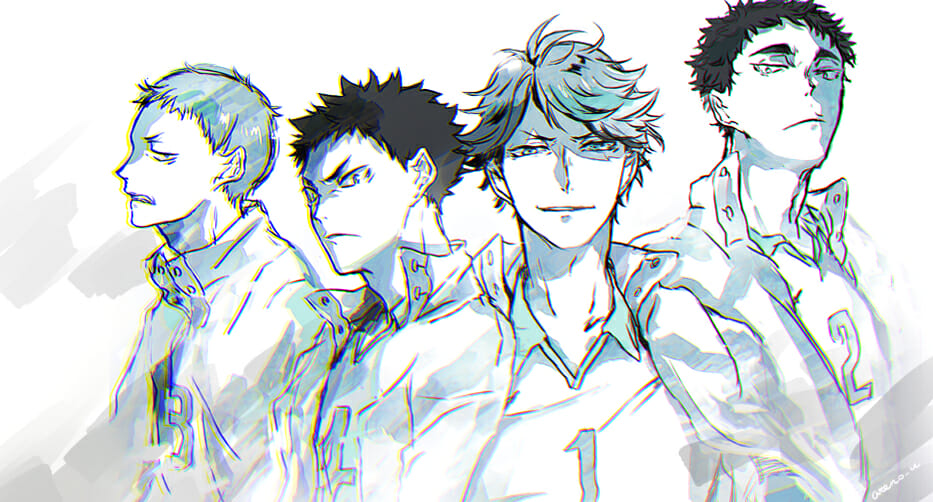 Among the top four in the prefecture is Aoba Johsai, popularly known as Seijoh. They keep up the pressure and develop into a team known for possessing a good six, despite their struggles against Shiratorizawa to advance to the Nationals.
Tooru Oikawa, the team captain and setter, is Miyagi's most incredible all-around performer and adds equilibrium to a group of players with solid skills, the majority powerful enough to be aces.
Their captain, who understands how to bring out the best in everyone on his team, controls the intensity of Matsukawa's blocks, Hanamaki's digs, Kyoutani's razor-sharp cut shots, Watari's receives, and Iwaizumi's ace power. Izumi and Mad Dog, both powerful spikers in their own right, are Oikawa's best weapons.
7. Shiratorizawa Academy
Shiratorizawa, the reigning champions for a few years, was one of the nation's top teams and consistently did well at nationals.
Ushijima, a volleyball player for the Shiratorizawa team, maybe the nation's strongest. However, their greatest asset also turned out to be their most significant liability since they rely so much on Ushijima that their outstanding middle blocker Tendo is the only other real noteworthy player.
However, Shiratorizawa were perennial champions, and any level of high school play team should respect the sword and shield of Ushijima and Tendo.
Power and intensity were the cornerstones of how best teams coach Tanji Washijo constructed Shiratorizawa's volleyball teams. The team held the title of Miyagi's prefectural champion for many years, and many players were on athletic scholarships.
Super-ace Ushijima Wakatoshi is one of Japan's top three aces because of his ability to use physical force to beat through even the tightest blocks or the most clever tactics.
His teammates are similarly skillful, including middle blocker Tendou, who can block any placement of spikes with his "Guess Monster" approach, and they are all expected to concentrate their might on Ushijima so that he can beat him.
The other teams were shocked by Shiratorizawa losing at the hands of the ascendant Karasuno because of their threatening strength, stature, and presence.
6. Nekoma High 
Nekoma's team banner, which reads "Connect," fits them nicely, unlike Nohebi. Nekoma is the ideal squad to play if volleyball is a game where you never let the ball touch the ground.
Defense, in the form of consistent digs and receives, solid blocks and one-touches, and adaptability is the name of their game. A single extended rally can wear down an opponent more quickly than one or two points earned, as Nekoma easily picks up spikes and immediately transitions back into an offensive stance.
Nekoma High compensates for the lack of Karasuno's offensive power by making brilliant plays and working well as a team. They can put up blocks in ways that guarantee the guys on the floor will recover the ball.
They have yet to lose to their ill-fated rival current team Karasuno in a single practice match, and the following season's Spring Nationals will mark their first real matchup.
However, there's a case for Kurasuno's primary adversary, Nekoma, being the strongest overall defensive team in the entire series, and they're undoubtedly the best at receiving.
Nekoma emphasizes teamwork over individual brilliance, yet Kuroo, the team captain, is undoubtedly their best team player. Kuroo is arguably the most passable defensive player in the series, even though he may not be as adept at getting kill blocks as Aone or Tendo.
On the other side, He passes the ball to Kenma's optimum position while blocking and receiving at a high level.
5. Inarizaki Team
Inazrizaki, one of the tournament's top two teams, was defeated by Kurasuno in a startlingly close second-round practice match.
Haikyuu! Fidelity!'s to real sports is one of its best focus assets. In athletic competition, better teams frequently fall to inferior opponents, and Inarizaki and Kurasuno were no exception. The Miya twins and top-five ace Aran make Inarizaki High a more robust team overall. However, the teams were closer than they initially appeared.
4. Karasuno High School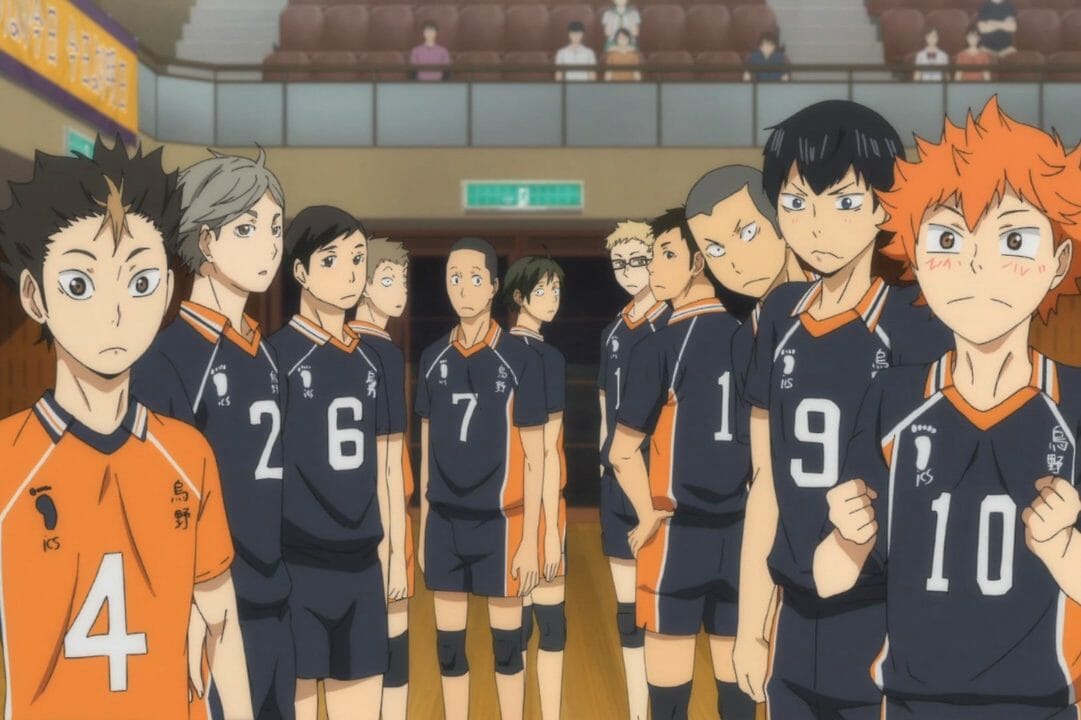 The rapid ascent of star ace Karasuno from "flightless crows" to national-level competitors after defeating Shiratorizawa, the reigning prefectural champion, makes them so terrifying.
This is primarily due to Shoyo Hinata's incredible speed and height of the jump, as well as Tobio Kageyama's precise positioning to create their "freak rapid assault." Many believe Kageyama, already one of the prefecture's best setters, will succeed in the sport.
The fact that the primary team Karasuno is well-rounded is one of their other advantages. Asahi's potent spikes, Noya's outstanding defense as a well-known high school libero, and Tsukishima's block outs that only get stronger as he comes to love the game are all complemented by the "Freak Duoassault "'s strategy.
3. Kamomedai High School
At this stage in the anime, only one character, Hoshiumi, the new little giant and Hinata's primary competition in the Spring Tournament, is familiar with Kamomedai, the best blocking team.
Hashimi is unquestionably one of the best competitors in the national competition. Although Kamomedai team functions haven't received much attention from anime-focused fans, they have advanced to the third round of the competition.
They are unquestionably favorites to take home the trophy. Few competitors at nationals have received as much attention as Hoshiumi, who now joins Sakura and Bokuto as the most feared competitors there.
The three pillars of Kamomedai's style of play are mental toughness, serving, and blocking. With read blocking as a specialty and utilization of bunch, stack, and shade formations, their blocking is among the best in Japan.
Professional spring tournament coach Aaron Murphy gave them a feeling of mental toughness. Regardless of how the best team performs, they keep up their usual jump serve effort, mental strength, and play.
The 203-centimeter-tall Hakuba middle blocker Hirugami, known as "Immovable Hirugami," and Kourai Hoshiumi, Kamomedai's star and "Little Giant," are some of their well-known second-year players. Hashimi also shares Hinata's enormous leap height and enthusiasm for the game.
2. Fukurōdani Academy 
With Inarizaki's early withdrawal, Fukurodani, one of the teams most responsible for Kurasuno's development, might be the spring tournament favorite.
Bokuto and Akashi have one of the best friendships and partnerships in Haikyuu!! Bokuto's "emo mode" is the only real weakness of Fukurodani, but he also has the most significant potential of anyone in the series. Bokuto poses a danger to being the top player in the competition and unseats even Sakura when he maintains composure and is at his best.
While the other volleyball team concentrates on the setting, defense, and spiking, vice-captain Akashi leads players like Konoha, Komi, and Onaga, resulting in a solid team and strong collaboration.
The three main specialties of the Fukudorani Kamomedai Team are blocking, mental toughness, and serving. He ranks among the top five aces in Japan and has worked with his squad to instruct Nationals throughout his three high school years.
They organize training camps for high school students with assistance from other schools. Because of their ace Bokuto, with whom they have won the national championship every year, since he joins, they are presently ranked fourth in Tokyo.
1. Itachiyama Academy
Itachiyama is the clear favorite point to win the spring event and has been winning the most recent national competition.
Sakura, Itachiyama's ace and one of Japan's top players has previously been depicted in the anime. Sakura is the best ace on the tournament team; other than that and the fact that he hates germs not much is known about him. However, the top seed and clear favorite to win the competition must be treated with respect.
Although there is less information available about Itachiyama Institute teams, what is known demonstrates its potential for strength. However, their level of accomplishment is what most frightens me.
Tokyo's top squad, Itachiyama, boasts several players who are among the finest in the country at their position. For example, Itachiyama Haikyuu, one of the three aces, is on this high school volleyball team along with some other impressive players and a good player.
Sakura is among the top five aces, Komori is the top high school libero in Japan, and captain and setter Iizuna was the Junior Olympic Cup top setter. Itachiyama beat Fukurodani, Nekoma, and Nohebi to win the Inter-High quarter-finals in Tokyo and advance to the National tournament.
Read More: 20 Best Haikyuu Anime Players Of All Time