These Shrek best movie Quotes will encourage you to discover happiness at home. Shrék was first released in 2001 and delighted everyone! Various stories captivated young people. The humor was seamless and kept both kids and adults engaged.
The movie is a huge success and has become the basis for an ogre-themed film franchise. Mike Meyers' voice Shrek stole millions' hearts while reminding us about ourselves. Shrek consists of many iconic characters. Although Donkey, portrayed by Eddie Murphy, is an unforgettable performance.
Check out these top quotes from Shrek…
20. "Ogres are like onions."
– Shrek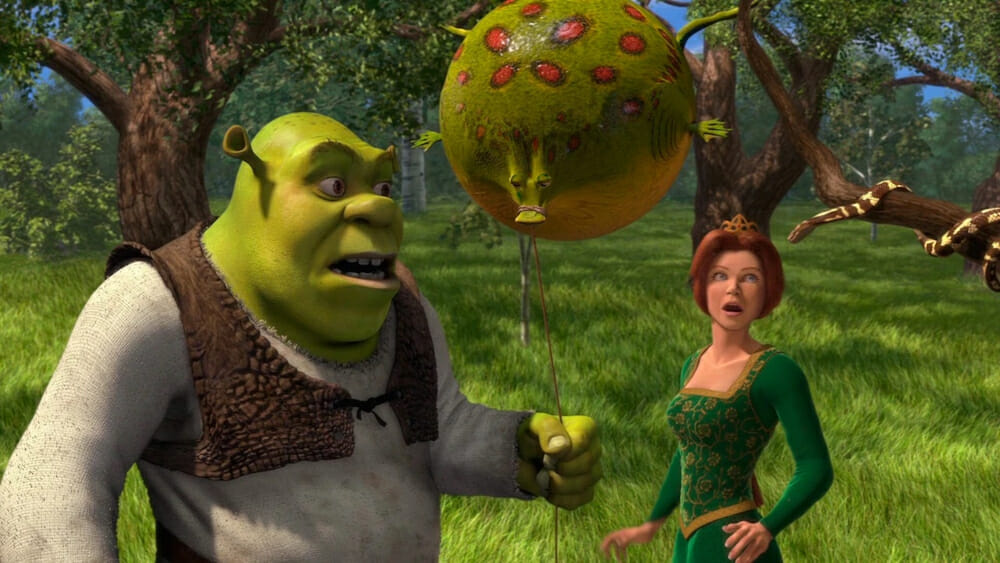 Shrek has all the best quotes lined up for you. It will give you a trip down memory lane. A lane that you thought was lost in the past of your childhood. Oh, dear friend, you are mistaken here. We have come up with quotes from the movie Shrek and its other preceding parts.
And it will also show you how some old fairy tale characters have evolved. The Fairy Godmother doesn't care whose fault this was; get it sorted! And could someone please bring her something deep-fried and smothered in chocolate?
Read More: The 20 Best Son-In-Law Movie Quotes That Steal The Show
19. "Donkey, you have the right to remain silent. What you lack is the capacity. "
– Shrek
And how can we forget the best friend of this lead guy? If you start looking closely, they will give you friendship goals—one friend who is deep in love
. At the same time, the other talks sense to another. We do not know what will happen if this does not reek of a strong friendship. And this is not how best friend duos go. Think about it now, will you, laddie? Shrek and Donkey are the team. In Donkey's opinion, Huh, celebrity marriages! They never last, do they?
18. "She was locked away in a castle guarded by a terrible fire-breathing dragon. Many brave knights had attempted to free her from this dreadful prison, but none prevailed."
– Narrator
It becomes pretty apparent that there will be a narrative voice. After all, it is a fairy tale with some twists. And this voice may surprise you if you re-watch the movie again.
Of, we are sure you have already seen the movie a couple of hundred times in your younger days. There is nothing better than going through it once again.
17. "Now, ogres—oh, they're much worse. They'll make a suit from your freshly peeled skin! They'll shave your liver and squeeze the jelly from your eyes! It's quite good on toast."
– Shrek
Take a pick on the choice of demons and monsters. Well, at least by the guide Shrek gives you. And he has his beautiful way of defining them.
A type that will give those monsters a whole level of a make-over. After all, it is time to get a new look. And Shrek gives them a unique and pretty description. One will stay in your memory until you pass out from laughing at it.
16. "Well, that's not very nice. It's just a donkey."
— Shrek
Now Shrek has a view of his Donkey. And that is one of irritation and headache. But again, is that not how we see our besties too? After all, they are the only people insane enough to deal with us. And no matter the situation, they are always ready to have our back.
Now, you may cuss your best friend no matter how much, but you must agree with us. Oh, and there's another thing we have in common. The Donkey hates it when you've got someone in your face, you try to give someone a hint, and they won't leave, and then there's that big awkward silence."
15. "Shrek, Fiona…will you accept an old frog's apology and my blessing?"
— King Harold
Now, what do we have here? Any fairy tale is incomplete without the parents objecting to the lead story. And the same has been the case with the level of Fiona.
She is a princess, and her father does not like her love story. His love story with Shrek changed at the end. As for Lord Farquaad, he is not the monster here. Others are. And the rest of that fairy tale trash, poisoning his perfect world. Now, who's going to tell him?
14. "That must be Lord Farquaad's castle. Do you think he's maybe compensating for something?"
– Shrek
Now Shrek always has an interesting viewpoint on the situations. After all, he will be the chosen one by the Princess herself. And his traits bloom from the very start. Eventually, we see him implementing his attributes in every way.
Do you think Donkey is too happy about it? We guess not! The Donkey and his sarcasm with an "Oh, " which is lovely. You know, you're quite a decorator. It's amazing what you've done with such a modest budget."
13. "There's a stack of freshly made waffles in the middle of the forest! Don't you find that a wee bit suspicious? "
~Shrek
Shrek is also good at understanding and detecting problems. Well, he is a character who looks like a monster. But with the heart which can win the whole town.
Well, not at the very beginning. But with time, he starts to show how much he loves and cares for the Princess. In Princess Fiona's opinion, this isn't right. They're meant to charge in; the sword is drawn, and the banner is flying. That's what all the other knights did.
12. "Now, why don't you go to celebrate your freedom with your friends? Hmm?"
~Shrek
Sometimes even our hero is not devoid of the hardships of emotions. And at times, the ones who hurt us are the closest to us. And the only person most comparable to Shrek is the Donkey.
Have you ever wondered if his best friend could hurt him? Especially with words. Oh, and they even broke their friendship. Over what! What do you do when the Donkey says you need some Tic Tacs? Because your breath stinks.
11. "Hey! I'm no one's messenger boy, all right? I'm a delivery boy. "
– Shrek
This movie has got to have some moves. The moves it pulled off in its script kept people glued to their seats and screens.
Some people went to see the movie repeatedly. This movie does not fail to put in some slightly offensive daily life jokes. But borderline funny. Magic Mirror has been caught saying, Although she lives with seven other men, she's not easy.
10. "Once upon a time, there was a lovely princess. But she had an enchantment of a fearful sort that could only be broken by love's first kiss. "
– Narrator
And here we have the narrator again. This narrator does have some good lines that fit reasonably into a good romance. And what else is left? The love that does not die and needs a prince charming. Well, in this case, Shrek is lovely.
9. "Don't worry. Things seem bad because it's dark and rainy, and Fiona's father hired a sleazy hitman to whack you."
— Donkey
Donkey always got some hot-shot sleazy lines. Lines that can lift your mood in an instant. And you will not even need to think twice. This guy is a mix of logic and humor. No wonder he won the dragon's heart.
8. "It's gonna be champagne wishes and caviar dreams from now on."
– Donkey
And he is also a foodie, just like all of us. How we look at food is precisely how Shrek looked at Fiona. And you know what that makes?
A love story, baby! Guess we all have something in common. She then waited in the dragon's keep, in the highest room of the tallest tower, for her true love and true love's first kiss. Like that's ever going to happen, but it did. We are allied with the Donkey on this.
7. "Yes, I know the muffin, man. Who lives on Drury Lane?"
– Lord Farquaad
This Lord is a lover of Fiona. But she does not like him. And it becomes more and more evident as time passes. We see him have specific quirks
. Ones that can push anyone away. And she is a princess, after all. After all, these are the movies that made our childhood. Before this is over, the Donkey will need a lot of serious therapy. Look at his eye twitchin'.
6. "Then you gotta try a little tenderness! The chicks love that romantic crap."
– Donkey
Have you seen this guy giving love advice to the people out there? He sure is an all-rounder—a funny chap who tells the truth.
She takes the side of this best friend and can also cook. He is the perfect person if he can have a human form! You might have seen a housefly, maybe even a superfly, but Donkey bet you have never seen a donkey fly.
5. "Well, folks, it looks like we're up chocolate creek without a popsicle stick!"
— Gingerbread Man
This is one delicious man whom everyone wants to have a piece of. And we are not even kidding this time. Ah, the fun. Especially when it is himself a Ginger Bread Man and this man has some interesting things to say. And throughout the movie.
What can we say? It's so sweet. Blue flowers, red thorns. Blue flower, red thorns. Man, this would be so much easier if people were not colorblind.
4. "I like that boulder. That is a nice boulder."
—Donkey
But sometimes, our Donkey friend starts talking about things that barely make sense. But we do not blame him for that.
After all, this is the only thing that keeps us glued to the screen—playfulness. And the wisdom that comes hidden in it.
It is like we have Shakespeare in there quoting his best words. But he was drunk. And then, one time, the Donkey ate some rotten berries. Man, some potent gases were eeking out of his butt that day.
3. "We can stay up late swapping manly stories, and I'm making waffles in the morning!"
—Donkey
And here we are with the comic relief of the movie. The Donkey again. And also the best friend of our lead hero, Shrek.
As time proceeds, we see that not only is the Donkey a good speaker, but also a good cook. Oh, and did we mention that he is the sensible one, too, with just the right amount of insanity?
So we think! Also, Wow. Only a true friend would be as truly honest as this Donkey is to Shrek.
2. "It's out of my hands, senorita. The winds of fate have blown on my destiny. But I will never forget you. You are the love of my life."
— Puss in Boots
Oh, have you met Puss in Boots? He is the smartest and the hottest kitty in town—the one who can charm anyone with his cute looks. And the ones who choose not to…
They suffer from the bite of the alligator. He is just Kidding. But that does not rule out the possibility of this kitty being ready to kill. If needed.
He is deadly that way, hon. Donkey's giving off wisdom when he says you're so wrapped up in layers of an onion, boy. You're afraid of your feelings!
1. "I mean, sparkly white teeth. I know you probably hear this all the time from your food, but you must bleach or something because that's one dazzling smile you got there. And do I detect a hint of minty freshness?"
– Donkey
Now Donkey has his way of looking at the world. Especially one that is filled with princesses and dragoons. Did we tell you that he fell in love with a dragon? It is so similar and different from Shrek. We see Shrek falling in for a princess with a magical curse.
And then this Donkey falls for a dragon, what's more. They even have kids!!
Dream Work Pictures' Shrek films is an extraordinary film collection that inspires internet-based culture. We agree: we like this. The 19th anniversary was marked in 2022 by Shrek. Many continue their favorite quotes, moments, and lessons from the iconic film.
Unlike most film genres, humor these are timeless films. Thrillist said Shrek had inspired a generation in its 20-year existence. It has a thriving internet presence has inspired many memes and bizarre artistic works. Happy Reading!
Read More: The 20 Best Doc Holliday Quotes From The Movie Tombstone