Folk horror, as a sub-genre of horror, has been used in films for ages to create horror among the audience watching horror. It is still used in horror movies with settings and mise-en-scene that can make the feeling and environment as close to the folk era as possible.
Folk horror films include not just Witchcraft or black magic. Still, they have classic horror elements like a ghostly woman, a human sacrifice, a kidnapped sister, a young woman trapped in scary scenarios, an abandoned house set in a rural village, rural Maine, an isolated island, or related topics.
The story might include buried treasure, psychedelic mushrooms, and many more, which send shivers down your spine as the incidents occur.
Films like Kill List, The Blood on satan's Claw, and A Field In England are some striking examples of best folk horror movies that have been liked by many people who enjoy watching horror movies.
In this article, you will get to see the 30 Best Folk horror movies, which include horror to light horror and comedy horror films, so you can choose based on your preferences.
30) Gretel And Hansel(2020)
Directed By: Oz Perkins
Written By: Rob Hayes, Jacob Grimm, Wilhelm Grimm
Cast: Sophia Lillis, Samuel Leaky, Alice Krige, Jessica De Gouw, Fiona O'Shaughnessy, Donncha Crowley, Charles Babalola
IMDB Rating: 5.4/10
Available On: Amazon Prime Video
The story revolves around a person named in the title Hansel Gretel who lives with their mother, but with no work, their mother sends them to fend for themselves. On the way into the forest, both stumble upon an isolated house that smells of delicious food. They get invited inside the house, followed by sinister events and horrors for the siblings.
The film is based on horror, fantasy, and thriller, with visuals that take you to folklore.
29) Them That Follow(2019)
Directed By: Britt Poulton, Dan Madison Savage
Written By: Britt Poulton, Dan Madison Savage
Cast: Olivia Colman, Kaitlyn Dever, Alice Englert, Jim Gaffigan, Walton Goggins, Thomas Mann, Lewis Pullman, Connor Danielle Lysholm
IMDB Rating: 5.4/
Available On: Google Play, Apple Tv, and YouTube
The story is set in an isolated community of serpents in the deep forests of Appalachia who take venomous snakes to prove themselves to God. One of the girls in that forest is courted for marriage, but no one knows she is pregnant. Nevertheless, she accepts the marriage under force, followed by events that will force the daughter to confront her father's church tradition.
It has supernatural elements with drama, and the setting is ultimately folk which fits in folk horror movies.
28) The Woods(2006)
Directed By: Lucky McKee
Written By: David Ross
Cast: Agnes Bruckner, Emma Campbell, Bruce Campbell, Patricia Clarkson, Lauren Birkell, Rachel Nichols, Kathleen Mackey
IMDB Rating: 5.6/10
Available On: Amazon Prime Videos, Google Play
After provoking a fire in the forest, a young girl is sent to a boarding school in the thick forest. In that school, the girl hears voices and sees nightmares; in the morning, she thinks witches are in the academy.
Set in a spooky environment, the movie is where youngsters start vanishing, and the girl believes she will be the next one.
27) The Hallow(2015)
Directed By: Corin Hardy
IMDB Rating: 5.7
Cast: Joseph Mawle, Bojana Novakovic, Michael McElhatton, Michael Smiley
Available On: Amazon Prime Videos and can be rented on Google Play
A family moved into a small house and now has to fight and survive the demonic evils and creatures in the forest. Set in Ireland, the movie has many spooky things to explore.
The movie consists of mystery, horror, thriller, survival, and all the elements that sit with the folk horror genre.
26) Nocturne(2020)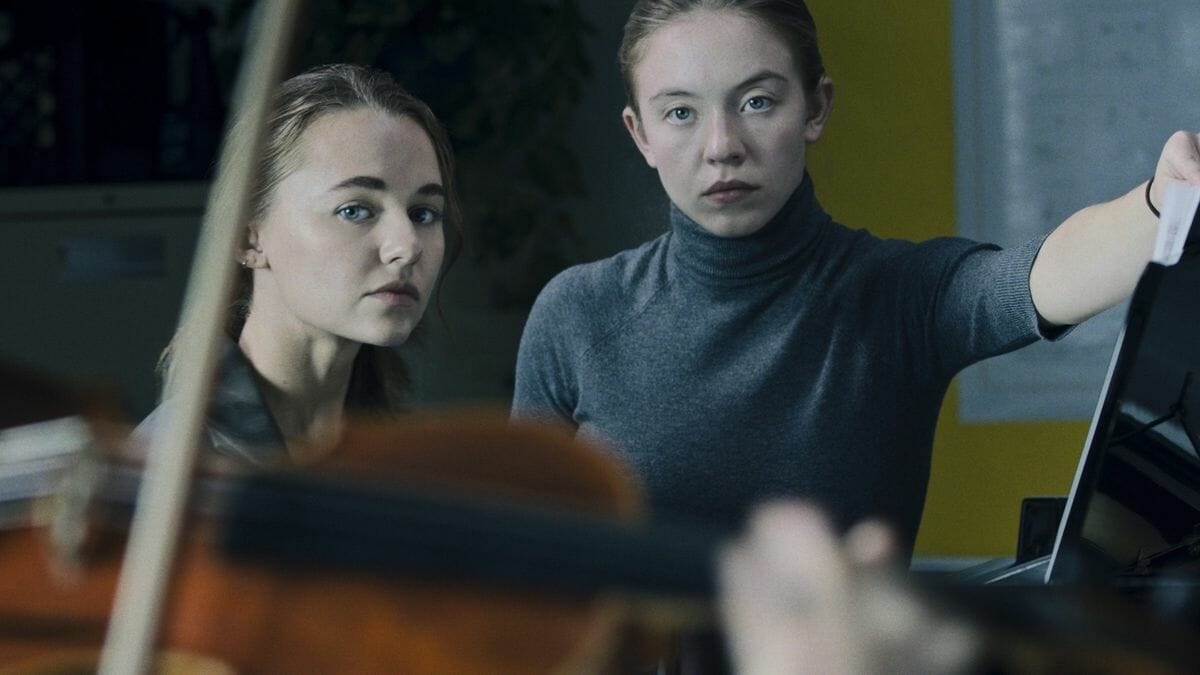 Directed By: Zu Quirke
Written By: Elizabeth Bernholz
Cast: Sydney Sweeney, Madison Iseman, Jacques Colimon, Ivan Shaw, Julie Benz, Rodney To, Jonell Kennedy, John Rothman, Brandon Keener
IMDB Rating: 5.7/10
Available On: The film can be streamed on Amazon Prime Videos
A movie based on a gifted pianist who makes a bargain to overtake her sister. A Psychological horror movie with musical, dramatic, and thriller elements.
Though received recently, the movie has a folk genre with a terrorizing and scary storyline.
25) The Lair Of The White Worm(1988)
Directed By: Ken Russell
Written By: Stanislas Syrewicz
Cast: Hugh Grant, Amanda Donohoe, Catherine Oxenberg, Peter Capaldi, Sammi Davis, Stafford Johns, Paul Brooke, Imogen Claire, Chris Pitt
IMDB Rating: 5.9/10
Available On: The film can be rented on Google Play
The movie is based on rural England's immortal pagan snake priestess. A man finds a snake skull in the backyard and thinks this can help prove the serpentine monster is true. Teaming up with a beast slayer, the investigation leads them to a snake-worshipping cult.
The movie is based on pagan histories, is unique in several ways, and has post-psychedelic elements.
24) Candyman(2021)
Directed By: Nia DaCosta
Written By: Jordan Peele, Winn Rosenfeld, Nia DaCosta
Cast: Yahya Abdul Mateen II, Teyonah Parris, Nathan Stewart Jarrett, Colman Domingo, Kyle Kaminsky, Vanessa Williams
IMDB Rating: 5.9/10
Available On: The film can be watched on Amazon Prime Videos
The story revolves around a homeless man with a hook suspected of putting a razor in a candy that ends up in the hands of a girl around Halloween—followed by incidents that terrify people in that neighborhood.
A thriller and horror element-based movie with the folk genre as the backdrop.
23) Monstrum
Directed By: Jong Ho Huh
Written By: Jeong Uk Byeon and Heo Dam
Cast: Kim Myung Min, Kim Im-Kwon, Li Hye Ri, Choi Woo Shik, Par Hi Soon, Lee Geung Young, Park Sung Woong, Lee Kyu Bok, Kim Min Seok
IMDB Rating: 6.1/10
Available On: Vudu, Amazon Prime Videos, YouTube, and PBS
Monstrum is a South Korean action, thriller, and horror genre-based film. It is set in the period of King JungJong's reign in Joseon. The Plague has broken out in Joseon and is spreading rapidly. Amidst the crisis, a rumor is worsening the situation, claiming a vicious monster called Monstrum is on the loose and roaming around the country.
It is a Survival horror genre movie that includes permadeath and is filled with suspense.
22) The Wolf Of Snow Hollow(2020)
Directed By: Jim Cummings
Written By: Jim Cummings
Cast: Jim Cummings, Riki Lindhome, Chloe East, Jimmy Tatro, Robert Forster, Marshall Allman
IMDB Rating: 6.2/10
Available On: Vudu
Based on a small mountain town where werewolves are believed to exist and where bodies are discovered after each full moon. The movie is a comedy-based horror genre movie.
It is based in a small town filled with horror, mystery, and thriller.
21) A Field In England
Directed By: Ben Wheatley
Written By: Amy Jump
Cast: Julian Barratt, Peter Ferdinando, Richard Glover, Michael Smiley, Ryan Pope
IMDB Rating: 6.2/10
Available On:  Google Play
It is based on men looking for a strong drink but stumbles upon magical mushrooms; in that field, there is some buried treasure too. But unfortunately, the prize and mushrooms incite greed among those men.
It is set in a dreamy and trippy atmosphere in the English Civil War period.
20) Pumpkinhead(1988)
Directed By: Stan Winston
Written By: Ed Justin, Mark Patrick Carducci, Richard Weinman, Gary Gerani
Cast: Lance Henriksen, John D'Aquino, Jeff East, Kerry Remsen, Kimberly Ross, Buck Flower, Mayim Bialik, Joel Hoffman, Cynthia Bain
IMDB Rating: 6.2/10
Available On: Dailymotion.com
The story includes the accidental murder of a young boy by some bikers. The father of the murdered boy is broken, and he wants revenge for the death. Thus to get revenge, he visits a witch and gets a demonic Pumpkinhead, leading to revengeful scary events.
It is believed to start cult films. The Pumpkinhead, a demon, destroys everyone, whomever it is summoned to attack.
19) You Won't Be Alone(2022)
Directed By: Goran Stolevski
Written By: Goran Stolevski
Cast: Noomi Rapace, Anamaria Marinca, Alice Englert, Felix Maritaud, Arta Dobroshi, Sarah Klimoska
IMDB Rating: 6.3/10
Available On: Yidio
The premise is set during the 19th Century in an isolated mountain village where a young girl has been kidnapped and turned into a shapeshifter by a witch. The girl wants to see how human life feels, and that quest leads to misusing her power and making several human sacrifices.
The whole story and setup are eerie, surprising, and unsettling. It also shows several aspects of life apart from the horror genre. It shows love, horror, loss, and everything in between.
18) The Lamb(2021)
Directed By: Valdimar Johannsson
Written By: Valdimar Johannsson and S Jon
Cast:
IMDB Rating: 6.3/10
Available On:  Mubi
One of the folk horror movies of recent times that explores monstrous motherhood. It revolves around a couple whose sheep give birth to human sheep with a body of a human and the head and right arm of a sheep. The couple raises the creature like their own kid. But things start taking turns after death.
The story is unusual, and the events include some drama, but then the incidents and the unique happenings and creatures will not let you take your eyes off the screen.
17) Apostle(2018)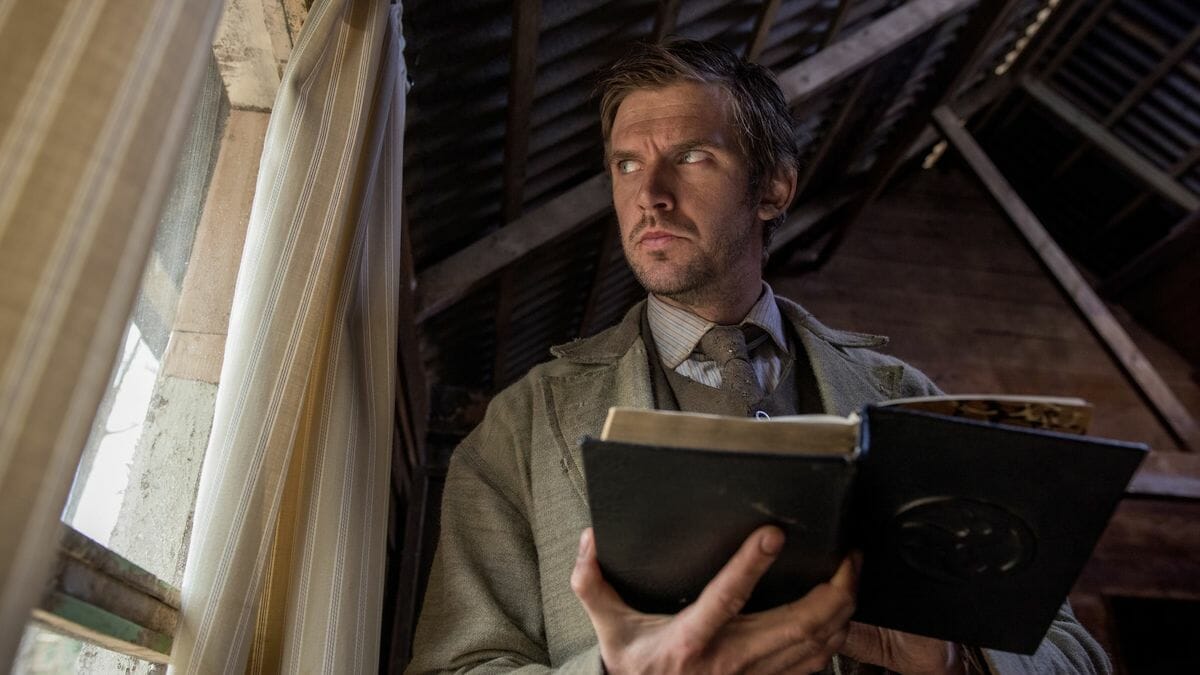 Directed By: Gareth Evans
Written By: Gareth Evans
Cast: Dan Stevens, Ros O'Hennessey, Kristin Froseth, Mark Lewis Jones, Lucy Boynton, Michael Sheen
IMDB Rating: 6.3/10
Available On: Netflix
The story is a folk horror with a modern twist. To search for a missing girl, a man visits a remote island. He thinks that a religious cult has kidnaped her. It is filled with supernatural elements with lots of blood.
Based on the 19th Century, the film is a bloody affair with gore visuals. However, the atmosphere and the setting show the dark side that is scary and thrilling.
Read More: The 35 Best Horror Movies on Hulu Right Now
16) The Blood On Satan's Claw(1971)
Directed By: Piers Haggard
Written By: Robert Wynne Simmons
Cast: Patrick Wymark, Barry Andrews, Wendy Padbury, Avice Landone
IMDB Rating: 6.4/10
Available On: Tubi Tv and Amazon Prime Videos
Set in 18th Century England, it follows the story of the countryside where superstitious anxieties spread over people as a corpse after a corpse is exhumed. The scare and concerns lead the young children to play diabolic games in the church. Finally, a leader makes them believe the corpse was possessed, leading to demonic rituals and events.
It is full of supernatural horror elements which say what is buried should be left like that.
15) Feng Shui(2004)
Directed By: Chito S Rono
Written By: Roy Iglesias
Cast: Kris Aquino, Jay Manalo, Lotlot De Leon, John Manalo, Cherry Pie Picache, Jennie Miller, Nonie Buencamino, Gerrard Pizarras
IMDB Rating: 6.4/10
Available On: Mubi
A Filipino horror and supernatural-based movie centers around a cursed mirror that kills the person who looks at that mirror.
It is filled with supernatural elements and horrors and the efforts of a woman to save her family from the mirror's curse.
14) Kill List (2014)
Directed By: Ben Wheatley
Written By: Ben Wheatley, Amy Jump
Cast: Neil Maskell, Michael Smiley, MyAnna Buring, Emma Fryer, Struan Rodger, Ben Crompton
IMDB Rating: 6.4/10
Available On: Google Play
Kill List is keenly aware of contemporary British genre conventions and includes pagan histories. It contains violence and rituals. It revolves around two soldiers turned assassins. After one year in Kyiv with a botched job, they are looking for a job. They are approached by a mysterious client, leading to unexpected events.
It is a crime thriller with a tense build-up and a weird ending. The hit man-based movie includes killings leading to the name Kill list.
13) The Shout(1978)
Directed By: Jerzi Skolimowski
Written By: Robert Graves and Michael Austin
Cast: Alan Bates, Susannah York, John Hurt, Robert Stephens, Tim Curry
IMDB Rating: 6.6/10
Available On: The film can be streamed on Directv
It is a British horror genre film based on a short story by Robert Graves. Crossley tells a tale to Graves where he narrates a report of a man named Crossley, a mysterious traveler who forces himself upon a young couple living in a secluded and lonely area.
The couple gives him shelter, which leads to some unwelcoming incidents. The traveler claims he knows how to produce a "shout" that can kill anyone who hears it unprotected.
The movie is a folk horror but includes madness, magic, and death. The music adds that extra fear making the movie a worthwhile film in folk horror movies.
12) Impetigore(2019)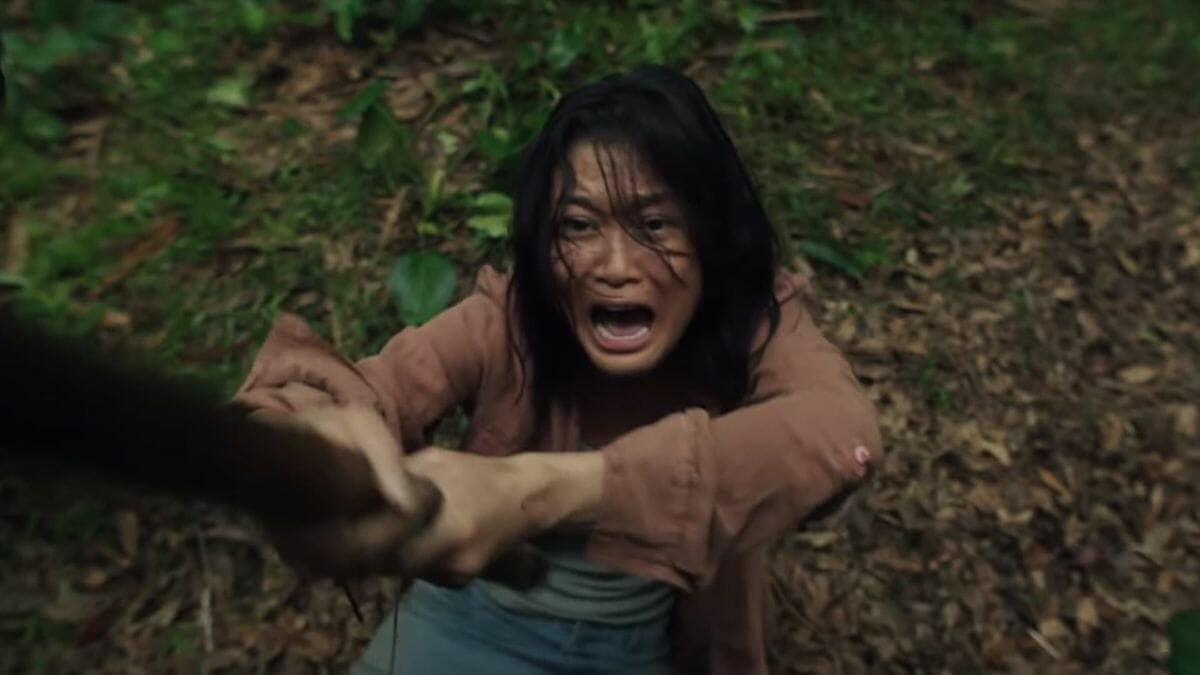 Directed By: Joko Anwar
Written By: Joko Anwar
Cast: Tara Basro, Ariyo Bayu, Marissa Anita, Christine Hakim
IMDB Rating: 6.6/10
Available On: The film can be streamed on Netflix
The movie is an Indonesian-based horror that revolves around a girl named Maya who tries to survive in a city where she has no one except her best friend, Dini. Maya realizes that she might inherit the property of her wealthy family in a small village and thus decides to move there with her friend.
However, their arrival was met with a hostile and suspicious community that happens to be cursed, leading to strange things that will bring goosebumps.
The candlelight plays a significant role in the actions, and the use of shadows has been made exceptionally well, giving a feeling of watching a theatre.
11) Witchfinder General(1968)
Directed By: Michael Reeves
Written By: Tom Baker, Louis M HeywardRonald Bassett, Edgar Allen Poe
Cast: Vincent Price, Ian Ogilvy, Rupert Davies, Hilary Dwyer, Patrick Wymark, Wilfrid Brambell, Derek Ware, Sally Geeson
IMDB Rating: 6.7/10
Available On:  Yidio
A historical horror genre story set in the period of the English civil war, which affects the country drastically. Taking advantage of the situation, a witchfinder general travel from villages to torture witches and makes them confess. However, the story starts after the entry of a soldier who the witchfinder general has wronged.
The film links paranoia and witch-hunting beautifully with the power of women who are a threat to men. The film includes satanism and superstitions. It asks the viewers if they must fear Witchcraft and satan when there is already enough exploitation.
10) The Witch(2015)
Directed By: Robert Eggers
Written By: Robert Eggers
Cast: Anya Taylor Joy, Ralph Ineson, Kate Dickie, Julian Richings, Bathsheba Garnett, Lucas Dawson, Harvey Scrimshaw
IMDB Rating: 6.9/10
Available On: Amazon Prime Video
Robert Eggers's debut film is based on a Puritan family forced to move to New England and become vulnerable to the mysterious forces of evil. They are separated due to Witchcraft and black magic, and the oldest daughter is getting blamed, leading to suspicious and sweat-bringing incidents.
Director Robert Eggers did all the research for years to make the whole movie perfect. As a result, the set is perfectly designed, keeping in mind the period the story is set in.
9) Hocus Pocus(1993)
Directed By: Kenny Ortega
Written By: David Kirschner, Mick Garris, Neil Cuthbert
Cast: Sarrah Jessica Parker, Better Midler, Kathy Najimy, Omri Katz, Thora Birch, Vinessa Shaw, Larry Bagby, Stephanie Faracy
IMDB Rating: 6.9/10
Available On:  Google Play
The comedic story is based on a trio of witches who have one night to ensure their existence under threat.
This movie is not a villainy movie but has folk elements with black magic, spell, and villainy.
8) The Devil Rides Out (1968)
Directed By: Terence Fisher
Written By: Richard Matheson
Cast: Christopher Lee, Charles Gray, Nike Arrighi, Leon Greene, Patrick Mower, Gwen Davis, Sarah Lawson, Paul Eddington. Rosalyn Landor
IMDB Rating: 6.9/10
Available On: Dailymotion.com
The story is based on a 24-hour mission to save souls captured by the devil worshipers and their leader. It includes black magic and visuals that will leave you chilled with terror, and the foley sound is just an add-up to all the horrifying things happening in the movie.
Everything happens in a strange house that looks creepy, setting the much-needed environment for the storyline.
7) Midsommar(2019)
Directed By: Ari Aster
Written By: Ari Aster
Cast: Florence Pugh, Jack Reynor, Vilhelm Blomgren, William Jackson Harper, Will Poulter,
IMDB Rating: 7.1/10
Available On:  Mubi and Apple Tv
The story takes place at a Swedish festival visited by a couple on the brink of breaking up. The breaking point is when they go to the event as things start taking place.
It takes place in a rural hometown and has horror and cult elements to witness that might scare you.
6) The Wailing(2016)
Directed By: Na Hong Jin
Written By: Na Hong Jin
Cast: Hwang Jung Min, Kwak Do Wan, Kim Hwan Hee, Jeon Bae Soo, Choi Gwi Hwa, Jo Han Chul, Jun Kunimura, Woo-hee Chun, Jin Heo
IMDB Rating: 7.4/10
Available On: Amazon Prime Video and MX Player
The South Korean film is set on the premise of a policeman who investigates a mysterious illness leading to killings in a rural village to keep his daughter safe. But unfortunately, the Mysterious sickness starts spreading. Thus he sets on a mission to find out everything.
It includes shamans, black magic, and supernatural visitations, slowly becoming a fearful and bloody affair.
5) November (2017)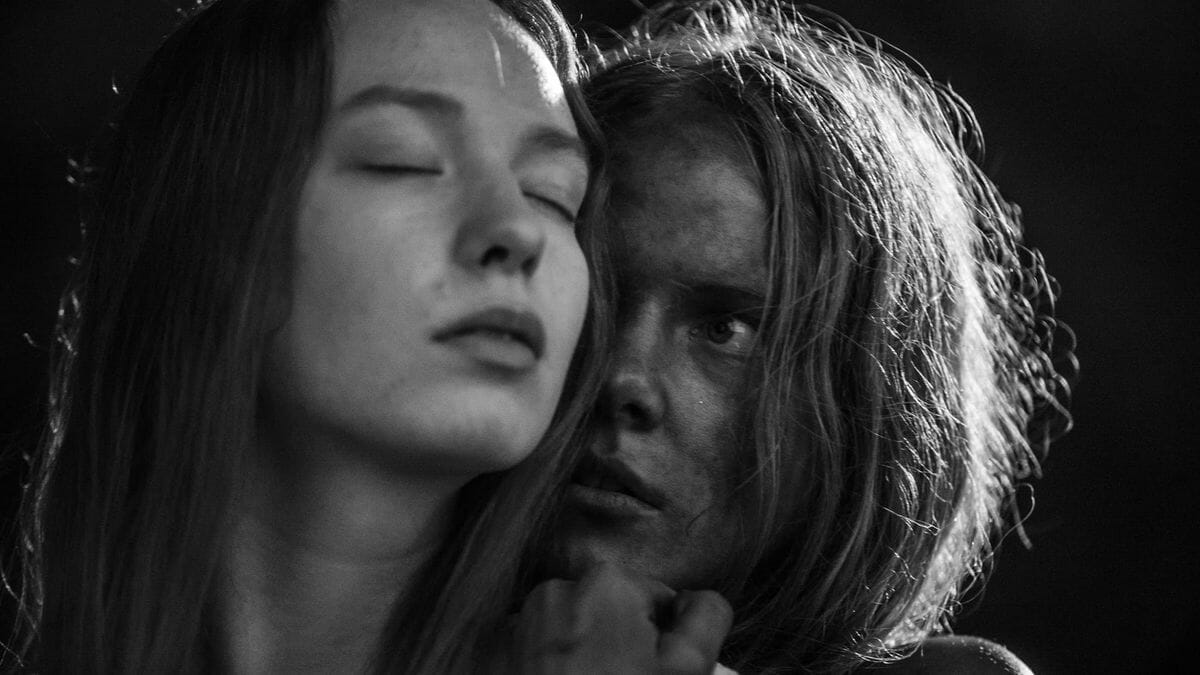 Directed By: Rainer Sarnet
Written By: Andrus Kivirahk
Cast: Rea Lest, Arvo Kukumagi, Taavi Eelmaa, Dieter Laser, Jorgen Liik, Katarina Unt, Heino Kalm, Meelis Rammeld, Jette Loona Hermanis, Jaan Tooming
IMDB Rating: 7.10
As explained by Rolling Stones, a European folk horror movie set in a rural setting with a fairy tale, dreamy, and folk horror elements. It includes kidnapping a cow, and things keep getting spooky and weird after that.
It is set in a poor village full of death, Plague, and tools with souls. To survive, the habitants start stealing and practicing devilish rituals. Amidst all this, a love triangle occurs between two teenagers and a sleepwalking baroness leading to some events.
4) The Wicker Man (1973)
Directed By: Robin Hardy
Written By: Anthony Shaffer, David Pinner
Cast: Edward Woodward, Christopher Lee, Diane Cilento, Britt Ekland, Ingrid Pitt, Lindsay Kemp, Russell Waters, Aubrey Morris, Walter Carr, Donald Eccles
IMDB Rating: 7.5/10
Available On: Google Play
The story starring Edward Woodward is a story that revolves around a police officer who is searching for a missing child who reaches a remote island where he gets surprised to see the locals. The story gets twisted from then on and even gets weird and suspicious when the officer is told that the missing girl never existed.
This movie comes on the List of British Horror with The Blood on satan's Claw and Witchfinder General. The wicker man is a musical that heightens the suspense and horror.
3) Haxan(1929)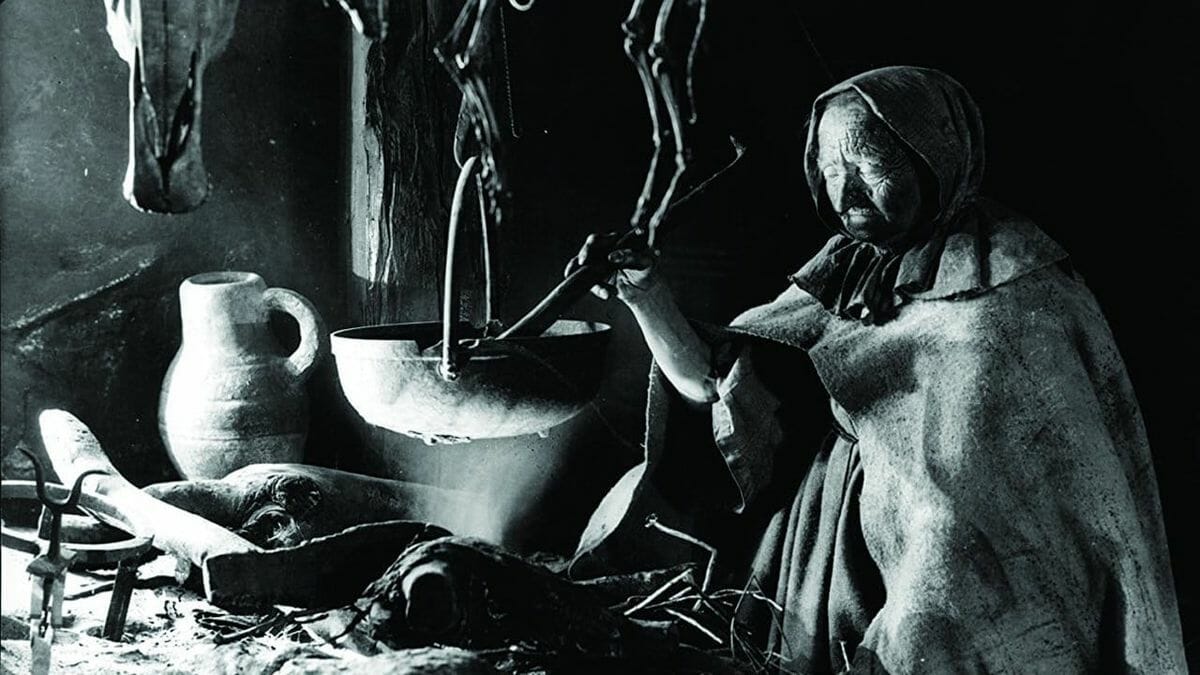 Directed By: Benjamin Christensen
Written By: Benjamin Christensen
Cast: Benjamin Christensen, Clara Pontopiddan, Oscar Stribolt, Tora Teje, Astrid Holm, Elith Pio, Karina Bell, Ib Schonberg, William. S Burroughs
IMDB Rating: 7.6/10
Available On: YouTube and Classix
The silent film is based on historical and gothic elements. It explores the link between Witchcraft and undiagnosed mental illness, is divided into four parts, and includes satanic features. It will look like a documentary with all the horror elements capable of sending shivers down your spine.
There has been an intermingling of facts and fiction that leads to the roots of Witchcraft. It is, in fact, one of the first movies made on Witchcraft.
2) Kuroneko (1968)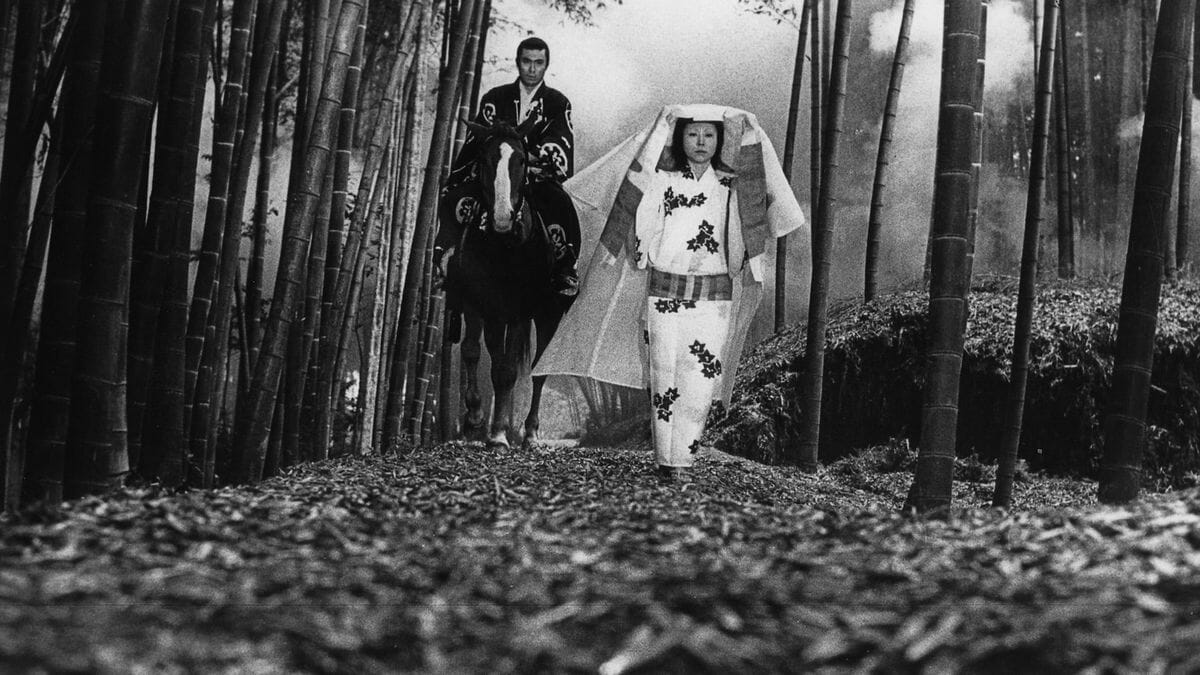 Directed By: Kaneto Shindo
Written By: –
Cast: Nakamura Kichiemon II, Nobuko Otowa, Kei Sato, Kiwako Taichi, Rokko Toura, Tiji Tonoyama, Hideo Kanze, Eimei Esumi
IMDB Rating: 7.7/10
Available on: Vudu
This movie will be available in the List of Japanese folk horror movies. It is based on a period ghost storyline with a demon woman who includes love, loss, vengeful spirits, and much more, with a Japanese stranger.
It is set in a dreamy sense with eerie elements worthy of all praise.
1) Kwaidan (1965)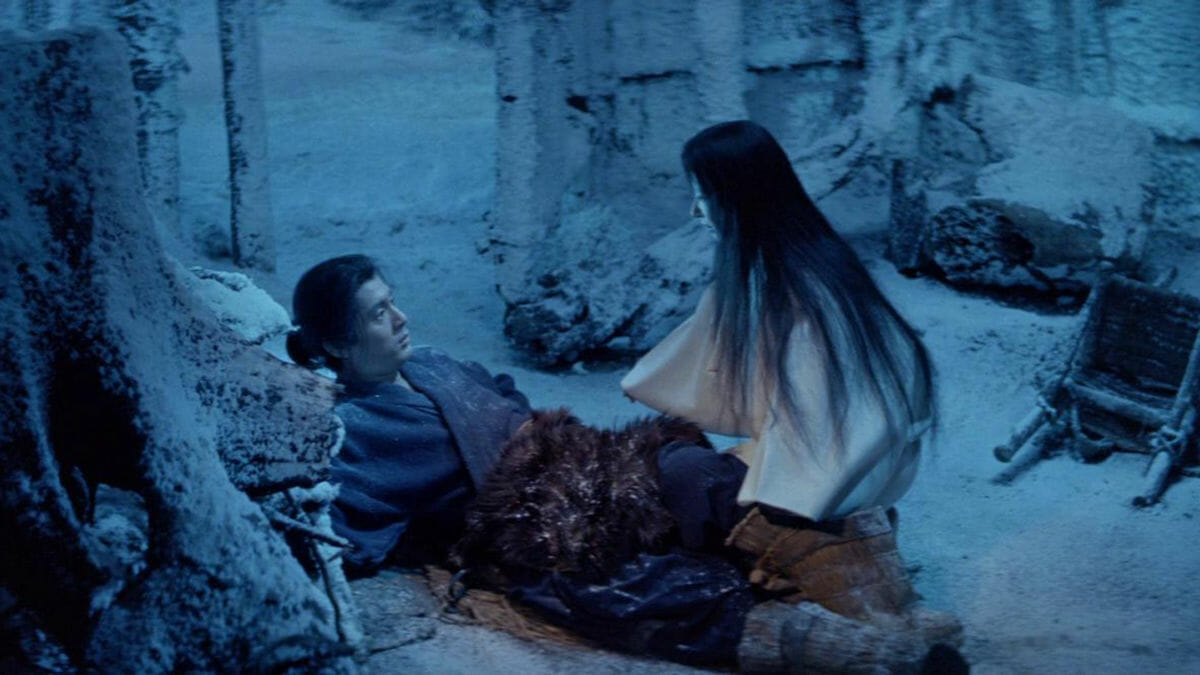 Directed By: Masaki Kobayashi
Written By: Yoko Mizuki, Lafcadio Hearn
Cast: Rentaro Mikuni, Michiyo Aratama, Misako Watanabe, Tatsuya Nakadai, Keiko Kishi, Yuko Mochizuki, Kin Sugai, Noriki Sengoku, Jun Hamamura, Katsuo Nakamura
IMDB Rating: 7.9/10
Available On:  Amazon Prime Videos, Yidio, and Dailymotions.com, and can be rented on Google Play
A horror anthology includes a collection of Japanese folk tales that tell eerie, scary, and spooky tales of vampire women and armies. It is set with color and surreal visuals that bring out the myth in the film.
It is hard to show supernatural and demonic elements this creatively. The film includes a blind musician who sings the tales. It is considered one of the best folk horror movies and best films in the Japanese film industry.
Read More: The 50 Best Horror Movies on Netflix to Watch Tonight