Let's talk about the best Joker Quotes in 2019! Joker, the 2019 film, has surely left a huge impact on the audience. After Heath Ledger's spectacular performance as the Joker in Dark Knight, it was Joaquin Phoenix who took the character to some other level. Joker, portrayed by Joaquin Phoenix, became a fan's favorite soon, and the movie was praised widely for its cinematography, strong plot, and fabulous acting.
Phoenix went on to win the best actor academy award for his terrific performance in and as the Joker. The film is about a man named Arthur Fleck, a man who is disregarded by society and bullied. Suffering from a neurological condition that makes Arthur Fleck burst out laughing suddenly makes him a subject of atrocities from people around him.
When his humiliation and suffering become too much to take on, he resorts to violence to be heard and understood. The film also shows young Bruce watching the Joker as just a little boy. As Joker sees young Bruce smile, he leaves. However, recently Batman's new movie was released with Robert Pattinson playing the infamous Batman and had much to derive from Joker.
The film Joker is known for its extraordinary screenplay and has given us some of the best dialogues ever. Let us go through some of the most memorable lines said in the film Joker that will make you question and see things differently.
1. When your time is good, your mistakes are taken as jokes. But when your time is bad, even your jokes are noticed as mistakes
Joker's quotes are hard-hitting and on a point such as this quote when Arthur Fleck is just stating the facts of life. When it is a good time, everything seems to be in your favor, but when the time is not right for you, even your jokes become a mistake, and everything is questioned.
2. What do you get when you cross a mentally ill loner with a society that abandons him and treats him like trash? You get what you fuckin' deserve!
One of the best Joker quotes is when Arthur Fleck points out that a mentally ill loner with a society that abandons him and treats him like trash just expects some empathy and acceptance from people. But they don't get it, so when he turned to Joker, he did exactly what society did to him.
3. I hope my death makes more cents than my life.
Joaquin Phoenix, as Arthur Fleck tries to fulfill his dream of becoming a stand-up comedian and fails miserably, he discovers a darker side to himself. In his Joke Journal, the phrase keeps repeating I hope my death makes more cents than my life which is a direct reference to his misery and poverty-filled life as he is unable to fulfill his dream.
He wanted to do something much greater in life so that at least in death, he is known, unlike now, and "earn more cents than my life" or value.
4. Nobody panics when everything goes 'according to the plan,' even if the plan is horrifying!
Here again, we come across one of the best Joker quotes that make us see things beyond what is seen by the eyes. Arthur Fleck, aka Joker, points out that no one is really worried as long as they have a plan and things work out according to it; however, the catch here is that you can have a horrifying plan and yet you will not realize it because it is happening just like you wanted.
5. The only sensible way to live in this world is without rules.
Joaquin Phoenix, as the Joker, gave us some of the most memorable lines. As a failed stand-up comedian, Arthur Fleck, as the Joker, quotes how rules are something that needs to be broken. You can only make true sense of the world when your break free of the rules the world has imposed upon you and do what you actually want.
6. The worst part of having a mental illness is people expect you to behave as if you don't.
Arthur Fleck points out quite blatantly the hypocrisy prevalent in society that having a mental illness is people expect you to behave as if you don't have it in the first place. They want you to be 'normal,' but when you are not, they just outcast you, judge you, and humiliate you. It is one of the best Joker quotes.
7. The pen is truly mightier than the sword!
Well said? YES! The power word holds surely incomparable to all other things, even the sword. It is through your words that you can bring a change into this world, and that is precisely what Joker wanted to do as Arthur. For him being a stand-up comedy artist was his way of bringing about a change in society, making them see things they turn a blind eye to.
8. I know it seems strange; I don't mean to make you uncomfortable, I don't know why everyone is so rude, and I don't know why you are; I don't want anything from you. Maybe a little warmth, maybe a hug Dad, maybe a bit of common decency!
All Arthur needed was someone to accept him and someone who would understand him and not treat him as a nobody. He wanted his father's love, and yet he was met with ignorance and rudeness when he tried to meet his dad, Thomas Wayne, in Wayne Manor. He just needed acceptance, and all that he ever got was pain.
9. I used to think that my life was a tragedy, but now I realize it's a comedy.
Even though the truth is that the Joker perceived the world in a different way, he truly wanted to bring happiness into the world but was never given a chance to do so. He always had a happy outlook despite all the difficulties, only to realize that it is an irony that life has played on him; his life seems more of a comedy rather than a tragedy.
10. Is it just me, or is it getting crazier out there?
This iconic line, "Is it just me, or is it getting crazier out there?" shows Arthur Fleck slowly transforming into the Joker as he questions his sanity and society. He cannot grasp what is happening and is dazzled by the two-faced society.
11. If you are good at something, never do it for free.
Well..quite perfectly, the Joker quotes here the very inhibitions of one's own talents. He wants us to know that when one knows what he is actually good at, they should never do it for free. Once they start doing it for free, they are taken for granted by the hypocritical society that knows nothing more than just consuming your hard work.
12. To them, you're just a freak, like me! They need you right now, but when they don't, they'll cast you out like a leper! You see, their morals, their code; it's a bad joke. Dropped at the first sign of trouble. They're only as good as the world allows them to be. You'll see. I'll show you. When the chips are down, these, uh, civilized people? They'll eat each other. See, I'm not a monster; I'm just ahead of the curve.
Arthur Fleck shows Murray Franklin the very reality in his own show. The Joker quotes himself as a freak and tells Murray that he is famous today because people need him. Once their needs are fulfilled, they will just outcast him. He questions the vanity of civility that seems so posh, yet when the curtain falls, people will turn against people in the blink of an eye. He believes civility is a hoax, and nobody's civil anymore.
13. I believe whatever doesn't kill you simply makes you stronger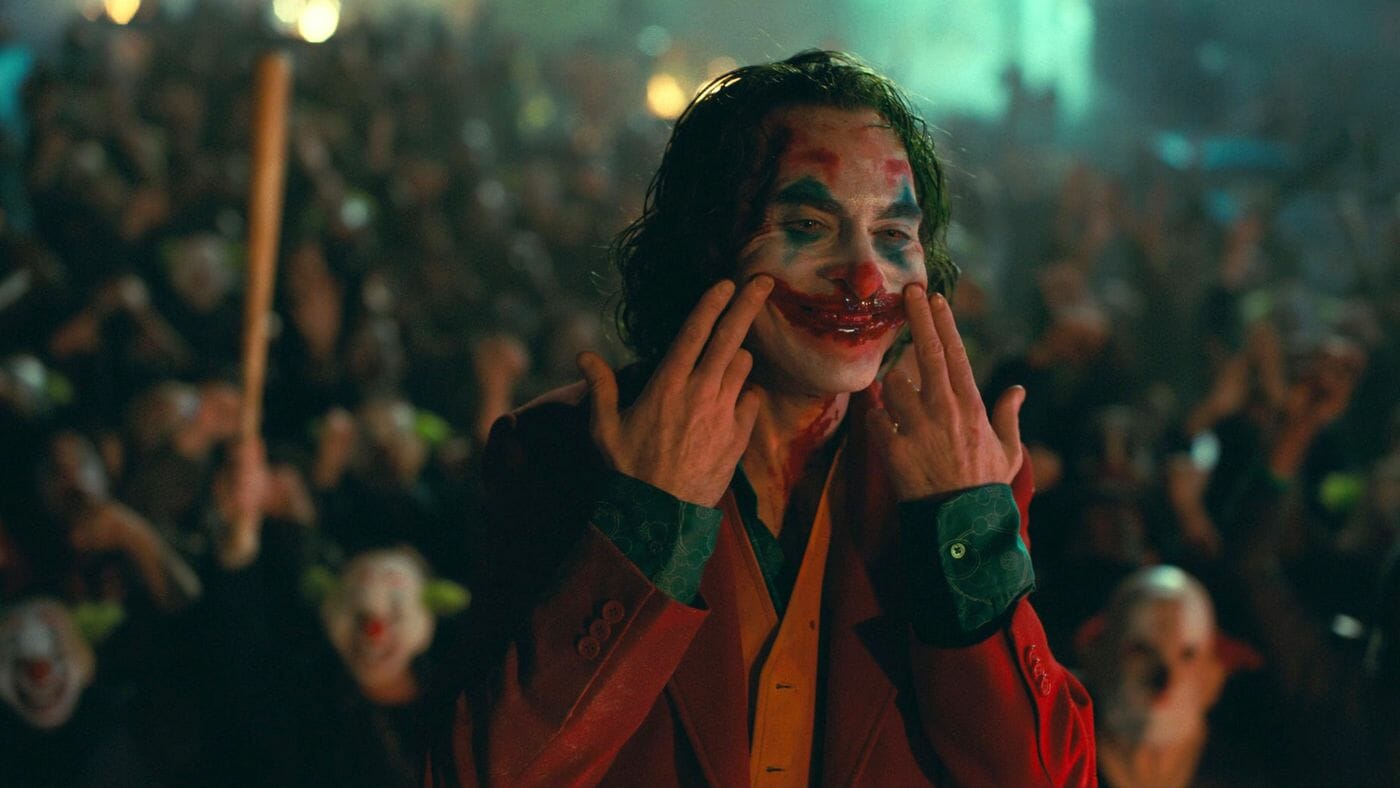 When Arthur Fleck says that when something does not kill you, it makes you stronger, he refers to every pain that we have endured; he, in particular, has endured in his life as a tragedy, but it only made him stronger. Even though death seems like an ultimate pain, when you don't die and have to endure something grave, all it does is prepares you and make you bold enough to pass through it.
14. What kind of coward would do something so cold-blooded? Someone who hides behind a mask.
When Thomas Wayne says these words on TV, a very different image of Thomas Wayne is presented. He seems more like a self-absorbed capitalist rather than a helpful person. When the news of Arthur Fleck killing men in the subway surfaces, Thomas Wayne calls him out as a masked man, someone who is hiding from his identity and is a coward.
15. A man with nothing to fear is a man with nothing to love. If you have nothing to love, you have nothing to lose.
This infamous quote from Joker brings out the Joker's madness and desperation in a beautiful way. He has no family, no friends, and no one to love. With no one to hold onto, he feels he has nothing to lose, and so he is out in the world, wrecking chaos and not worried about the consequences.
16. I thought it was going to bother me, but it really hasn't.
Arthur Fleck thought that his actions of killing people might have some effect on him, but in reality, he seemed quite content with his actions. For Joker, the killings were justified, and he seems unbothered because he knows he has not done anything wrong.
17. Oh, Come On, Murray. Do I Look Like The Kind Of Clown That Could Start A Movement? I Killed Those Guys Because They Were Awful. Everybody Is Awful These Days. It's Enough To Make Everyone Crazy.
When the Joker is asked if he wants to start some sort of a movement by killing the men, he states that he has had no such intentions. Even though he says a Joker like him cannot start a movement but at the same time, he admits he killed those guys because they were awful, just like the larger lot, which can make anyone go crazy.
18. For my whole life, I didn't know if I even really existed. But I do, and people are starting to notice.
Joaquin Phoenix gave a terrific performance as the Joker, and while sulking in his negative thoughts about life, he felt he was a nobody. But when the Joker pulled up the act, the show of killing those he deemed awful, he felt people were noticing him. He felt he was a nobody and that he very well existed. It's just people who turned a blind eye to him.
19. When you bring me out, can you introduce me as a joker?
When Arthur goes to Murray Franklin's show, he asks them to introduce him as the Joker. He wanted to be known as Joker as it was his profession as a party clown, beyond which he never understood his identity. It is this identity that people are now scared of and are noticing.
20. Yes, memory's so treacherous. One moment, you're lost in a carnival of delight: childhood aromas, the flashing neon of puberty, all that sentimental candyfloss. The next, it takes you somewhere you don't want to be. Somewhere dark and cold, filled with the damp, ambiguous shapes of things you'd rather forget. Memories can be vile, repulsive little brutes. Like children, no?
Arthur Fleck, our very own dangerous yet very relatable Joker, quotes that memory is indeed something treacherous. For him he wants to remember his good old childhood days; however, society has put him in a position such that he is unwillingly taken to the darker corners of his mind. These corners are filled with unpleasant memories and negative thoughts.
21. Haven't you ever heard of the healing power of laughter?
Arthur Fleck is a failed stand-up comedian who and unnoticed by society, has his own greater intentions for himself. Even though the mental illness he has is mocked by society, he believes that his comedy and laughter have the power of healing. He seeks solace in being a comic and making people laugh.
22. I've Got Nothing Left To Lose. Nothing Can Hurt Me Anymore. My Life Is Nothing But A Comedy."
Instead of showing the dreaded villain that the Joker was understood to be, the film beautifully depicts the tragic journey of Arthur Fleck transforming into the Joker. Arthur Fleck, as Joker, had his own way of viewing the world, and in the chaos when all seems lost, he still leans on to his comedy.
He believes that with nothing attached to him and no one there for him, it is just a comedy that his life is. When he was nice, no one cared, and now that he chose violence, suddenly, everyone started noticing him.
23. Comedy Is Subjective, Murray, Isn't That What They Say? All Of You, The System That Knows So Much: You Decide What's Right Or Wrong The Same Way You Decide What's Funny Or Not
In this dreaded talk show sequence with Murray Franklin, Arthur Fleck or the Joker opens up to the world and says introduce me as Joker. When he says, "Comedy is subjective, Murray," Arthur Fleck seems to point out the hypocrisy in society and how it is people who expect you to behave in certain ways and decide the good and the bad. Murray Franklin seems to have his answers straight and unfiltered, but death meets him.
24. Have you seen what it's like out there, Murray? Everybody just yells and screams at each other. Nobody's civil anymore! Nobody thinks about what it's like to be the other guy.
The Murray Franklin talk show was definitely a highlight of the film, and when the Joker shows the whole world what has become of him when Arthur suddenly grabs Murray Franklin and shoots him. He questions society and its civility and tells us how everyone is just fighting. No one knows what the other feels. Feelings seem unimportant in a society that is just harsh to people.
25. You Just Ask The Same Questions Every Week. 'How's Your Job?' 'Are You Having Any Negative Thoughts?' All I Have Are Negative Thoughts.
This line depicts Arthurs's desperation that his whole life, there was no one to listen to him when all he wanted was someone to hear him. He knows that he is sick and that he might flip. Even the social worker seems disinterested, and nobody acknowledges his struggles. The pain that he has endured his whole life is because the world is turning a blind eye to his condition; his mental illness is something that has led to what he was to become.