John Wick movies are the kind of movies packed with great fight scenes, revenge stories, and martial arts and have a great audience base. When one thinks of action movies, they cannot leave the John Wick series, Raid movies and its franchise like The Raid Redemption, The Raid 2, Matrix, The Equalizer, Taken, Jack Reacher, and the ones mentioned down below. These kind of movies are basically action movies filled with action scenes, their stories are mostly revenge story, has a lot of action scenes, martial arts. All these action thrillers have great movie stars.
1. The Matrix (1999)
Director: Lana Wachowski
Writer: Lilly Wachowski, Lilly Wachowski
Starring: Keanu Reaves, Carre-Anne Moss, Laurence Fishburne
IMDb: 8.7/10
Rotten Tomatoes: 88%
Streaming on: Netflix, Amazon Prime
A John Wick fan can't pass up another action-packed movie starring Keanu Reeves, The Matrix is an Action/ Sci-Fiction movie that has persistent Action based scenes. The story of the movie revolves around finding an answer to what is Matrix? Thomas Anderson plays the main character in the movie. He is a software engineer who is contacted by Morpheus and Trinity.
Matrix is a story of Humans fighting against weariness. Humans are practiced as energy refills for the race of intelligent machines. Neo played by Keanu Reaves can only introduce humanity back. To be able to do this he has to learn and master to control his skills and ability with a help of another rebel whose name is Morpheus. Neo believes that Morpheus being the most dangerous one can answer the question regarding Matrix.
2. The Equalizer (2014)
Director: Antoine Fuqua
Writer: Richard Wenk, Michael Sloan
Starring: Denzel Washington, Melissa Leo, Edward Woodward
IMDb: 7.2/10
Rotten Tomatoes: 59%
Streaming on: Netflix
In The Equalizer, Denzel Washington plays Robert McCall, a guy who thinks that he is past his obscure history, and his past is behind him, where he faked his death. Later, he dedicated himself to his new life. McCall meets Teri, a young girl, she was the victim of sex trafficking and was forced into prostitution. She was under the control of the Russian Gangsters. A man named Slavi was her pimp, who used to beat her.
He finds himself in a position where he has to help the girl by rescuing her. He tried a peaceful way but eventually, it led to a fight. The situation awakened his conscience and led him to his old back life. McCall becomes a guardian angel of the voiceless people. He started using his malignant skills to clear society by killing all the people who create menace in society.
3. Taken (2008)
Director: Pierre Morel
Writer: Luc Besson, Robert Mark Kamen
Starring: Liam Neeson, Maggie Grace, Famke Janssen
IMDb: 7.8/10
Rotten Tomatoes: 59%
Streaming on: Disney Hotstar
Liam Neeson in the movie is shown in the shiniest appearance. He seems to be a master of every possible skill like sharp-shooting, knife-fighting, karate, and many more. He is shown in his retirement stage where he usually hangs out with his old retired CIA buddies in LA. His teenage daughter lives with him and her step-father, she plans her birthday with her friends in Paris of which her father doesn't appreciate.
His daughter gets kidnapped by the sex slavers and he has 96 hours to find her daughter before he loses her forever. If you're looking for car chase scenes, Taken provides. She would be pushed into sex-slavery and a world of drugs. Bryan played by Liam, finds a picture of the spotter who lured the girl into the trap. He finds the man and demands answers from him.
Bryan finds the place where the Albanians keep new girls, the movie leads to a great action sequence. Amanda, Kim's friend is found dead and through a last surviving Albanian Bryan gets to know that Kim his daughter is sold to a French official. Facing and battling through all the difficulties, he finally rescues Kim.
4. Jack Reacher (2012)
Director: Christopher McQuarrie
Writer: Lee Child
Starring: Tom Cruise, Lee Child, Rosamund Pike
IMDb: 7/10
Rotten Tomatoes: 64%
Streaming on:  Amazon Prime
Jack Reacher is a military legend, who has been rewarded with many honorary titles as an army investigator but leaves his job keeping people wondering about the reason. Jack is a dangerous man, he is bad for the people who cross his path. He helps an attorney, Alex Rodin, of an ex-military sniper who has been accused of murdering five people randomly.
As simple as the story initially seemed the more layers it hides beneath. It puts Jack and all those people helping him in a dangerous position. Jacks helps and contributes to the investigation process to find out the real culprit.
5. Deadpool (2016)
Director: Ty Im Miller
Writer: Rhett Reese, Paul Wernick
Starring: Ryan Reynolds, Morena Baccarin, T.J. Miller
IMDb: 8/10
Rotten Tomatoes: 85%
Streaming on: Disney Hotstar
Not everyone would think that Deadpool is similar to John Wick. Deadpool is an R-rated superhero movie. The movie created a lot of buzz due to its unexpected success. Wade Wilson finds about his incurable cancer and it leads to certain changes in his life. His personality is Hysterical, he does illegal jobs. By a mutant program, after tolerating unremitting torture, he gains the ability to heal from any kind of physical damage. The movie is a great blend of comedy and action sequences.
6. American Sniper (2014)
Director: Clint Eastwood
Writer: Clint Eastwood
Starring: Bradley Cooper, Sienna Miller, Luke Grimes
IMDb: 7.3/10
Rotten Tomatoes: 72%
Streaming on:  Amazon Prime
The story is based on the real-life of the U.S navy seal, Chris Kyle who is played by Bradley Cooper. He has always been a skilled shooter possessing all the lethal skills of accuracy. He gets married to a very beautiful Tanya played by Sienna Miller and has 2 kids. He traveled to Iraq while protecting his American Soldiers with his accurate shooting and rises as a legend. Even though he faces problems with his family and social life.
7. Fury (2014)
Director: David Iyer
Writer: David Iyer
Starring: Brad Pitt, Shia LaBeouf, Logman Lerman
IMDb: 7.6/10
Rotten Tomatoes: 76%
Streaming on: Netflix
Fury is a movie about World War 2, featuring Brad Pitt. Army Sergent, Don Collier goes on an unmanageable war with only his four men- Gunner 'Bible' Swan, Loader Grady 'Coon-ass', Travis, driver, Trini 'Gordo' Gracia, and assistant driver Bow Gunner 'Red.' He commands an M4 Sheman 'Easy Eight Tank' which was nicknamed as 'Fury.'
The war was against Nazi Germany, during which Bow Gunner is killed during the action and Norman Ellison replaced him. He is usually at odds with the entire crew. With time, he finds himself integrated into the crew, and together as a team, they will have to face difficulties, extraordinary situations, odd happenings to survive.
8. Edge Of Tomorrow (2014)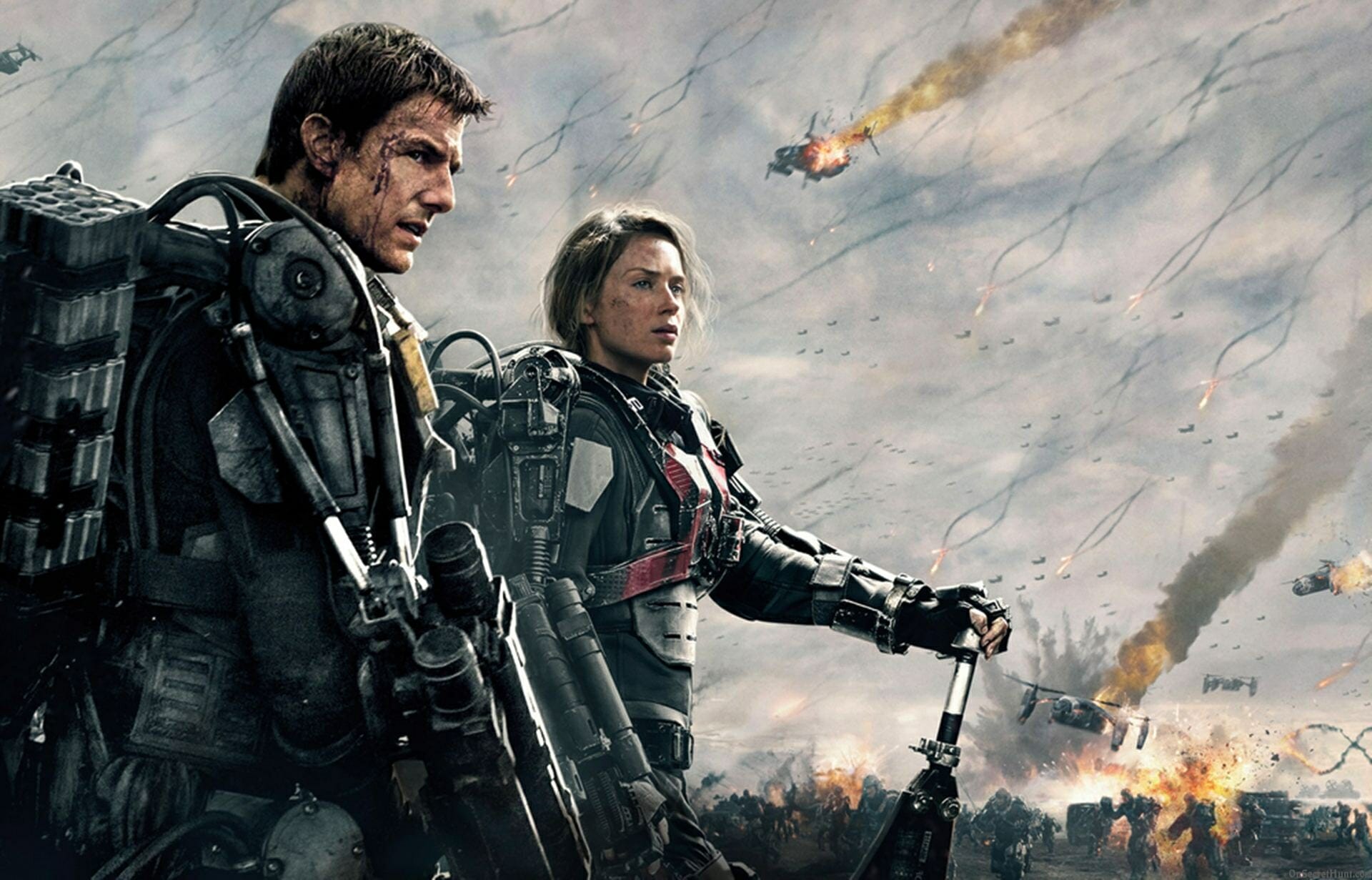 Writer: Christopher McQuarrie
Director: Doug Liman
Starring: Tom Cruise, Emily Blunt, Bill Paxton
IMDb: 7.9/10
Rotten Tomatoes: 91%
Streaming on: Netflix
Edge of Tomorrow is a very popular movie starring Tom Cruise as hero Major William Cage. The movie is based on a Japanese novel called 'All You Need Is Kill' by Hiroshi Sakurazaka. The film is futuristic, the whole of Europe is invaded by aliens. Tom Cruise has to fight for military operations, even though he is inexperienced in combat. He dies within minutes but is thrown in a time loop, forced to fight again and again. With each try he gets better at surviving and Rita cannot escape until they achieve their respective aims.
9. Commando (1985)
Director: Mark L. Lester
Writer: Jeph Loeb, Matthew Weisman
Starring: Arnold Schwarzenegger, Alyssa Milano, Rae Dawn Chong
IMDb: 6.7/10
Rotten Tomatoes: 71%
Streaming on: Youtube
John Matrix is a retired special agent who left the armed forces to live in the mountains with his daughter, Jenny. His daughter gets kidnapped and he finds himself in a position where he is forced out of his retirement to find his daughter. Unknown to him, his former comrades are being killed one by one. Soon, Matrix was kidnapped and he finds that Bennett, a former member of the matrix unit, whom no one thought was alive, was doing all the killing.
He kidnapped matrix to force him to do Political assassination for a man called Arius, who wishes to lead the matrix unit, by using his daughter. John accepts to do the job because if not, Arius will kill Jenny.
10. Oldboy (2013)
Director: Spike Lee
Writer: Garon Tsuchiya, Nobauki Minegishi
Starring: Elizabeth Olsen, Josh Brolin, Sharlto Copley
IMDb: 5.7/10
Rotten Tomatoes: 39%
Streaming on: Amazon Prime
Joe Doucett in this movie hits rock bottom. He faces worse situations and is kept in a hotel room with no windows, completely abducted. He only has a TV in his room on which he sees the news of his wife's death for which he is framed. 20 years of his life is spent in this jail when suddenly one day he is released. The only objective he has is to find the person responsible for his misery and revenge and also, forgiveness from his daughter so that she forgives him for abandoning her.
11. Mad Max (1979)
Director: George Miller
Writer: James McCausland
Starring: Mel Gibson, Joanne Samuel, Steve Bisley
IMDb: 6.9/10
Rotten Tomatoes: 90%
Streaming on: Youtube
People have gone back to being savages. In a world where the rules are non-existent, Max is only left in the last remaining traces. Max's mind is filled with the thoughts of retribution as his wife and a child were killed by the crooks. He leads to a path of revenge where he wants to kill the perpetrators. His wits and instincts help him to survive.
12. Leon: The Professional (1994)
Director: Luc Besson
Writer: Luc Besson
Starring: Jean Reno, Gary Oldman, Natalie Portman
IMDb: 8.5/10
Rotten Tomatoes: 74%
Streaming on: Netflix
Leon kills for his survival, financial support. He doesn't like it very much but happens to be very good at it. Due to an unfortunate massacre, the neighborhood family gets eliminated except a little girl who turns to Lenon to seek help. He takes the girl under his guidance and teaches her what he knew the most, killing. She learns the skills and she plans to use them for her goodwill.
The girl and Leon develop a unique and close bond with each other making them a strong duo. The girl is filled with the emotions of vengeance, so Leon gets a little concerned about her that she doesn't lose her identity because of these feelings.
13. Kill Bill (2003)
Director: Quentin Tarantino
Writer: Quentin Tarantino
Starring: Uma Thuram, David Carradine, Vivica A. Fox
IMDb: 8.1/10
Rotten Tomatoes: 85%
Streaming on: Netflix
Uma Thurman is known as The Bride, who is an assassin. She decided to leave her shady lifestyle for a fresh start. She got attacked on her wedding day by her ex-lover Bill and fell into 4 years of coma.
She wakes up after 4 years with the thought of revenge, from the people who were responsible for taking away her everything. In a matter of seconds, her life changed. In meantime, she makes a list of the people whom she wants to hunt down. Every time she kills someone, she strikes their name from the list.
14. I Saw The Devil (2010)
Director: Kim Jee Won
Writer: Park Hoon Jung
Starring: Choi Min Sik
IMDb: 7.8/10
Rotten Tomatoes: 81%
Streaming on: Netflix
It is a South Korean Masterpiece. I Saw The Devil is a violent action movie. A driver named Jang Kyung-Chul encounters a pregnant woman, executes her, scatters her body parts into a local stream. A boy found something, and a police search got established. The woman's fiance was in the National Intelligence Service and present there.
He takes up the charge to collect the broken pieces of the murder weapon and he becomes a nightmare for the murderer. The story depicts how a disrupted life can make someone put forward their truest side which doesn't need to be covered. He finds the killer, beats him to death but still leaves him with his life. Leaving him turns out to be a mistake as the killer goes on a murder spree.
15. Southpaw (2015)
Director: Antoine Fuqua
Writer: Kurt Sutter
Starring: Jake Gyllenhall, Rachel McAdams
IMDb: 7.4/10
Rotten Tomatoes: 60%
Streaming on: Netflix
Jake Gyllenhaal plays 'The Billy- The Great,' Jr. Middleweight Boxing Champion, He has an extraordinary career, a loving caring wife, a sweet daughter, and on the top, a lavish lifestyle. After a showdown with another former boxer, he accidentally lost his wife and that became his breaking point.
His whole life he created came spiraling down, his career felt. He had a failing boxing career. He meets Tick Wills who is a former boxer and comes into his life as a savior. He trains under him with the hope of popping out of his failure and assuring his daughter in his life back.
16. Taken 3 (2014)
Director: Olivier Megaton, Liam Neeson
Writer: Luc Besson, Robert Mark Kamen,
Starring: Liam Neeson, Maggie Grace, Famke Janssen
IMDb: 6/10
Rotten Tomatoes: 13%
Streaming on: Disney Hotstar
Liam Neeson plays Bryan Mills. He and his ex-wife Lenore met and were enjoying their reconciliation period but suddenly Lenore is murdered and all the blame has shifted on the head of Bryan. He believes that the Russian mob killed her and he leads his investigation. Cops soon realize that Mills is innocent but he doesn't come up because his daughter's life is in danger. Later, he finds out that Russian gangster Oleg Malenkov is behind her death.
17. Hitman (2007)
Director: Xavier Gens
Writer: Skip woods
Starring: Timothy Olyphant, Olga Kurylenko, Dougray Scott
IMDb: 6.3/10
Rotten Tomatoes: 36%
Streaming on: Amazon Prime
Agent 47 is the perfect killer, born and raised by the enigmatic Diana Organisation. He finds about the betrayal from his employers when he goes to kills the Russian president. The organization captured political conspiracy, which he found pursued by both Interpol and the Russian military, and later on, he partners with a woman named Diana whom he was supposed to kill, to mark his territory.
18. Atomic Blonde (2017)
Director: David Leitch
Writer: Kurt Johnstad, Anthony Johnson
Starring: Charlize Theron
IMDb: 6.7/10
Rotten Tomatoes: 78%
Streaming on: Amazon Prime
During an impossible mission, the sensuous and untamed, Lorraine Broughton, being the most elite secret agent of M16 uses all her lethal, deadly skills to survive. She was sent to Berlin when the great wall was about to fall to deliver a priceless dossier out of the destructive city. She meets and partners with a chief, David Percival played by James McAvoy to navigate her way through the deadliest game of spies.
19. Man On Fire (2004)
Director: Tony Scott
Writer: A.J. Quinnwell, Brian Helgeland
Starring: Denzel Washington, Dakota Fanning
IMDb: 7.4/10
Rotten Tomatoes: 38%
Streaming on: Amazon Prime
It is a story taking place in Mexico City, disrupted by a stop of kidnappings, John Creasy played by Denzel Washington who is an ex CIA operative is offered a job as a bodyguard for a ) year-old girl, Pita played by Dakota Fanning. She is the daughter of a wealthy businessman, Samuel. Pita is a blessing in his life, she helped him to revive his life. When Pita gets kidnapped it leaves Creasy furious and he promises to stop at nothing until he finds the people who were involved with the kidnapping.
20. The Raid: Redemption (2011)
Director: Gareth Evans
Writer: Gareth Evans
Starring: Iko Uwais, Yayan Ruhian, Joe Taslim
IMDb: 7.6/10
Rotten Tomatoes: 86%
Streaming on: Amazon Prime
The movie revolves around planning an invasion in an apartment building, which is a base of the drug lord, Tama, and his gang. This takes place in Jakarta, Indonesia. The SWAT team enters the first floor and they detain an innocent. Tama then, calls for reinforces and kills the majority of the police. Tama announces the location and free residency to the gangster who ends up killing the intruders. After a while, they find out that their superior Lt. is not informed about the operation and thus the police have to fight with limited ammunition.
21. Extraction (2020)
Director: Sam Hargrave
Writer: Joe Russo, Ande Parks, and Anthony Russo
Starring: Chris Hemsworth, Rudhraksh Jaiswal, Randeep Hooda, Priyanshu Painyuli, Golshifeth Farahani, Pankaj Tripathi, and David Harbour
IMDb: 6.7/ 10
Rotten Tomatoes: 67%
Streaming on: Netflix
The plot of Extraction is about a former Australian Black ops who is now a bounty hunter, he gets a mission where he has to save the son of an Indian crime boss and he has been kidnapped and taken to Dhaka, Bangladesh. This trained killer has to go to Dhaka to complete the extraction which is close to impossible.
If you are a fan John Wick, then Extraction is the movie for you, the film has different genres and not to mention the film is action packed. This Netflix exclusive is a great watch and this film has a great plot and fight choreography as well. Fans of the movie would be excited to know that a sequel of this movie is announced.
22. Birds of Prey (2020)
Director: Cathy Yan
Writer: Christina Hodson, Paul Dini, and Bruce Timm
Starring: Margot Robbie, Rosie Perez, Mary Elizabet Winstead, Jurnee Smollett, Ewan Mc Gregor.
IMDb: 6.0/ 10
Rotten Tomatoes: 79%
Streaming on: Amazon Prime Video, HBO Max.
The plot of the film follows Harley Quinn who is devastated after her breakup with The Joker. Harley Quinn is being targeted by the crime lord of the Gotham city, Black Mask and she is being chased by his right-hand man, Victor Zsasz, and every thug in the city. But things tend to get easier for Harley Quinn as she finds unexpected allies from three vicious women: Huntress, Black Canary, Renee Montoya.
Birds of Prey is a good watch and one of the movies that you would watch for the jaw dropping action, and amazing characters. The movie has done well in the Box Office and the acting of the cast was fabulous especially of Margot Robbie, and this movie has been nominated for 83 awards and won 17 of them.
23. Blade (1998)
Director: Stephen Norrington
Writer: David S. Goyer
Starring: Wesley Snipes, Stephen Dorff, Kris Kristofferson, Donal Logue, Udo Kier.
IMDb: 7.1/ 10
Rotten Tomatoes: 57%
Streaming on: Amazon Prime Video
Another revenge story, this film showcases the story of Blade, a half-mortal, and half-immortal who has all the strengths of a vampire and none of their weaknesses, but he has to consume blood to stay alive. The movie tells how Blade wants to avenge his mother's death by making the world vampire free. These vampires are looking for a special group of blood which is needed to summon an evil God who has the power to make the human race extinct.
This 1998 film is one of the best movies that we still watch with the same joy and enjoyment like we are watching it for the first time, and this movie has it all from great plot to stylish action scenes, to amazing and attractive characters that makes the movie fun to watch. Wesley Snipes did a great job playing Blade's role, and the character is well-written making him the perfect anti hero, and the movie a great watch.
24. Hardcore Henry (2016)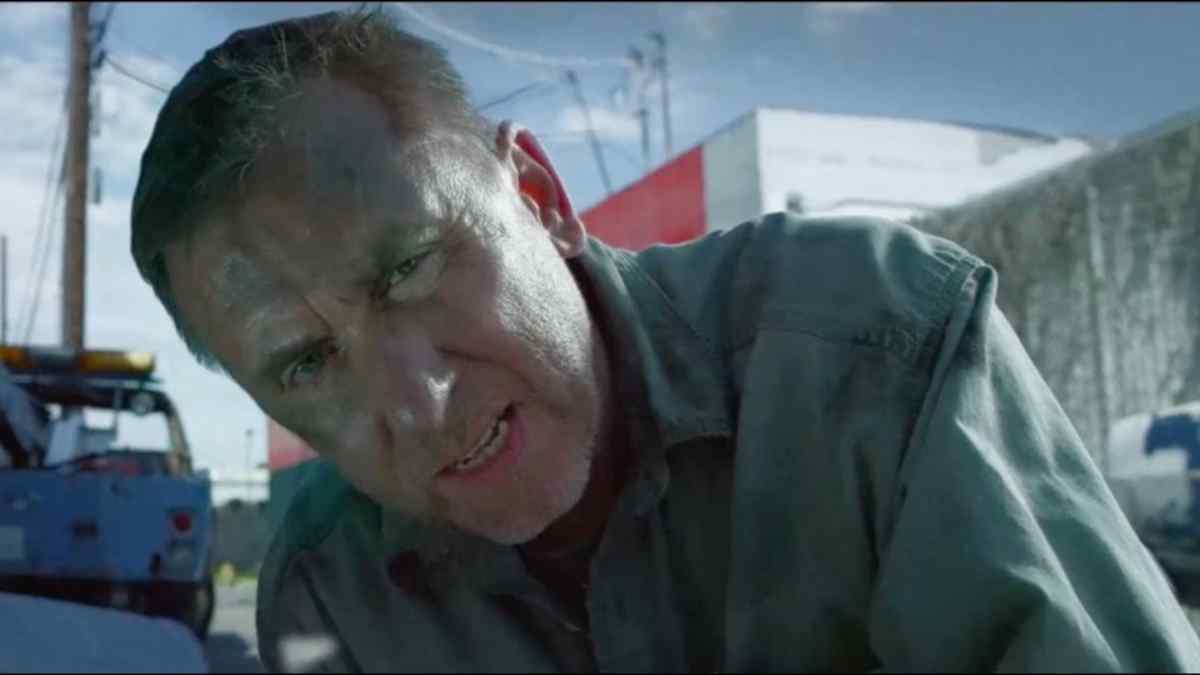 Director: Iya Naishuller
Writer: Iya Naishuller
Starring: Sharlto Copley, Danila Kozlovsky, Haley Bennett, Svetlana Ustinova, and Tim Roth
IMDb: 6.7/ 10
Rotten Tomatoes: 51%
Streaming on: Netflix, Amazon Prime Video.
The film takes place in Moscow, where a man finds himself in a laboratory where he learnt that he has been brought back from the gates of death, but now he is a half-human and half-robot, a cyborg, who has no memories about him when he was alive. She met a woman who told him that his name is Henry, and before she could tell him everything about his new body, she was kidnapped. Henry learnt that this woman was his wife. Now, he goes on a spine-chilling kill rampage to save his wife from a psychopath.
If you are a fan of action films, then Hardcore Henry is the action film that you would love to watch because just like John Wick he goes on a rampage and the action sequences of this movie were jaw-dropping and fantastic to watch. The lead actor did a great job playing his role and even though the plot was absurd but nobody cares because the action scenes and acting were so amazing, and the title would give you a gist of the movie and it successfully maintains the title of 'Hardcore' in the movie.
25. Kingsman: The Secret Service (2014)
Director: Matthew Vaughn
Writer: Jane Goldman, and Matthew Vaughn
Starring: Colin Firth, Samuel L. Jackson, Mark Strong, Taron Egerton, and Michael Caine.
IMDb: 7.7/ 10
Rotten Tomatoes: 75%
Streaming on: Disney Plus, Amazon Prime Video
The plot of the movie tells the story of Gary "Eggsy" Unwin, whose father worked as a spy for a secret organisation, but he does not know about his late father's work and he lives in a South London housing estate and he is about to go behind bars. But he is scouted by agent Harry Hart who believes that he has potential and recruits him to be a trainee and a member of the secret society.
When the movie was released in 2014, it was the question of every critic that if this film would be able to balance violence and humour well, and if one of the genres would overpower the other. However, when they watched it cleared all the doubts because it was brilliant, and makes the spy genre more cool. The slick visual effects, and amazing camera work for the fight scenes made it fantastic, and the theme is groovy and fun to listen to.
26. Safe (2012)
Director: Boaz Yakin
Writer: Boaz Yakin
Starring: Jason Statham, Catherine Chan, Anson Mount, James Hong, Chris Sarandon, Robert John Burke, Joseph Sikora, J. J. Perry, and Barry Bradford.
IMDb: 6.5/ 10
Rotten Tomatoes: 59%
Streaming on: Vudu, Amazon Prime Video
Luke Wright is a cage fighter and his life was turned upside down when the throws a fixed match. The Russian mobsters who fixed the match were furious about it and they slaughtered his family and made his life a living hell. Luke was haunted by grief and remorse, but he did not think twice to save an Asian girl from the same mobsters who murdered his family. He soon finds himself in a war and that girl is a math prodigy as she holds a code that can change lives of people and they are ready to kill to get hands on that code.
When we think of action movies, we think of many actors and Jason Statham is one of the actors who will be on the list of every person who enjoys watching action movies. The movie is a great watch if you are a action movie fan and if you are a fan of Jason Statham then this will be a cherry on top as his character is a total badass and a force not to be reckoned with. Overall, this is a great film and even though it does not feature something new it is an entertaining watch.
27. Transporter 2 (2004)
Director: Louis Leterrier
Writer: Luc Besson, and Robert Mark Kamen
Starring: Jason Statham, Alessandro Gassman, Amber Valleta, Kate Nauta, Francois Berleand, Keith David, Hunter Cleary, Shannon Briggs, Matthew Modine, and Jason Flemyng
IMDb: 6.3/ 10
Rotten Tomatoes: 52%
Streaming on: Hulu, Amazon Prime Video.
Frank Martin, a mercenary for hire has accepted a job as a bodyguard that seemed like piece of cake because he had to protect the sun of a politician. The problem is that the politician is crusading against an international drug cartel who showed their discontent by kidnapping his son, Jack and injected a deadly virus in him. Frank felt responsible for the boy and went against the cartel to bring back the boy and find the antidote for the virus.
Transporter 2 is the an action packed film and it has the same level of action like John Wick. The cast has done a great job and at times the action scenes might look too much but it has been executed and edited so perfectly that makes it jaw-dropping. In a nutshell, Transporter 2 is a great watch and if you are looking for a movie that has tons of action scenes then this is the movie for you.
28. The Punisher: War zone (2008)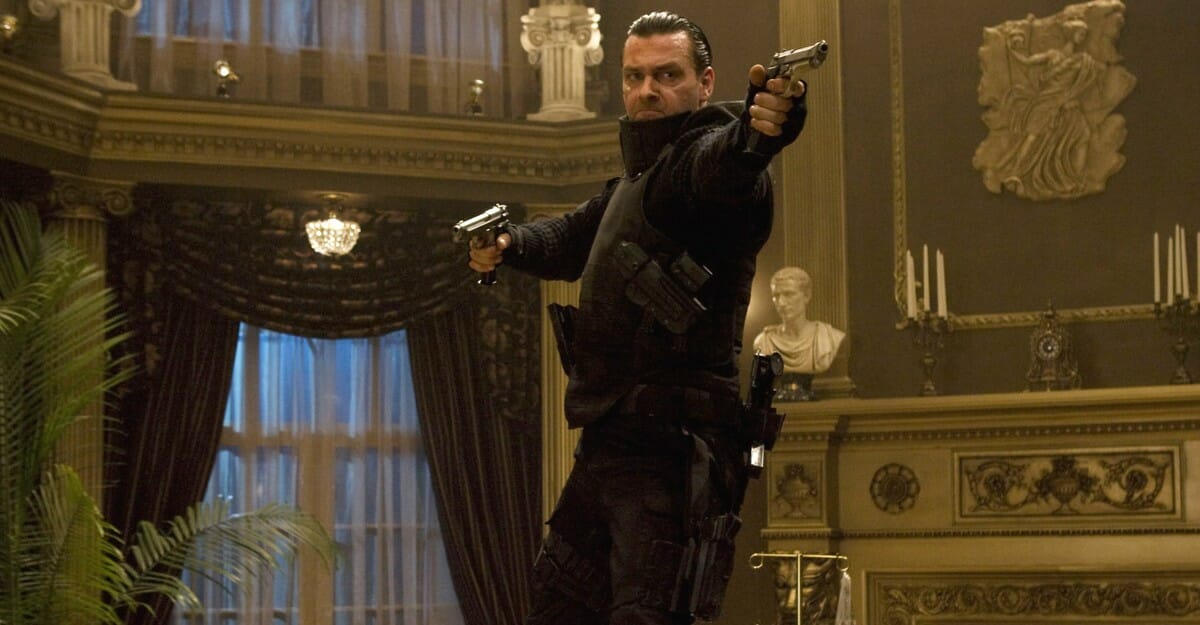 Director: Lexi Alexander
Writer: Nick Santora, Art Marcum, and Matt Holloway
Starring: Ray Stevenson, Dominic West, Julie Benz, Colin Salmon, Doug Hutchison, Dash Mihowk, Wayne Knight.
IMDb: 5.9/ 10
Rotten Tomatoes: 29%
Streaming on: Vudu, Amazon Prime Video
The film tells the story of a vigilante, Frank Castle who goes by the alias The Punisher. Punisher turns the streets of New York red as he wages a war against the crime family who killed his wife and two children. He is helped by his trustee sidekick, Microchip, who was close to killing Billy Russoti, and brutally disfigures him. However, Billy survives and he changed his name to Jigsaw and he is now recruiting every criminal in the city to fight against The Punisher.
The Punisher: War Zone is a reboot of the 2004 film and this reboot is out of the planet as the cast has done a fantastic job, and Ray Stevenson looks perfect in the role of Punisher as he perfectly picks up the role and it would look as if he is living the character. The film is extremely violent and quite original to the comic and the soundtrack is great.
29. The Night Comes For Us (2018)
Director: Timo Tjajhjanto
Writer: Timo Tjahjanto
Starring: Iko Uwais, Joe Taslim, Asha Kenyeri Bermudez, Sunny Pang.
IMDb: 6.9/ 10
Rotten Tomatoes: 91%
Streaming on: Netflix
This 2018 Indonesian film tells the story of Ito one of the members for South East Asian Triad. Ito murdered every villager from a nearby village because they had stolen drugs from them. However, he meets a young girl who was a survivor of the massacre he caused, feeling remorseful for his actions he kills the soldiers of the triad. The triad founds out about Ito's actions and they are coming back to him and the girl for vengeance.
The movie is bloody thrill ride that will make the audience scream out in fear and thrill as it is amazingly violent and packs a punch. If you are fan of slasher films and brutal action movies then this movie is for you. However, faint hearted people should not watch this as it has too much action.
30. The Man From Nowhere (2010)
Director: Jeong Beom Lee
Writer: Jeon Beom Lee
Starring: Won Bin, Kim Sae Ron, Kim Tae Hun, Kim Hee Won.
IMDb: 7.7/ 10
Rotten Tomatoes: 100%
Streaming on: Amazon Prime Video
The film tells the story of a former secret agent who now lives a normal life, he is friends with a young girl from the same neighbourhood, and her mother works for a drug lord. When the drug lord gets to know about his secret identity, they kidnapped the girl and forces him to make a delivery.
The Man From Nowhere is a great watch and this film has got it all from intense drama to great acting, to intense action that will make you sit on the edge of your seat wondering what will happen now? This film starts slow but once the plot develops, you can not stop biting your nails.
Honorable Mentions
The Man From Nowhere (2010)
One Man Army (1998)
Jason Bourne
Mad Max
Cold War (2012)
No Tears For The Dead
The 20 movies mentioned above are the Movies based on the borderline concept of John Wick. John Wick is a movie/film Franchise, casting Keanu Reeves as the main character. The character of John Wick is given quite a few Aliases like Baba Yaga, The Legendary Hitman, The Boogeyman, The Devil, The Reaper.
John Wick franchise is of Action/thriller genre. Currently, there are 3 John Wick movies and 2 movies are down the line :
1. John Wick (2014)
Directors: Chad Stahelski, David Leitch
Writer: Derek Kolstad
Stars: Keanu Reeves, Michael Nyqvist, Alfie Allen
IMDb: 7.4/10
Rotten Tomatoes: 86%
Streaming on: Netflix
Keanu Reaves plays a hitman who retired to be with her wife. His wife got sick of terminal disease and so bought a dog for him, to him in his lonely times. Josef Tarasov and his men takes away his Mustang and killed his dog. This situation forced John wick to come back for revenge by using all his lethal skills to his capacity.
2. John Wick: Chapter 2 (2017)
Director: Chad Stahelski
Writer: Derek Kolstad
Stars: Keanu Reeves, Riccardo Scamarcio, Ian McShane
IMDb: 7.5/10
Rotten Tomatoes: 89%
Streaming on: Amazon Prime Video
His mustang was still stolen, and bound by a 'marker' blood debt by the crime lord, Santino D' Antonio is forced to visit Italy to keep his promise and he ends up killing Tarasov, Santino. He soon finds himself in a position where every killer in the business is desperate for Wick's blood. Due to all these happening, a peaceful retirement goes down the pipeline.
3. John Wick: Chapter 3- Parabellum (2019)
Director: Chad Stahelski
Writers: Derek Kolstad, Shay Hatten
Stars: Keanu Reeves, Halle Berry, Ian McShane
IMDb: 7.4/10
Rotten Tomatoes: 89%
Streaming on: Amazon Prime Video
John Wick in the last series ended up killing a gangster from the High table and now, he has a $14 million prize on his head. He is being hunted for his life. He killed a member of the shadowy international guild, John Wick becomes excommunicate. John is then banned from all the services, he uses the service industry to stay alive as he fights and kills his way out of New York City.
Upcoming John Wick Movies
John Wick: Chapter 4- releasing in 2022
John Wick: Chapter 5- releasing in 2023