Pitch Perfect is a musical comedy media franchise created by Kay Cannon based on a non-fiction book about the world of collegiate acapella groups. Beca (Anna Kendrick), a college student, does not want to be part of any drama, but that is precisely what happens when she starts her new school. Becca directs the group from classic acapella to fun harmonies to win the college music competition. More movies are sorted, which are musical and dramatic, just like Pitch Perfect.
Anna Kendrick, Skylar Astin, Hana Mae Lee, Rebel Wilson, Alexis Knapp, Ester Dean, Kelley Jakle, Shelley Regner, Anna Camp, and Brittany Snow are among the principal cast members of Pitch Perfect.
The movie became an instant hit as soon as it was released in 2012. If you've finished binge-watching all four Pitch Perfect movies and want to fill the void by watching other films in the same genre, this is the place to go. We've compiled a list of the 20 best comedy musical drama movies (not ranked), like Pitch-perfect, to add to your watch list.
20. Camp Rock
Director: Matthew Diamond
Writers: Karin Gist, Regina Hicks, Julie Brown, Paul Brown
Cast: Demi Lovato, Joe Jonas, Meaghan Martin, Alyson Stoner
IMDb Rating: 5.1/10
Rotten Tomatoes: 48%
Camp Rock is a musical drama show like Pitch Perfect following our main protagonist Mitchie, a small-town girl who desperately wants to attend camp rock but can only go if she works as a cook in the kitchen.
When the famous superstar Shane Gray overhears a girl singing, he sets out to find out who owns the talented voice. However, to be in the spotlight and become a camp star, she must confront her fears and leave the kitchen.
19. Bandslam
Director: Todd Graff
Writers: Todd Graff, Josh A. Cagan
Cast: Vanessa Hudgens, Aly Michalka, Gaelan Connell
IMDb Rating: 6.3/10
Rotten Tomatoes: 82%
The family comedy-drama like Pitch Perfect "Bandslam" has some witty lines and a fantastic soundtrack. Will and Charlotte are the story's star characters, and their shared love of music brings them together unexpectedly.
After assembling a group of aspiring musicians, the friends form a young rock group and compete in an upcoming competition called "Bandslam."
18. Footloose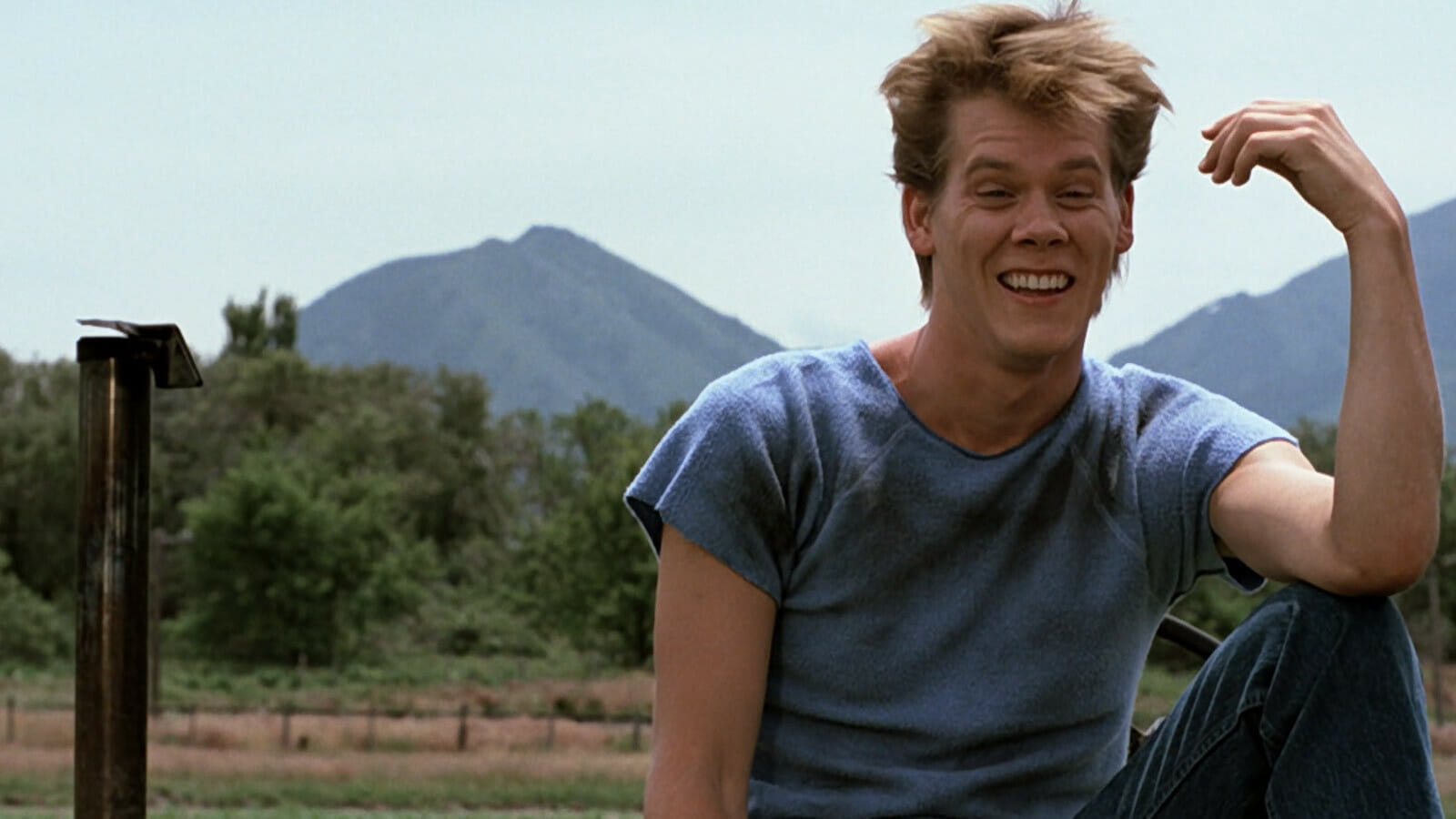 Director: Herbert Ross
Writers: Dean Pitchford
Cast: Kevin Bacon, John Lithgow, Lori Singer
IMDb Rating: 6.6/10
Rotten Tomatoes: 52%
Footloose, an American musical film released in 2011, is a remake of the 1984 film of the same name and follows the story of Ren, who relocates to a small town following his mother's tragic death and discovers that dancing and loud music are illegal. Ren revokes the ban and falls in love with the preacher's daughter.
Footloose is a feel-good movie that is ideal for when you are feeling lazy and want to spend the day relaxing and are looking for something similar to Pitch Perfect.
17. The Prom
Director: Ryan Murphy
Writers: Bob Martin, Chad Beguelin, Matthew Sklar
Cast: Meryl Streep, James Corden, Nicole Kidman
IMDb Rating: 5.9/10
Rotten Tomatoes: 54%
Ryan Murphy's 2020 American comedy film, The Prom, is based on Chad Beguelin and Bob Martin's 2018 Broadway musical of the same name.
The film The Prom is about Dee Dee Allen and Barry Glickman, talented stage stars facing financial complications due to the failure of their Broadway show. When they learn that trouble is brewing near a small-town Indiana prom and that the press is involved, they know it's time to bring the issue to light.
16. Step Up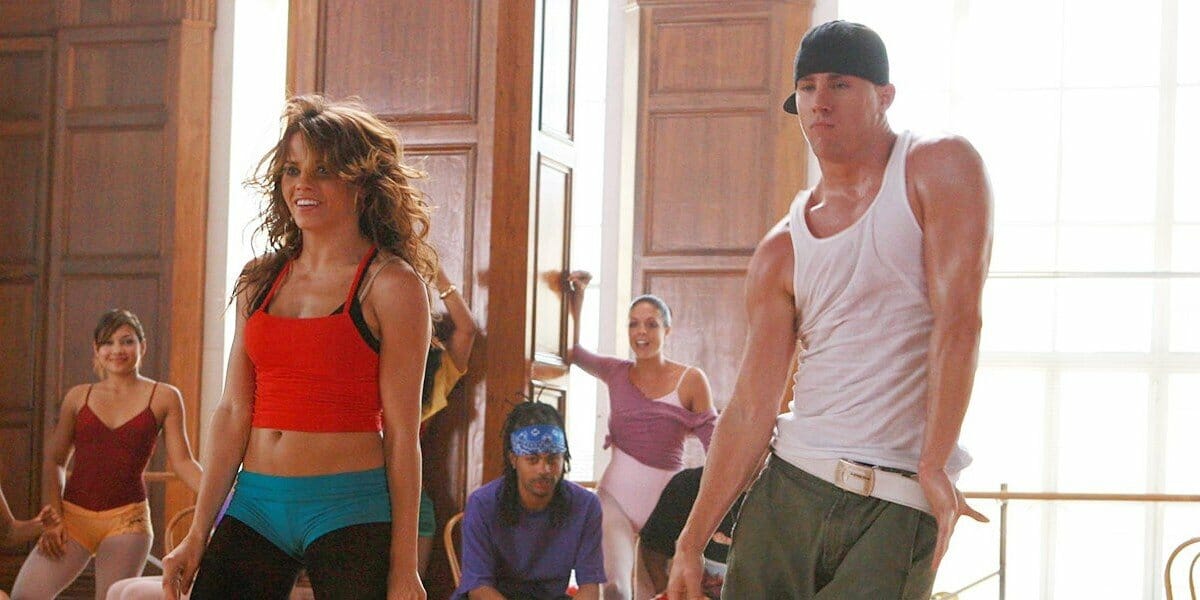 Director: Anne Fletcher
Writers: Duane Adler, Melissa Rosenberg
Cast: Jenna Dewan, Channing Tatum, De' Shawn Washington
IMDb Rating: 6.5/10
Rotten Tomatoes: 21%
Step Up is a multi-media American romantic dance film series about Tyler and Nora, who meet at the school where Tyler also works. Their fateful meeting made them fall in love and follow their dreams together.
15. Lemonade Mouth
Director: Patricia Riggen
Writers: April Blair, Mark Peter Hughes
Cast: Bridgit Mendler, Adam Hicks, Hayley Kiyoko, Naomi Scott
IMDb Rating: 6.9/10
Rotten Tomatoes: 80%
Lemonade Mouth is a teen musical drama film that stars five disparate high school students who meet in detention and ultimately form a band to fight for their beliefs and overcome personal and collective struggles. These teenagers will slowly learn about life and grow from it.
14. La La Land
Director: Damien Chazelle
Writers: Damian Chazelle
Cast: Emma Stone, Ryan Gosling, Rosemarie DeWitt
IMDb Rating: 8/10
Rotten Tomatoes: 91%
Damien Chazelle's La La Land is a 2016 American romantic comedy-drama film that follows Sebastian, a pianist, and Mia, an actress, who find themselves torn between their love for each other and their careers while pursuing their passions in Los Angeles.
The film is a witty and skillful comedy and a romantic melodrama that has received worldwide praise from critics and fans.
13. Jersey Boys
Director: Clint Eastwood
Writers: Marshall Brickman, Rick Elice
Cast: Michael Lomenda, John Lloyd Young, Erich Bergen,
IMDb Rating: 6.8/10
Rotten Tomatoes: 51%
Clint Eastwood's musical drama film Jersey Boys is based on a musical with the same name and is about The Four Seasons(a musical group).
It tells the story of four men who formed The Four Seasons, an iconic 1960s rock band. The film also has fantastic music that appeals to young and old audiences.
12. Bring It On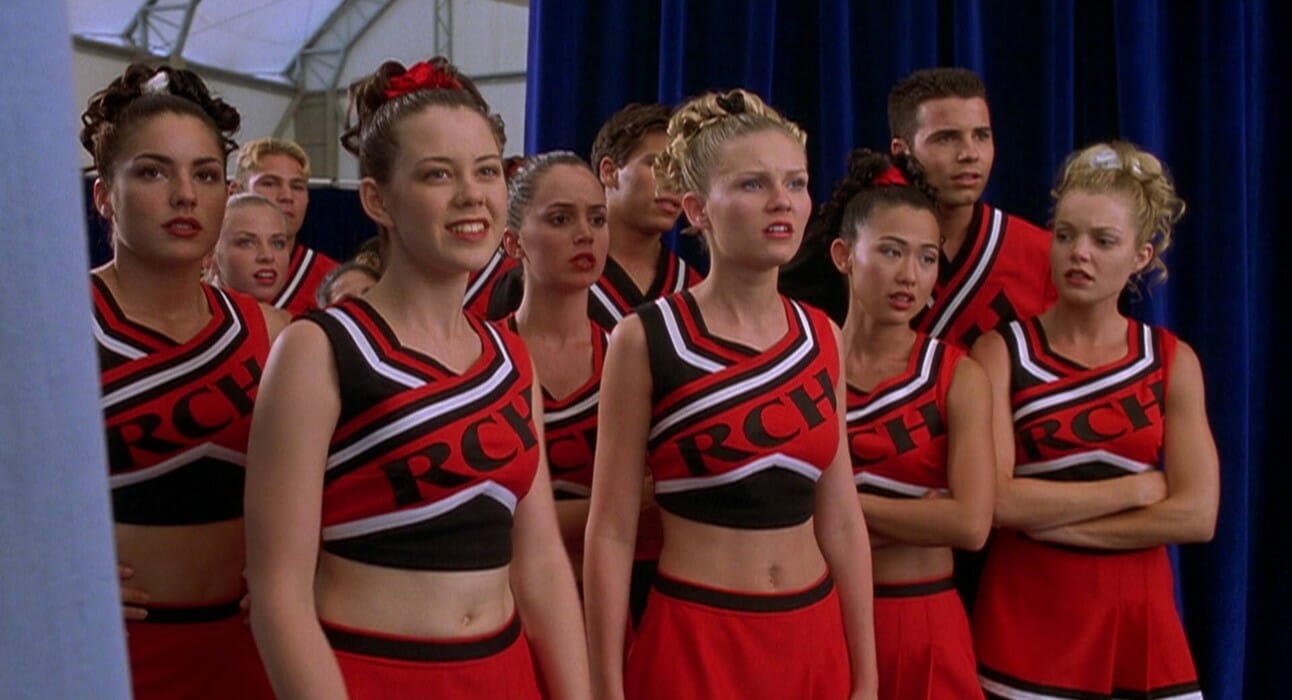 Director: Peyton Reed
Writers: Jessica Bendinger
Cast: Kirsten Dunst, Eliza Dushku, Jesse Bradford
IMDb Rating: 6.1/10
Rotten Tomatoes: 64%
Bring It On is a cheerleading-themed movie part of the Bring It On franchise. The film is about the Toro cheerleading squad, who discovers their choreography has been stolen. Torrence, the team captain, is in a rough place and attempts to lead her team to severe competition.
11. Work It
Director: : Laura Terruso
Writers: Alison Peck
Cast: Sabrina Carpenter, Liza Koshy, Jordan Fisher
IMDb Rating: 6.1/10
Rotten Tomatoes: 85%
Work It is a dance comedy film and tells the story of a brilliant but clumsy high school student who vows to transform herself and her squad into dance champions so that she can attend her dream university.
The film's plot is entertaining and moving, giving underrepresented teenagers a chance to excel in something they enjoy and hope and motivation to grow and improve. The film is enjoyable, thanks to a sweet romance and blossoming friendships.
10. Blockers
Director: KayCannon
Writers: Brian and Jim Kehoe
Cast: Leslie Mann, John Cena, Ike Barinholtz
IMDb Rating: 6.2/10
Rotten Tomatoes: 84%
Blockers is a 2018 American sex comedy film about a trio of parents who try to keep their respective daughters from losing their virginity on prom night. The movie has a cleverly funny script and a surprisingly enlightening standpoint. It is a highly raunchy comedy with excellent cast chemistry.
9. High School Musical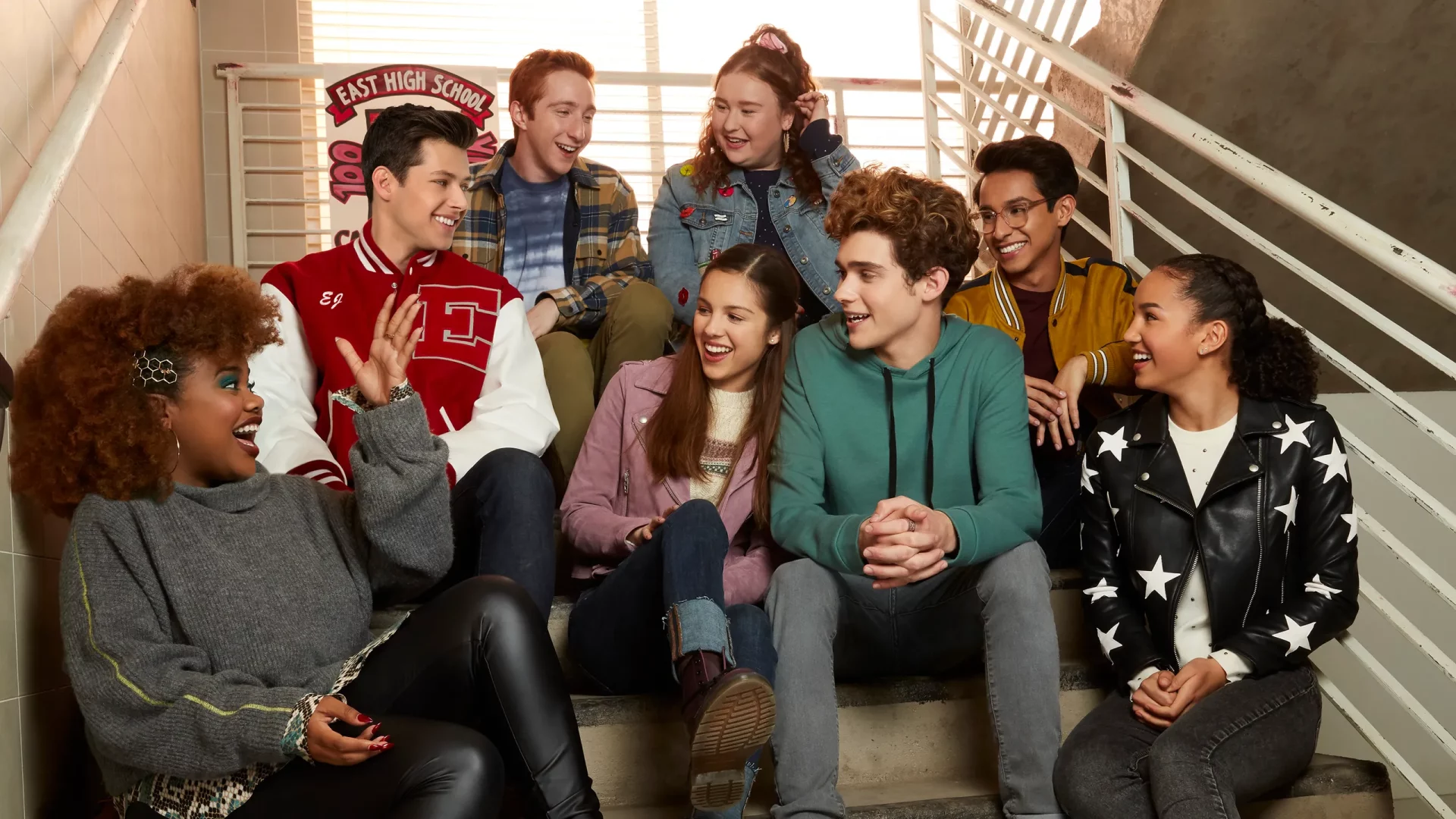 Director: Kenny Ortega
Writers: Peter Barsocchini
Cast: Zac Efron, Vanessa Hudgens, Ashley Tisdale, Lucas Grabeel
IMDb Rating: 5.4/10
Rotten Tomatoes: 65%
High School Musical is a musical rom-com based on Peter Barsocchini's romantic comedy-drama film series. It follows the high school life of Troy Bolton, a talented football star who falls in love with the pretty nerd of the school. Together they have to balance their energy to pass the audition.
8. Hairspray
Director: Adam Shankman
Writers: Leslie Dixon, John Waters, Mark O'Donnell
Cast: John Travolta, Queen Latifah, Nikki Blonsky, Michelle Pfeiffer
IMDb Rating: 6.7/10
Rotten Tomatoes: 92%
Hairspray, a musical romantic comedy, was released in 2007. It follows the story of Tracy Turnblad, who discovers Corny Collins' show in 1962 and falls in love with it.
The Afro-American students teach her jazzy moves when she is in detention, making her get a place in Corny's show. Tracy goes from a nobody in the whole school to a celebrity instantly, and she uses her newfound fame on the show to advocate for racial integration.
7. Grease
Director: Randal Kleiser
Writers: Jim Jacobs, Warren Casey, Bronte Woodard
Cast: John Travolta, Olivia Newton-John, Stockard Channing
IMDb Rating: 7.2/10
Rotten Tomatoes: 76%
Grease is a 1978 American musical romantic comedy film based on the 1971 musical of the same name by Jim Jacobs and Warren Casey. The story follows the story of Danny and Sandy, who have the best summer romance.
"Grease" will transport you to the 1950s like no other film, with its fantastic plot and unforgettable music.
6. Sydney white
Director: Joe Nussbaum
Writers: Chad Gomez Creasey
Cast: Sara Paxton, Amanda Bynes, Matt Long
IMDb Rating: 6.1/10
Rotten Tomatoes: 35%
Sydney White is a retelling of Snow White and is about a girl named Sydney White who wants to join the sorority of her late mom. Unfortunately, she discovers that her sisters have begun to change since her parents died.
Sydney joins hands with seven outcasts to achieve equality among everyone. This is an excellent choice if you want to watch something like Pitch Perfect.
5. Glee
Director: Ryan Murphy, Ian Brennan, Brad Falchuck
Writers: Chris Colfer, Ryan Murphy
Cast: Lea Michele, Jane Lynch, Matthew Morrison, Cory Monteith
IMDb Rating: 6.8/10
Rotten Tomatoes: 70%
Glee is a Fox television series about an adolescent musical comedy-drama like the same Pitch Perfect movie. It follows an upbeat high school teacher who enlists the help of a group of misfit students to compete in a singing competition to transform the high school choir club.
This show is a must-see because of its eccentric characters, fantastic performances, and willingness to tackle controversial topics sensitively.
4. School Of Rock
Director: Richard Linklater
Writers: Mike White
Cast: Jack Black, Joan Cusack, Mike White
IMDb Rating: 7.2/10
Rotten Tomatoes: 92%
School of Rock is a critically acclaimed comedy musical drama movie like the Pitch Perfect that follows the story of Dewey Finn, an amateur rock enthusiast who hides as a substitute teacher at a private school by taking over his friend's job. Despite his lack of qualifications, he secretly begins teaching the students to form a band.
It's a film about how a large group of talented people can overcome almost any challenge and be watched if you love movies like Pitch-perfect.
3. 10 Things I Hate About You
Director: Gil Junger
Writers: Karen McCullah, Kirsten Smith
Cast: Heath Ledger, Julia Stiles, Joseph Gorden Levitt, Larisa Oleynik
IMDb Rating: 7.3/10
Rotten Tomatoes: 70%
Released in 1999, 10 Things I Hate About You is a Gil Junger romantic comedy and stars Cameron, a high school student, who cannot date Bianca until her anti-social older sister, Kat, has a boyfriend. Cameron hires a mysterious boy named Patrick to seduce Kat.
Since musical movies like Pitch Perfect, full of drama, came out, this classic teen film has won many hearts. It has a lot of exciting twists and a fantastic set of music. The cast also delivered an outstanding performance that made the movie worthwhile.
2. A Cinderella Story
Director: Mark Rosman
Writers: Leigh Dunlap
Cast: Hilary Duff, Chad Michael Murray
IMDb Rating: 5.9/10
Rotten Tomatoes: 12%
A Cinderella Story is a classic musical drama and can be deemed the modern version of the Cinderella tale. Sam is the story's protagonist, who her stepmother and stepsisters bullied after her father died.
Her online Pen Pal Nomad is the only person to comfort her, whom she plans to meet at a school dance. The film is considered a classic and should be seen by everyone who enjoys movies like Pitch Perfect.
1. Table 19
Director: Jeffrey Blitz
Writers: Jay and Mark Duplass
Cast: Lisa Kudrow, Stephen Merchant, Craig Robinson, Tony Revolori, and June Squibb
IMDb Rating: 5.8/10
Rotten Tomatoes: 25%
Table 19 is a musical movie about a girl named Eloise who, when attending a close friend's wedding, gets seated with a group of strangers and slowly learns their secrets. The movie is delightful and has excellent acting. You will love it if you are looking for something musical drama movie like Pitch Perfect.