Who doesn't like romantic films? With the aura of love in the air, HBO Max has several romantic films that are going to set your mood for love. From heart wrenching stories to stories full of love and laughter, HBO Max has romantic movies for all your moods. You can cry your hearts out and you can roll on the floor laughing, the choice will always be yours. We have curated a list of the 20 best romantic movies on HBO Max for you and your loved ones that includes some classics, timeless romances, and new audience favorites.
20. Casablanca (1942)
Director: Michael Curtiz
Writer: Julius J. Epstein
Cast: Humphrey Bogart, Ingrid Bergman, Paul Henreid, Claude Rains, Conrad Veidt, Sydney Greenstreet, Peter Lorre
IMDb Ratings: 8.5/10
Rotten Tomatoes Score: 99%
Considered as one of the best romantic films, Casablanca is about Rick Blaine who is the owner of a nightclub in Casablanca. He meets his old love Lisa only to realize that she is in town with her husband, who is a renowned rebel. Lisa needs Rick's help to get her husband out of the country.
This classic film delivers the beautiful message of doing things greater than yourself. Will Rick help Lisa to get her husband out of the country and lose the love of his life or is there something else in store?
19. When Harry Met Sally (1989)
Director: Rob Reiner
Writer: Nora Ephron
Cast: Billy Crystal, Meg Ryan, Carrie Fisher, Bruno Kirby
IMDb Ratings: 7.7/10
Rotten Tomatoes Score: 91%
Considered as one of the best romantic movies, When Harry Met Sally depicts the story of two young college graduates who share a ride all the way to New York. Meg Ryan stars as Sally and Billy Crystal stars as Harry. They talk about everything on the ride, from friendships, to love, to politics. The two meet 10 years later in a bookstore with their respective best friends.
However, things start to get complicated as feelings coincide. What new turn their friendship will take as these young flames meet after 10 years?
18. You've Got Mail (1998)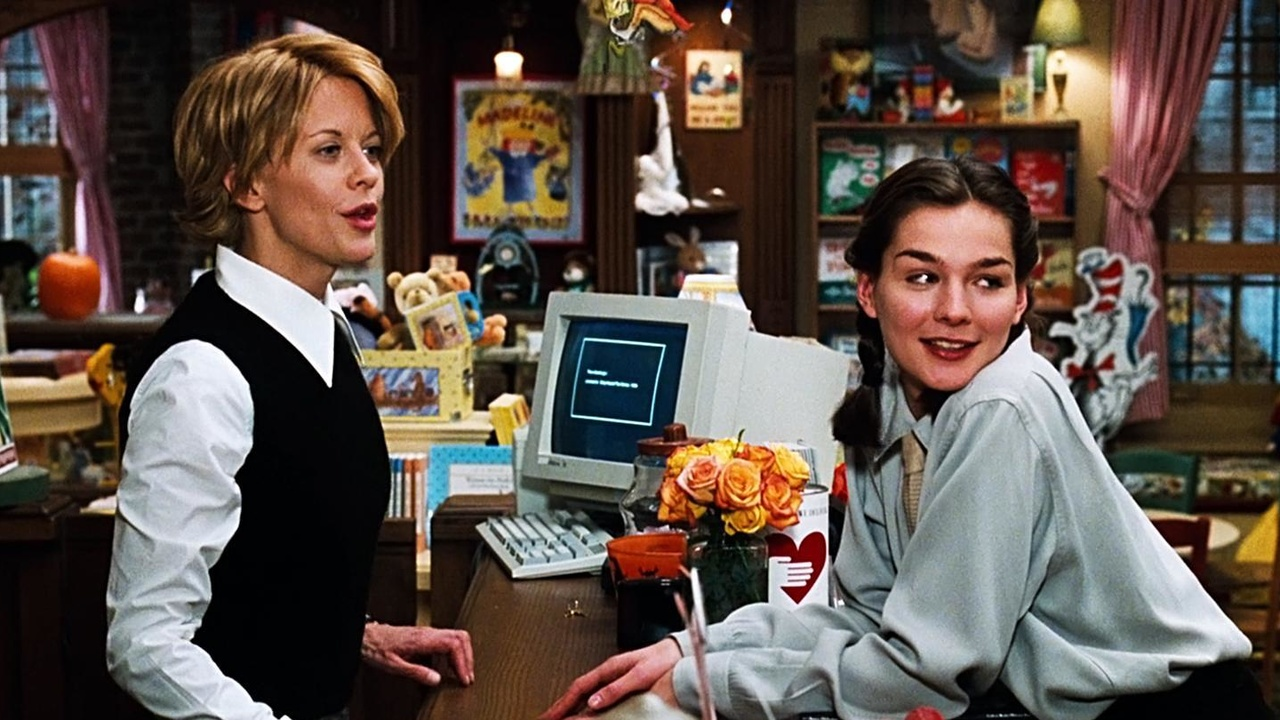 Director: Nora Ephron
Writer: Nora Ephron, Della Ephron
Cast: Tom Hanks, Meg Ryan, Parker Posey, Jean Stapleton, Dave Chappelle, Steve Zahn, Greg Kinnear
IMDb Ratings: 6.7/10
Rotten Tomatoes Score: 69%
You've Got Mail is one of the best romantic comedies that depicts the love story of two people, Katherine Kelly and Joe Fox, who meet anonymously on the internet and begin to fall in love. Things get complicated when the man realizes that the woman he is in love with is none other than his business rival in real life. Both the people who are in love virtually are enemies in real life.
How will both the young lovers take the truth when they realize who have they fallen in love with? Is it the end of the beginning of a beautiful story?
17. In the Mood for Love (2000)
Director: Wong Kar Wai
Writer: Wong Kar Wai
Cast: Maggie Cheung, Tony Leung
IMDb Ratings: 8.1/10
Rotten Tomatoes Score: 91%
In the Mood for Love depicts the story of Chow Mo Wan who is lonely as his wife is away for business most of the time. After they move into a new apartment in Hong Kong, he befriends Su Li Zhen who is in the same situation as him. The two begin falling in love, they discover their partners are cheating on them.
As they do not want to stoop to the level of cheating, what will the two friends do in order to sort out their complicated relationship with their partners as well as themselves?
16. The Notebook (2004)
Director: Nick Cassavetesas
Writer: Jeremy Leven
Cast: Ryan Gosling, Rachel McAdams, James Garner, Gena Rowlands, James Marsden, Kevin Conolly, Sam Shepard, Joan Allen
IMDb Ratings: 7.8/10
Rotten Tomatoes Score: 53%
This classic romantic film is one of the most loved films ever. The story depicts the lives of two young people, Noah, a country boy, and Ally, a rich girl who meet by fate and are separated by fate but have had the greatest love story ever. The love story spans over decades and endures several adversities. Will Noah and Ally defy fate to be together or will fate has its own plans for them?
15. A Room With a View (1985)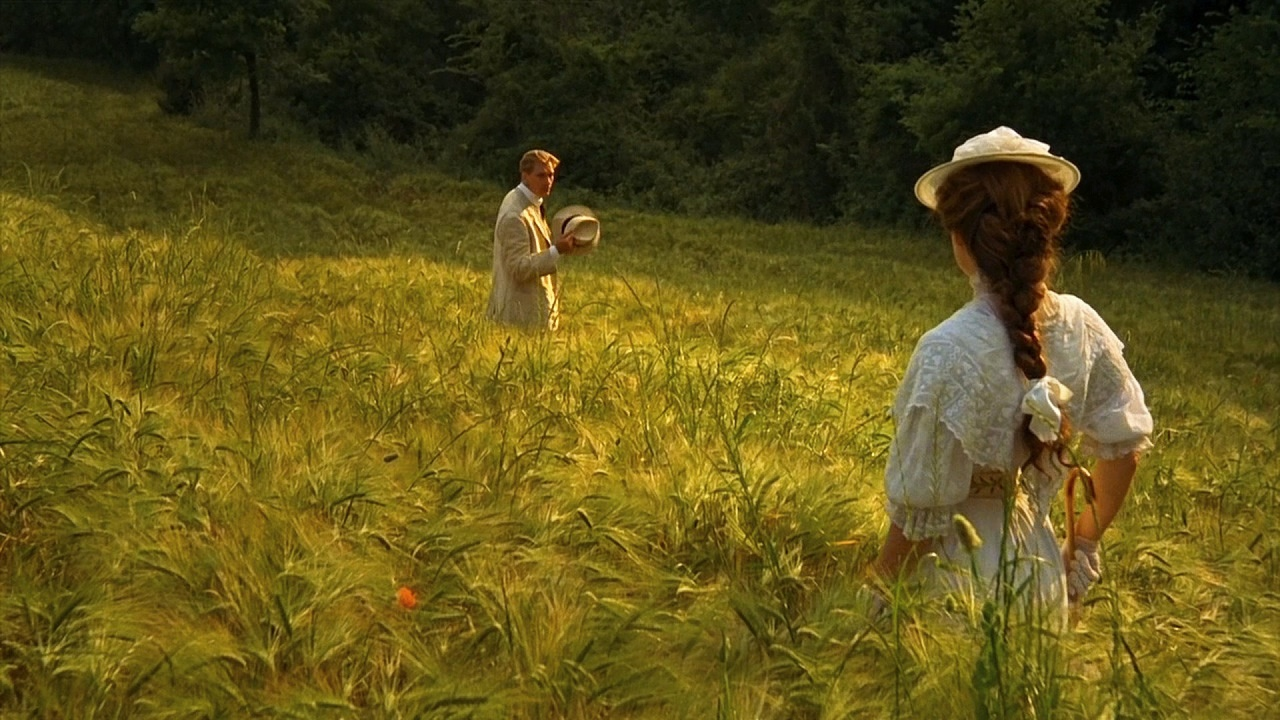 Director: James Ivory
Writer: Ruth Prawer Jhabvata
Cast: Maggie Smith, Denholm Eliott, Judi Dench, Simon Callow, Helena Bonham Carter, Julian Sands, Daniel Day-Lewis, Fabia Drake, Patrick Godfrey, Rupert Graves, Joan Henley, Rosemary Leach
IMDb Ratings: 7.3/10
Rotten Tomatoes Score: 100%
The film depicts the story of Lucy, a young woman, who is touring Italy with her cousin. She meets a young man named George Emerson who has a magnetic charm and is free-spirited. Although there are some sparks between the two, Lucy returns to London and thinks about settling down with Celil, a wealthy man.
Things turn complicated when George returns to Lucy's life and Lucy has to make a decision that might change 3 lives forever.
14. Brief Encounter (1945)
Director: David Lean
Writer: Noel Coward, Anthony Havelock Allan, David Lean, Ronald Neame
Cast: Celia Johnson, Trevor Howard, Stanley Holloway, Joyce Carey, Cyril Raymond, Everley Gregg, Margaret Barton
IMDb Ratings: 8/10
Rotten Tomatoes Score: 91%
This rom-com depicts the story of Laura Jesson, a bored suburban housewife who meets an old acquaintance Dr. Alec Harvey. As the two start meeting quite often, the accidental meet-up turns out to be something more emotional each passing day. Both of them fall in love with each other, unsure of what is going to happen.
As the two keep falling in love more, what havoc will this create on their families and lives is something that makes it worth the watch.
13. Crazy Rich Asians (2018)
Director: Jon M Chu
Writer: Peter Chiarelli, Adele Lim
Cast: Constance Wu, Henry Golding, Gemma Chan, Lisa Lu, Awkwafina, Ken Jeong, Michelle Yeoh
IMDb Ratings: 6.9/10
Rotten Tomatoes Score: 91%
This modern romance movie that is available on the streaming service HBO Max is one of the most loved rom-com dramas of recent times. Crazy Rich Asians depict the relationship of Rachel, a young professor, and her boyfriend Nick. When she goes to meet his family, Rachel discovers that her boyfriend belongs to one of the richest families in Singapore.
The film is full of light-hearted and love-filled moments that make it worth the watch. How will Rachel adjust in the family or will she eventually bow to the hardships?
12. City Lights (1931)
Director: Charlie Chaplin
Writer: Charlie Chaplin
Cast: Charlie Chaplin, Virginia Cherill, Florence Lee, Harry Myers Al Earnest Garcia
IMDb Ratings: 8.5/10
Rotten Tomatoes Score: 97%
This classic romantic comedy film revolves around the life of a tramp who falls in love with the flower girl who is blind. In order to support her financially, the tramp, played by none other than Charlie Chaplin, ends up in embarrassing and funny situations. However, things might change for them when a wealthy man is saved by Chaplin.
The wealthy man offers Charlie a huge amount of money that he can use to help his blind friend out.
11. Moonstruck (1987)
Director: Norman Jewison
Writer: John Patrick Shanley
Cast: Cher, Nicholas Cage, Vincent Gardenia, Olympia Dukakis, Danny Aiello
IMDb Ratings: 7.1/10
Rotten Tomatoes Score: 94%
The story revolves around an Italian American woman, who is a widow and who is looking for a partner to remarry. She finds her friend Johnny suitable for marriage as he is stable and nice. However, Loretta finds herself drawn to Ronny, Johnny's brother who is moody and passionate.
Who is Loretta going to choose as she fights her dilemma over the two men? Will Loretta be able to reach a conclusion and put a rest on her complicated feelings?
10. Gone With The Wind (1939)
Director: Victor Fleming
Writer: Sidney Howard
Cast: Clark Gable, Vivien Leigh, Leslie Howard, Olivia De Havilland
IMDb Ratings: 8.2/10
Rotten Tomatoes Score: 9o%
Gone With the Wind is the story of a Southern woman named Scarlett O' Hara, who leads an idyllic life in the plantations. Set against the backdrop of the Civil War and Reconstruction, the film depicts the complicated relationship that Scarlett shares with the two men named Ashley Wilkes and Rhett Butler.
This war and romance drama depict a tragic picture of the war as well as there are certain themes and characterizations that might not be what the contemporary audience expects. But even so, the film is definitely a must-watch.
9. Singin' in the Rain (1952)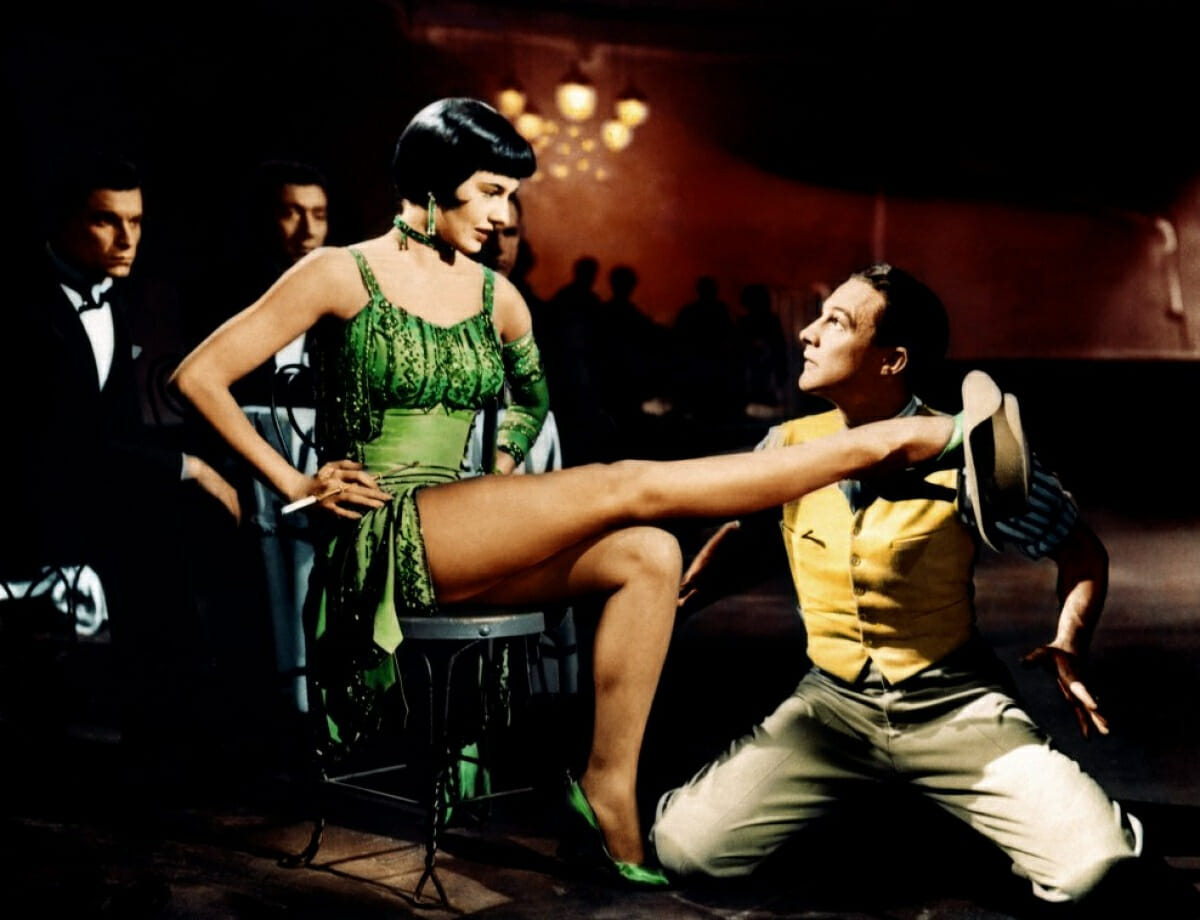 Director: Gene Kelly, Stanley Donen
Writer: Adolph Green, Betty Comden
Cast: Gene Kelly, Donald O' Connor, Debby Reynolds, Jean Hagen, Millard Mitchelle, Cyd Charisse
IMDb Ratings: 8.3/10
Rotten Tomatoes Score: 100%
The film depicts a time when there was a transformation happening in the world of entertainment when talkies were taking over the silent film. Singin' in the Rain shows the story of Don and Lina who are cast as a romantic couple in movies. However, when a talkies film is made, Don gives the voiceover for his character, but Lina is not selected for recording.
An aspiring actress is given the role of voicing Lina and this is something that will create trouble in paradise for Lina as well as Don too.
8. Bringing Up Baby (1938)
Director: Howard Hawks
Writer: Dudley Nichols, Hagar Wilde
Cast: Katharine Hepburn, Cary Grant, Charles Ruggles, Barry Fitzgerald, May Robson, Walter Catlett, Fritz Feld
IMDb Ratings: 7.4/10
Rotten Tomatoes Score: 94%
The story revolves around David Huxley, a paleontologist who does his best to impress the society matron Mrs. Random as she was interested to donate a million dollars to his museum, However, things get complicated when Mrs. Random's niece meets David and she falls in love with him.
As he tries to manage things with Susan, a dinosaur bone that goes missing along with a pet leopard adds up to the chaos that has already been created in love.
7. Crazy Stupid Love (2011)
Director: Glenn Ficara, John Requa
Writer: Dan Fogelman
Cast: Steve Carell, Ryan Gosling, Julianne Moore, Emma Stone, John Caroll Lynch, Marisa Tomei Kevin Bacon
IMDb Ratings: 7.4/10
Rotten Tomatoes Score: 79%
The story is an interesting romantic film that depicts the life of Cal Weaver, a man above 40 years of age who had the perfect life, a good job, a beautiful wife, and children. But suddenly his life comes to a standstill when his wife files for divorce and he learns that she has been unfaithful all through.
With his dating game at nil, he meets Jacob Palmer, who takes it upon himself to teach Cal how to hot it off in the dating world. Will Jacob succeed in his mission and will Cal finally meet someone?
6. West Side Story (1961)
Director: Robert Wise, Jerome Robbins
Writer: Ernest Lehman
Cast: Natalie Wood, Richard Beymer, Russ Tamblyn, Rita Moreno, George Chakiris
IMDb Ratings: 7.6/10
Rotten Tomatoes Score: 93%
The film is a romantic musical drama that depicts a modern version of the infamous love of Romeo and Juliet. However, the twist here is that Romeo and Juliet here are involved in the street gangs of New York who fight for control on the turf.
Things become complicated when a member of a rival gang falls in love with the sister of another rival gang's leader.
5. Wonder Woman (2017)
Director: Patty Jenkins
Writer: Allan Heinberg, Jason Fuchs
Cast: Gal Gadot, Chris Pine, Robin Wright, Danny Huston, David Thewlis, Connie Nielsen, Elena Anaya
IMDb Ratings: 7.4/10
Rotten Tomatoes Score: 93%
Despite being a film of the action-adventure genre, Wonder Woman also fits perfectly into the genre of romantic films. The film depicts the life of a princess from Amazon named Diana who meets an American Pilot played by Chris Pine. Both the characters have their own destinies but the chemistry shared between the two is commendable.
As the world falls into chaos, Wonder Woman has to take charge as she goes on to fight the threats and discover her true self.
4. Maid in Manhattan (2002)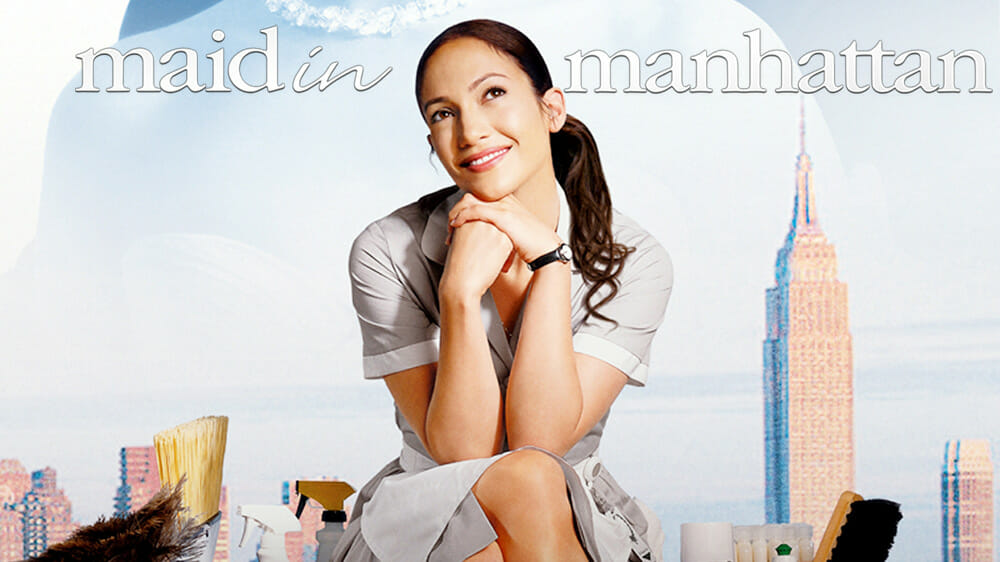 Director: Wayne Wang
Writer: Kevin Wade
Cast: Jeniffer Lopez, Ralph Fiennes, Natasha Richardson, Stanley Tucci, Bob Hoskins
IMDb Ratings: 5.3/10
Rotten Tomatoes Score: 38%
The story revolves around Marisa Ventura who works as a domestic helper in a top-class hotel in Manhattan. Marissa meets a political heir called Christopher Marshall who mistakes her to be a guest there and the two end up having one of the most romantic lives.
However, things take an unfavorable turn when the true identity of Marisa is revealed and the two realize how much their worlds are apart. What is in store for the lovers here?
3. Punch Drunk Love (2002)
Director: Paul Thomas Anderson
Writer: Paul Thomas Anderson
Cast: Adam Sandler, Emily Watson, Philip Seymour Hoffman, Luis Guzman
IMDb Ratings: 7.3/10
Rotten Tomatoes Score: 79%
The story revolves around Barry Egan, who is a bathroom supplies store owner and is shy and timid by nature. He is under the jurisdiction of his 7 sisters and has an uneventful life. His life takes an interesting turn when he falls in love with one of his sister's co-workers Lena.
Things are seemingly unfavorable for him when he is blackmailed by an extortionist. Will Barry be able to save his love and change his life?
2. Two Lovers (2008)
Director: James Gray
Writer: Richard Manello, James Gray
Cast: Joaquin Phoenix, Gwyneth Paltrow, Vinessa Shaw, Isabella Rossellini, Elias Koteas, Moni Moshonov
IMDb Ratings: 7/10
Rotten Tomatoes Score: 82%
Joaquin Phoenix plays the role of Leonard Kraditor who faces a broken engagement and decides to move in with his parents. Leonard soon falls in love with a young woman named Sandra and they seem like a match made in heaven.
However, their happiness is short-lived when a manipulative woman called Michelle enters their lives. She is married, has a boyfriend, and yet does everything in her power to keep Leonard wrapped around her fingers. What will Leonard decide for himself and will he be able to realize what is good for him?
1. Desert Hearts (1985)
Director: Donna Deitch
Writer: Natalie Cooper
Cast: Helen Shaver, Patricia Charbonneau, Audra Lindley, Andra Akers, Gwen Welles, Dean Butler
IMDb Ratings: 7.1/10
Rotten Tomatoes Score: 96%
This off-beat love story in a time like the 90s has gained much attention due to its amazing plotline and characterizations. The film Desert Hearts depicts the story of a woman named Vivian who seeks divorce from her husband. She travels to Reno for the divorce where she meets Cay, a young girl and the two eventually fall in love.
The two have their own share of hardships and will they end up together or not is something to be seen. The story is a beautiful tale of love set against the rocky backdrops that make it worth watching.