Studio Ghibli is a well-known Japanese animation film studio formed in 1985 by Hayao Miyazaki, Isao Takahata, and producer Suzuki Toshio. Studio Ghibli is renowned for its artistic and cinematic excellence. Its feature films were well-received by critics and the general public, influencing other animation studios.
Tokyo is where the company's headquarters are located. A list of the best studio Ghibli movies is what we present to you!
Miyazaki made his second feature film, Kaze no Tani no Naushika (Nausicaä of the Valley of the Wind), in 1984, based on his successful manga strip. The following year he founded Studio Ghibli with Takahata and Suzuki. Tank no Shiro Rapyuta was Studio Ghibli's first official release (1986; Castle in the Sky). After that, most of Studio Ghibli's films were written and directed by the studio.
So, here are our rankings for all of Studio Ghibli's movies without further ado!
25. Earwig and the Witch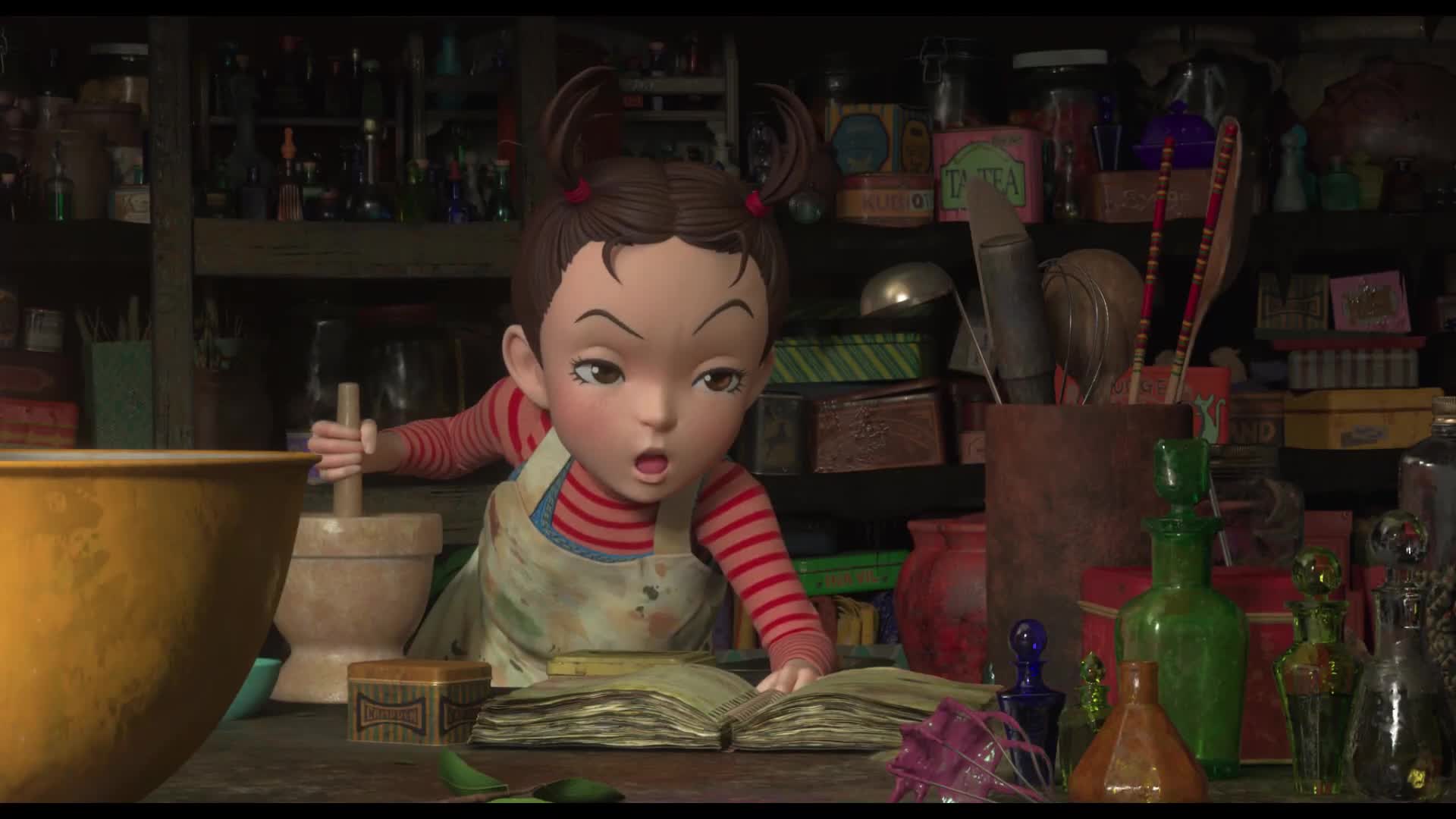 The fact that Ghibli films directed by Goro Miyazaki are frequently subpar is a recurring theme on this list. The worst of them is probably Earwig and the Witch. The plot is uninteresting, but other mediocre tales in Ghibli's discography still hold our attention due to the exquisite animation.
However, in this case, full-fledged CGI, and particularly bare and lifeless CGI at that, replaces Ghibli's serene, painterly style. There are only better or worse movies on this list; there are no additional "mistakes." Earwig was an oversight.
24. Whisper of the Heart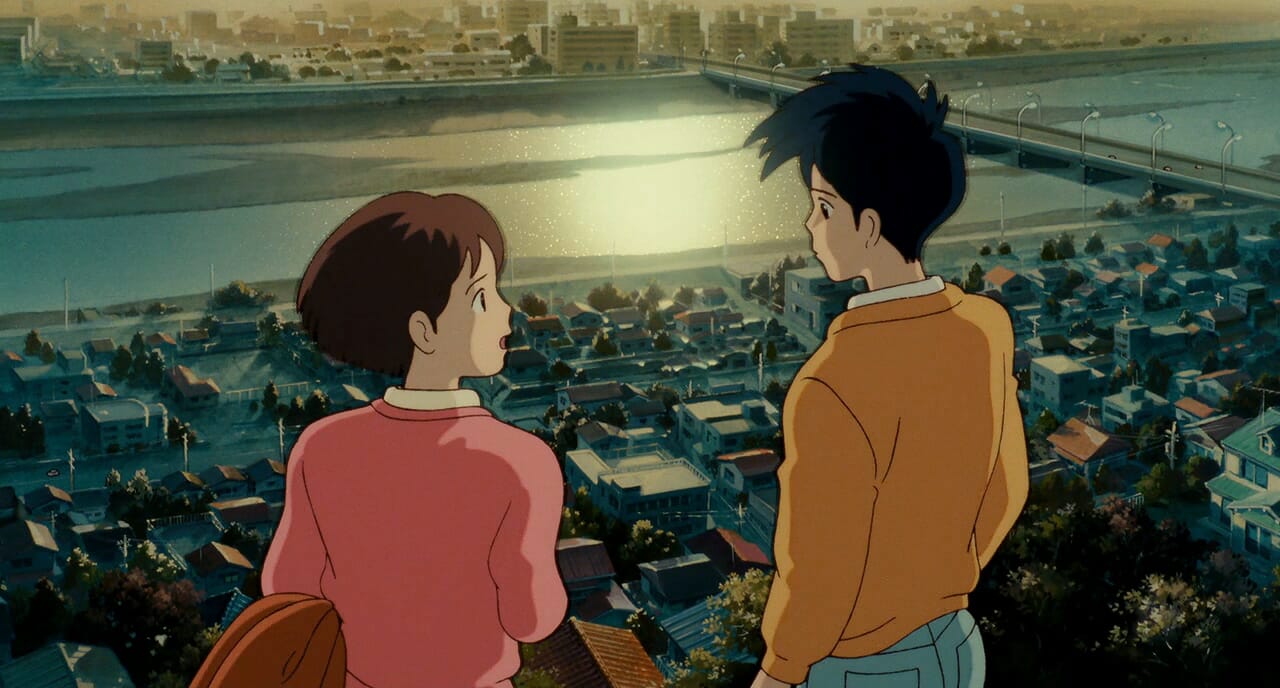 Director: Yoshifumi Kondô
Stars: Yoko Honna, Issey Takahashi, Takashi Tachibana, Shigeru Muroi
Based on the 1989 manga of the same name by Aoi Hiiragi, Whisper of the Heart (Japanese: Hepburn: Mimi o Sumaseba, literally "If You Listen Closely") is a 1995 Japanese animated romantic drama film directed by Yoshifumi Kond and written by Hayao Miyazaki.
For Tokuma Shoten, Nippon Television Network, and Hakuhodo, Studio Ghibli animated it. The movie stars Keiju Kobayashi, Shigeru Muroi, Issei Takahashi, Takashi Tachibana, Yoko Honna, and others.
23. Nausicaä of the Valley of the Wind
Director: Hayao Miyazaki
Stars: Sumi Shimamoto, Mahito Tsujimura, Hisako Kyôda, Gorô Naya
Hayao Miyazaki wrote and directed Nausicaä of the Valley of the Wind, a 1984 Japanese post-apocalyptic anime film based on his 1982 manga (Japanese: Hepburn: Kaze no Tani no Naushika). Distributed by the Toei Company, it was animated by Topcraft for Tokuma Shoten and Hakuhodo. The score was written by Joe Hisaishi, who was working with Miyazaki for the first time.
The voices of Sumi Shimamoto, Gor Naya, Yji Matsuda, Yoshiko Sakakibara, and Iemasa Kayumi can be heard in the movie. The movie tells the tale of Nausicaä (Shimamoto), the young teenage princess of the Valley of the Wind and is set in a post-nuclear futuristic world.
22. Tales From Earthsea (2006)
Director: Gorō Miyazaki
Writer: Gorō Miyazaki
IMDb Ratings: 6.4/10
Rotten Tomatoes: NA
Cast: Timothy Dalton, Willem Dafoe
Streaming Platform: Netflix
Ursula K. Le Guin is probably the only true friend in the Studio Ghibli filmography. This is a loose version of Le Guin's popular Earthsea trilogy of books. According to legend, Hayao Miyazaki was interested in adapting these stories in the early 1980s. Despite this, the author was hesitant to adapt his writings, but with the international success of Spirited Away, he changed his mind.
The issue was that Hayao Miyazaki was in the middle of filming Howell's Moving Castle. As a result, Goro Miyazaki, Miyazaki's son, was entrusted with the project for the first time. Goro Miyazaki would have made a better Ghibli film, but the studio passed him up owing to his inexperience.
As a result, it can be almost incomprehensible at times. Le Guin was unhappy since it was so descriptively different from the literature. It features powerful scenes, as do all Studio Ghibli films, but you are uninterested.
21. The Cat Returns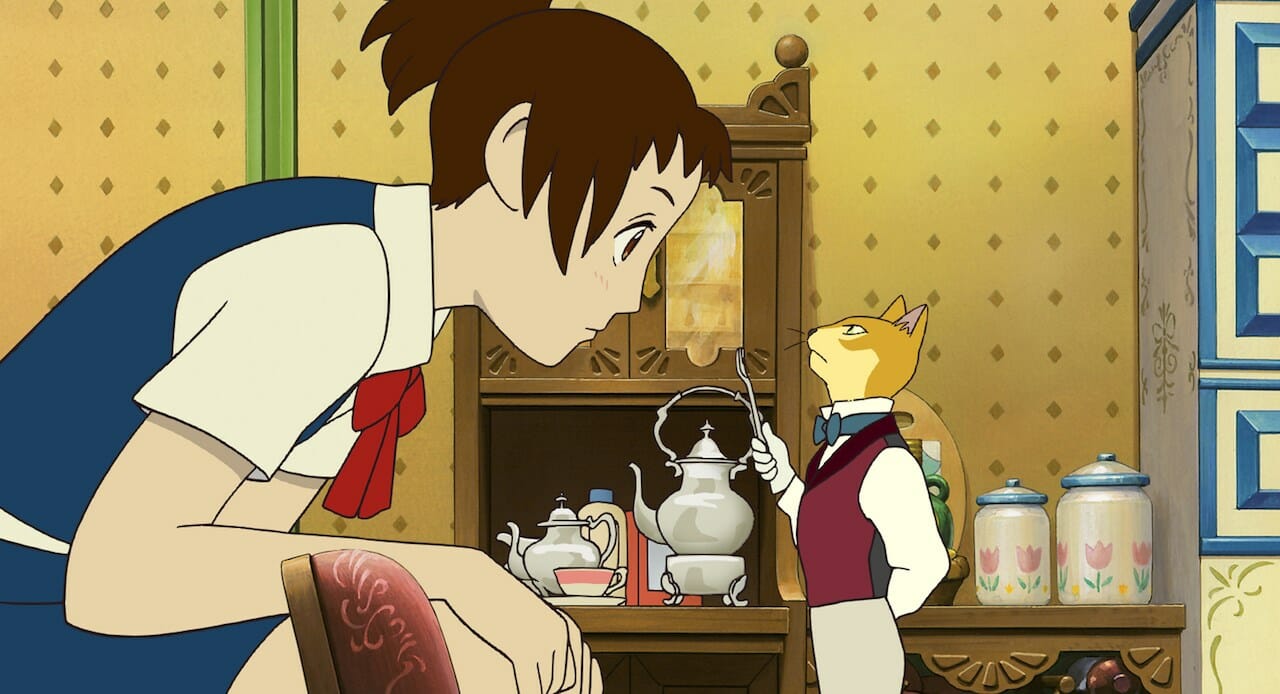 Director: Isao Takahata
Writer: Isao Takahata
IMDb Ratings: 7.2/10
Rotten Tomatoes: NA
Cast: Yukiji Asaoka, Tôru Masuoka
Streaming Platform: Netflix
With 20 titles, the list is already in the "Very Good" category. However, Hiroyuki Morita's spin-off/sequel to Whisper of the Heart feels small compared to the rest of Ghibli's repertoire, not just because it's just 75 minutes long.
Based on the manga of the same name, The Cat Returns follows a magical cat named Baron on a new adventure from Whisper when he meets Haru, a shy girl who can communicate with cats. Haru winds up in the realm of cats, with overtones of Lewis Carroll's Alice, where she slowly begins to alter herself.
Themes of identity and embracing our gifts rather than suppressing them are intertwined throughout an adventure that works rather well but misses some enchantment in the idea and execution. Characters that define Ghibli's upper echelon. It's a nice twist, but it's not as strong as the flicks that came before it on this list.
20. My Neighbors the Yamdas (1999)
Director: Isao Takahata
Writer: Isao Takahata
IMDb Ratings: 7.2/10
Rotten Tomatoes: NA
Cast: Yukiji Asaoka, Tôru Masuoka
Streaming Platform: Netflix
It's a family comedy from Ghibli co-founder Isao Takahata, who doesn't draw attention to his longtime business partner. It's nestled between two of the company's biggest hits — Princess Mononoke and Spirited Away — a family comedy from Ghibli co-founder Isao Takahata, who doesn't draw attention to his longtime business partner. Hayao Miyazaki is a Japanese animator.
Takahata excelled in the more serious registers (Grave of the Fireflies, Princess Kaguya). In comparison to Miyazaki's, her sparse visual style results in a comedy that feels a little odd. It doesn't help that this is a purposely episodic picture, with vignettes depicting modern Japanese family life interspersed throughout.
While some factors keep it culturally remote for American audiences, and it doesn't transcend its genre like the finest of Ghibli, Takahata's deep sympathy can still be seen in Studio Ghibli's first digital film.
19. Ocean Waves (1993)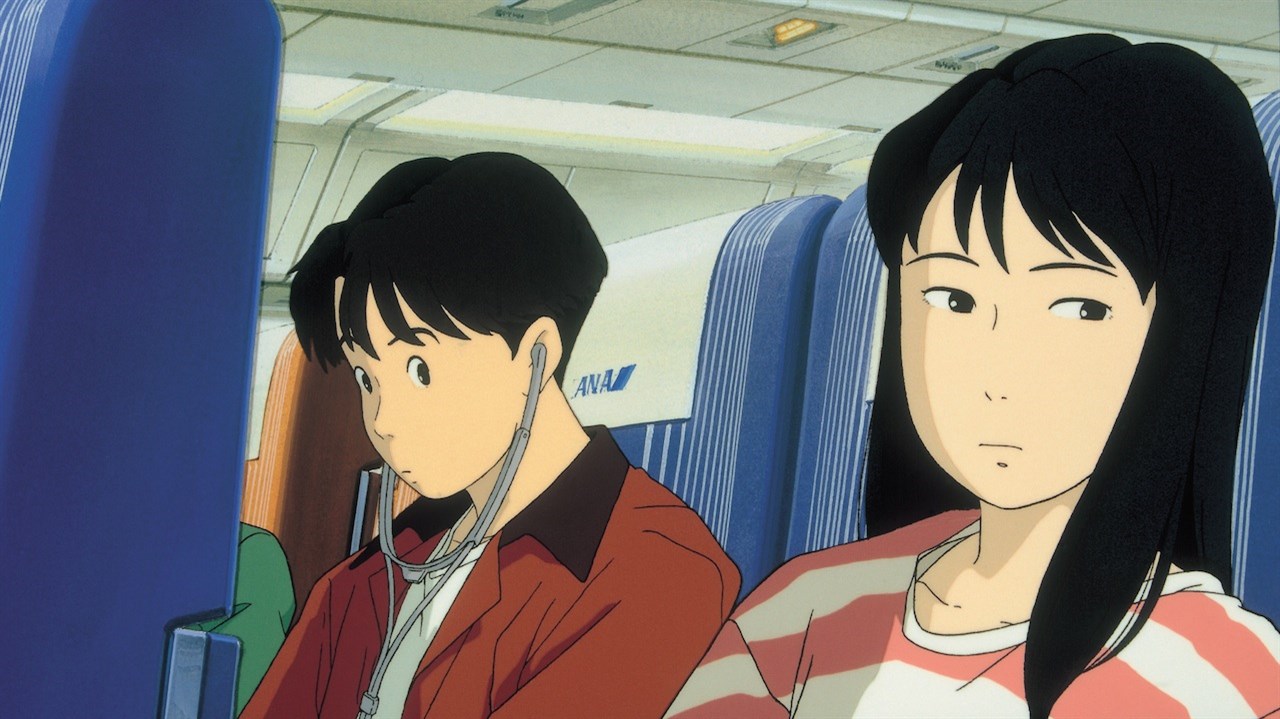 Director: Tomomi Mochizuki
Writer: Tomomi Mochizuki
IMDb Ratings: 6.6/10
Rotten Tomatoes: NA
Cast: Nobuo Tobita, Toshihiko Seki
Streaming Platform: Netflix
Although it was technically a television film, it was released in theatres in the United States in 2016 by GKIDS under the Studio Ghibli name, which makes sense for our purposes. Ocean Waves was reportedly a project for Ghibli's young employees to work on and develop on the cheap, yet the results bear no resemblance to inexperience or budget restraints.
Tomomi Mochizuki directed this unusual chapter in the Ghibli canon with a tinge of feminine fantasy or magical narrative. It's a rather conventional young adult drama about a love triangle in Kochi, which arises when a new transfer student meets two friends.
The storytelling has a delicacy to it that is excellent and, at times, fascinating. The entire piece proves that the veterans' work drew the children's attention.
18. Pom Poco (1994)
Director: Isao Takahata
Writer: Isao Takahata
IMDb Ratings: 7.3/10
Rotten Tomatoes: NA
Cast: Shinchô Kokontei, Makoto Nonomura
Streaming Platform: Netflix
Almost all Studio Ghibli films contain themes about humanity's relationship with nature, technology and environmental encroachment, and the feeling that we have lost contact with the natural world. They take center stage in this comedy, battling a species of humans who are evicting them from their homes. Pom Poko delves into Japanese folklore about raccoons and their capacity to shift and blend in with their surroundings.
Takahata told his story in a mixture of genres, displaying realistic raccoons and anthropomorphic monsters at other times. The plot centers around a suburban development that endangers the wild world outside of Tokyo and humanity's limited food supply.
Some of the humor is lost in translation. Nonetheless, Takahata employs wonderful energy to transmit a message that has a deeper meaning for Ghibli: harming the natural world not only for the globe but also for ourselves. History and folklore are harmed.
17. From Up on Poppy Hill (2011) 
Director: Gorô Miyazaki
Writer: Hayao Miyazaki
IMDb Ratings: 7.4/10
Rotten Tomatoes: NA
Cast: Sarah Bolger, Chris Noth
Streaming Platform: Netflix
It is one of Studio Ghibli's more short plays, an adaptation of a popular manga first published in 1980 and written by Hayao Miyazaki and directed by his son Goro Miyazaki. It's a Ghibli picture that feels more directly focused on a specific market – young adults – than some of his best, yet the visual grandeur of the mansion's design makes up the majority of the film and, well the actual hill.
A flag flies high in the air, attempting to connect with sailors thousands of miles away. Simultaneously, the lovable Umi and Shun storyline works well enough as a teen drama, with some fascinating twists, the ending, and the usage of naval flag language to communicate with an entire generation of people who are no longer alive.
In addition, the idea of a young child doing what she wants strikes a chord with fathers who have died in the conflict.
16. The Secret World of Arieti (2010) 
Director: Hiromasa Yonebayashi
Writer: Hiromasa Yonebayashi
IMDb Ratings: 7.6/10
Rotten Tomatoes: NA
Cast: Amy Poehler, Will Arnett
Streaming Platform: Netflix
Hiromasa Yonebayashi's feature-film debut, The Borrower Arieti, contains many of Studio Ghibli's fantasy traits while lacking some of the charms of its masters' work. It tells a variant on a common fable told throughout cultures about tiny people living alongside normal humans, "borrowing" what they need and attempting to remain undecided.
After she leaves to spend the summer at her mother's childhood home, a "borrower" named Arieti befriends a man named Show. The Borrowers, adapted by British author Mary Norton, feel a little flat on the story level, but the content improves.
Kobayashi and his crew manipulate perspective so that the mundane becomes remarkable, giving the whole thing the feel of a great fairy tale. It's plenty of fascinating images, even if they often overpower the tale and characters.
15. Porco Rosso (1992)
Director: Hayao Miyazaki
Writer: Hayao Miyazaki
IMDb Ratings: 7.7/10
Rotten Tomatoes: NA
Cast: Shûichirô Moriyama, Tokiko Katô
Streaming Platform: Netflix
This cult hit became somewhat famous in American circles thanks to Michael Keaton's pitch-perfect voice work in the U.S. One of the few Ghibli films that could legitimately be called an action/adventure, this cult hit became somewhat famous in American circles thanks to Michael Keaton's pitch-perfect voice work in the U.S. As the dub's title character, I'd like to express my gratitude.
Who better to play a cynical, world-weary WWI pilot who has suddenly morphed into an anthropomorphic pig than a tired, world-weary WWI pilot? It is the story of Marco Pagot, who was cursed and became the "Red Pig," based on a manga by Miyazaki and directed by Master.
Porco Rosso is a classic adventure-movie stereotype that could have been played by Humphrey Bogart back in the day. He has a devotion to those who serve him and does not tolerate unfairness. Furthermore, the images of Porco Rosso flying above the sea are among Ghibli's most technically amazing.
Finally, the picture has such a devoted fanbase that Miyazaki talked about developing a sequel earlier this decade, despite Ghibli's present financial difficulties.
14. When Marnie Was There (2014) 
Director: Hiromasa Yonebayashi
Writer: Hiromasa Yonebayashi
IMDb Ratings: 7.7/10
Rotten Tomatoes: NA
Cast: Sara Takatsuki, Kasumi Arimura
Streaming Platform: Netflix
Technically, it's still one of the best Studio Ghibli films (last), having been made right before Hayao Miyazaki announced a hiatus and retirement (which has since been reversed, as he's supposedly named How Do You Live?)—working on a return project.
So it's a perfect song for Ghibli, encapsulating the themes that have drawn audiences to the studio for over 35 years; the film is fundamentally about accepting the tragedies of the past to go forward.
Anna is an uncommon young-girl heroine who is overly gloomy and miserable – she talks about how she hates herself in a manner that YA fiction rarely does – but when she is diagnosed with asthma, everything changes.
She is compelled to go to the coastal village after the attack, and she is drawn to a fascinating mansion that is reputed to be haunted, where she meets a ghost. But, does she, or does she not?
As the last act progresses, it becomes difficult to distinguish between how one feels about these characters in particular and how generations of moviegoers have felt about Studio Ghibli in general.
13. Whisper of the Heart (1995)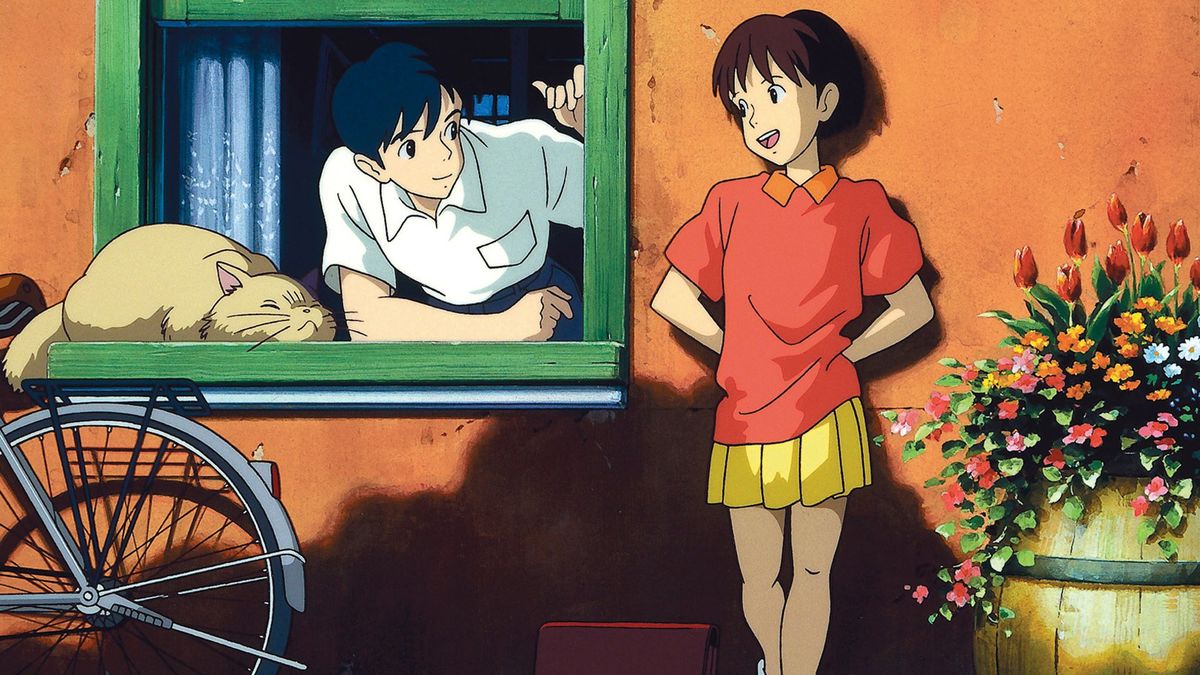 Director: Yoshifumi Kondô
Writer: Yoshifumi Kondô
IMDb Ratings: 7.9/10
Rotten Tomatoes: NA
Cast: Yoko Honna, Issey Takahashi
Streaming Platform: Netflix
Fans of the film are most likely singing "Country Roads" right now. The iconic song is featured prominently in this 1995 coming-of-age drama, which isn't the first Ghibli film to star Miyazaki or Takahata. Before his death in 1998, Yoshifumi Kondo took over the directing duties for his only film
. It's a more straightforward tale than Ghibli's most well-known films, focusing on a 14-year-old girl named Shizuku who is mesmerized by her image.
He and the boy had checked out the same books from the library. Whisper is a deeply compassionate film that blends fantasy and coming-of-age, and it's a perfect illustration of how Ghibli could still create enchantment when dealing with human nature.
It doesn't address the viewer, instead portraying Shizuku as a more nuanced young adolescent than in previous Ghibli films. It treats its subject with deference and grace, which explains why it has amassed such a devoted following over time. If Kondo hadn't been taken in by an aneurysm at such an early age, one must wonder how he would have shaped animation. The film Whisper of the Core is unquestionably the heart of Studio Ghibli.
12. Howl's Moving Castle (2004) 
Director: Hayao Miyazaki
Writer: Hayao Miyazaki
IMDb Ratings: 8.2/10
Rotten Tomatoes: NA
Cast: Chieko Baishô, Takuya Kimura
Streaming Platform: Netflix
Many of Miyazaki's favorite themes are present in her most extensive visual works, ranging from anti-violence to women's empowerment to sacrifice. Every image nearly seems to erupt with a visual flourish, and the design of the Titanic palace is breathtaking, a remarkable creation in Ghibli history.
The picture features a lot of detail, almost to the point of disorganization. Yet, Miyazaki maintains one of his most harsh themes in Howl's Moving Castle while bringing back the fairy-tale vision that fans adore about Ghibli movies.
According to reports, Miyazaki was opposed to the Iraq war and created the picture as a response – a parable about how violence changes the landscape and can kill the human soul. In the better Miyazaki films, several of these issues are more nuanced. However, the visual skill on exhibit here is undeniable.
11. Ponyo (2008) 
Director: Hayao Miyazaki
Writer: Hayao Miyazaki
IMDb Ratings: 7.7/10
Rotten Tomatoes: NA
Cast: Cate Blanchett, Matt Damon
Streaming Platform: Netflix
Following the Oscar success of Spirited Away and the Disney dub of its repertoire in the aughts, Miyazaki's eighth Ghibli feature arrived at an exciting time for the studio.
It had become as internationally recognized as it would be. Outside of Japan, Ghibli became a household name, with many of the era's hits resonating with an older, fantasy-oriented audience (Howl, Mononoke, Spirited).
That's why it was fascinating to see Miyazaki see what is possibly Ghibli's prettiest film ever in this adaptation of The Little Mermaid, which centers on Ponyo, a goldfish who wishes to be a human girl after meeting Sosuke.
It's a terrific way for kids to get into Studio Ghibli's universe, with brilliant enough colors to keep them entertained and a hearty enough tale to make their parents happy, too.
This was also a period in Ghibli's history when the studio was reverting to hand-drawn animation, and the human touch can be seen here. The water and waves are supposed to be Miyazaki's favorite subjects to depict, and you can feel his heartbeat in this gorgeous animation.
10. The Wind Rises (2013) 
Director: Hayao Miyazaki
Writer: Hayao Miyazaki
IMDb Ratings: 7.8/10
Rotten Tomatoes: NA
Cast: Hideaki Anno, Hidetoshi Nishijima
Streaming Platform: Netflix
Hayao Miyazaki is working on a new film, according to reports. Nonetheless, it was conceptualized and designed as his final project before retiring, and it is unquestionably the work of a master in retrospec
t. After all, it's about a perfectionist, a World War II airplane designer, who achieves the previously unthinkable: soaring above the clouds in "the glorious dreams," as one character describes it.
Miyazaki's nostalgic vision is strengthened by setting the story in the years leading up to World War II. We all know that these dreams will eventually turn into nightmares, and Miyazaki has been chastised in the past for not making the film adversarial enough.
Much of Ghibli's work has been openly anti-violence, a very naive view of the picture that ignores the story's ambition and the beauty of its images. Miyazaki's final film includes some of his most well-known works, fluctuating between realistic and fantastical elements. The story is about a dreamer who is forced to become a realist. To put it another way, it's also about its creator.
9. Only Yesterday (1991) 
Director: Isao Takahata
Writer: Isao Takahata
IMDb Ratings: 7.6/10
Rotten Tomatoes: NA
Cast: Miki Imai, Toshirô Yanagiba
Streaming Platform: Netflix
Only Yesterday, a fragile jewel produced in 1991 but not released in the United States until 2016, is a touching piece of theatrical work by Takahata that lacks some fanciful elements distinguishing Ghibli for casual viewers, yet the list goes on.
One of the strongest illustrations of the studio's true compassion. Takahata's films are quietly devastating expressions of human emotions, and it's his sympathy for his characters that allows the spirit of this story to creep up on you. It's a basic story at its core: a Tokyo woman journeys to the countryside and recalls her childhood memories on a train journey.
Takahata's character gift allows her protagonist's memories to defy preconceptions and appear natural and genuine. Taeko wonders how much of the child's version remains in her and whether she has fulfilled or betrayed her wishes. In the end, his video serves as a reminder of how our lives are made up of events and how our past might feel like it happened only yesterday. Perhaps it was only yesterday.
8. Kiki's Delivery Service (1989) 
Director: Hayao Miyazaki
Writer: Hayao Miyazaki
IMDb Ratings: 7.9/10
Rotten Tomatoes: NA
Cast: Kirsten Dunst, Minami Takayama
Streaming Platform: Netflix
Children's movies tend to emphasize too much fragility or individuality. Their children either need to save money or be self-sufficient. As a result, few films succeeded, and one of Ghibli's early successes was the story of a young witch trying to make her way in the world.
Miyazaki and her team cleverly convey when a young guy is forming an identity while becoming dependent on adults as Kiki makes acquaintances along her journey.
It's a picture that recognizes that empowerment doesn't have to come at the expense of vulnerability, a message that's tough to express in any kind of fiction, let alone a genre of fictitious children's films that normally deals in mundane concepts. It happens. Studio Ghibli isn't one for simplistic images, and even what appears to be a basic children's story layer has a level of richness rarely seen in fantasy fiction.
7. Princess Mononoke (1997) 
Director: Hayao Miyazaki
Writer: Hayao Miyazaki
IMDb Ratings: 8.4/10
Rotten Tomatoes: NA
Cast: Yôji Matsuda, Yuriko Ishida
Streaming Platform: Netflix
This entry is certainly not for the youngest family (in fact, it is the only one rated PG-13 in the United States) and is a significant international hit for Studio Ghibli. Mononoke appears to be a fantasy adventure picture at first.
Nonetheless, it is a story about man's relationship with nature, a theme that recurs throughout Studio Ghibli's history. How does humanity live in harmony with the world that has been for a long time? The film opens with a horrific scene in which a gunshot has infected a boar-like creature.
Man's creation has thrown off the natural order of things. Mononoke, possibly Ghibli's most complex work, has a depth of plot and visual magnificence that it barely scratches the surface of.
At his most philosophical, this is Miyazaki filming a didactic message about environmental protection rather than probing issues about agency, human nature, and moral complexity. Anything to the top of this list adds to the catalog's strength.
6. Navigation of the Valley of the Wind (1984)
Director: Hayao Miyazaki
Writer: Hayao Miyazaki
IMDb Ratings: 8.1/10
Rotten Tomatoes: NA
Cast: Sumi Shimamoto, Mahito Tsujimura
Streaming Platform: Netflix
Although this is the film that sparked the creation of Studio Ghibli, some may claim that it doesn't "count". However, Ghibli will merge so much of the team behind it into Ghibli that it has been re-released with its logo, and it is so clearly a piece with the rest of Ghibli's output that it has been re-released with its logo.
We were watching Nausika, and we thought she'd be a great way to introduce young viewers or novices to the globe to what's to come. The issue of environmental destruction, how we relate to people other than ourselves, and even some aesthetic themes that will be repeated over the following three decades are all there.
Some of the Nausica currently appears clumsy—one can only picture how the 10s will look. Of course, Ghibli will remake it, but that is part of its allure. It's a classic adventure story that established the groundwork for future classics.
5. The Tale of the Princess Kaguya (2013) 
Director: Isao Takahata
Writer: Isao Takahata
IMDb Ratings: 8.0/10
Rotten Tomatoes: NA
Cast: Chloë Grace Moretz, James Caan
Streaming Platform: Netflix
"Please! Please allow me to stay a bit longer! Just a little more to fully appreciate the pleasure of being in this location!". Isao Takahata's final film, probably his finest, resonates with the same profound feeling as none else in the collection.
A picture of the first of its kind appears to be a summation of the topics he has addressed throughout his career. At the bar, it sounds simple: an old-fashioned fairy tale about a wonderful girl who matures swiftly. But, only two hours later, when you've experienced all of the feelings, can you truly comprehend what Takahata has accomplished here.
Takahata focuses her audience on her subjects rather than just herself using simple, watercolor pictures that are practically devoid of the visual frills of the company's previous works. It's like a beautiful musical composition for a musical instrument, with every heartbreaking note audible.
Finally, it's a story about the transitory aspect of human existence: we've all only been here for a brief period. So are for, and we should all take pleasure in being here.
4. Grave of the Fireflies (1988) 
Director: Isao Takahata
Writer: Isao Takahata
IMDb Ratings: 8.5/10
Rotten Tomatoes: NA
Cast: Tsutomu Tatsumi, Ayano Shiraishi
Streaming Platform: Hulu
Isao Takahata's version of Akiyuki Nosaka's short story of the same name may be the most "absolutely not for the little ones" Ghibli picture ever made. However, all populations should evaluate the message's polar opposite. It is the moving narrative of two siblings, Seita and Setsuko, in Kobe, Japan, as dismal as the animation gets during the final months of World War II.
They lose their mother after a bombing early in the film, and they confront hunger, disease, and worse as the world around them turns into dust. It begins with Sita famished and shows us how we arrived; there are no talking cats or moving palaces in it.
You can find two of the most memorable animated films here. Takahata does what filmmakers have done for generations: he depicts the human cost of war in a way that no live-action picture can. The audience expects enchantment from the animation, but none arrives for Setsuko and Seita, making their terrible end all the more frightening. It's Ghibli's stuff, and it has brilliant animation.
3. Castle in the Sky (1986)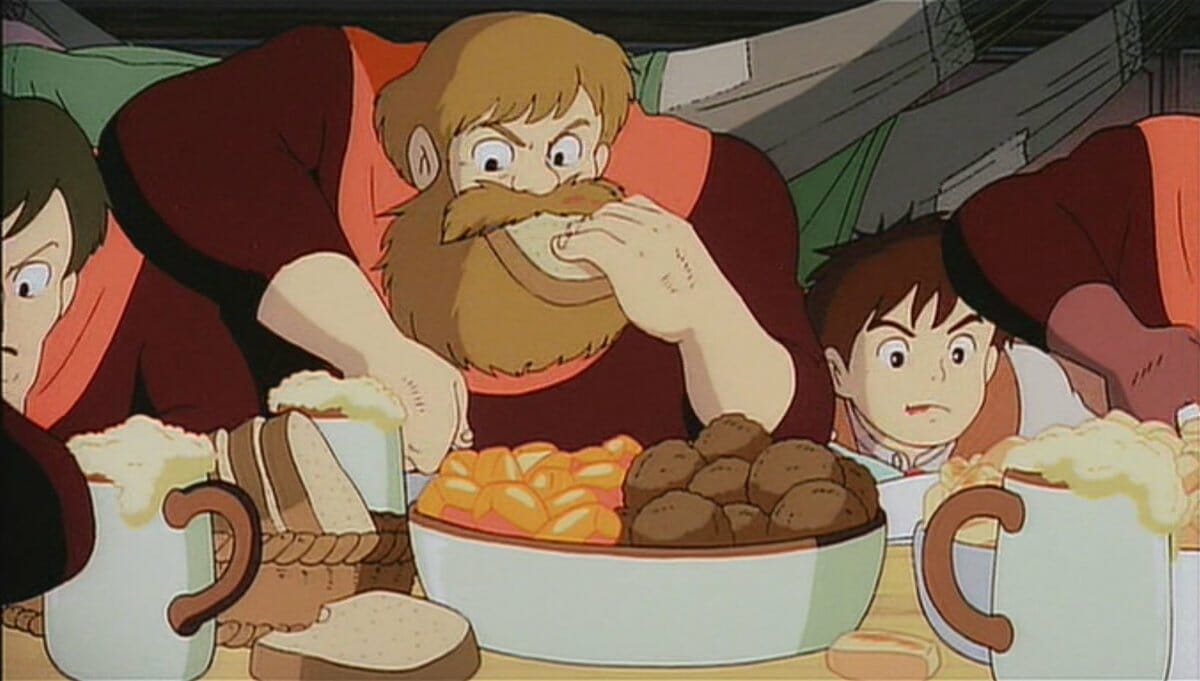 Director: Hayao Miyazaki
Writer: Hayao Miyazaki
IMDb Ratings: 8.0/10
Rotten Tomatoes: NA
Cast: Mayumi Tanaka, Keiko Yokozawa
Streaming Platform: Netflix
Years later, it's fun to look back on what was officially Studio Ghibli's debut film and see it as a cinematic prelude to what was to come. From the moving palace to the character design, even aspects of Joe Hisaishi's gorgeous score, there are many elements of this film that the later works will replicate.
The plot is basic enough – a boy and a girl quest to find a mystical crystal and a castle in the sky – but it's simply the skeletons for the visual creations that will be breathtaking when launched today.
Not only can you trace Studio Ghibli's impact on this film, but you can see its DNA in everything from The Iron Giant to Pixar. So many animated films are enchanting. However, this one lives up to its name.
2. My Neighbor Totoro (1988) 
Director: Hayao Miyazaki
Writer: Hayao Miyazaki
IMDb Ratings: 8.2/10
Rotten Tomatoes: NA
Cast: Hitoshi Takagi, Noriko Hidaka
Streaming Platform: Netflix
Every parent should set out a day to watch My Neighbor Totoro with their children. They'll never be the same after that. This is one of the most charming and enjoyable children's films ever made, and it's the gateway drug to Studio Ghibli's addiction.
It's a film that you can see repeatedly, and it never loses the ability to inspire awe. It's a simple narrative about two girls who find an imaginary creature while dealing with the emotional burden of a sick mother and a move.
We've always used fiction to deal with reality, but Miyazaki and Ghibli don't consider fantasy as just escapist. They consider it vital to human life, something beyond our control but more important than mere fantasy. Totoro is one of the most well-known characters in modern animation.
They've had a much longer life than just one Ghibli film, Ghibli goods feature them for decades. You'll see why once you've fallen in love with this film.
1. Spirited Away (2001)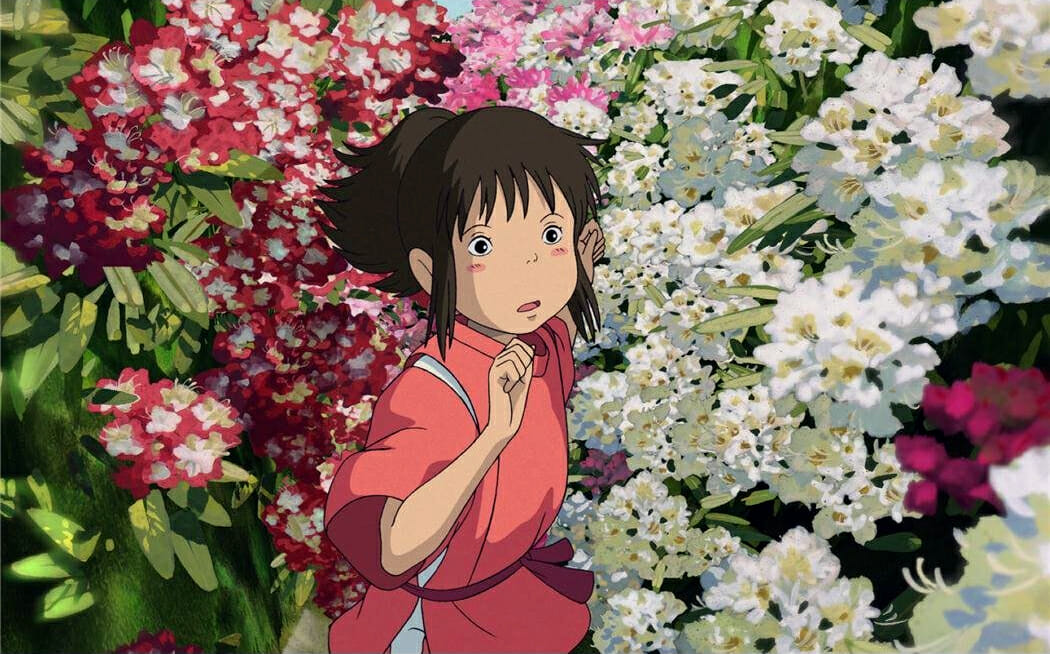 Director: Hayao Miyazaki
Writer: Hayao Miyazaki
IMDb Ratings: 8.6/10
Cast: Daveigh Chase, Suzanne Pleshette
Streaming Platform: Netflix
Studio Ghibli's best film has become more than just an animated smash in the two decades since its premiere. The narrative of Chihiro, a 10-year-old girl who moves to a new hamlet and embarks on a trip to a spirit-filled wonderland, has become a modern classic.
People associate it with beloved Disney animated films in a way that makes them feel more culturally significant than anything released this millennium.
Why? It combines all of our favorite aspects of Studio Ghibli into a single experience. For starters, it doesn't speak to its target audience, allowing some of the film's disturbing images to intimidate younger viewers truly. Second, it features a strong but frail female lead.
There isn't a single cartoon studio that specializes in female empowerment stories. Third, it embraces fantasy in such a way that it feels as necessary as breathing, rather than mere escapism. Finally, it features visual artistry that rivals any animated film.
You can put frames from Spirited Away on your wall, and it's more than simply a fashion statement. From its deep empathy for human fragility to its compelling message of our desire for inventive, exciting experiences, it contains everything we love about Ghibli.
Read More: The Best Anime Movies of All Time
Let's look for 5 Awesome Things You Didn't Know About Studio Ghibli: 
1. The Meaning of the Name 
Ghibli is an Italian word that refers to a summer wind that blows from the Sahara and affects numerous North Africa and Southern Europe.
A plane from the same country during World War II has the same name. Its name alluded to the studio's desire to be a significant player in the animation industry. It's safe to assume they achieved their goal based on their impressive body of work.
The company has a stringent policy against cuts and re-edits when releasing its films to international markets. This includes the necessity for translations to be as near as possible to the original words and thoughts.
2. How Did They Become Successful? 
Topcraft, the studio behind the Nausicaa mentioned above of the Valley of the Wind, resurrected from the ashes. However, despite the film's success, the firm fell bankrupt, causing Hayao Miyazaki, Toshio Suzuki, and Isao Takahata to purchase it and rename it Studio Ghibli film.
Everything that happened after then is already history, as the studio's films took the medium to new heights, with projects that some believe to be among the best movies ever made, regardless of media.
3. Every Person They've Influenced 
Their influence is felt well beyond the realm of other animators. Shigeru Miyamoto, the developer of Super Mario, The Legend of Zelda, and many other renowned Nintendo properties mentions the studio's work as an influence. In addition, Hironobu Sakaguchi was profoundly influenced by Nausicaa of the Valley of the Wind's look and tale.
4. Bombing Raids Survived by the Founders 
Isao Takahata, born in 1935, is a few years older than Hayao Miyazaki, who was born in 1941. However, they were both children when World War II broke out, and they both witnessed bombing attacks, both of which had a significant impact on them and their work.
Takahata's Grave of the Fireflies, about a brother and sister who survive in Japan despite losing their mother and home in a bombing raid, exemplifies this. It's a profoundly moving picture that will have you in tears inside the first three minutes.
The wonderful thing about the best Studio Ghibli movies is that they span a wide range of popular anime subgenres while simultaneously emphasizing the importance of a strong female heroine, which is one of the reasons why the studio is so renowned.
Not to mention, Studio Ghibli's films have eye-catching animation and heartfelt soundtracks that rival Danny Elfman's work.