This show was loved by many worldwide and is one of the most critically acclaimed shows for most seasons. It is an American show presented as a documentary but was inaccurate as it was based on fictional events. The Office funniest quotes are listed here.
The series depicts the day-to-day lives of working people or office employees in the Scranton, Pennsylvania, branch of Dunder Mifflin Paper Company. This show has nine seasons with 201 episodes.
This show's first episode was released on the NBC network channel on March 24, 2005. The Office show is inspired by the BBC series of the same name created by Ricky Gervais and Stephen Merchant.
The star cast of the show includes Steve Carell playing the role of Michael Scott, John Krasinski playing the role of Jim Halpert, Jenna Fischer playing the role of Pam Beesly, Ellie Kemper playing the role of Erin Hannon, Rainn Wilson playing the role of Dwight Schrute and many more.
In this article, we will list the 20 best quotes from the Office show, many of which include Michael Scott quotes or sayings by Michael Scott. These quotes will teach you life lessons with a pinch of laughter.
20. "There's A Lot Of Beauty In Ordinary Things. Isn't That Kind Of The Point?" – Pam Beesly (Season 9)
This quote is from season 9, "Finale." This line touched the hearts of many die-hard fans of the office.
This show was mainly focused on laughter and comedy, but the last scene made everyone emotional. This scene shows Pam's drawing of the Dunder Mifflin office, and then this line is quoted by him.
The lines conclude the best comedy show, which ran for nine seasons and graced television with its hilarious plots.
19. "And I knew Exactly What To Do. But In A Much More Real Sense, I Had No Idea What To Do." – Michael Scott (Season 5)
Michael Scott states this quote in season 5, Episode 14, "Stress Relief." This episode was released on February 1, 2009. The simple meaning of the quote is that sometimes we fake that we know everything to make ourselves look intelligent, but deep down, we know that it is not valid.
And Michael Scott is the type of person who, in reality, knows very little but shows that he knows a lot and is very knowledgeable. Sometimes this trick works, but most of the time, you'll get ashamed of yourself.
18. "Oh, I Am Taking Responsibility. And It Is Up To Me To Get Rid Of The Curse That Hit Meredith Palmer With My Care. I Am Not Superstitious, But I'm A Little Stitious" – Michael Scott (Season 4)
Michael Scott said this quote during the scene where Michael hits Meredith with his car.
In this scene, Michael Scott is responsible for hitting his employee but also wants to gain the spotlight. That's why he started all this as a curse in the office. Initially, all the people find him sincere, but from his last lines, we can smell his intentions.
17. "I'm An Early Bird, And I'm A Night Owl, So I'm Wise, And I Have Worms." – Michael Scott (Season 2)
This line is from episode 3 of season 2, "Office Olympics." This quote was stated by Michael Scott, who admits that sometimes he behaves like an idiot, but he usually acts like a wise person.
And listening to this from him is the funniest thing ever. As we know that most of the time, he only speaks nonsense lol.
16. "Powerpoints Are The Peacocks Of The Business World; All Show, No Meat." – Dwight Schrute (Season 8)
This was the most sensible quote said by Dwight Schrute at that time. The line is from season 8, Episode 14, "Special Project."
In this line, Dwight explains the importance of PowerPoint presentations; all professionals or working people can relate this to their day-to-day tasks at the office.
15. "If I Were Buying My Coffin, I Would Get One With Thicker Walls So You Couldn't Hear The Other Dead People." – Dwight Schrute (Season 2)
The above quote is from season 2, Episode 3, "Office Olympics." This episode was released on October 4, 2005, on the NBC television network.
The line is quoted by Dwight Schrute when he is talking about his plans, that is, his death.
Dwight is a guy who pre-plans his future and even has plans for the afterlife. In this quote, he describes the desired requirements for his coffin, in which he doesn't want to get disturbed by the chatterbox souls. And yes, peace is needed everywhere, even in the afterlife, just like Dwight.
14. "Sometimes The Clothes At Gap Kids Are Too Flashy, So I'm Forced To Go To The American Girl Store And Order Clothes For Large Colonial Dolls." – Angela Martin (Season 3)
This quote is from season 3, "Women's Appreciation." And this quote was stated by Angela Martin. And the scene in which this line was quoted is between Michael Scott and Angela Martin.
She tells him her problem is that she doesn't like flashy clothes at the Gap kids, so she is forced to go to the American Girl Store.
And there, she ordered clothes for large colonial dolls. And replying to Angela, Michael said, "Yes, nobody likes to be flashed."
Read More: 40 Best The Office Episodes You Should Watch Right Now
13. I Want To Lie On The Beach And Eat Hot Dogs. That's All I've Ever Wanted." – Kevin Malone (Season 3)
The above quote is from season 3, Episode 23, "Beach Games." by Kevin Malone. The character of Kevin Malone is the one to whom you can relate your real-life situations.
And by this quote, we understand that he wants to chill on the beach with a hot dog. That's precisely what we all want, lounge on the beach with a hot dog in one hand and another in the other.
And this episode is one of the most heartbreaking episodes of the office as it also includes the scene where Pam confesses to Jim that she called off her wedding because of him.
12. "I feel God In This Chili's Tonight." – Pam Beesly (Season 2)
The above quote is from season 2, Episode 1, "The Dundies." by Pam Beesly, during the scene in which she agrees to get drunk finally and thanks God for the Dundies.
She said these lines to Jim during a party, and Jim liked it even though it was a little cringy.
11. "Identity Theft Is Not A Joke, Jim! Millions Of Families Suffer Every Year." – Dwight Schrute (Season 3)
This quote is from season 3, Episode 21, "Product Recall." And it was by Dwight Schrute, which came on April 26, 2007.
This quote was by Dwight during the pranking scene Dwight by Jim. As you know, Jim's pastime is pranking only Dwight.
And this was the nth time of Jim's pranks. And during this scene, people learned about one of the essential cybercrimes, identity theft, and obviously, it isn't a joke.
10. "No, Rose, They Are Not Breathing. And They Have No Arms Or legs. Where Are They? You know What? If We Come Across Somebody With No Arms Or Legs, Do We Bother Resuscitating Them? I mean, What Quality Of Life Do We Have There?" – Michael Scott (Season 5)
This is one of the office's funniest episodes, and this quote is from the season 5 episode name "Stress Relief."
The quote is by Michael Scott during the CPR training scene in the office.
The scene was hilarious, where the office team trained in CPR with a dummy. And every character was at their peak comedy point during that scene.
9. "The Worst Thing About Prison Was The Dementors." – Michael Scott (Season 3)
This quote is from season 3, Episode 9, "The Convict." This episode came on November 30, 2006. Michael Scott loves playing different characters, and Prison Mike is one of the favorites of the office fans.
Michael Scott quotes this dialogue during his hilarious Prison Mike character. This offbeat character had survived the dementors in prison, and nobody wanted to mess with him.
8. "I Think, Why Waste Time Saying A Lot Of Words When Few Words Do The Trick." – Kevin Malone (Season 8)
In this quote, Kevin Malone is trying to say why to waste time explaining lots of things when you can display them in a few words.
The above quote is from Season 8, Episode 2, "The Incentive." And yes, Kevin, we agree that wise men speak less and do more.
7. "I Wish There Were A Way To Know You're In The Good Old Days Before You've Left Them." – Andy Bernard (Season 9)
This quote is from season 9, episode 23, "Finale," by Andy Bernard. This quote is from the finale of the show.
The scene in which this dialogue appears is where the entire staff comes together after their documentary has aired and remembers their time working at Dunder Mifflin.
One such person is Andy, who has moved on and works in another office but still thinks about his time at "the office."
6. "You Guys, I'm, Like, Brilliant Now. You Don't Even Know. Could Ask Me, 'Kelly, What's The Biggest Company In The World?'
And I'd Be Like, 'blah blah blah, blah blah blah blah blah.' Giving You The Exact Right Answer." – Kelly Kapoor (Season 7)
Kelly Kapoor said this dialogue in season 7, episode 13, "Ultimatum." This episode came out on January 20, 2011.
During this season, some new characters were introduced in the office show, and one of those characters was Gabe, who makes notes of Sabre's Print, which Dwight told Kelly to take.
Initially, Kelly is uncomfortable with it, but she does it and comes back as a changed, smart womanw.
5. An Honest Mood "If I Don't Have Some Cake Soon, I Might Die." – Stanley Hudson (Season 5)
In season 4, episode 7, Stanley Hudson says this quote: "Survivor Man."
And this quote is from their birthday scene of Stanley, where he wants a piece of cake because he gets sick of working the whole day, even on his birthday.
And the funniest thing is that he even took an extra insulin shot for all this. Stanley's words are so relatable even though he speaks few words.
4. "I've Been Involved In Several Cults, Both A Leader And A Follower. You Have More Fun As A Follower, But You Make More Money As A Leader." – Creed Bratton (Season 4)
This quote is from season 4, episode 5, "Fun Run."  Creed Bratton Quote. He is mainly famous for his funny and nowhere dialogues that never explain the whole story and leaves everything as a mystery.
This quote is from the scene where Creed claims that he had been a part of several cults during his time and was also a leader of the few.
If any other character had said this, we would not have believed, but because it's Creed, there's a chance that all this is true.
3. "I Missed The Days When There Was Only One Party I Didn't Want To Go." – Ryan Howard (Season 3)
This quote was  by Ryan Howard in the office season 3, episode 10, named "A Benihana Christmas."
This quote is funny but, at the same emotional because it is from the scene where the office got into two parties.
And Ryan doesn't want to go either and remembers those days when there was only a party he didn't want to attend. So this quote is relatable to people who don't like family gatherings.
2. "I Run A Small Fake Id Company From My Car With A Laminating Machine That I Swiped From The Sheriff's Station." – Creed Bratton (Season 3)
This is the second funniest quote by Creed Bratton among the quotes from the office. And it is from season 3, episode 17, "Cocktails."
And this quote is from the bar scene between Creed Bratton and Dwight Schrute. Creed is so mysterious that he doesn't even know his role at the Dunder Mifflin company, from being a culture leader to owning a fake id company.
And in the bar scene, he was trying to explain his job position to a student enjoying himself inside the bar.
1. "I Never Thought I'd Say This, But I Overate Bone Marrow." – Dwight Schrute (Season 9)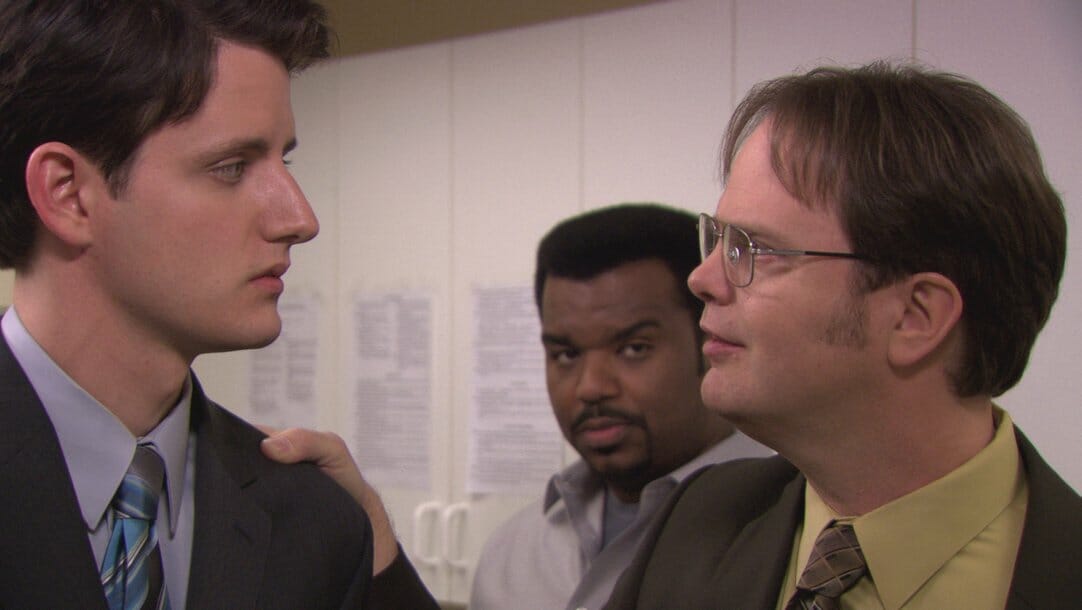 This quote is from episode twenty-four of season nine. And the name of the episode is "Finale." And this quote is one of the best quotes from the office by Dwight Schrute after his Bachelor's Night.
All this started in the marriage scene of Dwight Schrute. Who would have thought that, lol? In the final episode, he throws a bachelor's party, which is horrible.
After that party, all of his gang members had some excellent meals. And he said this quote because he had too much marrow for his liking.
Some More Funny Quotes From The Office:
This show is hilarious and cannot be summed up with just a few quotes; therefore, we are listing a few more funny quotes to give more laughter to office fans.
"Oh, you're paying way too much for worms. Who's your worm guy?" – Creed Bratton
"I don't talk trash, and I talk smack. They're different." – Kelly Kapoor
"Tell ya one thing, I'm not gonna be a good mom tonight." – Meredith
"There are always a million reasons not to do something." – Jan Levinson