The anime world has vastly growing underrated anime franchises with an ever-increasing base of anime fans that engage the audience with their thought-provoking stories and well-written characters. But many of them fail to get the deserved attention, becoming underrated anime. It can either be due to the mistake of the same studio or it did not receive a suitable release date.
And sometimes, so many anime are released that many of them go unnoticed by the audience. Additionally, bad marketing strategies and poor titles make it even more difficult for an anime to stand out and make a mark. So if you are wondering what these underrated anime would be about and want to give them a watch, we have you covered.
The list here comprises 35 underrated anime series that somehow failed to cater to the attention but have a good story and will surely entertain any anime fan. Be it action anime, horror anime, sports anime, or shounen anime, the list has it all and will be enough to satisfy the interest of varied anime fans.
35. Mushishi
Director: Hiroshi Nagahama
Writer: Hiroshi Nagahama
Cast: Yûto Nakano, Travis Willingham, Kôjun Itô
No. of Seasons: 3
IMDb Rating: 8.5
Where to Stream: VRV, Crunchyroll, Funimation Now, Tubi TV, Hulu
The story of the anime series follows an expert named Ginko who travels to discover the Mushi, an ancient life form, and help people with Mushi-related supernatural problems. All in all, it is a good anime to watch.
34. Hikaru No Go
Director: Susumu Nishizawa, Jun Kamiya, Tetsuya Endo
Writer: Yukiyoshi Ōhashi
Cast: Tomoko Kawakami, Susumu Chiba, Sanae Kobayashi
No. of Seasons: 1
IMDb Rating: 8.3
Where to Stream: Hulu, Crunchyroll, VRV
The story follows Hikaru Shindou, who, after discovering an old go board, gets involved in the game unknowingly. He hears the voice of an ancient legend of the game named Sai Fujiwara, who, even as a ghost, has the powers to play his beloved game.
And his only aim is to master the technique that no other player has ever gained by playing the game via Hikaru. Initially reluctant, Hikaru slowly begins to find interest in the game and follows instructions of Sai to become a pro in the game.
33.AnoHana: The Flower We Saw That Day
Director: Tatsuyuki Nagai
Writer: Mari Okada
Cast: Miyu Irino, Ai Kayano, Haruka Tomatsu
No. of Seasons: 1
IMDb Rating: 8.2
Where to Stream: Netflix, Crunchyroll, Funimation Now, VRV
The story follows the journey of six friends, who get separated over time, and one among them dies named Menma. The group leader, Jintan, begins to see the spirit of Menma, who desires to fulfill her last wish. Thus, Jintan embarks on the journey to meet the last wish of the dead.
32.Sk8 The Infinity
Director: Hiroko Utsumi
Writer: Ichirō Ōkouchi
Cast: Amber Lee Connors, Kimmie Britt, Ciarán Strange
No. of Seasons: 1
IMDb Rating: 8.2
Where to Stream: Crunchyroll, Funimation Now
Reki Kyan is passionate about skateboarding and goes to an illegal underground race, which is also dangerous. But when his arm gets broken and the skateboard is destroyed, he becomes incapable of practicing.
But one day, along with his new classmate Langa Hasegawa, he gets involved in the race and a risky bet requiring the amateur Langa to participate in the competition and ride the skateboard. But the boy has an unknown ability that even Reki does not know and will enable him to win.
31. Moribito: Guardian of the Spirit
Director: Kenji Kamiyama
Writer: Kenji Kamiyama
Cast: Mabuki Andô, Naoto Adachi, Kôji Tsujitani
No. of Seasons: 1
IMDb Rating: 8.2
Where to Stream: Asian Crush, Retrocrush, HiDive
Due to a past sin, the wandering warrior and spear woman Balsa is responsible for saving people's lives. But one day, when she saves the life of a prince, she gets appointed as his bodyguard to keep him from his father, the emperor who wants him dead.
Moribito: Guardian of the Spirit makes up for a good watch if someone enjoys sword action scenes and sorcery.
30. Kaiba
Director: Masaaki Yuasa
Writer: Masaaki Yuasa
Cast: Houko Kuwashima, Mamiko Noto, Romi Park
No. of Seasons: 1
IMDb Rating: 8.1
Where to Stream: Viewster Amazon Channel, Tubi TV, AsianCrush, Crunchyroll, Pluto TV, IMDB TV Amazon Channel, VRV, Retrocrush
In the story of this anime series, the individual's memories get stored in memory chips that make them easily transferred, altered, or viewed in another body. The rich use the memory chips to select their bodies and become eternal, while the poor sustain by giving their bodies and sustaining their souls in the chip. And the world of the needy and fortunate are separated by an electrolyte cloud that is impossible to cross.
A man named Kaiba finds himself in a room with no memories, a hole in his chest, and a locket with a woman's picture. After he escapes an attack, he reaches the village destitute and embarks on the journey to find his lost memory and discover about the woman he once knew.
29. Noragami
Director: Kotaro Tamura
Writer: Deko Akao
Cast: Hiroshi Kamiya, Maaya Uchida, Yûki Kaji
No. of Seasons: 2
IMDb Rating: 8
Where to Stream: Crunchyroll, Funimation Now, Hulu
The self-proclaimed god Yato, or Delivery God, has the only dream to have many worshippers. With no shrine made in his name, he struggles to do minor jobs daily. But his life completely changes when a girl named Hiyori Iki saves him from a car accident by taking the hit herself.
She survives but with a loose soul that could leave her body. Demanding Yato make her normal again, she helps Yato find a new partner to help him do so. Thus, he begins to change Yato's life for good.
28. The 12 Kingdoms
Director: Tsuneo Kobayashi
Writer: Shō Aikawa, Seiya Fujima
Cast: Mari Devon, Kate Higgins, Houko Kuwashima
No. of Seasons: 4
IMDb Rating: 8
Where to Stream: Tubi TV, Crunchyroll, The Roku Channel, Pluto TV, Retrocrush, Peacock, AsianCrush, Peacock Premium, VRV, IMDB TV, Amazon Channels
The story is about Youko Nakajima, A girl who is an all-rounder- gets good grades, is the class president, helps everyone in need, and is a kind-hearted individual. But despite all her good qualities, she finds it difficult to fit in owing to her red hair, which makes her look different from the rest, and she has no one to call her friend.
But her life wholly changes when Keiki, a handsome blonde guy from another world, claims Youko to be his master and belongs to his kingdom.
The man escapes with Youko into his kingdom, along with her two other classmates, Ikuya Asano and Yuka Sugimoto, who get involved in the incident. But on reaching the new and unknown place, the students get separated from Keiki due to the attack by Youma and thus must learn to keep themselves alive.
27. Silver Spoon
Director: Tomohiko Itō (season 1), Kotomi Deai (season 2)
Writer: Taku Kishimoto
Cast: Ryohei Kimura, Marie Miyake, Nobunaga Shimazaki
No. of Seasons: 2
IMDb Rating: 8
Where to Stream: Funimation Now
To escape from the pressure and stress instilled by his parents, Yuugo Hachiken decides to go to the Ooezo Agricultural High School in the Hokkaido countryside. Initially, Hachiken believes that he will be able to perform well in the new institution.
But upon enrolling in the institution, he realizes that his classmates have been living on the farm all their lives and are well versed with the lifestyle appropriate for his agricultural background, unlike him, who is a complete amateur in the field. The anime follows his journey to discover his true passion and cope with the new environment and people.
26. Hyouka
Director: Yasuhiro Takemoto
Writer: Shoji Gatoh
Cast: Yûichi Nakamura, Satomi Sato, Madeleine Morris
No. of Seasons: 1
IMDb Rating: 7.9
Where to Stream: Crunchyroll, Funimation Now
Houtarou Oreki does not spend much energy on anything and tries to conserve it as much as possible. But his peace gets disturbed when his older sister Tomoe forces him to save the Classics Club from becoming completely dysfunctional.
Along with three others, Eru Chitanda, Satoshi Fukube, and Mayaka Ibara, Oreki embarks on the journey to solve the mysteries of daily life.
25. Death Parade
Director: Yuzuru Tachikawa, Jun Shishido
Writer: Yuzuru Tachikawa
Cast: Jamie Marchi, Tomoaki Maeno, Asami Seto
No. of Seasons: 1
IMDb Rating: 7.9
Where to Stream: Hulu, Funimation Now
It is a common fact that after death, one either goes to hell or heaven. But not many know that a third destination named Quindecim also exists where the ones who die simultaneously enter in pairs.
The bar is attended by Decim, who challenges the inmates to a life-threatening game. The game's result would decide whether the individual would be reincarnated into a new life or sent into the void, never to be seen again.
But when the Decim meets a mysterious woman, it becomes challenging to decide her fate. With his capability to do so, the very roots of the judgment of the dead shake up and provokes them to think about who is fit to judge the dead.
24. Soul Eater
Director: Takuya Igarashi
Writer: Akatsuki Yamatoya
Cast: Laura Bailey, Chiaki Omigawa, Micah Solusod
No. of Seasons: 1
IMDb Rating: 7.9
Where to Stream: Hulu, Funimation Now
The story of the anime series follows the three groups comprising each human weapon and weapon meister at the Shinigami technical school for weapon meisters. Thus, they must be able to collect the souls of 1 witch and 99 evil humans to make the human weapon fit to be used by Shinigami.
23. School Rumble
Director: Shinji Takamatsu
Writer: Hiroko Tokita
Cast: Luci Christian, Brandon Potter, Brina Palencia
No. of Seasons: 2
IMDb Rating: 7.8
Where to Stream: Hulu, Funimation Now
The story of School Rumble follows a young girl Tenma Tsukamoto who happens to like a guy and goes on to confess her feelings for him. On the other end is Kenji Harima, who, too, cannot adequately portray his emotions for the one he likes. The two will face the bitter-sweet reality of high school romance amidst friends, rivals, and hobbies in their quest to find love.
22. Blue Period
Director: Koji Masunari, Katsuya Asano
Writer: Reiko Yoshida
Cast: Johnny Yong Bosch, Amber Lee Connors, Griffin Burns
No. of Seasons: 1
IMDb Rating: 7.8
Where to Stream: Netflix
When Yatora Yaguchi is bored with his life, the high school student gets drawn to the art world after getting inspiration from a painting. He then joins the school's art club after his friend Ryuji's recommendations. He aims to get admitted to the Tokyo University of the Arts to fulfill his passion.
21.D. Gray-Man
Director: Osamu Nabeshima
Writer: Reiko Yoshida
Cast: Sanae Kobayashi, Todd Haberkorn, Shizuka Itô
No. of Seasons: 2
IMDb Rating: 7.8
Where to Stream: Hulu, Funimation Now, Tubi TV
Millennium Earl uses the souls of the dead to make his weapons named Akuma by calling the gone back. And the moment the soul gets into the Akuma, it gets trapped forever, and the only plausible way to save them is by using an Anti-Akuma weapon called Innocence.
Allen Walker is the disciple of General Cross and gets sent to the Black order to fight Akuma and Millennium Earl and become an official Exorcist. Thus he must battle against evil to stop the world from being destroyed.
20. Time Of Eve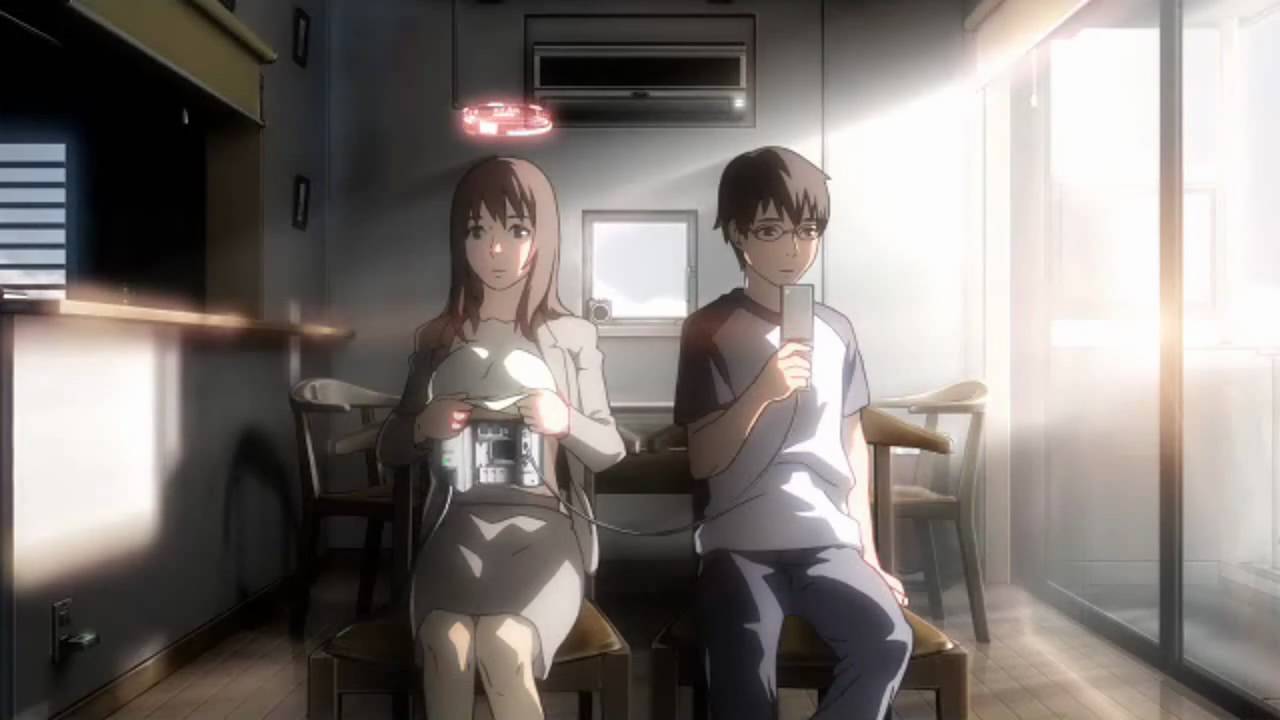 Director: Yasuhiro Yoshiura
Writer: Yasuhiro Yoshiura
Cast: Jun Fukuyama, Miki Itô, Motomu Kiyokawa
No. of Seasons: 1
IMDb Rating: 7.8
Where to Stream: VRV, Crunchyroll
Set in futuristic Japan, androids have been widespread in every household. While many begin to treat them as ordinary tools like other appliances, a smaller section of society empathizes with them due to their human-like appearance.
Rikou is a boy who has also looked down on androids his entire life until he discovers an absurd recording in his house, android Sammy. He follows in the footsteps of Sammy and stumbles upon an unusual cafe with strange rules to abide by.
19. Drifters
Director: Kenichi Suzuki
Writer: Hideyuki Kurata
Cast: Mitsuki Saiga, Naoya Uchida, Yûichi Nakamura
No. of Seasons: 1
IMDb Rating: 7.7
Where to Stream: N/A
The story of Drifters focuses on a group of exceptional warriors from different periods of history being summoned to an alternate Earth to fight against the rivals, the Ends, who are now planning to destroy the Earth instead of protecting it.
18. Gunbuster
Director: Hideaki Anno
Writer: Hideaki Anno, Toshio Okada, Hiroyuki Yamaga
Cast: Noriko Hidaka, Rei Sakuma, Norio Wakamoto
No. of Seasons: 2
IMDb Rating: 7.7
Where to Stream: Crunchyroll
The story focuses on Noriko Takaya, the daughter of a late space captain, to save the earth from the attack by gigantic aliens. But before she can be an able pilot, she must fight her dark past, bullying by her classmates, and the pressure of the training.
She then gets paired against her rival as one of the controllers of the enormous mech to fight against the aliens named Gunbuster mechs.
17. Big Windup
Director: Tsutomu Mizushima
Writer: Yōsuke Kuroda
Cast: Greg Ayres, Chris Cason, Aaron Dismuke
No. of Seasons: 2
IMDb Rating: 7.6
Where to Stream: Funimation Now, Hulu, VRV, Crunchyroll, Tubi TV
The sports anime tells the story of an exceptional baseball player named Ren Mihashi who, due to his poor pitching, made the team lose. Due to constant failures, the teammates begin bullying Ren, which completely shatters his self-confidence.
Planning to begin life afresh and not play baseball anymore, Ren joins another high school but, by fate, gets dragged into the new baseball team of the school as a starting pitcher. Initially reluctant to play, Ren slowly gains confidence with the aid of Takaya Abe, the catcher who sees his potential and decides to make him an ace pitcher. Add this sports anime to your watch list now!
16. Nobunaga Concerto
Director: Yūsuke Fujikawa
Writer: Natsuko Takahashi
Cast: Mamoru Miyano, Nana Mizuki, Yûichi Nakamura, Rikiya Koyama, Kazuyuki Okitsu, Keiichi Ogata
No. of Seasons: 1
IMDb Rating: 7.5
Where to Stream: Crunchyroll
Based on time travel, the journey is focused on a young boy named Saburo, who travels back to the Sengoku era. Finding his exact lookalike, Saburo gets mistaken for lord Oda Nobunaga and begins to live his life.
Thus the real lord aims to unite the country with the aid of Saburo, who happens to have no knowledge of killing people and the reason for sacrificing one's life for the family. But both manage to come close to the dream of unifying the nation.
15. Hell Girl
Director: Takahiro Omori, Hiroshi Watanabe
Writer: Kenichi Kanemaki
Cast: Mamiko Noto, Masaya Matsukaze, Takako Honda, Takayuki Sugô, Brina Palencia
No. of Seasons: 4
IMDb Rating: 7.5
Where to Stream: N/A
Hell Girl is a psychological thriller that is a must-watch. The story of Hell Girl revolves around a girl from hell named Enma Ai. The ones who want revenge or hold a strong grudge against someone have to post their wish on a strange website accessible only at midnight.
Rumors say that if the posting is moving on the site Jigoku Tsushin, the girl turns into Jigoku Shoujo and punishes the one tormenting you. But very little is known about the girl behind this.
14. Eden Of The East
Director: Kenji Kamiyama
Writer: Kenji Kamiyama
Cast: Ryohei Kimura, Saori Hayami, Jason Liebrecht
No. of Seasons: 1
IMDb Rating: 7.5
Where to Stream: Funimation Now, Hulu, Tubi TV
The story of Eden Of The East is set three months after the incident of Japan being hit by the missiles, where a girl named Saki Morimi gets into trouble in America and gets saved by a mysterious man named Akira Takizawa.
He happens to be naked and suffers from memory loss, believes himself to be a terrorist, and has the phone charged with digital money worth 8.2 billion yen. Thus begins the journey of Saki to find out about the mysterious man while Akira Takizawa tries to deal with other individuals with similar phones that might have a connection with the incident three months ago in Japan and thereby save Japan.
13. Gugure! Kokkuri-san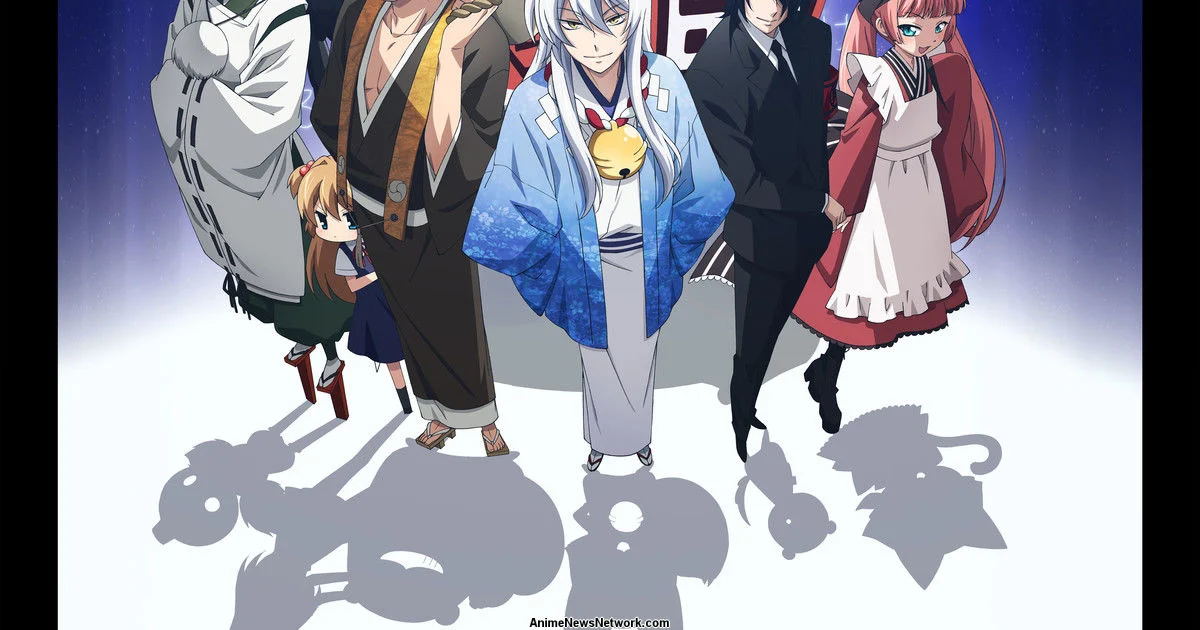 Director: Yoshimasa Hiraike
Writer: Yoshimasa Hiraike
Cast: Ryô Hirohashi, Daisuke Ono, Takahiro Sakurai
No. of Seasons: 1
IMDb Rating: 7.4
Where to Stream: HiDive, Spectrum on Demand
The journey sees Kohina Ichimatsu, a self-proclaimed doll who summons the fox spirit named Kokkuri-san. But he doesn't have the power to grant the answers as modern people stopped believing in the legend that ultimately rendered him from power.
But when he meets the girl who summoned him, he is taken aback to find that the girl lives alone and eats just a cup of ramen. Thus, concerned for the strange girl, Kokkuri-san makes the girl eat proper meals to improve her life. Thus, begins the hilarious and entertaining journey of the duo!
12. Birdy The Mighty Decode
Director: Kazuki Akane
Writer: Hiroshi Ōnogi, Seishi Minakami
Cast: Luci Christian, Micah Solusod, Cynthia Cranz
No. of Seasons: 2
IMDb Rating: 7.3
Where to Stream: N/A
During a mission on Earth, Birdy accidentally injures one of the civilians, making him share his body with the wounded to save his life. Birdy and Tsutomu now have to learn to cope with the changes in the transformed body, a single entity with two lives.
11. Flip Flappers
Director: Kiyotaka Oshiyama
Writer: Yumiko Ayana
Cast: Kenjirô Tsuda, Brittney Karbowski, Clifford Chapin
No. of Seasons: 1
IMDb Rating: 7.3
Where to Stream: HiDive, Spectrum on Demand
This one is an underrated anime that can make for an entertaining watch. It revolves around two young girls, Cocona and Papika, who find the pieces of the missing stone that can grant their wishes and enter an alternate dimension.
But when a dangerous creature comes after their lives in the new world, the girls use the crystals to transform into Pure Blade and Pure Barrier to fight the being. But they soon learn that they must work together to sustain themselves in the world and accomplish their task against their rivals.
10. Princess Principal
Director: Masaki Tachibana
Writer: Ichirō Ōkouchi
Cast: Ayaka Imamura, Akira Sekine, Patricia Duran
No. of Seasons: 2
IMDb Rating: 7.3
Where to Stream: HiDive, Amazon Prime Video
The anime will showcase the journey of five girls who work as undercover spies from the reputable Queen's Mayfair school. The city of London gets divided into two parts, named the Commonwealth and the Kingdom, due to the creation of a wall.
Thus, to take control of the royal family, the Commonwealth decided to replace Princess Charlotte with a girl similar to her in appearance named Ange le Carre. But when the princess offers to help the girls in exchange for her becoming the Queen, they set on the journey to fulfill their goals. The anime shows female characters as the main characters, making it all the way more interesting to watch.
9. Tiger and Bunny
Director: Keiichi Sato, Kunihiro Mori
Writer: Masafumi Nishida
Cast: Hiroaki Hirata, Masakazu Morita, Yuri Lowenthal
No. of Seasons: 2
IMDb Rating: 7.3
Where to Stream: Hulu, Netflix, Vudu, Peacock, Peacock Premium, Tubi TV, Pluto TV
Set in the distant future in Stern Bild, those with unique powers and abilities get called NEXT. One such NEXT is Kotetsu T. Kaburagi, a.k.a Wild Tiger, whose recent performances have not been up to the mark compared to other heroes due to his unwillingness to cooperate with others.
After performing poorly in the previous season, he gets paired with a new entry named Barnaby Brooks Jr., called Bunny by his new partner. Although they seem to own opposite traits, they must learn to work together to save their careers, along with Stern Bild.
8. Shounen Maid
Director: Yusuke Yamamoto
Writer: Yoshiko Nakamura
Cast: Todd Haberkorn, Seth Magill, Apphia Yu
No. of Seasons: 1
IMDb Rating: 7.2
Where to Stream: Can be purchased from Apple TV, Amazon Prime Video, Microsoft Store, and Google Play Movies.
It is the tale of an elementary school boy named Chihiro Komiya, who recently lost his mother and is now homeless. But everything takes an unexpected turn when he meets his long-lost rich uncle Madoka Takatori who decides to take Chihiro with him.
But on reaching the big house of his uncle, all he finds are piles of dust and garbage which trigger Chihiro's neatness instinct. Thus begins the hilarious journey of Chihiro as a maid in the house, wearing the frilly uniform and receiving a salary for cleaning the house.
7. Noir
Director: Kōichi Mashimo
Writer: Ryōe Tsukimura
Cast: Houko Kuwashima, Kotono Mitsuishi, Shelley Calene-Black
No. of Seasons: 1
IMDb Rating: 7.2
Where to Stream: Funimation Now
Focused on two leading females named Mireille Bouquet and Kirika Yuumura, the show captures the journey of the two highly trained assassins and gives new tasks to kill the culprits around the world. But their journey is not smooth as they will have to face the obstacles their boss poses and overcome them to become stronger.
6. Tsuritama
Director: Kenji Nakamura
Writer: Toshiya Ono
Cast: Josh Grelle, Chris Ayres, Adam Gibbs
No. of Seasons: 1
IMDb Rating: 7.1
Where to Stream: N/A
This kind of sports anime has no action sequences or drama but focuses on a smaller plot. It is about a young high school boy named Yuki Sanada who lives with his grandmother named Kaito. The lady has a career that requires them to relocate often, making it difficult for Yuki to make good friends and hampers his social skills to interact with people.
And as the duo settles in the new town of Enoshima, the protagonist hopes to begin life afresh. But soon, when he joins his new school, another transfer student named Haru claims that he is an extraterrestrial being and that Yuki is his buddy. Along with them, join Akira and Natsuki on an adventurous journey on their small, beautiful island.
5.Saenai Heroine No Sodatekata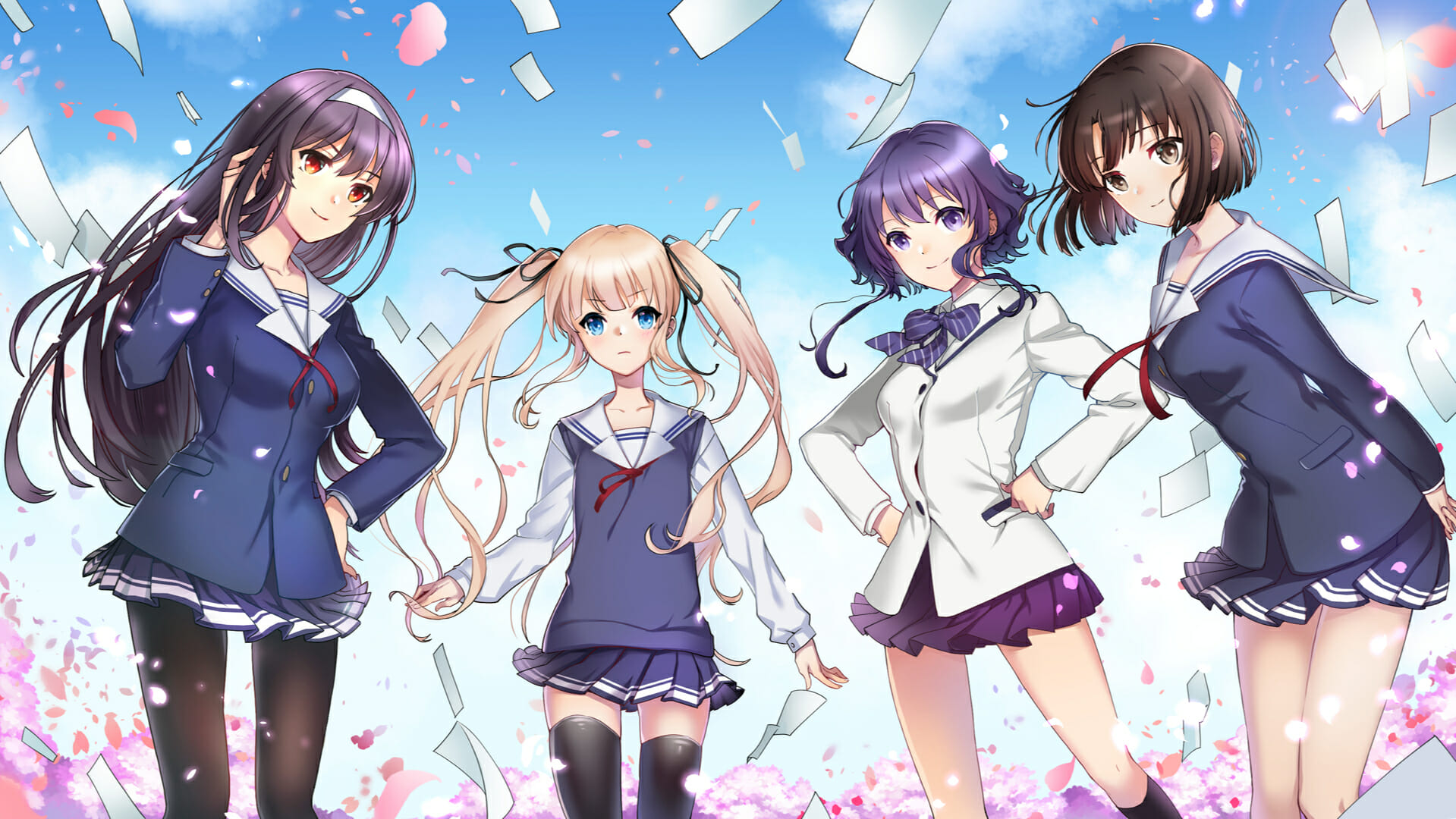 Director: Kanta Kamei
Writer: Maruto
Cast: Yoshitsugu Matsuoka, Saori Oonishi, Kiyono Yasuno
No. of Seasons: 2
IMDb Rating: 7
Where to Stream: Funimation Now, VRV, Crunchyroll
The series' premise is focused on Tomoya Aki, a boy fond of collecting anime and light novels and often plots himself in similar stories with various characters. And since he plans to make others experience the taste of his vast imagination, he decides to make a game about it but cannot do it all alone.
With the help of his pals, Eriri Spencer Sawamura and Utaha Kasumigaoka, he illustrates and writes the script and is inspired by Megumi Katou's designs, the main character. He creates his circle in the hope that the hearts of people who play the game can be touched, unknown that the feelings must also be experienced in real life.
4. The Mystic Archives Of Dantalian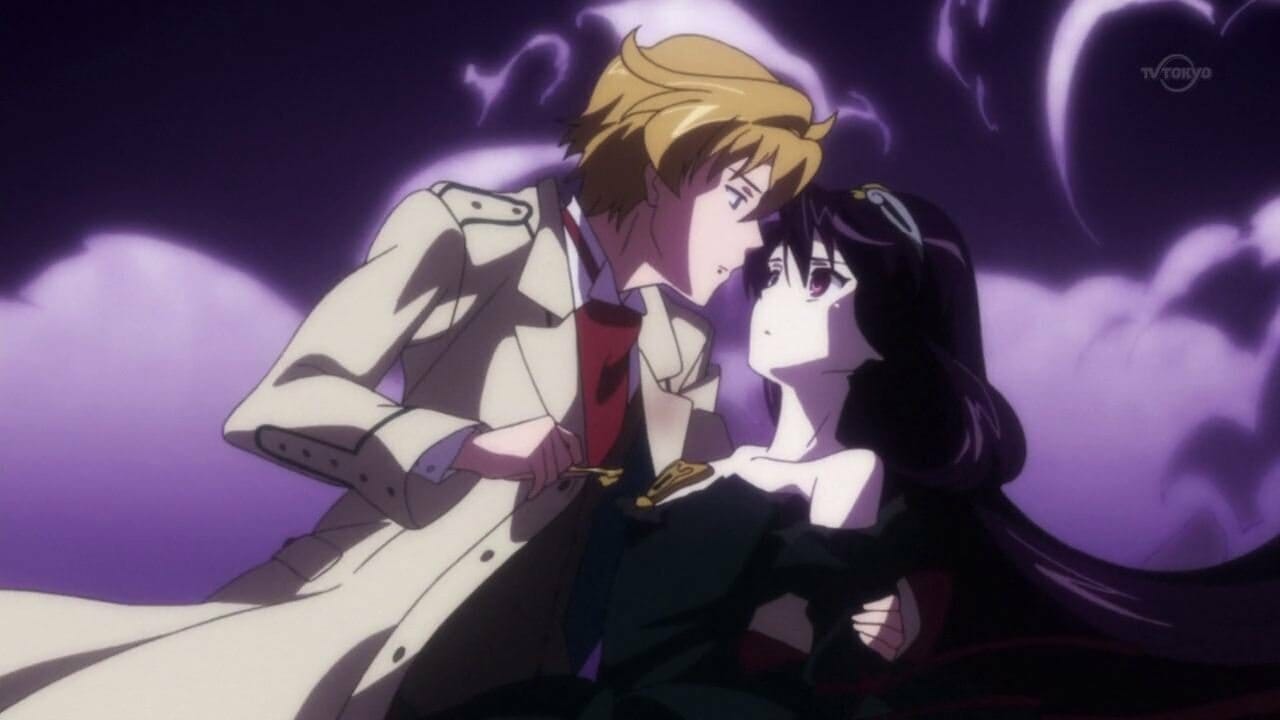 Director: Yutaka Uemura
Writer: Kurasumi Sunayama, Tatsuhiko Urahata, Hiroyuki Yamaga
Cast: Daisuke Ono, Miyuki Sawashiro, Kana Hanazawa
No. of Seasons: 1
IMDb Rating: 6.6
Where to Stream: Funimation Now
The anime revolves around Hugh Anthony Disward, who, from his grandfather, inherits a personal library and an old mansion. When he visits the basement of the big house, he discovers a mysterious young woman named Dalian at the place.
She happens to be a Dantalian who could help reach the Dantalian's bookshelf, known to house the books about demons that are otherwise banned.
3. Samurai Flamenco
Director: Takahiro Omori
Writer: Hideyuki Kurata
Cast: Patrick Mölleken, Tomokazu Sugita, Chie Nakamura
No. of Seasons: 1
IMDb Rating: 6.5
Where to Stream: Funimation Now
The anime is about a man named Masayoshi Hazama, who is really into superhero shows. Consequently, during the day, he earns by being right; he becomes the hero na during the daybed Samurai Flamenco.
His only aim is to maintain peace and order in the city, and he does not hesitate to punish the ones who litter the streets or break any law. And as his great deeds begin to be acknowledged by the public, his identity gets revealed by the cop named Hidenori Gotou.
The latter first recommend the Samurai leave the job to the police but eventually joins him in his adventures. Thus, their journey to save their city soon turns into a bigger mission of saving the world, making them understand what it takes to become a superhero.
2. Angels of Death
Director: Kentarō Suzuki
Writer: Yoshinobu Fujioka
Cast: Haruka Chisuga, Meg McClain, Dallas Reid
No. of Seasons: 1
IMDb Rating: 6.4
Where to Stream: VRV, Crunchyroll, Funimation Now
Inspired by the manga series of the same name, the premise sees Rachel Gardner, a young teenager who lands up in a hospital after facing murder and has the only wish to die. But when she wakes up with no memory, she finds herself in a basement facility she hasn't seen before and knows nothing about. She manages to escape her level and reaches the above floor, where she meets Zack.
The two agree on the pact that if Rachel would help Zack escape the building, he would kill and set her free in return. And as the two embark on the journey and climb higher, they cross paths with more complicated people who somehow seem to know Rachel. Thus, only time will tell whether the duo can achieve their goals with increasing danger at every level!
1. Try Knights
Director: Tadayoshi Sasaki
Writer: Makoto Takada
Cast: Shōgo Sakamoto, Shūta Morishima, Seiji Maeda, KENN, Takuma Terashima
No. of Seasons: 1
IMDb Rating: 6
Where to Stream: HiDive, Crunchyroll, VRV, Spectrum on Demand
This sports anime focuses on Riku Haruma, who, when younger, played rugby passionately but eventually gave up the sport due to his physique. He enters the high school and watches players playing the sport wildly and struggling to do their best.
He ends up advising one such player, Akira Kariya, which works great. Despite his lack of touch with the game for a long time, he knew that the team needed strong guidance and leadership and that his passion could be fuelled by it!
If you are a true anime fan, then we are sure the list of these fantastic series would not have disappointed you in any way. However, the list is not about our usual favorite anime series like Demon Slayer, My Hero Academia, or Jujutsu Kaisen; about different stories that make for a refreshing change.
These anime shows might not fall under the category of popular anime, but their storyline and main characters are worth spending time on. So do not forget to add them to your watch list this year!