With the year 2020 coming to an end, all the streaming platforms will be releasing their December specials and also gear up for their 2021 releases. So here is an overview of what are the new things you can expect on Amazon Prime Video.
New Movies Coming on Amazon Prime
1. Sylvie's Love
Director and Screenplay: Eugene Ashe
Cast: Tessa Thompson, Nnamdi Asomugha, Aja Naomi King, Rege-Jean Page, Eva Longoria, and Ryan Michelle Bathe
IMDb rating: 5.6/10
Rotten Tomatoes: 100%
The movie is about a summer romance which is rejuvenated years later in a sudden meeting of Sylvie and her love Harlem. The movie had an initial release at the Sundance Film Festival. But now Amazon Studios has acquired its rights and Sylvie's love will be available on Amazon Prime Video from December 25, 2020.
2. Herself
Director: Phyllida Lloyd
Writers: Clare Dunne and Malcolm Campbell
Cast: Clare Dune, Harriet Walter and Conleth Hill
IMDb rating: 7.1/10
Rotten Tomatoes: 91%
The movie is about the journey of self-discovery of a single mother, Sandra who is refused by the housing system. So she sets out to build a house of her own for her two daughters with a help of a few good friends in a welcoming community, all the while fighting for custody of her children from her abusive ex-husband. The movie has its world premiere at the Sundance Film Festival. One can catch this amazing journey of Sandra on Amazon Prime from January 8, 2021.
3. Coming 2 America
Director: Craig Brewer
Writers: Barry W. Blaustein, Kenya Barris, and David Sheffield
Cast: Eddie Murphy, Jermaine Fowler, KiKi Layne, Arsenio Hall, Shari Headley, Leslie Jones, Tracy Morgan, Wesley Snipes, John Amos, and James Earl Jones
IMDb rating: NA
Rotten Tomatoes: NA
Set to on release on March 5, 2021, on Amazon Prime, the movie is a direct sequel to the 1998 comedy film Coming to America. In this movie, we will see Prince Akeem Joffer of Zamunda traveling to America before his coronation as a king to find his long lost son, in order to fulfill his father's dying wish to make this son the crown prince of Zamunda.
4. The Map of Tiny Perfect Things
Director: Ian Samuels
Writer: Lev Grossman
Cast: Kathryn Newton, Kyle Allen, Jermaine Harris, Josh Hamilton, Cleo Fraser, Anna Mikami, and Jorja Fox
IMDb rating: NA
Rotten Tomatoes: NA
Filmed in Alabama this movie is set for an early 2021 release on Prime Video. The movie is based on a short story of the same name by Lev Grossman.
5. Annette
Director: Leos Carax
Writer: Ron Mael and Russell Mael
Cast: Adam Driver, Marion Cotillard, and Simon Helberg
IMDb rating: NA
Rotten Tomatoes: NA
This is a musical with screenplay and songs by the Mael brothers. The production started in early 2017. As Amazon Studios acquired the movie's distributing rights, it is planned to be released in 2021 on Amazon's digital platform Prime Video.
6. Louis Wain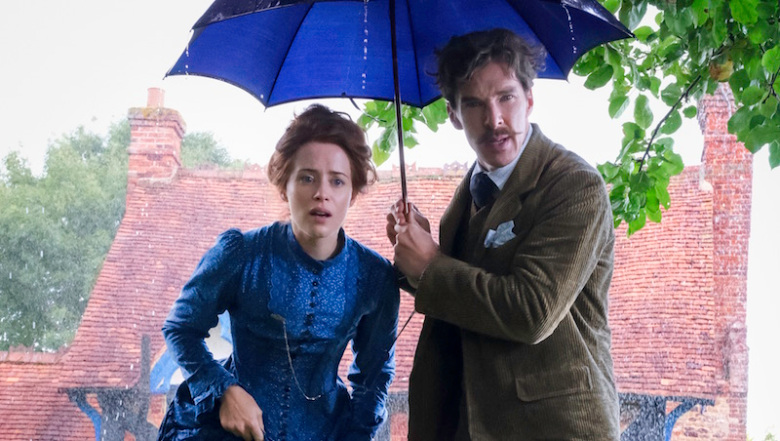 Director: Will Sharpe
Writers: Simon Stephensen and Will Sharpe
Cast: Benedict Cumberbatch, Claire Foy, Jamie Demetriou, Toby Jones, Sharon Rooney, and Andrea Riseborough
IMDb rating: NA
Rotten Tomatoes: NA
The movie is a biographical film about the famous late 19th and early 20th-century American artist Louis Waine who is famous for his large-eyed cat drawings.
7. Run Sweetheart Run
Direction and Screenplay: Shana Feste
Cast: Ella Balinska, Pilou Asbaek, Amal Ameen, Clark Gregg, Dayo Okeniyi, Besty Brandt, and Shohreh Aghdashloo
IMDb rating: 6/10
Rotten Tomatoes: 71%
This is an American horror film about a woman Cherie who goes on a blind date with a guy named Ethan set up by her boss. Initially, Ethan seems to be a sweetheart, but as the night progresses Cherie realizes, Ethan is not who he seems. Now, Cherie has to find her way through L.A. on foot to escape the violent Ethan who is chasing her.
8. Mortal Combat Legends: Scorpion's Revenge
Director: Ethan Spaulding
Writer: Jeremy Adams
Cast: Patrick Seitz, Steve Blum, Darin de Paul, Joel McHale, Jennifer Carpenter, and Jordan Rodrigues
IMDb rating: 7.4/10
Rotten Tomatoes: 89%
This animated film based on John Tobias and Ed Boon's franchise Mortal Kombat revolves around supernatural forces. The movie sees otherworldly and earthly forces fight in a tournament to determine Earth's future. Amazon Studios has acquired the rights to this film and it will be available on Prime Video sometime in 2021.
New Series Coming on Amazon Prime
1. Vikings Season 6 part 2
Director and Writer: Michael Hirst
Cast: Katheryn Winnick, Alexander Ludwig, Alex Hogh Anderson, Jordan Patrick Smith, Danila Kozlovsky, Marco Ilso, Georgia Hirst, Eric Johnson, Ray Stevenson, Peter Frazen, Ragga Ragnars, and John Kavanagh
IMDb rating: 8.5/10
Rotten Tomatoes: 93%
This historical drama series is on its sixth and last season whose part two is set to release on Amazon Prime Video on December 30, 2020. This action-packed TV series starting in 2013, originally aired on the channel History. It is loosely based on the Scandinavian tales of Viking chieftain, Ragnar Lothbrok. As the series progressed it focused more on Lothbrok's family and descendants. Critics have drawn similarities of the show with other popular series like Rome and Game of Thrones. The series has also been praised for its skillful dialogue writing.
2. 3 Caminos Season 1
Creators: Alberto Macias, Carlos Molinero, Juan Ramon Ruiz de Somavia
Directors: Norberto Lopez and Inaki Mercero
Cast: Alex Gonzalez, Andrea Bosca, Alberto Jo Lee, Maria Joao Falcao, Veronica Echegui and Anna Katharina Schimrigk
IMDb rating: NA
Rotten Tomatoes: NA
The series will follow three trips of six friends Jana, Luca, Roberto, Yoon, Soo, and Raquel in three stages of their lives – 2000, 2006, and 2021. It is a journey of growing up, maturity, friendship, and bonding. This Amazon Original series is set to release on January 22, 2021.
3. Undone Season 2
Creators: Raphael Bob Waksberg and Kate Purdy
Director: Hisko Hulsing
Cast: Rosa Salazar, Constance Marie, Angelique Cabral, Daveed Diggs, Siddharth Dhananjay, and Bob Odenkirk
IMDb rating: 8.2/10
Rotten Tomatoes: 98%
This comedy-drama revolves around a girl, Alma's journey, and her relationship with time. Season 1 of Undone ended with Alma traveling to Mexico is waiting for her father. Fans expect the upcoming season 2 to deal with Alma's personal trauma and coming to terms with meeting her father. Season 1 was critically well acclaimed and appreciated for the surreal way it showed the existential crisis of a person. The show's success has been compared with another award-winning series by Amazon Studios, The Marvelous Mrs. Maisel. Season 2 of this Amazon Original series is expected to release in 2021.
4. Tell Me Your Secrets
Director: John Polson
Writer: Harriet Warner
Cast: Lily Rabe, Amy Brenneman, Hamish Linklater, Enrique Murciano, Chiara Aurelia, Ashley Madekwe, Bryant Tardy, Eliot Fletcher, Xavier Samuel, and Stella Baker
IMDb Rating: NA
Rotten Tomatoes: NA
This is a mystery drama series that delves into the past lives and secrets of three characters – an escapee from a killer's hand, a redemptive convict, and a grieving mother. It attempts to blur the lines of right and wrong giving the audience a thrilling experience. The series is set to release on Amazon Prime in 2021.
5. Tin Star Season 3
Director: Rowan Joffe
Cast: Tim Roth, Christina Hendricks, Genevieve O'Reilly, Abigail Lawrie, Sarah Podemski, Oliver Coopersmith, Lynda Boyd, Ian Puleston Davis, Michelle Thrush, Ryan Kennedy, Anamaria Marinca, Jenessa Grant, John Lynch, and Nigel Benett
IMDb Rating: 7.3/10
Rotten Tomatoes: 73%
The series is set in the small town of Little Bear Big, where the violent past of the new police chief, Jim Worth catches up as there is a turf with the town oil company's security chief. Jim's alter ego has to come out now in order to protect his family. The series shows us the conflict between ethics and crime related to workers in an oil company. This British Canadian series has a persistent fan base and its season three will be available on Amazon Prime in 2021.
6. Modern Love Season 2
Director and Writer: John Carney
Cast: NA
IMDb rating: 8/10
Rotten Tomatoes: 75%
Modern love is an anthology series and an Amazon Original. The stories in the series are taken from The New York Times column. They explore love in all forms and ways, thus putting together a heartwarming wholesome series. Season 2 can be expected to follow the same path with a fresh set of stories and cast. After the immediate renewal, the second can be expected in late 2021.
7. The Wheel of Time Season 1
Director: Rafe Judkins
Cast: Rosamund Pike, Josha Stradowski, Zoe Robins, Marcus Rutherford, Madeleine Madden, Daniel Henney, and Barney Harris
IMDb rating: NA
Rotten Tomatoes: NA
The movie is based on Robert Jordan's novel series The Wheel of Time, completed by Brandon Sanderson. The plot will see a powerful magician also called channeler, Moiraine takes on a group of five apprentices, after an evil entity known as the Dark One attacks. One of these five may be the Dragon and may have the power to save or destroy the world. This Sony Pictures and Amazon Studios joint venture is expected to release in late 2021 on Prime Video.
8. Hanna Season 3
Director: David Furr
Cast: Esme Creed Miles, Joel Kinnaman, Mireille Enos, Dermot Mulroney, and Noah Taylor
IMDb rating: 7.5/10
Rotten Tomatoes: 80%
The series revolves around a 15-year-old girl, Hanna who was made as part of a super-soldier project called UTRAX. When the project was shut down and all the babies were ordered to be eliminated, a scientist named Erik Heller who was in love with Hanna's mother rescued baby Hanna and raised her as his daughter. As the series unfolds we see Hanna come to terms with the real reason behind her existence and survive in a world full of adversities. The first two seasons of this Amazon Original were a big success. The series has been renewed for a third season which is expected to release in late 2021.
9. Invincible Season 1
Director: Robert Kirkman
Voices: Steven Yeun and J. K. Simmons
IMDb rating: NA
Rotten Tomatoes: NA
Invincible is an animated series about an adolescent named Mark Grayson who is the son of a superhero and also starts to develop powers of this own. As he does to, Mark joins his father, Nolan's team in order to become like him. This Amazon Original cartoon series created by the famous The Walking Dead director has already dropped a trailer and is scheduled to release on Prime Video in early 2021.
10. Goliath Season 4
Director: David E. Kelly and Jonathan Shapiro
Cast: Billy Bob Thornton, Nina Arianda, Tania Raymonde, Diana Hopper, William Hurt, Mario Bello, Olivia Thirlby, and Julie Brister
IMDb rating: 8.2/10
Rotten Tomatoes: 82%
It is a legal drama that follows a corporate lawyer, Billy McBride on the path of redemption as he navigates his way through the corrupt business of the legal profession and justice system. As the series progresses we see McBride take revenge on the law firm he was a creator behind. This Amazon Original series has developed a consistent fan base and has also been appreciated by the critics for the excellent performances through all three seasons. Goliath has been renewed for season four, which is going to be the last season of this epic legal drama. Fans can expect the last season to drop in late 2021.
Conclusion
It seems that Amazon Prime has lined up a great collection of movies and TV series for its audience. Here is a complete list to binge watch that you can start ticking off as soon as Amazon Prime Video makes the releases. Happy watching!