Sometimes it's the environment, characterized by a refined air mixed with an unsettling eeriness, like a haunting in a palace. It can also be the characters' fashion sense, such as their penchant for wearing all-black, lace, leather, or silver ankh necklaces.
And other times, it's the plot—stories about moral decline or characters who struggle to maintain their sanity but ultimately lose it. Although people have different ideas of what constitutes a "gothic" anime, the best always stands apart.
The anime in this genre embrace everything eerie, from their obsession with death and decline to their dark, trendy characters. Here are some of the top anime for fans of everything Gothic.
The goth culture movement began spreading throughout the West in the 1990s, fuelled by extremely sinister movies like "Interview with the Vampire" and "The Crow."
However, it had much to do with a character archetype known as the gothic lolita in Japan. While in the West, it is more often connected with Victorian romance and vampire-themed fiction.
Gothic style is not a genre in the anime world but rather a style indicator frequently featuring themes like gloom, deaths, rebirths, black magic, dread, and medieval settings.
This horrifying celebration of the macabre often draws large crowds of viewers, especially those who enjoy cosplay. Here are the most tremendous Gothic anime series ever created. 
1. xxxHOLIC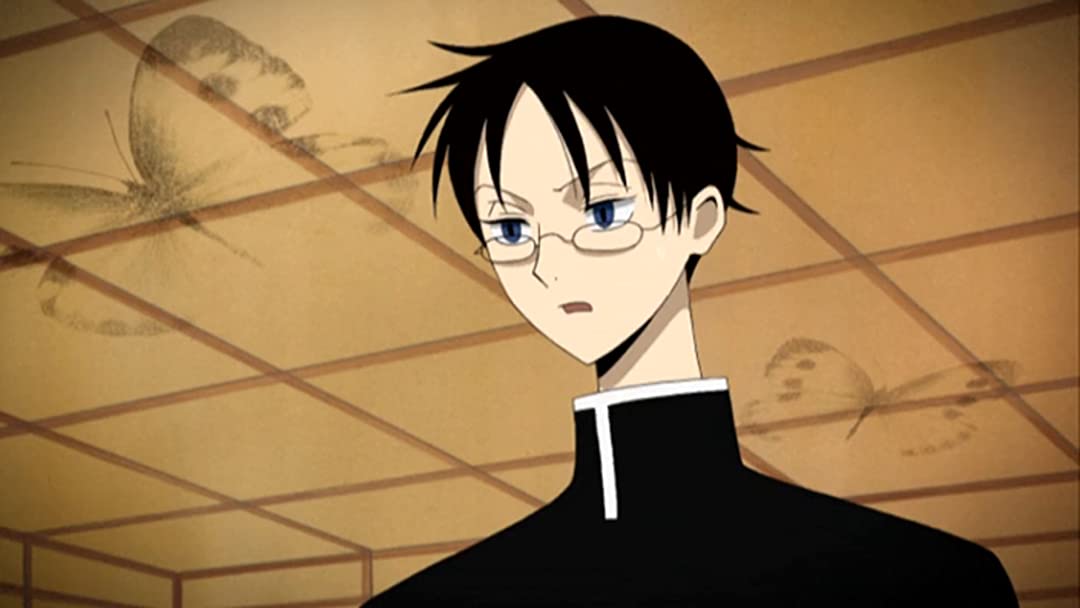 Director: Tsutomu Mizushima

Writer: Nanase Ohkawa, Michiko Yokote

Cast: Anne Watanabe, Shota Sometani, Naoto Takenaka, Masahiro Higashide, Karen Miyazaki

IMDB: 7.6/10

Platforms: Apple Tv
People who think "gothic" and "depressing" are synonymous should seek elsewhere since xxxHOLiC is a much lighter and funnier series than its somber aesthetic would have you believe.

However, there is no denying that xxxHOLiC has a gothic flavor, especially in the mannerisms of its characters, even while it may tend toward slapstick comedy in ways that one wouldn't often associate with the genre. 
The ideal characters & goth girls for retaining viewers' interest in this anime-style are a high school student who can see ghosts and a witch who runs a shop that grants wishes, and they don't let us down.
Although Yuko and Kimihiro have memorable moments in the series, Yuko is arguably the standout.
2. Le Portrait de Petit Cossette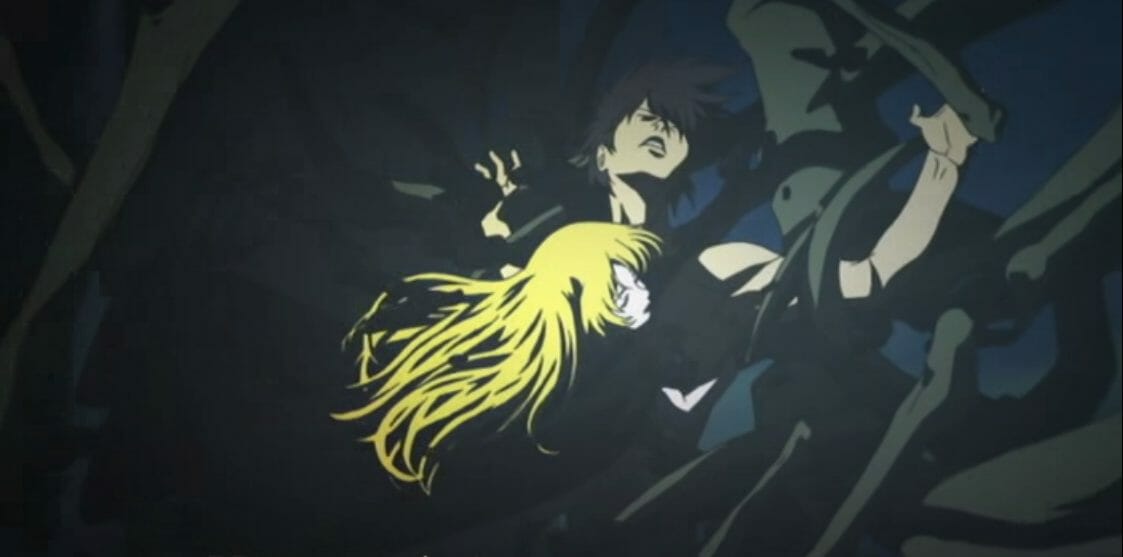 Director: Akiyuki Shinbo

Writer: Mayori Sekijima

Cast: Johnny Yong Bosch, Marina Inoue, Michelle Ruff, Rei Igarashi, Mitsuki Saiga

IMDB: 6.7/10

Platforms: Prime Video
In the anime "Le Portrait de Petit Cossette," Eiri Kurahashi, an art student, works at a quaint antique shop that sells all kinds of strange items. One day while working there, a girl's image comes to life before his dark eyes, and he is immediately drawn to her.
The same night he contacts her, she confesses having been killed and duped by another artist, Marcelo Orlando.
 She must persuade another man to bear Marcello's sins on his shoulders if she wants to be set free.
3. Tokyo Ghoul
Director: Shuhei Morita

Writer: Chūji Mikasano

Cast: Fumika Shimizu, Masataka Kubota, J. Michael Tatum, Mamoru Miyano, Austin Tindle

IMDB: 7.8/10

Platforms: Hulu, Disney +
Two aspects of gothic fiction frequently present in Tokyo Ghoul are secrecy and violence. In this series, humans inadvertently coexist with ghouls or flesh-eating monsters.
These creatures hide their presence from people to carry on their horrifying practice of preying on the defenseless.
Many main characters, including Ken Kaneki's protagonist, have a gothic aesthetic. Particularly noteworthy is his hideous mask, all teeth.

However, Tokyo Ghoul serves up enough violent films and disturbing ideas to satisfy any fan of the dark. It is not content to dress its characters in Black and call it a day.
4. Ergo Proxy
Director: Shūkō Murase

Writer: Dai Satō

Cast: Patrick Seitz, Michael McConnohie, Yuri Lowenthal, Doug Stone, Rie Saitou

IMDB: 7.9/10

Platforms: Apple TV
In the alternate, the technologically sophisticated universe of "Ergo Proxy," humans coexist with AutoReiv robots. However, a mysterious virus starts to take control of these robots one day, giving them a feeling of self-awareness.
Many become insane and commit the most heinous murders due to their newfound power.
But, when investigator Re-l Mayer saves her life by unraveling the virus's secret, she finds that everything she learns points to a much larger plot. 
'Ergo Proxy' undoubtedly has a compelling story that keeps you interested until the end. However, the dark, washed-out background colors accentuating the air's tension set this anime apart.
Not to mention that Re-L, a goth girl, main character, is the ideal representation of the goth aesthetic with her pale complexion, dark makeup, and all-black dress.
5. Darker Than Black
Director: Tensai Okamura

Writer: Shinsuke Oonishi

Cast: Hidenobu Kiuchi, Misato Fukuen, Jason Liebrecht, Ikuya Sawaki, Kiyomi Asai

IMDB: 7.7/10

Platforms: Crunchyroll
For several reasons, darker than Black is a fantastic action thriller with definite gothic overtones.
First, though, is its premises: a spatial aberration causes the creation of individuals with unique skills who go by the name of Contractors since everyone must make an inevitable sacrifice in exchange for their capabilities. 
Hei, the protagonist of the Assassin series, makes for a fantastic lead character. He adds complexity and excitement to what might otherwise have been a typical, albeit sinister, tale of the paranormal gone awry.
Darker than Black is a gothic anime that is well worth watching for fans because of its character and a cast of exciting antagonists with compelling motivations.
6. Deadman Wonderland
Director: Kōichirō Hatsumi

Writer: Yasuyuki Mutō

Cast: Monica Rial, Aaron Dismuke, Jamie Marchi, Micah Solusod, Trina Nishimura

IMDB: 7.1/10

Platforms: Crunchyroll
'Deadman Wonderland' is a distinctive sci-fi horror anime about a prison amusement park, and it is inspired by a manga authored by Jinsei Kataoka & illustrated by Kazuma Kondou.

Prisoners are forced to commit risky behaviors at this theme park simply for the enjoyment of the spectators.
High school student Ganta is scheduled to take his students on a field trip to this prison. However, he winds up in the same jail as a criminal after his entire class is murdered and is blamed for it.
He must discover a method to survive in this new, dark world filled with the most horrifying captives and killer games and eventually locate the "Red Man" to escape. 
If you're seeking pure gory action and bizarre characters, "Deadman Wonderland" is one of the best shows.
Although it has several apparent issues, the action scenes keep you interested the entire time. In addition, the concept itself is gloomy enough to define it as a Gothic anime.
7. Death Note
Director: Adam Wingard

Writer: Charles Parlapanides, Vlas Parlapanides, and Jeremy Slater

Cast: Nat Wolff, Willem Dafoe, LaKeith Stanfield, Margaret Qualley, Masi Oka

IMDB: 9/10

Platforms: Netflix
For a good reason, Death Note is one of the most well-known gothic anime series of all time.

It shows the story of Light Yagami, a middle school student who acquires the titular notebook and, as a result, obtains the power to murder anyone whose name he enters in the book. 
The clever cat-and-mouse series Death Note contains mind tricks and plot turns. Light and L have an unrivaled intellectual competition.
Watching Light's already shaky moral compass crumble as he justifies ever-greater crimes in the name of "justice" is one of the series highlights.
Death Note delivers a potent mix of gothic aesthetics in the characters of Misa and Ryuk, along with its sinister themes and evil protagonist.
8.  Berserk
Director: Shin Itagaki

Writer: Kentaro Miura

Cast: Sean Schemmel, Marc Diraison, Kevin T. Collins, Ikuya Sawaki, Michelle Newman

IMDB: 8.7/10

Platforms: Netflix
One anime, "Berserk," can fully satisfy your gory, sinister, gothic fantasies. This anime is unpleasant in almost every way, making it the ideal program for all Goth fans.

It depicts the tale of Guts, a guy who drinks blood and was born via postmortem fetal extrusion. Not even your wildest imagination can imagine what this is if you haven't seen the anime.
But what comes next is far less significant. Guts continue to advance despite having the most terrible birth possible.
However, he never experiences true serenity since betrayal, sacrifice, and the need for vengeance haunt his every thought, slowly guiding him to his grave. 
This well-known shounen will immerse you in the most gruesome gothic dark themes, all influenced by classic literature.
9. Trinity Blood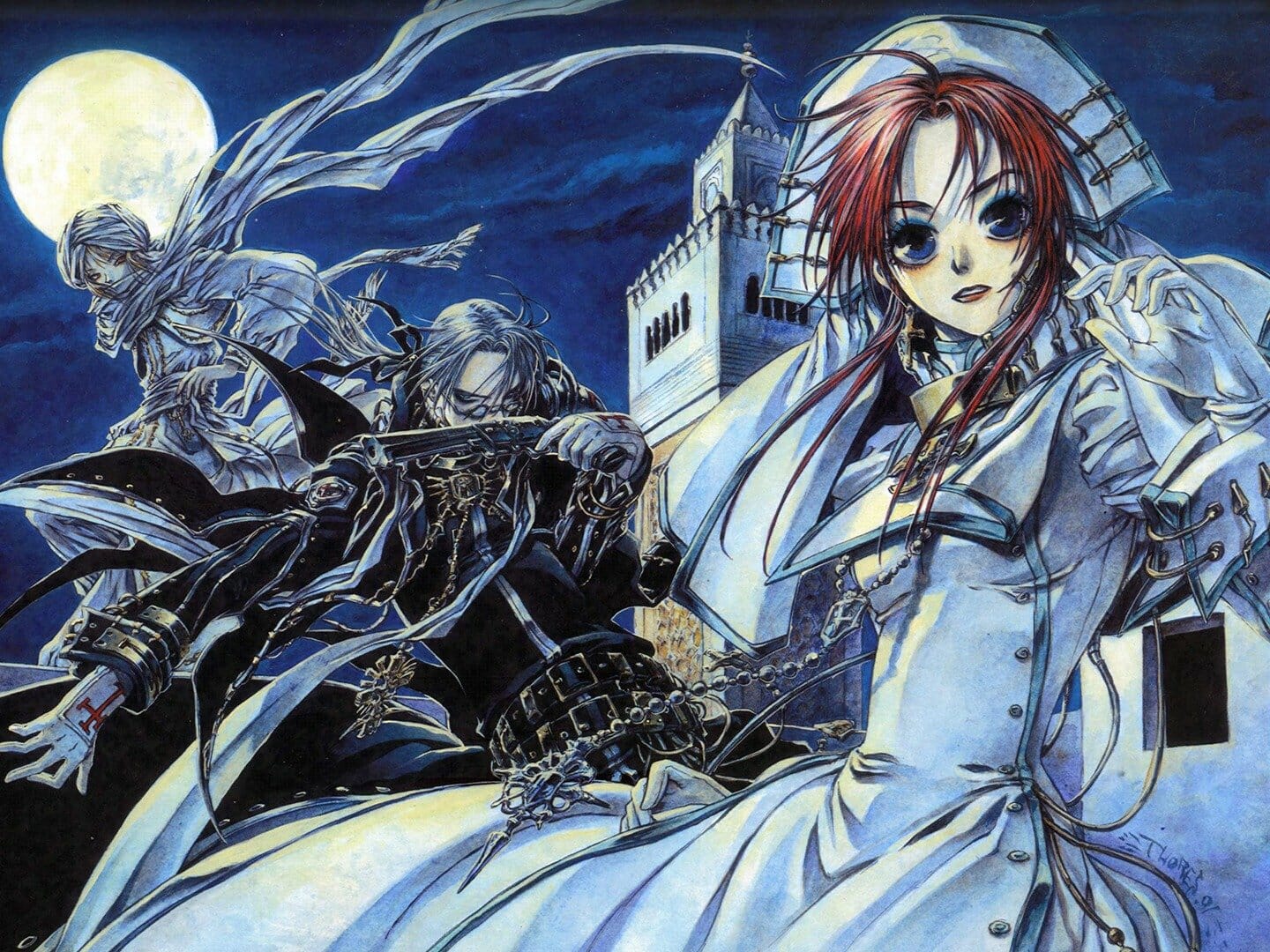 Director: Tomohiro Hirata

Writer: Atsuhiro Tomioka, Tomohiro Hirata

Cast: Hilary Haag, Hiroki Tōchi, Troy Baker, Kazuya Nakai, Mamiko Noto

IMDB: 7.1/10

Platforms: Apple TV
The majority of "Trinity Blood" is cheerful, and unlike most of the other series on this list, even when the tone swings, it never feels oppressively gloomy or severe.
However, it merits the label "Goth" thanks to its historical, gothic architecture backdrops and vampire hunter-slaying action.
This program is ideal for those searching for something less horrifying and gory in the Goth tag because a constant plague of death is intertwined with its grim characters.
From Bach to Bauhaus, music has played a significant role in gothic art; the score of Trinity Blood is only one particularly notable example.
Having an appropriately ominous score gives every scene in a vampire anime that feels like a cross between Hellsing and Vampire Hunter D's new life—or possibly unlife. Trinity Blood's compositions may not be original, but the result is dark gothic souls. 
Even though it appears to be complicated, the political intrigue that it weaves throughout its story is delicious.
The show combines the best elements of its sources into a Frankensteinian patchwork of unpleasantness that is ideal for a gothic mood.
Trinity Blood's gothic setting includes taking some horror elements from here and other macabre elements from there.
10. Hellsing Ultimate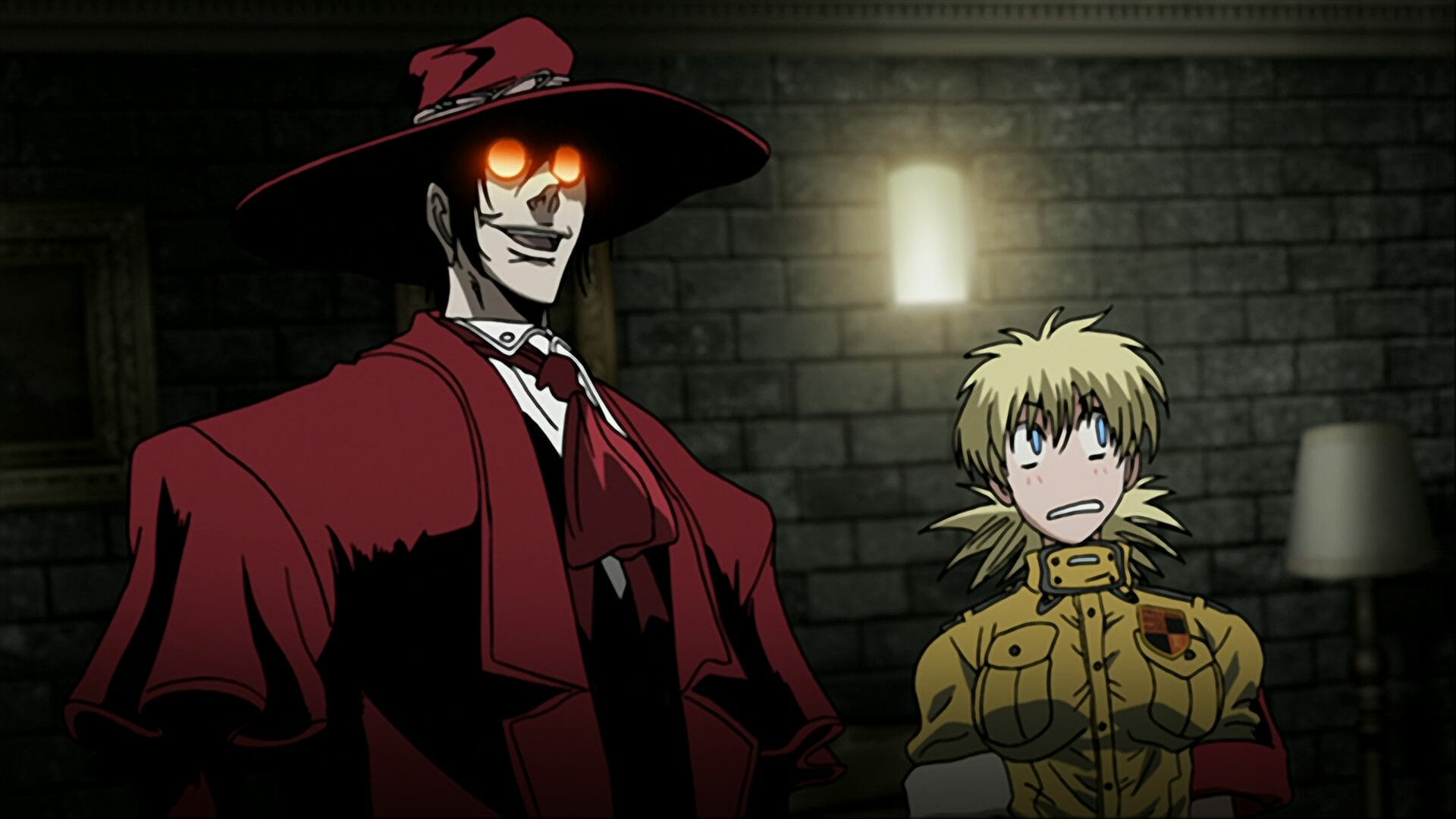 Director: Umanosuke Iida

Writer: Chiaki J. Konaka

Cast: JB Blanc, Gildart Jackson, Taliesin Jaffe, Yuri Lowenthal, Liam O'Brien

IMDB: 8.3/10

Platforms: Hulu
"Hellsing Ultimate," a manga adaptation by Kouta Hirano, chronicles the exploits of the Hellsing Organization, a group tasked with defending England against evil supernatural powers.
While this one's characters are comparable to the legendary OVA "Hellsing," it explores previously untold plot lines.
This drama is Gothic simply by the presence of a ruthless vampire that the great Van Hellsing himself invented.
Not to mention that "Hellsing Ultimate" has graphic violence and blue hues that not everyone may find appropriate.
However, if you consider yourself a true Goth, you'll undoubtedly appreciate the gorefest it provides.
11. Gilgamesh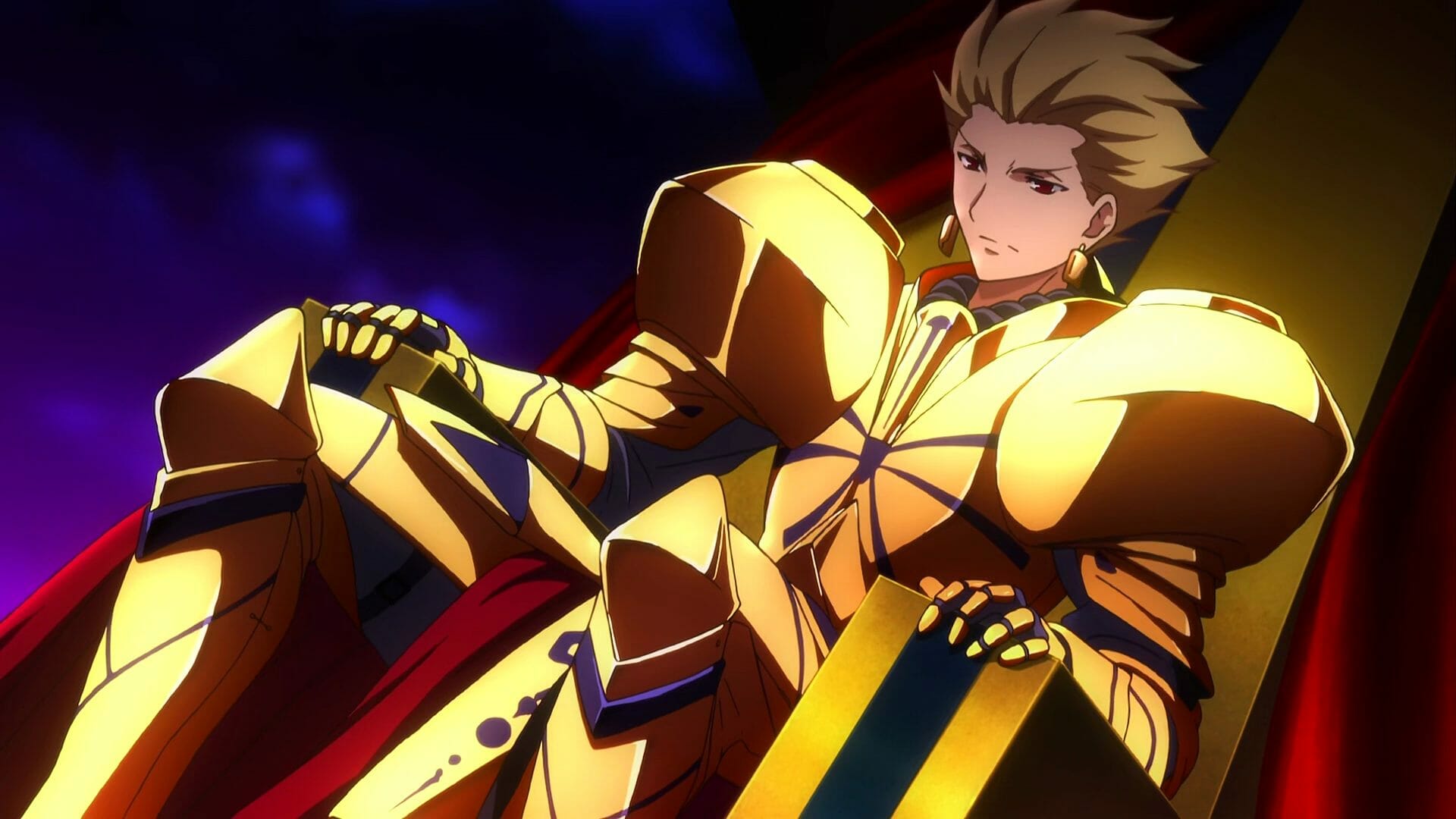 Director: Richard Chandler

Writer: Writer Shin-Leqi-Unninni

Cast: Shigeru Shibuya, Blake Shepard, Akiko Kimura, Chie Nakamura, Kae Araki

IMDB: 6.6/10

Platforms: Apple iTunes
End the world if you're struggling with a gothic-themed anime idea.

Not all post-apocalyptic anime fits this description since, unlike Gilgamesh, most do not extract every gloomy nuance from their decaying landscapes. 
The series blends mystery, psychic powers, music, and gloom and is based on Shotaro Ishinomori's original story. It was also heavily influenced by the original Epic of Gilgamesh.
It tells the tale of a conflict between the Countess and Gilgamesh that combines mental abilities with frenzied firearms.
Despite not being a horror anime, the series has a gothic feel, thanks to the characters' attire, motivations, and speech.
12. The Mystic Archives of Dantalian
Director: Yutaka Uemura

Writer: Kurasumi Sunayama, Tatsuhiko Urahata, Hiroyuki Yamaga

Cast: Miyuki Sawashiro, Daisuki Ono, Kana Hanazawa, Ami Koshimizu, Sayuri Yahagi

IMDB: 6.6/10

Platforms: Apple TV
It's not a problem that Hugh inherits his grandfather's old mansion. However, he discovers a strange girl with magical solid girl feelings in the basement, which is a problem.

This girl is responsible for storing and guarding the evil Phantom Books, preventing anybody from using the lethal abilities contained therein. 
The Mystic Archives of Dantalian tells a tale of demons and humanity's hunger for forbidden knowledge while featuring a Victorian background and stylishly gothic characters.
The Mythic Archives of Dantalian is nonetheless a compelling anime for fans of the goth genre-related topics, even though its writing and symbols should be improved.
13. Jojo's Bizarre Adventure
Director: Naokatsu Tsuda, Toshiyuki Kato, Yasufumi Soejima, Junichi Hayama, Daisuke Namikawa

Writer: Hirohiko Araki

Cast: Kenjiro Tsuda, Daisuki Ono, Kensho Ono, Matthew Mercer

IMDB: 8.4/10

Platforms: Crunchyroll
In JoJo, the plot is split among two threads. Parts 1 through 6 of the first are included, and Parts 7 and 8 of the second are included—details 1 through 6 of the first area covered in Weekly Shonen Jump from 1987 to 2003.

The plot of each of these tales is presented in the form of multi-chapter arcs that depict fragile, dramatic conflicts between characters distinguished by both particular supernatural abilities—primarily the flexible Stand phenomenon—and unique desires, attitudes, or moral standards.
These storylines include a range of tones, switching between action, suspense, mystery, and horror.
There is also frequently incorporated humor. A race between a story's heroes to stop a potent main antagonist typically develops.
Jojo contains numerous apparent allusions to contemporary film, television, fashion, high art, and popular music in various situations, as well as in characterization and cast naming.
Examples from biology, technology, mythology, natural phenomena, historical events, and other art pieces influence the design and operation of the many different distinct Stands.
The series occasionally invents fantastical explanations for the mechanisms by which specific Stands and other powers affect nature. These explanations are based on current scientific theory.
14. Dance in the Vampire Bund
Director: Akiyuki Shinbo,

 

Masahiro Sonoda

Writer: Hiroyuki Yoshino

Cast: Monica Rial, Jamie Marchi, Yuichi Nakamura, Alexis Tipton

IMDB: 6.5/10

Platforms: Netflix
The original owners of the tale are Mina Epes, Princess-Ruler of all vampires, and Akira Kaburagi Regendorf, a werewolf who guards her.

Much like other vampires, Mina has spent a long time hiding out with her people. By using her family's enormous riches to pay off the actual budget deficit of the Japanese government, Mina can obtain permission to establish a particular neighborhood for vampires dubbed "The Bund" off the shore of Tokyo, Japan, to break centuries of isolation.
You might be concerned if you found out you were a vampire. Okay? These concepts are thoroughly explained in Vampire Dance. The entire vampire family follows Mina Tepes as their leader on Earth.
The prevalence of vampire assaults has increased thanks to the internet and social media.
Mina Tepes establishes a colony of vampire settlers in a Japanese bay and learns of their existence. The stories in "Dance in the Vampire Bund" occur in a world where vampires are extinct.
15. Man
Director: Joe Russo, Anthony Russo

Writer: Christopher Markus and Stephen McFeely

Cast: Ryan Gosling, Chris Evans, Ana De Armas, Jessica Henwick

IMDB: 6.8/10

Platforms: Netflix
Japanese anime creator Katsura Hoshino created the D.Gray-man series. The story of teenage Allen Walker, who enters the Black Order, an exorcist group, is set in an imaginary 19th century.

They fight against a villain called the Millennium Earl and his evil Akuma army, who want to exterminate humanity using an ancient material called Innocence.
Numerous characters, including Zone, have been taken directly from Hoshino's earlier works and draughts.
Exorcist Allen Walker is fighting an instrument created by the Millennium Earl. Akuma, or regenerated skeletons, are created by Millennium Earl using renewed souls and other assets.
He can be solid because Millennium Earls can potentially restore the souls of deceased family members or friends.
He takes the tools to exorcise Akuma and vanquish the Earl when the Earl joins the black order. D.Grayman occurred uniquely during the nineteenth century.
16. Gosick
Director: Hitoshi Nanba

Writer: Mari Okada

Cast: Matt Shipman, Kristen McGuire, Erica Mendez, Adam Rowe, Takuya Eguchi

IMDB: 7.3/10

Platforms: Netflix
Kazuya Kujou relocates to Sauville to enroll at the prestigious Saint Marguerite Academy. Kazuya, of Japanese descent, is shunned by all the school's European kids from the first day.

They even begin referring to him as the "Black Reaper" because of how unusual he appears.
Fortunately for him, he eventually meets and befriends Victorique, a stunning girl fixated on unraveling every ghostly mystery in their town. Kazuya soon follows, and the two embark on a memorable Sherlock Holmes-style adventure.
The Gothic subgenre is perfectly represented by "Gosick," with its traditional European setting and ominous rural atmosphere.
In addition, the program includes a few supernatural tales that have their roots in the history of conventional horror. As exquisite as a Gothic anime can be is "Gosick."
17. Soul Eater
Director: Takuya Igarashi

Writer: Akatsuki Yamatoya

Cast: Maka Albarn, Soul Eater Evans, Black Star, Crona, Death The Kid, Spirit Albarn, Frankan Stein.

IMDB: 7.8/10

Platforms: Hulu
'Soul Eater,' a Studio Bones production, features some of the most epic fight scenes in a traditional shounen setting. The Lord of Death personally oversees the Academy in its center.

His goal is to create the most potent human-hybrid creatures, known as Death Scythes, and then use them to eradicate all forms of evil from the Earth.
However, a hybrid must ingest the souls of 100 evil beings and one witch to become a Death Scythe.
One such combination, Soul Eater Evans, sets out on a journey to kill evil creatures and steal their souls with the help of his pals. He can protect innocent people from evil while realizing his dream of becoming a Death Scythe. 
The entire setting of the Gothic television series "Soul Eater" is based on the traditions of the Gothic horror subculture. Frankenstein instructs the Death Weapon Meister Academy students, and a Shinigami serves as headmaster.
In the first episode, Evan eventually consumes Jack the Ripper's soul. Numerous more sinister mythical beings, like werewolves, vampires, demons, and even witches, are included in the goth anime. What else could a Gothic anime possibly need?
18. Gate
Director: Takahiko Kyogoku

Writer: Tatsuhiko Urahata

Cast: Rory Mercury, Yoji Itami, Lelei La Lalena, Rintarou Okabe, Pina Co Lada, Mayuri Shiina, Grey Co Aldo, Metabon.

IMDB: 7.5/10

Platforms: Hulu
Takumi Yanai is the author of the fantasy novel Gate, which Daisuke Izuka & Kurojishi illustrated. Before being purchased by publisher AlphaPolis in 2010, it was initially serialized on the user-generated book publishing website Arcadia from 2006 to 2009.
In July 2011, Satoru Sao's manga adaptation and three spin-offs were released.
A television version of an anime series debuted in two parts: from July to September 2015 and from January to March 2016. Sentai Filmworks in North America has obtained the rights to the series.
The 2017 Gate Season 2: Jieitai Kano Umi Night, the Kaku Tatakaeri sequel novel series, saw the Light of day.
A doorway from another dimension forms in the present-day Ginza neighborhood of Tokyo, opening the way for an army of monsters and Roman-style medieval troops to invade the city.
The Japan Self-Defense Forces successfully resist the enemy with modern weapons and strategies.
They cross through the Gate to set up a forward operating base and begin peace talks with the Empire from the other world.
The other countries of the world, who want to use the Tokuchi for their reasons, envy Japan's unique access to the Gate.
19. Black Butler
Director: Noriyuki Abe

Writer: Hiroyuki Yoshino

Cast: Grell Sutcliff, Sebastian Michaelis, Mey-rin, Undertaker, Finnian, Madam Red, Bard, Lau, Angela

IMDB: 7.7/10

Platforms: Hulu and Netflix.
"Black Butler," set in Victorian London, centers on Ciel Phantomhive, whose family is murdered. Ceil resolves to conjure Sebastian, the devil, at the tender age of ten.
He offers his soul in exchange for his assistance exacting revenge on those who mistreated him.
After word of him, the two are appointed as the Queen's guardians, and his demon Butler quickly spreads throughout the nation. They continue to look for answers regarding Ceil's family's murder.
Still, they also look into numerous other shady situations that frequently occur in London's shadowy areas.
Given that classic Gothic literature originated during the Victorian period, the show's traditional Victorian setting alone gave birth to it the Gothic category.
The main character's background is rather gloomy, and even the cases he is currently working on feature the scariest creatures and murderers. These features combine to make it a nearly flawless Goth anime black butler.
20. Fullmetal Alchemist: Brotherhood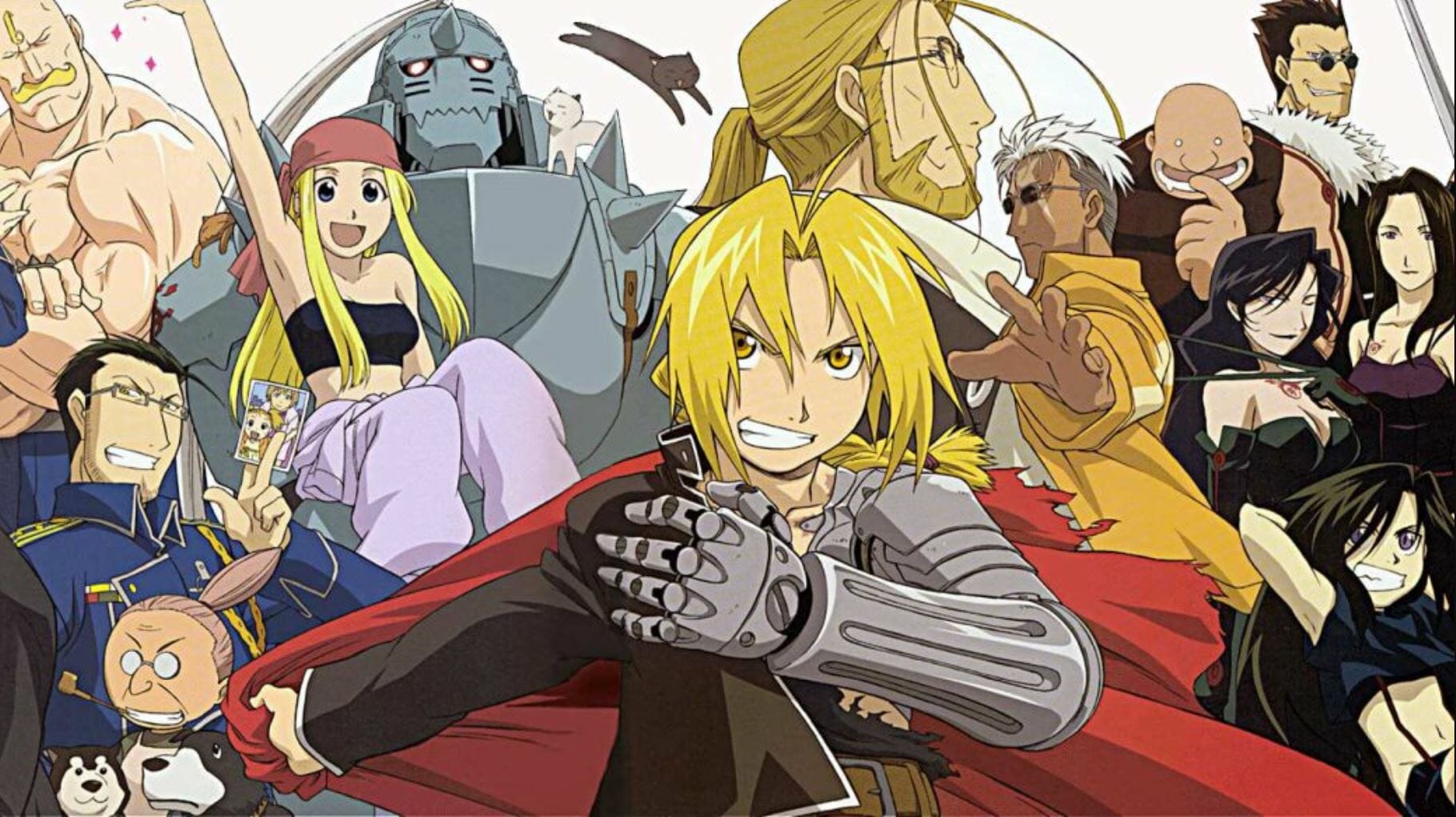 Director: Yasuhiro Irie

Writer: Hiromu Arakawa

Cast: Edward Elric, Winry Rockbell, Alphonse Elric, Roy Mustang, Neena Tucker, Greed, Fuhrer King Bradley.

IMDB: 9.1/10

Platforms: Hulu and Disney+
Some people believe "Fullmetal Alchemist Brotherhood" is only a remake of the original, yet others believe it to be the best goth anime ever filmed.
It portrays the bleak story of two brothers who use alchemy to try to bring their mother back to life.
Sadly, things don't work out as expected, and the two brothers must pay the price for engaging in the illegal act of human transformation.
The two embark on a dismal odyssey after beginning their search for the philosopher's stone to return their lives to normalcy. 
The program covers serious, tragic subjects like death and grief while simultaneously amusing. 
The video game Fullmetal Alchemist Brotherhood expertly addresses the theme that humans have an unquenchable thirst for power. Without question, it ranks among the best Gothic anime available.
Read More: 40 Best Anime Like Demon Slayer & Where to Watch Them