Animated movies and series have always been seen as something for kids, but in reality, they are made for all. And this is becoming more and more relevant in recent times as the audience engages more in animated content. Beautiful and pretty Turning Red characters are waiting to meet you all.
The simple reason is relatability, unique plot, fun, and imagination. Among several animated content is one of the recent releases loved by the ones who have already watched it.
Walt Disney Studios Motion Pictures distributed Turning Red, a 2022 animated comedy movie based on fantasy elements. Pixar Animation Studio produced the film. It is a directorial debut by Domee Shi. The film is set in 2002 in Canada, Toronto.
The story of the animated movie is based on a girl called Meilin Lee who has been passed down an age-old curse of her maternal family where she transforms into a giant red panda when she has strong emotions.
The film is the first woman-directed work by Pixar. The film involves characters – the Lee family, which includes her mom Ming and dad Jin; Mei's friends, including Priya, Abby, and Miriam; the boy band four town, Hyein Park, and Orion Lee.
The girls are the main characters of the movie. The striking point of the film is its initiative to break stereotypes that women are the only ones who will do household chores. The film is based on change, acceptance, self-discovery, and puberty.
In this article, you will learn about the ten best characters of Turning Red that have everyone's hearts.
10. Devon
Devon is a character in Turning Red who Addie Chandler voices. Devon is that guy who doesn't care what is happening around him and minds his business. He is a young 17-year-old boy who does not have goals or dreams.
However, he is Mei's crush, and she, with her friend group, spies on him because they all admire him. But, on the other hand, Devon is just working and minding his work at a local convenience store.
In the film, he was tested when Mei's mother tried to push him with a drawing. He is so uninterested that he does not even think about Mei's pictures of him until he focuses. He only gets affected or wakes up from his tired and neutral zone when something weird happens.
9. Miriam
Miriam Mendelsohn is one of Mei's best friends and often seems to be a group leader. She's very true to herself and does not hesitate to present herself the way she is in front of others.
She does not fear even when Ming Lee disapproves of her. She even helps Mei Lee to be herself. She is a helpful friend who helps others.
In simple words, Miriam is the mother of the group who makes sure everyone is doing fine in the friend group and does everything to make Mei happy.
In the film, she is voiced by Ava Morse. She is a fun, caring, supportive, and easy-going friend that everyone wants as their friend. Her nurturing side toward Mei will make you fall in love with her.
8. Abby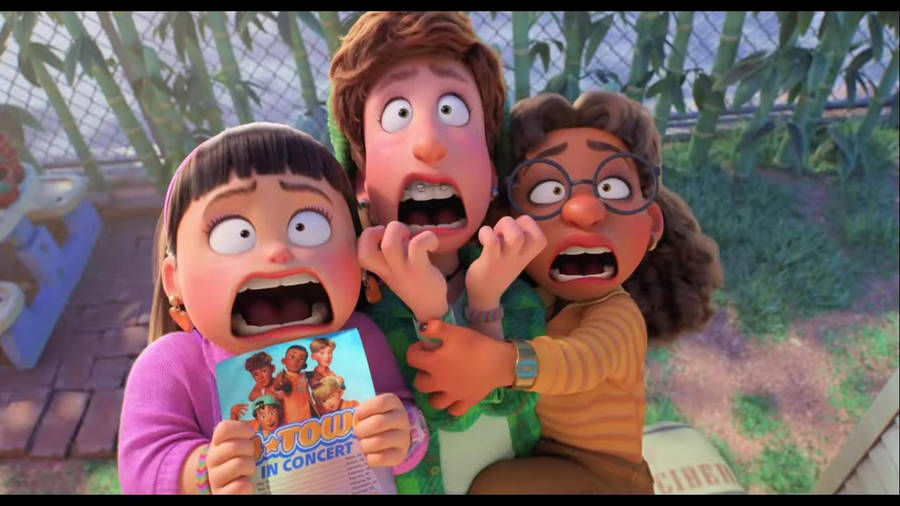 Abby Park is another best friend of Mei's. She's coming as the energy drink for the friend group because she is very energetic.
She always sees things from the positive side, which in turn helps Mei when she becomes a red panda, as Abby's positive outlook allows Mei to control her emotions and accept herself. She also gives some of the funniest moments to see.
She's straightforward and says things without any filter. She's also a beneficial friend who would not briefly flinch during an emergency. Her actions are a little over the top and funny for fans which causes some chaos, but apart from all this, Abby is a fantastic friend that Mei or anyone can have.
7. 4*Town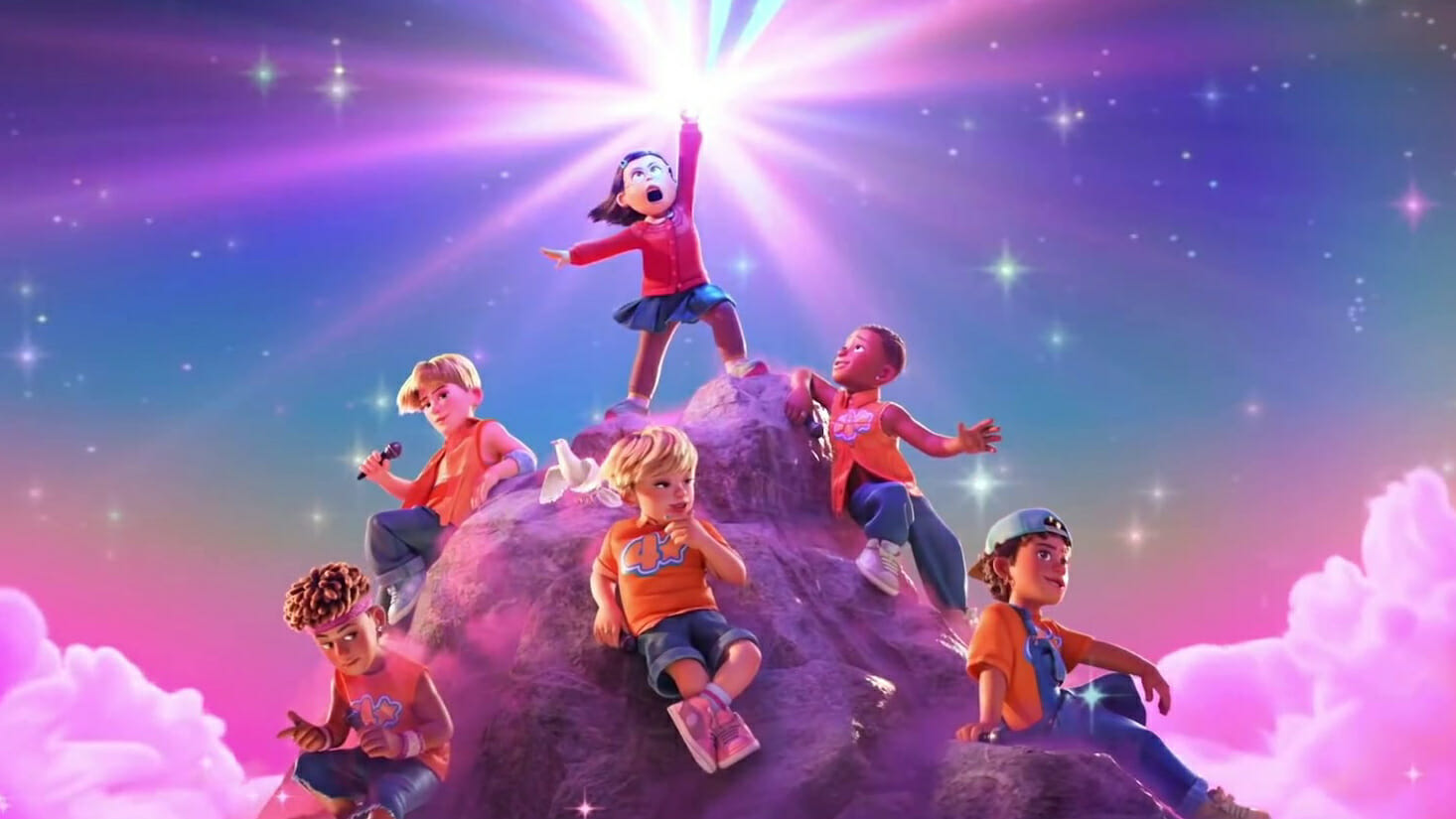 4*Town is one of the boy bands that Mei and her friends love. They are also one of the biggest reasons that cheered Mei and motivated her.
Her mother, ming lee, disapproves of the band and the concert she wants to attend, but she does not lose hope and finds a way to treat their show. She uses her red panda to raise money and buy tickets for the four-town concert.
In the movie, the boy band is not seen much as they have not got a lot of screen time, but whenever they appear, they are liked a lot because of their unique, groovy, and catchy songs and each member's personality. They even come as a big help to Mei's family during a ritual where they sing for them.
6. Grandma Wu
One of the notable characters in the movie, Grandma Wu, is Meilin's strict grandmother. Wai Ching Ho voices her. She is disciplined and tries to discipline others as well.
However, she wants her family to meet her expectations for their excellence. She and her daughter, ming, have a conflicting relationship passed down to her and her daughter.
Since she has had a bad experience with the red panda curse, she wants that to be a secret because she wants to protect her family.
However, when she realizes that her daughter has the same mother-child conflict, she pays a visit and tries to mend things. She also lets Mei keep the panda as she can control and embrace the panda very well.
5. Tyler
Tyler Nguyen Baker is the troublemaker in Mei's school life. Tristan Allerick Chen voices him. He is the bully who chases and teases her until she becomes a red panda. Tyler might bully Mei Lee, but eventually, it will be seen that he becomes her friend.
Tyler is from a wealthy family where he is loved a lot. His lavish life is proved when he asks Mei to come to his birthday party in exchange for money.
He is a sports enthusiast and loves playing basketball which is his passion. However, he believes in exhibiting lousy behavior to get attention.
4. Jin Lee
Meilin's father, Jin Lee, is an understandable and supportive father and husband in Turning Red. He is a fantastic partner for Ming and helps her with her household chores. He is also the balancing link in his Lee family as he makes his wife and daughter see what the other person is going through.
Jin is an encouraging father who always motivates Mei to do what makes her happy, whether going to the concert or embracing and keeping her turning-red ability.
3. Ming Lee
Ming Lee is Mei's strict, controlling mother who is seen in the movie embarrassing her daughter. Mei's mother, Ming, has shown several sides of herself and becomes one of the loved characters only when the audience sees her in the movie and her reason for being strict which has good intentions.
Sandra voices her Oh. Ming is an all-rounder who knows how to run her family and business and is also good in school, which can be seen as why Mei is great at school.
Her character comes as one who is devoid of emotional intelligence as she embarrasses her daughter a lot. However, she cares a lot about traditions and does that to the extent that she fails to understand that she is hurting her daughter.
2. Priya
Priya Mangal, voiced by Maitreyi Ramakrishnan, is another main character in Turning Red. Priya is one of Mei's best friends and a goth girl. She is the chill one in the group.
The goth girl is supportive but quiet. She does not like drama and keeps away from all that, but that does not mean she is not loyal. Whenever her friends need her, she is always there for them.
Priya is interested in gothic stuff like vampires and werewolves and is also seen reading vampire novels. She presents dry humor making the film funny.
1. Mei Lee
Meilin Lee, aka Mei, is the movie's protagonist, voiced by Rosalie Chiang, who shows that it is not essential to be liked by everyone if you are a protagonist.
In the film, she is trying to keep a balance between many things like her family, puberty, school, crushes, friends, and becoming a giant red panda.
She tries to keep her mother happy by obeying her and being a dutiful daughter, but she does not even want to lose herself and tries to manage both. She often hurts her mom.
Her ability to turn red panda during her heightened emotion is somewhat difficult for her to embrace. But her friends try to help her to accept her ability and control her emotion. She loves school and her friends and cares about the environment. She was a carefree, fun girl until her ability to turn Red took place.
Read More: The 30 Best Disney Characters That Stole Our Hearts