Charlotte is a series that enables young people to explore their magical ability to attain puberty syndrome. Yuu, the lead of the series, experiences unrealistic moments, and the character development of the series is beautifully represented in the series.
In this article, we will see about 25 anime like Charlotte that is worth the watch.
We will now look into anime similar to Charlotte with supernatural themes, wage war, special school settings, special abilities, and other such genres.
25. Guilty Crown
Director: Tetsuro
Writer: Hiroyuki
Cast: Yuki, Yuichi, Jarrod
Rotten Tomatoes Rating: NA
IMDb Rating: 7.1/10
Platform(s) Available: Netflix
Guilty Crown is a Japanese series that was initially aired in 2011. Directed by Tetsuro Araki, the series revolves around a high school student named Shu Ouma. Shu Ouma belonging to a hero academia, gets an opportunity to possess magical power that is used to bring the void out of people.
He is put in a situation to get independence from their government. Shu uses his power for good and equally earns villains as he proceeds through his journey. This series has 22 episodes, and owing to its popularity, novels and video games were also developed based on the same theme as the series
24. Angel Beats
Director: Seiji Kishi
Writer: Jun
Cast: Harumi, Hiroshi, Kana, Eri
Rotten Tomatoes Rating: NA
IMDb Rating: 7.8/10
Platform(s) Available: Netflix, Funimation, Crunchyroll
Angel Beats is a Japanese anime series that was aired in 2010. The series has only 13 episodes, but the story is unique from that of other similar anime like Charlotte. Angel Beats series takes place in an imaginary new world that is for the afterlife.
Angel Beats is about the school life of students who own powers. Yuzuru Otonashi, a boy in the afterlife, struggles to remember his life before death. He encounters a girl named Yuri Nakamura in the afterlife at a prestigious high school who encourages him to join her team called Shinda Sekai force to fight against supernatural power using special powers. Yuri says that their life on earth is unfair, so she gathers a crowd to fight supernatural things. The small group also has an enemy named Angel. A girl named Tenshi is the student council president at the after-life school.
The climax of Angel Beats is framed as if Otonashi falls in love with Nakamura and insists she stay in the afterlife world, but she refuses and leaves. Later, he becomes the leader of the afterlife school and still waits for a day to meet his love.
23. Erased
Director: Kei Sanbe
Writer: Kei Sanbe
Cast: Shinnosuke, Chinatsu, Yuki
Rotten Tomatoes Rating: 100%
IMDb Rating: 7.8/10
Platform(s) Available: Netflix
The erased series was released in the year 2016. Originally, it was released in Japanese, but later it got the license to be translated into English as well. The series has 12 episodes, and the story revolves around a man who has magical powers.
Satoru Fujinuma, a young man from Chiba, possesses a magical power which is called revival. This power helps him to go back in time to prevent any accidents. He uses his power to save the life of his mom, who was killed by an anonymous person in his own house. However, he ends up saving the lives of three other friends who were kidnapped earlier. In this time loop, he encounters other thrilling situations as well.
22. Your Name
Director: Makoto
Writer: Makoto
Cast: Ryunosuki, Mone, Ryo Narita
Rotten Tomatoes Rating: 98%
IMDb Rating: 8.4/10
Platform(s) Available: Netflix
Your Name is a romantic anime series that was released in 2016. At the time, this anime was known for impressing teenagers and had a huge entertainment value.
Mitsuha Miyamizu, a beautiful girl from Itomori, wishes to explore Tokyo as her school life is boring. When she wakes up the next day, she finds her soul exchanged with Taki Tachibana, a high school boy in Tokyo.
Even though they don't encounter each other, they can communicate with each other through letters, calls, and even their skin. When in the significant other's body, they help each other to go on date ls and to become popular in high school. Suddenly, Taki finds that he can't switch bodies with her anymore and doesn't even have any photographic memory of her. He sets on a trip to her place and finds that she died in a fatal incident. He goes back in time to save the entire locality from the disaster.
A few years later, the characters encounter the same person and have no memories of each other but still feel a connection. They express their feelings about each other and ask for their names for the very first time at the end of the series.
21. Kokoro Connect
Director: Shiromizakana
Writer: Sadanatsu
Cast: Takahiro, Miyuki, Hisako
Rotten Tomatoes Rating: NA
IMDb Rating: 7.4/10
Platform(s) Available: Crunchyroll
Kokoro Connect is a beautiful series that is all about supernatural power and friendship. The series Kokoro Connect was originally released in the year 2010.
Five friends who belong to the Students Research Club are the lead characters of the series. The characters are Taichi, Iori, Himeko, Yoshifumi, and Yui. Unexpectedly, they get supernatural powers, and the characters are put to the test in various situations. While each of them experiences a different world of powers, Kokoro Connect tests their friendship to see the strength of their bond.
20. Orange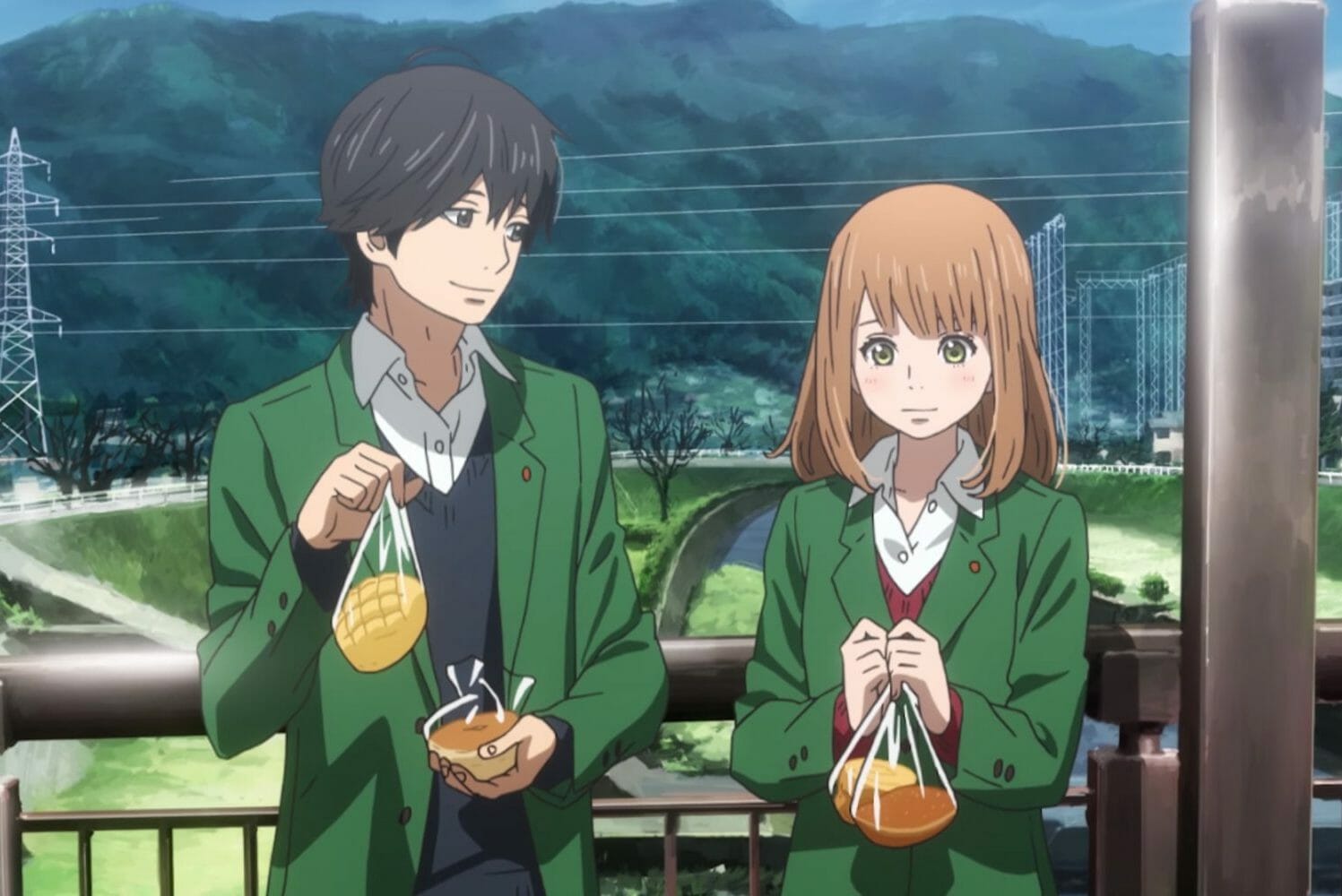 Director: Ichigo
Writer: Ichigo
Cast: Kana, Yamashita, Makoto
Rotten Tomatoes Rating: NA
IMDb Rating: 7.6/10
Platform(s) Available: Crunchyroll
Orange is a series that encompasses friendship and romance. The series was released in the year 2012 and is about five high school teenagers.
Naho Takamiya receives a letter from her future Naho to prevent the occurrence of certain events. Kakeru Naruse joins the high school, and Naho and her friends invite him for an outing despite the warning in the letter. Two weeks later, Kakeru reveals that he lost his mother when he agreed to the outing with his friends.
Later, the gang realizes that Kakeru is about to commit suicide and stops to prevent him. In the meanwhile, other friend Naho also receives letters from their future, and they are not aware of each other's secrets. It is revealed that Naho and Kakeru will be married in the future. They hide his fact from both of them.
On the actual day of his death, they plan an outing, and Kakeru doesn't come. They rush to save his life, and Kakeru feels bad for his decision and decides to stick around with his friends.
19. Sakudara Reset
Director: Shinya
Writer: Takayama
Cast: Takuya, Kana, Yuka
Rotten Tomatoes Rating: 63%
IMDb Rating: 7.3/10
Platform(s) Available: Netflix
Sakudara Reset, also known as Sagrada Reset, is a Japanese anime released in the year 2009. The series even had a novel version that was published. Later, the novel was licensed to be published in English as well. The series takes place in a small town called Sagrada, where every person has special abilities.
The lead of the series Kei Esai has the ability to memorize. He meets Misora Haruki, a mysterious girl with resetting abilities. She can reset her surrounding up to three days in the past. The duo joins hands to remember and reset the town for the goodness of the town and its people. Eventually, they join the administrative team for the best, but things turn for the worse. The duo is now set on a mission to save and protect their own town.
18. Clannad
Director: Osamu
Writer: Jun
Cast: Greg, Yuichi, Shelley
Rotten Tomatoes Rating: 77%
IMDb Rating: 7.9/10
Platform(s) Available: Hulu
Clannad is a 24-episode series and it was published in the year 2009. Following the popularity of the anime, they came up with a movie and a video game of the same name.
Tomoya Okazaki, a second-year student, meets a senior-year girl named Nagisa Furukawa and helps her achieve her dreams. The two fall in love and live together. Tomoya has had a hurting past. He suffers from the death of his mother. When the couple is blessed with a baby girl, he refuses to meet her even after so many requests.
His father makes him understand his mistake, and he finally gets back with his child. A similar story is used for the novel and film but with minute variations.
17. Inou Battle wa Nichijou kei no Naka de
Director: Kota Nozomi
Writer: Kota Nozomi
Cast: Mamoru, Asami, Hisako
Rotten Tomatoes Rating: 68%
IMDb Rating: 6.4/10
Platform(s) Available: Gogoanime
Inou Battle wa Nichijou kei no Naka de can be translated as "When supernatural battles became commonplace". The series has 13 volumes and ran from 2012 to 2018. This is also a superpower-themed anime.
The series is about five high school students who have special abilities. Juai, Tomoyo, Hatoko, Sayumi, and Chifuyu belong to the student cultural society, and they are posted with different problems throughout their journey. Their abilities help them tackle the problems, and they succeed every time. Of course, they are thrilled with the problems they face. But they analyze the problem and find a solution together. The series also depicts a good bond between the five friends.
16. Yamada Kun to Shichi Nin No Majo
Director: Miki Yoshikawa
Writer: Miki Yoshikawa
Cast: Mariya, Yusuke, Takuya
Rotten Tomatoes Rating: NA
IMDb Rating: 7.3/10
Platform(s) Available: Funimation
Yamada kun to Shichi nin no Majo is a famous Japanese series it ran from 2012 to 2017. It can be translated as Yamada Kun and the seven witches. The series encompasses genres like romance, comedy, and supernatural abilities as well.
The leaders of the series are Ryu Yamada and Urara Shiraishi. Yamada, a member of the student council, accidentally bumps into Urara one day and gets his body exchanged with her. Later, they understand that bodies can be swapped with a kiss. They join a club with other high schoolers, and they learn about the witches. Yamada can copy the memories of all the witches. During his study, he encounters horrible situations where his abilities are put to the test.
Meanwhile, he develops a love interest in Urara. After successfully completing his school, he becomes a businessman and marries Urara, and leads a happy life.
15. Code Geass: Lelouch of the Rebellion
Director: Goro
Writer: Ichiro
Cast: Jun, Takahiro, Yukana
Rotten Tomatoes Rating: 100%
IMDb Rating: 8.7/10
Platform(s) Available: Netflix
Code Geass: Lelouch of the rebellion is commonly referred to as Code Geass. It is one of the most popular and the best anime of time so far. The series has 25 episodes, and it ran from 2006 to 2007.
In Code Geass, the world is imagined to take place in another phase of time, where the world is divided into three superpowers, namely: the Holy Britannian Empire, the Chinese Federation, and the Europa United.
Lelouch, a Britannian student of the empire, is enraged by the murder of his mother and the traumatic condition of his sister. He strongly believes his father turned them down. Once when they are on a visit to Japan, Japan is attacked by his father, and he promises his friend to seek his revenge
Lelouch later becomes a superpower, and he gets a new power that aids him in controlling many things. But that doesn't seem to be easy. He has to rebel against many people to seek victory for himself and to protect humanity.
14. Code: Breaker
Director: Akimine
Writer: Akimine
Cast: Micah, Todd, Lydia
Rotten Tomatoes Rating: NA
IMDb Rating: 6.7/10
Platform(s) Available: Hulu
Code: breaker is a Japanese series that originally ran from 2008 to 2013. Later in 2014, the series was renewed to be licensed in the English language as well.
The series is about Sakura, one of the main characters who once encounters a strange scene. While traveling in a bus, she sees a group of people being burnt alive. When she traces the same spot the next day, she can't find a hint of murder.
Later, when she goes to school, she finds that the transfer student and the boy who was on the spot the previous day are the same person. He is identified to be Rei Ogami, a code breaker with superpowers. The students are set on a journey to unveil mysteries and they also develop a closeness over time.
13. Beyond the Boundary
Director: Tomoyo
Writer: Nagomu
Cast: Yuri, Naomi, Risa
Rotten Tomatoes Rating: NA
IMDb Rating: 7.2/10
Platform(s) Available: Crunchyroll
Beyond the Boundary is a Japanese anime that takes place in the dark fantasy genre. The series also won a award in the competition back in the year 2011.  The story is about the fight between Spirit World warriors and Youmu, the immortal creatures. Spirit World warriors fight to save the rare humans.
Akihito Kanbara saves Mirai Kuriyama from killing herself. After the saving, they identify each other's identity. Mirai, the main character, is a member of the spirit world warriors, and Kanbara belongs to Youmu. Youmu can sometimes create problems for mortal beings, and they can be seen only by warriors. In order to maintain the balance of the world, Spirit World warriors will have to hunt down some of the Youmu. The hunted Youmu will turn into a stone, which will be sold by the warriors to generate income.
12. Puella Magi Madoka Magica
Director: Yukihiro
Writer: Magica
Cast: Yuki, Carrie, Kaori
Rotten Tomatoes Rating: 82%
IMDb Rating: 8.2/10
Platform(s) Available: Netflix
Puella Magi Madoka Magica is a Japanese anime that was aired in 2011. The series, in short, can be called Madoka Magic, and it falls into the genres of dark fantasy, magic, and thriller. The series consists of several girls by the same creator and is considered to be a visual novel.
Madoka, the enchanting girl, and her best friend, Miki, are given an offer to be magical girls. However, after encountering various horrific situations, she doesn't want to be a magical girl. She learns in depth about magic girls and later wants to become a magic girl for a boy she admires. Hitomi confesses her love for that boy, and this forces Madoka to become a witch.
She later learns about the hidden truths and lives in the world that she is in. She later gives her cent percent to save the world and her people in it.
11. Amagi Brilliant Park
Director: Yuka
Writer: Shoji
Cast: Kakuma, Shiori, Molly
Rotten Tomatoes Rating: NA
IMDb Rating: 7.1/10
Platform(s) Available: HiDive
Amagi brilliant park is a Japanese series that had its original run in the year 2013. Later Amagi brilliant park was translated into the English language and was aired again in the year 2014. The series falls into the genres of romance, comedy, and fantasy.
Seiya Kanie, a young boy, is forced to visit the amusement park that is run to harvest magical power. The Amagi brilliant park earns magic when people who visit the park are entertained. Unfortunately, in recent days it didn't yield enough magic, and the park is on the verge of getting closed.
Seiya is assigned as the park manager to revive the financial condition of the park and to attract many visitors the same way as before.
10. Akame ga Kill
Director: Tetsuya
Writer: Takahiro
Cast: Tatsumi, Esdeath, Najenda
Rotten Tomatoes Rating: 84%
IMDb Rating: 7.8/10
Platform(s) Available: Netflix
Akame ga Kill is a 24-episode Japanese series that was aired in the year 2014. The story revolves around a boy who moves to a town in Japan to raise the financial status of his family. But he soon discovers himself in a thrilling situation.
Tatsumi, the main character, moves away from his house to raise some finance for his family. When he enters the Capital city, he finds how corrupted the city is and feels enraged. He gets an offer to join a team to fight against the corruption. His team fights against the corrupted city, and later Tatsumi loses his life in a big attempt to save the city. Later the team restores the capital.
9. Boku no Hero Academia
Director: Shinsuke Sato
Writer: Shinsuke Sato
Cast: Justin, Daiki, Christopher
Rotten Tomatoes Rating: 100%
IMDb Rating: 8.4/10
Platform(s) Available: Netflix
Boku no hero academia happens in a school setting where there are abnormal experiences rumored. A tragic accident occurs, after which the leader of the series, Izuku Midoriya, is given a supernatural power. The high schoolers are given a chance encounter to train themselves and to become a superhero.
8. Eureka Seven
Director: Bones
Writer: Dai Sato
Cast: Nazuka, Sanpei, Tony Oliver
Rotten Tomatoes Rating: NA
IMDb Rating: 7.8/10
Platform(s) Available: Funimation
Eureka Seven is a series in the Mecha genre. The series is about a 14-year-old boy, the son of a member who belonged to the military faction of absolute obedience. The boy desires to do his favorite sports and also encounters a chance for such a situation. Little did he know about the problems that were waiting for him.
7. Chaika: The coffin Princess
Director: Namaniku
Writer: Sakaki
Cast: Joanne, Kira, Chika
Rotten Tomatoes Rating: NA
IMDb Rating: 7/10
Platform(s) Available: HiDive
Chaika is an action series and has a rifle-toting girl. The story revolves around Toru, an unemployed who wants to exercise his skills. He encounters Chaika and saves her. She reveals that she is the Emperor's daughter and is searching for his remains. She gathers a team however, they are troubled by the enemies and are set ready to fight against their enemies.
6. Rascal Does Not Dream of Bunny Girl Senpai
Director: Hajime
Writer: Hajime
Cast: Mai, Sakuta, Shoko, Koga
Rotten Tomatoes Rating: 92%
IMDb Rating: 8.1/10
Platform(s) Available: Netflix
This series is about Sakuta, whose life changes after meeting Mai, who dresses like a wild bunny girl. Mai can be seen only by Sakuta, and this shocks both of them. Sakuta learns that she suffers from puberty syndrome and gets close to her to learn more about her and solve her problems. She also meets other kids similar to Mai.
5. Angels of Death
Director: Suzuki
Writer: Fujioka
Cast: Okamoto, Haruka, Mariya
Rotten Tomatoes Rating: 40%
IMDb Rating: 6.4/10
Platform(s) Available: Netflix
Rachel finds herself stuck in a rickety old building. When she searches for an escape, she meets Zack. Both of them try to find a way out, and in the meantime, they also develop a strange bond that helps them to know more about each other.
4. Boruto: Naruto's Next Generations
Director: Mikio
Writer: Masashi
Cast: Amanda, Junko, Kokoro
Rotten Tomatoes Rating: 60%
IMDb Rating: 6.9/10
Platform(s) Available: Netflix
The series is a follow-up to Naruto. Boruto, the son of Naruto, wants to showcase his unique ninja skills. He wants to become a leader like his father and wants to save his people from their enemies. In this journey, he faces villains along with his friends and is determined to save his village.
3. Fire Force
Director: Atshushi Ohkubo
Writer: Atshushi Ohkubo
Cast: Gakoto, Mamoro, Derick
Rotten Tomatoes Rating: 84%
IMDb Rating: 7.7/10
Platform(s) Available: Netflix
The series is about Shinra, who has a special ability to create fire when he walks. Owing to the ability he has, he is called "Devil's footprints". He joins a clan that has people like him to use their powers for the good. After joining the clan, he learns the secrets behind the disappearance of his brother and learns even more about the White Clad.
2. Plastic Memories
Director: Yoshiyuki
Writer: Naotaka
Cast: Takumi, Chinatsu, Satoshi
Rotten Tomatoes Rating: 77%
IMDb Rating: 7.3/10
Platform(s) Available: Hulu
This Japanese series takes place in the near future, where androids are created to be exactly like humans and possess the same emotions as them. Once the phone expires, they die like any normal Android. The story is about the love story of a human and an android created by the corporation.
1. Attack on Titan
Director: Masashi and Jun
Writer: Hiroshi and Shintaro
Cast: Yuki, Bryce, Hiroshi
Rotten Tomatoes Rating: 96%
IMDb Rating: 9/10
Platform(s) Available: Netflix
This is a famous series and has 4 seasons till now. The series is about Eren, a young boy, and his friends. When the Titans appear out of nowhere to attack his hometown, he joins his friends in the defense organization to protect his hometown and its people.
In this article, we have seen only a few anime like Charlotte, but we also have a lot more with unique character designs by the same studio, great music, and fresh anime stories. They provide us with great anime that excites the audience always.