Having a broken heart is not easy, with many going into relationships or flings who will break up someday. There are several pieces of advice on how to get over a breakup so cry hard and pour out all your emotions with this list of best breakup movies streaming only on Netflix.
The range varies from getting ice cream with friends to going on a vacation or a solo trip. However, watching breakup movies is the best way to overcome a breakup. This list comprises the twenty best breakup movies on Netflix for the broken-hearted ones.
1. How to Get Over a Breakup (2018)
Director

: Bruno Ascenzo

Writer

: Maria José Osorio

Cast: 

Gisela Ponce de León, Karina Jordán, Jely Reátegui, Christopher von Uckermann, Andrés Salas, Carlos Carlin, Mario Saldaña, Anai Padilla

IMDb:

 6.1/10

Rotten Tomatoes Score

: 71%
The movie offers a lighthearted and funny perspective on breakups and gives a fresh view of the emotional challenges that come with it. It is about a copywriter who is delusional by her sudden split-up and slowly accepts the emotional toll.
To deal with the breakup, she starts her blog, offering a close look at the highs and lows of a single woman.
2. The Breakup Playlist (2015)
Director

: Dan Villegas

Writer

: Kriz G. Gazmen

Cast:

 Piolo Pascual, Sarah Geronimo

IMDb:

 6.5/10

Rotten Tomatoes Score

: 44%
The Breakup Playlist is a Filipino musical drama about the journey of two musicians who do a collaboration professionally and end up falling for each other along the way. But differences between their families and their pride come from their relationship over time.
3. Seriously Single (2020)
Director

– Katleho Ramaphakela, Rethabile Ramaphakela

Writer:

 Lwazi Mvusi

Cast:

 Fulu Mugovhani, Tumi Morake, Bohang Moeko, Yonda Thomas, Tiffany Barbuzano, Lihle Dhlomo

IMDb:

 4.4/10

Rotten Tomatoes Score

: 67%
This romantic comedy film is about Dineo, a serial monogamist who dates with plans to marry. But whenever her dreams of settling down with her significant other are broken, her best friends advise her to embrace singlehood for a better life. But suppressing her craving for commitment by not looking for love is not easy for Dineo.
4. Malcolm & Marie (2021)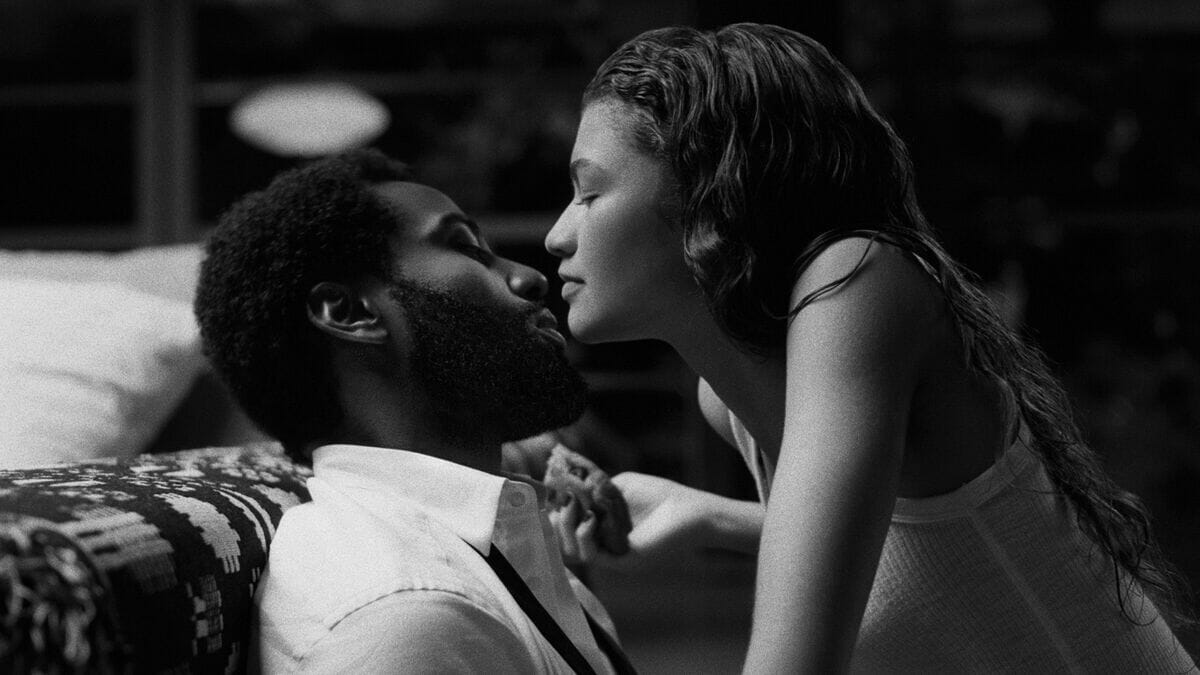 Director

: Sam Levinson

Writer:

 Sam Levinson

Cast:

 Zendaya, John David Washington

IMDb:

 6.6/10

Rotten Tomatoes Score:

 57%
This black-and-white drama breakup movie takes place in one single night, beautifully capturing the troubles of a couple on the brink of a breakup. The film revolves around Malcolm Elliott, a professional director, and writer about to achieve Hollywood glory.
However, when he returns to his quiet home with his girlfriend, Marie, after a film premiere, the couple realizes that they have had enough of each other's tantrums and must decide the destiny of their relationship.
5. Nappily Ever After (2018)
Director

– Haifaa al-Mansour

Writer

: Adam Brooks

Cast:

 Sanaa Lathon, Ernie Hudson, Lyriq Bent, Lynn Whitfield, Ricky Wittle

IMDb:

 6.4/10

Rotten Tomatoes Score:

 67%
'Nappily Ever After 'is about Violet Jones, who lives a nearly perfect life with her dream job, a doctor's boyfriend, and the most famous hairstyle. But an unexpected accident at the hair salon turns her life upside down. A mistake of the hairstylist causes hair loss on her scalp.
Eventually, Violet finds her boyfriend cheating on her with another woman, and she shaves her head. She thinks about her life and realizes it is not what she wants. When she meets a philosophical barber, Violet starts putting the pieces together, giving the film a happy ending. The movie is based on Trisha Thomas' novel of the same name.
6. Gaga: Five Foot
Director:

 Chris Moukarbel

Cast:

 Lady Gaga, Bobby Campbell, Tony Bennett, Mark Ronson

IMDb:

 7/10

Rotten Tomatoes Score:

 73%
This documentary gives us an insight into Lady Gaga's legendary musical journey. It narrates Lady Gaga's life during one of the most challenging periods in her career. Gaga spends time with friends and family, their record label, publicity, and her album Joanne.
Five Foot Two shows her as a simple person who attends a family christening visits her grandmother, and plays with her dogs.
Lady Gaga was going through a rough relationship with her then-fiancé, Taylor Kinney, which affected her professional career for a while.
However, she returned after eight months and established a global fan base with her music after much mental and physical struggle.
7. Irreplaceable You (2018)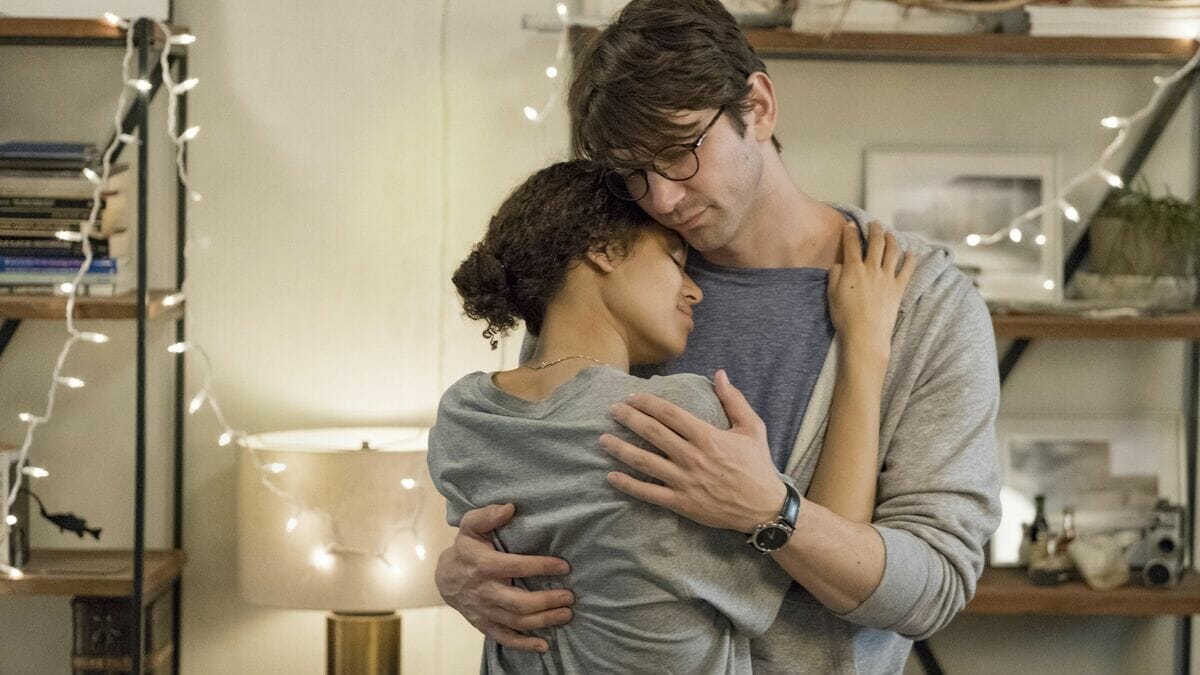 Director

: Stephanie Laing

Writer:

 Bess Wohl

Cast:

 Gugu Mbatha Raw, Michiel Huisman, Christopher Walken, Steve Coogan

IMDb:

 6.4/10

Rotten Tomatoes Score:

 32%
This heartbreaking movie is about Abbie and Sam- childhood friends who get engaged. Unfortunately, things take a devastating turn when Abbie is diagnosed with a terminal illness. She searches for a new companion for Sam after she leaves, using her limited time on Earth.
The search takes her to different people who deeply impact her take on the illness. She meets Myron, Kate, and Mitch during her search and befriends them. They are all dying, making them passionate about life's remaining precious moments.
Before leaving, she learns how to say goodbye by living spending the remaining moments with them and living life to the fullest.
8. When We First Met (2018)
Director

– Ari Sandel

Writer:

 John Whittington

Cast

: Alexandria Daddario, Adam Devine

IMDb:

 6.4/10

Rotten Tomatoes Score

: 43%
When We First Met is about Noah, who gets an opportunity to open up his secret love to his dream girl, Avery. But things go badly when she treats him just as a friend on a romantic night. So Noah searches for the reason that caused the tragic rejection that night for the next three years in vain.
Luckily, he comes across a phone booth which surprisingly causes him to time-travel. He goes back in time and tries to change the events of that night to change the result. The movie is an odyssey that depicts Noah's destiny of repeating the same mistake repeatedly like he is destined.
9. I'm Thinking of Ending Things (2020)
Director

: Charlie Kaufman

Writer:

 Charlie Kaufman

Cast:

 Jessie Buckley, Jesse Plemons, Toni Collette, David Thewlis

IMDb:

 6.6/10

Rotten Tomatoes Score

: 82%
I'm Thinking of Ending Things is a psychological thriller film based on Iain Reid's novel. The film takes on the story of a young woman who is made to rethink everything she knew about her boyfriend after she goes with him on a road trip. The movie showcases regret and longing and offers an in-depth look at the fragility of relationships.
10. Legally Blonde (2001)
Director:

 Robert Luketic

Writer:

 Karen McCullah

Cast:

 Reese Witherspoon, Luke Wilson, Jennifer Coolidge, Selma Blair

IMDb:

 6.4/10

Rotten Tomatoes Score:

 71%
This movie is about Elle Woods, whose boyfriend broke up with her because he found a brilliant girl. He then goes to Harvard to study law and become a politician, and so does Elle to teach him a lesson. Woods taught a generation of women never to let someone's expectations stop them from living their dreams.
11. How to Lose a Guy in 10 Days (2003)
Director:

 Donald Petrie

Writer:

 Kristen Buckley, Brian Regan

Cast

: Kate Hudson, Adam Goldberg, Shalom Harlow, Michael Michele

IMDb:

 6.4/10

Rotten Tomatoes Score:

 42%
Advertising executive Benjamin bets he can make any woman fall in love with him. On the other hand, women's magazine writer Andie plans to write an article about how she led her boyfriend to dump her in ten days, putting them on contradictory paths after getting into a relationship.
12. The Breakup (2006)
Director:

 Peyton Reed

Writer:

 Jay Lavender, Jeremy Garelick

Cast:

 Jennifer Aniston, Vince Vaughn, Jeremy Garelick

IMDb:

 5.8/10

Rotten Tomatoes Score

: 34%
Aniston and Vince Vaughn portray a mismatched relationship who cannot make things work. After lots of trouble and post-breakup negotiations, they learn to move on and become better, more fulfilled people. Every breakup has a silver lining, and it is showcased beautifully in this movie.
13. 6 Years (2015)
Director:

 Hannah Fidell

Writer:

 Hannah Fidell

Cast:

 Raissa Farmiga, Ben Rosenfield, Lindsay Burdge, Joshua Leonard

IMDb:

 5.5%

Rotten Tomatoes Score:

 69%
This breakup movie takes us through the toxic relationship of Dan and Melanie, a young couple in their twenties. After being friends since childhood, their 6-year-long romance takes a devastating turn when Dan gets offered a golden opportunity from a label.
He is made to choose between his career and Mel. They start to realize the depth of their love for each other. It is painful to learn that their pet has become routine. The movie shows mutual love against the individual existence of the two of them.
14. Blue Valentine (2010)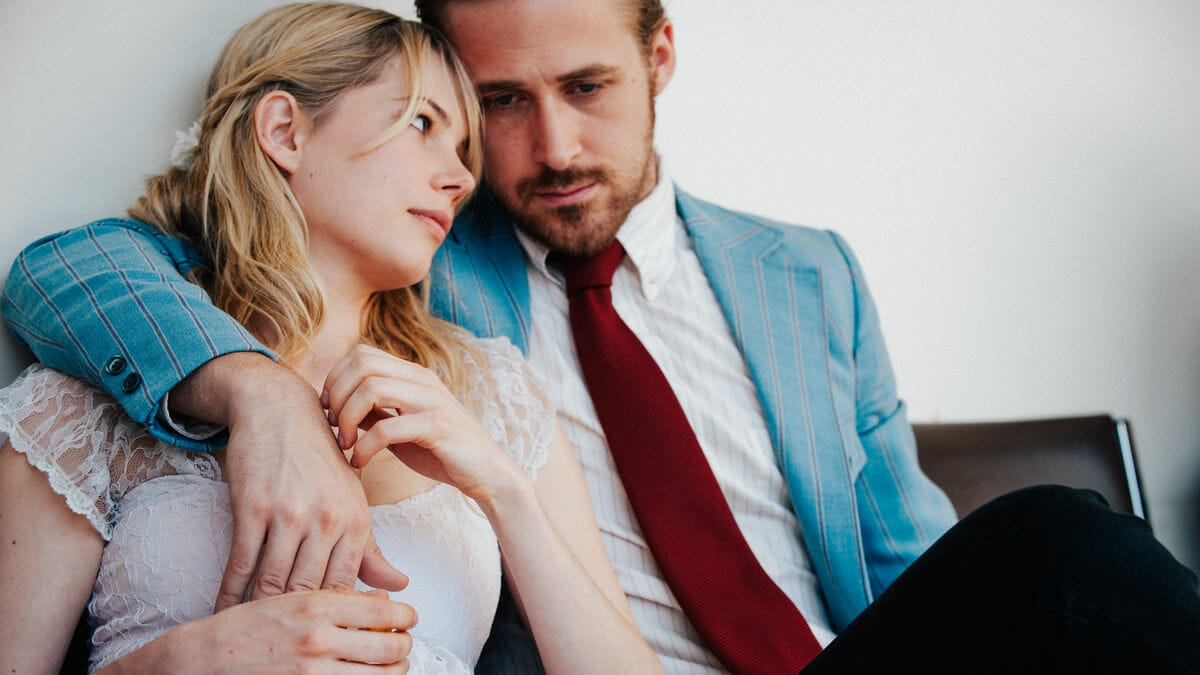 Director:

 Derek Cianfrance

Writer:

 Derek Cianfrance

Cast:

 Ryan Gosling, Michelle Williams

IMDb:

 7.4/10

Rotten Tomatoes Score

: 86%
Blue Valentine is a story of a married couple who shifts back and forth in the timeline of their marriage story, starting from when they first met to when their relationship ends. This is one of the most honest breakup movies, and the actors have done a great job.
15. The Incredible Jessica James
Director: 

James C. Strouse

Writer:

 James C. Strouse

Cast:

 Jessica Williams, Lakeith Stanfield, Chris O'Dowd

IMDb:

 6.5/10

Rotten Tomatoes Score

: 89%
The plot revolves around two people who meet on a blind date but are not over their previous relationships. Jessica and Boone open up to each other about their past relationships and their process of getting over them.
As they bond over similar circumstances, they come closer and ultimately fall for each other. But when past issues have not been resolved, it is bound to get complicated.
16. Someone Great (2019)
Director:

 Jennifer Kaytin Robinson

Writer:

 Jennifer Kaytin Robinson

Cast:

 Gina Rodriguez, LaKeith Stanfield, Brittany Snow

IMDb:

 6.1/10

Rotten Tomatoes Score:

 83%
Someone Great is for those going through a breakup and seeking a cathartic moment with their friends. Jenny accepts her dream job with Rolling Stone in San Francisco and loses her boyfriend of nine years simultaneously as they decide to take separate ways.
She seeks comfort in her friends' company before she leaves for New York. This film portrays the painful phase of accepting a relationship's end in most relationships. But it becomes a little more bearable with friends. This is one of the best breakup movies ever made.
17. To All The Boys I've Loved Before (2018)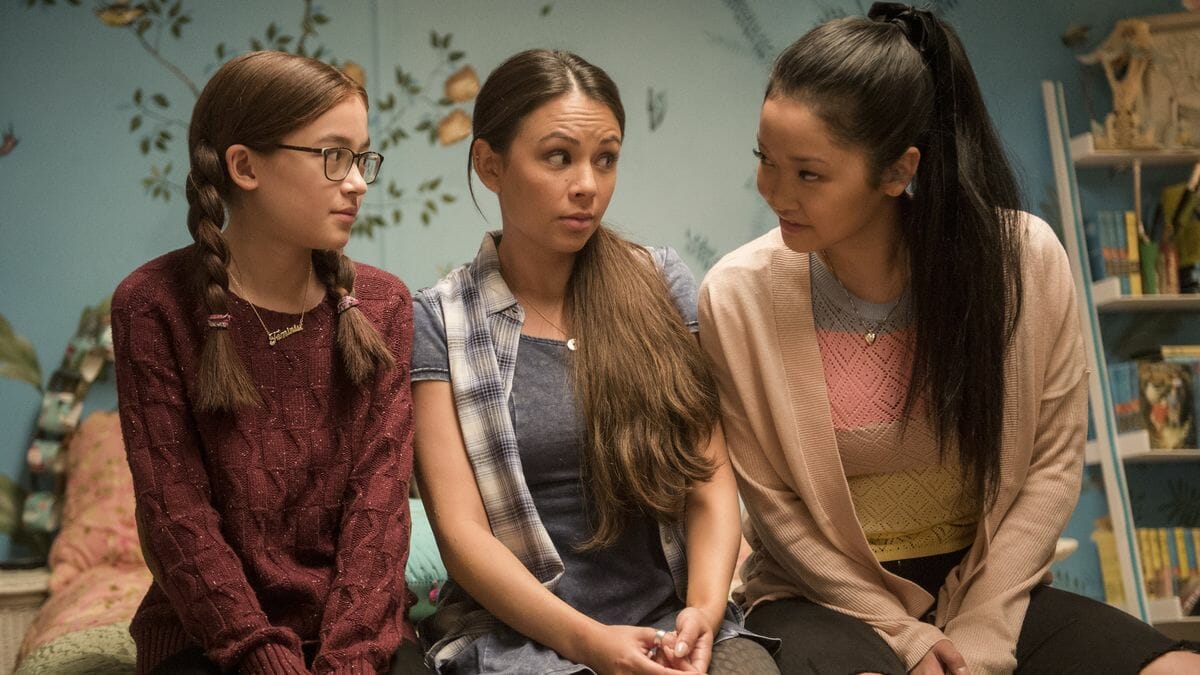 Director

: Susan Johnson

Writer:

 Sofia Alvarez

Cast: 

Lana Condor, Noah Centineo, Janel Parrish, Anna Cathcart

IMDb:

 7/10

Rotten Tomatoes Score

: 96%
This movie is made for all our crushes or big crushes. Lara Jean Song Covey documents her thoughts bout her ex-crushes, who she has loved before, in letters. She wrote about five boys in five separate letters. But, her love life takes a dramatic turn when all five love letters are mysteriously mailed out to all the boys and the crushes.
Read More: The 25 Best Movies to Watch When You're High AF
18. The Silver Linings Playbook (2012)
Director

: David O' Russell

Writer:

 David O' Russell

Cast:

 Jennifer Lawrence, Bradley Cooper

IMDb:

 7.7/10

Rotten Tomatoes Score

: 92%
When Pat returns after spending a few months in a state institution, he finds that he has lost a lot, including his house, job, and wife. He is still hopeful about reuniting with his wife. Then he crosses paths with the mysterious beauty, Tiffany, who has her own problems but agrees to help Pat reconnect with his wife.
But she has plans, which puts Pat in a dangerous situation. Eventually, a strange intimacy develops between both of them. This movie gives hope that things will be alright even after the breakup.
19. Marriage Story (2019)
Director:

 Noah Baumbach

Writer:

 Noah Baumbach

Cast:

 Scarlett Johansson, Adam Driver, Laura Dern, Ray Liotta

IMDb:

 7.9/10

Rotten Tomatoes Score:

 94%
This widely acclaimed film is about the intricacies of emotions between a former couple who are parents to Henry. Nicole is an actress, and Charlie is a successful theatre director in New York City, but their union starts falling apart.
Nicole temporarily moves in with her mother with her son Henry. She gets an offer to film a pilot for an upcoming TV series in LA in West Hollywood. Although the couple decided to split, Nicole brings a lawyer involved, after which things take a turn on their own. This breakup movie is one of the most emotional and heartbreaking of all.
20. Eternal Sunshine of The Spotless Mind (2004)
Director:

 Michael Gondry

Writer:

 Charlie Kaufman

Cast:

 Jim Carrey, Kate Winslet, Kirsten Dunst, Mark Ruffalo

IMDb:

 8.3/10

Rotten Tomatoes Score

: 92%
After a relationship ends, looking back at the good memories becomes hard. Clementine gets all memories of the relationship erased after a devastating breakup. When Joel, her ex-boyfriend, attempts to forget, his subconscious mind fights to keep Clementine.
Eternal Sunshine of the Spotless Mind is one of the best breakup movies, which reminds the viewers that it's okay to look back on the good things of a relationship fondly, even when things are not going great.