Cat movies are nothing short of a treat to cat lovers. People love to watch cat content more than anything since cats are infinitely exciting and fun to watch and be around.
While sharing cute videos of kittens or grumpy cat videos on YouTube and Instagram never gets old, the excitement of watching cats being their bold, bored, and badass selves is something extraordinary. Even though all cat movies are great, animated cat movies have their charm.
So sign up for a ride and get ready to watch many of the cutest cat movies. Over the years, let's look at some of the best-animated cat movies.
20. Felix The Cat: The Movie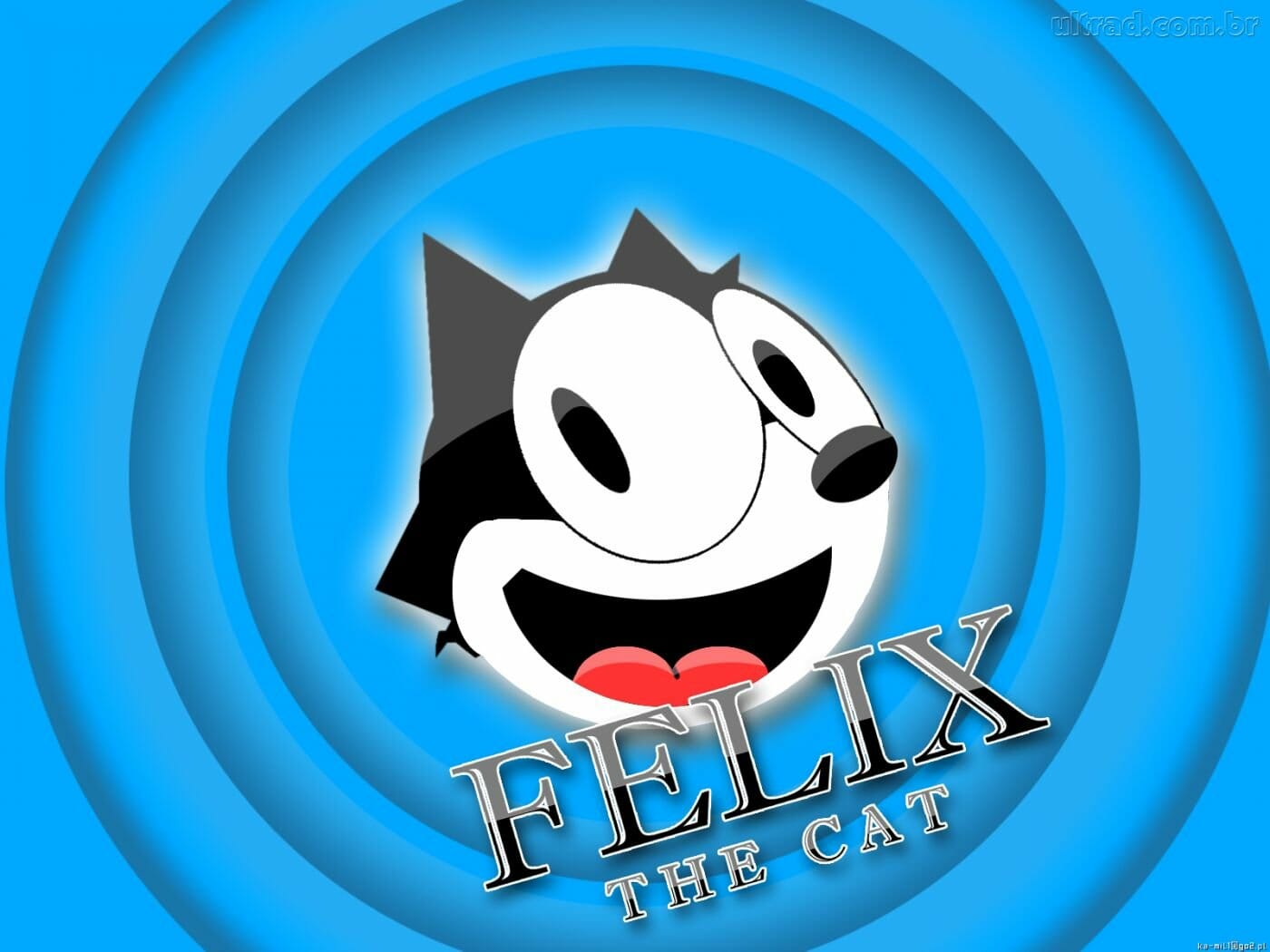 Director: Tibor Hernádi
Writer: Don Oriolo, Pete Brown, Joseph Oriolo
Cast: Chris Phillips, Marbry Steward, Peter Newman
IMDb rating: 4.6
Rotten Tomatoes rating: (Audience score) 33%
Release year: 1988
Streaming Platform: Amazon
Felix the Cat is a 1988 fantasy family movie about Felix the Cat. With his magical bag of tricks, Felix the Cat finds himself in an epic adventure, or instead, the experience finds Felix. With Princess Oriana in danger, Felix has to survive against the Princess's evil uncle, the Duke of Zill, Felix's nemesis, The Professor, and his nephew Poindexter. Felix is a black animated Cat made into movies from a comic strip.
19. Top Cat: The Movie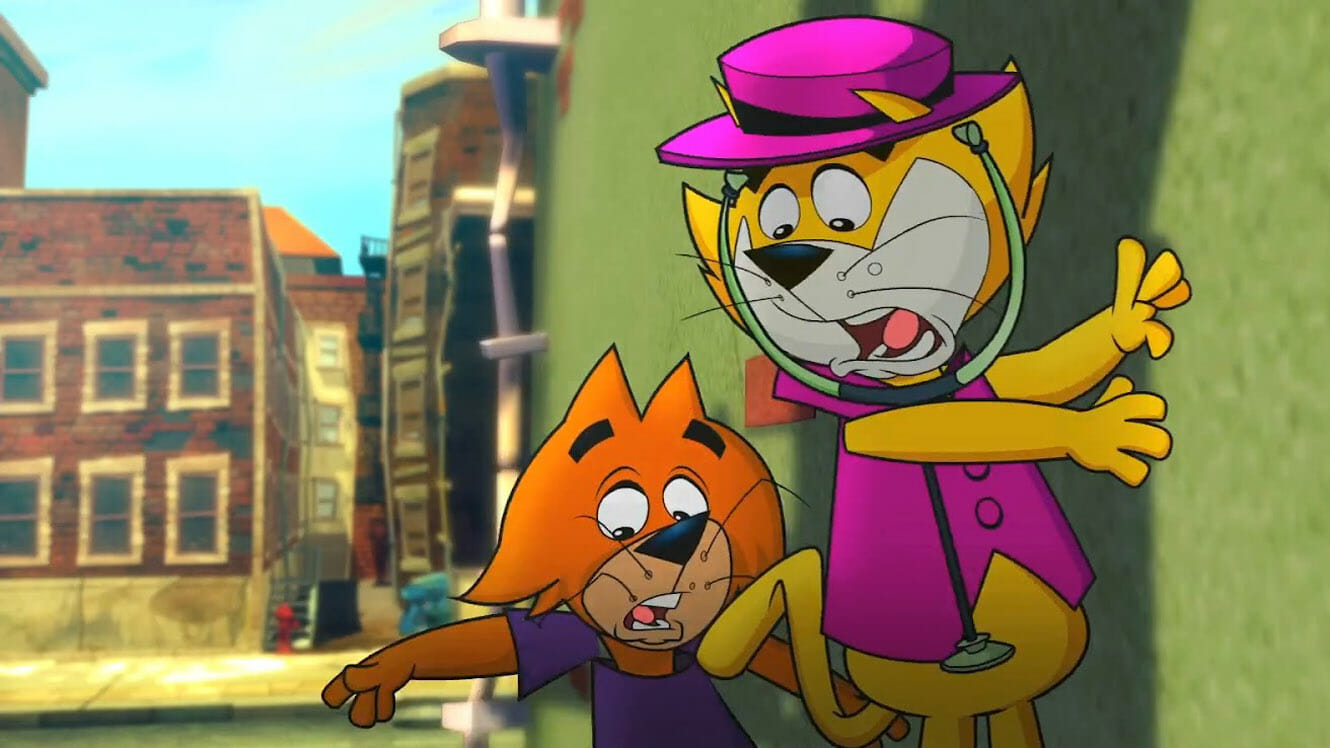 Director: Alberto Mar
Writer: Tim McKeon, Kevin Seccia
Cast: Jason Harris, Chris Edgerly, Bill Lobley
IMDb rating: 4.6
Rotten Tomatoes rating: 14%
Release year: 2011
Streaming Platform: Amazon Prime Video
Top Cat: The movie is a 2011 family comedy about an alley cat called Top Cat. When Top Cat spots a female cat named Trixie, he immediately wants to impress her, but he's poor.
So to impress Trixie, he pays a visit to a generous Maharajah of Peekajoo, known to hand out rubies. But things don't go as planned as the new police chief, Strickland, is onto him.
18. Earwig And The Witch
Director: Gorô Miyazaki
Writer: Diana Wynne Jones, Keiko Niwa
Cast: Jazmín Abuín, JB Blanc, Tom Bromhead
IMDb rating: 4.8
Rotten Tomatoes rating: 29%
Release year: 2020
Streaming Platform: Netflix
Earwig and the Witch is a 2020 Japanese fantasy family cat movie. The movie is based on a novel by Diana Wynne Jones of the same name. Earwig is a young girl who lives in an orphanage as her Witch mother (literally witch mother) leaves her at St. Morwald's Home for Children.
Against her wishes, she gets adopted by an odd couple, Bella Yaga and Mandrake, and Earwig has tons to learn to defeat the evil lurking way too close to home. Bella Yaga has a cat familiar called Thomas, a black fur-talking Cat.
17. Cats And Dogs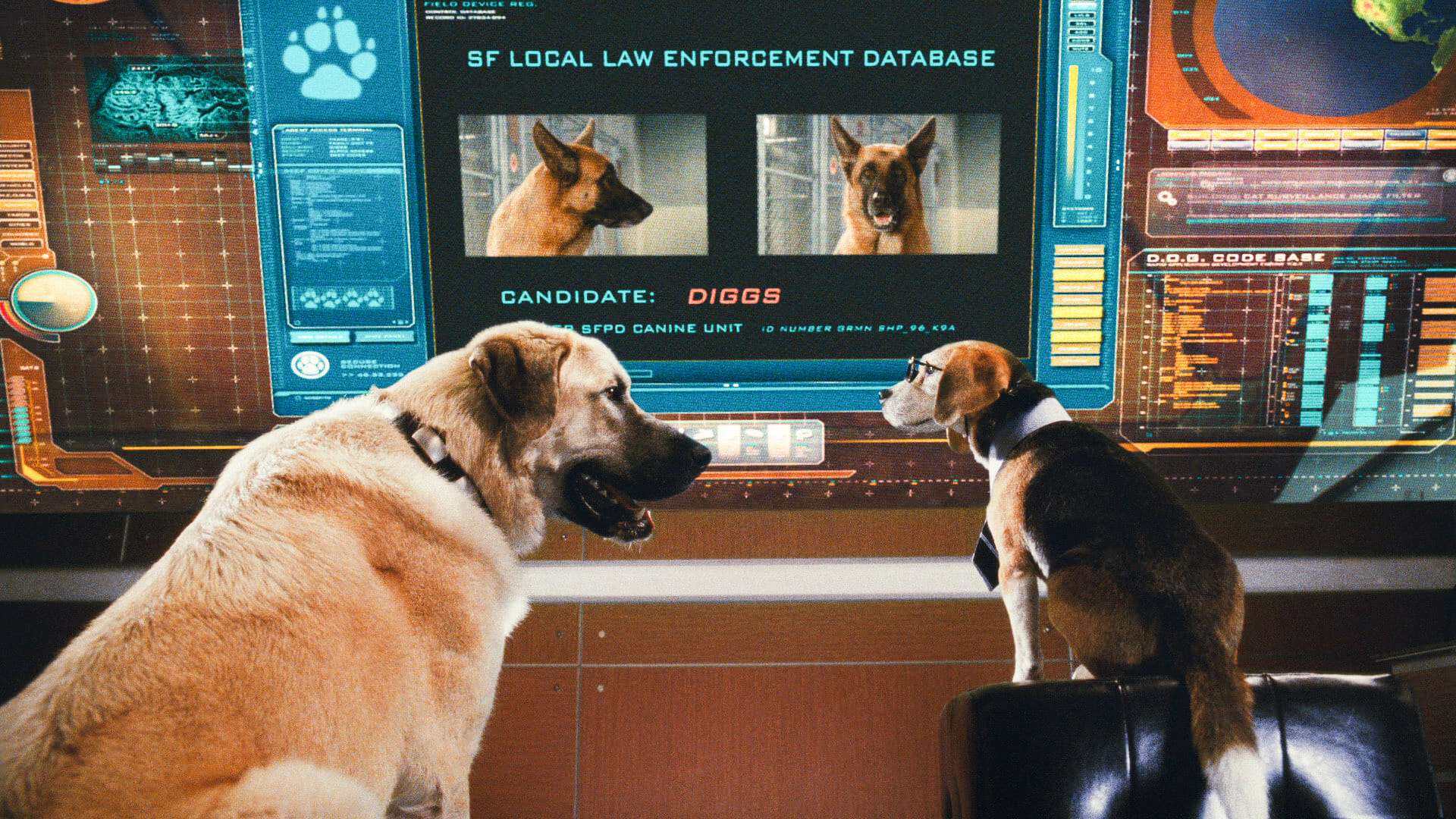 Director: Lawrence Guterman
Writer: John Requa, Glenn Ficarra
Cast: Alec Baldwin, Tobey Maguire, Jeff Goldblum
IMDb rating: 5.1
Rotten Tomatoes rating: 53%
Release year: 2001
Streaming Platform: Apple TV
Cats and Dogs is a 2001 classic action-adventure and comedy movie about, you guessed it right, Cats and Dogs. There is a war, top-secret, espionage with high-tech and stuff. But humans are unaware since it doesn't involve them; it's between the Cats and the Dogs.
Both sides are busy making plans and strategies to defeat the other. Like making humans allergic to each other, which starts many cataclysmic events. Butch, an Anatolian Shepherd dog, and another dog named Lou team up. The movie has two sequels, Cats & Dogs: The Revenge of Kitty Galore and Cats & Dogs 3: Paws Unite.
16. Garfield
Director: Peter Hewitt
Writer: Jim Davis, Joel Cohen, Alec Sokolow
Cast: Bill Murray, Breckin Meyer, Jennifer Love Hewitt
IMDb rating: 5
Rotten Tomatoes rating: 15%
Release year: 2004
Streaming Platform: Disney Plus and Apple TV
Garfield is a 2004 adventure comedy movie about a lazy, overweight orange cat called Garfield. When Jon Arbuckle adopts a dog named Odie and the dog gets kidnapped, Garfield comes to the rescue.
Jim Davis created this trouble-making cat character with a dry sense of humor in his comic strip of the same name. Garfield has a sequel called a sequel, Garfield: A Tail of Two Kitties.
15. Tom And Jerry: The Movie
Director: Tim Story
Writer: William Hanna, Joseph Barbera
Cast: Chloë Grace Moretz, Colin Jost, Michael Peña
IMDb rating: 5.2
Rotten Tomatoes rating: 31%
Release year: 2021
Streaming Platforms: Amazon Prime Video, Netflix, and Apple TV
Tom and Jerry: The movie is a 2021 adventure family comedy movie. The film follows one of the most original and beloved pair of frenemies who find themselves in yet another brawl as the Royal Gate Hotel hires Tom, the Cat, to get rid of Jerry, the mouse, before the wedding.
Jerry, as usual, wreaks havoc and the hotel as Tom tries to catch the mouse, and the usual chaos follows, with the hilarious run and chase. Almost everything about the movie is live-action other than the nearly 2D-looking Tom and Jerry.
14. Cats Don't Dance
Director: Mark Dindal
Writer: Robert Lee, Brian McEntee
Cast: Scott Bakula, Jasmine Guy
IMDb rating: 6.9
Rotten Tomatoes rating: 74%
Release year: 1997
Streaming Platform: Amazon Prime Video
Cats Don't Dance a 1997 family comedy movie that follows Danny, a singing and dancing cat. Danny has ambitions to become a movie star and works towards that dream as he reaches Hollywood and tries his best. Danny makes friends with other animals, among other cats, who help him overcome hurdles and obstacles.
13. A Cat In Paris
Director: Jean-Loup Felicioli, Alain Gagnol
Writer: Alain Gagnol, Jacques-Rémy Girerd
Cast: Dominique Blanc, Bernadette Lafont
IMDb rating: 6.9
Rotten Tomatoes rating: 86%
Release year: 2010
Streaming Platform: Apple TV and Amazon Prime Video
A Cat in Paris is a 2010 adventure family comedy movie about a cat who lives a double life. At night the Cat helps a burglar called Nico, who calls him Mr. Cat, and in the morning, with a young girl named Zoe, who calls the Cat Dino.
When these two worlds meet, and everything crashes together, Dino needs to find his everyday life again by helping both these people.
12. Alice In Wonderland
Director: Tim Burton
Writer: Linda Woolverton, Lewis Carroll
Cast: Johnny Depp, Helena Bonham Carter, Mia Wasikowska
IMDb rating: 6.4
Rotten Tomatoes rating: 51%
Release year: 2010
Streaming Platform: Disney plus
Alice in Wonderland is a classic story about a young woman named Alice. The 2010 movie with a beautiful star cast is adapted from the very same novel by Lewis Carroll. A 19-year-old Alice returns to Wonderland from her childhood following a rabbit, where she reunites with her old friends.
Alice finally realizes her destiny and takes on the Red Queen and her reign of terror amongst all those who can forget the mystical Cheshire Cat and its mischievous grin. This wise tabby British Shorthair is one of the most iconic characters in pop culture.
11. Sheik 2
Director: Andrew Adamson, Conrad Vernon
Writer: William Steig, Andrew Adamson
Cast: Mike Myers, Eddie Murphy, Antonio Banderas
IMDb rating: 7.3
Rotten Tomatoes rating: 89%
Release year: 2004
Streaming Platform: Apple TV and Amazon Prime Video
Shrek 2 is a 2004 adventure family comedy following the adventures of Shrek and Fiona as they return to the Far Far Away Kingdom. Unfortunately, they realize they aren't as welcomed as they would like, as the king enlists a fairy to ensure that Shrek stays away from his daughter Fiona.
In their adventure, they meet Puss in Boots, who soon becomes Shrek's helper and friend. Puss in Boots is one of the main characters of the movie series.
10. Bolt
Director: Byron Howard, Chris Williams
Writer: Dan Fogelman, Chris Williams
Cast: John Travolta, Miley Cyrus, Susie Essman
IMDb rating: 6.8
Rotten Tomatoes rating: 89%
Release year: 2008
Streaming Platform: Disney Plus
Bolt is a 2008 family adventure comedy movie about Bolt, a canine star who has worked a long time on a television series set where he plays a superpowered dog, leading to him believing that he has superpowers.
So when his beloved co-star, 12-year-old human Penny, gets kidnapped on the show, Bolt takes off to search and rescue her along with a rag-tag team of sarcastic and harsh alley cat Mittens and a Bolt super-fan, Rhino, the Hamster.
9. Lady And The Tramp
Director: Wilfred Jackson, Clyde Geronimi
Writer: Ward Greene, Erdman Penner
Cast: Barbara Luddy, Larry Roberts
IMDb rating: 7.3
Rotten Tomatoes rating: 93%
Release year: 1955
Streaming Platform: Disney Plus
Lady and the Tramp is a 1955 family musical movie. This classic movie is one of the best and most adored animated movies of all time. Lady, a beautiful female dog, is Jim and Darling's pet.
When Jim and Darling have to leave for a few days, they ask Aunt Sarah, who hates canines, and her Siamese Cat, two of them actually, Si and Am.
All this leads to a bunch of action, adventure, and danger as Lady meets Tramp. Tramp tries to protect Lady at all times, and their love story begins.
8. Oliver And Company
Director: George Scribner
Writer: Jim Cox, Tim Disney
Cast: Joey Lawrence, Billy Joel, Bette Midler
IMDb rating: 6.6
Rotten Tomatoes rating: 50%
Release year: 1988
Streaming Platform: Amazon Prime Video and Disney plus
Oliver and Company is a 1988 family adventure comedy movie loosely based on Charles Dickens' novel, Oliver Twist. Several kittens are left in a box outside a shop. All of them except an orange cat gets adopted.
The homeless kitten wanders around while searching for food and meets Dodger, a flea-ridden, carefree street-smart mutt, who helps him out. Then, he is taken in by a bunch of other homeless mutts. Soon he meets Jenny, and things begin to change.
7. Puss In Boots
Director: Chris Miller
Writer: Tom Wheeler, Brian Lynch
Cast: Antonio Banderas, Salma Hayek
IMDb rating: 6.6
Rotten Tomatoes rating: 86%
Release year: 2011
Streaming Platform: Netflix and Apple TV
Puss in Boots is one of the best cat movies, an adventure comedy; this movie is about an iconic cat character from Shrek. A Spanish-speaking orange cat with signature Boots, hat, cape, belt, and Sword, Puss in Boot, accompanied by Kitty Softpaws, goes on adventures.
The Outlaw and darn fugitive Cat and his partner join forces in more sense than one involving classic characters like Humpty Dumpty, Jack and Jill, and Jack from Jack and the Beanstalk.
6. Secret Life Of Pets
Director: Chris Renaud
Writer: Cinco Paul, Ken Daurio
Cast: Louis C.K., Eric Stonestreet, Kevin Hart
IMDb rating: 6.5
Rotten Tomatoes rating: 72%
Release year: 2016
Streaming Platform: Netflix, Amazon Prime Video, Apple TV
Secret Life of Pets is a 2016 family adventure comedy movie. The movie has many animals of different breeds. However, the story mainly focuses on two canines' pets, Max and Duke, who initially aren't close but soon become friends during their journey together.
There are two cats in the movie, one is a pet tabby cat Chloe, and the other is a Sphynx cat, Ozone. The film is a treat for kids and adults to watch and enjoy. All the pets in the movie are adorable.
5. The Lion King
Director: Rob Minkoff, Roger Allers
Writer: Irene Mecchi, Jonathan Roberts
Cast: Matthew Broderick, Jeremy Irons, James Earl Jones
IMDb rating: 8.5
Rotten Tomatoes rating: 93%
Release year: 1994
Streaming Platform: Disney Plus
Lion King is one of the best cat movies. One of the best-animated movie periods. This movie is a cult classic starring not small or pet cats but larger-than-life big cats or, as the title would suggest, Lions. The film not only has Lions but other felines too, along with other animals in the Jungle.
This film is a tale of friendship, family, and finding yourself. This inspiring story is about Simba, who is lost after his brave and wise father's death as he faces one difficulty after the other in search of himself.
Finally, the tale concerns him finding himself, overcoming his fears and insecurities, and standing up against evil.
4. A Whisker Away
Director: Junichi Sato, Tomotaka Shibayama
Writer: Mari Okada
Cast: Mirai Shida, Natsuki Hanae
IMDb rating: 6.7
Rotten Tomatoes rating: 93%
Release year: 2020
Streaming Platform: Netflix
A Whisker Away is a 2020 anime adventure and comedy film. The story follows Miyo Sasaki as she loves Kento Hinode, her classmate. She tries very hard to get his attention and then even transforms into a cat to get his attention and be close to him.
But soon, the lines blur between Miyo and the Cat she transforms into. What starts as a struggle for Miyo not to lose herself in her darn cat self.
3. Kiki's Delivery Service
Director: Hayao Miyazaki
Writer: Eiko Kadono, Hayao Miyazaki
Cast: Kirsten Dunst, Rei Sakuma, Minami Takayama
IMDb rating: 7.8
Rotten Tomatoes rating: 98%
Release year: 1989
Streaming Platform: Netflix
Kiki's Delivery Service is a 1989 anime fantasy adventure series. Watch as Kiki, a young witch who finally learned to fly on her broom, opens a delivery service. Kiki has a cat friend with black fur.
The talking Cat, Jiji, helps her get out of situations. However, as she loses her magic and abilities, she must overcome her self-doubt and insecurities to continue with her business and grow.
2. The Aristocats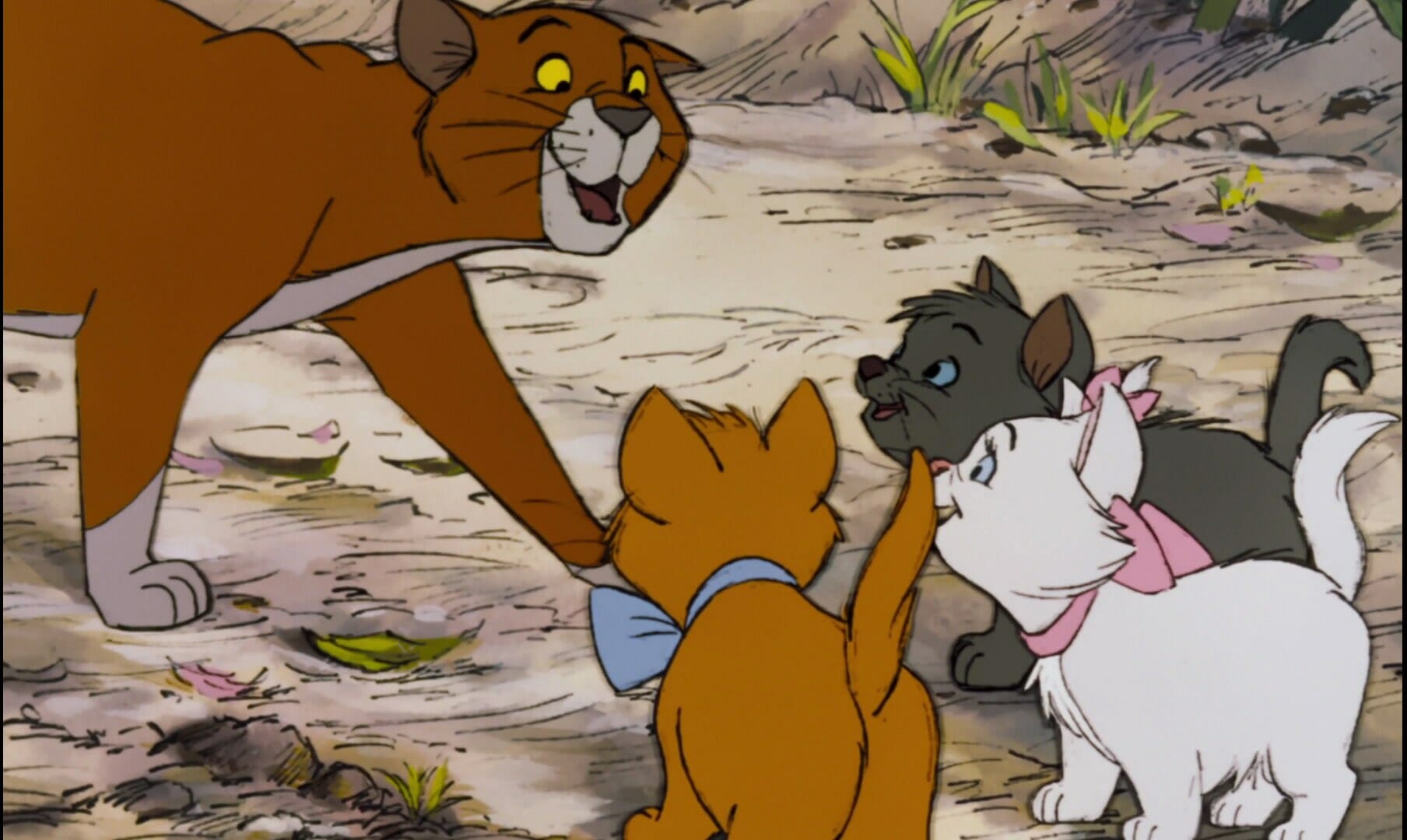 Director: Wolfgang Reitherman
Writer: Larry Clemmons, Vance Gerry
Cast: Phil Harris, Eva Gabor
IMDb rating: 7 .1
Rotten Tomatoes rating: 64%
Release year: 1970
Streaming Platform: Disney Plus
The Aristocats is a mother cat and her three Kittens, Berlioz, Marie, and Toulouse. These cats have always lived in luxury and royalty hence Aristocats. They live in Paris with retired opera diva Madame Adelaide Bonfamille and her butler, Edgar.
Madam writes everything to the cats in her will and, once the cats pass away, to Edger. Hearing this, Edger strands these cats to the countryside as the opportunity arrives, where they meet O'Malley, who helps them survive and get back.
1. The Cat Returns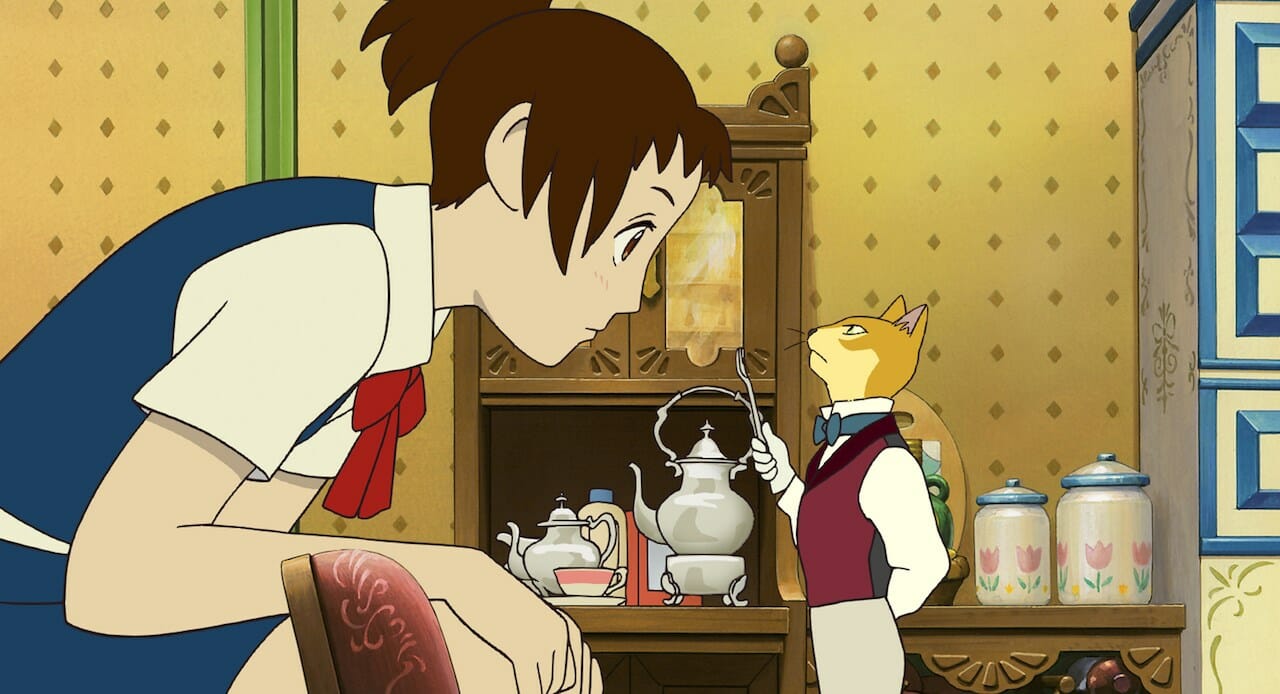 Director: Hiroyuki Morita
Writer: Aoi Hiiragi, Reiko Yoshida
Cast: Anne Hathaway, Cary Elwes
IMDb rating: 7.2
Rotten Tomatoes rating: 88%
Release year: 2002
Streaming Platform: Netflix
The Cat Returns, originally called Neko no Sonakshi, is a 2002 Japanese fantasy adventure anime where most are animal characters. Haru, a high school student, rescues a cat from being run over and is in for a surprise as the Cat turns out to be a prince called Lune. The Cat King wishes for her to marry Lune.
As she is brought into the cat kingdom, Haru starts to develop feline features, and she is not allowed to leave. The Baron and Toto try to help her escape to freedom, but it is never easy.
This watch list does not include some all-time classics like That Darn Cat! or The Three Lives of Thomasina or Cat from outer space, or any other primarily live-action movies with cats. Sure, there are so many more options to look into and to watch.